Smartyphone HTC Desire EYE: review and testing
The decision to allocate top smartphones in a separate lineup of HTC One, of course had a positive effect from the Taiwanese mobile giant. On the one hand, it is possible to carry out an extensive advertising campaign to attract new and potential customers, and on the other - to reduce the serious competition within its own product lineup, and to express themselves to others, at least a promising model.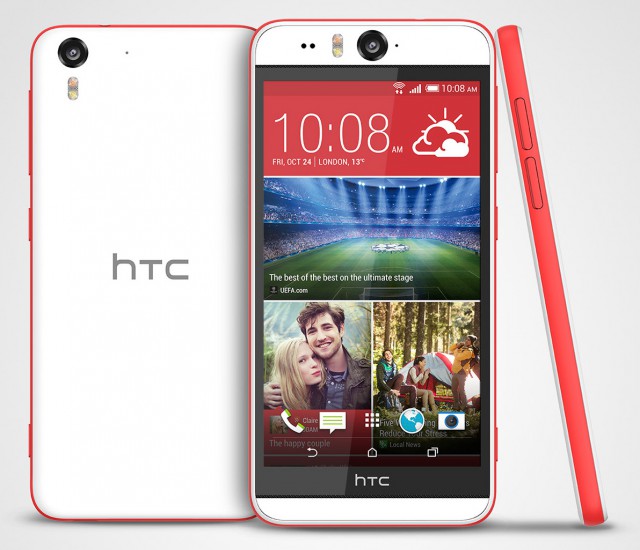 In this article we will talk about a very interesting and flagship smartphone HTC Desire EYE, which is the main representative of a slightly forgotten lineup of "desirable" devices. What interesting features has new product and can it oppose to more famous solutions?.
The specs:
Producer

HTC

Model

Desire EYE

Type, form-factor

Smartphone, monoblock

Moisture and dust protection

IPX7

Communication standards

2G (GSM)

850 / 900 / 1800 / 1900 MHz

3G (WCDMA)

850 / 900 / 2100 MHz

4G (LTE)

800 / 900 / 1800 / 2600 MHz

(ranges 3, 7, 8, 20)

Broadband data transfer

GPRS (32-48 Кb/s), EDGE (236 Кb/s), HSPA+ (up to 42,2 Мb/s),

LTE cat.4 (up to 150 Мb/s)

SIM-card

Nano-SIM

CPU

Qualcomm Snapdragon 801 (MSM8974AA): quad-core Krait 400 (ARMv7), up to 2,3 GHz, L2 cache – 2 МB, 28 nm HPm

GPU

Qualcomm Adreno 330: clock frequency − 578 MHz, support for OpenGL ES 3.0, OpenVG 1.1, OpenCL 1.1 and DirectX 9_3

Display

5,2", 1920 x 1080 p (424 ppi), IPS, multi-touch up to 10 touches, protective glass

RAM

2 GB

ROM

16 GB

Card-reader

microSD (up to 128 GB)

Sockets

1 x micro-USB

1 x audio mini-jack 3,5 mm

Multimedia

Speaker

Stereo

Microphone

3 (Sense Voice)

FM-radio

+

Additionally

Technology HTC BoomSound

Camera

Main

13 МP, BSI-module, support for HDR, aperture f/2.0, AF, 28 mm lens, double LED flash, video recording in format 1080p at 60 fps

Front

13 МP, BSI-module, support for HDR, aperture f/2.2, AF, 22 mm lens, double LED flash, video recording in format 1080p at 30 fps

Connectivity

Wi-Fi

802.11 a/b/g/n (2,4 and 5 GHz)

(Wi-Fi Direct, Wi-Fi Hotspot)

Bluetooth

4.0 (apt-X)

NFC

+

IrLED

−

DLNA/Miracast

+/+

Навигация

GPS, A-GPS, GLONASS

Sensors

Accelerometer, gyroscope, proximity sensor, light sensor, digital compass

Battery

Lithium-ion cell, non-removable: 2400 mАh

Charger

Input: 100~240 V DC at 50/60 Hz

Output: 5 V AC, 1 А

Dimensions

151,7 х 73,8 х 8,5 mm

Weight

154 g

Color

Red-white, blue-white

OS

Android 4.4.2 KitKat + skin HTC Sense 6.0

(updating up to Android 5.0.2 Lollipop)

Warranty

12 months

Producer website
Package and content
Smartphone HTC Desire EYE comes in a small square box with rounded corners. It is made from high quality white cardboard of high density. A distinctive feature of the package is an exquisite minimalist and stylish and very informative printing.
The front side of the box is decorated with a large image of a smartphone, its name, made with small lettering and a small label that informs us that HTC is the official sponsor of the football tournament: The UEFA Champions League and UEFA Europa League. The back of the packaging contains a short list of product specifications, standard legal information and data on the smartphone certification in Ukraine. Also note the fact that the Taiwanese manufacturer has been actively involved in the program to reduce the impact on the environment, so this box is 97% recyclable.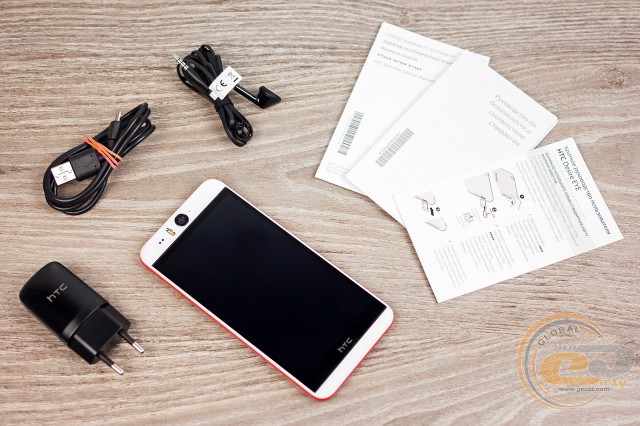 Delivery set of HTC Desire EYE is quite standard and contains the necessary for a comfortable start: charger, USB-cable, headset-ear headphones, user documentation and warranty card.
Design and elements layout
At the time of writing, this model is the most advanced step of the evolutionary series of very popular and very interesting smartphones lineup HTC Desire. Gadget stands out not only against the background of a huge number of major competitors, but also among the numerous and no less in demand "colleagues in the shop" thanks to a pleasant and elegant design, a wide range of topical features and powerful enough hardware platform.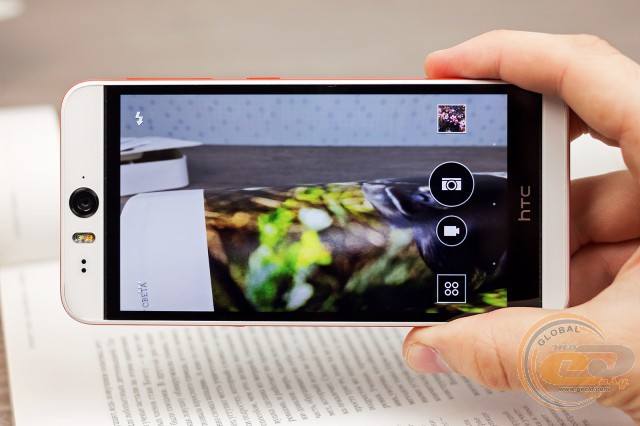 For example, in contrast to the more conservative and expensive flagship smartphone HTC One (M8), the new product boasts a vibrant youth appearance, presence of a good level of protection class IPX7 (the ability to dive to a depth of 1 m for 30 minutes) and more affordable housing materials. But the main feature of the device is the 13-megapixel front-facing camera with dual LED flash, which is sure to appeal to all lovers of trendy selfies.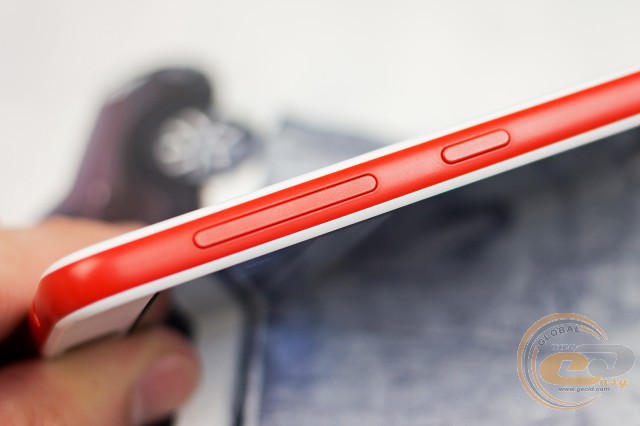 Case of smartphone is made of high quality polycarbonate plastic with a nice matte texture to the touch. It has excellent rigidity and good hides fingerprints, but prone to scratches and chipping, so it requires a more careful treatment during everyday use. On the contour of the body there are stylish color inserts of red plastic, which complements the nice design of the smartphone.
As for the 5.2-inch device, HTC Desire EYE differs with sufficiently large dimensions (151.7 x 73.8 x 8.5 mm) and slightly unusual proportions. Following the current corporate identity, the novelty has received elongated design that allowed to place two full stereo speakers and a rather large front camera lens with a large protective lens on the front of the unit. The weight is 154 g. Also do note a very convenient location of controls.
On the shelves HTC Desire EYE is available in two colors, which are designed primarily for the youth audience. For example, red and white version of the gadget will likely enjoy the beautiful half of humanity, whereas the blue and white will have to taste by guys.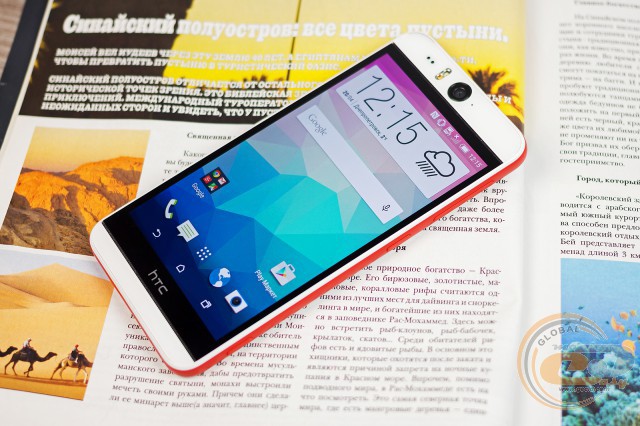 The front side of the smartphone is almost completely covered with tempered glass with excellent oleophobic properties. It protects the screen from external negative influences, as well as both good fights with annoying fingerprints. The same glass, but with a uniform matte coated, is used for areas above and below the display, in the recesses between which branded stereo speakers. The last are well hidden.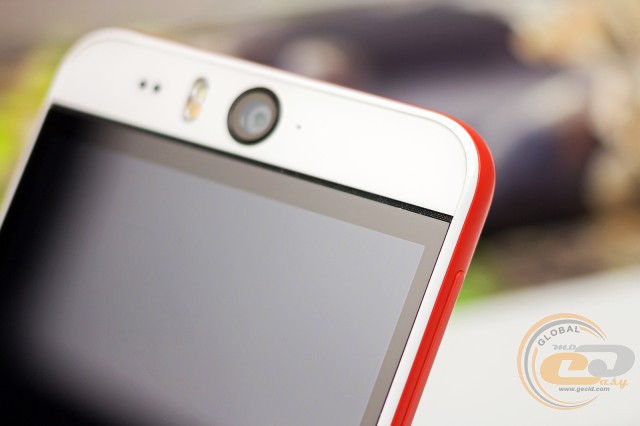 On the contour of the front panel there is a small white border made of matte plastic, which in addition to decorative purposes, serves as additional protection against possible damage. With regard to the frameworks around the display, by contemporary standards they are moderately large: 18.5 mm at the top and bottom, and 4.5 mm on each side. However, this does not greatly affect the usability of the gadget, but rather allows you to more securely grasp the relatively large apparatus without fear of climb fingers on the screen.
Over the screen of the smartphone there are: front camera lens covered with a large protective lens; dual LED flash with diodes of warm and cold light; hole earpiece and microphone as well as sensor of proximity and ambient light. At the same time the bottom below the display has only to the manufacturer's logo. Usual touch buttons "Back", "Home" and "Menu" are absent. They are replaced by soft version, located directly on the screen of the device.
The sides of smartphone are in the form of a colored plastic insert that surrounds the perimeter of the entire body. It has a 3.5mm audio jack for headset, and at the bottom you can find a micro-USB port and an additional small hole-in microphone.
The left lateral side of the device contains two tray for card Nano-SIM and microSD, while the right has the power button, volume rocker, and a separate key for easy management of the shutter of the camera.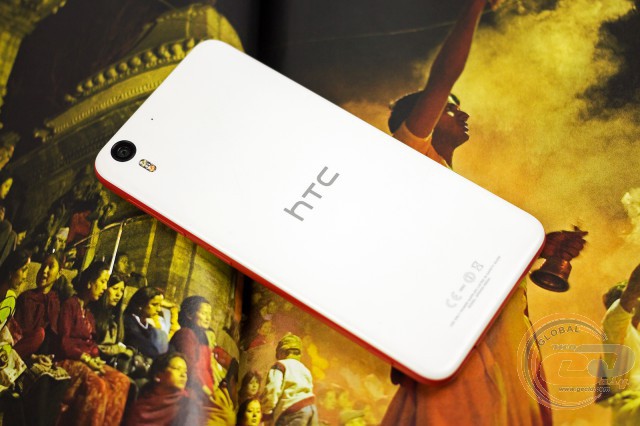 The back side of HTC Desire EYE is made of a single piece of polycarbonate plastic. It has a completely flat surface and has a pleasant touch matte texture. In the upper left corner is a 13-megapixel main camera lens, dual LED flash, and the third microphone. A little lower down the center there is a fairly large logo of the manufacturer with the standard technical information.
Build quality of the smartphone is at the highest level and does not cause complaints. All the elements of the case (protective glass, buttons, caps on the slots) fit very tightly and create a single monolithic structure. Despite its large size, the device has excellent rigidity and good resistance to moderate pressure deformation: nothing will fasten and does not bend, and the display remains visible without strains or other possible artifacts.
Display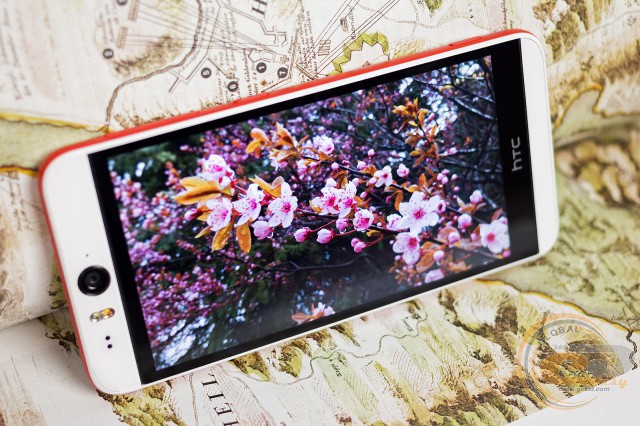 Smartphone HTC Desire EYE is equipped with high-quality 5.2-inch IPS-display with a resolution of 1920 x 1080 pixels and a pixel density at 424 ppi. Such specifications are more than enough for a comfortable display any textual and graphical information, including the smallest fonts. Also it is nice to see that the Taiwanese manufacturer has departed from its marketing name "Super LCD 3", which greatly clarify the situation for the end user.
Traditionally for the IPS-matrix display smartphone has high contrast and maximum viewing angles. Even at a very acute angle the picture on the screen does not fade and is rich and well-read. Color reproduction is also pleased with its bright and natural colors. White balance has almost perfect balance, without any appreciable care in warm or cold tones.
Special mention is given to the backlight. It has a high brightness and a good range of adjustment, and including automatic mode. All of this makes it easy to use the device in bright daylight or in total darkness.
The integrity and safety of the display is provided by the tempered glass. It has a good oleophobic coating and a good anti-glare filter. The display unit is made using OGS, which is characterized by the absence of the air gap between the glass and the screen that allows you to make the picture more clear and detailed.
Built-in sensor substrate can recognize up to 10 simultaneous key presses. It is very sensitive and reacts instantly to even the slightest touch. Fingers glide over protective glass is easy and pleasant. In addition, it is worth noting full support functions of "smart" gestures, which operates not only when the screen is locked (Motion Launch), but also allows you to manage some of the built-in applications, while the touch screen with three fingers. Also, the device has a function of unlocking the screen by double-tapping, but it works only for the first 5 minutes after the block, then you must use the power button or use a pre-programmed gesture.
Sound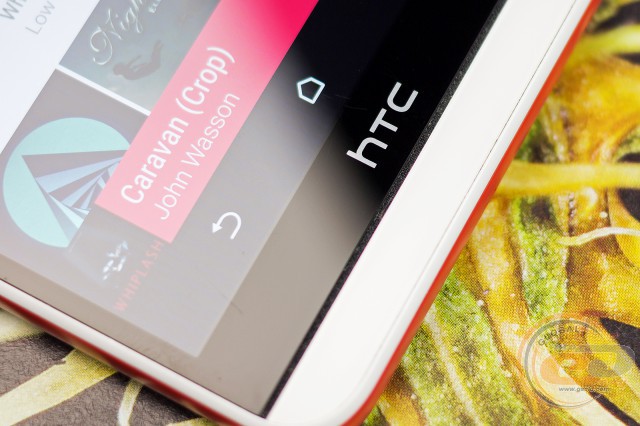 Another interesting and at the same time mysterious feature of HTC Desire EYE is the location of multimedia speakers. Thin slots above and below the display in any way associated with their possible location and does not take into account a cursory familiarity with the device. Even more surprising is the information that the two speakers in the device, and they are able to work in a very loud and high-quality stereo at the same time.
It puts everything in its place the first run of quality musical compositions. Immediately appears a rather wide range of sound (treble and midrange) and a very good location of the speaker, but thanks to technology HTC BoomSound you can hope for very nice depth and volume. It makes fun to use smartphone for today's games, watching videos and other tasks, without additional tools.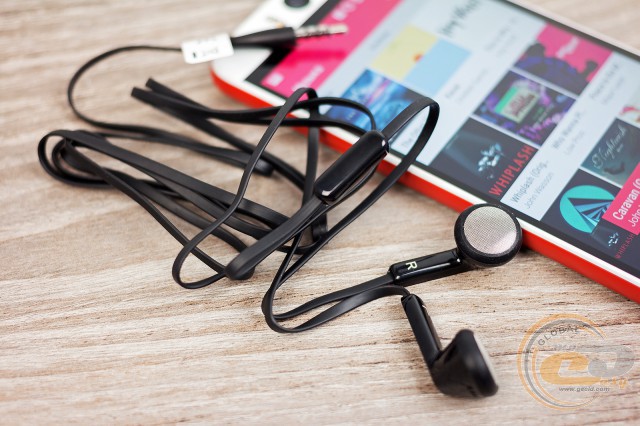 However, the device can also be connected to external audio devices. For these needs there is a 3.5mm audio jack. Unfortunately, complete cables of headphones can not boast of excellent sound and are well suited for the role of a headset for making calls or listening to spoken audio podcasts. Do note the situation with headphones from notable producer (gaming Kingston HyperX Cloud and vacuum Vivanco HS 200 WT), in which the sound becomes pleasant shapes and tangible volume. In addition, do not forget about the above technologies HTC BoomSound. Its activation makes the frequency range more vivid and alive, and sound is rich and deep.
Camera
The first thing that attracts the user is it's a big front-facing camera lens. As the famous glowing eyes of the fantasy book, it immediately attracts attention and makes as soon as possible to check the available functionality in action.
There are two advanced cameras (main and front). They are based on the 13-megapixel BSI-modules with sufficiently accurate autofocusing system and are equipped with identical two-piece LED flash dual (warm and cold) glow. However, the monitored optics makes cameras equivalent. Thus, the main camera is characterized by aperture f/2.0 and a wide angle lens of 28 mm, while the aperture ratio of front is f/2.2 and has a wide-angle lens of 22 mm. Both modules are able to shoot video with a resolution up to 1080p as in usual mode (60 fps for primary and 30 fps for the front), as well as to slow motion in 720p resolution at 120 fps. In addition, it is worth noting the presence of a well-functioning features HDR, which, together with a wide range of manual settings allows you to achieve excellent results
The obtained photo and video have good quality and deserve good reviews. The picture from both cameras has a high contrast ratio, sufficient sharpness and natural colors with bright and vibrant colors. In case of properly selected angle and sufficient illumination pleased good image detail. And where the shot does not have enough brightness you can use the mode «HDR», which considerably lightens the dark areas of a photo. In general, the algorithm of both cameras copes with the tasks and allows you to get more than a good result even with bad shooting conditions. Disappoint thing is only recording mode at 120 fps (slow mode). As in the more expensive competitors in the market, it suffers from the same ailments - poor detailing and a relatively low level of contrast.сти.
Proprietary software, which is responsible for control of the cameras in traditional HTC's devices is simple and intuitive interface. The buttons and menu shortcuts have large icons that facilitates navigation. In addition, when you first start the application comfortable tooltips appear. Do note 6 separate shooting modes, a large number of automatic and manual settings (white balance, exposure compensation, the value ISO), a nice set of color filters, as well as a considerable number of functions for the final post-processing of the obtained images.
Социальные комментарии Cackle