SmarphoneLenovo VIBE X2: review and testing
Many modern smartphone manufacturers trying to draw attention to their devices through a kind of "arms race", which means an increase in the size of the display, the number of processor cores, camera resolution, and other important parameters. So sometimes it turns out that the smartphone has pretty interesting specifications, but from the outside nothing special apart from the competition - all the same unsightly monoblock. All this is clear for the company Lenovo, which is able to create not only interesting gadgets in terms of price/features, but may surprise potential buyer by original appearance. In this regard, nice is a model from lineup Lenovo VIBE, absorbed the advanced technical features and interesting design. A striking example is the hero of our regular review Lenovo VIBE X2.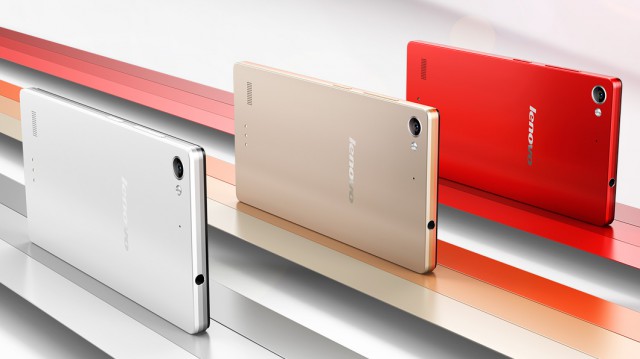 This model is original and has quite sophisticated design with qualitative materials. All this is wonderfully complemented by 5-inch Full HD IPS-screen, high-performance processor MediaTek MT6595M, the main 13 megapixels camera and a number of other equally interesting features, which we will discuss below. The specs:
Producer

Lenovo

Model

VIBE X2

Type, form-factor

Smartphone, monoblock

Communication standards

2G (GSM)

850 / 900 / 1800 / 1900 MHz

3G (UMTS)

850 / 900 / 2100 MHz

4G (LTE)

800 / 1800 / 2100 / 2600 MHz

Broadband data transfer

GPRS (32-48 Kb/s), EDGE (236 Kb/s), HSPA+ (up to 42 Мb/s), LTE Cat.4 (up to 150 Мb/s)

SIM-card

Micro-SIM

CPU

MediaTek MT6595M: microarchitecture ARM big.LITTLE, Cortex-A17 (4 cores, 2 GHz) + Cortex-A7 (4 cores, 1,69 GHz), 28-nm HPm process

GPU

IT PowerVR 6200: 450 МГц, support for OpenGL 3.2, OpenGL ES 3.1 и Direct3D 10

Display

IPS, 5", 1920 x 1080 p (440 ppi), multi-touch (up to 10 presses), Corning Gorilla Glass 3

RAM

2 GB

ROM

32 GB

Card-reader

–

Interfaces

1 x micro-USB

1 x audio mini-jack 3,5 mm

Multimedia

Speaker

Mono

Microphone

Stereo

FM-radio

+

Camera

Main

13 МP, aperture f/2.2, autofocus, LED-flash, video recording in format 1080p (30 FPS)

Front

5 МP, aperture f/2.4, fixed focus, video recording in format 1080p

Connectivity

Wi-Fi

Wi-Fi 802.11 b/g/n/ac (2,4 / 5 GHz)

(Wi-Fi Direct, Wi-Fi Hotspot)

Bluetooth

3.0 + 4.1 LE

GPS/GLONASS

+/+

NFC

–

IR

–

DLNA

+

Sensors

Accelerometer, gyroscope, proximity sensor, light sensor, LED-indicator, magnetometer

Battery

Lithium-pol cell, non-detachable: 2300 mАh

Charger

Input: 100~240 V AC at 50/60 Hz

Output: 5 V DC 1 А

Other

–

Dimensions

140,2 х 68,6 х 7,27 mm

Weight

120 g

Color

White / gold / red / dark-gray

OS

Android 4.4.2 KitKat + brans skin Lenovo Launcher v6.0

Warranty

12 months

Producer website
Package and content
The novelty comes in a relatively compact cardboard box. The decoration is a pale gray shade in combination with a specific pattern and a minimum level of information. Structurally it resembles a kind of box with drawers, made in the same multi-layered color scheme as the unit. Depending on the color of the smartphone, package changes its palette. Over this structure there is a cover with the logo of the lineup and the main characteristics of the smartphone. Thus, package of Lenovo VIBE X2 looks quite original and pleasant.
The set contains the following accessories:
User's Guide
warranty card;
charger 5W (5V, 1A);
cable micro-USB↔USB;
transparent plastic cover;
protective film on the screen;
clip for tray SIM-card;
headset with headphones of vacuum design.
Generally the package of Lenovo Vibe X2 can be described as quite generous. There is everything you need, not only to complete the work with the device, but also to protect it from external negative influences.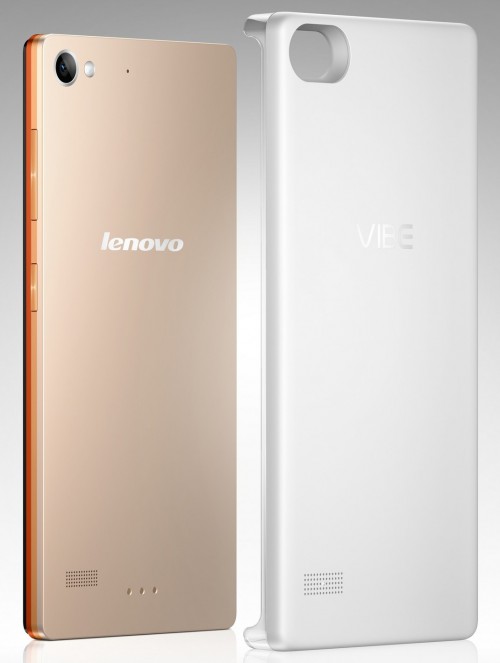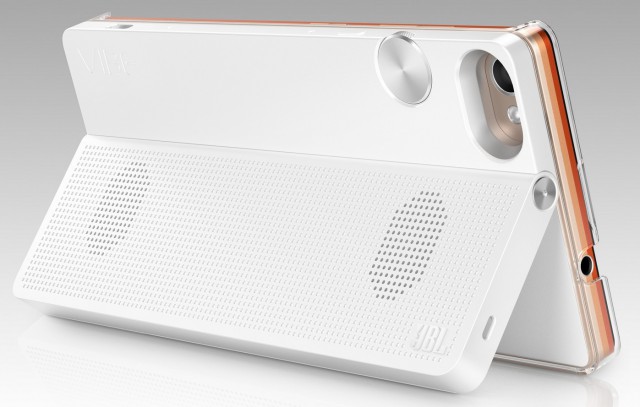 Separately it should be noted that the company Lenovo offers to buy two interesting accessories: Battery Xtension and Hi-Fi Xtension. The first of them is a replaceable battery, which doubles the autonomy of the new item with a slight thickening of the case (5.1 mm). The second accessory will appeal to music lovers. It is a Hi-Fi JBL-speakers (connected by Bluetooth), which will increase the thickness of the smartphone by 8.3 mm, and can play the role of the stand.
Design and elements layout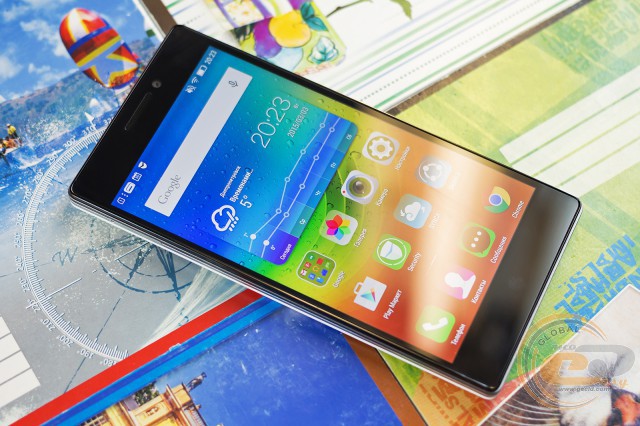 If you look only at the front panel of the smartphone, it seems that this is a common strict rectangle with rounded corners. But on closer inspection of Lenovo VIBE X2 you may notice unusual layered edging that resembles a kind of rainbow (especially in bright option), the cut of mineral rock or sheet cake with smooth gradient transitions. The basic tone is set by the color of the back panel, which can be white, golden, red or dark gray.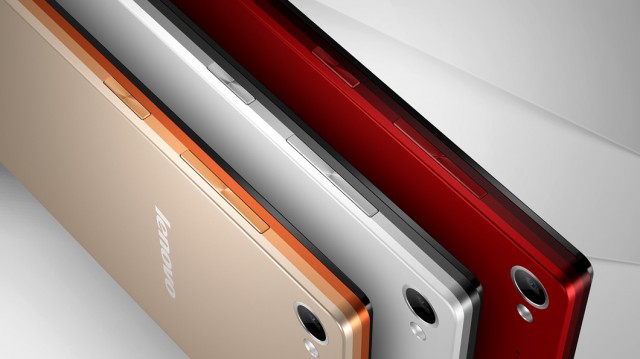 Such individual colored layers are three, and the fourth is always black (panel with protective glass and screen). In addition, it is narrower and thinner than the rest. In practice, this solution looks very interesting and extraordinary, which is nice on the background highlights the novelty of its competitors. Moreover, thanks to the small thickness (7.27 mm) and weight (120 g), the device looks quite slender.
The front side of the smartphone (without any labels and logos) is reserved for the display, which is covered by a strong protective glass. Along the contour it has subtle bumpers that lift the screen over a smooth surface. Framework width around the display is 3 mm for each side and 15 mm at the top and bottom.
Above the display you can notice: earpiece, proximity and lighting sensors, front camera eye and light indicator (control point is present in the settings). Last, in the presence of calls flashes green and during charging it is red, and when the battery is charged it is green. Under the display are three regular touch keys: "Menu", "Home" and "Back". They are equipped with unobtrusive illumination (can be turned off or set a time working in settings).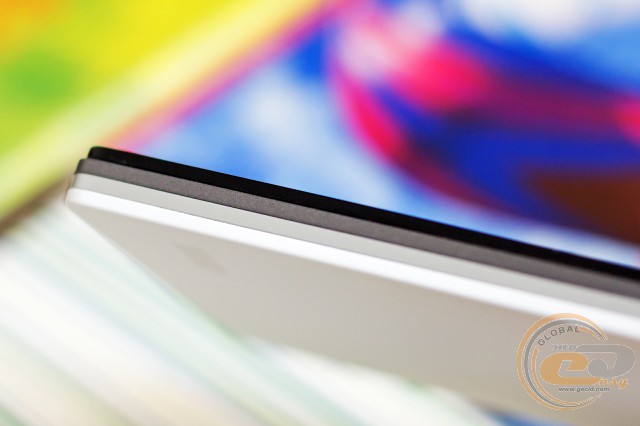 The plastic border is made of individual layers (in our case white, silver or gray). They have several different levels. They are pretty high-quality, but there are small gaps between the layers, which can collect dirt and dust.
At the top end there is the universal audio jack (mini-jack 3,5 mm). Lower bound is reserved for the micro-USB connector and the microphone hole.
The right side of the case housed usual controls: key "power/lock" and the volume rocker, which mimic the metal with a thin concentric notch. The left side (closer to the upper end) sheltered metal tray for SIM-card in format Micro, which is opened with the help of the complete clip. It should be noted that for the Asian market there is a version of the device with two SIM-cards (code «X2-TO»).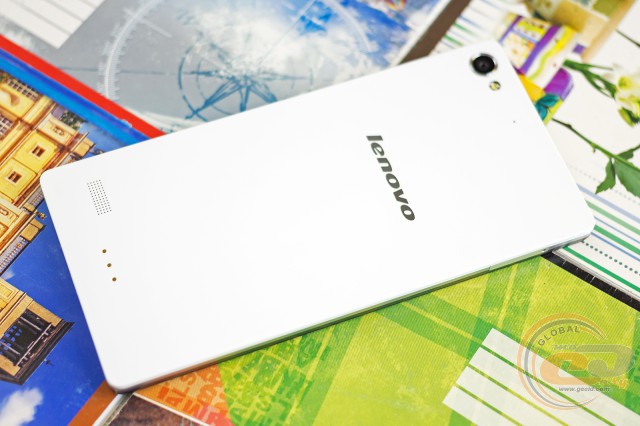 Not folding rear side is made of a rather practical matte plastic, which actively resists fingerprints and minor scratches. At the top is the main lens of the camera (framed in chrome edging) with a single flash (app "Flashlight" is available), and an optional microphone.
Below is a silver logo by Lenovo. In the lower left corner there is a wide perforated area for the sound output from the multimedia speaker, near are terminals for connection of accessories.
Thanks non-collapsible body the new offers remarkable build quality and excellent rigidity. There are no clearances or excessive noise when attempting to torsion under moderate pressure. Stains and other artifacts on display were not observed. The used materials hope for long life.
Once again it should be noted a complete transparent plastic bumper, which successfully fulfills its protective function, and thus does not hide the main design features of the smartphone - a multi-layer design.
In general, Lenovo VIBE X2 is characterized by a distinctive and quite elegant appearance combined with comfortable ergonomics that leaves a positive impression. Due to the relatively compact dimensions (140.2 x 68.6 mm) the device fits nicely in the average palm. Here are brand advantages: the awakening of the smartphone by pressing the "Volume" or lock and awakening by double-tapping the screen in the free zone, which greatly simplifies the life of the user.
Display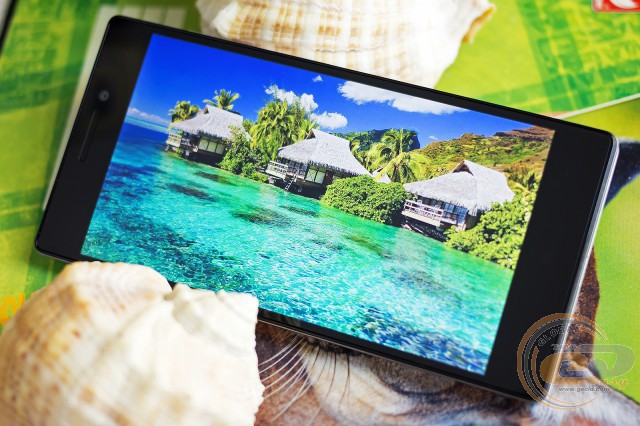 Smartphone Lenovo Vibe X2 is equipped with a touch IPS-matrix, secure by tempered glass Corning Gorilla Glass 3. There is no air gap between the glass and the sensor (the technology OGS), which has a positive effect on the image quality and maximum viewing angles, but increases the cost of repair. Here is a good anti-glare filter and excellent oleophobic finish (grease repellent). This provides a fairly comfortable and easy to slip fingers and decreases the rate of prints collection, and those that appear are easily removed by fibber or regular cloth. In addition, to protect the glass, you can use the complete film.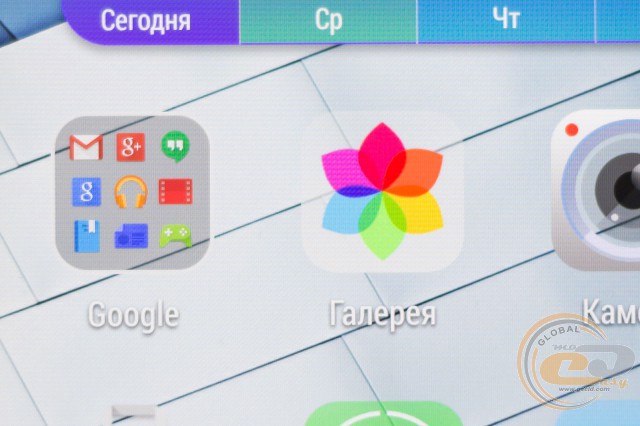 Resolution of 5-inch screen is 1920 x 1080 (Full HD), which, in our opinion, is the best indicator for a diagonal. At the same time the pixel density is 440 ppi, which is enough to show very smooth fonts and obtain highly detailed images in general.
The screen is characterized by wide viewing angles with minimal color deviation in the diagonal view. Image boasts of natural colors with the proper level of saturation and contrast sufficient to provide truly realistic picture. The screen brightness can be changed manually or use automatic adjustment. Maximum level is enough (especially in high-brightness mode) to work with the information on a bright sunny day. The minimum rate is quite comfortable to work in the dark. Proximity sensor locks the screen when held smartphone close to the ear.
There is the possibility to manually adjust the color temperature and saturation, use of ready-made profiles or the use of automation. It should be noted that the brightness varies not only on the level of ambient light, but also on the brightness of the image on the screen, which is not always comfortable for the eyes.
Multi-touch technology can handle up to 10 simultaneous touches. Its work does not cause any complaints. There is a support for the mode of hypersensitivity for gloves operation.
Sound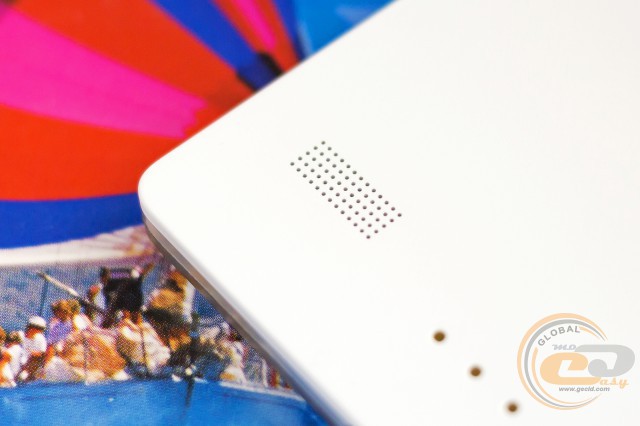 As already mentioned, Lenovo Vibe X2 is featured with one multimedia speaker, which is at the bottom rear of the housing. This area is devoid of any elevations, and the sound is noticeably muted when the gadget is on a soft horizontal surface of the screen up. The volume level is quite high, which is enough for a comfortable performance of most everyday scenarios (watching videos, games and hands-free). The sound is also good: here are low, detailed medium and adequate high frequencies. In any case, you can use a universal audio jack (mini-jack 3,5 mm) and connect headphones or external speakers. Or buy branded accessories Hi-Fi Xtension, which was mentioned above.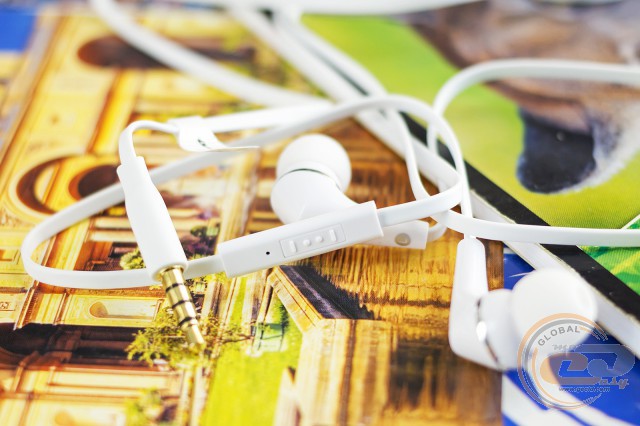 The player is a Google Music, the settings of which are presented in the form of pre-built profiles of equalizer. Complete vacuum-type headphones are characterized by a clear sound (there is an entire frequency band) with sufficient volume. They cope well with tasks and does not cause desire to immediately replace them.
The sound in the headphones was tested by gaming Kingston HyperX Cloud (impedance 60 ohms) and vacuum Vivanco HS 200 WT (impedance 16 ohms). In both cases we felt a pleasant and balanced sound, and the volume is sufficient, even with some margin.
The smartphone has a built radio module that allows you to listen and record FM-broadcasting stations operating in the frequency range from 87.5 to 108 MHz. Traditionally, to turn on the radio, you must connect a headset which is used as an antenna.
Социальные комментарии Cackle