Sigma Comfort 50 Mini3 and Sigma Comfort 50 Light: review and testing
Despite the rapid development of the mobile industry and the incredible popularity of high-performance smartphones, there is a fairly large category of users who value practicality and ease of use of plain mobile phones.
The weak point of almost any modern gadget is its low security (large screen and slim body are very fragile) and low autonomy. But not every user needs a constant connection to the Internet or the ability to shoot HD-content, while the need to stay connected for a long time is the main prerogative. This is especially true of people over age group for which the important advantages are large and comfortable buttons, as well as plain user interface.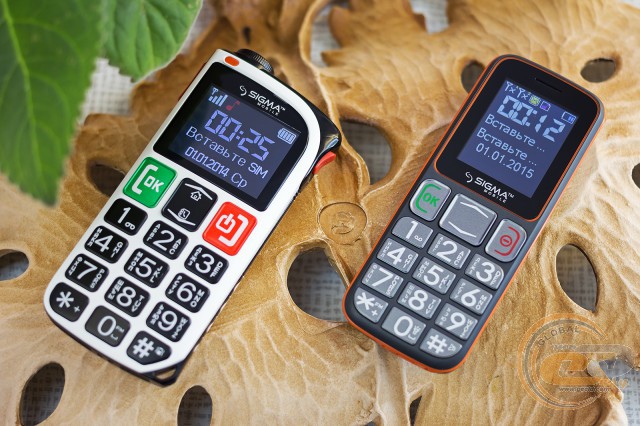 And the company Sigma mobile produces a full range of practical and low-cost mobile phones for such a category. In this review we will introduce two models: Sigma Comfort 50 Mini3 and Sigma Comfort 50 Light. And we will try to find out the main advantaged and features of the products.
The specs:
Producer

Sigma mobile

Model

Comfort 50 Mini3

Comfort 50 Light

Type, form-factor

Mobile phone, monoblock

Communications standards

2G (GSM)

850 / 900 / 1800 / 1900 MHz

3G (WCDMA)

−

4G (LTE)

−

SIM-card

Mini-SIM

Platform

MediaTek MTK6261

MediaTek MTK (version 60M)

Display

1,77", 160 x 128 p (116 ppi), TFT, color

1,8", 160 x 128 p (114 ppi),

TFT, color

Card-reader

microSD (up to 16 GB)

Socket

2 x Mini-SIM

1 x micro-USB

1 x audio mini-jack 3,5 мм

1 x Mini-SIM

1 x micro-USB

Two point to connect the dock-station

Multimedia

Speaker

Mono

Microphone

Mono

FM-radio

+ (Ability to listen without headset connection)

Additional

Dictaphone, videoplayer, audioplayer

audioplayer

Camera

0,3 Мp VGA-module, fixed focus, video recording with resolution 320 х 240 p at 6 fps

−

Connectivity

Bluetooth 3.0

−

Additional capabilities

«SOS» button (is programmed for 5 numbers); figures auding function by pressing numbers on the keypad; flashlight

Battery

Lithium-ion cell,

removable: 850 mАh

Lithium-ion cell,

removable: 1100 mАh

Charger

Input: 100~240 V AC at 50/60 Hz

Output: 5 V DC 0,5 А

Dimensions

114,8 х 45 х 10,8 mm

117 х 55 х 15,6 mm

Weight

90 g

92 g

Color

Gray-green,

black-green

White, gray

OS

No

Warranty

12 months

Producer website
Package and content
The reviewed phones come in relatively small white boxes. Both packaging are made of fairly dense matt board and have very pleasant and informative graphic printing. The combination of golden symbols on a light background (i Sigma Comfort 50 Light) looks very beautiful, attracting the attention of potential buyers.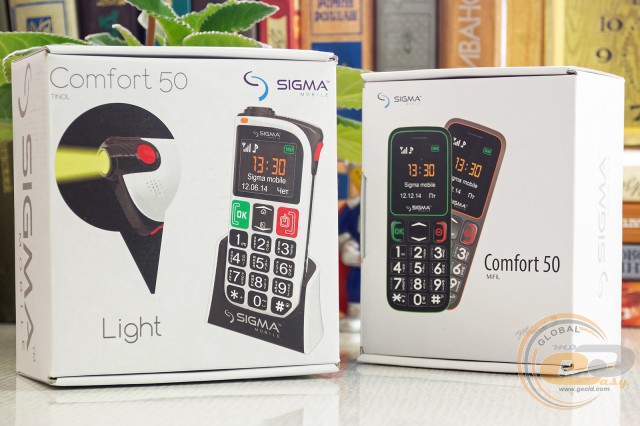 The front side of the box has bright images of phones and contains some stylish logos of the manufacturer and model name.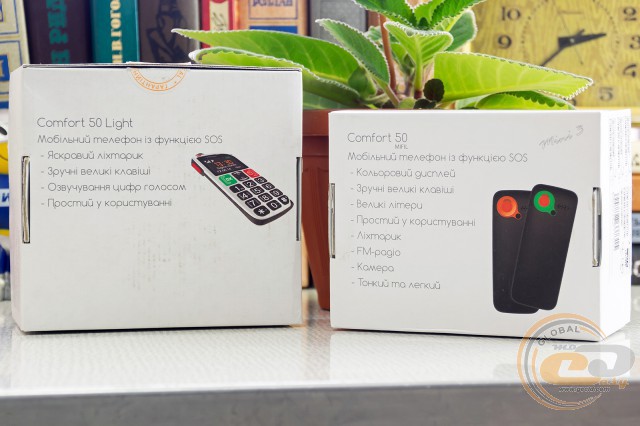 Behind and on one of the sides is quite useful technical information.
Despite the fact that both phones come into inexpensive devices segment, they can safely boast of a very rich delivery set.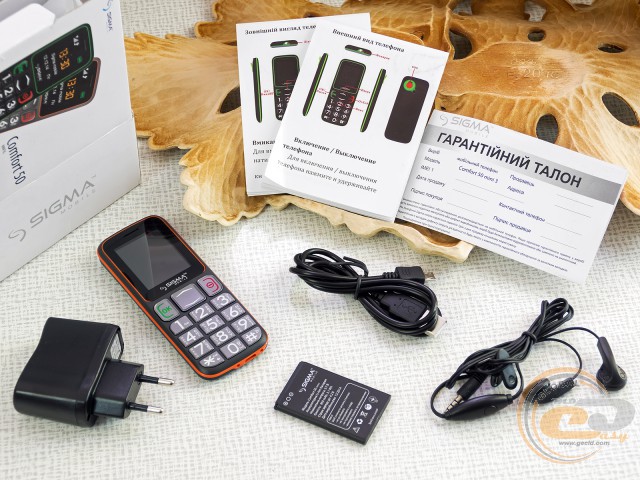 So, in a box with Sigma Comfort 50 Mini3 you can find a charger, a removable battery, USB-cable, a wired headset with in-ear headphones, quick start guide and warranty card.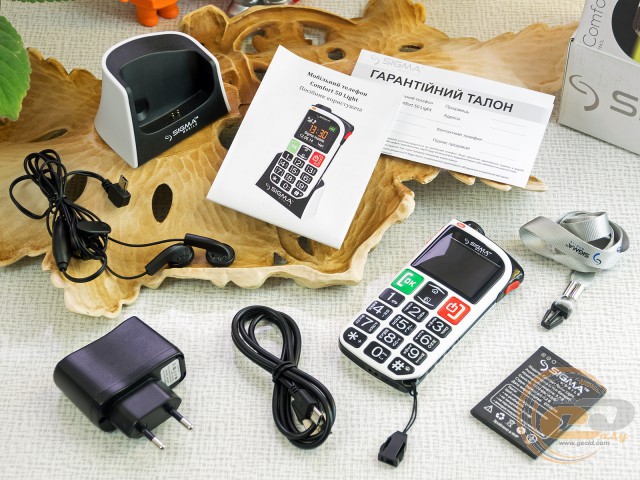 As for the supplied set of Sigma Comfort 50 Light, it also contains a list of all of the above elements, which is complemented by a proprietary fabric strap and a docking station.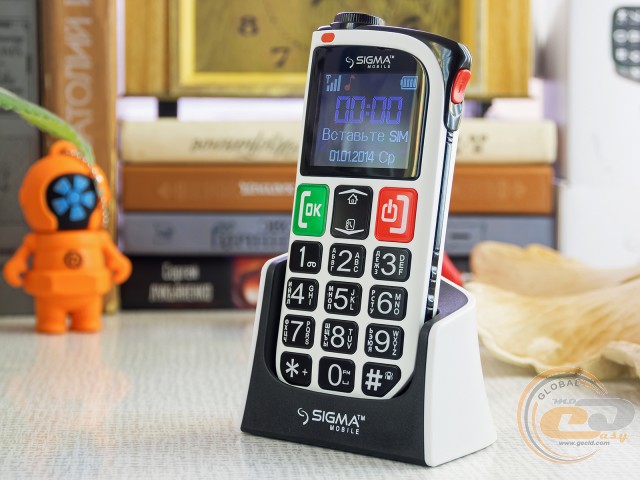 The latter has a compact size and light weight. It allows without any problems, quickly and conveniently charge phone battery by connecting the device by means of special external contacts.
Design and elements layout
Despite to the belonging to a series of both devices Sigma Comfort 50 and the presence of similar functional elements, their appearance is markedly different from each other.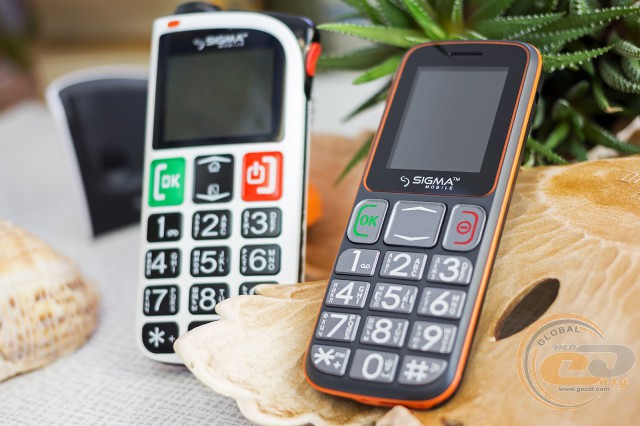 Sigma Comfort 50 Mini3 being a new model is representative of a more rigorous and pragmatic design, which aims is to please the greatest number of users. This is a classic compact monoblock of rectangular shape with slightly rounded edges and a typical arrangement of buttons.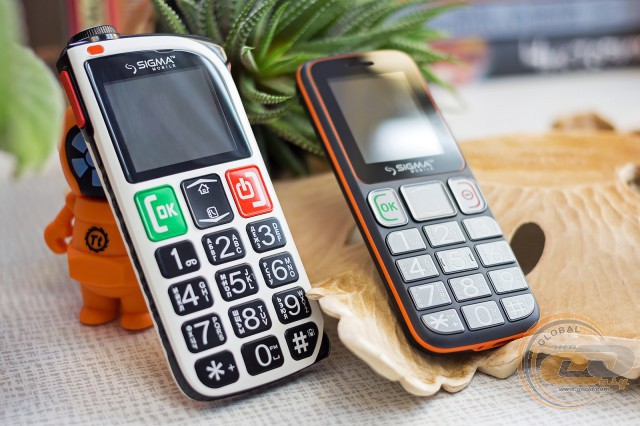 Meanwhile, Sigma Comfort 50 Light played the role of a certain beacon by which the company has once again announced its intention to conquer the market share of available phones. Here you have a stylish design (externally the phone resembles a walkie-talkie), as well as interesting and unusual design (the presence of a powerful built-in flashlight and reliable fastening). As a result it took the first place in the prestigious international competition iF design awards in 2014.
The phone is made of very high quality and good quality plastic. It not only provides a pleasant tactile sensation, but also gives excellent stiffness of the devices. The heart of Sigma Comfort 50 Mini3 is a dark matt polycarbonate, whereas the model Sigma Comfort 50 Light is made mostly of glossy with a "spark" of the material.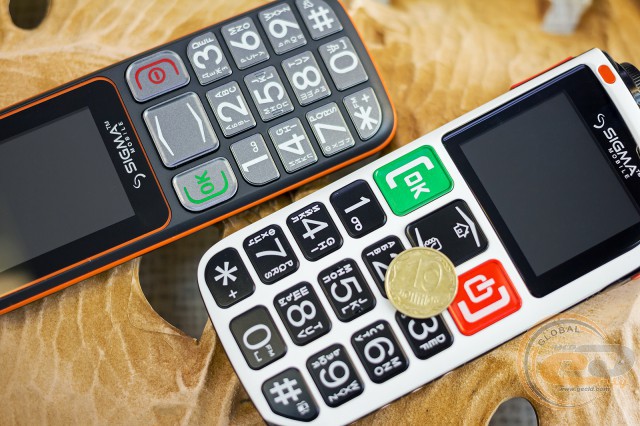 In addition, the monitored phones are slightly different in size and weight, which slightly affects the ease of use. Compared to Sigma Comfort 50 Light (117 x 55 x 15.6 mm and 92 g), the model Sigma Comfort Mini3 50 has smaller dimensions (114.8 x 10.8 x 45 mm, 90 g) and easily fits into a pocket of pants or jeans, while the construction of the second device clearly alludes to the open carrying of using the strap.
There are a few design options, allowing you to pick up the device according own taste. Phone Sigma Comfort 50 Mini3 is available in gray and orange or black and green design, and Sigma Comfort 50 Light is in white and gray.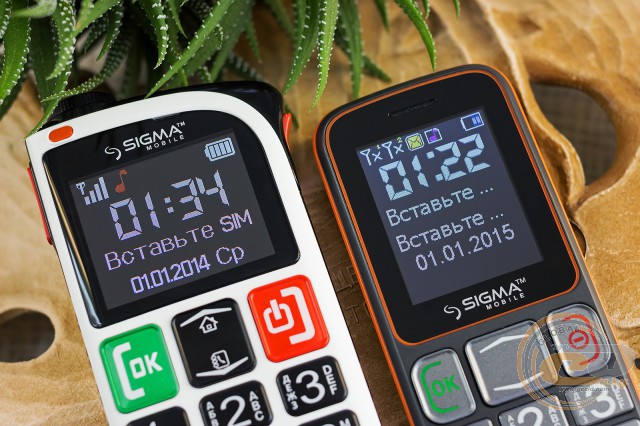 The front side of both devices is standard for the classic mobile layout. There is a small color display, covered by a mineral glass, under which there is a numeric keypad, consisting of a fairly large buttons. Also above the screen of Sigma Comfort Light 50 LED there is a special LED indicator. During a phone call or a receiving the message, it lights up by bright orange glow that allows you to notice an incoming call, even at a very considerable distance from the device.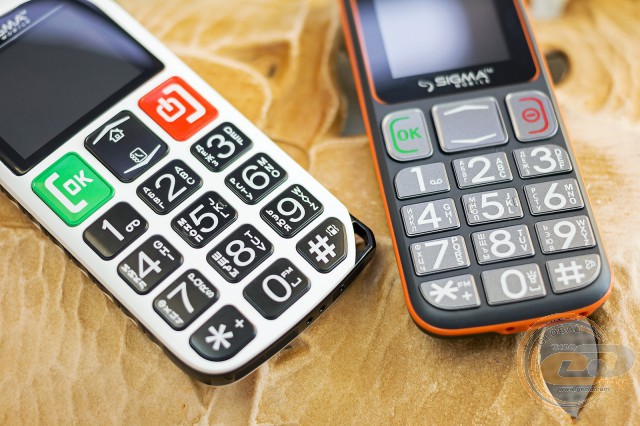 All buttons on the keypad are made from pleasant to the touch rubber and have a relatively large size, as well as smooth average stroke. They have a readable font, which is especially useful for people with visual impairments. Moreover, both units have a very useful feature of auding the numbers when pressed on the keyboard, which allows you to dial phone numbers almost blindly. All this is perfectly mixed with the concept of devices for the elderly.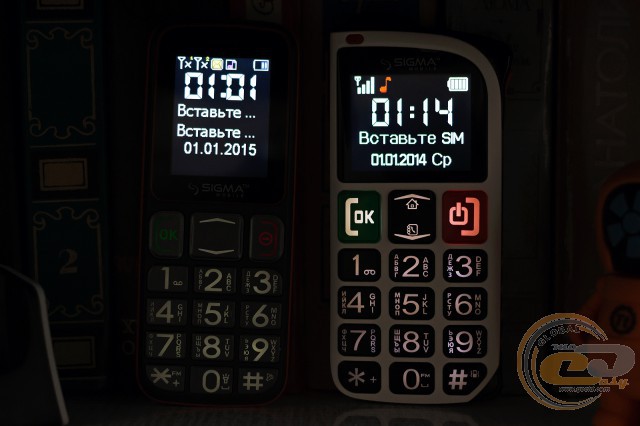 The keypad has a rather pleasant and uniform illumination of white light. It consists of one-off JOG (provides quick access to the menu and the phone book), twelve numeric keypad and two buttons receive and reject calls, painted in green and red. Recent help navigate the phone menus, and also serve to confirm the action.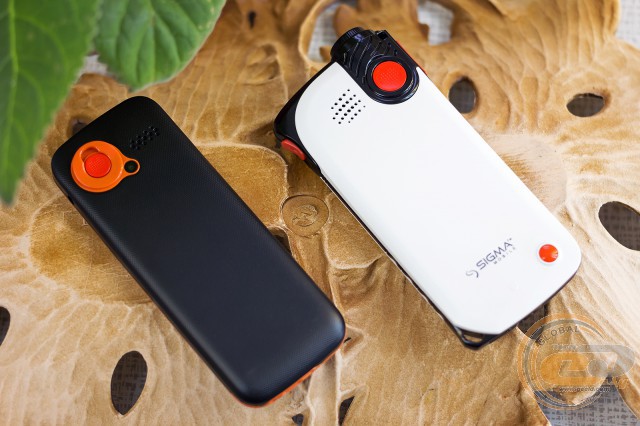 The back side of the monitored phone, as opposed to the front part is characterized by some design features and deserves special attention. It is presented in the form of a removable plastic cover, which has a hole of multimedia speaker, and in the case of the model Sigma Comfort 50 Mini3 here is a digital camera lens. There is also a special alarm button «SOS», which is used for emergency calling.
After opening the above cover, we have access to a removable battery and slot for card Mini-SIM and microSD (up to 16GB).
The top of the Sigma Comfort 50 is Mini3 has a LED Flashlight (LED cold light) and on the bottom edge there is a micro-USB port and the opening of the earpiece. The latter has not very successful placement, since at a certain-grip it can be muted. At the same time, the right side of the device contains 3.5mm audio jack for a headset, while the left face is devoid of any functional elements and connectors.
As for the model Sigma Comfort 50 Light, its main advantage is a built-in flashlight on the basis of a fairly powerful LED, complete with mirror reflector.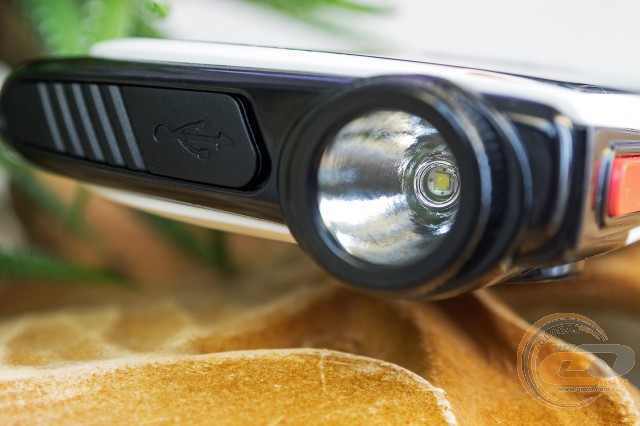 It is located on the top edge of the phone and is able to provide a continuous stream of bright and light in almost any weather conditions. Flashlight can operate in three modes: "Maximum brightness", "50% brightness" and "Stroboscope", which can be switched almost on the fly, using a special button on the right side of the phone. Unlike the LED in Sigma Comfort 50 Mini3, it operates even when the device is disabled, that in some cases saves battery power.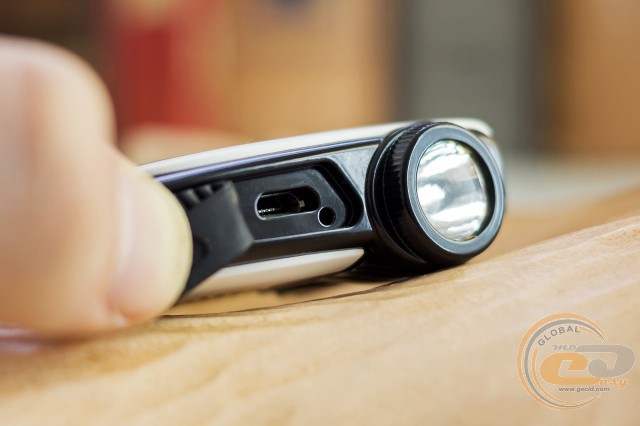 In addition, on the top of a telephone near the aforementioned flash-light you can find a port micro-USB. It is protected by a rubber plug and is used for charging and for connecting a wired headset.
The left side of the phone has a volume rocker, while in the bottom there is the microphone hole and two metal contacts used to the device to a proprietary docking station.
The build quality of both phones is at a high level and deserves only good reviews. All parts and elements of the case fit tightly: you won't find even the slightest backlash or gaps. Both devices also differ a great rigidity and do well even with extra pressure. Unfortunately, in contrast to the older and more expensive lineup of Sigma X-treme, the model of a series Sigma Comfort does not have any kind of protection against dust and moisture, whichis compensated by their relatively low cost multiplied by the quality performance.
Социальные комментарии Cackle