Smartphone Sony Xperia Z3: review and testing
urrently Sony is upgrading its mobile business, and shifts the focus to the decisions of the upper and middle price range. In this fiscal year Sony Mobile Communications plans to sell 38 million smartphones. Despite rumors about the rejection of the strategy of issuing new flagship models every six months, the Vice-President of Global Communications and Public Relations Tim Harrison in a recent interview said that the company decided to produce flagship models more frequently than once a 12 months. On the one hand, this solution allows to quickly take into account errors and to impose compete with other manufacturers. But is it possible in this case to rely on the fundamental improvements over the previous model? It can also lead to competition within the lineup. We will try to find out the example of Sony Xperia Z3 is it true in the current market conditions.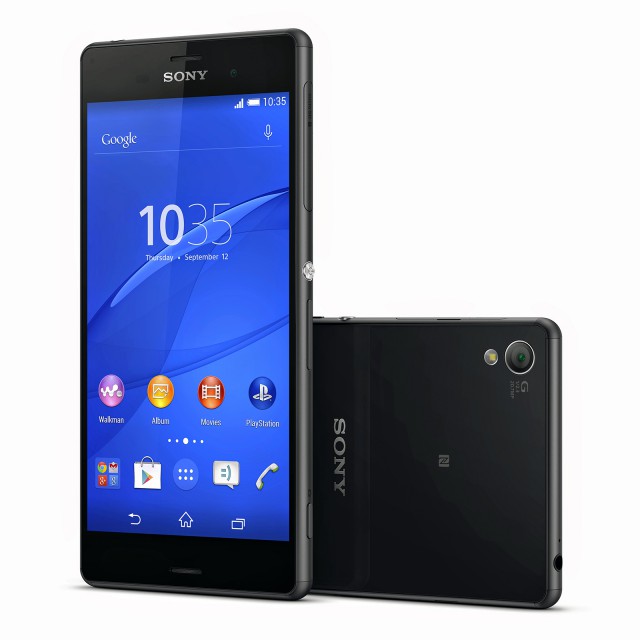 In terms of technical characteristics, this model is a little different from its predecessor Sony Xperia Z2. There is the same 5.2-inch Full HD IPS-display, processor Qualcomm Snapdragon 801 and the main camera of 20.7 megapixels. So what's the difference? It lies in a number of design improvements, branded shell Xperia Home and several technical nuances. All this will be explained in more detail below. Let's start from the technical specifications Sony Xperia Z3:
Producer

Sony

Model

Xperia Z3 (D6603)

Type, form-factor

Smartphone, monoblock

Communication standard

2G (GSM)

850 / 900 / 1800 / 1900 MHz

3G (HSPA+)

850 / 900 / 1700 / 1900 / 2100 MHz

4G (LTE)

700 / 800 / 850 / 900 / 1700 / 1800 / 1900 / 2100 / 2300 / 2600 MHz

Broadband data transfer

GPRS (32-48 Kb/s), EDGE (236 Kb/s), HSDPA (up to 42,2 Мb/s), HSUPA (up to 5,76 Мb/s), LTE Cat.4 (up to 50 Мb/s UL, up to 150 Мb/s DL)

SIM-card

Nano-SIM

CPU

Qualcomm Snapdragon 801 (MSM8974AC): quad-core Krait 400, up to 2,5 GHz, L2 cache − 2 МB, manufacturing process 28-nm HPm

GPU

Qualcomm Adreno 330: up to 578 MHz, support for OpenGL ES 3.0, OpenVG 1.1, OpenCL 1.1 and DirectX 9.0c

Display

IPS, 5,2" TRILUMINOS, 1920 x 1080 p (423 ppi), multi-touch up to 10 presses, protective Asahi DragonTrail X, technologies X-Reality and Live Colour

RAM

3 GB, dual-channel LPDDR3

ROM

16 GB

Card-readers

microSD (up to 128 GB)

Interfaces

1 x micro-USB

1 x audio mini-jack 3,5 mm

Multimedia

Sound processing

ClearAudio+

Speaker

Stereo

Microphone

Stereo

FM-radio

+

Camera

Main

Exmor RS (1/2,3"): 20,7 МP, BSI, aperture f/2.0, AF, LED flash, Image stabilization system

SteadyShot, «HDR»-shoot, video recording in format 4K Ultra HD (30 FPS)

Front

2,2 МP, aperture f/2.8, fixed focus, video recording in format 1080p

Connectivity

Wi-Fi

802.11 a/b/g/n/ac (2,4 / 5 GHz)

(Wi-Fi Direct, Wi-Fi hotspot)

Bluetooth

4.0

GPS/GLONASS

+/+

NFC

+

ИК

–

DLNA/Miracast

+/+

MHL

+ (MHL 3.0)

Sensors

Accelerometer, gyroscope, proximity sensor, light sensor, LED, a geomagnetic sensor (compass), barometer

Battery

Lithium-ion cell, non-removable: 3100 mАh

Charger

Input : 100~240 V AC 50/60 Hz

Output: 5 V DC1,5 А

Other

Dust and moisture protection according to IP65 and IP68

Dimensions

146 × 72 × 7,3 mm

Weight

152 g

Color

Black / White / Olive / Copper /Purple

OS

Android 4.4.4 KitKat + Xperia Home v7

Warranty

12 months

Producer website
Package and content
Tested smartphone comes in a traditional small square box. Package is made from a rather dense matt board and is characterized by restrained and concise design. Its front side has a partial view of the smartphone, as well as the model name and logo of the manufacturer. The side faces have stickers with service information (IMEI, S/N, Model, Color, and country of manufacture). On the reverse side ( icons) contains the basic features of the Sony Xperia Z3 and legal information about the manufacturer. Here is a picture of the product in several color variations. This style of packaging suggests that this is a premium device.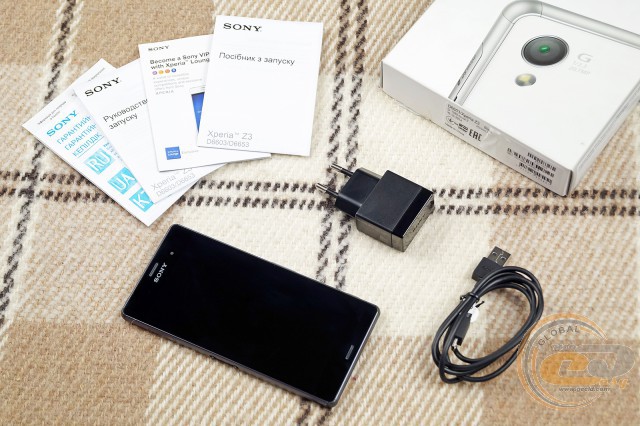 Together with a smartphone a potential buyer will find the following accessories:
user manual;

warranty card;

Charger (5 V; 1.5 A);

Cable micro-USB↔USB.
If you recall the review of Sony Xperia Z2, it has a complete high-quality stereo headset Sony MDR-NC31EM with vacuum headphones and digital noise reduction. Now, the manufacturer offers to buy it separately, as well as a number of other branded accessories.
Design and elements layout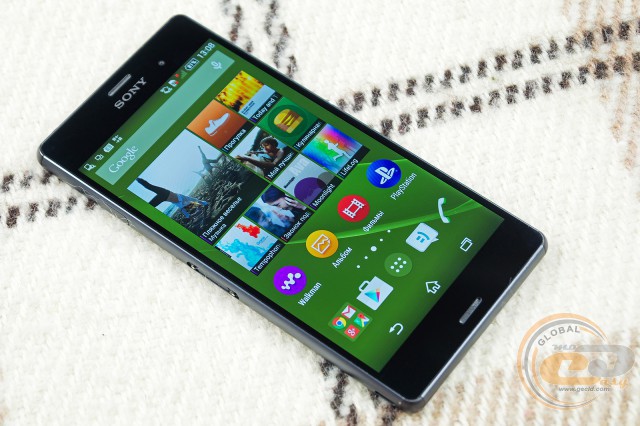 Sony is continuing to follow the proven design concepts OmniBalance. As before, we have maximally symmetric monoblock that combines the metal frame and glass panels. If at first glance it seems that the difference from the previous flagship is very small, under the more detailed review you will notice a large number of important details such as modified shape and location of the stereo speakers on the front panel (in previous versions they were thinner and located near the edges) and a rounded side faces (without the flat area in the central portion). At the ends there are shock-absorbing inserts made of polycarbonate in the color of the body, and between the glass and the frame there are minor gaps (collect small particles and dust). The latter two are designed to optimize impact or mitigate the consequences of the fall, which in theory have a positive impact on the durability of new item.
A further comparison with the Sony Xperia Z3 Sony Xperia Z2 shows that the smartphone has become more sophisticated by reducing the size (146 × 72 × 7,3 mm to 146,8 x 73,3 x 8,2 mm) and weight (152 g vs. 163 g). In addition, the manufacturer has decided to emphasize the design changes by updating the color palette: apart from the traditional black, white and purple flowers, it now includes olive and copper. If in previous version the flagship smartphone had a black front panel (regardless of the color of the main body), now the white version is only white.
The front and back sides are covered with a protective glass Asahi DragonTrail X (analogue of Corning Gorilla Glass 3) with oleophobic (grease repellent) coating of good quality. The metal part of the border is made of anodized aluminum (protected from corrosion and has electrical insulation properties), painted black.
The width of the frame around the display on the sides of 4 mm, top - 15.5 mm, and bottom - 16 mm (for comparison, Sony Xperia Z2 laterally aside to 5 mm, top - 17 mm, and bottom - 16 mm). The the front side over the display contains: proximity and ambient light sensor, logo, eye of front camera and an integrated notification sensor (in the left corner), flashing with different colors (white, green, orange and red) depending on the event. Illumination can be turned off in the settings. Top and bottom cuts have symmetrically placed stereo speakers, covered with black metal mesh. Due to the on-screen buttons, the lower part is devoid of additional elements.
At the upper end has an optional microphone and a universal audio jack (mini-jack 3,5 mm). It is deprived of the plug. However, the manufacturer does not recommend its use within 2 hours after immersion in water . The lower bound is devoid of any elements.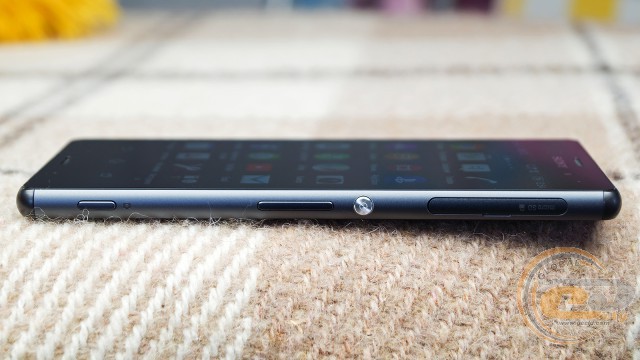 The right side of the body Sony Xperia Z3 contains: microSD slot and a plastic tray of card Nano-SIM (covered with a metal cap with a seal), branded round button "power/lock" (by double-tapping you can unlock the screen, but this method must be activated in the settings), volume rocker control and the camera rocker.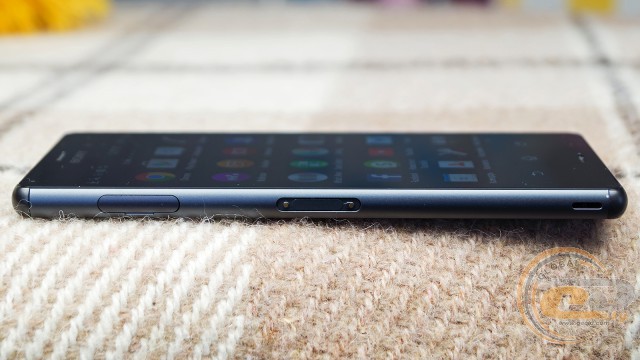 The left side (under the cap) contains connector MHL, which combines the functionality of HDMI and micro-USB. Below you can find the open contacts for connection to the dock, and the mounting of strap or keychain.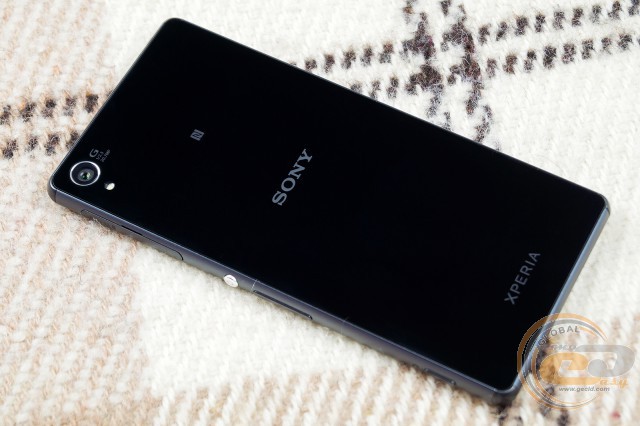 The back side of the smartphone contains: the main camera lens, framed in a metal ring; bright single section LED-flash (flashlight software is present), and the icon of antenna NFC-module. Below is a logo Sony, and at the very edge - «Xperia».
Compared with its predecessor, the model Sony Xperia Z3 had improved the level of protection against dust and water according to standards Ingress Protection (IP) 65/68. This suggests that the smartphone will not be damaged in case of swimming in fresh water at a depth of more than 1 m, or washing with low pressure (the main thing that all the plugs are closed).
Due to non-collapsible body the novelty offers good build quality: details are well fitted, without any hint of a backlash. The case has sufficient rigidity, although having some ductility in torsion, but it is not critical and is a result of the specificity of the used materials. Glass from the side of the display (under strong pressure) is slightly pressed and is accompanied by characteristic patterns on the matrix. However, in actual use it is unlikely to be noticed.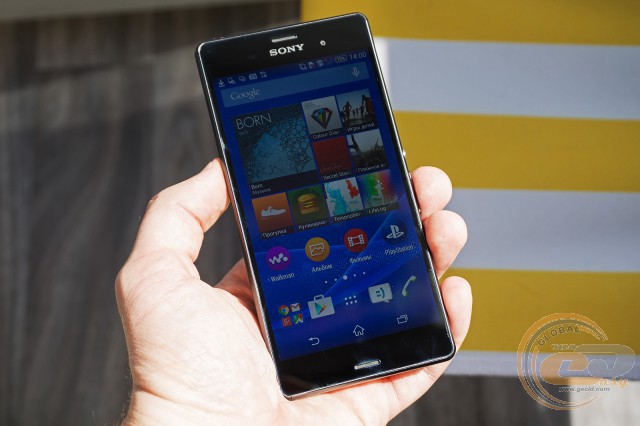 In general Sony Xperia Z3 looks quite stylish and premium. Thanks to a number of ergonomic optimizations (reduced size, weight and the frame around the display, a round bezel) smartphone has become more compact, allowing you to control it without any particular problems, even with one hand. Of course, it all depends on the size of the palm of your hand and your skill. But the fact remains - the novelty is wonderfully in the hand. Controls are in place: all are quickly and easily pressed. And thanks to the protection against moisture and dust, as well as the presence of a mechanical key camera can take pictures even under water. As before (feature of the used materials), flagship smartphone from Sony are quite easily soiled and yet slippery (especially when hands are wet).
Display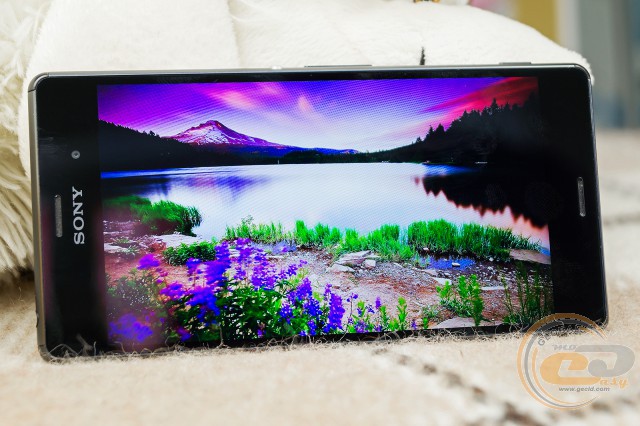 Sony Xperia Z3 is equipped with a proprietary display TRILUMINOS (IPS-matrix), which uses image processing technology X-Reality (can be switched off in the settings), and Live Colour (red and green subpixels are made with the use of phosphorus). All of this has a positive effect on the contrast and provides a wider color gamut. Between the glass and the sensor you won't face with air gap (the technology OGS), allowing you to get rid of extra glare and provide better display the information compared to the corresponding versions of the air gap. However, the technology OGS does repair more expensive (in case of necessity you will have to replace the entire display unit). The screen is protected by tempered glass Asahi DragonTrail X, having a good oleophobic (grease repellent) finish. This ensures comfortable and easy to slip fingers and reduces the rate of accumulation of prints.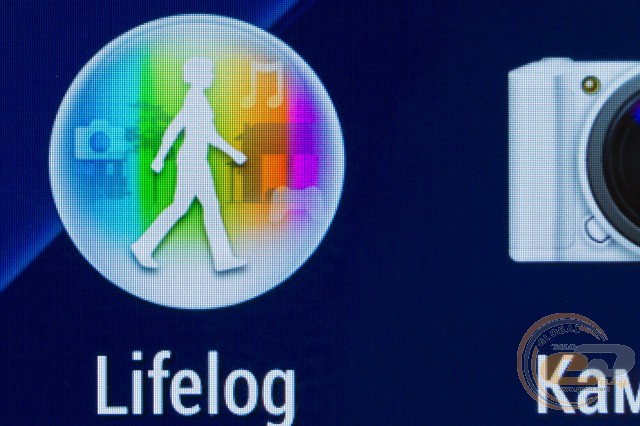 Resolution of 5.2-inch screen is 1920 x 1080 (Full HD), which, in our opinion, is the best indicator for such diagonal. This pixel density is 423 ppi, which is enough to show a very smooth fonts and produce highly detailed images. The subjective impression of the display is positive. The screen is characterized by maximum viewing angles and high contrast by using high-quality IPS-matrix. Image boasts a bright and saturated colors (especially when viewing photos and video), however, there is a significant deviation in the direction of cold tones.
It can be neutralized by white balance settings, and basic color channels (RGB), traditionally present in the flagship Sony. In this instance, under the manual setting of basic color channels (Red - 51, Green - 36, Blue – 0) we could get a more natural picture. It should be noted that it would be nice to have a few ready-made color profiles. This would simplify the life of users.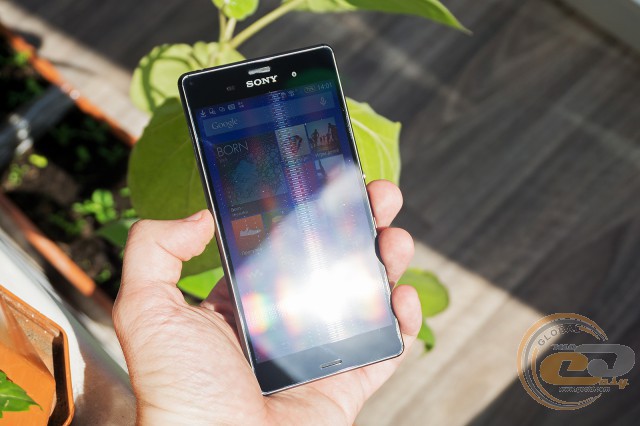 The screen brightness can be changed manually or use automatic adjustment. Maximum level is enough for comfortable work with information in a bright sunny day, however, in such circumstances the structure of the sensor substrate becomes apparent. Index of the minimum brightness is quite comfortable to work in complete darkness. The proximity sensor locks the screen for presentation of the smartphone to your ear. Multi-touch technology can handle up to 10 simultaneous touches. Its work does not cause any complaints. There is support for the mode of hypersensitivity to work in thin gloves.
Sound
Model Sony Xperia Z3 is equipped with two multi-media speakers. They are symmetrically arranged on the front side (top and bottom). Despite the protective properties of the smartphone, speakers provide high-quality and at the same time a loud sound: a wide frequency range is palyed, and even yo can feel the presence of low frequencies. The only note: under the volume higher than 60% the body starts to resonate. In general, the capacity is sufficient for gaming, watching movies, phone calls etc.
It should be noted that Sony and its Walkman lineup of portable audio devices have made a real revolution in the way of listening to music. Therefore, having a great experience and work in this area, the company continues to implement their ideas in the mobile devices. A striking example is a corporate player Walkman, which has a large number of technologies and setting (surround sound, equalizer, the ability to edit tags, etc.). Among them note a complex function ClearAudio+, activation of which not only increases the volume but also improves the clarity and richness of sound. When the individual options (Clear Bass and Clear Phase) there is bass boost, and S-Force Front Surround Surround attached, though at the expense of overall quality. In addition, the smart phone has got the support of uncompressed high-definition audio formats (WAV, AIFF, FLAC, ALAC) with a bit rate up to 24 bit/96 kHz.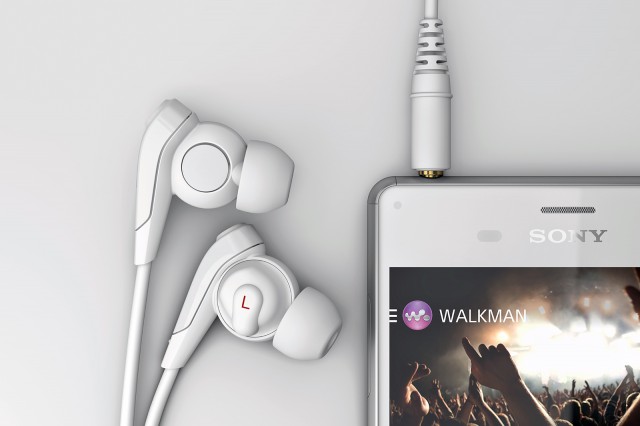 The previous model was completed with high quality headset Sony MDR-NC31EM with headphones of vacuum design and digital noise reduction system, which left the positive impression during testing Sony Xperia Z2. Now, the manufacturer offers to buy it separately, allowing to reduce the final price.
The sound in the headphones was tested by the use of foreign gaming Kingston HyperX Cloud (impedance of 60 Ohms) and vacuum Vivanco HS 200 WT ( impedance of 16 Ohm). In both cases, the sound was very good, and the volume level was sufficient (there is a minimum margin).
So, besides the already mentioned function ClearAudio+, do note DSEE HX, which together with the profile of "Studio" does sound really voluminous and rich and more alive. In addition, the effect can be enhanced by raising the equalizer Clear Bass.
The smartphone has a built-in radio that lets you listen to broadcast of FM-stations and operating in the frequency range from 87.5 to 108 MHz. Traditionally, you must be sure to turn on the radio to connect a headset, which is used as an antenna.
Социальные комментарии Cackle