Smart Watch and Phone: sWaP Social review and testing
Fiction of the past dreamed of a time when advanced technology will give people bright and unusual gadgets that provide unprecedented functionality. Movie characters certainly had a small device able to instantly process the vast amounts of information, or provide an advantage in battle.
And during last few years we have almost completely surrounded by high-performance mobile systems, thin and quite powerful smartphones, as well as a variety of other electronic gadgets. And due to the current trend toward miniaturization and the introduction of new technologies, we became the observers of the emergence of something extremely compact and rather unusual. And this is smart watch. The turning point in the industry was in 2013, when "arms race" had not only the world-famous industrial giants Apple, BlackBerry, Google, LG and Samsung, but other equally ambitious and persistent enthusiasts.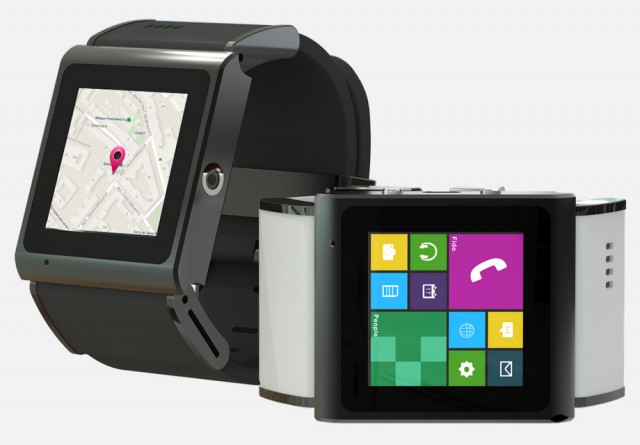 This time we managed to get quite interesting and very promising device in terms of the functionality Smart Watch and Phone sWaP Social. Unlike most of the competitors in the market, this model is not just a stylish accessory with a slightly expanded set of functions, but is a full-fledged smartphone in a compact wristwatch form factor. So let's start our acquaintance with the detailed examination of the technical characteristics of the gadget.
The specs:
Producer

sWaP

Model

Social

Type, form-factor

Smartphone, wristwatch

CPU

MediaTek MT6577: dual-core (ARM Cortex-A9), up to 1,2 GHz,

40 nm manufacturing process

GPU

IT PowerVR SGX531 Ultra: dual-core, up to 522 GHz,

Support for OpenGL ES 2.0

Display

1,54", TFT, 240 x 240 p (220 ppi),

RAM

512 MB

Drive

4 GB

SIM-card support

–

Interfaces

1 x Micro-SIM

1 x micro-USB

Multimedia

Speaker system

Mono

Microphone

Mono

FM-radio

+

Camera

Main

3 Мp, aperture f/2.8, fixed focus, video recording in format 480p 30 fps

Front

–

Connectivity

Wi-Fi

802.11 b/g

Bluetooth

4.0

DLNA

+

IrLED

–

GPS/GLONASS

+/–

2G GSM / 3G WCDMA

+/+

4G LTE

–

Sensors

accelerometer

Battery capacity

lithium-ion cell 580 mА·h

PSU

Input: 100~240 V AC at 50/60 Hz

Output: 5 V DC 1,1 А

Dimensions

42 x 47,4 x 13,5 mm

Weight

72 g

Color

Black, white, blue, yellow, red

OS

Android 4.0.4 Jelly Bean

Warranty

12 months

Producer website
Package and content
It is not surprising that such an unusual device as Smart Watch and Phone, has a very unusual and attractive package. It looks quite traditional, one might even say that it is a modern ascetic, but contains a few surprises and essentially resembles a kind of modern nesting doll, consisting of several separate containers.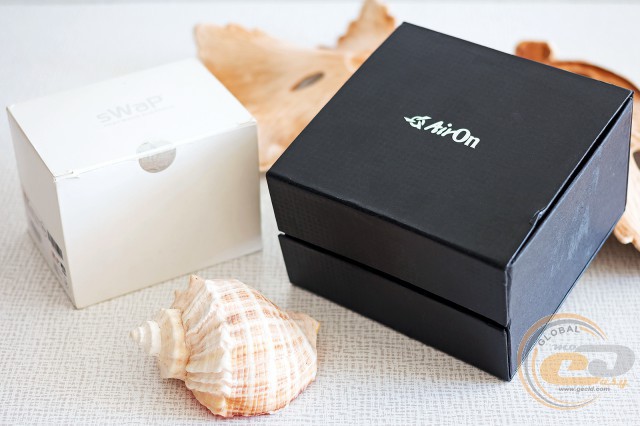 For example, the outer case is a small matte black box of thick qualitative cardboard and logo «AirOn». It looks very elegant and quite compactly, because it has a nice velvety texture and almost completely devoid of any visual design elements. Inside it has a smaller box, which is made of high quality cardboard, but has a very pleasant and white design. In addition to the logo (this time «sWaP»), it has a small paper sticker with a brief list of the main technical characteristics of the device.
Finally, inside the white box you can find another container with the gadget and its equipment. Thanks to the transparent plastic you easily learn the appearance of the device. Compared with cardboard boxes, plastic container has a more rich information design as it contains detailed technical specifications, as well as a line with icons that inform the user about the main advantages and features of the device.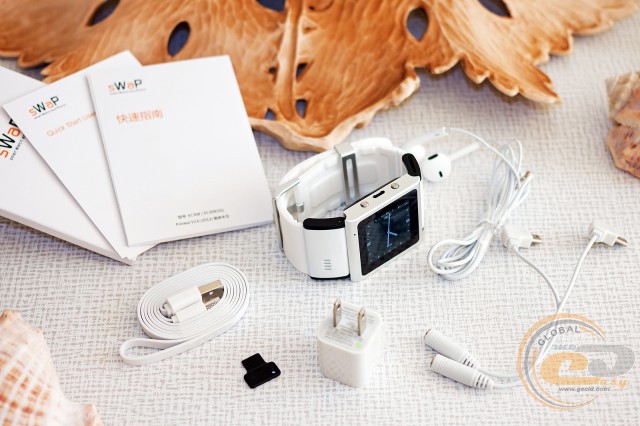 Supplied set of sWaP Social boasts of a pretty good list of accessories. So, the box contains: charger, USB-cable, a wired headset, two special adapters micro-USB ↔ mini-jack 3,5 mm, branded clip to extract the Micro-SIM card and a quick start guide in several languages.
Design, elements layout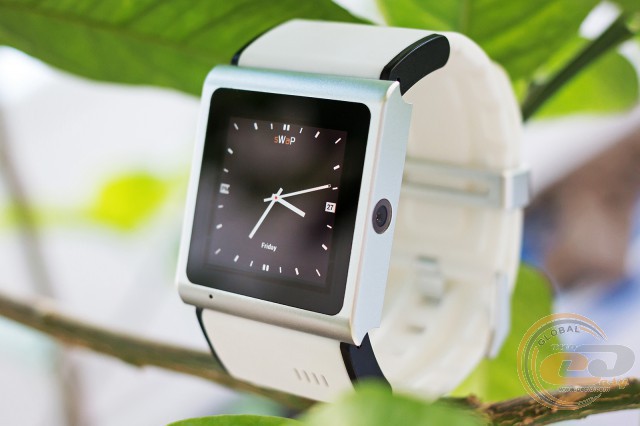 Looking at the design of sWaP Social, you realize that fashion for watch with big dial is still current. Even if completely reject all "smart" component, in the end we still got quite a stylish accessory with a pleasant and very elegant design.
The gadget has a classic rectangular shape with slightly rounded edges at the front of the body, allowing it to perfectly blend with almost any style of clothing, whether it's a business suit or casual shirt paired with jeans. In addition, thanks to the 5 colored straps options (white, blue, yellow, red and black) the user can easily pick up a proper device.
They are made of durable hypoallergenic rubber width 33 mm and are an integral component of the device. The upper part of the strap contains a Micro-SIM card slot, while the bottom has the hole of a multimedia speaker.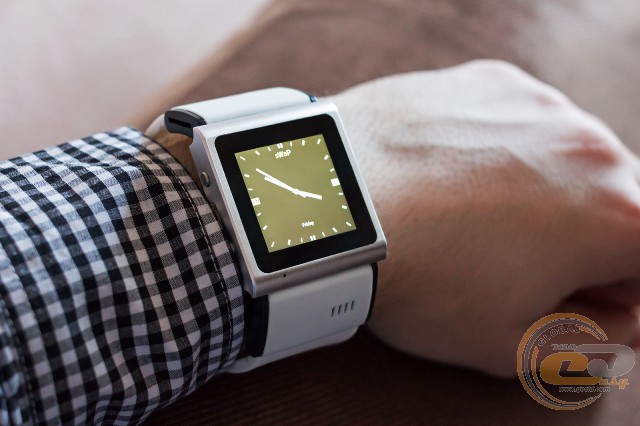 Overall ergonomics leaves a good impression. Thanks to its compact dimensions (42 x 47,4 x 13,5 mm) and low weight (72 g) gadget fits perfectly on the arm. Of course, if you're not used to wearing a watch, it will take some time to adapt. Despite the fact that this type of device is kind of a rarity on the market, a complete acquaintance with the novelty does not require a long time. At long last we have a little smaller, but modern smartphone familiar to many users.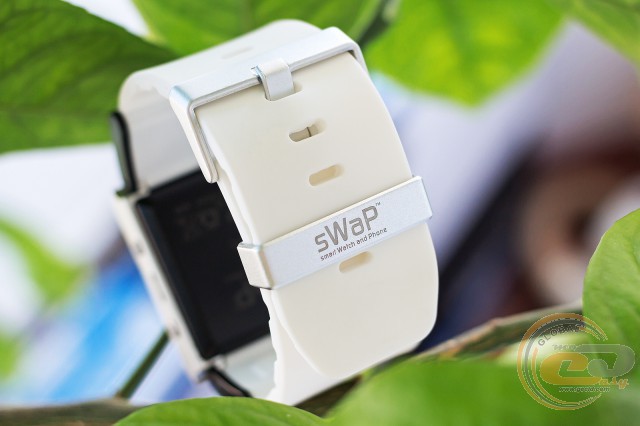 The device is almost entirely made from a single bar of high quality anodized aluminum, which makes the gadget not only enough light and practical, but also has excellent rigidity and durability. The only body part that has no metal origin is its rear part. It is made from high-quality plastic material which has a pleasant touch matte texture.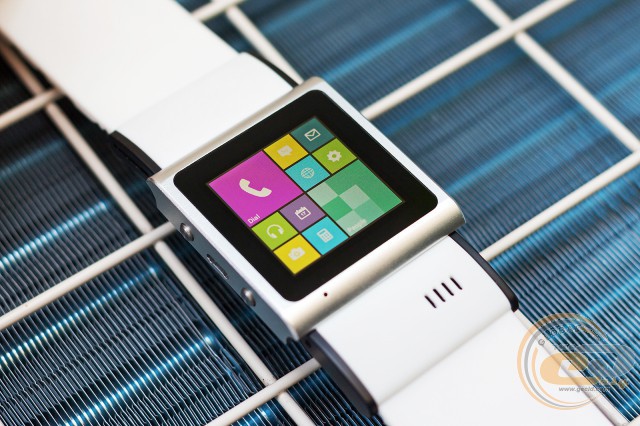 The front part of the gadget has a large square recess with 1.54-inch touchscreen display. It is covered by a simple mineral glass without protective properties and oleophobic layer, so pretty quickly collects fingerprints. Fortunately, they are easily removed with a simple microfiber cloth. In addition to a small microphone hole, here there are two hidden touch-sensitive buttons: "Menu" and "Back".
The main controls, as well as other functional elements are focused on its sidewalls. So, the left side of the gadget has a micro-USB port and two buttons ("Power/Unlock" and "Back"), while the right side has lens digital camera. It is worth noting that you won't find a full audio jack for connecting a wired headset. To implement this procedure there is a micro-USB port and a special supplied adapter cable.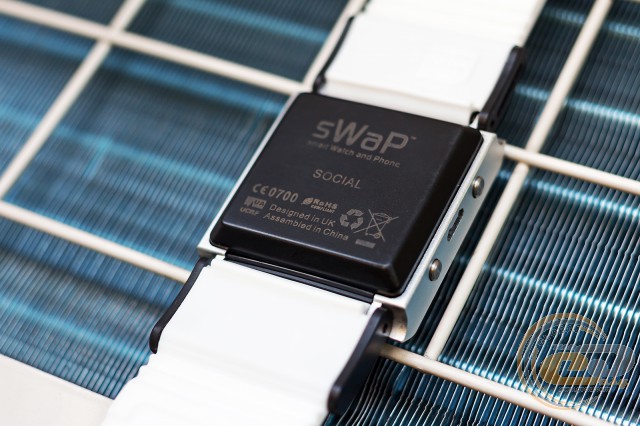 The back side is represented as a small plastic cover of trapezoidal shape. It is devoid of any major functional elements, except brief technical information. After reading it, you can see the full name of the gadget and the country of the design and assembly, as well as get information about the fact that this model has been certified in Ukraine.
The build quality of sWaP Social is at a high level and does not cause complaints. Parts and elements of the case are fit tightly you between them there is not the slightest hint of a backlash or gaps. The device has excellent rigidity and copes well with moderate pressure. The geometry of new item is not changed, and the display has no strains or other possible artifacts. But do note the absence of any protection against dust and moisture.
Display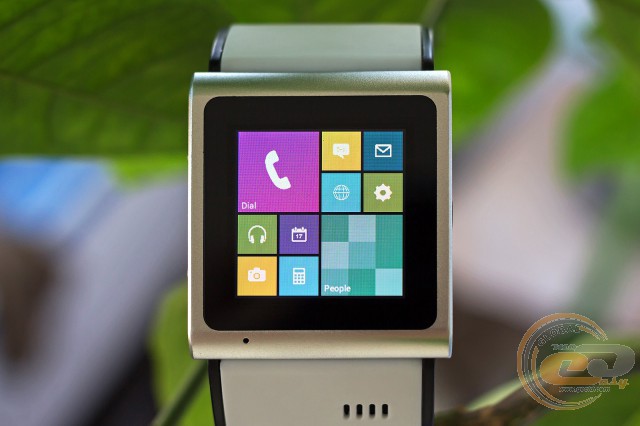 SWaP Social Model is equipped with a small but rather qualitative TFT-screen with a diagonal of 1.54 inches, a resolution of 240 x 240 pixels and a pixel density of 220 ppi. Despite its compact size, it is capable of producing quite acceptable image detail and clarity.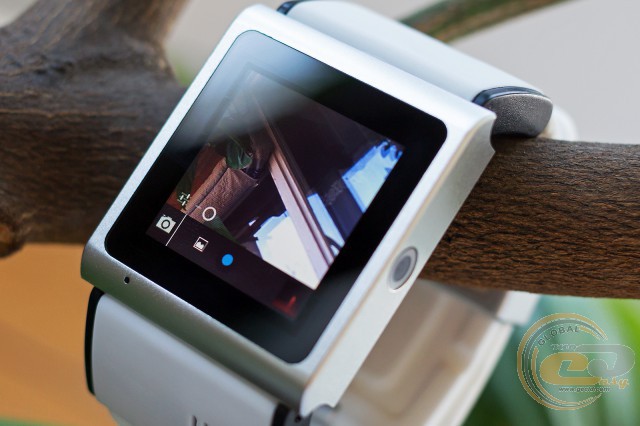 The display of the gadget has good contrast and a good viewing angles. Of course, this is not the IPS-matrix, but even at a sufficiently acute angle the image and fonts are well readable. However, when viewed from the diagonal at a large angle the colors become inverted. Color reproduction is also a nice and has a rather bright colors and shades. It has a white balance shifted to warm colors, but in general it has almost no effect on image quality.
Unfortunately, the screen doesn't have protective properties, as covered by a simple mineral glass. If we consider the level of the device and its typical habitat, the solution is quite controversial and requires more careful handling. Moreover, the display unit is made using OGS technology, characterized by the absence of air interlayer between the glass and the display. This increases the overall clarity and detail of the image, but in general has a rather low maintainability in case of damage.
We should also mention the backlight. Here it has good brightness and good range of adjustment, including automatic. This makes it easy to use gadget not only in bright daylight, but in low light conditions or complete darkness.
Touch screen supports only one touch recognition, which is not surprising when you consider the size of the device. In general, it is quite sensitive and responds well to a light touch. Finger sliding over the glass is pleasant. It does not cause discomfort. Here you won' have glove operation support.
Sound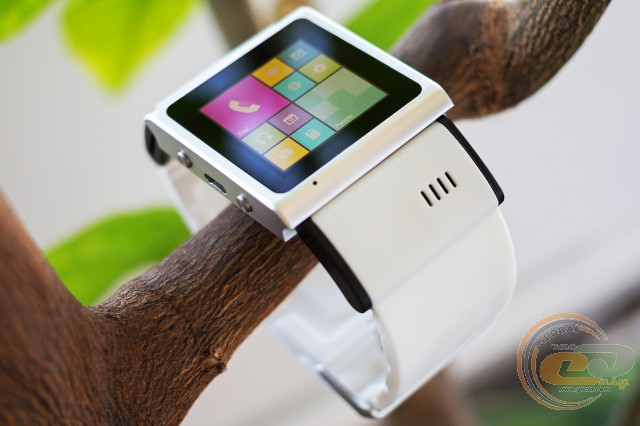 A multimedia speaker provides a good sound quality and output of the speakerphone during phone calls. It is placed on the front side of one the plastic strap. Despite such uncommon design solution, speaker provides enough pleasant and moderately loud sounds at all available frequency range.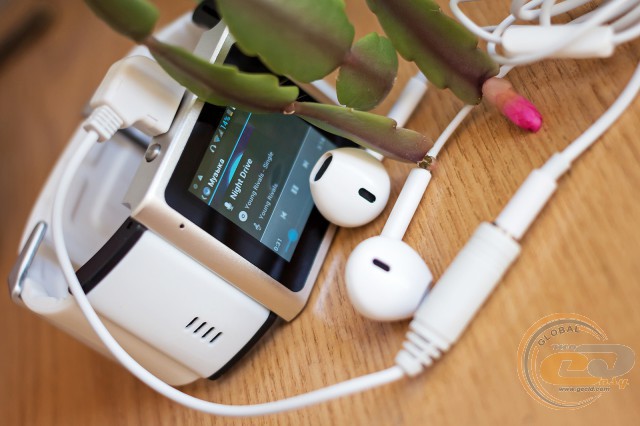 Also it is possible to connect external audio devices that will be very useful during phone calls. Using the built-in micro-USB port and a special supplied adapter cable, we could to connect not only branded wired headset, but third-party headphones. The sound was normal, with a small volume margin and average detailing the frequency spectrum, but without blockages.
Социальные комментарии Cackle