Smartphone ZTE Nubia Z7 mini: review and testing
Over the past few years Chinese mobile phone manufacturers made a huge burst in development. Until recently their products had a plain design, low-quality build quality, slurred hardware and software with uncomfortable control aspect. The appearance of Android OS greatly simplified life of the creator of such devices and at the same time increased competition between them. "Fashion" OS applied in smartphones of world-known manufacturers strongly pulled Chinese devices in terms of functionality, but at the same time has increased demands to the hardware. The Chinese unnamed devices became popular for user with higher demands in terms of performance and design.
After a few years of competition for buyers in the domestic and foreign markets the Chinese smartphones were completely transformed. Companies whose names are in our area were not popular now offer phones with flagship systems, high-quality screen and uninteresting design. This is complemented by current versions of the Android OS with useful add-ons from the manufacturer and affordable price.
Against the background of bold newcomers more notable Chinese companies are in an interesting position. On the one hand, their image doesn't allow to skim the cream like global brands, often offering overpriced smartphones with outdated features. On the other hand, they cannot make price dumping as the cost is higher than that of their younger compatriots with a small staff and advertising costs.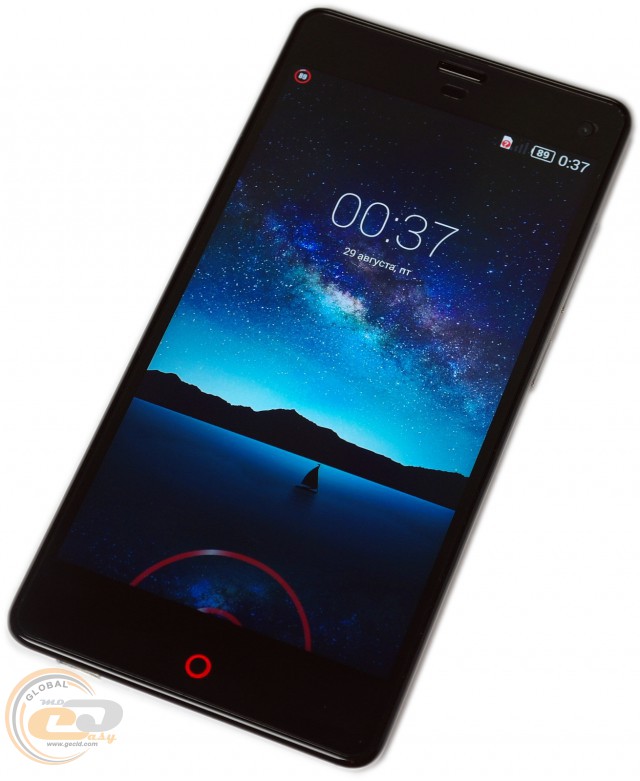 In such circumstances some Chinese brands try to offer smartphones with good quality equipment and technical support at a price slightly higher than "anonymous" devices, but much lower than that of identical offers from international companies. This class of solutions includes the smartphone ZTE Nubia Z7 mini. This model was bought by the author for personal use, and now will try to tell you about the pros and cons of this model.
The specs:

Producer

ZTE

Model

Nubia Z7 mini

Type, form-factor

Smartphone, monoblock

Communication standards

2G (GSM)

850 / 900 / 1800 / 1900 MHz

3G (WCDMA)

850 / 900 / 1900 / 2100 MHz

4G (TD-LTE, FDD-LTE)

1800 / 2100 / 2600 MHz (Band 1, 3, 7)

SIM-card quantity

2

SIM-card type

Micro-SIM

CPU

Qualcomm Snapdragon 801 (MSM8974AA): quad-core Qualcomm Krait 400, 2 GHz, HPm 28 nm process

GPU

Qualcomm Adreno 330, support for OpenGL ES 3.0, OpenCL, DirectX 9.3

Display

5", 1920 x 1080 p (440 ppi), IPS OGS, multi-touch up to 5 presses, scratch resistant protective Corning Gorilla Glass 3 with antiglare and oleophobic coating

RAM

2 GB

ROM

16 GB

Memory card support

microSD (up to 64 GB)

Support for external drives USB OTG

Yes

Sockets

1 x micro-USB 2.0

1 x audio mini-jack 3,5 mm

Multimedia

Speaker system

mono

Microphone

mono, noise-canceling

FM-radio

+

Additionally

Nubia music, EQ DTS

Camera

Main

13 МP, sensor Sony Exmor IMX214, aperture f/2.0, autofocus, LED flash, video recording with resolution up to 4K (3840×2160 p) at 30 fps

Front

5 МP

Connectivity

Wi-Fi

802.11 b/g/n/ac (2,4 and 5 GHz)

Bluetooth

4.0

NFC

–

Navigation

A-GPS, GLONASS, Beidou

Sensors

accelerometer, gyroscope, light sensor, proximity sensor, digital compass

Battery

lithium-ion, non-detachable (2300 mАh)

Charger

Model STC-A51A

Input: 100~240 V AC at 50/60 Hz, 250 mА

Output: 5 V DC 1 А

Dimensions

141 × 69 × 8,2 mm

Weight

143 g

Color

White

OS

Android 4.4.2 with skin Nubia UI 2.5.3

Producer website
Content, design and control elements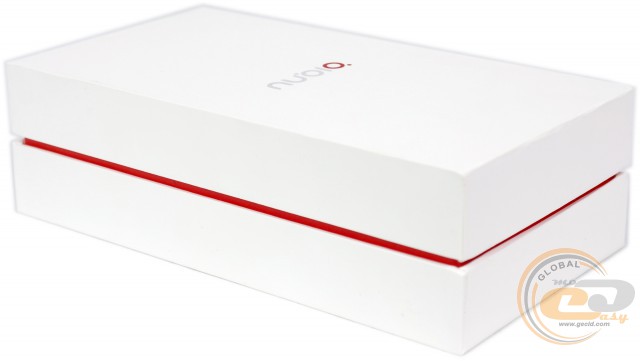 Smartphone ZTE Nubia Z7 mini comes in a thick and durable cardboard box. It is ascetic, but stylish: the front plane contains only a stylized logo Nubia with overtop letters.
The back side of the package contains all the other information. It includes comprehensive features, spiced with Chinese hieroglyph, and the presence of two slots for SIM-cards, and support foe 4G as well as RAM and internal memory capacity (2 GB and 16). There is a serial number and the two codes IMEI.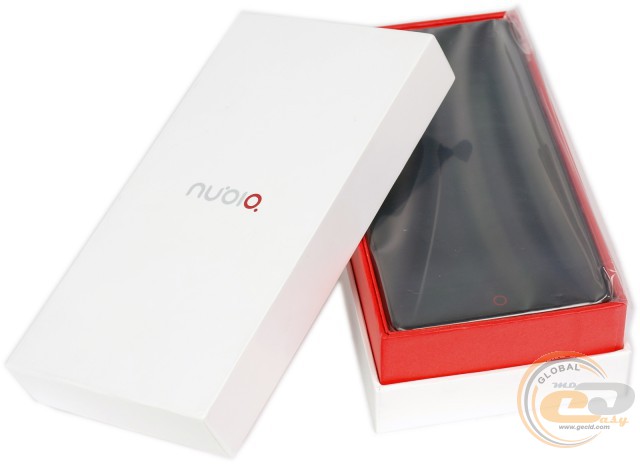 The box consists of two parts: the upper and lower. They are quite tight, and the smartphone is arranged at the top.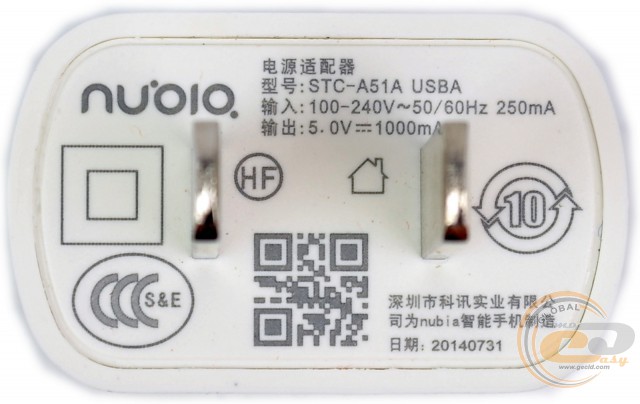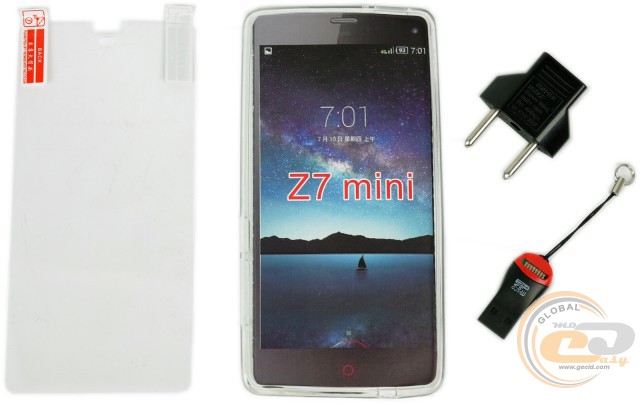 ZTE Nubia Z7 mini is packaged in a protective bag and placed on carton lid which contains the rest of equipment: cable USB↔micro-USB, charger (output parameters 5 V, 1 A), documentation and sticker Nubia. Adapter for domestic outlet, transparent polyurethane cover, protective film and a faulty card reader are kindly provided by the seller and are not included in the original packaging. In general the range of accessories is quite sufficient. Do note the absence of a headset.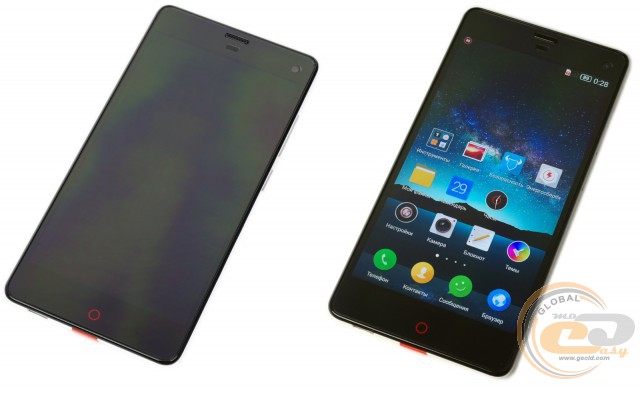 ZTE Nubia Z7 mini looks like any other five-inch smartphone. According to the author, this diagonal is extremely comfortable to use with one hand and can be placed in jeans pocket. The most critical parameter (width) in this case successfully concealed due to the thin edge of the screen. Due to slight curvatures along the perimeter of the rear panel this smart phone more fits better in a hand.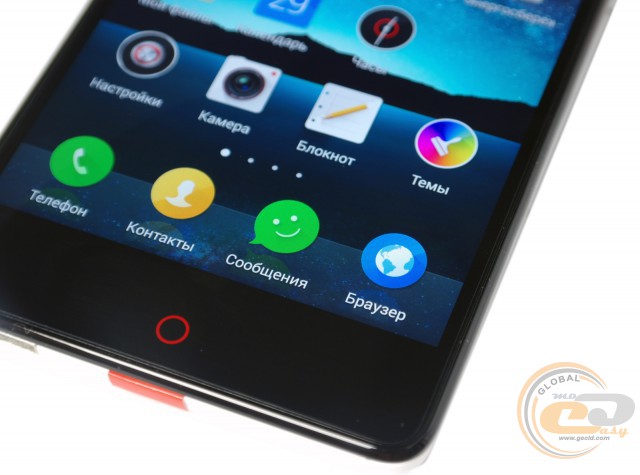 Front side of device looks familiar: under the earpiece mesh is a proximity sensor, and in the right corner you can find a front camera. Most of the area is occupied by the screen. Under it you can notice a round touch button «Home» with red LED backlighting.
It comes to life when you press the enable button: it illuminates, and along the bottom of the screen there are concentric circles from the button «Home». It looks spectacular, but the lighting also has a functional load: it gently pulsates when the battery is low and notifies you about missed messages and events.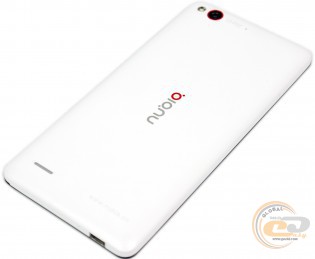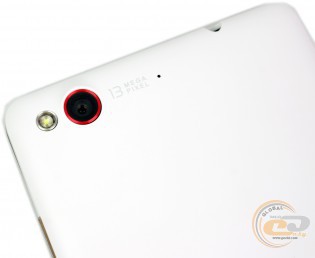 The rear panel has photomodule with red metal bordering and LED flash. To the right of the camera you can notice a microphone. At the bottom is the speaker, hidden under the protective mesh. The entire back panel is a semi-matt plastic cover resistant to fingerprints.



The right side of ZTE Nubia Z7 mini contains unlock and volume buttons. Their press is clearly fixed. On the upper side there is a headphone jack, and on the bottom - micro-USB port and a microphone. In the lower left corner of the nail notch to hook and remove the rear cover.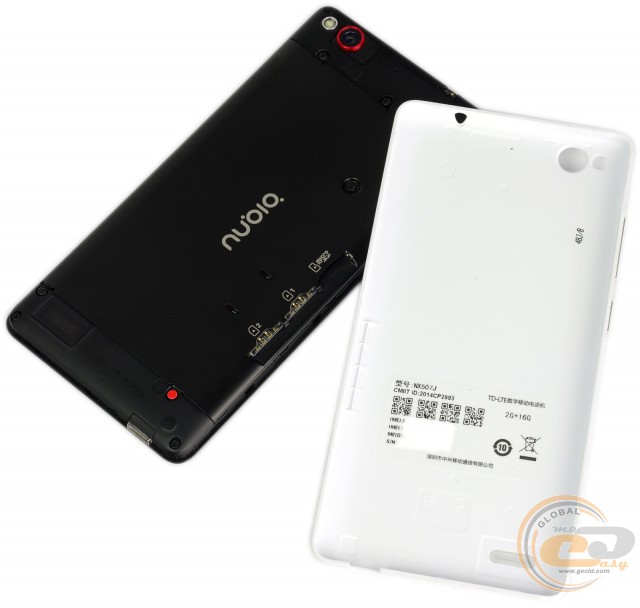 Under the back cover we can see a non-removable battery, covered with a metal plate with logo Nubia, slots two for Micro-SIM cards and microSD memory cards up to 64 GB.
Screen and sound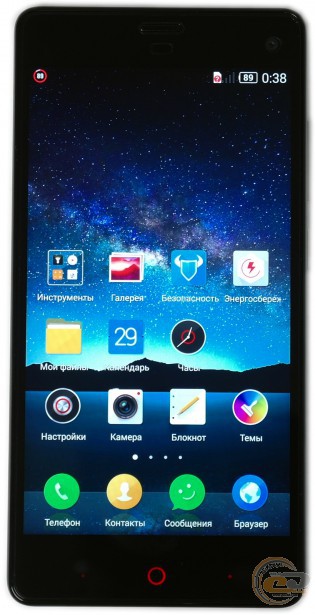 Smartphone ZTE Nubia Z7 mini is equipped with five-inch IPS-screen with a resolution of 1920 x 1080 pixels, which gives pixel density of 440 ppi. The screen is protected by Corning Gorilla Glass 3, and the protective film on the top. Between the display and glass air gap is not noticed (technology OGS).
Viewing angles are wide: the text and small interface elements are distinguishable at any viewing angle. The screen brightness can be adjusted automatically, without visible transitions, but with some delay. Manual adjustment is also available: at the maximum value it is enough to use on the sunny street, and with a minimum screen can be used in a dark room without much strain on the eyes.
In the display settings you can adjust the contrast and color temperature by the three-way sliders. System font size is also changing (there are seven stages of adjustment).
At default settings, colors are natural. Screen backlight is also uniform, without flashes on local or blackouts. Touch coating recognizes up to five simultaneous keystrokes.
Earpiece sound is good: the interlocutor is easily recognized and extraneous overtones were not found.
Speaker provides high and mid-frequency sound at the volume close to the maximum. Some competitors have a more deep voice, but do note that this is a compact solution. It is worth noting that this smartphone is not suitable for the role of "self-propelled musical unit." It is better to use models with stereo speakers.
As for the sound with headphones, when you connect intrachnnel model Sennheiser IE 4 with low impedance (16 Ohms) stock volume is large: we don't recommend to listen the music even at the level of 70% for a long time. The sound quality is pleasing: it is detailed and natural. Background noise is absent.
Together with 50 Ohm Sennheiser HD 595 smartphone also provides very good quality. Stock volume is enough. Sometimes you can notice background noise, but it's heard only in the quiet moments of compositions. Bass is well noticed. It doesn't lost on the background of other frequencies.
Standard music player is quite functional: it lets you specify folders to scan the music, create playlists or sort the results songs by album, artist or folder. The player shows album cover and you can automatically download the song text. This requires a connection to the network. Also there is an online mode where you can listen to a huge number of Chinese Internet radio stations and join the popular musicians of China. There's even a built-in analogue of Shazam that recognizes the native Chinese hits.
Camera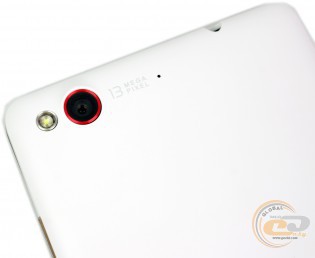 Camera module of smartphone ZTE Nubia Z7 mini is on par with the flagship of 2014. The back camera is based on the module Sony Exmor IMX214 with a resolution of 13 megapixels with an LED flash. The front camera has a sensor with a resolution of 5 megapixels.
Standard application for photo has three main profiles: «Auto», «Pro» and «Fun», significantly changing capabilities for photography.
In the mode «Auto» you can activate Auto Bracket, emulation of field depth, disable the shutter sound by a simple touch.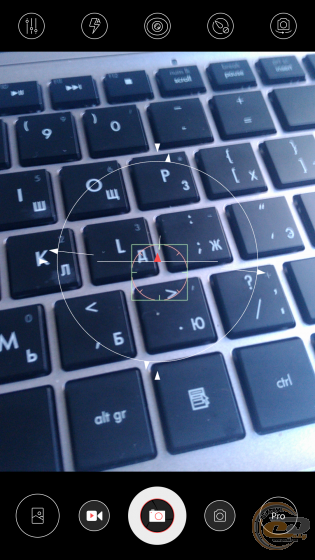 In the mode «Pro» it is possible to change the resolution, white balance (by selecting different profiles or desired color temperature), the sensitivity and exposure, activate night mode (helps pull shot in the dark), apply color and gradient filters, display a 9-segment grid. Here is face detection, algorithms of noise reduction Wavelet Denoise and activated comfortable level (littered horizon).
Mode «Fun» incorporates a number of highly specialized programs and simple Instagram filters. You can take pictures with a slow shutter speed, take pictures at fixed intervals, to create panoramas and many more.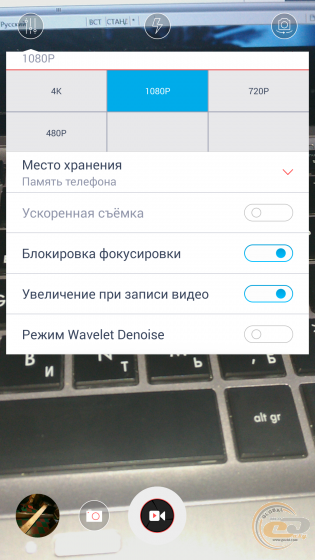 Video recording can be carried out with a resolution of 4K Ultra HD, 1080p, 720p or 480p. You can prohibit changing the focus point during shooting, zooming and activate noise reduction Wavelet Denoise.
Социальные комментарии Cackle