GeIL Zenith A3 Pro Solid State Drive: review and testing
When there is a need to significantly increase the speed of your PC, a very effective option is to replace the hard drive to the SSD. It is noteworthy that the effect will be significant even when the SSD is installed to not the most modern device (eg, based on the dual-core processor five years ago). In order to save, you can buy a small capacity SSD (60 - 120 GB) and set only the operating system and basic software, which will also give a significant performance boost.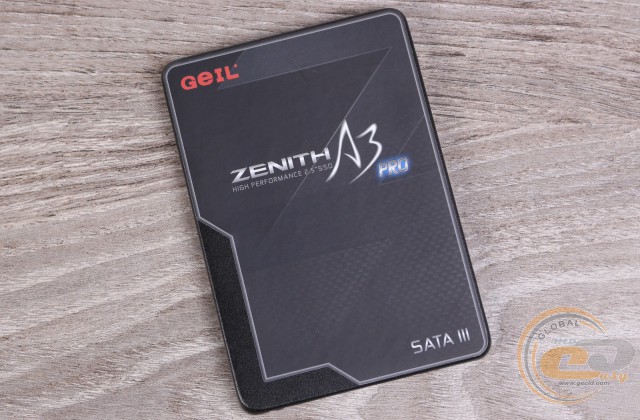 If you want to maximize performance, you should buy a bigger SSD (240GB or more). In such a case you will have enough space even to install all applications and gaming innovations. For this purpose is well suited the model GeIL Zenith A3 Pro with capacity of 240GB. It can be used to improve the laptop or desktop PC, because it is made in the classic 2.5-inch form factor with a thickness of only 6.7 mm. The product is based on the efficient and energy efficiency controller.
The specs:
Producer and model

GeIL Zenith A3 Pro

(240 GB version under testing)

Form-factor, in

2,5

Interface

SATA 6 Gb/s (backward compatible with SATA 3 Gb/s)

Capacity, GB

120 (GZ25A3P-120G)

240 (GZ25A3P-240G)

Controller

Silicon Motion SM2246EN

Color

Black

Working temperature, °C

0…+70

Max speed of consistent read, MB/s

Up to 560

Max speed of consistent write, MB/s

Up to 430

Mean time before failure, h

2 000 000

Dimensions, mm

100 х 69,8 х 6,7

Limited warranty, years

3

Producer website
Depending on the capacity, claimed speed performances are significantly different:
| | | |
| --- | --- | --- |
| Model | 120 GB (GZ25A3P-120G) | 240 GB (GZ25A3P-240G) |
| Max speed of consistent read, MB/s | 560 | 560 |
| Max speed of consistent write, MB/s | 290 | 430 |
As you can see, the maximum consistent write speed of 120 GB model is lower and is limited to 290 MB/s, while the maximum sequential read speed is at the same level (560 MB/s) for both disks.
Package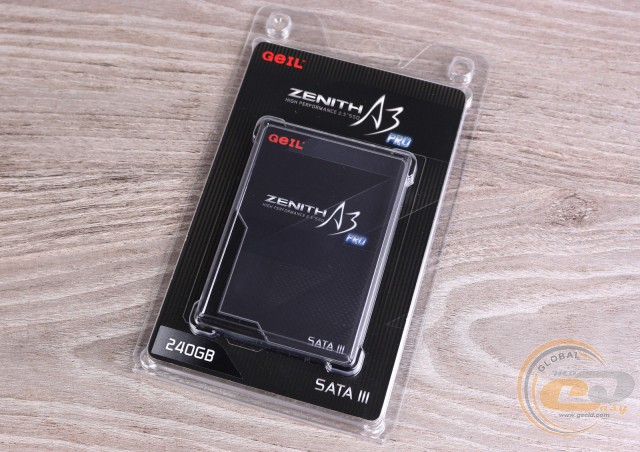 Drive GeIL Zenith A3 Pro is available in practical blister packs. It is able to protect the device from scratches and damage during transportation and hardly increases the final cost. Transparent plastic allows immediately know about the appearance of SSD-drive, which is quite convenient.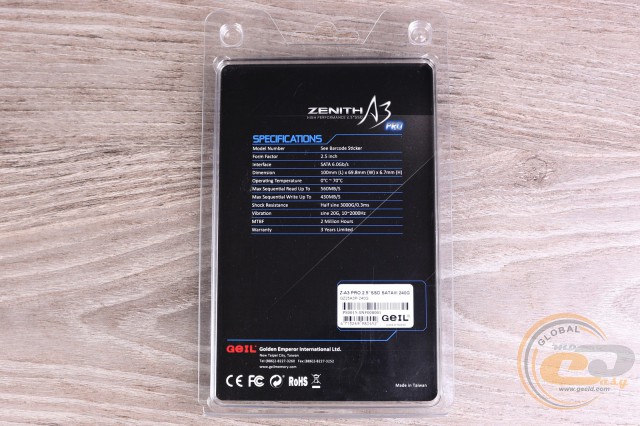 Inside there is a black cardboard pad, which has a brief specification of the drive and a sticker with a serial number and bar code. It also reported that the product is manufactured and assembled in Taiwan.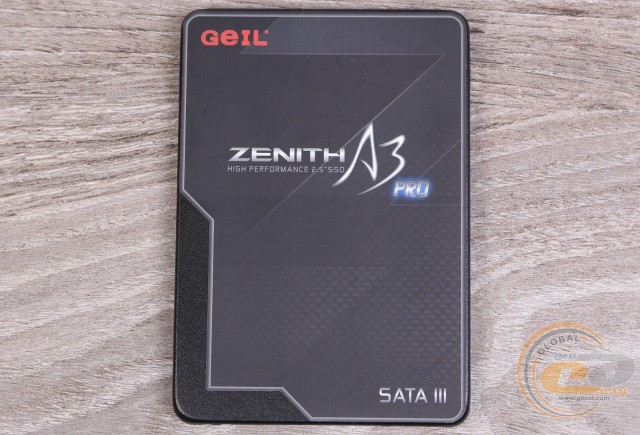 Note that the kit contains only the SSD-drive. On the one hand, it would be interesting to see in any set of original accessories, but still more important to maintain a low cost of the goods.
Design and features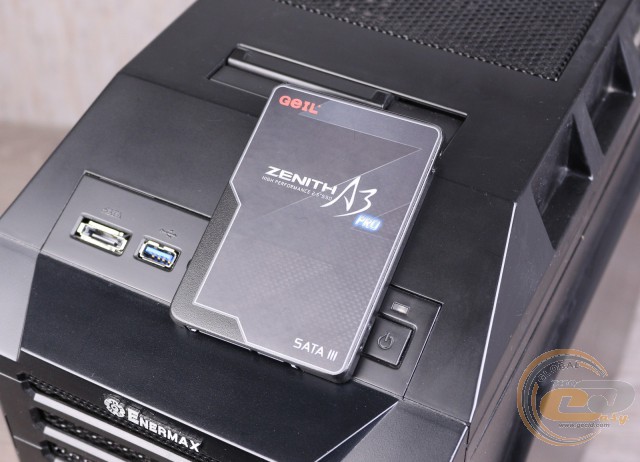 Disc GeIL Zenith A3 Pro is made in an aluminum casing. It is painted in black color and has a distinctive textured surface. Almost entire face takes the manufacturer's logo and the model name.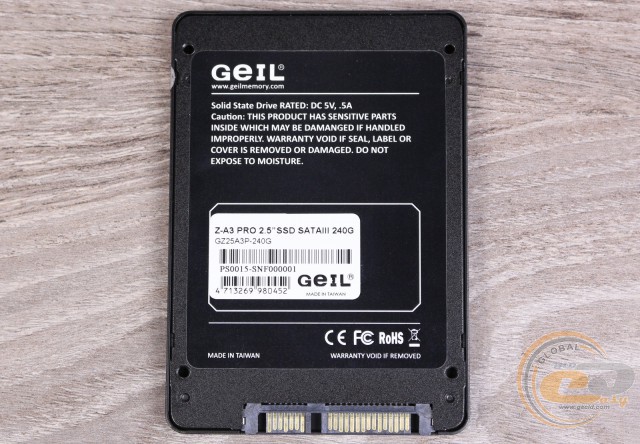 On the reverse side there is another label with some technical information and bar codes. At the corners you can find four screw holes, allowing to fix the drive in the adapter for 3.5-inch drive bay.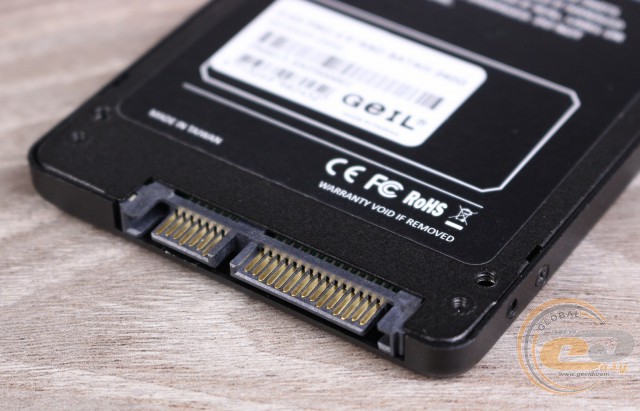 In the lower part of the body you can see the connectors for power supply and cable SATA 6 Gb/s. They are designed so that the cable SATA (especially metal latch) is inserted sufficiently tight to ensure reliable connection.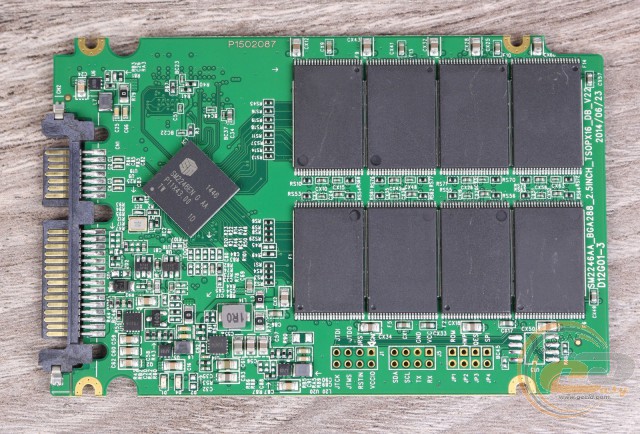 Inside the SSD-drive we found a circuit board of the standard size, made on green PCB. Memory is provided by 16 chips with 16GB each. The result is 256 GB. 240 GB of storage are given in the user data and 16 GB are used for the correct operation of the service algorithms provide uniform utilization of all cells in operation.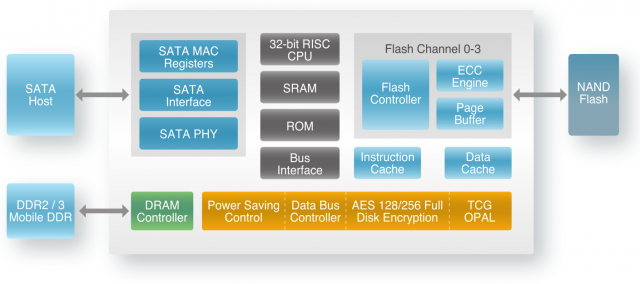 The device is running by the controller Silicon Motion SM2246EN, a block diagram of which is shown above. Its advantages:
very low average power consumption in its class (60 MW);
high performance with consistent or random access to files;
support for encryption AES, SHA 256 and TRNG.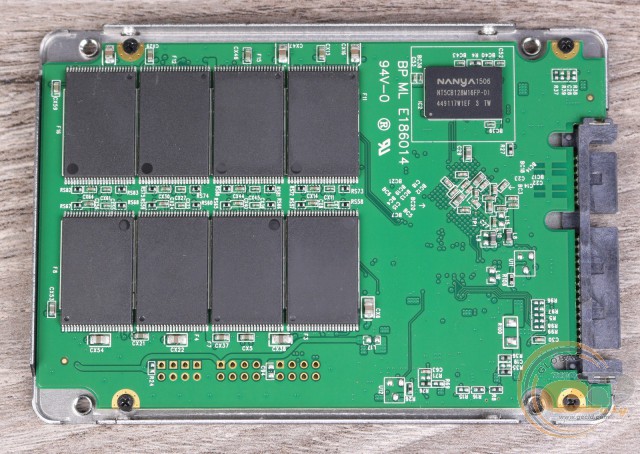 A cache memory is chip of standard DDR3 - Nanya NT5CB128M16FP-DI with capacity of 2 GB, which operates on a frequency of 1600 MHz.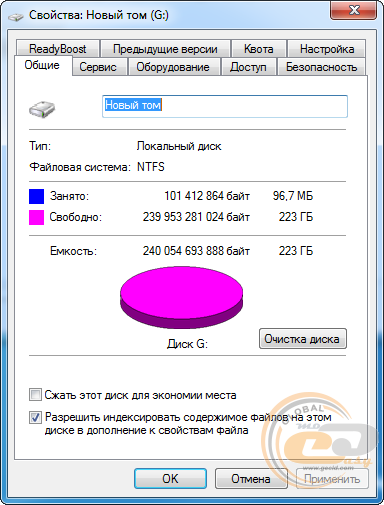 The drive was originally formatted for NTFS. In connection with the transfer of decimal values, a user has slightly smaller amount of free space: 223 GB instead of the expected 240 GB.
Социальные комментарии Cackle