Flash drive Kingston DataTraveler microDuo 3C: review and testing
Meet a flash drive Kingston DataTraveler microDuo 3C, which is one of the first storage devices, equipped with a new connector USB 3.1 Type-C.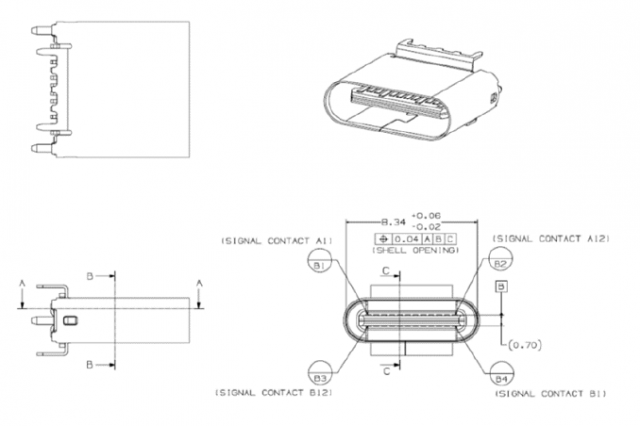 This standard was approved in summer of 2013, but the first versions of its practical implementation appeared recently. The most famous among them are the Apple MacBook, the second generation of Chromebook Pixel from Google, as well as tablet Nokia N1.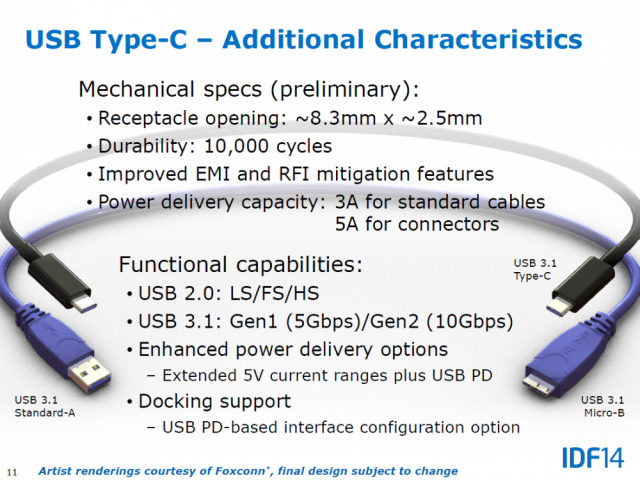 | | | |
| --- | --- | --- |
| | Carrying capacity | Alternative title |
| USB 2.0 | 480 Мb/s | High Speed |
| USB 3.0 | 5 Gb/s | SuperSpeed |
| USB 3.1 Gen 1 | 5 Gb/s | SuperSpeed |
| USB 3.1 Gen 2 | 10 Gb/s | SuperSpeed+ |
There are two generations of USB 3.1, which differ in capacity: for USB 3.1 Gen 1 it is a 5 Gb/s, and for USB 3.1 Gen 2 it's 10 Gb/s. The second generation is quite popular now. Also, USB 3.1 interface can transfer power up to 100 W.

USB Micro-B (micro-USB), Lightning, USB Type-C, Mini DisplayPort, USB Type-A
The appearance of the new standard means the arrival of the new connector USB Type-C, which in terms of size is little more than the usual micro-USB (Micro-B). However, if in the characteristics of the device you have met references about support USB Type-C, it is not necessary to automatically hope the bandwidth 10 Gb/s, as this format can realize not only USB 3.1, but also USB 3.0 and USB 2.0 which have a much lower speed capabilities. For example, the above mentioned Apple Macbook and Google Chromebook Pixel have ports USB Type-C with a capacity of 5 Gb/s, well, a manufacturer of tablet Nokia N1 decided to limit the features of USB 2.0 with a bandwidth of 480 Mb/s.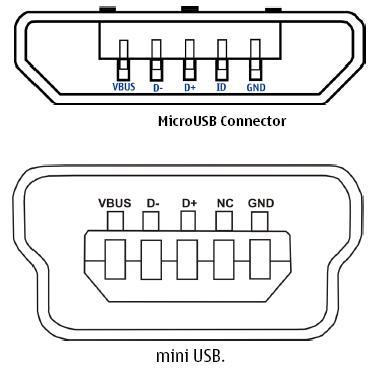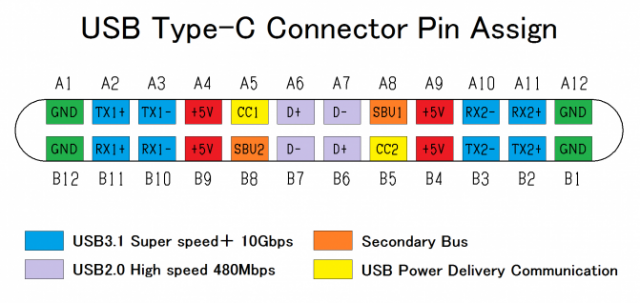 USB Type-C has an important advantage: as the well-known Lightning from Apple, it can be connected by every side, as it is a balanced connector. In contrast to micro and mini-USB, where the contacts are in a certain order, which did not allow any connection to the other side, in USB Type-C this problem was solved by a simple duplication of contacts. According to the diagram above, contact groups are wired mirror that allows you to connect the device "upside down". Besides the design must withstand 10 000 connections, which makes it more reliable.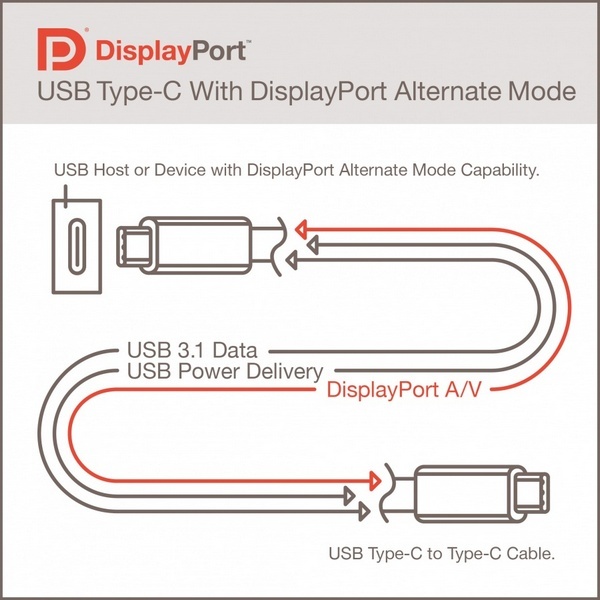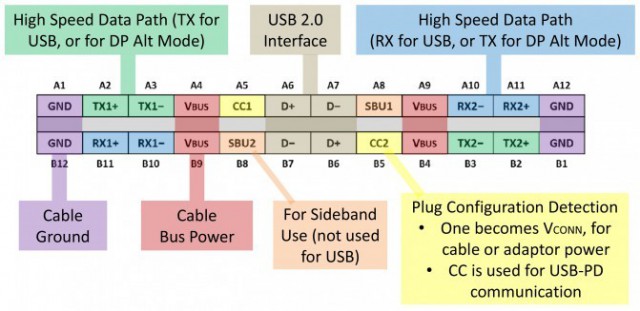 Another analogy can be drawn between USB Type-C and Thunderbolt: both of them are capable of transmitting not only data, but also video. That is, the USB Type-C can also be used in alternate mode, because it has four pairs of high-speed Super Speed ​​USB, two of which can be allocated for the standard DisplayPort, which is enough to transfer the image in the resolution of 4K Ultra HD.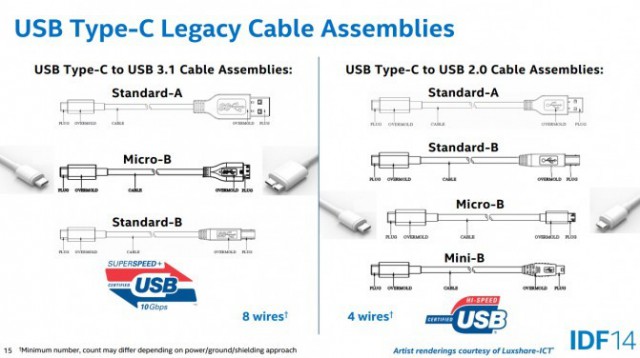 Of course, the user faces with a compatibility problem, because USB Type-C is a new format, so it is not directly compatible with other types of connectors. However, the manufacturers have taken care of this by providing a very wide range of different adapters. Some of them, for example, Kingston released drives with two ports: USB Type-C and more common USB Type-A. And this flash drive will be described in this review.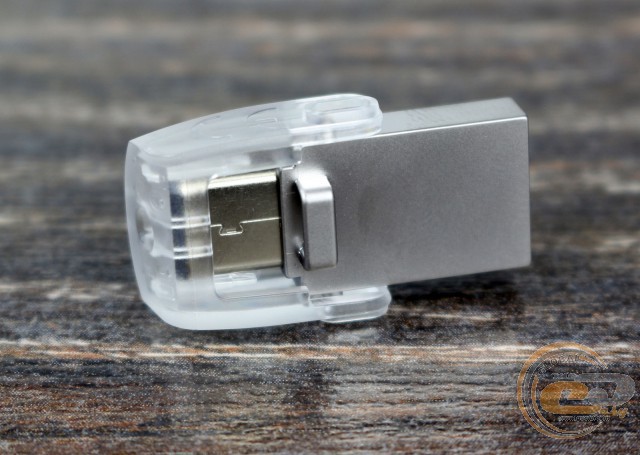 The specs of Kingston DataTraveler microDuo 3C:
Producer and model

Kingston DataTraveler microDuo 3C

(DTDUO3C/32GB)

Interfaces

USB 3.1 Type-C

USB 3.1 Type-A (backward compatible with USB 3.0 and 2.0)

Capacity, GB

64 (DTDUO3C/64GB)

32 (DTDUO3C/32GB)

16 (DTDUO3C/16GB)

Colors

Silver

Case material

Aluminum

Dimensions, mm

29,94 x 16,60 x 8,44

Operating temperature, °C

0…+60

Storage temperature, °C

-20…+85

Warranty, years

5

OS compatibility

Windows 8.1 / 8 / 7 / Vista

Mac OS Х 10.7.x or above

Linux 2.6.х or above

Chrome

Producer website
As you can see, the manufacturer offers three versions of the device, different from each other in terms of memory capacity (16, 32 and 64 GB) and a write speed: 10 MB/s for the 16 GB version and 15 MB/s for the other two. As for color design, the new product is available only in silver.
Package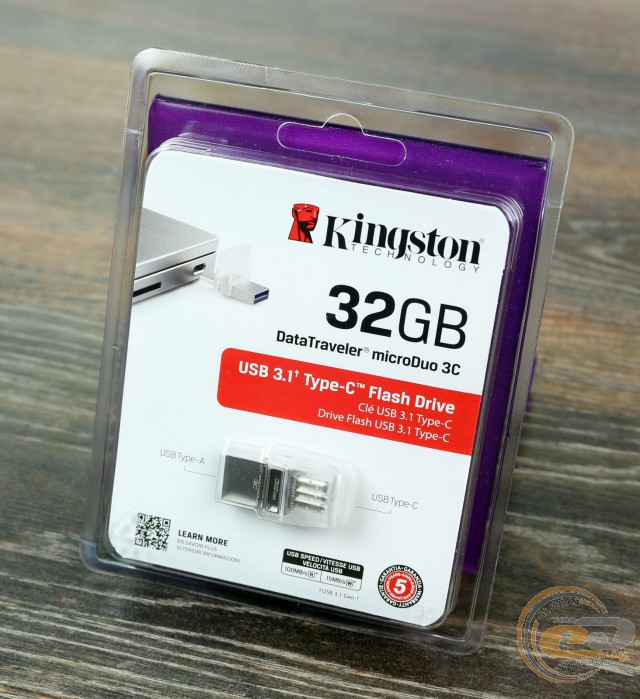 The tested flash drive comes in the traditional blister pack, which allows to evaluate the appearance of the flash drive before buying. The front side of the package contains the name of the manufacturer, model, and memory capacity. The new product has a high-speed USB 3.1 interface with two different connectors: Type-A and Type-C. In the lower part there is information about the five-year warranty, as well as the high-speed characteristics of the device: read 100 MB/s and write 15 MB/s.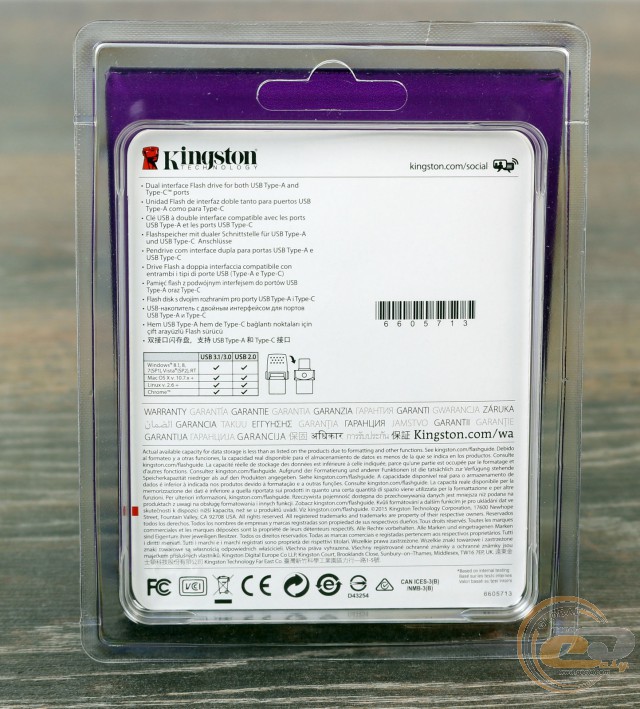 On the reverse side of the package is the same information about the design and interface of the flash drive. In addition, there is a list of supported operating systems.
Design
The case of Kingston DataTraveler microDuo 3C is made of metal. On one side it has the connector USB 3.1 Type-A, and on the other USB 3.1 Type-C. The design of the rotary cap helps to protect a connector USB 3.1 Type-C, however, it cannot prevent the ingress of dust and dirt into the second connector.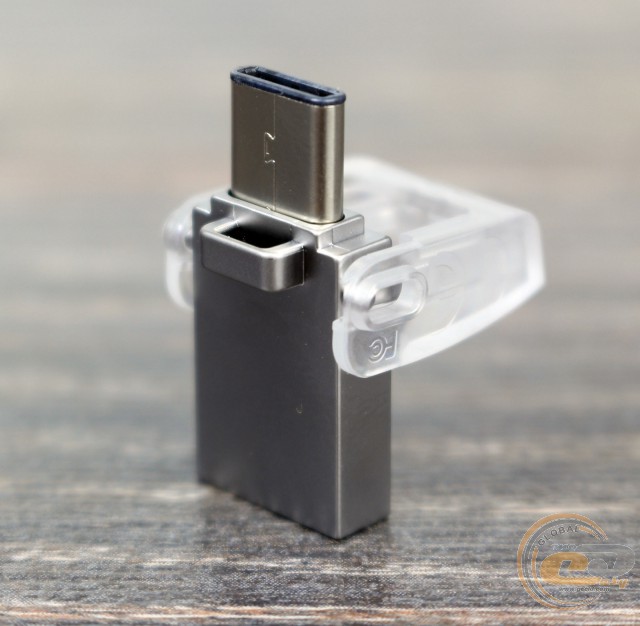 As you can see, the body doesn't have any marking. Here is only a hole in the top for a keychain or a chain.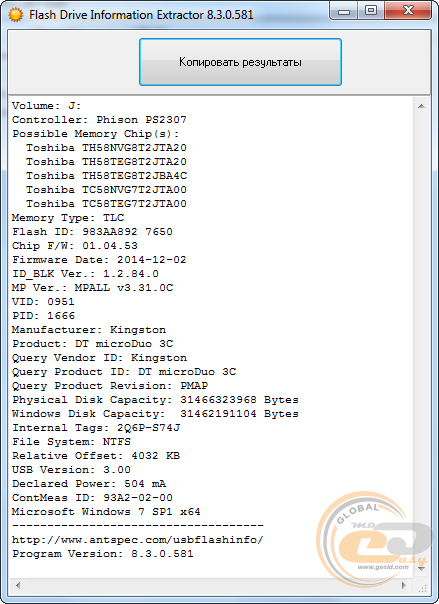 According to a report of the program Flash Drive Information Extractor, the device uses TLC-memory chip produced by Toshiba and running by controller Phison PS2307.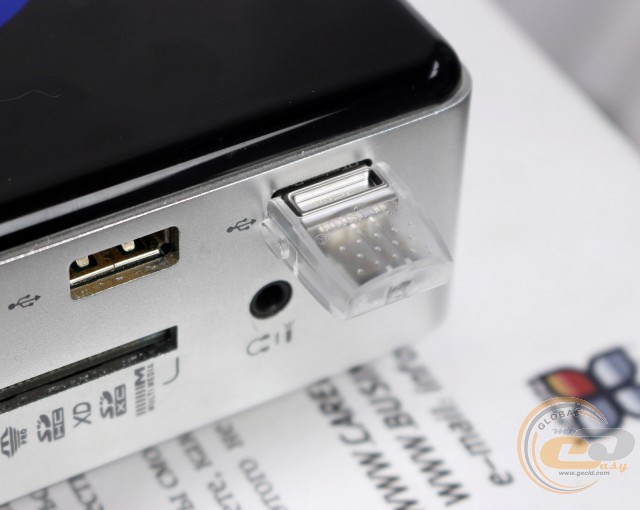 Ease of use OF Kingston DataTraveler microDuo 3C is high, since the drive is very compact and won't burden the user during operation or transportation. However, case doesn't have any LED-indicators.
File system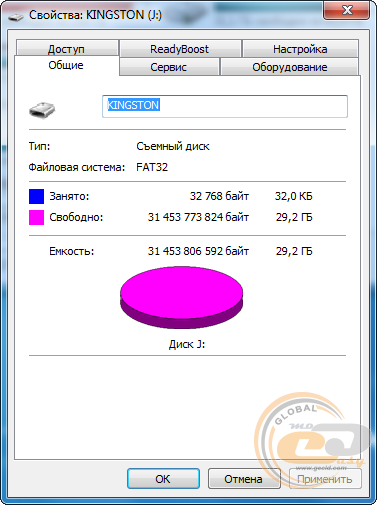 On default flash drive Kingston DataTraveler microDuo 3C has a file system FAT32, which has a limit on the maximum capacity of a single file (4GB). Moreover, its effective capacity is 31.45 GB or 29.2 GiB.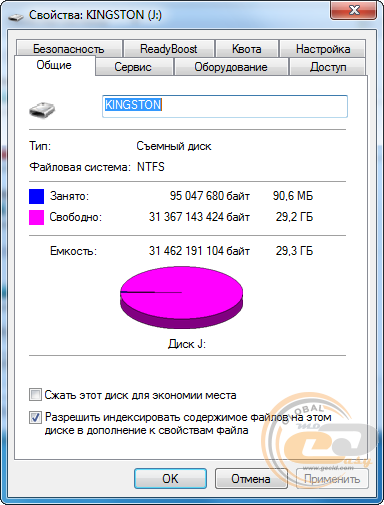 After formatting the flash drive into file system NTFS, you have 95 MB reserved for its needs. However, in connection with the above restriction in the file system FAT32, for drive of 32 GB it is more logical to use NTFS or exFAT.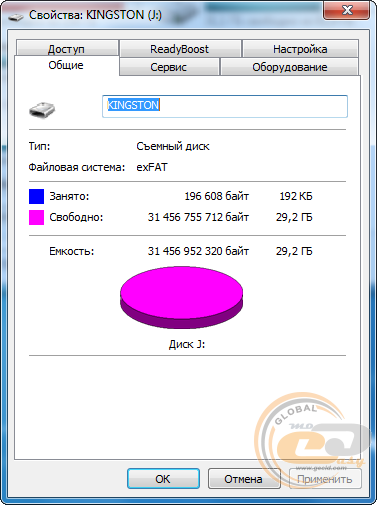 Testing
The following bench was used to test the drive Kingston DataTraveler microDuo 3C:
Motherboards

ASUS P9X79 PRO (Intel X79, Socket LGA2011, DDR3, ATX)

ASRock Fatal1ty Z97X Killer (Intel Z97, Socket LGA1150, DDR3, ATX)

MSI Z97A GAMING 6 (Intel Z97, Socket LGA1150, DDR3, ATX)

CPUs

Intel Core i7-3930K (Socket LGA2011, 3,2 GHz, 12 МB L3)

Intel Core i7-4770K (Socket LGA1150, 3,5 GHz, 8 МB L3)

CPU cooler

ZALMAN CNPS12X

RAM

2 x DDR3-1333 1024 MB Kingston PC3-10600

Graphics card

AMD Radeon HD 6970 (2 GB GDDR5)

Hard disk

Seagate Barracuda 7200.12 ST3500418AS (500 GB, SATA 3 Gb/s, NCQ)

Optical drive

ASUS DRW-1814BLT SATA

PSU

Seasonic X-660 Gold (SS-660KM Active PF), 650 W, 120 mm Fan

OS

Microsoft Windows 7 64-bit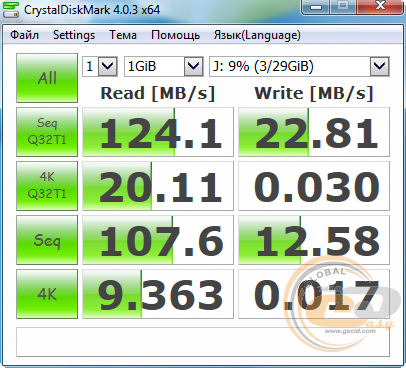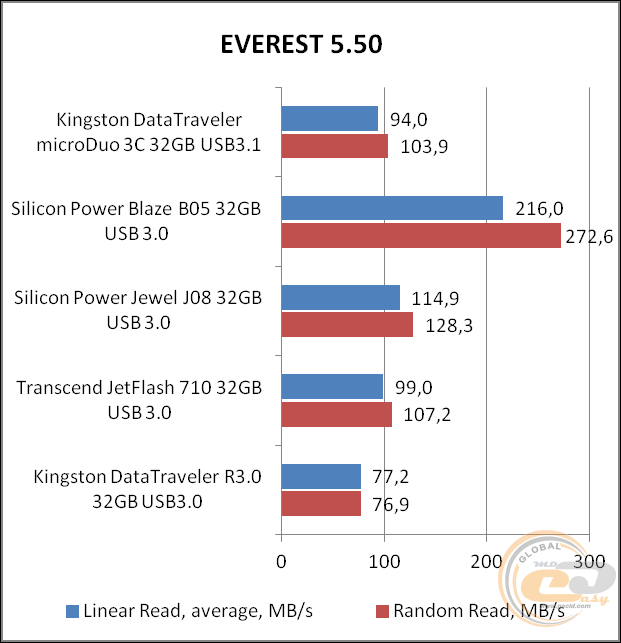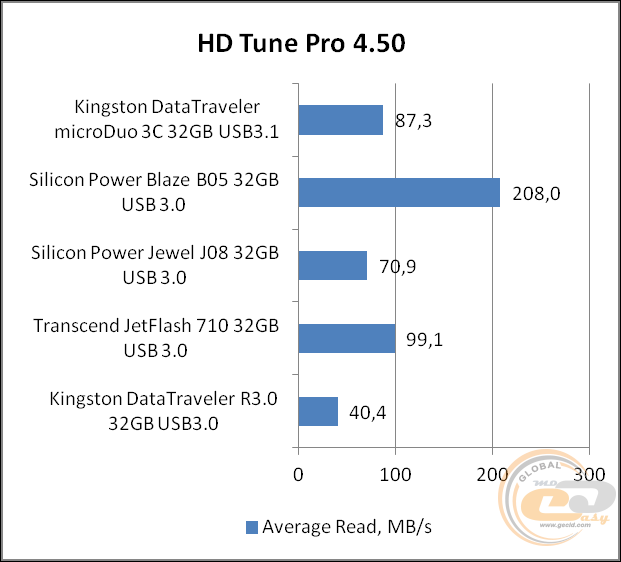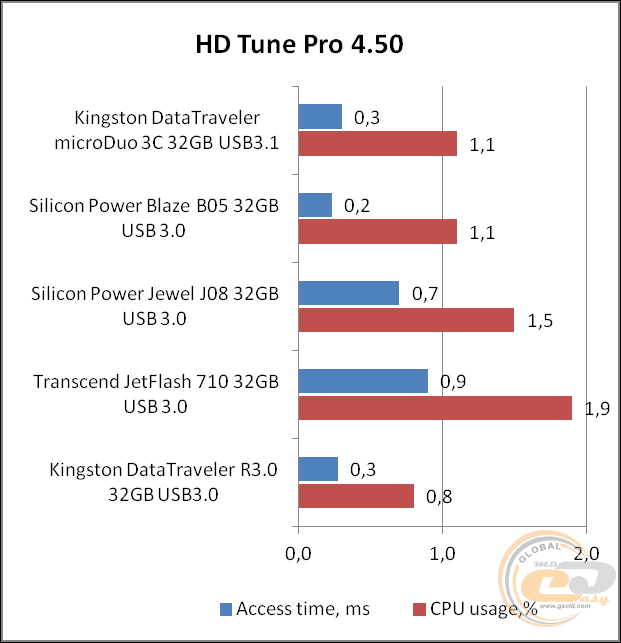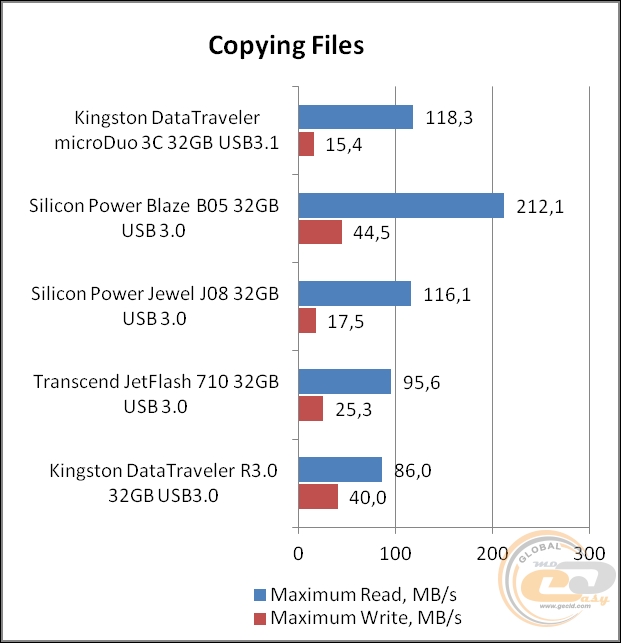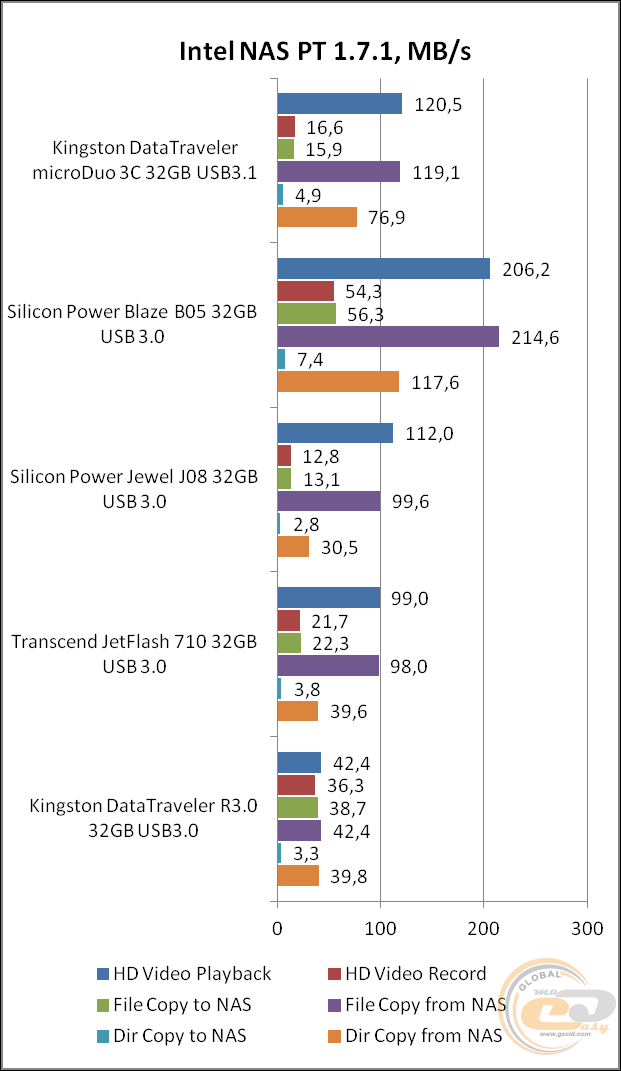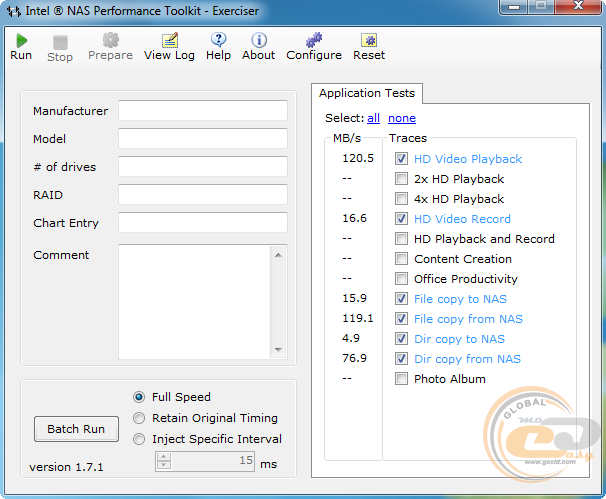 In the process of testing the flash drive Kingston DataTraveler microDuo 3C not only confirmed the manufacturer repeated read (100 MB/s) and write (15 MB/s) speed, but also in some tests exceeded these figures. For example, when copying files maximum read speed reached 118.3 MB/s. A similar result was recorded during the playback of HD-Video (120.5 MB/s). The write speed in the case reached a maximum of 16.6 MB/s. This means that the device is perfect as a storage media library, but some may use a model with higher write speed for fast file transfer.
Access time and CPU load during testing were at a level of competitive counterparts. In comparison with the other drives equipped with an interface USB 3.0, you won't notice a significant superiority of interface USB 3.1. Perhaps this is due to use of not the fastest controller and memory chip. Similar components are applied in previous models Silicon Power Jewel J50 with USB 3.0.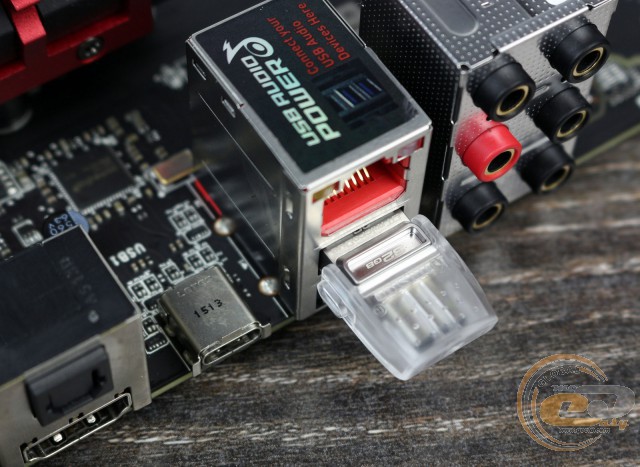 Separately we've compared the speed of the Kingston DataTraveler microDuo 3C when connected to ports USB 3.0 and USB 3.1.
Test package

Kingston DataTraveler microDuo 3С 32 GB USB 3.0

Kingston DataTraveler microDuo 3С 32 GB USB 3.1

Difference, %

EVEREST 5.50

Linear Read, average, MB/s

92,6

94,0

1,51

Random Read, MB/s

110,6

103,9

-6,06

Average Read Access, ms

0,68

0,30

55,88

HD Tune Pro 4.50

Average Read, MB/s

85,1

87,3

2,59

Access time, ms

0,7

0,3

57,14

CPU usage, %

1,2

1,1

8,33

Copying Files

Maximum Read, MB/s

106,20

118,30

11,39

Maximum Write, MB/s

10,50

15,40

46,67

Intel NAS PT 1.7.1, MB/s

HD Video Playback

114,3

120,5

5,42

HD Video Record

13,1

16,6

26,72

File Copy to NAS

13,0

15,9

22,31

File Copy from NAS

98,1

119,1

21,41

Dir Copy to NAS

2,8

4,9

75,00

Dir Copy from NAS

38,6

76,9

99,22
In this case the use of interface USB 3.1 improves the average performance on 27.83%, reduces the load on the CPU at 8.33%, and increases access to data more than 50%.
Conclusions
Flash Drive Kingston DataTraveler microDuo 3C is a very interesting device. It key feature is the presence of two connectors: USB 3.1 Type-A and USB 3.1 Type-C. Now this standard makes only the first steps in the market, so we don't have many devices that offer its support. But at the same time it has high prospect.
This is true for connector USB 3.1 Type-C. In the near future it will not only replace the micro-USB in mobile devices, but will be used in motherboards instead of USB Type-A thanks to its compact dimensions, balanced connection, high capacity and durability, the possibility of transmission of video signal and high power (up to 100 W).
The other advantages of the new product include metal case, good design and ultra-compact dimensions that easily allow you to use it as a keychain. Also, you should not worry about losing the cap, as it is securely fixed to the body.
We were pleased by read speed of model Kingston DataTraveler microDuo 3C, which in a real test according to the manufacturer exceeded 100 MB/s and sometimes reached 120 MB/s. But the write speed was within the claimed 15MB/s.
As a result, the flash drive Kingston DataTraveler microDuo 3C attracts the attention due to its versatility concluded in such a compact and attractive package.
Advantages:
good read speed;
support for interfaces USB 3.1 Type-A and USB 3.1 Type-C;
metal case;
stylish design;
5-year warranty.
Features:
absence of LED-display mode;
cap covers only connector USB 3.1 Type-C.
Disadvantages:
not the high write speed.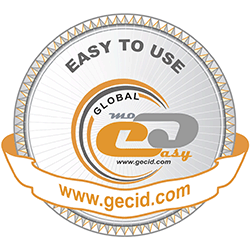 Author: Konstantin Shorohov
Our gratitude to the company Kingston for flash drive provided for testing.
Our gratitude to the companies AMD, ASUS, Intel, Kingston, MSI and SeaSonic for equipment provided for the test bench.
published 15-07-2015
Article read 130 time (s)
Социальные комментарии Cackle