Kingston HyperX Predator PCIe SSD (480 GB): review and testing
Mass distribution of SSD has led to the need for more active development of computer disk subsystems. Thus, although the speed of hard disks is increased for more advanced models, but this process is rather slow. For example, the bandwidth of SATA interface of first-generation (1.5 Gb/s, 2003) was sufficient for realizing the potential of many hard drives. The exception was the speed of cache storage that was high enough and could grow even more by increasing the bandwidth of the interface. So after some time standards SATA 2.0 (3Gb/s, 2004) and SATA 3.0 (6Gb/s, 2008) appeared. For hard drives their capacity is enough with a huge margin, but for fast SSD-drives these figures have some restrictions. Of course, the transition of solid drives from SATA 3 Gb/s to SATA 6Gb/s allowed to resolve the issue for some period of time.
One way to solve the problem is the use of interface SATA Express, which theoretically allows you to transfer 10Gb of data per second. But we understand this feature is quickly avoidable, so there is a need to find an option that will provide a foundation for the future. Fortunately, it is available. We are talking about the standard of M.2 which is more compact implementation of SATA Express. It provides support for 4 lines of bus PCI Express SATA 3.0, as well as an additional USB 3.0 (including backward compatibility with USB 2.0). Therefore, PCI Express-devices and SATA-drives may be realized in the form factor M.2. We have had to learn one example of the second method. But, since it is based on support for bus SATA with a capacity of 6 Gb/s, the performance of the drive was limited to a given value. And what will happen when you select line PCI Express for data transfer?
Bandwidth of the interface PCI Express is impressive even in terms of modern standards. For example, only one line PCIe 2.0 can transmit data up to 8 Gb/s in both directions, and the PCIe 3.0 - 16 Gb/s. Therefore, these 4 lines provide transfer up to 32 Gb/s for bus PCI Express 2.0 and up to 64 Gb/s PCI Express 3.0. What can we say about a further increase in the number of active lines and the transition to revision 4.0, which provides twice as many indicators?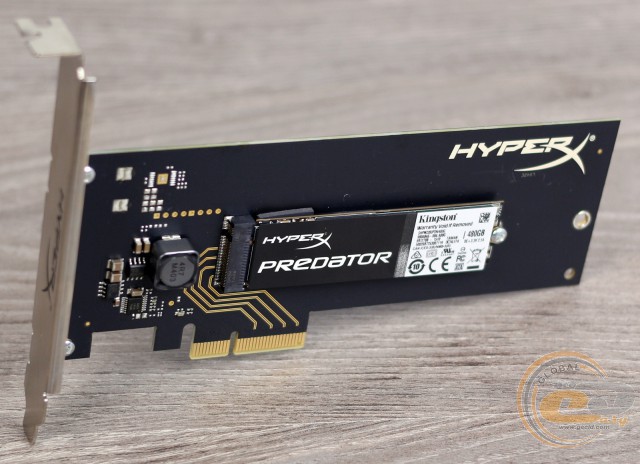 But we'll talk about them some other time, as the hero of this review can use 4 lines of standard PCIe 2.0. Well, let's see how this implementation looks like in practice. For this purpose we will use very fast SSD - Kingston HyperX Predator PCIe SSD (SHPM2280P2/480G) with capacity of 480 GB.
The specs:
Producer and model

Kingston HyperX Predator PCIe SSD

Form-factor

M.2 2280

Interface

PCI Express 2.0 x4

Capacity, GB (model)

480

(SHPM2280P2H/480G)

240

(SHPM2280P2H/240G)

Applied controller

Marvell 88SS9293

Storage temperature, °C

-40…+85

Operating temperature, °C

0…+70

Pass vibration, G (at frequency, Hz)

Operation

2,17 (7 – 800)

Idle

20 (10 – 2000)

Supply voltage, V

3,3

Compressible data transfer speed (ATTO) MB/s

Read

1400

1400

Write

1000

600

Noncompressible data transfer speed (AS-SSD и CrystalDiskMark) MB/s

Read

1100

1290

Write

910

600

Max transfer speed of random 4 KB blocks (Iometer), IOPS

Read

130 000

160 000

Write

118 000

119 000

Transfer speed of random 4 KB blocks, IOPS

Read

117 000

120 000

Write

70 000

78 000

Rating PCMARK Vantage HDD Suite

139 000

138 000

Carrying capacity PCMARK 8 Storage, МB/s

336

331

Rating PCMARK 8 Storage

5017

5015

Total Rating Anvil (incompressible load)

6700

6500

Overall dimensions, mm

M.2

80 x 22 x 3,5

Including adapter and standard bracket

180,98 х 120,96 х 21,59

Including adapter and low-profile bracket

181,29 х 80,14 х 23,4

Weight, g

M.2

10

Including adapter and standard bracket

73

Including adapter and low-profile bracket

68

Mean time before failure, h

1 000 000

Power consumption, W

Idle

1,38

Average

1,4

Max at reading

1,99

Max at writing

8,25

General number of rewriteable information, TB (TBW)

882

415

Producer warranty, years

3

Producer website
Drive HyperX Predator PCIe SSD is a version with capacity of 480 and 240 GB. We were lucky to explore the possibilities of this device on the example of a more capacious model.
Design and package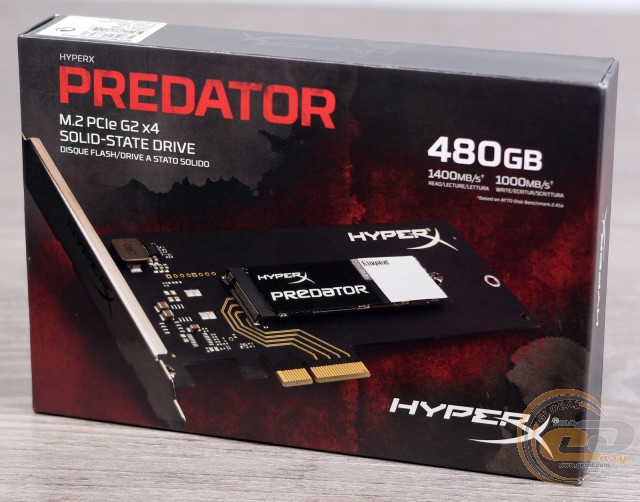 The novelty comes in a cardboard box, made in black and red colors, perfectly highlighting the positioning of the drive as a high-performance solution. In addition to a large image of the device, set in the adapter, the front side of the package provides us with additional information about its capabilities. Here you can find the name of the lineup (HyperX Predator), its volume (480 GB), form factor (M.2), interface (PCIe 2.0 x4), as well as speed performance: read up to 1,400 MB/s and write up to 1000 MB/s (according to utility ATTO Disk Benchmark).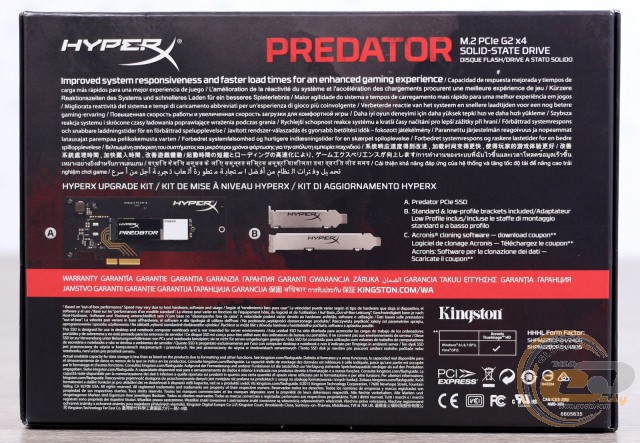 The reverse side of the packaging informs us about the benefits of solid-state drive in general ("increase speed and increase download speeds for a comfortable game"), and also shows a list of included components.


The sidewalls of the box tell about the presence of a 3-year warranty, free technical support, as well as the country of production (Taiwan).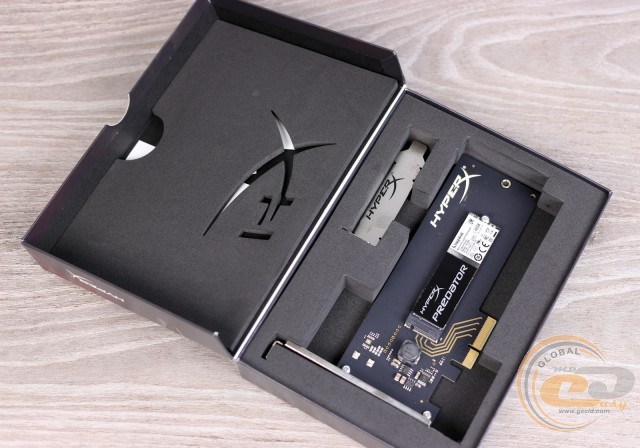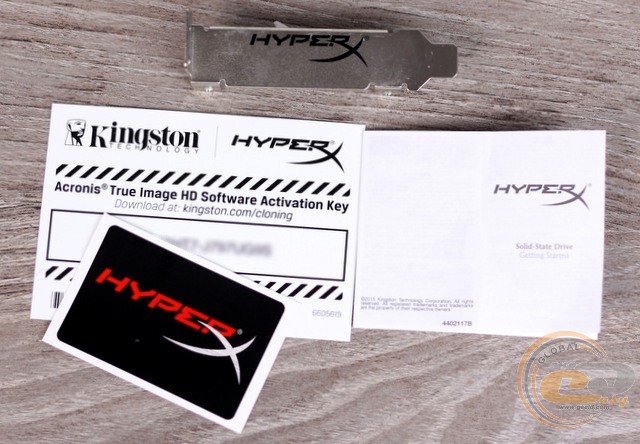 After the external examination, it's time to look inside the box. Although it has good stiffness, the manufacturer also took care of the presence of foam walls and forms. In general, the content of the box is as follows:
Drive HyperX Predator PCIe SSD, originally mounted on the adapter HHHL (Half-Height, Half-Length);
low-profile plug;
license key to the software Acronis True Image HD;
Quick install guide;
sticker on the case with a company logo.
As you can see, the package includes a few nice additions. So, for users who want to use a novelty in the low-profile PC there is the presence of complete bracket-plug of appropriate dimensions. And the ability to download and use the application Acronis True Image HD will be appreciated by most buyers of new item. This program will allow you to simply and easily transfer system disk drive on drive.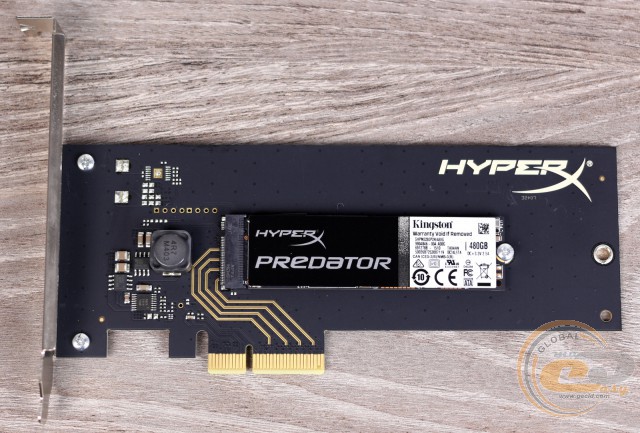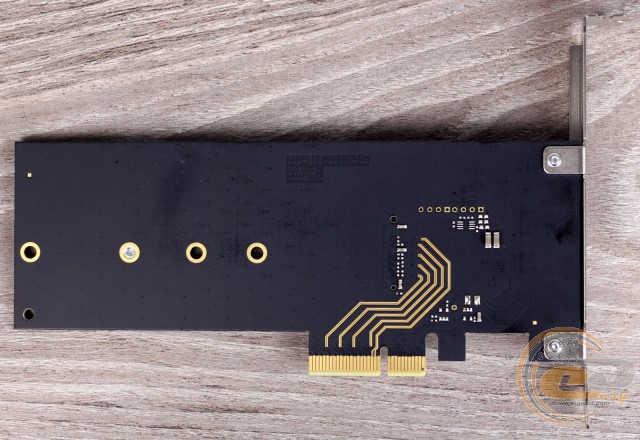 For testing we have a product in UPGRADE KIT. It is characterized by a complete adapter HHHL (Half-Height, Half-Length), which originally contains a drive. On sale you can also find the drive HyperX Predator PCIe SSD without proper adapter (model number SHPM2280P2/480G). This option is preferable when installed in a laptop or a motherboard with M.2. Otherwise, the best solution will be the test kit allowing you to install a novelty in any computer with an interface PCI Express 2.0 x4.

Using with two screws the plug «HyperX» is attached to the PCB. It fixes the adapter to the rear panel. Don't forget that there is a complete and more compact version of its use in low-profile cases.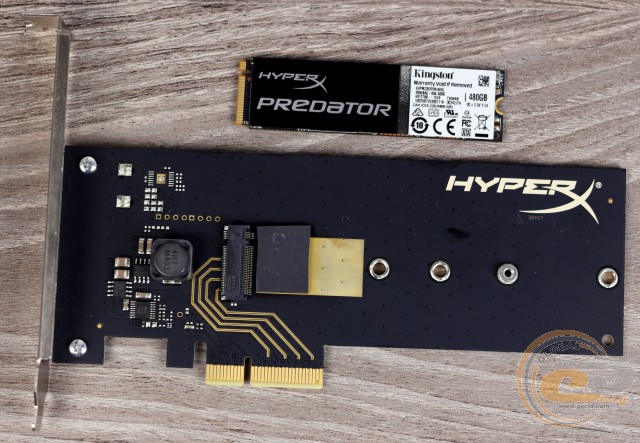 To drive is secured to adapter with one screw, and in place of its installing there is a gasket.

The drive is created in the form factor M.2 2280, the last two figures indicate the length of the new item - 80 mm. HyperX Predator PCIe SSD is based on the controller Marvell 88SS9293 (located under the label), which interacts with two chips of RAM (Kingston D2516EC4BXGGB) with capacity of 512 MB. The last correspond to the standard DDR3 and work on the effective frequency of 1600 MHz.
A memory for data storing is provided by 8 chips Toshiba TH58TE69DDKBA8H, with capacity of 64 GB each. They are arranged on both sides of the board. Although their total capacity is 512 GB, the user can use only 480 GB. The remaining 32 GB of disk space are reserved for internal algorithms in order to more uniform use of all the memory cells and increase the life of the drive as a whole.
Социальные комментарии Cackle