SSD-drive HyperX Savage SSD (240 GB): review and testing
When you upgrade the disk subsystem of a desktop or laptop you have some questions. Firstly, what to choose: a new hard drive or SSD. In the first case you get a large amount of space at a relatively low cost. This option is ideal for those who store a lot of video, photos or other data and does not require fast access speed.
The second option would significantly improve the overall performance of the operating system and applied application, however, it requires large investments and would bring less disk space.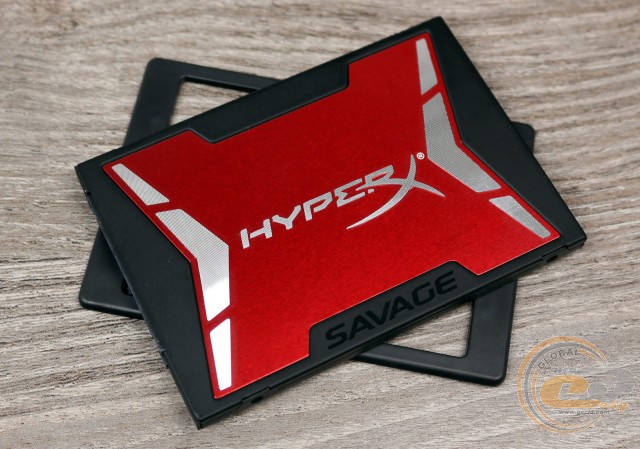 In addition, pay attention to the ease of installation and the possibility of further use of the rest component (in this case the old drive). The model HyperX Savage SSD can cope with these tasks. It has a capacity of 240 GB and produced by notable company Kingston. Novelty has extended the scope of delivery that contains not only all the necessary adapters to install it in your laptop or desktop PC, but also the original external pocket with interface USB 3.0.
The specs:
Producer and model

HyperX Savage SSD (under testing 240 GB)

Form-factor, in

2,5

Interface

SATA 6 Gb/s (backward compatible with SATA 3 Gb/s)

Capacity (GB) and price

120 – SHSS37A/120G ($101,64)

120 – SHSS3B7A/120G ($124,74)

240 – SHSS37A/240G ($164,78)

240 – SHSS3B7A/240G ($187,88)

480 – SHSS37A/480G ($343,42)

480 – SHSS3B7A/480G ($366,52)

960 – SHSS37A/960G ($779,24)

960 – SHSS3B7A/960G ($802,34)

Controller

Phison PS3110-S10

Color

Black and red

Operating temperature range, °C

0…+70

Peak vibration stability (7~800 Hz), G

2,7

Vibration stability in idle mode (10~2000 Hz), G

20

Max read/write speed of compressed data (ATTO Disk Benchmark), МB/s

560 / 530

Max read/write speed of non-compressed data (AS-SSD and CrystalDiskMark), МB/s

520 / 510

Max read/write speed of random blocks with capacity of 4 KB (IOMETER), IOPS

100 000 / 89 000

Mean time before failure, h

1 000 000

Total of recorded bytes (TBW), ТB

306

Dimensions, mm

100 х 69,9 х 7,0

Producer limited warranty, years

3

Producer website
Note that all of the models are available in two options: SSD or SSD with complete accessories. Of course, the second option would cost a bit more (roughly $ 23 more).
Depending on the capacity declared read and write speed are the following:
| | | | | |
| --- | --- | --- | --- | --- |
| Capacity, GB | 120 | 240 | 480 | 960 |
| Max read/write speed of compressed data, МB/s | 560 / 360 | 560 / 530 | 560 / 530 | 560 / 530 |
| Max read/write speed of non-compressed data, МB/s | 520 / 350 | 520 / 510 | 520 / 500 | 520 / 490 |
According to this table, only the option of 120 GB has significantly different speed characteristics from other models.
Package and content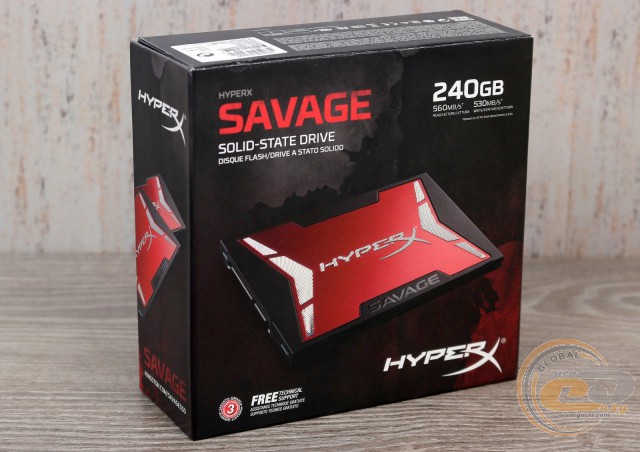 HyperX Savage SSD drive is sold in a large package of thick cardboard, decorated in black and red colors. Its front side contains the logo about 3-year warranty on the device by the manufacturer, and free technical assistance for the specified period.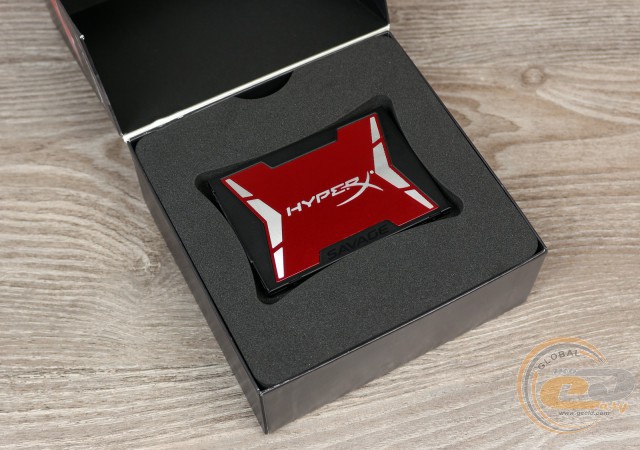 Inside the SSD-drive is securely fixed using foam shapes, which allows to protect the fragile electronics from damage during transportation.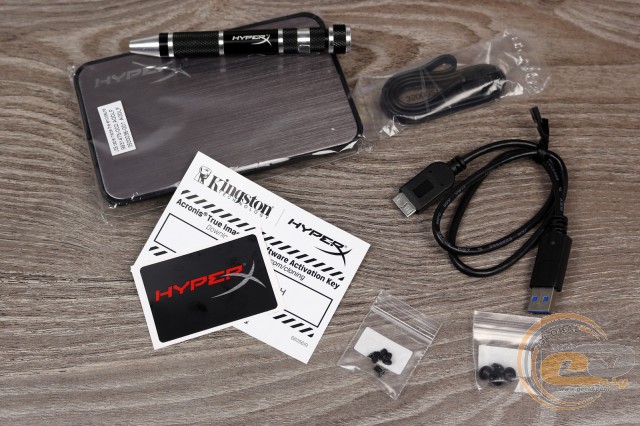 The package includes an expanded set of accessories:
outer pocket with interface micro-USB 3.0;
cable micro-USB 3.0↔USB 3.0;
set of screws;
adapter for the installation of 3.5-inch for desktop computer connector;
frame to install 7 mm drive in the 9.5-mm notebook compartment;
universal screwdriver;
SATA cable;
sticker on the computer;
a leaflet with the activation code of the program Acronis True Image.
This set is good because it contains absolutely all the accessories you may need to update your PC or laptop.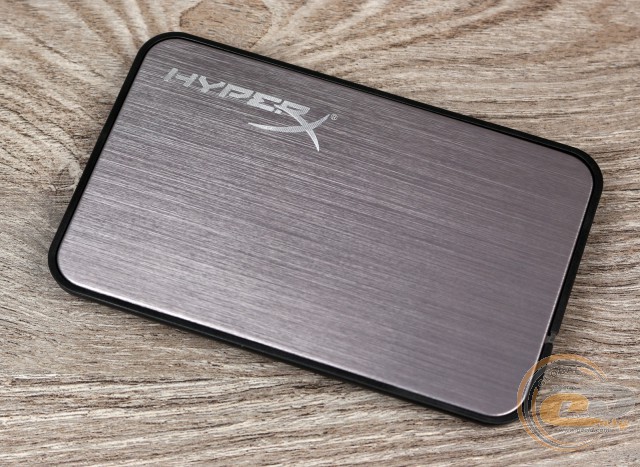 The outer pocket has a nice design and can be used with old 2.5-inch hard disk drive, or any other compatible SATA-drive.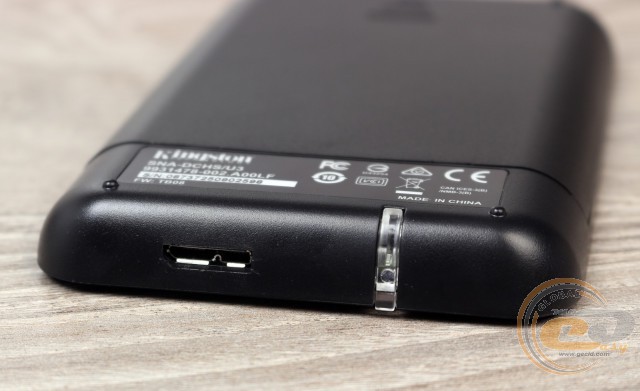 Its side face has a modern connector micro-USB 3.0 for connecting to a computer and the LED indicator (it is activated in the process of copying or writing data).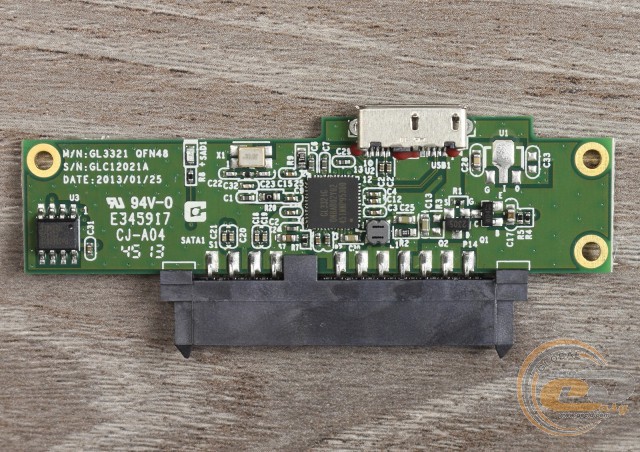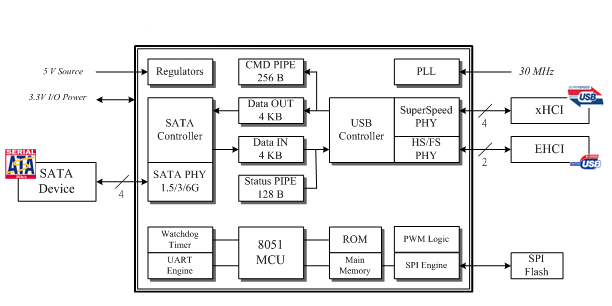 Inside the pocket we found a printed circuit board, operating under the controller Genesys Logic GL3321G. The special features of this chip include:
support for technology Windows To Go;
compatibility with the latest interface USB 3.1;
support for internal interface SATA 6 Gb/s;
low power consumption in standby mode.
Design and features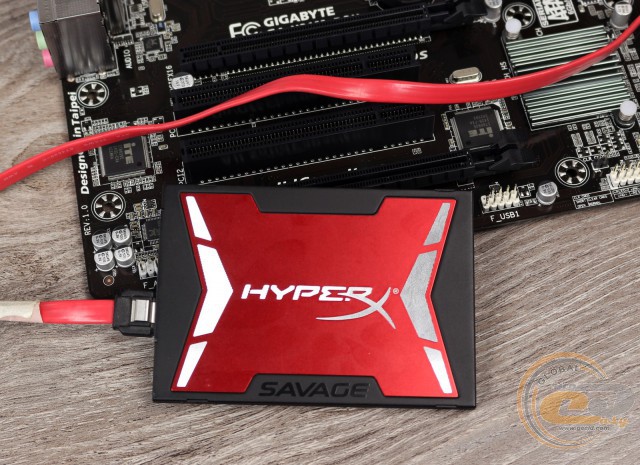 SSD HyperX Savage SSD (SHSS3B7A/240G) is made in the case of aluminum. Its front side is decorated with a metal insert with the logo of the series.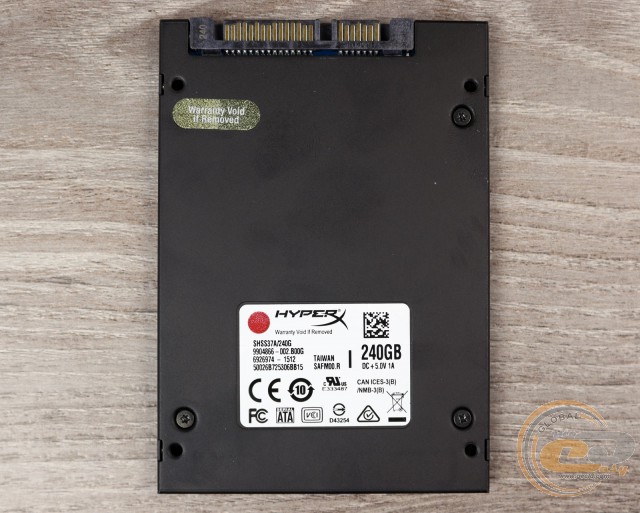 The reverse side of the case has a sticker with technical information (model, size, power settings, the received certificates and others). Please note that one of the screws has installed protective seal. This means that the dismantling of the device will void the warranty. On the side face there are standard connectors for power supply and interface cable SATA 6 Gb/s.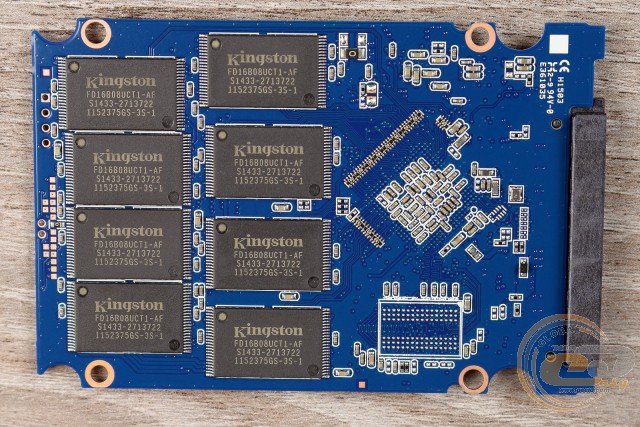 Under the lid there is a blue full-size printed circuit board. Memory storage is realized by using 16 chips Kingston FD16B08UCT1-AF with multi-level-cell (MLC) 16GB each. Their total capacity is 256 GiB, 33 GiB are used for the correct operation of the algorithms (their work provides a uniform activation of all the memory cells to increase the service life). The remaining space (240 GB or 223 GiB) is available for storing data.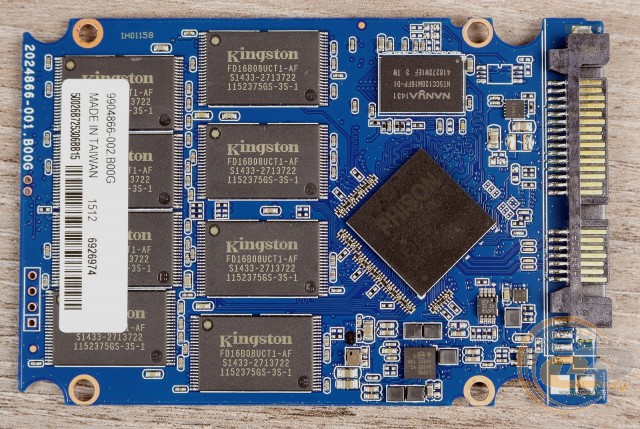 New product run due to quad-core controller Phison PS3110-S10, which can boast the following advantages:
compatibility with the SATA 6Gb/s and backward compatible with SATA 3Gb/s and SATA 1,5 Gb/s;
the ability to work with the cache memory of 2, 4, or 8 Gb/s;
support for ECC-correction and the ability to use AES-encryption.
The cache memory is provided by Nanya NT5CC128M16FP-DI DDR3 of 2Gb.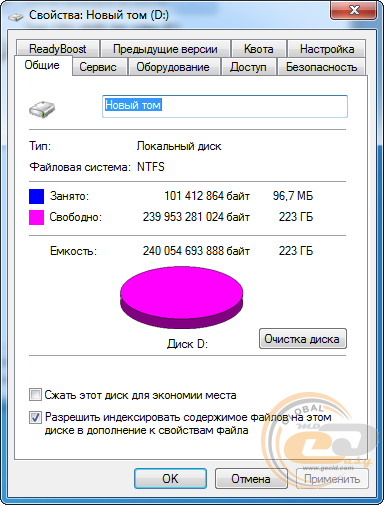 Initially, the drive is formatted with the file system NTFS, so users of operating systems Microsoft Windows series can immediately start using the device.
Социальные комментарии Cackle