---
Processor Intel Core i7-5775C based on 14-nm microarchitecture Intel Broadwell: review and testing

While AMD is still looking for itself in the market for desktop PCs, its chief rival Intel continues to produce more new series of processors, combined global concept «tick-tock». However, the families of Intel Haswell Refresh and Intel Devil's Canyon are quite different, but in the absence of the fierce competition this particular feature is not quite. A year late we have faced with «tick» iteration for desktop systems, marking the transition to a thin 14-nm manufacturing process. The previous generation (Intel Haswell) and its derivatives (Intel Haswell Refresh and Intel Devil's Canyon) were based on 22-nm technology, while AMD is still using 28 and 32-nm crystals.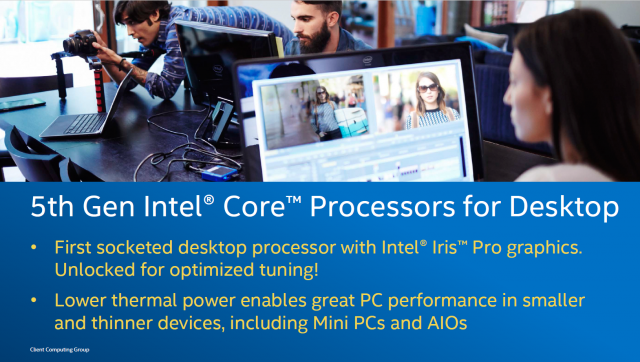 It would seem that only this fact is enough to ensure huge success for new series of processors under the name «Intel Broadwell». But there are some nuances. The fact that the new line was originally designed for mobile platforms, as a response to the APU from AMD. Accordingly, the manufacturer has paid great attention to integrated graphics, having increases its productivity. But how will this affect to the desktop version? This question will be described in this review on the example of the quad-core processor Intel Core i7-5775C. But first of all let's learn a theory.
Microarchitecture Intel Broadwell
When changing the process technology Intel prefers make some small changes for microarchitecture implemented in the previous generation processor. Here the "blue" decided to change its traditions.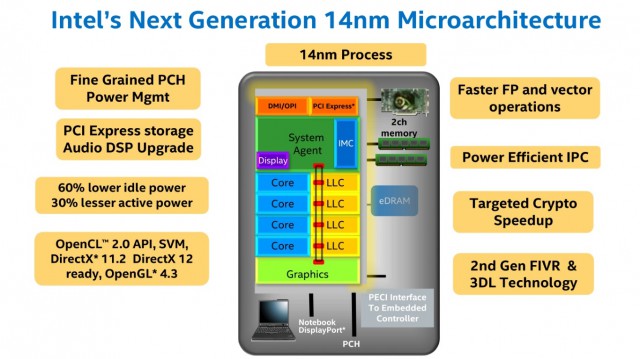 But in concept the family Intel Broadwell is not particularly different from its predecessors in the series Intel Haswell: the maximum option includes the same quad-core L3-cache, integrated system agent, integrated graphics core, the ring bus and two-channel memory controller. To exchange data with discrete graphics card here are only 16 lines PCIe, and to communicate with the chipset and other controllers the board uses a high-speed bus DMI 2.0. At first glance all is the same. But do not forget that in case of finer manufacturing technology the engineers have an opportunity to use a greater number of transistors for each structural unit of the processor, and thus increase their productivity.
Thus, representatives of the lineup Intel Broadwell got upgraded scheduler of command execution; one the buffer of the second level address translation was increased half times; added a mechanism for address translation processing operations in parallel mode. Prediction algorithms of branch have been improved and the speed of vector calculations was increased and the performance of the main floating-point operations was reduced. For example, the multiplying procedure can be performed by the three cycles rather than five, as it was previously.
However, in practice, all these innovations are unlikely to significantly affect the rate of operation of the new processors. Even in the company Intel noted that solutions microarchitecture Intel Broadwell will exceed the previous generation representatives only by 5%. In principle some can put up with this aspect, but such a low gain from the introduction of new microarchitecture calls in question about the appropriateness of updates to Intel Haswell on Intel Broadwell.
The second much more significant problem is that the frequency of the new processors is lower their predecessors. As a consequence, in actual operating conditions the representative of the family Intel Haswell may be even faster than comparable models from the series Intel Broadwell. And here there is a logical question: "Why should we use the next generation?" The reduced power consumption and heat release? Of course, for mobile solutions it is certainly a very powerful argument. But what about the difference between 65 and 88 W under the desktop configuration?
At the same time we did not want to reduce the contribution of engineers from Intel. There is a transition to 14-nm manufacturing process, FinFET-transistors of the second generation with smaller parasitic capacity and current leakage were introduced, optimization algorithm of the built-in power controller at low loads has undergone. In short, we have faced with a tremendous work aimed at reducing power consumption and heat dissipation. But, apparently, all these technologies work are not completely correct, as to reduce the level TDP producer had to reduce the clock frequency.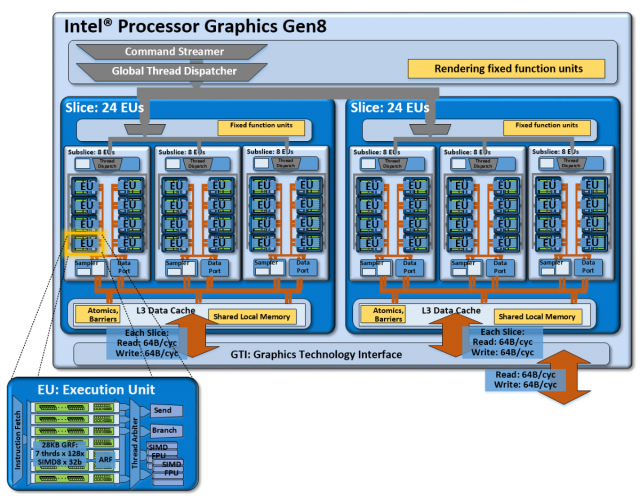 The second factor, which is designed to win the hearts and minds of users, should be progressive integrated graphics Intel Iris Pro Graphics 6200. And it is not reworked version of Intel HD Graphics 4600 installed to the flagship family of Intel Haswell, but a completely new development. The core of Intel Iris Pro Graphics 6200 consists of two clusters with 24 Execution Unit, which gives us a total of 48 blocks. For Intel HD Graphics 4600 they are limited to 20 blocks. And the most Execution Units within each cluster are grouped into three stacks instead of two, resulting in increased speed of access to texture units and L3 cache. In addition, Intel Iris Pro Graphics 6200 has improved technology Intel Quick Sync, which provides support for hardware overclocking for video encoding and decoding using advanced codec and formats (including 4K Ultra HD).
But the most important breakthrough is the availability of dedicated video memory (eDRAM, embedded DRAM) with capacity of 128 MB. In the previous generation of processors it was used only in mobile solutions for BGA-cases (series Intel Core H). It's not a secret that the bottleneck in the integrated graphics core is insufficient bandwidth used to needs of RAM DDR3. Block eDRAM, called «Crystall Well», aims to solve this problem. Moreover, the 128 MB of memory may be involved by processor cores, making the module Crystall Well as L4 cache. Each technology has a high potential. Under the proper optimization level the block eDRAM will significantly speed up operations associated with complex mathematical calculations and processing of large amounts of data.
As a result, the processors Intel Broadwell should have an influence on the position of AMD APUs on the market of mobile solutions, because theoretical calculations show that the net performance of Intel Iris Pro Graphics 6200 will be approximately 20% higher than the AMD Radeon R7 Graphics that is a flagship set of integrated graphics from AMD. And what about the desktop platforms?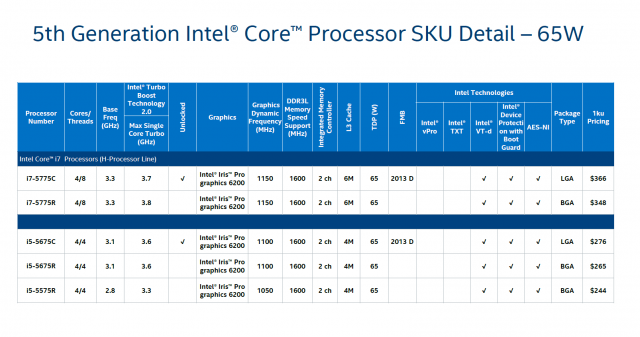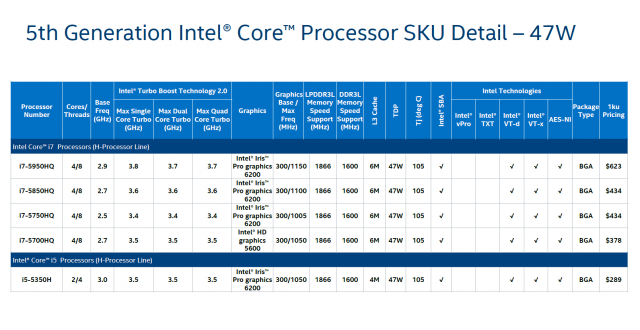 To answer this question, we propose to look at the range of the family Intel Broadwell. For owners of the PC the manufacturer offers only two devices (Intel Core i7-5775C and Intel Core i5-5675C). The rest are made in the BGA-case (soldered directly on board) and are designed for mobile platforms. Apparently, the expansion of the lineup in the future is not expected. This means that the market contains only quad-core flagship Intel Core i7/i5.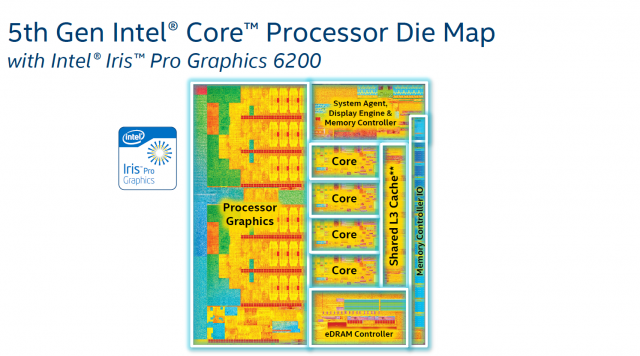 This marketing policy is explained by debut in August 2015 of the 14-nm processors of the next generation Intel Skylake, which will bring to market a new generation of chipsets (Intel 100 series) and support for DDR4-memory. This platform will be actively developed and promoted, while the desktop Intel Broadwell will be a tribute to the concept of «tick-tock».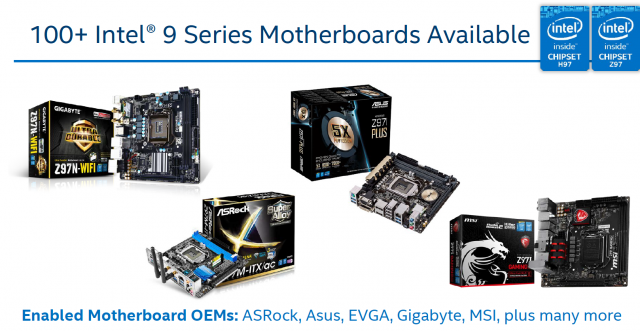 Also note that the series Intel Broadwell are compatible only with motherboards based on the chipsets Intel Z97 and Intel H97, although they use the connector Intel Socket LGA1150, as well as models based on the Intel Z87/H87/Q87/B85/H81.
And now let's examine this opinion in practice. For this purpose we took the flagship model of the new line - Intel Core i7-5775C.
The specs:
Model

Intel Core i7-5775C

Intel Core i7-4790K

CPU socket

Socket LGA1150

Clock frequency (nominal/in turbo mode), MHz

3300 / 3700

4000 / 4400

Modifier (nominal/ in turbo mode)

33 / 37

40 / 44

Reference frequency, MHz

100

L1 cache, КB

4 х 32 (instruction memory)

4 х 32 (data memory)

L2 cache, КB

4 х 256

L3 cache, MB

6

8

L4 cache, MB

128

No

Microarchitecture

Intel Broadwell

Intel Haswell

Code name

Intel Broadwell

Intel Devil's Canyon

Number of cores/threads

4 / 8

Instruction support

MMX, SSE, SSE2, SSE3, SSSE3, SSE4.1, SSE4.2, EM64T, BMI, AES, AVX, AVX2, FMA3

Supply voltage, V

-

-

Maximum design power (TDP), W

65

88

Limit of the permissible temperature, °C

-

72,7

Manufacturing process, nm

14

22

Technology support

VT-x, VT-d, TXT, TSX, Turbo Boost 2.0

Integrated memory controller

Maximum memory capacity, GB

32

32

Memory type

DDR3L

DDR3

Guaranteed supported frequency, MHz

1600

Number of memory channels

2

he maximum number of modules per channel

2

Integrated graphics core




Intel Iris Pro Graphics 6200

Intel HD Graphics 4600

Number of execution units

48

20

Модули растеризации

8

4

Texture units

16

8

Clock speed GPU (nominal/turbo mode), MHz

300 / 1150

350 / 1250

Maximum number of supported displays

3

Support for instructions and technologies

DirectX 11.2, OpenGL 4.3, OpenCL 2.0, Shader Model 5.0, Intel Quick Sync Video, InTru 3D, Intel Insider, Intel Wireless Display, Intel Clear Video HD

DirectX 11.2, OpenGL 4.3, OpenCL 1.2, Shader Model 5.0, Intel Quick Sync Video, InTru 3D, Intel Insider, Intel Wireless Display, Intel Clear Video HD
Package, delivery set and design
For testing we have an engineering sample of Intel Core i7-5775C, so the traditional description of the box and the cooling system is not available. Although there is no doubt that as the stock cooler will use the standard version of Intel, namely aluminum disc with radial ribs blown by fan.
Externally the novelty is virtually the same as for the solutions of previous generations. The cover configuration and location of the contacts on the back side remained the same. Unfortunately, we could not find out the substance under the heat distribution plate. However, it is unlikely that there is a liquid metal. Most likely, a kind of thermal paste.
Model Intel Core i7-5775C has full compatibility with the electrical connector Socket LGA1150. Its correct operation is guaranteed only on motherboards equipped with Intel chipsets of ninth series.
Performance analysis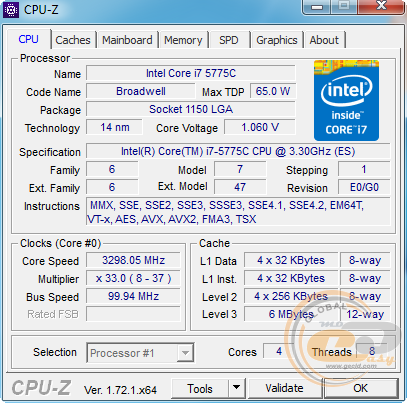 In normal operation (technology Intel Turbo Boost 2.0 is off) the speed of Intel Core i7-5775C equals to 3300 MHz, at the reference frequency of 100 MHz and multiplier "x33". The voltage was 1,060 V. This is a smaller value compared with Intel Core i7-4790K (about 1.1 V), and the nominal frequency of the novelty is much lower 3300 MHz against 4000 MHz.
Incase of activated proprietary technology Intel Turbo Boost 2.0, the speed of new product occasionally raises to the level of the declared 3700 MHz. The processor operated at a frequency of 3600 MHz. The voltage at the same time was 1,224 and 1,184 respectively. We want to note that at the maximum speed (3700 MHz) active are only 2 cores, while reduced frequency up to 3600 MHz allows to activate all 4 cores. The same algorithm was observed for flagship models in series Intel Haswell, Intel Haswell Refresh and Intel Devil's Canyon, the only difference is another intermediate step.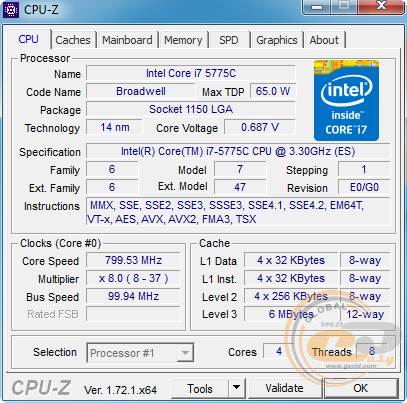 Also the important role plays energy-saving mode. As previously it reduces the processor speed to the level of 800 MHz. But now it takes power of 0.687 V. Previously, the figure was 0.1 - 0.15 V more.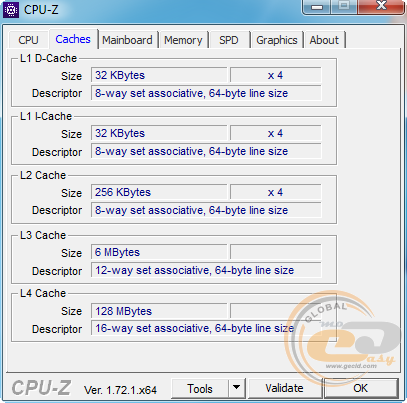 Cache memory of Intel Core i7-5775C is distributed according to the following scheme:
L1cache: each of the 4 cores has 32 KB for data with 8 channels of associativity and 32 KB for instructions and with 8 channels of associativity;
L2 cache: each core has 256 KB with 8 channels of associativity;
L3 cache: 6 MB for all cores with 12 channels of associativity;
L4 cache: 128 MB for all cores with 16 channels of associativity.
Compared to the Intel Core i7-4790K the product lost 2 MB of L3cache, but gained a new level of cache - L4 of quite a large capacity.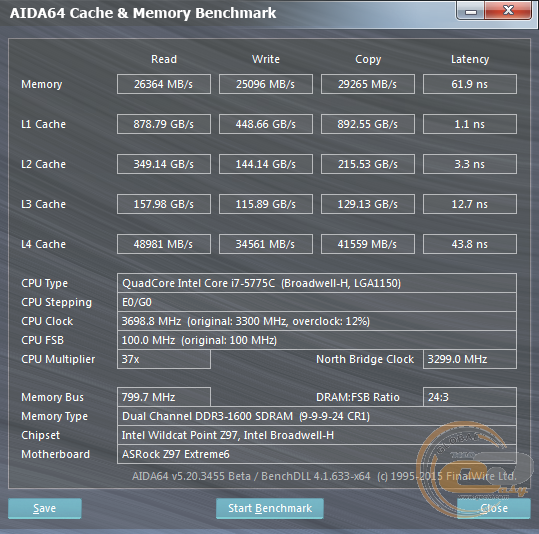 The advantage of the L4 cache (block eDRAM) is already visible to the naked eye: the read, write and copy speed is 1.5-2 times higher than RAM of standard DDR3-1600 MHz.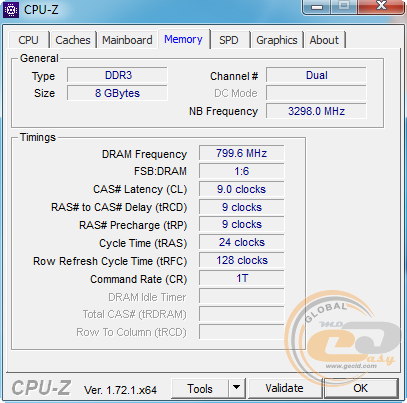 Memory controller designed to work with energy efficient units DDR3L. Although, according to the screenshots, conventional DDR3 modules designed for supply voltage 1.5 V will deal with Intel Core i7-5775C. The memory controller operates in dual channel mode and guarantees the support for modules at up to 1600 MHz and a total of up to 32 GB.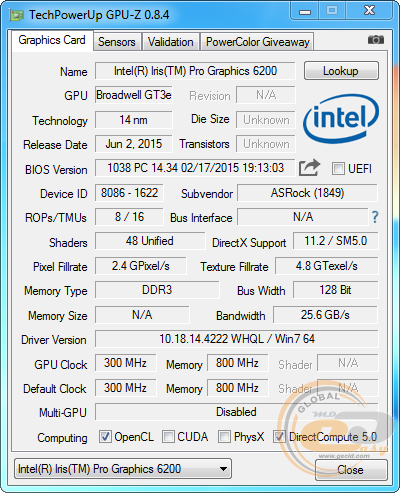 Read the full review >>>
---