---
Motherboard GIGABYTE GA-Z170X-Gaming 7: review and testing
An updated series of devices for gamers GIGABYTE G1 GAMING includes not only the mid-level model, such as the GIGABYTE GA-Z170X-Gaming 3, but the flagship cards. And one of them will be described in this review. GIGABYTE GA-Z170X-Gaming 7 has a very good equipment, including the traditional advantages of this series: gaming network controller supplemented company Intel; a good sound system, as well as a number of overclcking opportunities that will help you get an extra performance boost in games.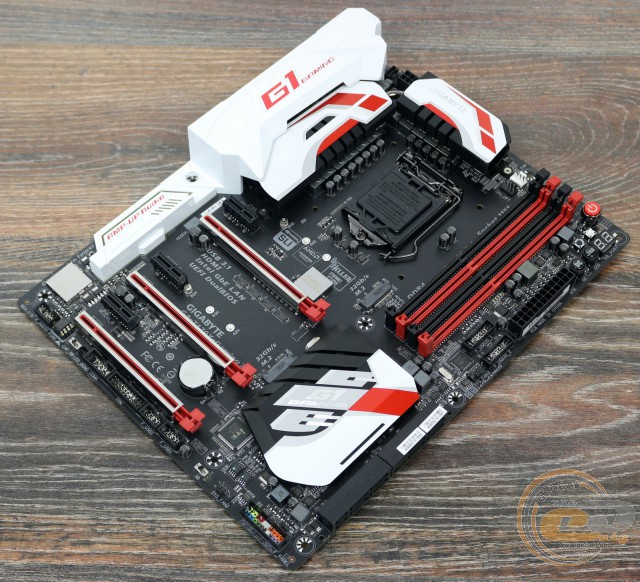 The specs:
Read the full review >>>
---
Review of motherboard GIGABYTE GA-Z170X-Gaming 3 on Intel Z170
5 August 2015 is a significant date on the calendar in the IT-industry. After all, this day brought not only the announcement of the sixth-generation Intel Core processors under code-named «Intel Skylake», but also we have an introduction of a new platform Intel Socket LGA1151 and a new chipset Intel Z170. We will devote a separate review for processor family Intel Skylake, but in this material on the example of motherboard GIGABYTE GA-Z170X-Gaming 3 we offer a more detailed look at the possibilities of the chipset Intel Z170.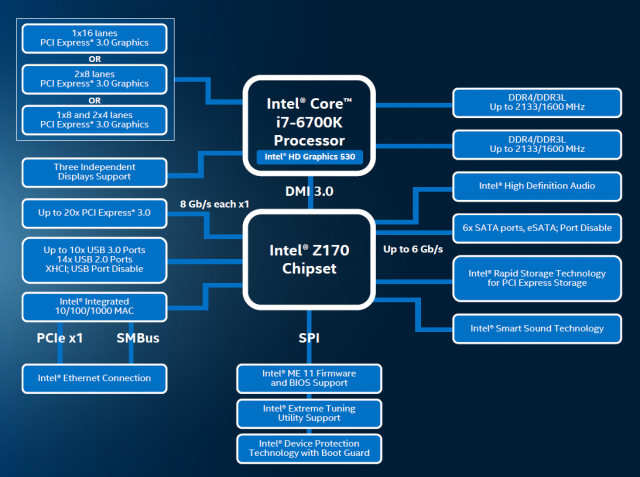 Conceptual scheme of platform Socket LGA1151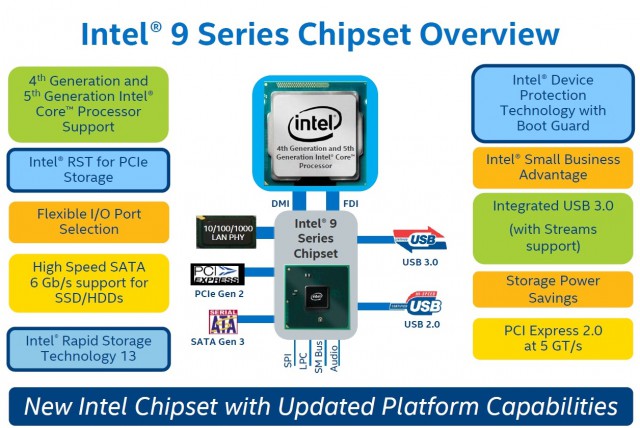 Conceptual scheme of platform Socket LGA1150
First of all let's consider the conceptual scheme of platform Socket LGA1151. The general structure has not changed: the board still contains two major components (CPU and chipset), the data exchange between them is done by a bus DMI. However "the main thing is in the details." Indeed, the analysis of the individual units of the scheme shows that the platform Socket LGA1151 is a big step forward compared to the Socket LGA1150. Firstly, the chipset Intel Z170 had the transition to the use of interface PCI Express 3.0, which has twice higher the bandwidth than PCI Express 2.0. Moreover, the new standard will be used for communication with external devices (expansion slots and the controller), and for "dialogue" with the processor. In other words, performance of bus DMI 3.0 also increased about twice compared with DMI 2.0. Such upgrading at chipset ensures that during operation any part of this scheme will not be the bottleneck and will not limit the performance of its individual components.
Another important development was the increase the number of lines PCIe in the chipset to communicate with peripherals. Intel Z97 features 8, while Intel Z170 has 20. Such a large amount should help the developers of motherboards in terms of implementing a set of interfaces for multi-graphics configurations, and the use of third-party controllers. Also don't forget that the processor also has its own 16th lines PCIe 3.0, that will give us a grand total of 36 lines. In other words, any board equipped with the flagship chipset Intel Z170, theoretically, be able to support modes 4-Way NVIDIA SLI/AMD CrossFireX in format х8+х8+х8+х8.
As for the supported connectors, the Intel Z170 also took the lead of its predecessor. For the needs of the user here are 10 USB 3.0 port versus 6 in Intel Z97. The number of available slots USB 2.0 and SATA 6 Gb/s has not changed - 14 and 6, respectively. Also, here is support for interface SATA Express and drives M.2 PCIe (NGFF SSD). Moreover, by increasing the number of lines and the transition to PCIe 3.0 standard now the motherboard can contain not one, but two or three corresponding slots. Also, minor changes were made for supported technologies. Thus, the Intel Rapid Storage options has added full support for PCIe-storage, and will have access to technology to improve sound quality (Intel Smart Sound).
In general, the chipset Intel Z170 has a rather large functionality.
Read the full review >>>
---
Smartphone GIGABYTE GSMART Rome RX: review and testing
Despite the huge advertising budgets and very productive marketeers, not every user is willing to pay a significant amount of money for the advertised brand or invest in a completely uncalled range of options. Often, for such a category of people the main criteria for selection of new mobile devices are reasonable price and practicality that cover all of the advanced functionality.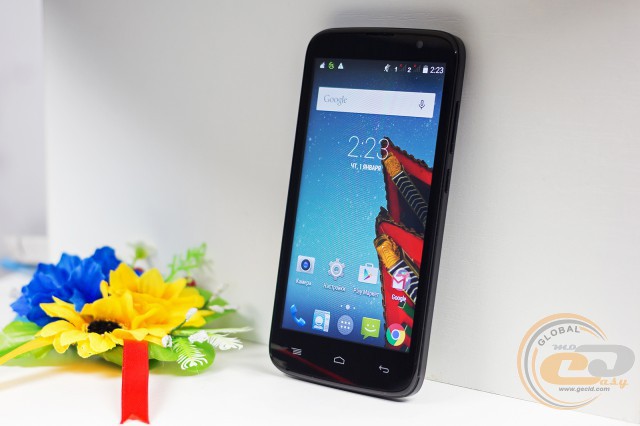 In this article we will talk about a relatively inexpensive, but quite required smartphone - GIGABYTE GSMART Rome RX, which is due to the classic design, good hardware platform and a very reasonable cost can be a good option. And we begin our review from a detailed review of the technical characteristics.
Read the full review >>>
---
Motherboard GIGABYTE GA-H81M-D3H: review and testing
GIGABYTE GA-H81M-D3H is a budget microATX model, designed to work with processors from Intel. It is logical that in the course of its development it was decided to use the youngest chipset (Intel H81) as the basis, making it possible to significantly reduce the final cost.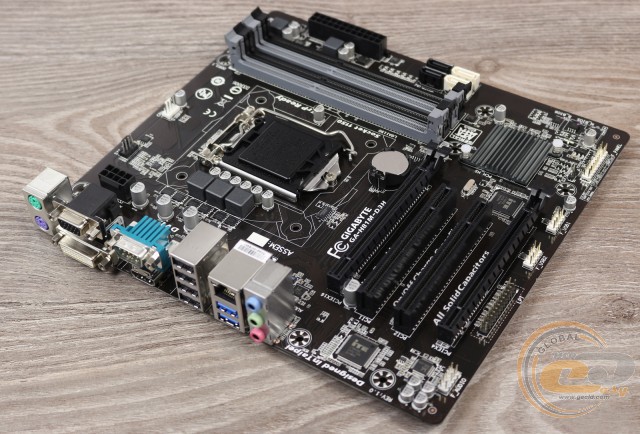 We would like to note that the chipset Intel H81 nominally does not support CPU overclocking and has less features. The key is its advantage, besides the price, is the support of interfaces USB 3.0 and SATA 6 Gb/s, which is important for the modern user who wants to save money, but not going to refuse high-speed data transfer methods.
The specs:
Read the full review >>>
---
RAM kit GeIL SUPER LUCE BLUE 3400MHz Quad Channel GLB416GB3400C16AQC (16 GB): review and testing
After the fall release of processors based on the microarchitecture Intel Skylake, that will work with memory DDR4, the new standard will be more popular than now, and, hopefully, will be more accessible to the ordinary user. But now there is a sense to think about purchasing of memory DDR4, if you play the role of such features as data transfer rate of 50000 MB/s.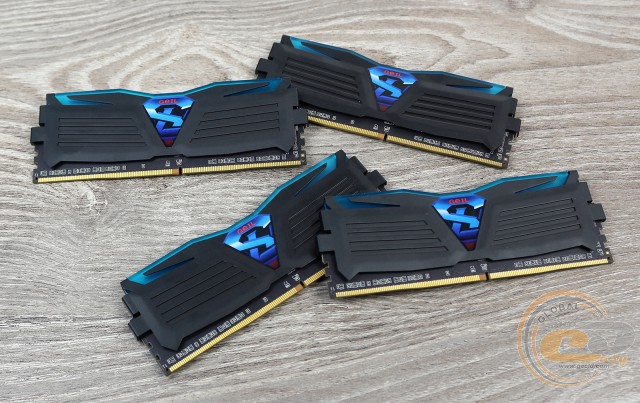 Such product will be discussed in this review. This is one of the top sets of GeIL - GeIL SUPER LUCE BLUE 3400MHz Quad Channel GLB416GB3400C16AQC, which is capable of operating at a frequency of 3400 MHz with 16-18-18-36 latencies and voltage of 1.35 V.
The specs:
Producer and model

Read the full review >>>

---

Motherboard GIGABYTE GA-990FXA-UD5: review and testing

Motherboard GIGABYTE GA-990FXA-UD5 is designed in ATX format based on the flagship chipset bundle AMD 990FX and AMD SB950. It is positioned as a solution for the building of high-level gaming, overclocking or efficient system. Also here you can find enhanced 8+2 phase power subsystem, powerful cooling system, support for technologies AMD CrossFireX and NVIDIA SLI, as well as good equipping. Let's take a closer look other features of GIGABYTE GA-990FXA-UD5, and its correspondence to the requirements of 2015 year.

The specs:

Producer

GIGABYTE

Model

GA-990FXA-UD5 (rev 3.0)

Chipset of north and south bridges

AMD 990FX + AMD SB950

Processor socket

AMD Socket AM3+

Supported CPUs

AMD Phenom II / AMD Athlon II / AMD Sempron / AMD FX

Memory frequency

2000* / 1866 / 1600 / 1333 / 1066 MHz

(*OC)

Memory support

4 x DDR3 DIMM-slots with memory support up to 32 GB

Expansion slots

3 x PCI Express 2.0 x16 (x16 / x16+x16 / х16+х8+х8)

2 x PCI Express 2.0 x16 (x4)

1 x PCI Express 2.0 x1

1 х PCI

Disk subsystem

AMD SB950 supports:

6 x SATA 6 Gb/s

RAID 0, RAID 1, RAID 5, RAID 10, JBOD

2 х Marvell 88SE9172 supports:

2 x SATA 6 Gb/s

2 x eSATA 6 Gb/s

RAID 0, RAID 1

LAN

1 x Realtek 8111F (10/100/1000 Мb/s)

Sound subsystem

Codec Realtek ALC889

8-channel sound

S/PDIF Out

Power

24-pin power socket ATX

8-pin power socket ATX12V

Fans

1 x CPU fan connector (4-pin)

3 x system fan connectors (1 x 4-pin and 2 х 3-pin)

Cooling

Aluminum radiator of processor power subsystem elements connected by heat pipe with north bridge radiator

Aluminum radiator of south bridge

Extenral I/O

1 x LAN (RJ45)

8 x USB 2.0

2 x USB 3.0

2 х eSATA

1 x IEEE 1394a

6 x audio jacks

1 х S/PDIF Out

1 х PS/2 Combo

Internal I/O

1 x USB 3.0 with support of two USB 3.0 (19-pin)

3 x USB 2.0, each with support of two USB 2.0

8 x SATA 6 Gb/s

1 x COM

1 x TPM

1 x IEEE 1394a

1 x S/PDIF Out

1 x connector of audio output to front panel

1 x set of front panel connectors

1 x CMOS

BIOS

2 х 32 Mb Flash ROM UEFI AMI BIOS

ACPI 2.0a, SM BIOS 2.6, PnP 1.0а, DMI 2.0

Packaging

user manual

warranty card

disk with drives and documents

4 x SATA cables

1 х bridge 2-Way NVIDIA SLI

1 х bridge 3-Way NVIDIA SLI

1 х interface panel plug

Form-factor, dimensions

ATX

305 х 244 mm

Producer website

GIGABYTE
Updated versions of BIOS and drives are available at support page

Read the full review >>>

---

Motherboard GIGABYTE GA-H81M-S2V: review and testing

At the time of this review the motherboard GIGABYTE GA-H81M-S2V is one of the most affordable microATX model for the processors Intel of Taiwanese producer. Having average cost of about $50 the product supports modern interfaces USB 3.0 and SATA 6 Gb/s, as well as a number of other improvements and proprietary technologies.

Taking into account its price positioning, it is obvious that the basis is the youngest chipset (Intel H81), making it possible to significantly reduce the final cost. Note that the chipset Intel H81 does not support CPU overclocking and has less features. The key advantage, besides the price, is the support of interfaces USB 3.0 and SATA 6 Gb/s, which is important for the modern user who wants to save money on the purchase of the motherboard, but not going to refuse high-speed of data transfer.

The specs:

Read the full review >>>

---

Motherboard GIGABYTE GA-F2A68HM-DS2H: review and testing

Motherboard GIGABYTE GA-F2A68HM-DS2H is an entry-level solution of microATX format. It has quite interesting combination of useful technologies, traditionally high quality of execution, as well as quite decent and modern equipment.

The model is based on chipset AMD A68H, which is intended to replace the AMD A58 as a chipset for processors series AMD Kaveri or solutions of lineups AMD Trinity/Richland in budget devices.

The specs:

Producer

GIGABYTE

Model

GA-F2A68HM-DS2H (rev 1.0)

Chipset

AMD A68H

Processor socket

Socket FM2+

Supported CPUs

AMD A / AMD Athlon

Memory frequency

2400* / 2133 / 1866 / 1600 / 1333 МГц

(*OC)

Memory support

2 x DDR3 DIMM- slots with memory support up to 64 GB

Expansion slots

1 x PCI Express 3.0 x16

1 x PCI Express 2.0 x1

1 x PCI

Disk subsystem

AMD A68H chipset supports:

4 x SATA 6 Gb/s

RAID 0, RAID 1, RAID 10, JBOD

LAN

1 x Realtek 8111G (10/100/1000 Мb/s)

Sound subsystem

Codec Realtek ALC887

2/4/5.1/7.1-channel sound

S/PDIF Out

Power

24-pin power socket ATX

8-pin power socket ATX12V

Fans

1 x CPU fan connector (4-pin)

2 x system fan connectors (4-pin)

Cooling

Aluminum radiator on chipset

Extenral I/O

1 x D-Sub

1 x HDMI

1 х LPT

1 x COM

1 x LAN (RJ45)

2 x USB 3.0

4 x USB 2.0

3 x audio jacks

1 х PS/2 (mouse or keyboard)

Internal I/O

2 x USB 2.0, with support of two USB 2.0

4 x SATA 6 GB/s

1 x S/PDIF Out

1 x connector of audio output to front panel

1 x set of front panel connectors

1 x CMOS

BIOS

2 х 64 Мb AMI UEFI BIOS

PnP 1.0а, DMI2.7, SM BIOS 2.7, ACPI 5.0

Packaging

user manual

warranty card

disk with drives and documents

2 x SATA cables

1 х interface panel plug

Form-factor, dimensions

microATX

226 х 182 mm

Producer website

GIGABYTE
Updated versions of BIOS and drives are available at support page

Read the full review >>>

---

MotherboardGIGABYTE GA-78LMT-USB3: review and testing

Motherboard GIGABYTE GA-78LMT-USB3 is not a novelty, because it is based on Northbridge AMD 760G presented in early 2009. It was originally intended to replace AMD 740G for the platform Socket AM2/AM2+, but later was adapted for the following connectors Socket AM3/AM3+. The main feature of AMD 760G is the presence integrated graphics core AMD Radeon HD 3000 clocked at 350 MHz compatible with DirectX 10. It supports a maximum resolution of 1920 x 1200 and is intended for the needs of the multimedia, as can not provide an acceptable performance in modern games.

As for GIGABYTE GA-78LMT-USB3, it is an affordable and compact model to build entry-level systems. At the time of writing its cost was about $70. Let's take a look at the detailed characteristics.

The specs:

Producer

GIGABYTE

Model

GA-78LMT-USB3 (rev 6.0)

Chipset of North and South bridges

AMD 760G + AMD SB710

Processor socket

AMD Socket AM3/AM3+

Supported CPUs

AMD Phenom II / AMD Athlon II / AMD Sempron / AMD FX

Memory frequency

1600* / 1333 / 1066 MHz

(*OC)

Memory support

4 x DDR3 DIMM-slots with memory support up to 32 GB

Expansion slots

1 x PCI Express 2.0 x16

1 x PCI Express 2.0 x1

1 х PCI

Disk subsystem

AMD SB710 supports:

6 x SATA 3 Gb/s

1 x IDE support of two ATA 133/100/66/33

RAID 0, RAID 1, RAID 10, JBOD

LAN

1 x Realtek 8111F (10/100/1000 Мb/s)

Sound subsystem

Codec Realtek ALC892

2/4/5.1/7.1-channel sound

S/PDIF Out

Power

24-pin power socket ATX

8-pin power socket ATX12V

Fans

1 x CPU fan connector (4-pin)

1 x system fan connector (4-pin)

Cooling

Aluminum radiator of processor power subsystem elements

Aluminum Radiator of North bridge

Aluminum Radiator of South bridge

Extenral I/O

1 x LAN (RJ45)

1 х DVI-D

1 x HDMI

1 x D-Sub

4 x USB 2.0

2 x USB 3.0

3 x audio jacks

1 х PS/2 (for mouse or keyboard connection)

Internal I/O

1 x USB 3.0 with support of two USB 3.0 (19-pin)

2 x USB 2.0, each with support of two USB 2.0

6 x SATA 3 Gb/s

1 x IDE

1 x COM

1 x LPT connector

1 x S/PDIF Out

1 x connector of audio output to front panel

1 x set of front panel connectors

1 x CMOS

BIOS

2 х 32 Mb AWARD BIOS

ACPI 1.0b, SM BIOS 2.4, PnP 1.0а, DMI 2.0

Packaging

user manual

warranty card

disk with drives and documents

2 x SATA cables

1 х IDE cable

1 х interface panel plug

Form-factor, dimensions

microATX

244 х 244 mm

Producer website

GIGABYTE
Updated versions of BIOS and drives are available at support page

Read the full review >>>

---

Motherboard GIGABYTE GA-J1800M-D2P: review and testing

Continuing familiarity with the lineup of GIGABYTE motherboards with integrated processor Intel Celeron J1800, we will talk about a compact model GIGABYTE GA-J1800M-D2P designed in a format microATX. In theory, it can be an excellent basis for the building of compact multimedia system oriented to reproduce high-quality multimedia content on your home TV or monitor.

As for the "heart" of this model, the detailed characteristics of the installed processor can be found in the material devoted to the motherboard ASUS J1800I-C. And we will look at the characteristics of the hero of this review.

The specs:

Producer

GIGABYTE

Model

GA-J1800M-D2P (rev 1.1)

Chipset

Socket BGA1170

Integrated processor

Intel Celeron J1800 (2 х 2,41 − 2,58 ГГц)

Supported CPUs

Intel HD Graphics: core frequency 688 МГц (max up to 792 MHz); capacity of video memory is taken from RAM

Memory frequency

1333 MHz

Memory support

2 x DDR3/DDR3L DIMM- slots with memory support up to 8 GB in dual channel mode

Expansion slots

1 x PCI Express 2.0 x1

1 x PCI

Disk subsystem

2 x SATA 3 Gb/s

LAN

1 x Realtek 8111G (10/100/1000 Мb/s)

Sound subsystem

Codec Realtek ALC887

2/4/5.1/7.1-channel sound

S/PDIF Out

Power

24-pin ATX connector

4-pin ATX12V connector

Fans

1 x CPU fan connector (3-pin)

1 x system fan connectors (4-pin)

Cooling

Aluminum radiator on chipset

Extenral I/O

1 x D-Sub

1 х HDMI

1 x LAN (RJ45)

1 x USB 3.0

4 x USB 2.0

1 х LPT

3 x audio jacks

1 х PS/2 (mouse or keyboard)

Internal I/O

2 x USB 2.0, each with support of two USB 2.0

2 х COM

1 x connector of audio output to front panel

1 x set of front panel connectors

1 x S/PDIF Out

1 x CMOS

BIOS

1 х 64 Мb AMI UEFI BIOS

PnP 1.0а, DMI2.7, SM BIOS 2.7, ACPI 5.0, WfM 2.0

Packaging

user manual

warranty card

disk with drives and documents

2 x SATA cables

1 х interface panel plug

Form-factor, dimensions

microATX

190 х 180 mm

Producer website

GIGABYTE
Updated versions of BIOS and drives are available at support page

Read the full review >>>

---

Motherboard GIGABYTE GA-990FXA-UD3: review and testing

If you think the platform Socket AM3+ outdated, irrelevant and unsuful, the motherboard GIGABYTE GA-990FXA-UD3, which we will be discussed in this review will try to prove you otherwise. It is made in ATX format and is designed to work in conjunction with the processor family AMD Phenom II, AMD Athlon, and AMD FX.

GIGABYTE GA-990FXA-UD3 is designed on the basis of the flagship chipsets AMD 990FX and AMD SB950, so in the first thing it is positioned as the basis for gaming, overclocking or efficient system with a set of relevant features. 8+2 phase power subsystem, powerful cooling system, support for multi-graphics bonds AMD CrossFireX and NVIDIA SLI - all this is offered at an estimated cost of only $140. Let's take a closer look of the features of GIGABYTE GA-990FXA-UD3, and its correspondence to requirements of 2015 year.

The specs:

Producer

GIGABYTE

Model

GA-990FXA-UD3 (rev 4.0)

Chipset of North and South bridges

AMD 990FX + AMD SB950

Processor socket

AMD Socket AM3+

Supported CPUs

AMD Phenom II / AMD Athlon II / AMD Sempron / AMD FX

Memory frequency

2000* / 1866 / 1600 / 1333 / 1066 MHz

(*OC)

Memory support

4 x DDR3 DIMM- slots with memory support up to 32 GB

Expansion slots

2 x PCI Express 2.0 x16

x16

x16+x16

2 x PCI Express 2.0 x4

2 x PCI Express 2.0 x1

1 х PCI

Disk subsystem

AMD SB950 supports:

6 x SATA 6 Gb/s

RAID 0, RAID 1, RAID 5, RAID 10, JBOD

LAN

1 x Realtek 8111F (10/100/1000 Мb/s)

Sound subsystem

Codec Realtek ALC889

8-channel sound

S/PDIF Out

Power

24-pin power socket ATX

8-pin power socket ATX12V

Fans

1 x CPU fan connector (4-pin)

3 x system fan connectors (2 x 4-pin and 1 x 3-pin)

Cooling

Aluminum radiator of processor power subsystem elements connected with North bridge radiator

Aluminum Radiator of South bridge

Extenral I/O

1 x LAN (RJ45)

8 x USB 2.0

2 x USB 3.0

2 х eSATA

1 x IEEE 1394a

6 x audio jacks

1 х S/PDIF Out

1 х PS/2 (for mouse or keyboard connection)

Internal I/O

1 x USB 3.0 each with support of two USB 3.0 (19-pin)

3 x USB 2.0, each with support of two USB 2.0

6 x SATA 6 Gb/s

1 x socket COM

1 x socket TPM

1 x socket IEEE 1394a

1 x S/PDIF Out

1 x connector of audio output to front panel

1 x set of front panel connectors

1 x CMOS

BIOS

2 х 32 Mb Flash ROM UEFI AMI BIOS

ACPI 2.0a, SM BIOS 2.6, PnP 1.0а, DMI 2.0

Packaging

user manual

warranty card

disk with drives and documents

4 x SATA cables

1 x bridge 2-Way NVIDIA SLI

1 х interface panel plug

Form-factor, dimensions

ATX

305 х 244 mm

Producer website

GIGABYTE
Updated versions of BIOS and drives are available at support page

Read the full review >>>

---

Motherboard GIGABYTE GA-F2A68HM-S1: review and testing

In this review we will talk about the model GIGABYTE GA-F2A68HM-S1, which is an entry-level solution, and is performed in a compact format microATX. It has a good combination of a number of useful technologies, traditionally high quality of building, as well as quite decent and modern equipment.

Note that the GIGABYTE GA-F2A68HM-S1 is based on the new chipset AMD A68H, which is intended to replace chipset AMD A58 for entry-level work with processors series AMD Kaveri or solutions of lineups AMD Trinity/ Richland.

Let's take a look at other specification. The specification:

Producer

GIGABYTE

Model

GA-F2A68HM-S1 (rev 1.0)

Chipset

AMD A68H

Integrated processor

Socket FM2+

Supported CPUs

AMD A / AMD Athlon

Memory frequency

2400* / 2133 / 1866 / 1600 / 1333 МГц

(*OC)

Memory support

2 x DDR3 DIMM-slots with memory support up to 64 GB

Expansion slots

1 x PCI Express 3.0 x16

1 x PCI Express 2.0 x1

1 x PCI

Disk subsystem

AMD A68H chipset supports:

4 x SATA 6 Gb/s

RAID 0, RAID 1, RAID 10, JBOD

LAN

1 x Realtek 8111G (10/100/1000 Мb/s)

Sound subsystem

Кодек Realtek ALC887

2/4/5.1/7.1-channel sound

S/PDIF Out

Power

24-pin power socket ATX

4-pin power socket ATX12V

Fans

1 x CPU fan connector (4-pin)

2 x system fan connectors (4-pin)

Cooling

Aluminum radiators on chipset

Extenral I/O

1 x D-Sub

1 x LAN (RJ45)

2 x USB 3.0

4 x USB 2.0

3 x audio jacks

2 х PS/2 (mouse and keyboard)

Internal I/O

2 x USB 2.0, each with support of two USB 2.0

4 x SATA 6 Gb/s

1 x connector of audio output to front panel

1 x set of front panel connectors

1 x S/PDIF Out

1 x CMOS

BIOS

1 х 64 Мb UEFI BIOS

PnP 1.0а, DMI2.7, SM BIOS 2.7, ACPI 5.0

Packaging

user manual

warranty card

disk with drives and documents

2 x SATA cables

1 х interface panel plug

Form-factor, dimensions

microATX

225 х 174 mm

Producer website

GIGABYTE
Updated versions of BIOS and drives are available at support page

Read the full review >>>

---

Motherboard GIGABYTE GA-H81M-H: review and testing

The product which will be discussed in this review is one of the most affordable solutions of GIGABYTE in format microATX. At an average cost of about $ 55 - 60 GIGABYTE GA-H81M-H has a good circuitry, a compact format, support for modern interface USB 3.0 and SATA 6 Gb/s, as well as a number of other improvements and proprietary technologies.

It is bases on the youngest chipset (Intel H81), which nominally does not provide overclocking of the processor and has less features, but compares favorably with the support of the above-mentioned interface, which is important in the segment of affordable models.

Let's learn the detailed specifications of motherboard GIGABYTE GA-H81M-H:

Read the full review >>>

---

Graphics card GIGABYTE GeForce GTX 960

G1.GAMING (

GV-N960G1 GAMING-2GD

): review and testing

Continuing our acquaintance with a variety of modifications of graphics card NVIDIA GeForce GTX 960 presented in early 2015, we will talk about the new product from GIGABYTE, namely GIGABYTE GeForce GTX 960 G1.GAMING (GV-N960G1 GAMING-2GD). According its name, it refers to a series GIGABYTE G1.GAMING, which includes accessories for gamers, that compares favorably due to design and features.

Separately we recall that a key features of the model NVIDIA GeForce GTX 960 you can read the review Inno3D GeForce GTX 960 iChill Ultra. As for micro-architecture NVIDIA Maxwell and related technologies, they are focused on a very extensive material.

But we will proceed directly to the Review GIGABYTE GeForce GTX 960 G1.GAMING (GV-N960G1 GAMING-2GD).

The specs:

Model

GIGABYTE GeForce GTX 960 G1.GAMING

(GIGABYTE GV-N960G1 GAMING-2GD)

Graphics core

NVIDIA GM206 (Maxwell)

Quantity of shader processors (CUDA-cores)

1024

Supported API and technologies

DirectX 12, OpenGL 4.4, NVIDIA GPU Boost 2.0, NVIDIA TXAA, NVIDIA FXAA, NVIDIA MFAA, NVIDIA Adaptive Vertical Sync, NVIDIA Surround, NVIDIA PhysX, NVIDIA 3D Vision, NVIDIA SLI, NVIDIA CUDA, NVIDIA GameWorks, NVIDIA GameStream

Basic / dynamic graphics core frequency, MHz

Mode «Gaming»

1241 / 1304

Mode «OC»

1266 / 1329

Memory frequency (effective), MHz

1753 (7010)

Memory capacity, GB

2

Memory type

GDDR5

Memory bus, bit

128

Memory carrying capacity, GB/s

112,2

Bus type

PCI Express 3.0 x16

Max resolution

Digital up to 4096 x 2160

Analog up to 2048 x 1536

Screening interfaces

1 х DVI-I

1 х DVI-D

1 х HDMI

3 х DisplayPort

Support for HDCP and HD-video decoding

Yes

Max capacity of PSU, W

400

Additional power sockets PCIe

2 x 6-pin

Dimensions taken from official website (according measurements in own test lab) , mm

295 х 114 (312 х 117)

Drivers

Producer website

Tested modification of NVIDIA GeForce GTX 960 compares favorably not only by a proprietary cooling system and a modified set of video outputs, but also the presence of factory overclocking the GPU from the default 1126 to 1241 MHz. Also do not forget about the technology NVIDIA GPU Boost 2.0, taking into account that the average GPU is clocked at 1304 MHz instead of recommended 1178 MHz. In addition, proprietary utility OC GURU II has additional profile «OC», which increases activation of these parameters to the 1266 and 1329 MHz, respectively.

But the video memory subsystem meets the requirements of the reference: 2 GB GDDR5 128-bit bus and the effective frequency of 7010 MHz.

Package and content

Graphics card GIGABYTE GV-N960G1 GAMING-2GD comes in a compact cardboard box. A key design element is the logo of series GIGABYTE G1.GAMING. The important information on the front side contains support for the cooling system GIGABYTE WINDFORCE 3X, as well as new item belonging to the range of factory overclocked solutions.

The reverse side is reserved for the description of the key benefits of GIGABYTE GeForce GTX 960 G1.GAMING, namely:

Unique blade fan design - the unique shape of the fan blades reduces turbulence and air flow more efficiently remove heat from the radiators.

Intuitive Fan Indicators - indicator system of the cooler features two LEDs («Silent» and «* Stop») on either side of the glowing logo WINDFORCE, which light up when the system goes into a passive cooling mode.

Direct Heat Pipe Touch - WINDFORCE 3X cooler is favorably due to direct contact of heat pipes to the graphics core by a small layer of thermal paste, which contributes to more efficient heat dissipation.

Stylish Black Plate - massive base plate on the back of the video card performs not only a decorative role, but also increases the overall stiffness of the structure, and is also involved in cooling.

Super OverClock - thanks to a special selection process of graphics chips (GPU Gauntlet sorting) a series of GIGABYTE Super OverClock contains only the highest quality items with excellent overclocking potential.

Flex Display - this technology allows to automatically detect the connected display devices, and easily organize simultaneous operation of up to four panels.

Also note the support for GIGABYTE DualBIOS (use two chips BIOS), as well as the use of proprietary concept for Ultra Durable VGA to select graphics card circuitry (Japanese solid capacitors, ferrite chokes and energy efficient MOSFETs with low on-resistance).

A list of system requirements for the computer is also located on the back of the box. Based on the recommendations, the power supply in such a system must have a capacity of at least 400 W and maintain two 6-pin power cables PCIe.

Supplied set of GIGABYTE GeForce GTX 960 G1.GAMING in addition to a brief manual and a CD with drivers and utilities has two power adapters. In general, such a kit can be safely described as good, as it helps to organize competently powered graphics card in case of lack of necessary source used connectors.

To display an image the novelty has an expanded set of interfaces:

1 x DVI-I;

1 x DVI-D;

1 x HDMI;

3 x DisplayPort.

The difference lies only in the presence of an additional port DVI-D, which will significantly simplify the connection of multiple monitors simultaneously, since not all displays are equipped with an interface DisplayPort.

The following resolutions are supported:

Digital up to 4096 x 2160;

Analog up to 2048 x 1536.

Design and circuitry

GIGABYTE GeForce GTX 960 G1.GAMING (GV-N960G1 GAMING-2GD) uses original circuit board in black with a standard layout of on-board elements. Applied electronic components correspond to the concept of proprietary Ultra Durable VGA, which means it is built exclusively on high-quality components: Japanese solid capacitors, ferrite core and field-effect transistors with low on-resistance (RDS (on)). In addition, some of the copper traces in certain layers of the PCB are twice the thickness, thus reducing the overall electrical resistance and provide more effective heat dissipation.

Power of new product is made for enhanced 8-phase scheme (six phases for the GPU and two for memory chips), while the standard version includes only five phases (four for the GPU and one for the video memory).

The power system of the GPU is implemented on a digital PWM Controllers ON Semiconductor NCP81174 manufactured by ON Semiconductor. According to the documentation, it is equipped with short circuit protection and is characterized by increased efficiency by supporting the power saving function (PSI). It can control the 2, 3 or 4 phases, ie in this case applied the doubling phase to work properly.

In addition to slot PCI Express 3.0 x16 for graphic card uses two 6-pin PCIe, while the reference sample requires only one such connector. They are on the side of the board, but due to a cooler location, not at all difficult to disconnect cables PCIe.

In order to provide technology NVIDIA SLI GIGABYTE GeForce GTX 960 G1.GAMING uses one connector for the appropriate bridge. It allows you to combine two video accelerators for the joint calculation of graphical effects.

The reverse side of a novelty, initially covered with the base plate, is notable not only by the above-mentioned PWM controller, but also due to a number of electrical components, two of the four video memory chips and the mounting screws of the cooling system.

The tested model is based on the graphics chip NVIDIA GM206-300-A1 (Maxwell), produced by 28-nm process technology. It includes 1024 unified shader pipelines (CUDA cores in the terminology of NVIDIA), 32 blocks rasterization and 64 texture units. As we have said, the video card has factory overclocked graphics core with frequencies which 1241 and 1304 MHz for nominal and dynamic modes, respectively.

Memory of GIGABYTE GV-N960G1 GAMING-2GD, totaling 2GB is collected using 4-chip Samsung K4G41325FC-HC28 with 512 MB each. According to the documentation, the effective frequency is equal to 7 GHz. Communication between the graphics processor and memory is realized through a 128-bit bus, which is capable of flowing 112.2 GB of information per second.

Cooling system

Branded cooling system WINDFORCE 3X has a very discreet design and rather large dimensions that must be considered before buying. The video card with installed cooling system occupies two expansion slots and has a total length of 312 mm (as measured in our lab).

The cooler consists of a three-section radiator recruited from 20, 40 and 47 are aluminum plates, as well as of the three axial fans with blades 77 mm in diameter mounted on an aluminum casing which covers the entire structure.

The fans are provided by models Power Logic PLD08010S12H with improved blade shape and extended life used plain bearings. As for the features, they have a nominal voltage of 12 V and a current of 0.25 A, which results in a power of 3 W.

To improve the efficiency of heat exchange, four copper heat pipe diameter of 6 mm are applied. Unfortunately, they are not covered by a layer of nickel, which prevents oxidation processes of copper, which in the future could adversely affect the cooling efficiency. The contact of heat pipes with a copper base and heat sink fins is improved by solder.

Also in this picture you can see principle of the technology GIGABYTE Direct Heat Pipe Touch, where the heat pipes are in contact with the graphics core directly through a small layer of thermal paste.

Two video memory chips are located on the front side of the PCB and power elements of the power subsystem GPU are cooled through direct contact with the heat sink using a thermal interface.

Unfortunately, the memory chips on the back side do not have any additional cooling, because the base plate is not in contact with them. Nevertheless, it is still participating in the withdrawal of excess heat. In operation the temperature rises considerably, so you should be careful when removing the video card immediately after stopping the computer.

Under the automatic speed control of the fan blades at maximum load the graphics core is heated to 70 degrees and cooler works on 47% of its maximum capacity. The noise level in this case was absolutely comfortable. Subjectively, it does not stand out against the other components.

Under the maximum fan speed the GPU temperature dropped to 58 degrees. This noise is produced when close to the average level and was quite uncomfortable.

In the absence of load the frequencies of the graphics core and memory are automatically reduced, resulting in less power consumption and heat. The cooler operated in passive mode because of proprietary technology 0dB semi-passive, and the temperature of the GPU did not exceed the mark of 35 degrees.

As a result, the performance and the level of acoustic comfort create an extremely pleasant impression of the cooling system GIGABYTE WINDFORCE 3X. Fortunately it copes well with its immediate objectives and does not bother you a high level of noise in everyday use.

Read the full review >>>

---

Features of modern Intel processors overclocking

For many years the processor overclocking features are their integral part. Of course, due to the productivity growth this procedure has become less popular, but it didn't lose its relevance. The CPU is still a major component of the PC, and therefore the rest of the components in the system are highly dependent on its performance. Moreover, the higher configuration level, the more dependent it is. The second reason, forcing users to look towards overclocking, is a lack of software optimization. So, after buying a multi-core processor, you will not guarantee to ensure maximum productivity. For example, in games very frequent situation is a model with several cores, but higher frequency that performs better than its more expensive counterpart.

So the overclocking today is not just entertainment, and has a real practical benefit. These words were proved many times after testing of processor with different performance. However, the standard doesn't contain all the nuances related to the optimization of process parameters. Therefore we have decided to devote a separate article, or rather, a series of materials to such an issue. The first part will be this article where we will try to unlock the full features of the acceleration of modern processors from Intel. We will focus on models based on microarchitecture Intel Haswell: families Intel Haswell, Intel Haswell Refresh, Intel Devil's Canyon abd Intel Haswell-E.

Read the full review >>>

---

Motherboard GIGABYTE GA-H81N-D2H: review and testing

We continue learn the available models to build entry-level multimedia systems, this time we will talk about the motherboard G GIGABYTE GA-H81N-D2H, which is made in the Mini-ITX format and has a number of distinctive features. In addition to familiar concept of Ultra Durable, novelty stands out by relatively low cost and lack of expansion slots PCI Express x16. This implies its use exclusively with an integrated processor, which has three video outputs on the interface panel, including modern HDMI to output image with resolution of 3840 x 2160 pixels (4K Ultra HD).

Let's move on to the review of new item, and let's start from its technical characteristics.

The specs:

Read the full review >>>

---

MotherboardGIGABYTE GA-J1900M-D2P: review and testing

Continuing familiarity with the lineup of GIGABYTE motherboards with integrated quad-core processor Intel Celeron J1900, we will talk about compact model GIGABYTE GA-J1900M-D2P of microATX format. It stands out by a diverse set of ports and connectors, traditionally high quality performance and support for today's digital video output HDMI. But before moving on to the review of new item, we recall that the detailed characteristics of the installed processor you can find the material on a different motherboard of this line, namely the GIGABYTE GA-J1900N-D3V. And now let's look to the characteristics of the hero of this review.

The specs:

Producer

GIGABYTE

Model

GA-J1900M-D2P (rev 1.1)

CPU socket

Socket BGA1170

Integrated processor

Intel Celeron J1900 (4 х 2,00 − 2,41 GHz)

GPU

Intel HD Graphics: core frequency – 688 MHz (max up to 854 MHz); video memory capacity is dynamically selected from RAM

Memory frequency

1333 MHz

Memory support

2 x DDR3/DDR3L DIMM- slots with memory support up to 8 GB in dual channel mode

Expansion slots

1 x PCI Express 2.0 x1

1 x PCI

Disk subsystem

2 x SATA 3 Gb/s

LAN

1 x Realtek 8111G (10/100/1000 Мb/s)

Sound subsystem

Codec Realtek ALC887

2/4/5.1/7.1-channel sound

S/PDIF Out

Power

24-pin ATX main power connector

4-pin ATX12V power connector

Fans

1 x CPU fan connector (3-pin)

1 x system fan connector (4-pin)

Cooling

Aluminum radiator on processor

Extenral I/O

1 x D-Sub

1 х HDMI

1 x LAN (RJ45)

1 x USB 3.0

4 x USB 2.0

1 х LPT

3 x audio jacks

1 х PS/2 (mouse or keyboard)

Internal I/O

2 x USB 2.0 each with support of two USB 2.0

2 х COM

1 x S/PDIF Out

1 x connector of audio output to front panel

1 x set of front panel connectors

1 x CMOS

BIOS

1 х 64 Мb AMI UEFI BIOS

PnP 1.0а, DMI2.7, SM BIOS 2.7, ACPI 5.0, WfM 2.0

Packaging

User's manual

Warranty card

Disk with drivers and utilities

2 x SATA cables

1 х interface panel plug

Form-factor, dimensions

microATX

190 х 180 mm

Producer website

GIGABYTE
Updated versions of BIOS and drives are available on support page

Read the full review >>>

---

MotherboardGIGABYTE GA-F2A68HM-HD2: review and testing

New product and the hero of this review, the motherboard GIGABYTE GA-F2A68HM-HD2 is an entry-level solution in format microATX. It has a good combination of a number of useful technologies, traditionally high performance quality, as well as quite decent and modern equipment.

Talking about its characteristics, first of all let's note that the GIGABYTE GA-F2A68HM-HD2 is made on the basis of the new chipset AMD A68H, which is designed to replace the AMD A58 as entry-level chipset to work with processors of series серии AMD Kaveri or solutions of lineup AMD Trinity/Richland. Let's take a look at other characteristics.

The specs:

Producer

GIGABYTE

Model

GA-F2A68HM-HD2 (rev 1.0)

Chipset

AMD A68H

CPU socket

Socket FM2+

Supported CPUs

AMD A / AMD Athlon

Memory frequency

2400* / 2133 / 1866 / 1600 / 1333 MHz

(*OC)

Memory support

2 x DDR3 DIMM- slot with memory support up to 64 GB

Expansion slots

1 x PCI Express 3.0 x16

1 x PCI Express 2.0 x1

1 x PCI

Disk subsystem

AMD A68H chipset supports:

4 x SATA 6 Gb/s

RAID 0, RAID 1, RAID 10, JBOD

LAN

1 x Realtek 8111G (10/100/1000 Мb/s)

Sound subsystem

codec Realtek ALC887

2/4/5.1/7.1-channel sound

S/PDIF Out

Power

24-pin ATX main power connector

8-pin ATX12V power connector

Fans

1 x CPU fan connector (4-pin)

2 x system fan connector (4-pin)

Cooling

Aluminum radiator on chipset

Extenral I/O

1 х DVI-D

1 x D-Sub

1 x HDMI

1 x LAN (RJ45)

2 x USB 3.0

4 x USB 2.0

3 x audio jacks

1 х PS/2 (mouse or keyboard)

Internal I/O

2 x USB 2.0 each with support of two USB 2.0

4 x SATA 6 Gb/s

1 х socket COM

1 x USB 2.0 each with support of two USB 2.0

1 x S/PDIF Out

1 x set of front panel connectors

1 x CMOS

BIOS

2 х 64 Mb UEFI BIOS

PnP 1.0а, DMI2.7, SM BIOS 2.7, ACPI 5.0

Packaging

User's manual

Warranty card

Disk with drivers and utilities

2 x SATA cables2 x adapters for Wi-Fi and Bluetooth antennas

1 х interface panel plug

Form-factor, dimensions

microATX

226 х 174 mm

Producer website

GIGABYTE
Updated versions of BIOS and drives are available on support page

Read the full review >>>

---

Motherboard GIGABYTE GA-F2A78M-HD2: review and testing

Looking at the specifications of the motherboard GIGABYTE GA-F2A78M-HD2, which will be discussed in this review, it is possible to make a preliminary conclusion that it offers a very nice combination of compact microATX size, affordable cost (about $ 65 at the time of reviewing) and the traditional GIGABYTE high-quality performance. And its target audience, in our opinion is the users who want to build a compact multimedia PC or average home system with a single graphics card and processor of series AMD Kaveri or solutions rulers AMD Trinity / Richland.

Let's take a look at the detailed specs.

The specs:

Producer

GIGABYTE

Model

GA-F2A78M-HD2 (rev 3.0)

Chipset

AMD A78

CPU socket

Socket FM2+

Supported CPUs

AMD A / AMD Athlon

Memory frequency

2400* / 2133 / 1866 / 1600 / 1333 MHz

(*OC)

Memory support

2 x DDR3 DIMM- slot with memory support up to 64 GB

Expansion slots

1 x PCI Express 3.0 x16

1 x PCI Express 2.0 x1

1 x PCI

Disk subsystem

AMD A78 chipset supports:

4 x SATA 6 GB/s

RAID 0, RAID 1, RAID 10, JBOD

LAN

1 x Realtek 8111F (10/100/1000 Мb/s)

Sound subsystem

Codec Realtek ALC887

2/4/5.1/7.1-channel sound

S/PDIF Out

Power

24-pin ATX main power connector

4-pin ATX12V power connector

Fans

1 x CPU fan connector (4-pin)

1 x system fan connector (4-pin)

Cooling

Aluminum radiator on chipset

Extenral I/O

1 х DVI-D

1 x D-Sub

1 х HDMI

1 x LAN (RJ45)

2 x USB 3.0

2 x USB 2.0

3 x audio jacks

1 х PS/2 (mouse or keyboard)

Internal I/O

2 x USB 2.0 each with support of two USB 2.0

1 x USB 3.0 each with support of two USB 3.0

1 х COM

1 x connector of audio output to front panel

1 x S/PDIF Out

1 x set of front panel connectors

1 x CMOS

BIOS

2 х 64 Мb UEFI BIOS

PnP 1.0а, DMI2.7, SM BIOS 2.7, ACPI 5.0, WfM 2.0

Packaging

User's manual

Warranty card

Disk with drivers and utilities

2 x SATA cables

1 х interface panel plug

Form-factor, dimensions

microATX

226 х 174 mm

Producer website

GIGABYTE
Updated versions of BIOS and drives are available on support page

Read the full review >>>

---

Motherboard GIGABYTE GA-H81N: review and testing

At the time of this review the motherboard GIGABYTE GA-H81N was one of the most affordable solution of Mini-ITX motherboard with CPU socket Socket LGA1150 in assortment Taiwanese company. At an average cost of about $ 80 - 85, the new offers not only ultra-compact size, but a good equipment which will be enough modern user. The arsenal of GIGABYTE GA-H81N has a support for three modern video outputs, including HDMI, and high-speed interfaces SATA 6 Gb/s, USB 3.0 and mSATA. Another feature is the presence of a single slot mini-PCI Express, which is designed to set the wireless modules Wi-Fi and Bluetooth. Taking into account all of the above, the most likely scenario for GIGABYTE GA-H81N is to build a compact multimedia system with a single graphics card, or even without it. Let's find out whether it is able to be a part of such a PC. Let's start from the specification.

The specs:

Read the full review >>>

---