---
SSD-drive Transcend SSD340K (256 GB): review and testing
In the summer of 2015 Transcend has updated its lineup of solid state drives by a new model, which is available in two versions: Transcend SSD340K uses aluminum body and Transcend SSD340 uses plastic. Since the other differences between them are absent the second version should be a bit cheaper.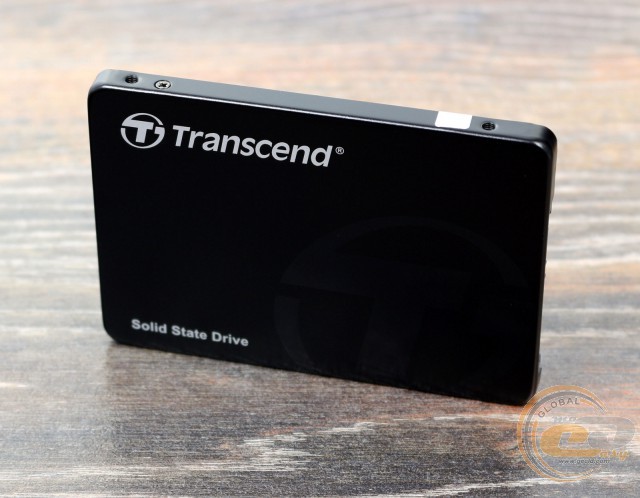 In this review we will talk about the aluminum option Transcend SSD340K. It is available in four versions of memory 32, 64, 128 and 256 GB. Let us look at the more detailed characteristics of the tested modifications with capacity of 256 GB.
Producer and model

Transcend SSD340K

(TS256GSSD340K)

Form-factor, in

2,5

Interface

SATA 6 Gb/s

Capacity, GB

32 (TS32GSSD340K)

64 (TS64GSSD340K)

128 (TS128GSSD340K)

256 (TS256GSSD340K)

Applied controller

JMicron JMF670H

Color

Black

Operation temperature range, °C

0…+70

Maximum successive read/write speed of compressible data (ATTO Disk Benchmark), MB/s

550 / 330

Maximum successive read/write speed of non-compressible data (ATTO Disk Benchmark), MB/s

510 / 320

Random read/write speed of 4 KB, IOPS

75000 / 80000

Weight, g

58

Dimensions, mm

100 х 69,8 х 6,8

Producer warranty, years

3

Supported technologies

TRIM, S.M.A.R.T., NCQ

Producer website
According to the specs, productivity of Transcend SSD340K is slightly below the flagship Transcend SSD370S.
Package and content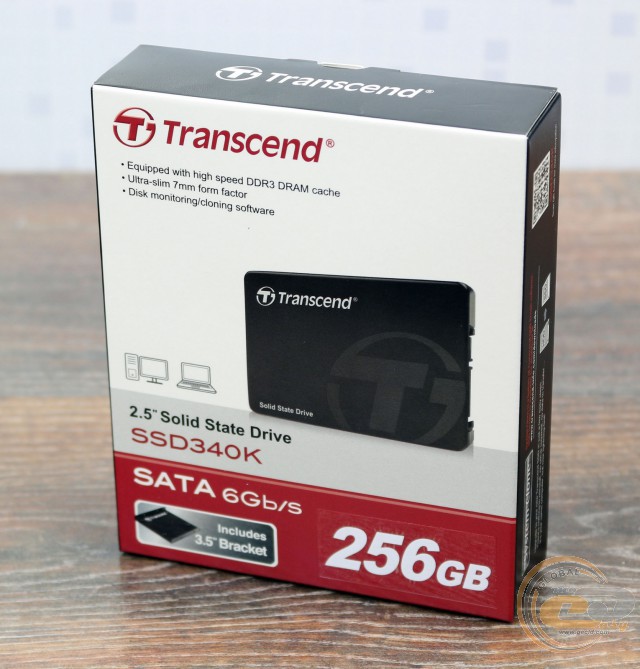 The novelty comes in the traditional carton box. On the front side we can see the name of the manufacturer, the model designation and the capacity of memory, as well as references to the presence of an adapter for 3.5-inch drive bay.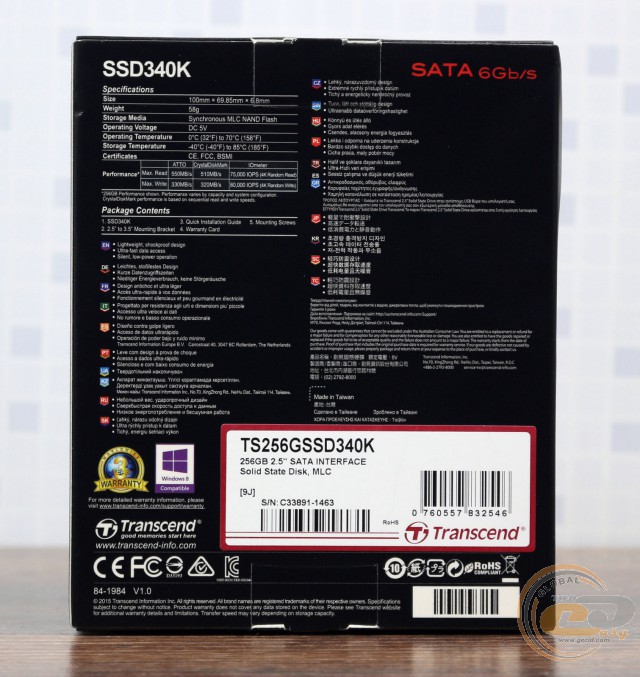 On the reverse side, in addition to a brief description of the product in several languages you can find a list of the technical characteristics of the device.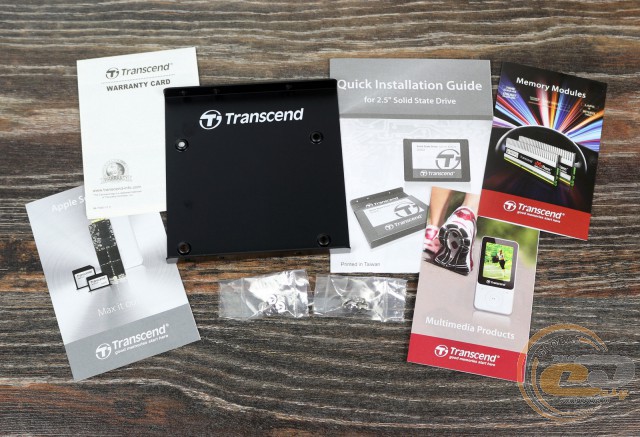 The package includes an adapter for mounting SSD-drive into 3.5-inch drive bay, but the traditional 2.5-mm frame for installation into a 9.5-mm laptop is absent. So we can conclude that the novelty is designed for desktop systems.
Design and features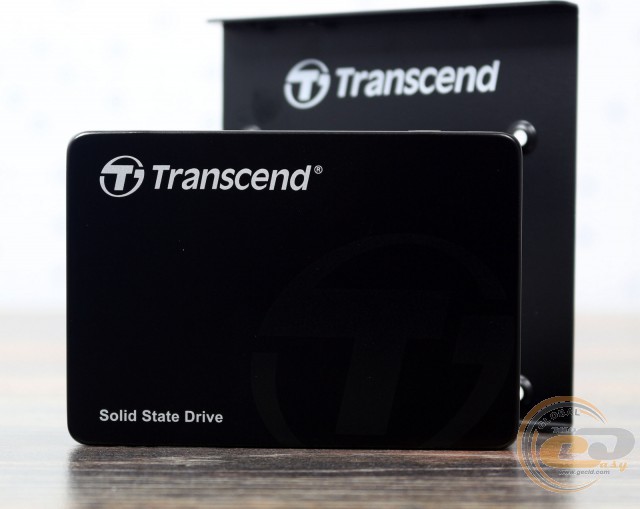 The main body material of model Transcend TS256GSSD340K is black aluminum. Also the front side features the logo of the manufacturer.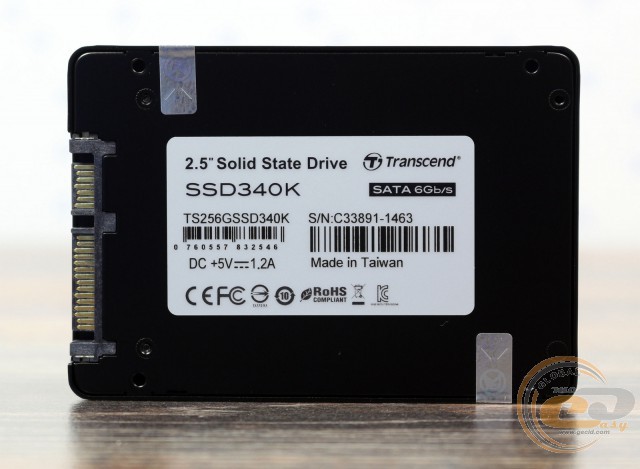 Looking at the back of the case, you can notice a label with all the necessary technical information about the device, such as: serial number, interface, power settings, and logos of certificates. Along the edges there are four mounting holes for mounting the drive in a complete 3.5-inch adapter and two warranty stickers.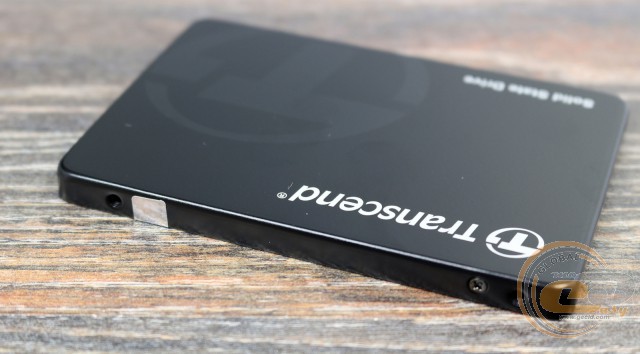 Body thickness is only 6.8 mm. This will allow to install it easily even in the ultra-thin notebook. There are openings necessary for fixing the drive in the appropriate compartment.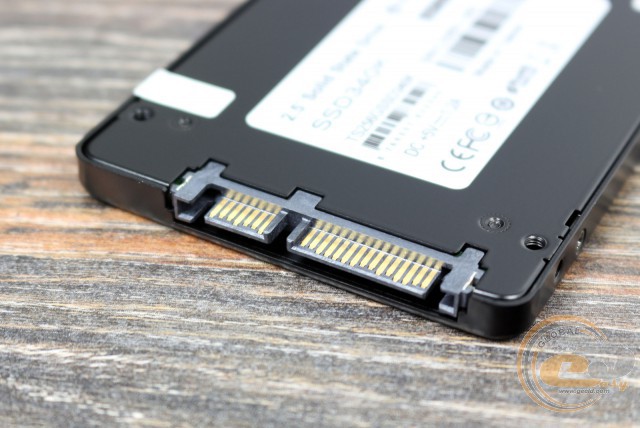 Transcend SSD340K is equipped with high-speed SATA 6 Gb/s for high bandwidth.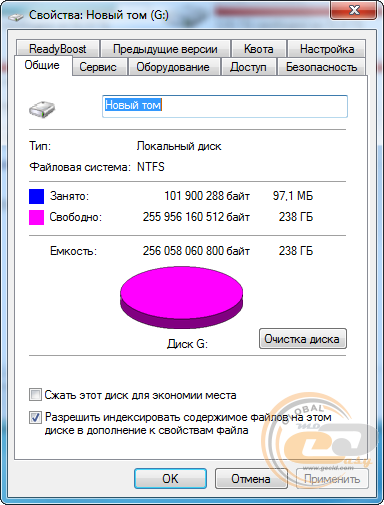 SSD-drive comes formatted for NTFS. Its effective capacity is 256 GB.
Software
Owners of the Transcend TS256GSSD340K can download the useful and functional proprietary utility SSD Scope from the official site. It allows you to find detailed information about the drive and some of its SMART-attributes, to test the level of its performance, look at the structure of the stored information, to completely remove all internal data (beyond recovery), update the firmware, to activate the TRIM command, and learn the level of wearout of the memory cells. The program also allows clone a disk or only the system partition. This will allow, for example, simply move the OS from the old drive to the new one, instead of reinstalling it, thus saving valuable time.
Read the full review >>>
---
Mini PC ECS LIVA X2: review and testing
Regular readers of our portal had the opportunity to meet with the products of the well-known Taiwanese company ECS (Elitegroup Computer Systems), which for several decades is an active participant in the market of computer accessories.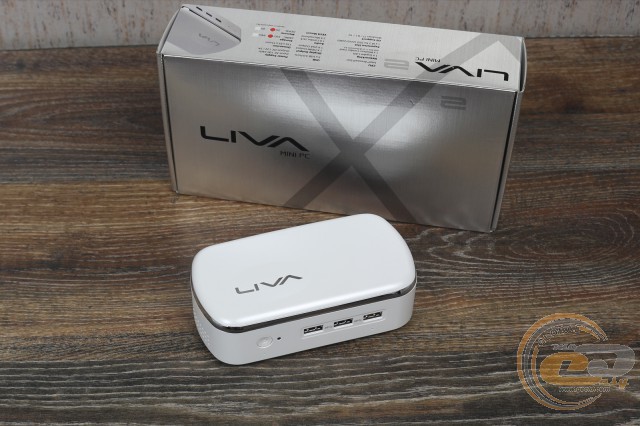 Now we have another representative of interesting and innovative lineup of portable mini-computer Nettop ECS LIVFA X2, which in addition to the updated processor and an improved cooling system has a new attractive design. Let's start our review from a detailed review of the technical characteristics.
Read the full review >>>
---
Review and testing of SSD-drive GOODRAM CX100 (240 GB)
In the middle of August 2015 the company Wilk Elektronik has announced a new SSD-drive GOODRAM CX100, which is a response to the growing demand for affordable high-capacity solid-state drives. It's kind of an updated version of GOODRAM C100 solution. That is, it can not boast of high levels of performance, as the flagship model GOODRAM Iridium PRO, but is offered for a lower price.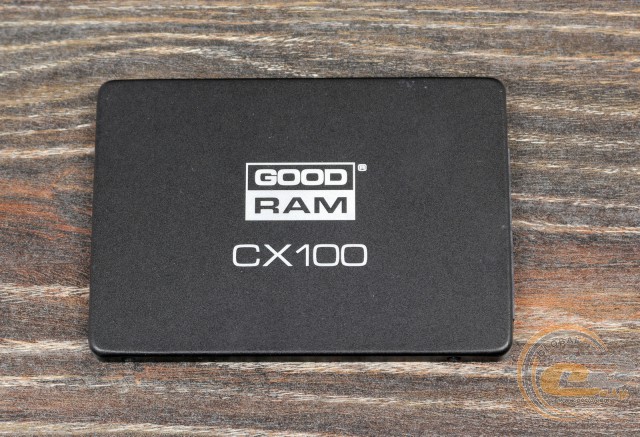 SSD-drive GOODRAM CX100 is available in four versions, which differ not only in capacity, but also the speed characteristics:
Read the full review >>>
---
SSD-drive Transcend MTS800 (TS256GMTS800) with capacity of 256 GB: review and testing
SSDs made in format M.2 are becoming more common due to its compact form factor that is widely required for the monoblock, nettops and in Ultrabooks. Manufacturers of motherboards for desktop PCs also use this format.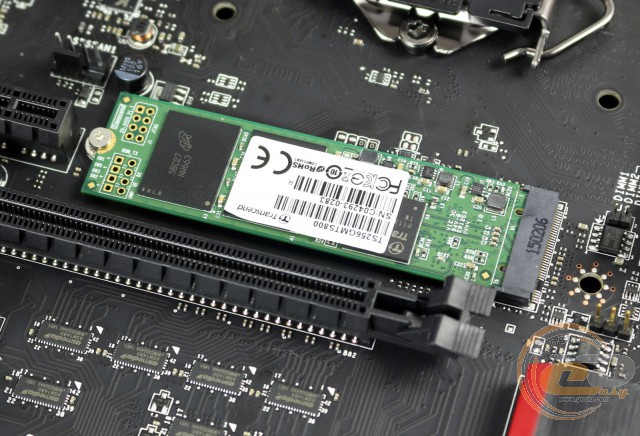 In this review we will talk about such a solution drive Transcend MTS800 (TS256GMTS800) with capacity of 256 GB. The index "800" in its title indicates about the form factor (M.2 2280), and the length measured in mm. Despite its compact size, this series includes solutions from 32 to 512 GB, has the support of the necessary technologies (Power Shield, TRIM, NCQ, SMART, Wear Leveling and Intelligent Block Management), as well as the is characterized by high speed (up to 550 MB/s for sequential reading and up to 460 MB/s for writing). All this makes them truly versatile storage devices.
Table specifications of SSDs Transcend MTS800:
Producer and model

Transcend MTS800

Form-factor

M.2 2280

Interface

SATA 6 Gb/s

Memory type

NAND MLC

Capacity, GB

32 (TS32GMTS800)

64 (TS64GMTS800)

128 (TS128GMTS800)
Read the full review >>>
---
Review of motherboard GIGABYTE GA-Z170X-Gaming 3 on Intel Z170
5 August 2015 is a significant date on the calendar in the IT-industry. After all, this day brought not only the announcement of the sixth-generation Intel Core processors under code-named «Intel Skylake», but also we have an introduction of a new platform Intel Socket LGA1151 and a new chipset Intel Z170. We will devote a separate review for processor family Intel Skylake, but in this material on the example of motherboard GIGABYTE GA-Z170X-Gaming 3 we offer a more detailed look at the possibilities of the chipset Intel Z170.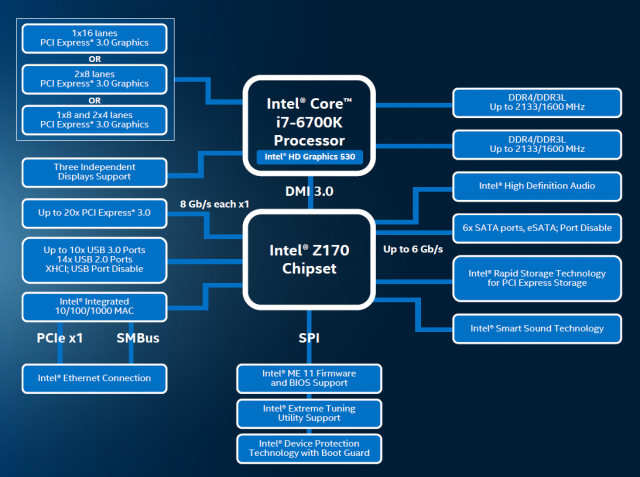 Conceptual scheme of platform Socket LGA1151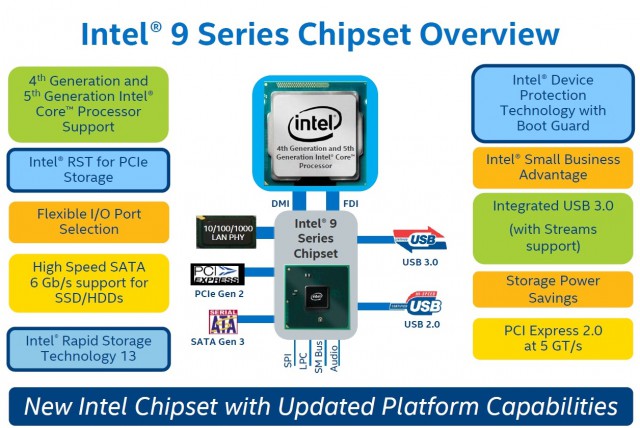 Conceptual scheme of platform Socket LGA1150
First of all let's consider the conceptual scheme of platform Socket LGA1151. The general structure has not changed: the board still contains two major components (CPU and chipset), the data exchange between them is done by a bus DMI. However "the main thing is in the details." Indeed, the analysis of the individual units of the scheme shows that the platform Socket LGA1151 is a big step forward compared to the Socket LGA1150. Firstly, the chipset Intel Z170 had the transition to the use of interface PCI Express 3.0, which has twice higher the bandwidth than PCI Express 2.0. Moreover, the new standard will be used for communication with external devices (expansion slots and the controller), and for "dialogue" with the processor. In other words, performance of bus DMI 3.0 also increased about twice compared with DMI 2.0. Such upgrading at chipset ensures that during operation any part of this scheme will not be the bottleneck and will not limit the performance of its individual components.
Another important development was the increase the number of lines PCIe in the chipset to communicate with peripherals. Intel Z97 features 8, while Intel Z170 has 20. Such a large amount should help the developers of motherboards in terms of implementing a set of interfaces for multi-graphics configurations, and the use of third-party controllers. Also don't forget that the processor also has its own 16th lines PCIe 3.0, that will give us a grand total of 36 lines. In other words, any board equipped with the flagship chipset Intel Z170, theoretically, be able to support modes 4-Way NVIDIA SLI/AMD CrossFireX in format х8+х8+х8+х8.
As for the supported connectors, the Intel Z170 also took the lead of its predecessor. For the needs of the user here are 10 USB 3.0 port versus 6 in Intel Z97. The number of available slots USB 2.0 and SATA 6 Gb/s has not changed - 14 and 6, respectively. Also, here is support for interface SATA Express and drives M.2 PCIe (NGFF SSD). Moreover, by increasing the number of lines and the transition to PCIe 3.0 standard now the motherboard can contain not one, but two or three corresponding slots. Also, minor changes were made for supported technologies. Thus, the Intel Rapid Storage options has added full support for PCIe-storage, and will have access to technology to improve sound quality (Intel Smart Sound).
In general, the chipset Intel Z170 has a rather large functionality.
Read the full review >>>
---
Hybrid drive WD Black2 (WD1001X06XDTL) with capacity of 120 GB SSD + 1 ТB HDD: review and testing
Hybrid drives are the devices that combine standard HDD with high capacity and much less capacious SSD, which plays the role of the cache. They are well-known in our market, but due to a number of restrictions in terms of fast memory and the principle of its use they did not gain wide customers attention.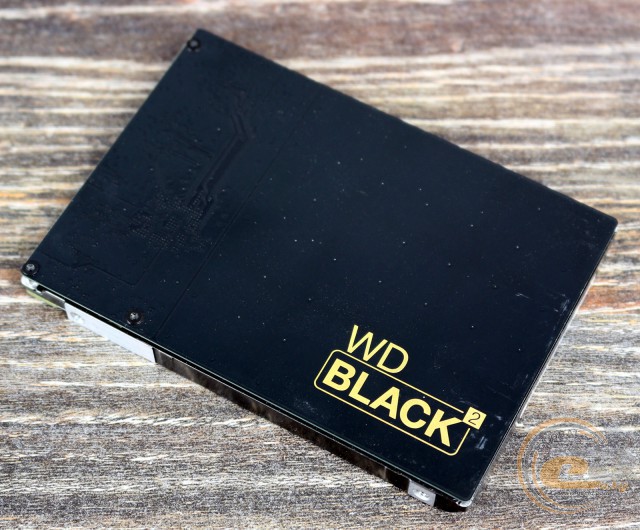 In this review we will describe the hybrid drive WD Black2 (WD1001X06XDTL) which is an improved type of conventional hybrid drive. In fact, we have two storage devices, combined in one package of size 2.5 inches. Traditional HDD-drive of laptop type is added by PCB of SSD-drive.
Let's take a look at features of this new product. The specification of hybrid drive WD Black2:
Read the full review >>>
---
SSD-drive KINGMAX SME35 Xvalue: review and testing
KINGMAX product range is constantly increasing due to the appearance of new models of memory cards, flash drives, memory modules, and other devices. In this review we want to introduce you another innovation from this manufacturer - SSD-drive KINGMAX SME35 Xvalue with capacity of 240 GB.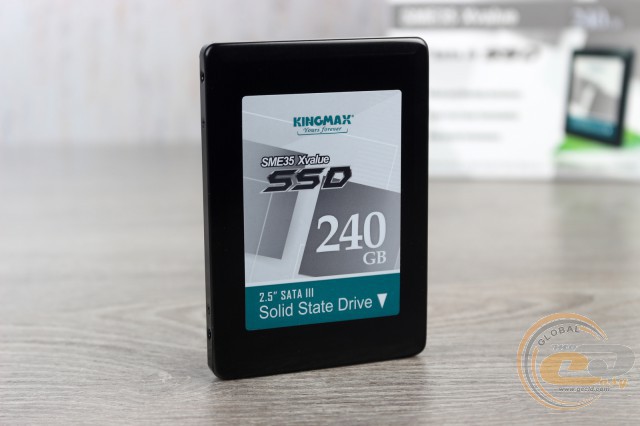 An interesting feature of this solution is the use of the controller Silicon Motion SM2246EN. Some time ago we have tested a relatively inexpensive model GeIL Zenith A3 Pro, based on the same chip, which demonstrated good speed.
Read the full review >>>
---
Ultrabook Dell XPS 13 (2015): review and testing
The market of tablet PCs and smartphones had showed us that appearance of each new model provides more sophisticated and productive device. In contrast, during the mention of classical laptops, the majority of users currently imagine bulky and plain models that captured our homes and offices. However, thanks to a successful initiative of the California giant (Intel), familiar laptops have rebirth into ultrabooks. In short, we have the most compact and lightweight gadgets with a focus on high functionality and comfort in everyday use. These solutions include interesting new generation portable computer - Dell XPS 13 (2015). And today we are going to test this model.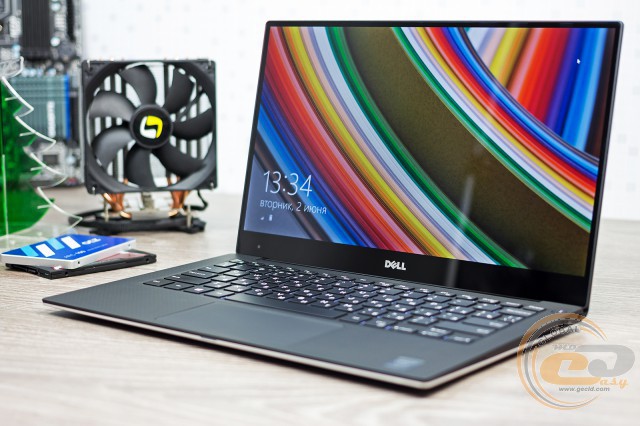 New product is made in the ultra-compact housing with the familiar design and use of premium materials. Depending on the configuration, the device can be equipped with the newest processors Intel Core 5th generation, touch screen, a backlit keyboard, RAM DDR3L up to 8 GB solid state drive with capacity of up to 512 GB, as well as two stereo speakers with support for technology Waves MaxxAudio Pro.
Read the full review >>>
---
SSD-drive HyperX Savage SSD (240 GB): review and testing
When you upgrade the disk subsystem of a desktop or laptop you have some questions. Firstly, what to choose: a new hard drive or SSD. In the first case you get a large amount of space at a relatively low cost. This option is ideal for those who store a lot of video, photos or other data and does not require fast access speed.
The second option would significantly improve the overall performance of the operating system and applied application, however, it requires large investments and would bring less disk space.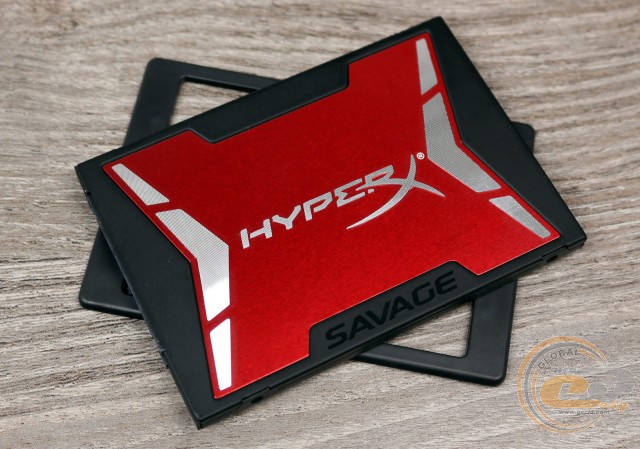 In addition, pay attention to the ease of installation and the possibility of further use of the rest component (in this case the old drive). The model HyperX Savage SSD can cope with these tasks. It has a capacity of 240 GB and produced by notable company Kingston. Novelty has extended the scope of delivery that contains not only all the necessary adapters to install it in your laptop or desktop PC, but also the original external pocket with interface USB 3.0.
The specs:
Read the full review >>>
---
GeIL Zenith A3 Pro Solid State Drive: review and testing
When there is a need to significantly increase the speed of your PC, a very effective option is to replace the hard drive to the SSD. It is noteworthy that the effect will be significant even when the SSD is installed to not the most modern device (eg, based on the dual-core processor five years ago). In order to save, you can buy a small capacity SSD (60 - 120 GB) and set only the operating system and basic software, which will also give a significant performance boost.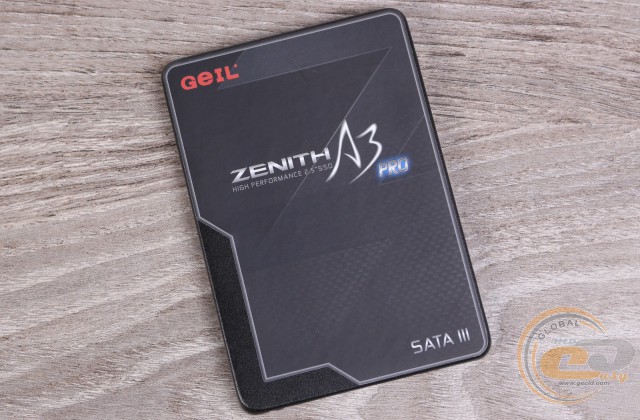 If you want to maximize performance, you should buy a bigger SSD (240GB or more). In such a case you will have enough space even to install all applications and gaming innovations. For this purpose is well suited the model GeIL Zenith A3 Pro with capacity of 240GB. It can be used to improve the laptop or desktop PC, because it is made in the classic 2.5-inch form factor with a thickness of only 6.7 mm. The product is based on the efficient and energy efficiency controller.
The specs:
Read the full review >>>
---
Ultrabook ASUS ZENBOOK UX305FA: review and testing
When in 2011 Intel presented a new and unique concept of a portable computer device, only few could have imagined that just a few years the ultrabooks will have a quite massive popularity. Today it is difficult to find a large manufacturer without at least one such gadget. But at the same time it became clear that new devices require an advanced hardware platform that can not fully function in such a compact space, but also seamlessly show a good result.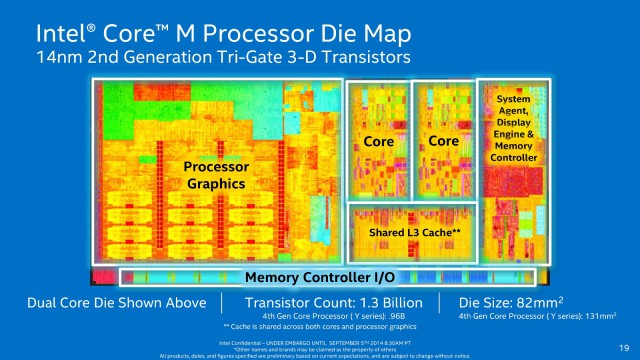 Best engineers from Intel decided to solve this complex problem. The result of their hard work was the development of a new generation of processors Intel Core M with record levels of performance and energy efficiency per watt of consumed energy. Thus, compared with the previous generation, it was possible to significantly reduce the level of heat (up to 60%), decrease the degree of power consumption (up to 45%) and to increase the processing power (40%) produced by microarray. And thanks to the introduction of the latest manufacturing process (14 nm), the area of the produced crystals was decreased by almost a half, enabling much more effective use of the available space, as well as deliver a portable device based on the new processors by the active cooling system.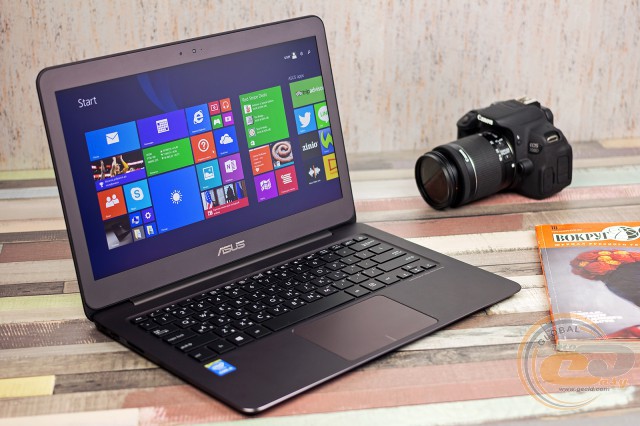 In this review, we will look at a magnificent example of modern ultra-compact computer equipment - ultrabook ASUS ZENBOOK UX305FA. Also we will try to analyze the effectiveness of a new hardware platform powered by Intel, as well as learn what additional capabilities has this very interesting and very promising market segment.
Read the full review >>>
---
Thermaltake ExtremeSpeed 3.0

External

Drive Enclosure:

review and testing
Step-by-step an interface USB 3.0 is sneaked into the life of an ordinary PC user. Now, many people can not imagine how to live without such a high-speed connector. After all, flash drives and external hard drives refused "bottleneck" in the form of USB 2.0 with a small theoretical bandwidth of 480 Mb/s. Of course, not all users already enjoy the benefit of USB 3.0, and it is quite understandable, since, until recently not all motherboards and laptops have this connector. Now, however, its application can be seen in the budget desktop solutions based on the best available chipsets AMD A68H and Intel H81. But if you follow the motherboard market, you probably noticed that often low cost options don't have inner pads for connecting USB 3.0 connectors on the front panel. Because of this the user has to choose: either to use the front rapidly ports USB 2.0, or feel uncomfortable when devices are connected to high-speed connectors on the rear panel.
On the other hand, not all new cases are equipped with standard front ports USB 3.0. Therefore, with the appropriate motherboard, the buyer is looking for the possibility of implementing high-speed ports on the front panel of the system unit in another way.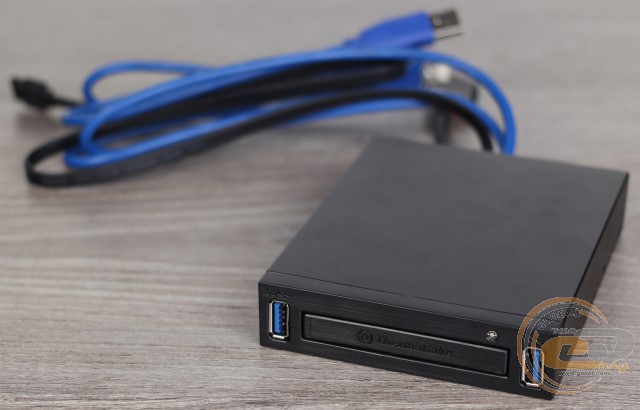 For example, front-end ports can be put using fan control or card readers equipped with the appropriate connectors USB 3.0. Or you can use the external panel Thermaltake ExtremeSpeed 3.0. Its peculiarity is the fact that USB 3.0 connectors are not connected to the internal block on the system board, but to the ports on the back panel. Thus, even the available models of motherboards can be used in the appropriate manner.
Another nice feature of this solution, and for some the main reason for its choice is the availability of the connector to install a 2.5-inch device (HDD and SSD). Thus, you can easily use the media with your own data and operating systems, and eventually removing the drive to be installed in a laptop, use another PC, safe keeping, etc. Let's now move on to the practice, and take a closer look to the functionality of the tested solution.
Read the full review >>>
---
Kingston HyperX Predator PCIe SSD (480 GB): review and testing
Mass distribution of SSD has led to the need for more active development of computer disk subsystems. Thus, although the speed of hard disks is increased for more advanced models, but this process is rather slow. For example, the bandwidth of SATA interface of first-generation (1.5 Gb/s, 2003) was sufficient for realizing the potential of many hard drives. The exception was the speed of cache storage that was high enough and could grow even more by increasing the bandwidth of the interface. So after some time standards SATA 2.0 (3Gb/s, 2004) and SATA 3.0 (6Gb/s, 2008) appeared. For hard drives their capacity is enough with a huge margin, but for fast SSD-drives these figures have some restrictions. Of course, the transition of solid drives from SATA 3 Gb/s to SATA 6Gb/s allowed to resolve the issue for some period of time.
One way to solve the problem is the use of interface SATA Express, which theoretically allows you to transfer 10Gb of data per second. But we understand this feature is quickly avoidable, so there is a need to find an option that will provide a foundation for the future. Fortunately, it is available. We are talking about the standard of M.2 which is more compact implementation of SATA Express. It provides support for 4 lines of bus PCI Express SATA 3.0, as well as an additional USB 3.0 (including backward compatibility with USB 2.0). Therefore, PCI Express-devices and SATA-drives may be realized in the form factor M.2. We have had to learn one example of the second method. But, since it is based on support for bus SATA with a capacity of 6 Gb/s, the performance of the drive was limited to a given value. And what will happen when you select line PCI Express for data transfer?
Bandwidth of the interface PCI Express is impressive even in terms of modern standards. For example, only one line PCIe 2.0 can transmit data up to 8 Gb/s in both directions, and the PCIe 3.0 - 16 Gb/s. Therefore, these 4 lines provide transfer up to 32 Gb/s for bus PCI Express 2.0 and up to 64 Gb/s PCI Express 3.0. What can we say about a further increase in the number of active lines and the transition to revision 4.0, which provides twice as many indicators?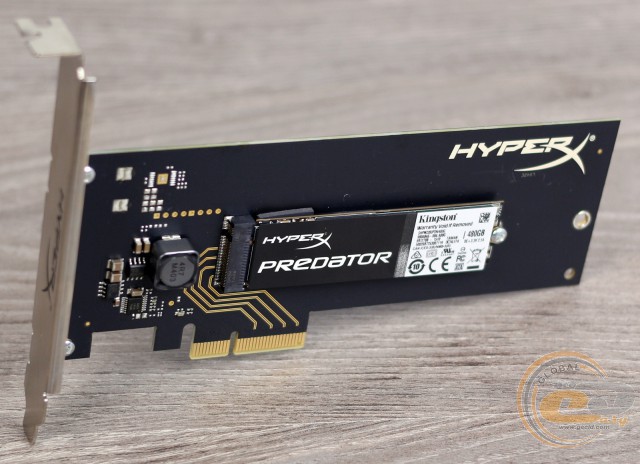 But we'll talk about them some other time, as the hero of this review can use 4 lines of standard PCIe 2.0. Well, let's see how this implementation looks like in practice. For this purpose we will use very fast SSD - Kingston HyperX Predator PCIe SSD (SHPM2280P2/480G) with capacity of 480 GB.
Read the full review >>>
---
SSD drive Neutron XT (240 GB): review and testing
In middle November 2014 the company Corsair has updated its SSD lineup using three models in the family Corsair Neutron XT, which is less efficient than a series of Corsair Neutron GTX. The basis of all the new products is a flash memory of the second generation of Toshiba, made on 19-nm manufacturing technology, as well as the new controller Phison PS3110-S10, designed specifically for use in storage of the middle class, where there is no need to have the highest speed. On this basis, it is not surprising that new items are significantly cheaper than their older counterparts from the family Corsair Neutron GTX. For example, the model Corsair Neutron XT (CSSD-N240GBXT) with capacity of 240 GB, has declared cost about $ 180, which is $ 70 cheaper than similar models in terms of capacity of a series Corsair Neutron GTX. Separately, we note that the actual retail price of new item on the USA market is even lower, namely $ 140, which makes it even more attractive if the claimed performance results correspond to reality.
Let's take a look at capabilities of a new product.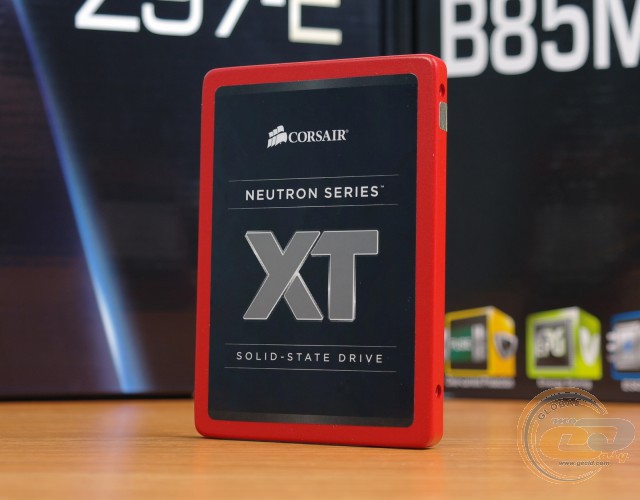 The specs:
Producer and model

Corsair Neutron XT

(240 Gb option)

Form-factor, in

2,5

Interface

SATA 6 Gb/s (backward compatible with SATA 3 Gb/s)

Memory type

19-nm Toshiba A19 MLC (multi-level cell), synchronous

Capacity, GB
Read the full review >>>
---
The most interesting software innovations and events. Release 145
Every day a huge amount of different software is produced and updated. To help you to sort out these updates our portal continue to provide a series of articles devoted to the most interesting events in the world of software industry. For ease searching all programs and utilities are divided into topics.
Software events
Windows 10: update details and minimal requirements
Omar Khayyam has written a perfect line that fully describes the latest events around the Windows 10: "That's the way it is! Light a fire and drop it into the water." This, of course, talking about information regarding free upgrade of illegal copies of Windows 7 and Windows 8.1 to Windows 10. This was said in a telephone interview by Head of Microsoft operating systems Terry Myerson.
According to the third law of Chisholm, any suggestions are understand differently than it is said by the speaker. The statement Myerson was seen as an opportunity to legalize the vast army of pirates. However, the euphoria about it did not last long. The next day, the official speaker of Microsoft said that there was a wrong interpretation: the illegal versions of Windows 7 and Windows 8.1 really can be upgraded to Windows 10 till 2016, but in this case, the user also gets inactivated version of the operating system. Licensed version of Windows 10 will receive only those who pre-purchased Windows 7 or Windows 8.1.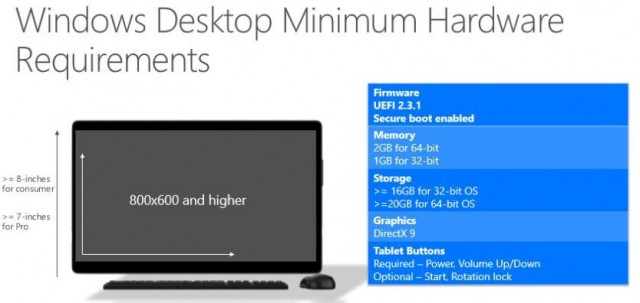 Also recently we learned the minimum system requirements for the desktop version of OS Windows 10. In particular, the 32-bit version will require 1 GB RAM and 16 GB of permanent memory. 64-bit versions requires at least 2 GB of RAM and 20 GB of permanent memory. Also, the imperative is graphics adapter with support for API DirectX 9. Diagonal of the display should not be less than 8 inches, and resolution below 800 x 600 pixels.
Setting of PC components
it is a very comfortable and functional text editor. one of its key
Read the full review >>>
---
Mini-PC ECS LIVA X: review and testing
Company ECS (Elitegroup Computer Systems) is a major manufacturer of motherboards of high quality. In addition to motherboards this manufacturer specialized in the production of laptops, tablets, monoblocks and nettops.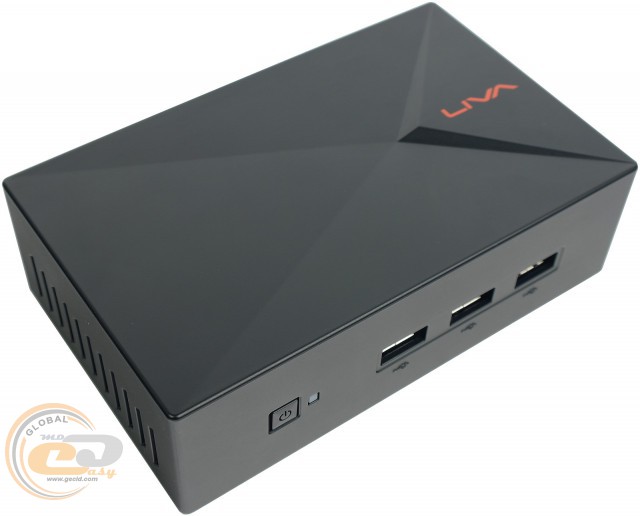 Last yea, ECS has introduced a miniature mini-PC ECS LIVA with a passive cooling system that was the most compact in the world for that period. Now it has presented the updated model - ECS LIVA X. The novelty has an improved design, the updated processor, increased RAM and built-in storage. Also the list of external connectors, which significantly increases comfort when using the device, was expanded.
The specs:
Producer

ECS

Model

LIVA X

CPU

Intel Celeron N2808: SoC-design, 2 cores (2 threads), basic frequency - 1580 MHz, max clock frequency with technology Intel Turbo Boost 2.0 – 2250 MHz, L2 cache – 1 МB, TDP – 4,5 W

Chipset

Intel Celeron N2808

RAM

4096 МB DDR3L-1333 MHz (soldered on board)

Graphics adapter

Intel HD Graphics: core frequency – 311 MHz (max up to 792 MHz); capacity of video memory is allocated from dynamic by means of RAM

Disk subsystem

SanDisk SDIN8DE4-64G eMMC 64 GB (soldered on board))

Drive bays

1 х mSATA SSD

Optical drive

-

Card-reader

-

Expansion slots

1 х mini-PCIe (installed module Wi-Fi/Bluetooth)

Interfaces

1 x USB 3.0
2 x USB 2.0
1 х combine audio jack
1 х HDMI
1 х D-Sub
1 x RJ45
1 x power socket
1 х lock Kensington

Multimedia

Speakers

-

Audio codec

Realtek ALC283

Connectivity

Nework adapter

10/100/1000 Мb/s (Realtek RTL8111G)

Wi-Fi/Bluetooth

mini-PCIe Wi-Fi/Bluetooth-module

Wi-Fi

802.11 b/g/n

Bluetooth

Bluetooth 4.0

HSPA

-

PSU

Output parametrs: 12 V DC, 3 А, 36 W

Input parameters: 100~240 V AC 50/60 Hz

Other

Wall or monitor mounting using supplied VESA 75/100 mm

Motherboard dimensions

115 х 75 mm

Case dimensions

135 x 83 x 40 mm

Weight

-

Color

Black

OS

No (support for Linux, Windows 7 / 8 / 8.1)

Warranty

-

Producer website

Product page
Read the full review >>>
---