Video card ASUS GeForce GTX 960 Mini OC (GTX960-MOC-2GD5): review and testing
Many years the company ASUS pleases fans of compact gaming Mini-ITX-systems producing graphics cards that are ideal for this form factor, updating its line of ASUS Mini. These models include ASUS GeForce GTX 670 DirectCU Mini OC and ASUS GeForce GTX 760 DirectCU Mini OC. It's time to talk about a compact version of NVIDIA GeForce GTX 960 - ASUS GeForce GTX 960 Mini OC (GTX960-MOC-2GD5).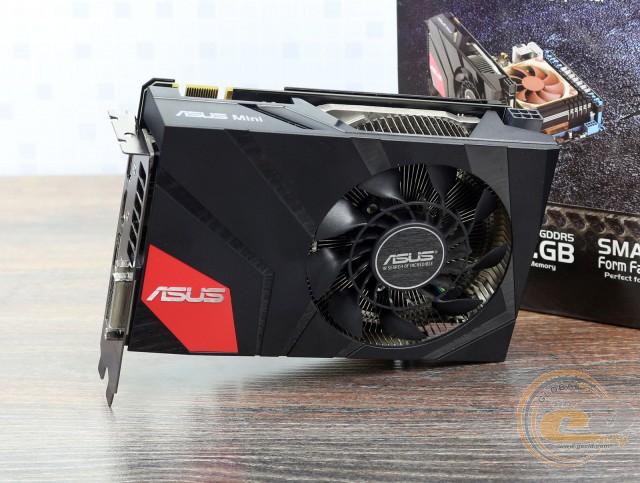 The novelty has not only a compact format, but factory overclocking, high-quality element base, as well as proprietary cooling system DirectCU Mini, designed specifically for the graphics cards lineup ASUS Mini. Let's move on to the review for a more detailed examination of all the special features.
The specs:
Model

ASUS GeForce GTX 960 Mini OC

(ASUS GTX960-MOC-2GD5)

Graphics core

NVIDIA GM206 (Maxwell)

Quantity of CUDA-cores

1024

Supported API and technologies

DirectX 12, OpenGL 4.4, NVIDIA GPU Boost 2.0, NVIDIA TXAA, NVIDIA FXAA, NVIDIA MFAA, NVIDIA Adaptive Vertical Sync, NVIDIA Surround, NVIDIA PhysX, NVIDIA 3D Vision, NVIDIA SLI, NVIDIA CUDA, NVIDIA GameWorks, NVIDIA GameStream

Nominal/dynamic GPU frequency, MHz

1190 / 1253

Memory frequency (effective), MHz

1753 (7010)

Memory capacity, GB

2

Memory type

GDDR5

Memory bus, bit

128

Memory carrying capacity, GB/s

112,2

Bus type

PCI Express 3.0 x16

Max resolution

Digital up to 4096 x 2160

Analog up to 2048 x 1536

Screening interfaces

1 х DVI-I

1 х HDMI

3 х DisplayPort

Support for HDCP and decoding of HD-video

Yes

Minimal PSU capacity, W

400

Дополнительные разъемы питания PCIe

1 x 6-pin

Dimensions taken from official website (according measurements in own test lab) , mm

170 х 122 (183 х 122)

Drivers

Website
Tested modification of NVIDIA GeForce GTX 960 differs due to the presence of factory overclocking the GPU from the default 1126 to 1190 MHz. Dynamic GPU frequency averages 1253 MHz instead of 1178 MHz recommended. As for the video memory subsystem, it operates at recommended effective frequency of 7010 MHz.
Package and content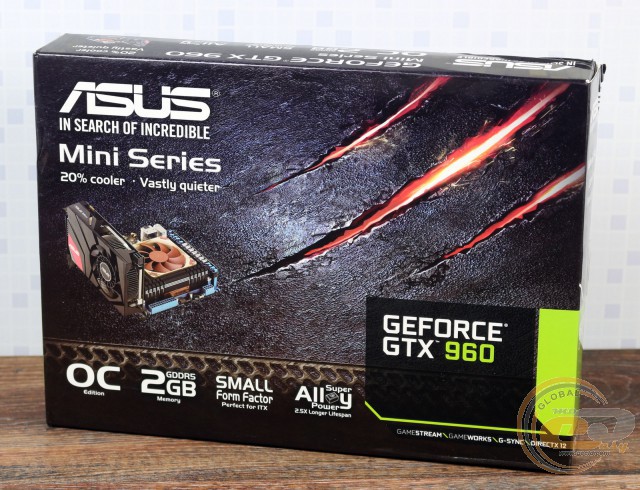 Graphics card ASUS GTX960-MOC-2GD5 comes in fairly compact cardboard box decorated with the graphic printing in the corporate style. In addition to the names of the manufacturer and model of the device, note the reference about the capacity and type of video memory. In turn, the icon «OC Edition» indicates the factory overclocking. Also in the lower right corner you can find support for technologies NVIDIA G-SYNC, NVIDIA GameWorks, NVIDIA GameStream and DirectX 12.
The main advantages of ASUS GeForce GTX 960 Mini OC (GTX960-MOC-2GD5) are: a proprietary cooling system DirectCU Mini and advanced circuitry, made according to the concept of Super Alloy Power. In daily use this design allows to increase the performance up to 15%, 35°C decrease operating temperature and a 2.5 increase in the lifespan of the graphic adapter.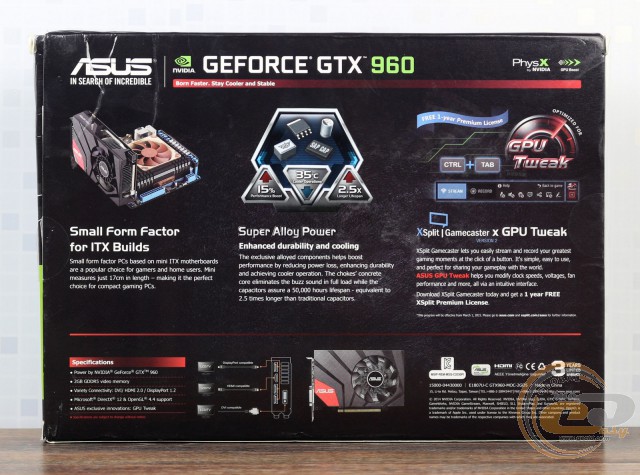 The reverse side of the box is traditionally reserved for the more detailed description of the benefits listed on the front side. Also, there is a schematic diagram of the interface panel, and the mention of the possibilities of proprietary GPU Tweak utility online broadcast (Online Streaming).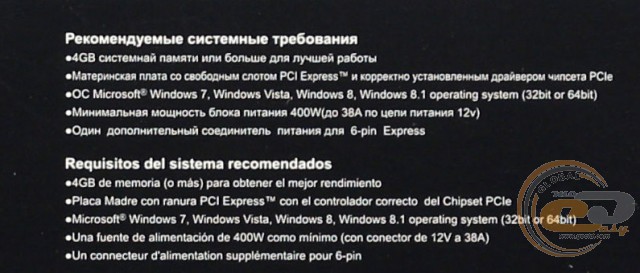 A list of system requirements is located on one side of the box. Based on the recommendations, the power supply in such a system must have a capacity at least of 400 W and provide at least 38 A on +12V rail. Also tested model requires a connection of only one 6-pin cable PCIe.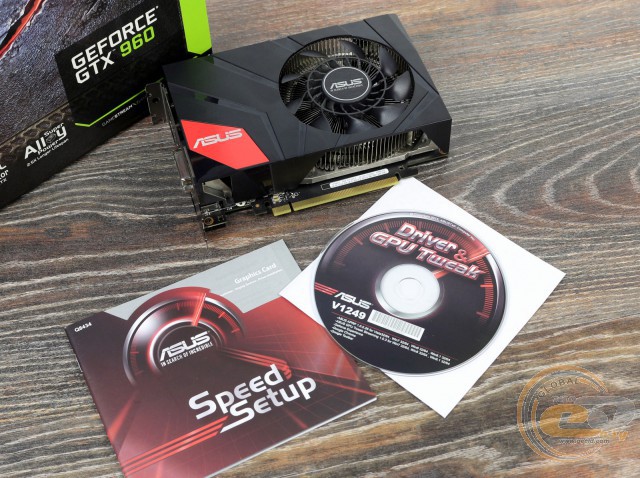 Delivery set of the graphics card ASUS GeForce GTX 960 Mini OC we found only the documentation and a CD with software. You should not have the problems with the connection of additional power, since almost all modern power supplies are equipped with at least one 6-pin cable PCIe.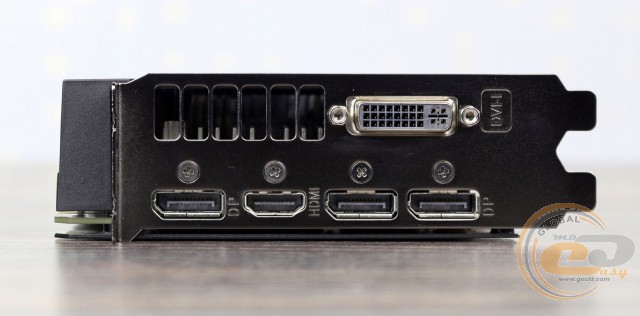 To display the image the test product has benchmark set of interfaces:
1 x DVI-I;
1 x HDMI;
3 x DisplayPort.
The following resolutions are supported:
Digital up to 4096 x 2160;
Dial up to 2048 x 1536.
Design and circuitry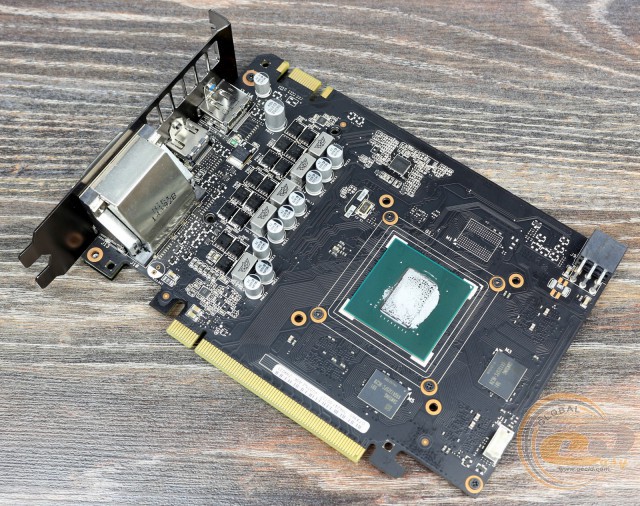 Model ASUS GTX960-MOC-2GD5 is made on a compact black circuit board with a standard layout principle. Used electronic components correspond to the concept of branded Super Alloy Power and include only high-quality components: solid state capacitors, advanced MOSFETs, ferrite core chokes and tantalum polymer capacitors. This increases the stability and reliability of the graphics adapter in general, and prolongs its lifetime.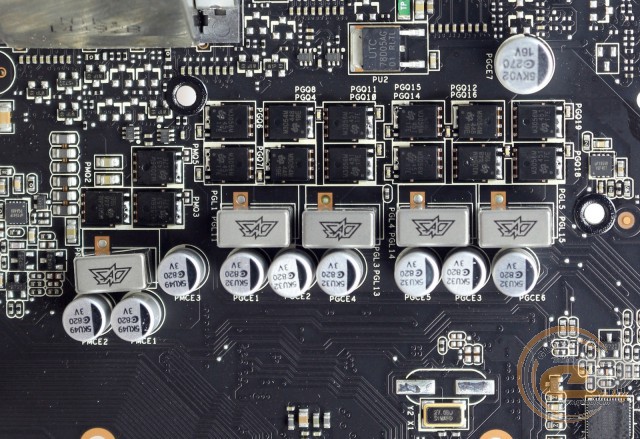 Power supply is performed by the standard five-phase diagram, where four phases are responsible for the power of the graphics core, and one is designed for video memory subsystem.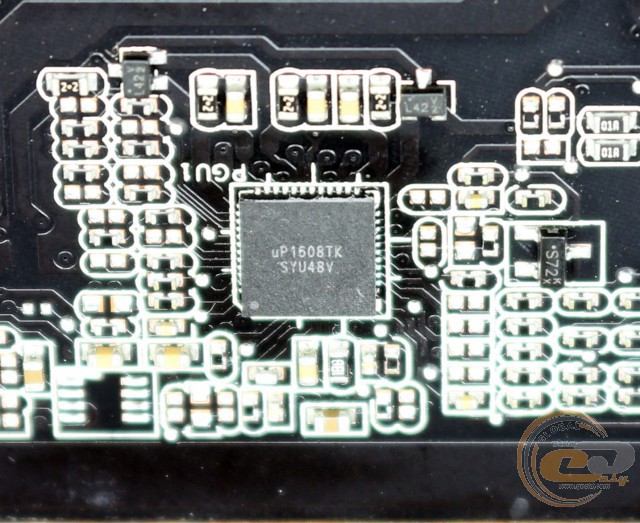 The digital PWM controller of power subsystem is provided by chip uP1608TK produced by company uPI Semiconductor.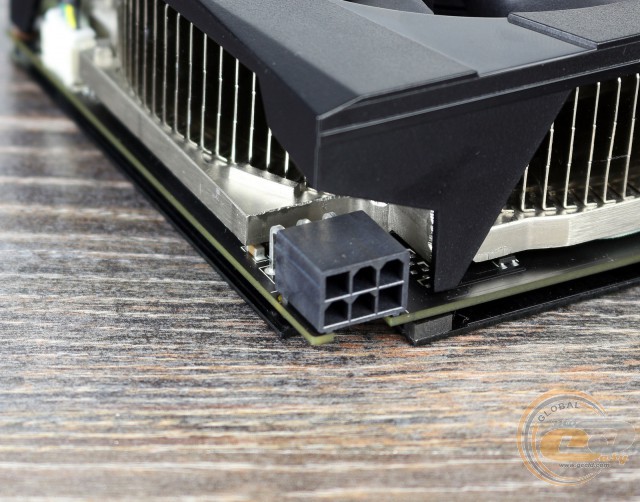 In accordance with the recommendations of the company NVIDIA, to power the graphics adapter there are PCI Express x16 slot and one 6-pin PCIe socket located on the side of the board, so the cooler does not difficult to disable PCIe cable.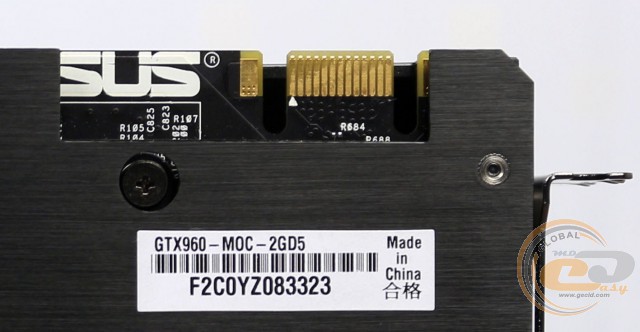 In order to provide NVIDIA SLI technology ASUS GTX960-MOC-2GD5 uses one connector for the corresponding bridge that allows you to combine two video accelerators for the joint calculation of graphical effects. Recall that you can see the results of the testing NVIDIA GeForce GTX 960 in mode 2-Way NVIDIA SLI in the review GIGABYTE GeForce GTX 960 WINDFORCE OC.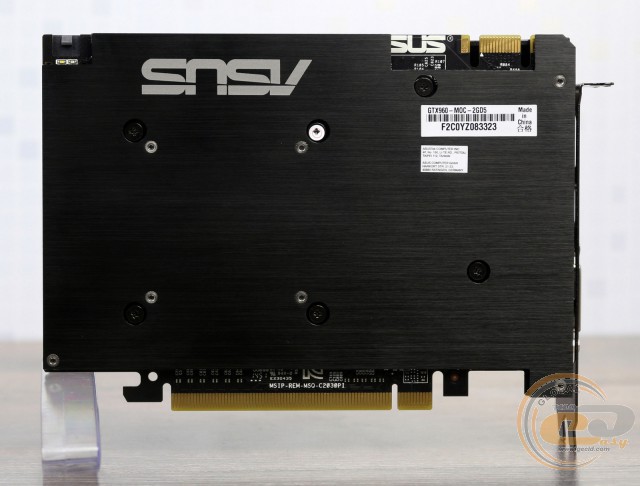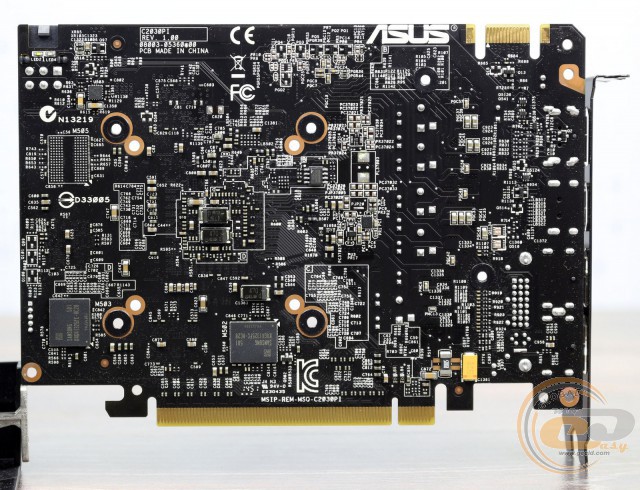 The reverse side of a novelty, initially covered with the base plate, contains two of the four video memory chips, the above-mentioned tantalum polymer capacitors and some other electrical components.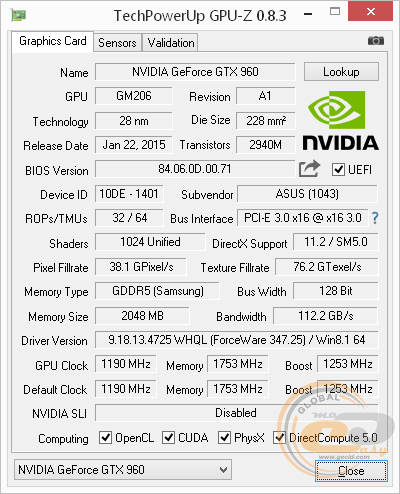 The tested model is based on 28-nm graphics chip NVIDIA GM206-300-A1 (Maxwell). It includes 1024 CUDA cores, 32 blocks of rasterization and 64 texture units. As we have said, the video card has factory overclocking of graphics core with frequencies of 1190 and 1253 MHz.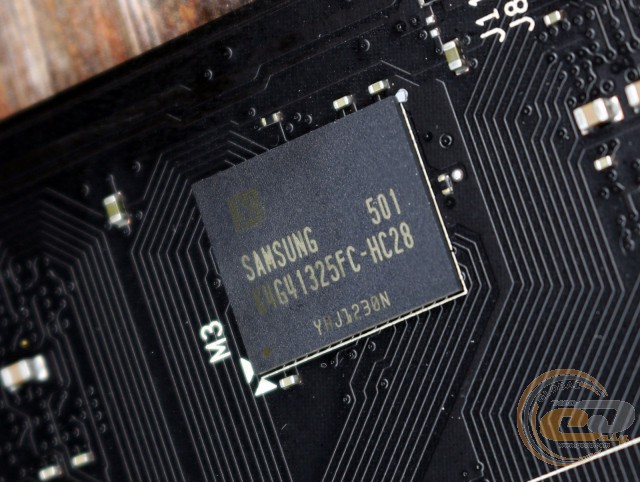 Memory of model ASUS GTX960-MOC-2GD5, totaling 2 GB is realized using 4 chips Samsung K4G41325FC-HC28 with capacity of 4 GB each. According to the documentation, their effective frequency is 7000 MHz. Communication between the graphics processor and memory is realized through a 128-bit bus, which is capable of flowing 112.2 GB of information per second.
Cooling system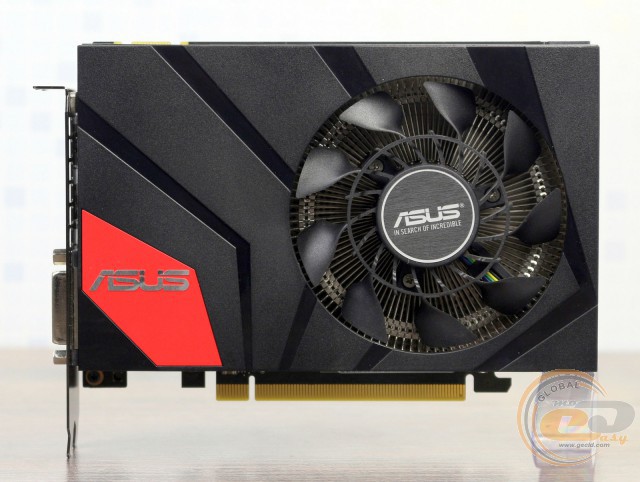 The video card including installed cooling system DirectCU Mini occupies two expansion slots and has a total length of 170 mm according to the ASUS official website (183 mm according to our measurements).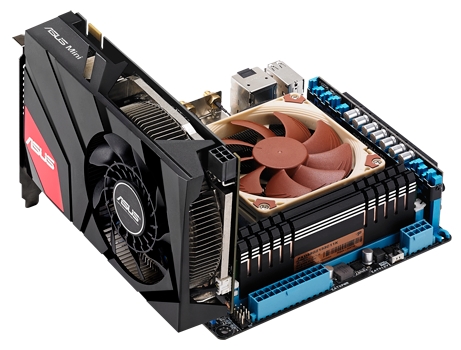 Don't forget that the standard width Mini-ITX motherboard (for example, ASUS MAXIMUS VII IMPACT) is 170 mm, which confirms the excellent compatibility of video accelerator with compact systems of the form factor.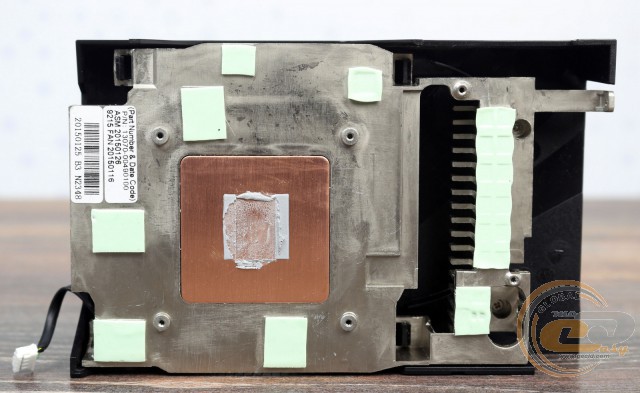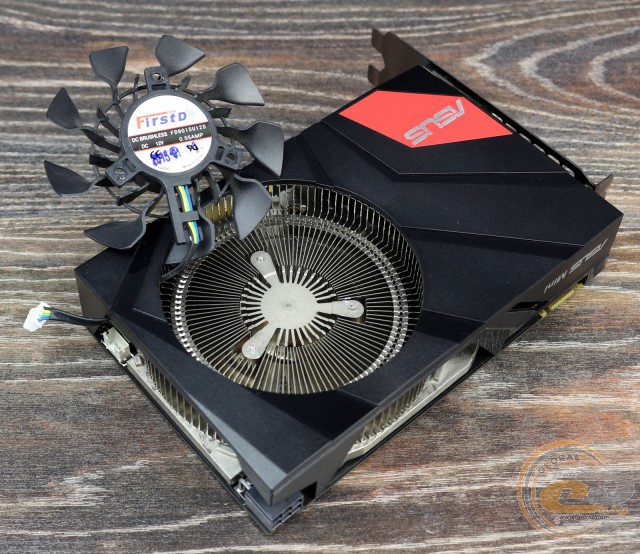 The cooler consists of a small radiator with a vaporization chamber at the bottom and with a fan CoolTech diameter of 86 mm. Spinner is made by hybrid technology, combining internal radial and external axis fan (classic design of the blades). This design, according to the manufacturer, provides omnidirectional airflow and promotes the accelerated heat removal.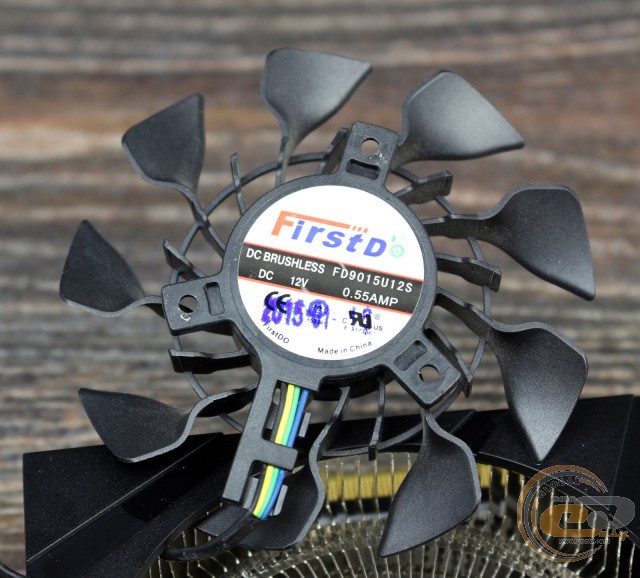 The fan is manufactured by FirstDo company and is labeled as «FD9015U12S». Rated operating voltage is 12 V, and the current is 0.55 A, which gives the final output of 6.6 W. According to the letter «S» in the title, it is built on sleeve bearing.

In case of automatic speed control of fan blades at maximum load, the graphics core is heated to 71°C, and cooler, as indicated by the monitoring works on 58% of its maximum capacity. Noise was below average.

Under the maximum speed of the fan blades the GPU temperature dropped to 61°C. The noise was increased, but remained comfortable enough for continuous operation near the PC.

In case of load absence the operating frequencies of the graphics core and memory are automatically decreased, allowing to reduce the power consumption and heat dissipation. In this mode, the GPU temperature did not exceed 29°C.
Социальные комментарии Cackle