Video card ASUS GeForce GTX 980 Ti STRIX OC: review and testing
In early spring 2015, NVIDIA has pleased all their fans by announcing new flagship graphics card NVIDIA GeForce GTX TITAN X, released on the basis of GPU NVIDIA GM200-400. Now it takes the leading position in terms of performance and cost, which is usual for such solution $ 999.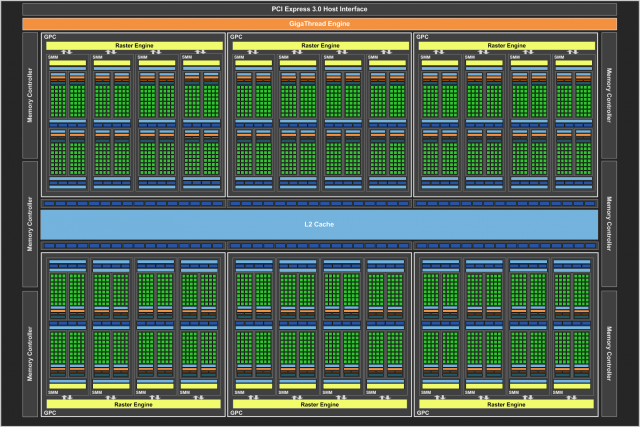 The new flagship graphics processor NVIDIA GM200-400 is based on 28-nm manufacturing technology and consists of 8 billion of transistors. It includes 24 SMM-blocks, each of which consists of 128 CUDA-cores and 8 texture units. As a result, the flagship product boasts of 3072 CUDA-cores and 192 texture units. Number of ROP-blocks has reached 96. The base GPU operating frequency is 1000 MHz and dynamic 1075 MHz. As for performance, it was on average 30% higher than the previous leader among single-chip solutions (NVIDIA GeForce GTX 980).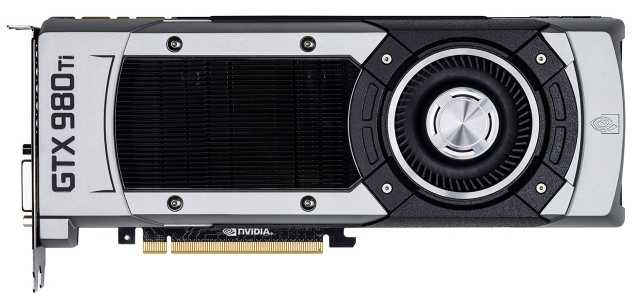 It is logical that NVIDIA has decided not to stop on successes and use the flagship processor in a version. This is a new video card NVIDIA GeForce GTX 980 Ti, which was presented in the first days of summer 2015.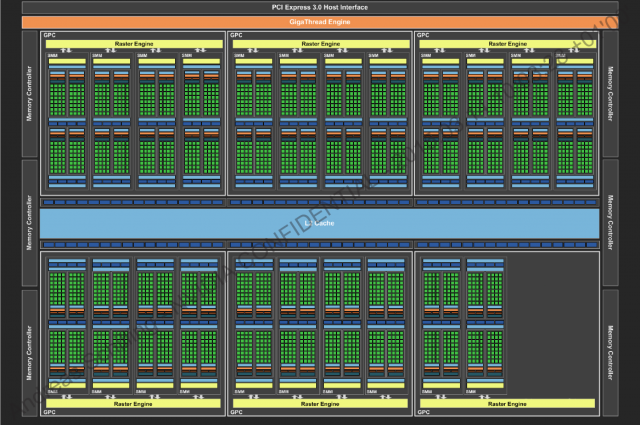 Unlike the flagship graphics processor NVIDIA GM200-310 in NVIDIA GeForce GTX 980 Ti has lost 2 SMM-blocks, ie 256 CUDA-cores with 16 texture units. At the same time the memory bus, the number of ROP-blocks and operating frequencies remain unchanged. If we recall the situation of the first "Titan", the followed NVIDIA GeForce GTX 780 Ti has come out with the full version of the chip NVIDIA GK110, therefore, it proved to be more productive. In this case everything is different: NVIDIA GeForce GTX TITAN X acts as a top-end solution, while the NVIDIA GeForce GTX 980 Ti is its cheaper version.
Let's look to the comparative table of characteristics of current high end video cards from NVIDIA:
| | | | | |
| --- | --- | --- | --- | --- |
| | NVIDIA GeForce GTX TITAN X | NVIDIA GeForce GTX 980 Ti | | |
| GPU | GM200-400 | GM200-310 | GM204-400 | GK110-425 |
| Quantity of CUDA-cores | 3072 | 2816 | 2048 | 2880 |
| Quantity of texture units | 192 | 176 | 128 | 240 |
| Quantity of ROP-blocks | 96 | 96 | 64 | 48 |
| Basic frequency, MHz | 1000 | 1000 | 1126 | 875 |
| Dynamic frequency, MHz | 1075 | 1075 | 1216 | 928 |
| Memory bus, bit | 384 | 384 | 256 | 384 |
| Effective memory frequency, MHz | 7010 | 7010 | 7010 | 7010 |
| Memory capacity, GB | 12 | 6 | 4 | 3 |
As you can see, another difference of NVIDIA GeForce GTX 980 Ti from NVIDIA GeForce GTX TITAN X is reduced twice the amount of video memory.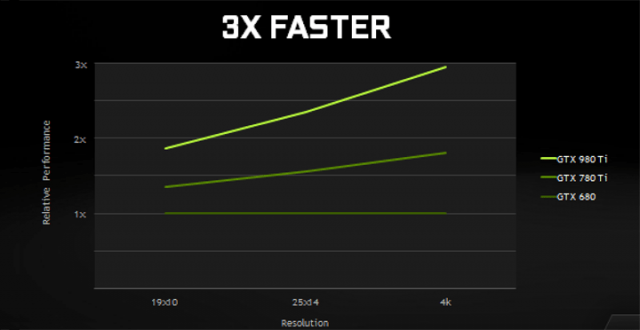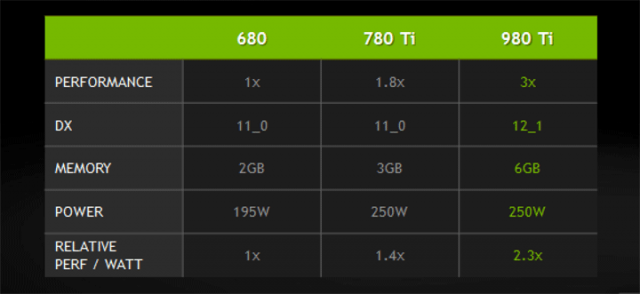 As stated by NVIDIA, the new product provides a significant performance boost compared to the NVIDIA GeForce GTX 680 and NVIDIA GeForce GTX 780 Ti. The biggest gap is achieved at a resolution of 4K Ultra HD, which is rapidly gaining popularity among gamers. Also impressive is as a comparison of the performance per watt. At the same time TDP of new item is on identical level (250 W).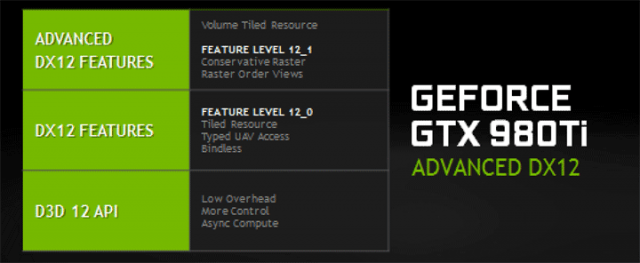 Another important advantage of NVIDIA GeForce GTX 980 Ti is to support API DirectX 12 with the most comprehensive to date set of instructions (Feature Level 12_1).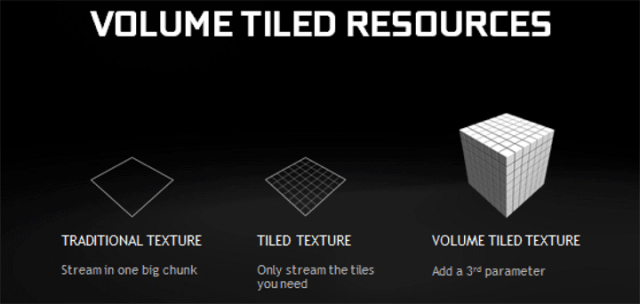 All GPUs of series NVIDIA GM2xx further support the technology Volume Tiled Resources that provides three-dimensional stencils (tiles) of the objects, which allows to load needed texture without expending the resources to load the texture as a whole.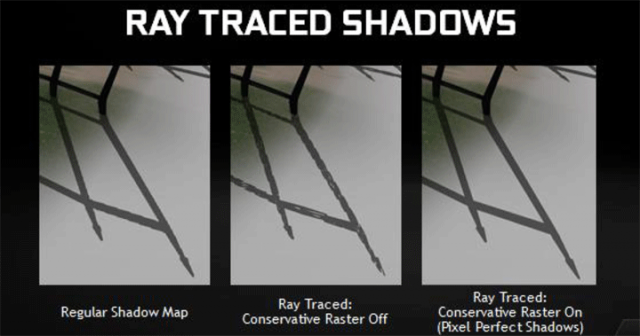 Another technology from the set of Feature Level 12_1 is Conservative Raster, which provides precise location intersecting polygon boundaries, which helps to avoid artifacts with transparent textures and shadow.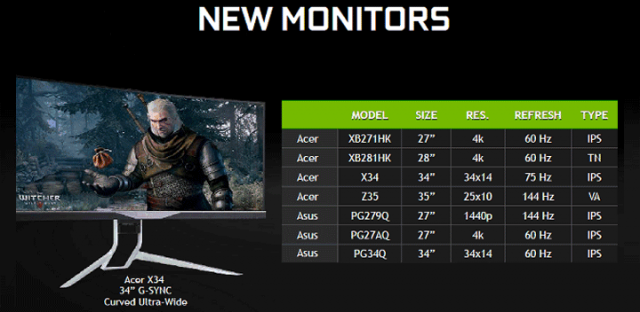 Also here is a well-known technology NVIDIA G-SYNC, which provides full synchronization with the output frame rate of the monitor, neutralizing the effect breaking frames. The technology is proper for applications running in window mode. Don't forget that NVIDIA G-SYNC requires not only video card but monitor equipped with the appropriate hardware module. The range of such displays is constantly growing, and even includes a model with a resolution of 4K Ultra HD.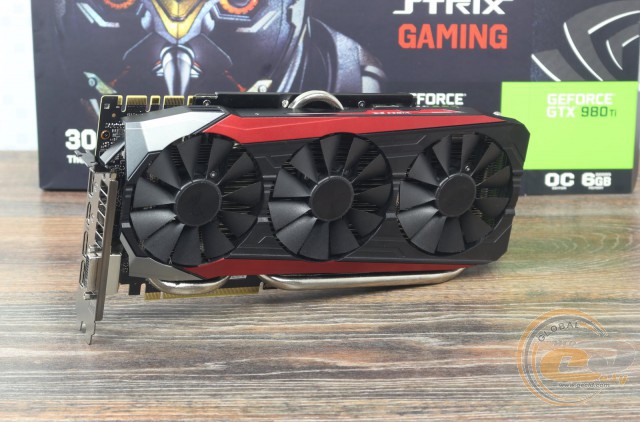 And now let's get to the review and testing versions of NVIDIA GeForce GTX 980 Ti powered by ASUS. We are talking about the model ASUS STRIX GTX 980 Ti (STRIX-GTX980TI-DC3OC-6GD5-GAMING).
Model

ASUS STRIX GTX 980 Ti

(ASUS STRIX-GTX980TI-DC3OC-6GD5-GAMING)

Graphics core

NVIDIA GM200-310 (Maxwell)

Quantity of CUDA-cores

2816

Supported API and technologies

DirectX 12 (Shader Model 5.0), OpenGL 4.5, NVIDIA 3D Vision Surround, NVIDIA PhysX, NVIDIA TXAA, NVIDIA FXAA, NVIDIA MFAA, NVIDIA 3D Vision, NVIDIA Adaptive Vertical Sync, NVIDIA SLI, NVIDIA CUDA, NVIDIA GPU Boost 2.0, NVIDIA GameWorks, NVIDIA GameStream

Nominal/dynamic frequency of graphics core, MHz

«OC»

1216 / 1317

«Gaming»

1190 / 1291

Memory frequency (effective), MHz

1800 (7200)

Memory capacity, GB

6

Memory type

GDDR5

Memory bus, bit

384

Memory carrying capacity, GB/s

345,6

Bus type

PCI Express 3.0 x16

Max resolution

Digital up to 4096 x 2160

Analog up to 2048 x 1536

Screening interfaces

1 x DVI-I

1 x HDMI 2.0

3 x DisplayPort

HDCP support and HD-video decoding

Yes

Minimal capacity of PSU, W

600

Additional PCIe power sockets

2 x 8-pin

Dimensions from the official site (measured in our lab), mm

305 х 152,2 x 39,8 (317 x 152)

Drivers

Producer website
Since we have almost completely rebalanced modification NVIDIA GeForce GTX 980 Ti, there is no sense to talk about any compliance to reference model. We can directly comparable only operating frequencies. In this case, the graphics core of video card in mode «OC» boasts of a notable level of factory overclocking - up to 1216 MHz (increase of 21.6% relative to recommended 1000 MHz), and taking into account the work of technology NVIDIA GPU Boost 2.0, the average value is 1317 MHz (1075 MHz for the reference sample). Video memory can be overclocked from 7010 to 7200 MHz.
Package and content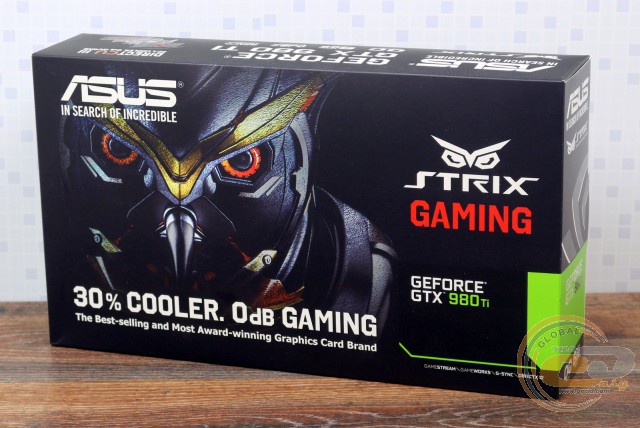 Graphics card ASUS STRIX GTX 980 Ti is available in its large cardboard box decorated with original and stylish line of the graphic arts industry with logo ASUS STRIX. In addition to the names of the manufacturer and model of the device, note the reference to the support of technologies NVIDIA G-SYNC, NVIDIA GameWorks, NVIDIA GameStream and DirectX 12.
The major advantages of a novelty is a proprietary cooling system DirectCU III with technology 0dB FAN, which provides 30% lower temperature compared to the reference cooler of radial type.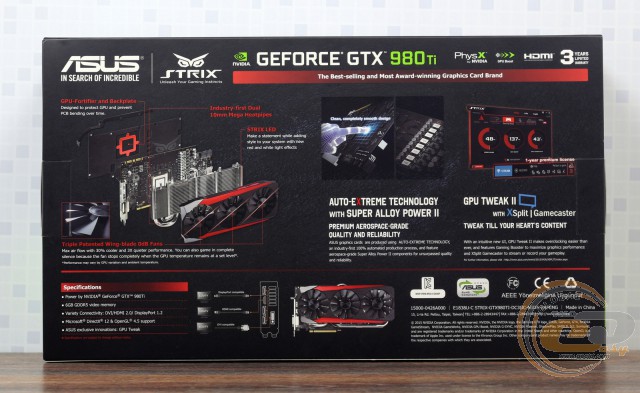 The reverse side of the box is traditionally reserved for the more detailed description of the advantages of new item. Also, there is a schematic diagram of the interface panel, and the mention of the features of proprietary utility GPU Tweak with functions of Online Streaming and switching between modes mentioned above «Gaming» and «OC».
As for the benefits, they include:
ASUS Auto Extreme with Super Alloy Power II - model ASUS STRIX-GTX980TI-DC3OC-6GD5-GAMING is one of the world's first graphics card built on a fully automated line, which guarantees consistently high quality and ensures the rejection of aggressive chemicals in the production process. In addition, it is based on using high-quality electronic components (Super Alloy Power II), allowing further improve the reliability of the new item.
GPU-Fortifier and Backplate - thanks to the support plate and the frame around the GPU we have greatly increased rigidity and reduced risk of curvature of the printed circuit board with the times of the weight of the cooling system.
10mm Mega Heatpipes - radiator of cooling system includes five copper heat pipes, two of which have a diameter of 10 mm and provides a more efficient heat transfer from GPU.
STRIX LED - the cooler is equipped with red LED-display.
Triple Wing-blade 0db Fans - three axial fan with a special shape of the impeller provide a more powerful air flow, helping to improve the efficiency of the cooler. In addition, at low loads turntables completely stopped to ensure a comfortable background noise.

A list of system requirements for the computer is located on one side of the box. Based on the recommendations, the power supply must have a capacity at least 600 W and provide 42 A on +12 V line. Also tested model requires connecting two 8-pin PCIe.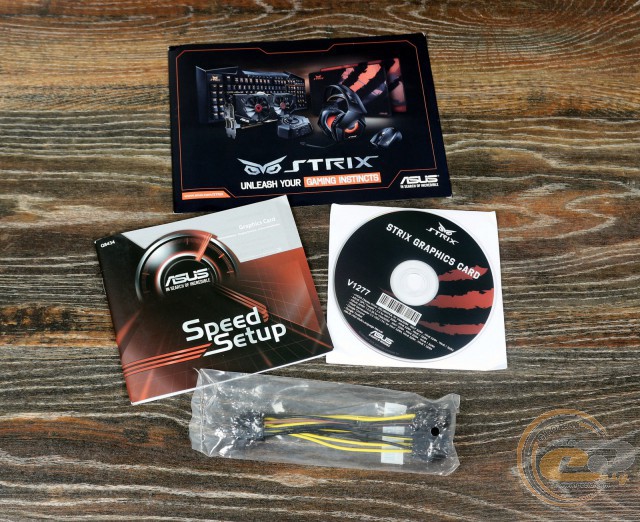 Also we found the standard documentation, CD with software and adapter for power.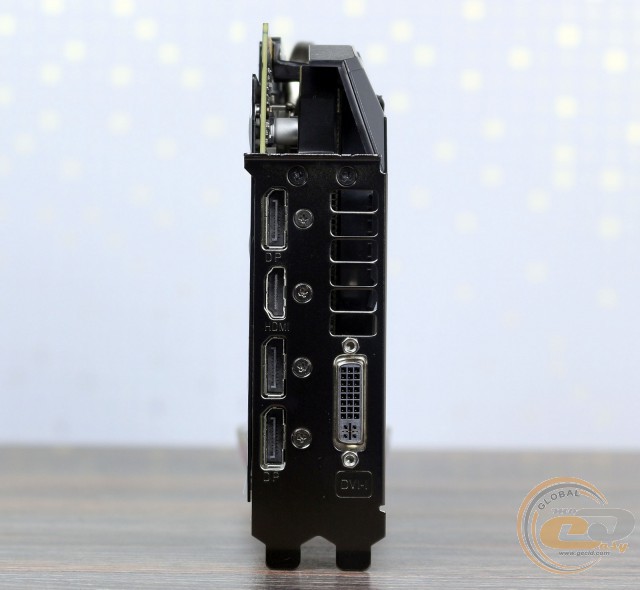 To display the image the product uses a standard set of interfaces:
1 x DVI-I;
1 x HDMI 2.0;
3 x DisplayPort.
The following resolutions are supported:
Digital up to 4096 x 2160;
Dial up to 2048 x 1536.
Design and circuitry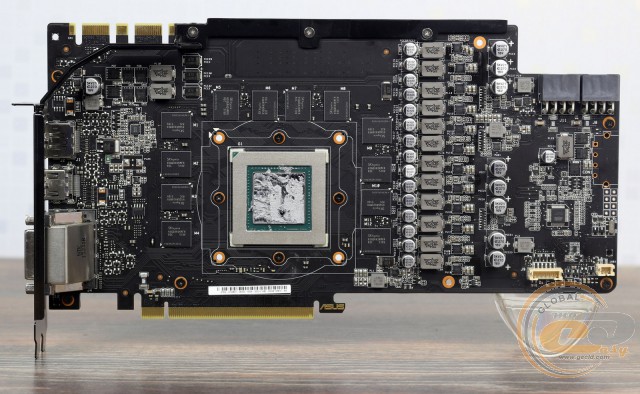 Model ASUS STRIX-GTX980TI-DC3OC-6GD5-GAMING is made on the original black circuit board, with a standard layout principle. Used electronic components correspond to the branded concept Super Alloy Power II and include only high-quality components: solid and tantalum-polymer capacitors, advanced MOSFETs and ferrite core chokes. This increases the stability and reliability of the graphics and prolongs its life.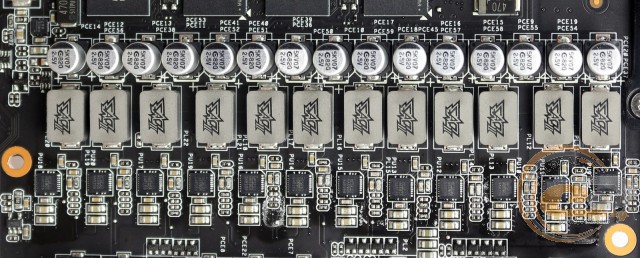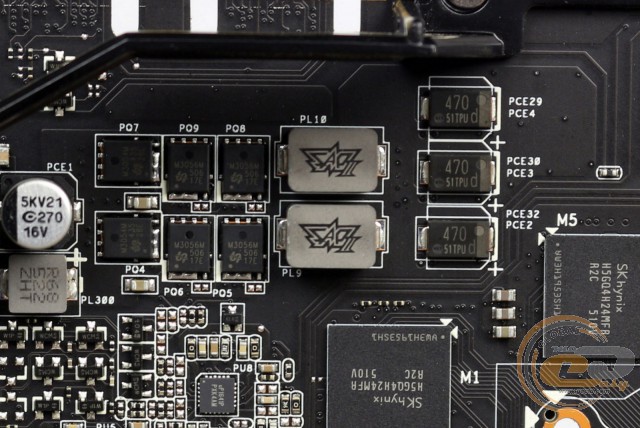 Power of product is made according enhanced 12+2-phase scheme, where 12 power phases are responsible for the GPU and 2 are designed for video memory subsystem. Recall that the power of the reference NVIDIA GeForce GTX 980 Ti is realized by 6+2-phase scheme.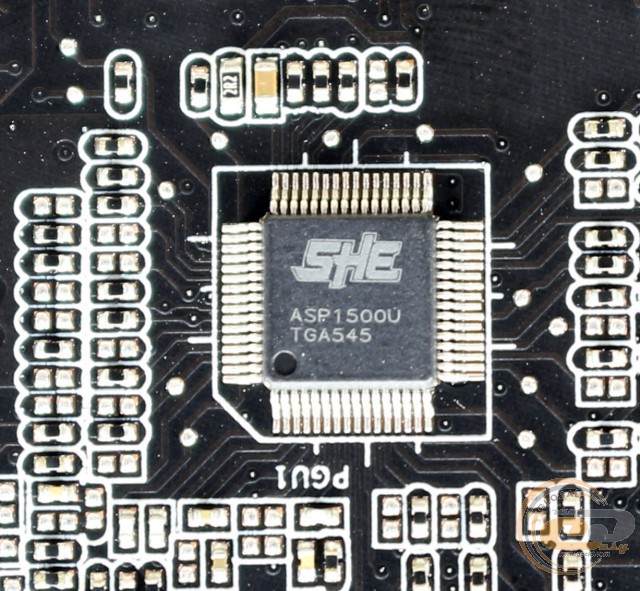 Digital PWM controller is presented by chip ASP1500U.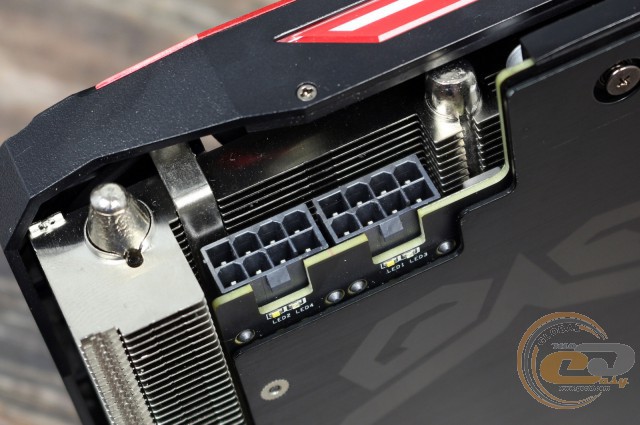 To power test graphics there is PCI Express x16 slot, and two 8-pin PCIe, located on the side of the board. Due to the large dimensions the cooler complicates the disconnection of cables PCIe. The standard version uses only one powered 8-pin and one 6-pin connector.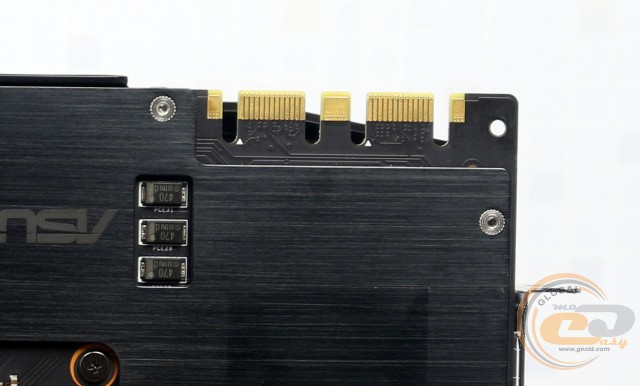 In order to provide technology NVIDIA SLI ASUS STRIX GTX 980 Ti uses two connectors for connecting the respective bridges, which allow you to combine up to three graphics cards for the joint calculation of graphical effect.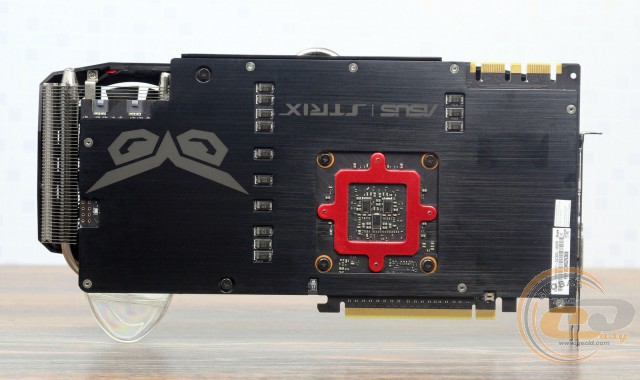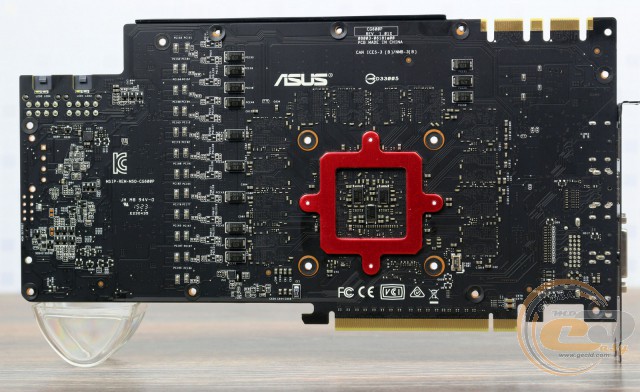 The reverse side of the product is initially covered with the base plate, notable for the above-mentioned polymer tantalum capacitors, next to other electrical components, as well as the support of frame for the GPU.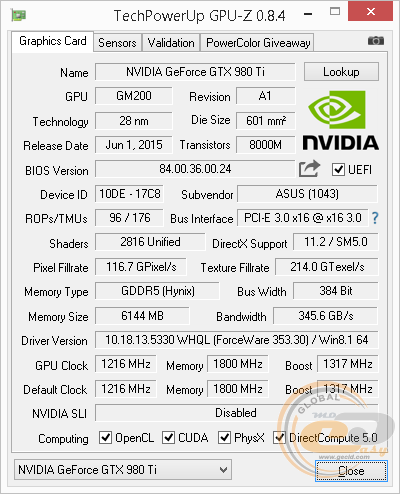 The tested model is based on GPU NVIDIA GM200-310 (Maxwell), produced by 28-nm manufacturing technology. It includes 2816 CUDA cores, 96 ROP units and 176 texture units. As we have said, the video card has factory overclocked of graphics core frequency of the mode is «OC» in value of 1216 and 1317 MHz.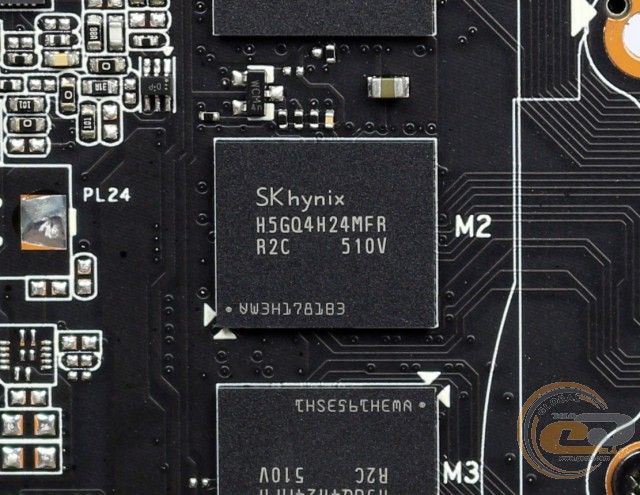 Memory of model ASUS STRIX-GTX980TI-DC3OC-6GD5-GAMING (6GB) is realized due to 12 chips SK hynix H5GQ4H24MFR-R2C with capacity 4 GB each. According to the documentation, their effective frequency is 7000 MHz, but in our case it was increased to 7200 MHz. Communication between the graphics processor and memory is realized via 384-bit bus, which is capable of flowing 345.6 GB of information per second.
Cooling system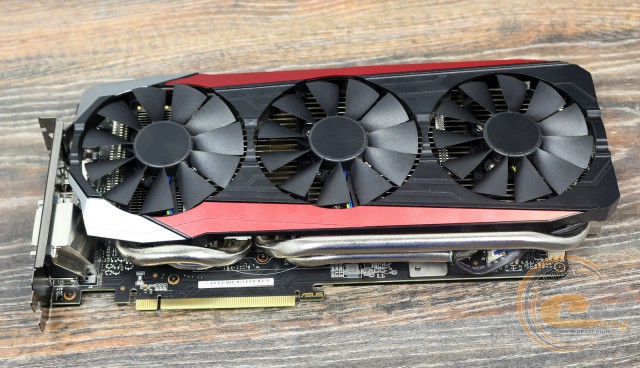 The video card including installed cooling system DirectCU III occupies two expansion slots and has a total length of 305 mm according to the official website of ASUS (317 mm as measured in our lab).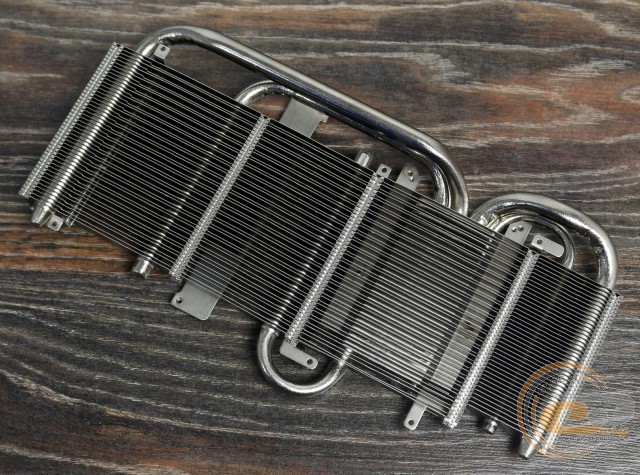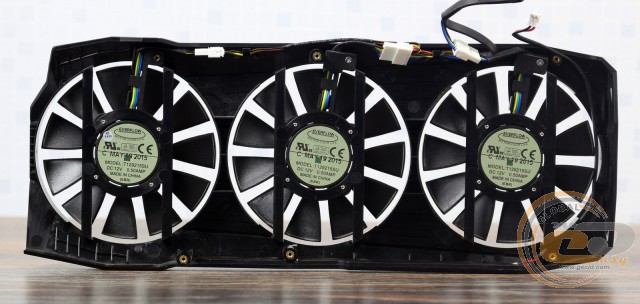 The cooler consists of a fairly massive radiator, which uses 49 longitudinally spaced aluminum fins, and three 88-mm axial fans with an improved form of blades mounted on a plastic casing.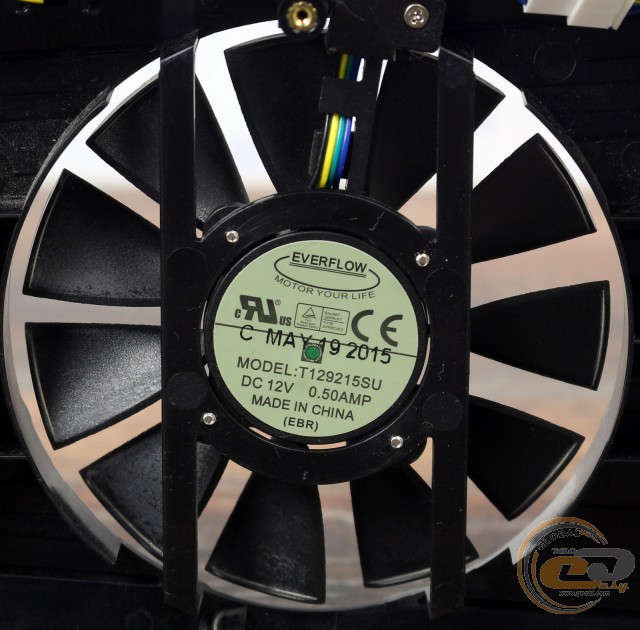 The fans are made by Everflow and are labeled «T129215SU». Rated voltage of operation is 12 V, and the current 0.5 A, which gives the final output of 6 W.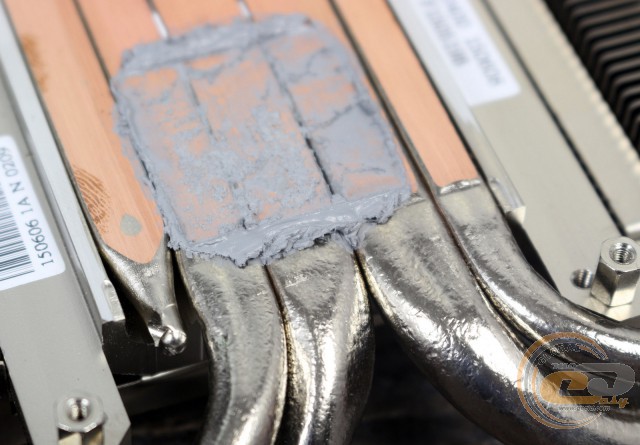 In order to provide uniform distribution of heat over the whole area of the radiator there are five copper heat pipes of different diameter, two 10 mm and two 8 mm and one 6 mm. Fins and heat pipes are covered with a layer of nickel, which is designed to reduce the drop in the efficiency of cooling system during the operation, due to the oxidation of metals. The coolers DirectCU use the scheme of direct contact of heat pipes to the surface of the GPU through a small layer of thermal paste to accelerate removal of excess heat.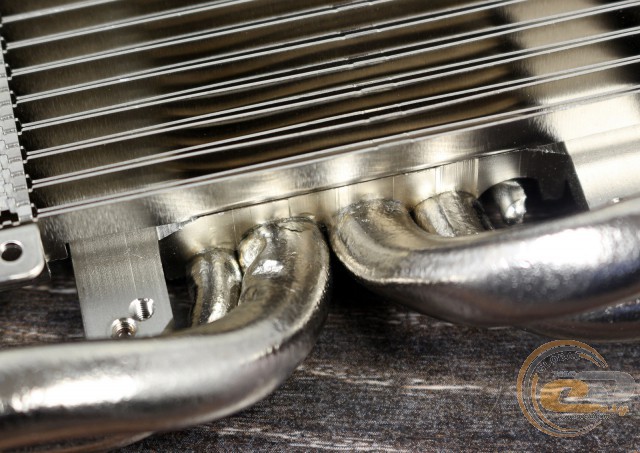 To improve the efficiency of heat exchange the pipes are soldered to the ribs of aluminum radiator and copper heat sink base.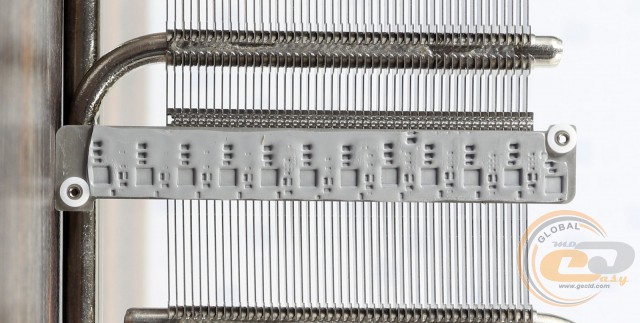 Note that the primary cooling system is directly in contact with the power supply subsystem components using thermal interface. But memory chips are unfortunately devoid of any additional cooling.

In case of the automatic speed control of the fan blades, at maximum load, the graphics core is heated to 79°C, and cooler, as indicated by the monitoring work while 55% of its maximum capacity. The noise level at the same time was low and quite comfortable.

Under the maximum speed fan blades GPU temperature dropped to 71°C. This noise rose above average, and ceased to be comfortable for extended use near PC.

In case of load absence the operating frequencies of the graphics core and memory are automatically reduced, allowing them to reduce power consumption and heat. In this mode, the GPU temperature did not exceed 49°C because the fans stopped to rotate and cooling system operates in a completely passive mode. The above-mentioned technology 0dB FAN provides silent operation of video at low loads.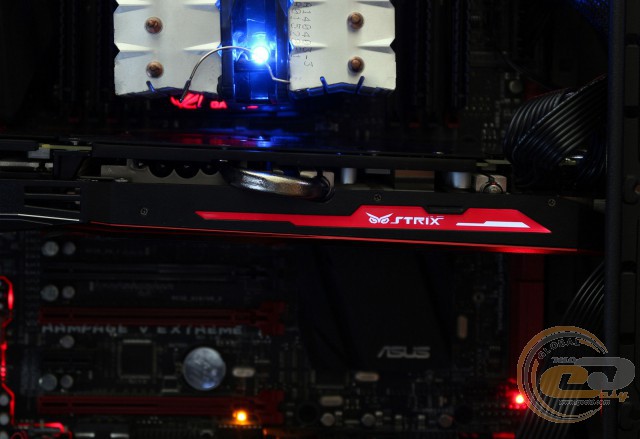 Социальные комментарии Cackle