Video card ASUS Turbo GeForce GTX 960 (TURBO-GTX960-OC-2GD5): review and testing
In this review we will learn not just another version of video cards based on GPU NVIDIA GM206 (Maxwell), but a new product equipped with the original cooling system. It is part of a series introduced by ASUS due to celebration of the 20th anniversary of the release to the market of graphics cards.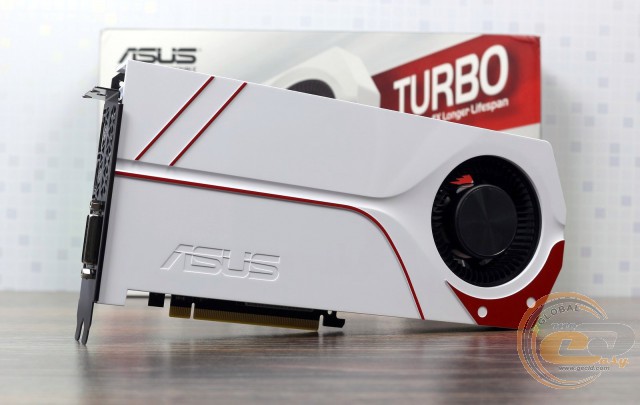 Model ASUS Turbo GeForce GTX 960 (TURBO-GTX960-OC-2GD5) is equipped with a cooler of radial type with the original white and red housing. The advantage of this design is that the hot air is removed outside the housing and substantially does not increase the temperature inside the system unit.
The specs:
Model

ASUS Turbo GeForce GTX 960 (TURBO-GTX960-OC-2GD5)

Graphics core

NVIDIA GM206 (Maxwell)

Manufacturing process

28

Quantity of CUDA-cores

1024

Supported API and technologies

DirectX 12, OpenGL 4.4, NVIDIA GPU Boost 2.0, NVIDIA TXAA, NVIDIA FXAA, NVIDIA MFAA, NVIDIA Adaptive Vertical Sync, NVIDIA Surround, NVIDIA PhysX, NVIDIA 3D Vision, NVIDIA SLI, NVIDIA CUDA, NVIDIA GameWorks, NVIDIA GameStream

Nominal/dynamic GPU frequency, MHz

1190 / 1253

Memory capacity, GB

2

Memory type

GDDR5

Nominal/effective video memory frequency, MHz

1753 / 7010

Memory bus, bit

128

Memory carrying capacity, GB/s

112,2

Inner interface

PCI Express 3.0 x16

Screening interfaces

1 х HDMI 2.0

3 x DisplayPort

1 х DVI-I

Minimal PSU capacity, W

400

Dimensions taken from official website (according measurements in own test lab) , mm

264 x 121 x 37 (276 x 122)

Drivers

Website
Package and content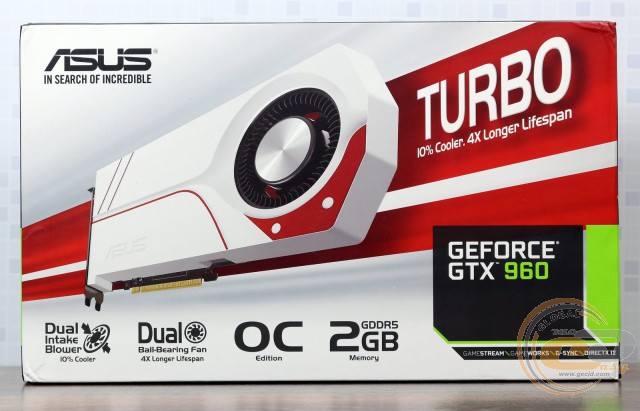 The front side of the graphics card ASUS TURBO-GTX960-OC-2GD5 package is decorated in a unique style, combining white and red colors. There is a large image of the graphics accelerator and its key advantages. Mark «OC Edition» says about factory overclocked GPU from nominal 1127/1178 MHz to 1190/1253 MHz.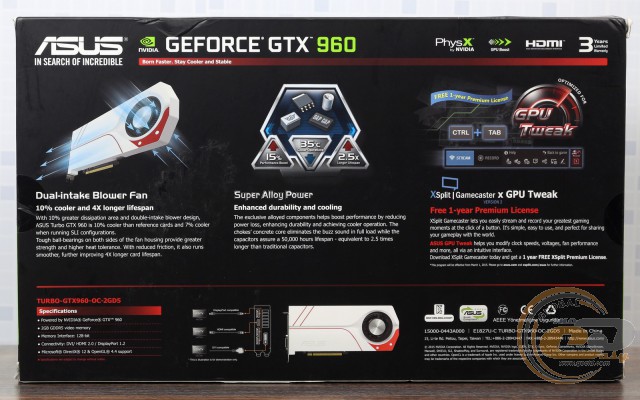 On the back of the box you can find description of the main features of the graphics card, supplemented with visual icons. In particular, radial fan of graphics accelerator captures air from both sides, providing a 10% greater efficacy than the reference model. Also it 4 times longer than the reference cooling system and 7% more efficient using bunch NVIDIA SLI.
The qualitative element base Super Alloy Power consists of silent chokes and solid-state capacitors with a long service life (50 000 hours). Also the delivery set includes proprietary software for overclocking and monitoring (ASUS GPU Tweak) and utility XSplit Gamecaster, allows you to record and broadcast the game session.

The side face of the package contains a list of the minimum system requirements that are recommended for the correct operation of the video card. Thus, the capacity of power supply unit must be at least 400 W (up to 38 A at +12V line), and the amount of RAM is 4 GB.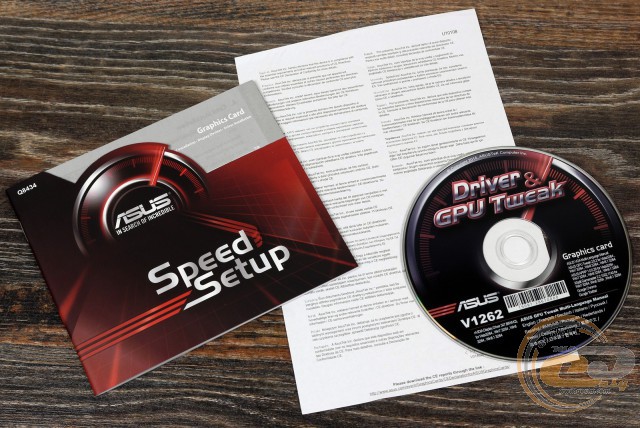 Supplied set of graphics accelerator ASUS TURBO-GTX960-OC-2GD5 includes a quick start guide and a CD with software and drivers. Perhaps some users may need DVI↔D-Sub adapter to connect an analog monitor. It is not included into deliver set.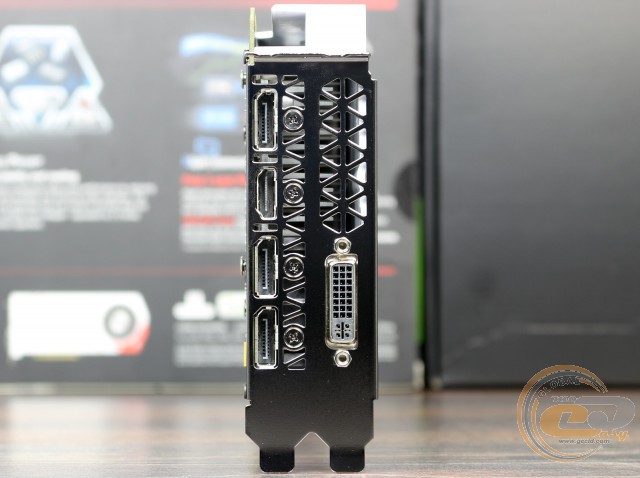 To connect monitors or TVs the interface panel provides quite an extensive set of connectors:
1 x HDMI 2.0;
3 x DisplayPort;
1 x DVI-I.
Such a set of connectors allows you to connect several modern digital monitors or TVs. Thanks to connectors HDMI 2.0 and DisplayPort you can watch 4K content of improved quality.
Design and circuitry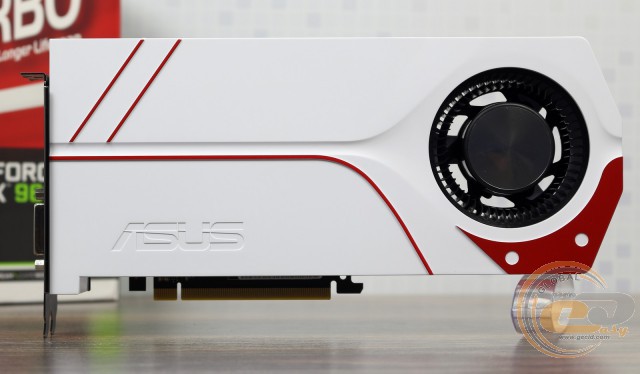 Graphics card ASUS TURBO-GTX960-OC-2GD5 has an original design, which resembles a reference, but is independent development of company ASUS. White shroud of graphics accelerator with red accents will look quite unusual, especially in the case with a transparent side cover. The circuit board is deliberately quite compact to improve air blowing.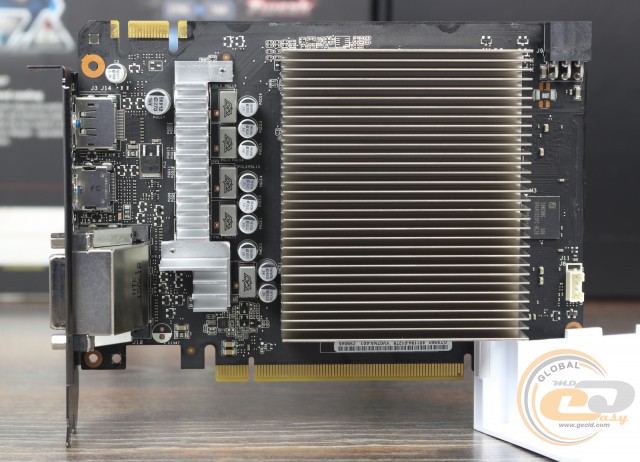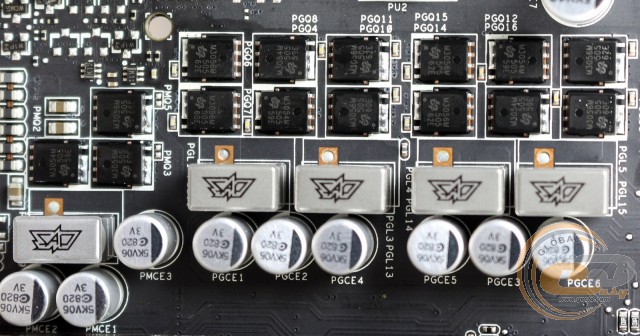 The power subsystem of ASUS Turbo GeForce GTX 960 is made of five-phase scheme: four phases are designed for the GPU, and one is for the video memory subsystem. As mentioned earlier, there are qualitative components Super Alloy Power, designed to operate at a high load (during acceleration or prolonged gaming sessions).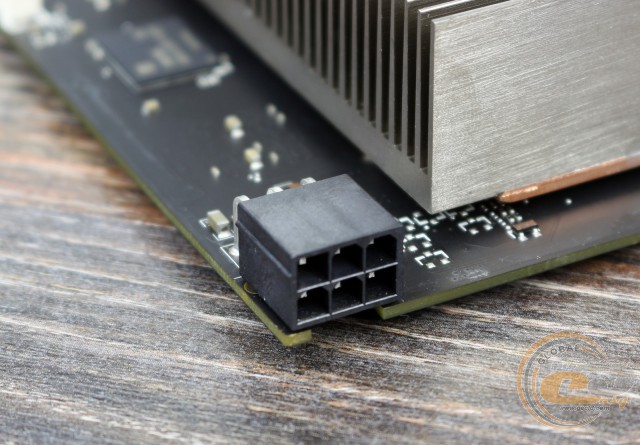 In addition to slot PCI Express 3.0 x16, to ensure the normal operation of the video card you must connect an additional 6-pin PCIe. It connection and disconnection is free, since the connector is located in the corner of the PCB.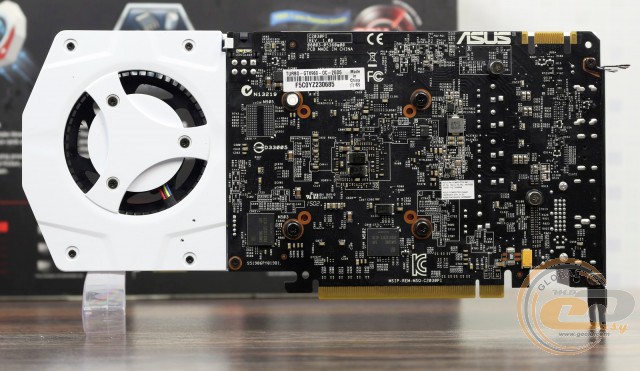 The reverse side of the printed circuit board contains several elements of the power subsystem, and two of the four video memory chips. In the upper right corner we found a connector for bridge NVIDIA SLI. It allows you to combine the processing power of GPU for the two co-processing graphics.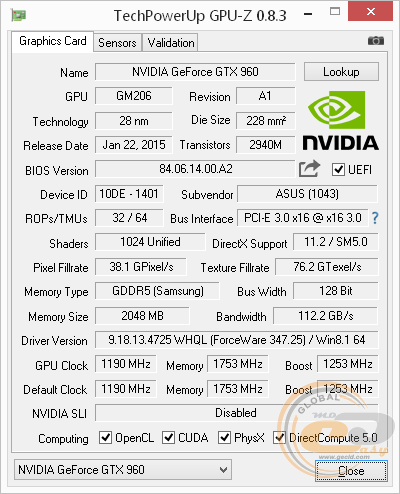 The base of ASUS TURBO-GTX960-OC-2GD5 is graphics chip NVIDIA GM206-300-A1 (Maxwell). It consists of 1024 CUDA-cores, 64 texture units and 32 ROP units. The nominal operating frequency is 1190 MHz GPU and dynamic is 1253 MHz.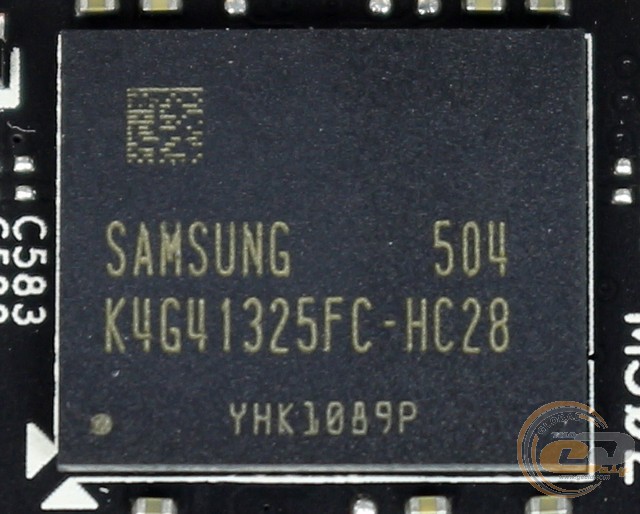 The total capacity of video memory is 2 GB. It is realized using 4 chips Samsung K4G41325FC-HC28 of GDDR5 standard with capacity of 4 GB each. The memory runs at an effective frequency of 7010 MHz, and to exchange data with a graphics core there is 128-bit bus with a capacity of 112.2 GB/s.
Cooling system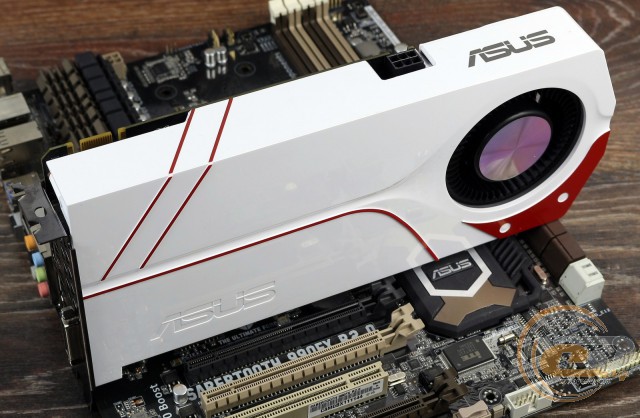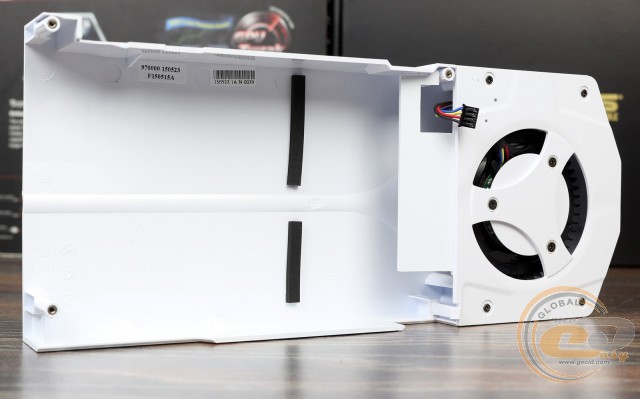 The cooling system takes up two slots for expansion cards. It is characterized by a large length (276 mm). The outer plastic cover not only creates an elegant look of the adapter, but also directs the air flow along the surface of the PCB. Air blowing is provided by 75 mm radial fan, built on the basis of a reliable dual ball bearing.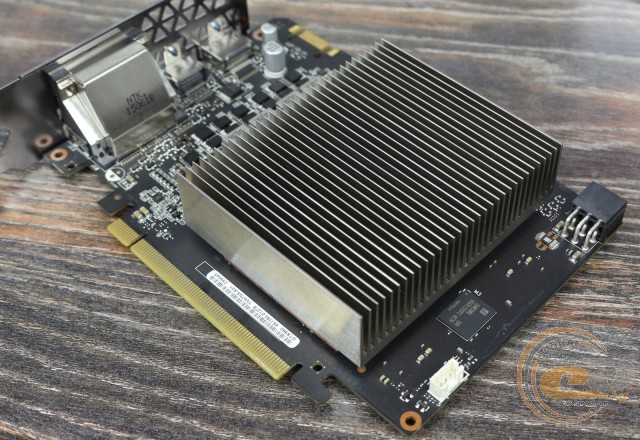 Removal and heat dissipation is realized using an aluminum radiator with a longitudinal placement of ribs that contact with the GPU using a copper base.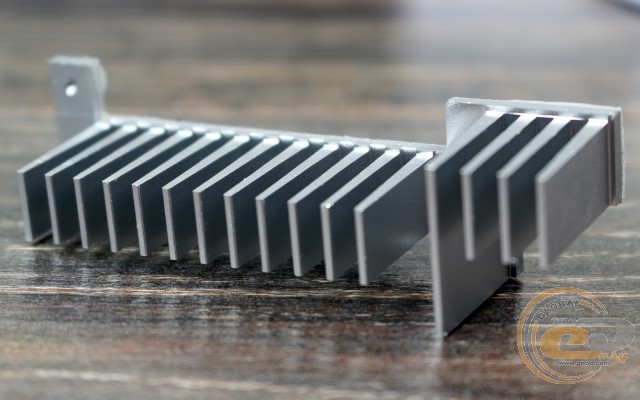 Another small aluminum radiator is installed on the elements of the power subsystem.

During stress tests in automatic mode of the cooling system, the GPU temperature was at 80°C. The propeller was rotated at a speed of 1637 rpm, and the level of noise can be characterized as average.

After fixing the fan speed at maximum, the GPU temperature dropped to 63°C. The noise exceeded the average level and has already become uncomfortable for long life. This mode is suitable only for overclocking and running stress tests.

In idle mode the frequencies of the graphics core and memory are automatically dropped and the core temperature did not exceed 35°C. The cooler is very quiet.
Социальные комментарии Cackle