Graphics card GIGABYTE GeForce GTX 960

G1.GAMING (

GV-N960G1 GAMING-2GD

): review and testing
Continuing our acquaintance with a variety of modifications of graphics card NVIDIA GeForce GTX 960 presented in early 2015, we will talk about the new product from GIGABYTE, namely GIGABYTE GeForce GTX 960 G1.GAMING (GV-N960G1 GAMING-2GD). According its name, it refers to a series GIGABYTE G1.GAMING, which includes accessories for gamers, that compares favorably due to design and features.
Separately we recall that a key features of the model NVIDIA GeForce GTX 960 you can read the review Inno3D GeForce GTX 960 iChill Ultra. As for micro-architecture NVIDIA Maxwell and related technologies, they are focused on a very extensive material.
But we will proceed directly to the Review GIGABYTE GeForce GTX 960 G1.GAMING (GV-N960G1 GAMING-2GD).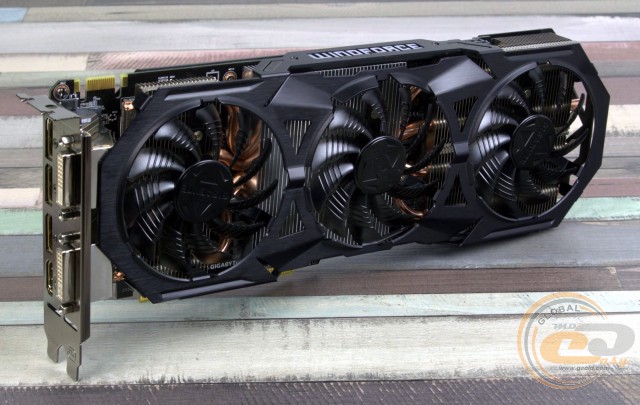 The specs:
Model

GIGABYTE GeForce GTX 960 G1.GAMING

(GIGABYTE GV-N960G1 GAMING-2GD)

Graphics core

NVIDIA GM206 (Maxwell)

Quantity of shader processors (CUDA-cores)

1024

Supported API and technologies

DirectX 12, OpenGL 4.4, NVIDIA GPU Boost 2.0, NVIDIA TXAA, NVIDIA FXAA, NVIDIA MFAA, NVIDIA Adaptive Vertical Sync, NVIDIA Surround, NVIDIA PhysX, NVIDIA 3D Vision, NVIDIA SLI, NVIDIA CUDA, NVIDIA GameWorks, NVIDIA GameStream

Basic / dynamic graphics core frequency, MHz

Mode «Gaming»

1241 / 1304

Mode «OC»

1266 / 1329

Memory frequency (effective), MHz

1753 (7010)

Memory capacity, GB

2

Memory type

GDDR5

Memory bus, bit

128

Memory carrying capacity, GB/s

112,2

Bus type

PCI Express 3.0 x16

Max resolution

Digital up to 4096 x 2160

Analog up to 2048 x 1536

Screening interfaces

1 х DVI-I

1 х DVI-D

1 х HDMI

3 х DisplayPort

Support for HDCP and HD-video decoding

Yes

Max capacity of PSU, W

400

Additional power sockets PCIe

2 x 6-pin

Dimensions taken from official website (according measurements in own test lab) , mm

295 х 114 (312 х 117)

Drivers

Producer website
Tested modification of NVIDIA GeForce GTX 960 compares favorably not only by a proprietary cooling system and a modified set of video outputs, but also the presence of factory overclocking the GPU from the default 1126 to 1241 MHz. Also do not forget about the technology NVIDIA GPU Boost 2.0, taking into account that the average GPU is clocked at 1304 MHz instead of recommended 1178 MHz. In addition, proprietary utility OC GURU II has additional profile «OC», which increases activation of these parameters to the 1266 and 1329 MHz, respectively.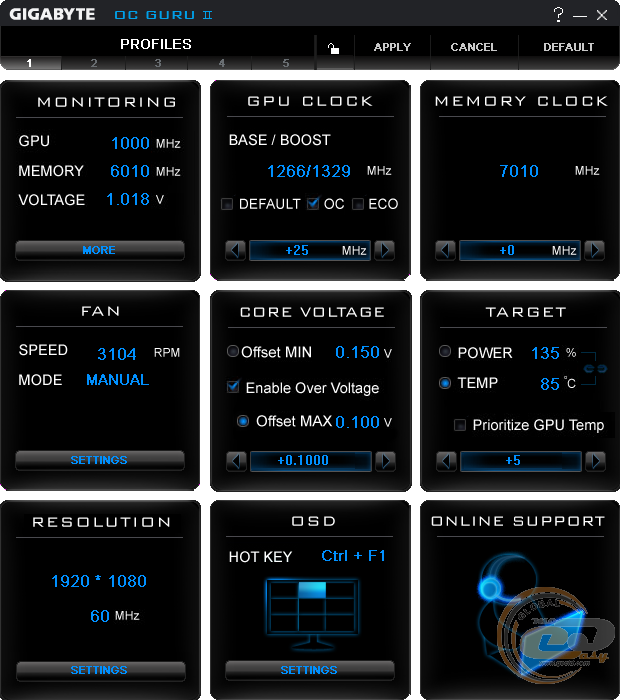 But the video memory subsystem meets the requirements of the reference: 2 GB GDDR5 128-bit bus and the effective frequency of 7010 MHz.
Package and content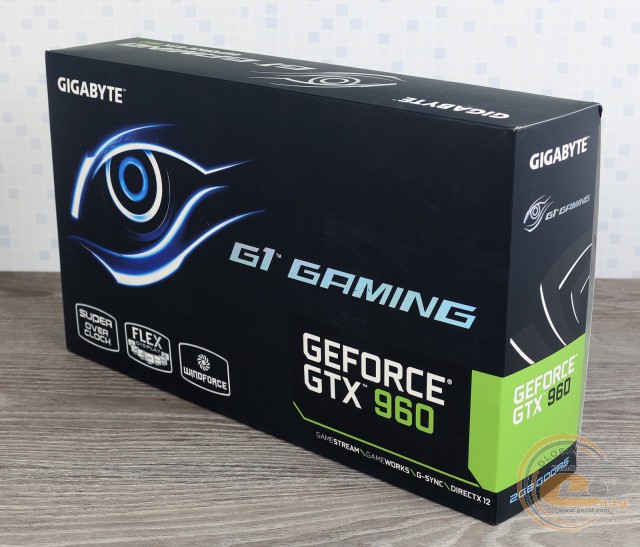 Graphics card GIGABYTE GV-N960G1 GAMING-2GD comes in a compact cardboard box. A key design element is the logo of series GIGABYTE G1.GAMING. The important information on the front side contains support for the cooling system GIGABYTE WINDFORCE 3X, as well as new item belonging to the range of factory overclocked solutions.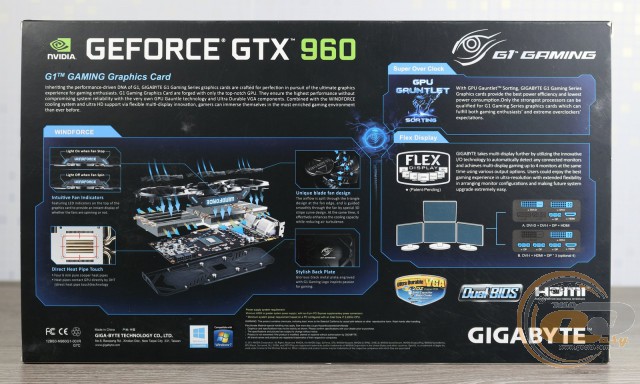 The reverse side is reserved for the description of the key benefits of GIGABYTE GeForce GTX 960 G1.GAMING, namely:
Unique blade fan design - the unique shape of the fan blades reduces turbulence and air flow more efficiently remove heat from the radiators.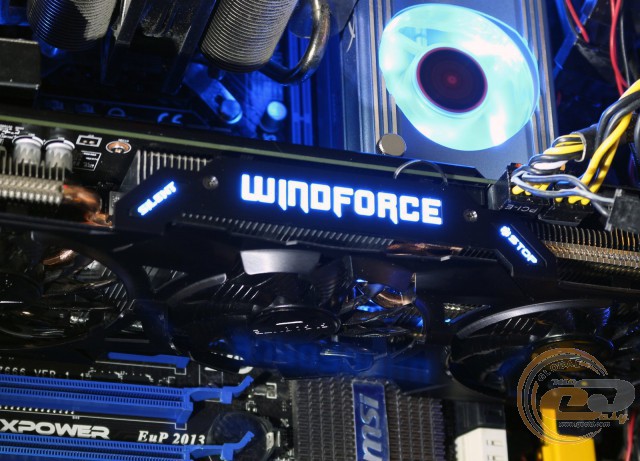 Intuitive Fan Indicators - indicator system of the cooler features two LEDs («Silent» and «* Stop») on either side of the glowing logo WINDFORCE, which light up when the system goes into a passive cooling mode.

Direct Heat Pipe Touch - WINDFORCE 3X cooler is favorably due to direct contact of heat pipes to the graphics core by a small layer of thermal paste, which contributes to more efficient heat dissipation.

Stylish Black Plate - massive base plate on the back of the video card performs not only a decorative role, but also increases the overall stiffness of the structure, and is also involved in cooling.

Super OverClock - thanks to a special selection process of graphics chips (GPU Gauntlet sorting) a series of GIGABYTE Super OverClock contains only the highest quality items with excellent overclocking potential.

Flex Display - this technology allows to automatically detect the connected display devices, and easily organize simultaneous operation of up to four panels.
Also note the support for GIGABYTE DualBIOS (use two chips BIOS), as well as the use of proprietary concept for Ultra Durable VGA to select graphics card circuitry (Japanese solid capacitors, ferrite chokes and energy efficient MOSFETs with low on-resistance).

A list of system requirements for the computer is also located on the back of the box. Based on the recommendations, the power supply in such a system must have a capacity of at least 400 W and maintain two 6-pin power cables PCIe.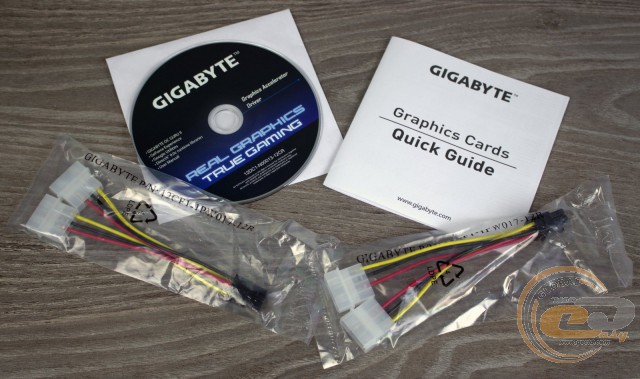 Supplied set of GIGABYTE GeForce GTX 960 G1.GAMING in addition to a brief manual and a CD with drivers and utilities has two power adapters. In general, such a kit can be safely described as good, as it helps to organize competently powered graphics card in case of lack of necessary source used connectors.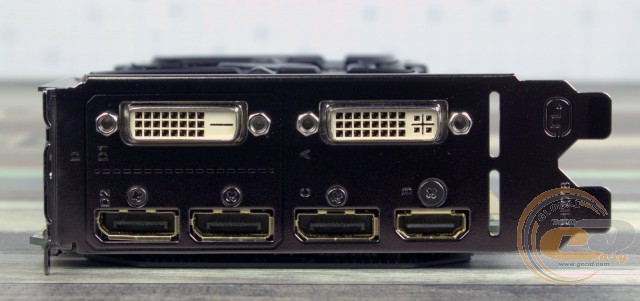 To display an image the novelty has an expanded set of interfaces:
1 x DVI-I;

1 x DVI-D;

1 x HDMI;

3 x DisplayPort.
The difference lies only in the presence of an additional port DVI-D, which will significantly simplify the connection of multiple monitors simultaneously, since not all displays are equipped with an interface DisplayPort.
The following resolutions are supported:
Digital up to 4096 x 2160;

Analog up to 2048 x 1536.
Design and circuitry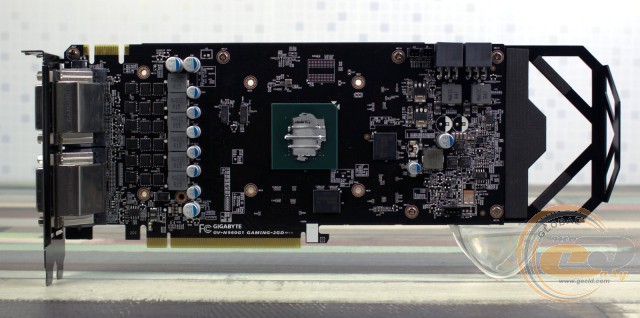 GIGABYTE GeForce GTX 960 G1.GAMING (GV-N960G1 GAMING-2GD) uses original circuit board in black with a standard layout of on-board elements. Applied electronic components correspond to the concept of proprietary Ultra Durable VGA, which means it is built exclusively on high-quality components: Japanese solid capacitors, ferrite core and field-effect transistors with low on-resistance (RDS (on)). In addition, some of the copper traces in certain layers of the PCB are twice the thickness, thus reducing the overall electrical resistance and provide more effective heat dissipation.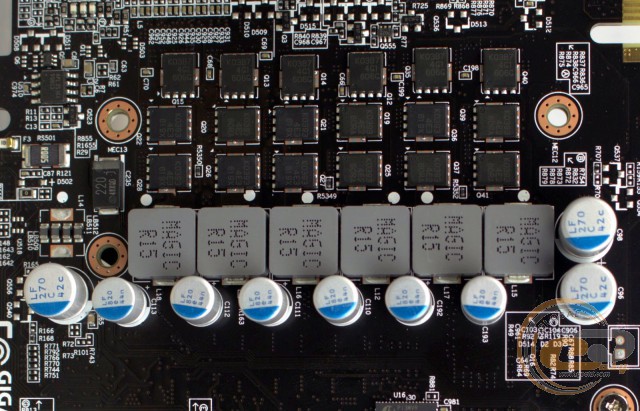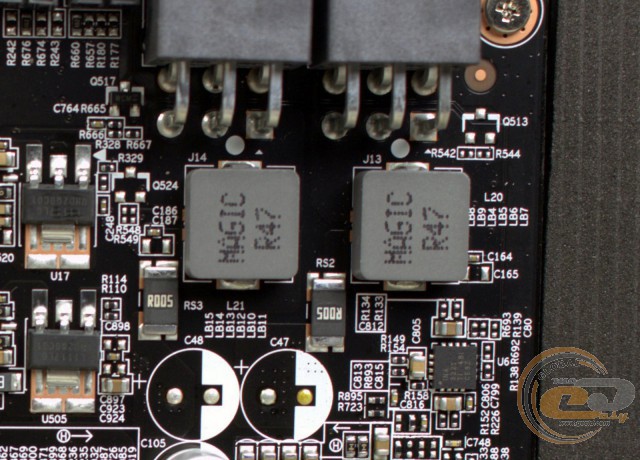 Power of new product is made for enhanced 8-phase scheme (six phases for the GPU and two for memory chips), while the standard version includes only five phases (four for the GPU and one for the video memory).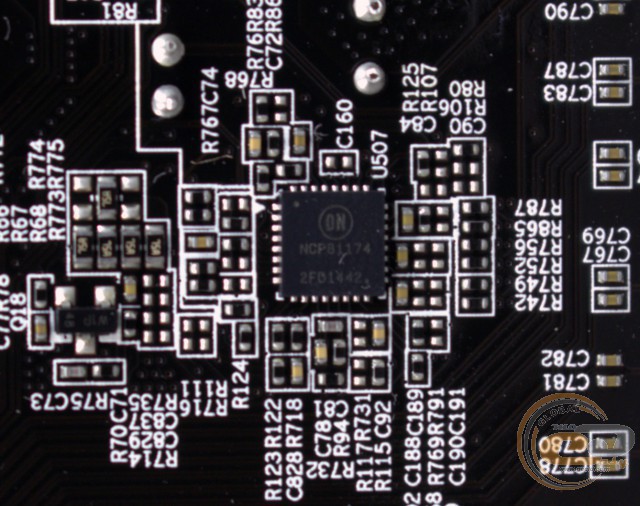 The power system of the GPU is implemented on a digital PWM Controllers ON Semiconductor NCP81174 manufactured by ON Semiconductor. According to the documentation, it is equipped with short circuit protection and is characterized by increased efficiency by supporting the power saving function (PSI). It can control the 2, 3 or 4 phases, ie in this case applied the doubling phase to work properly.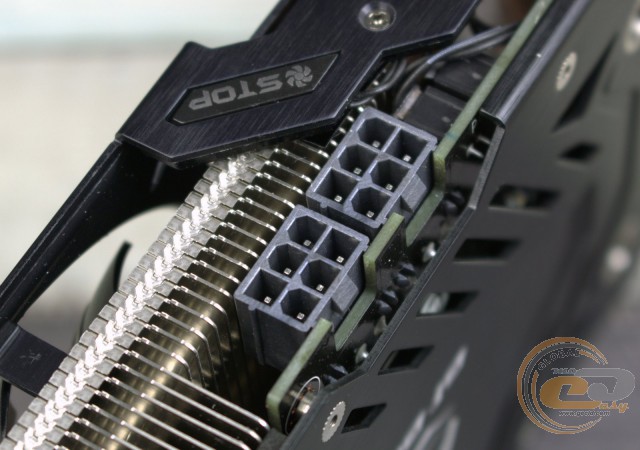 In addition to slot PCI Express 3.0 x16 for graphic card uses two 6-pin PCIe, while the reference sample requires only one such connector. They are on the side of the board, but due to a cooler location, not at all difficult to disconnect cables PCIe.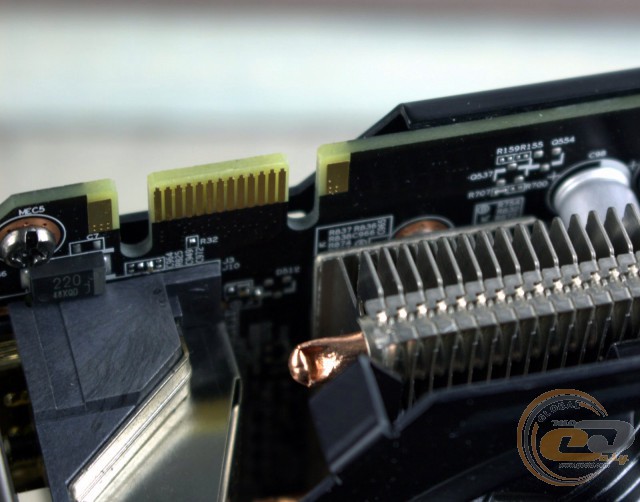 In order to provide technology NVIDIA SLI GIGABYTE GeForce GTX 960 G1.GAMING uses one connector for the appropriate bridge. It allows you to combine two video accelerators for the joint calculation of graphical effects.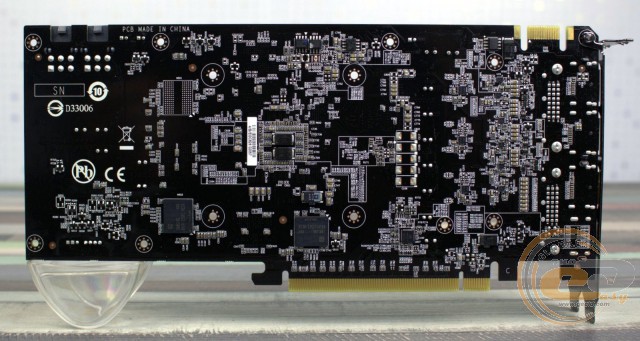 The reverse side of a novelty, initially covered with the base plate, is notable not only by the above-mentioned PWM controller, but also due to a number of electrical components, two of the four video memory chips and the mounting screws of the cooling system.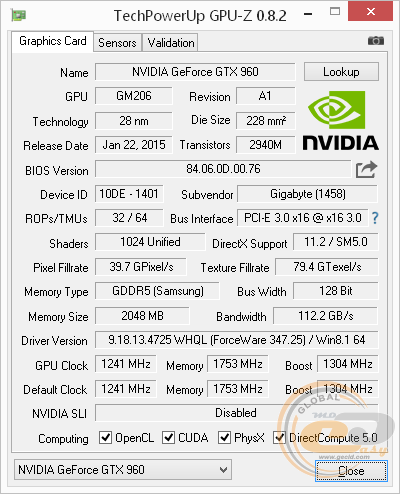 The tested model is based on the graphics chip NVIDIA GM206-300-A1 (Maxwell), produced by 28-nm process technology. It includes 1024 unified shader pipelines (CUDA cores in the terminology of NVIDIA), 32 blocks rasterization and 64 texture units. As we have said, the video card has factory overclocked graphics core with frequencies which 1241 and 1304 MHz for nominal and dynamic modes, respectively.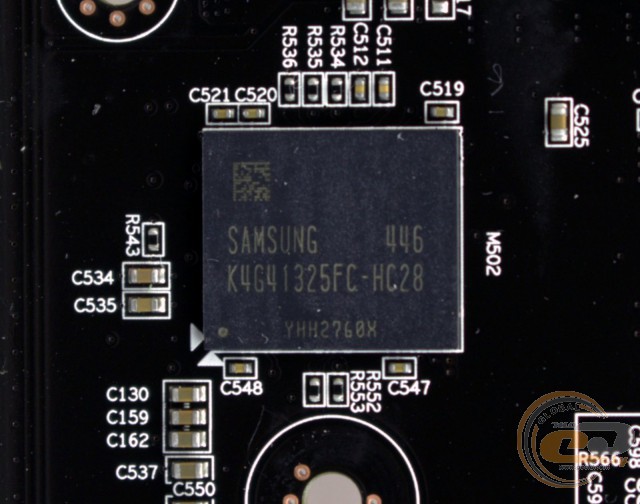 Memory of GIGABYTE GV-N960G1 GAMING-2GD, totaling 2GB is collected using 4-chip Samsung K4G41325FC-HC28 with 512 MB each. According to the documentation, the effective frequency is equal to 7 GHz. Communication between the graphics processor and memory is realized through a 128-bit bus, which is capable of flowing 112.2 GB of information per second.
Cooling system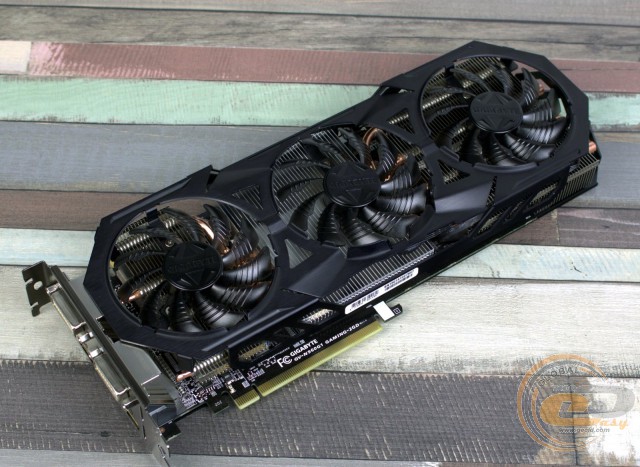 Branded cooling system WINDFORCE 3X has a very discreet design and rather large dimensions that must be considered before buying. The video card with installed cooling system occupies two expansion slots and has a total length of 312 mm (as measured in our lab).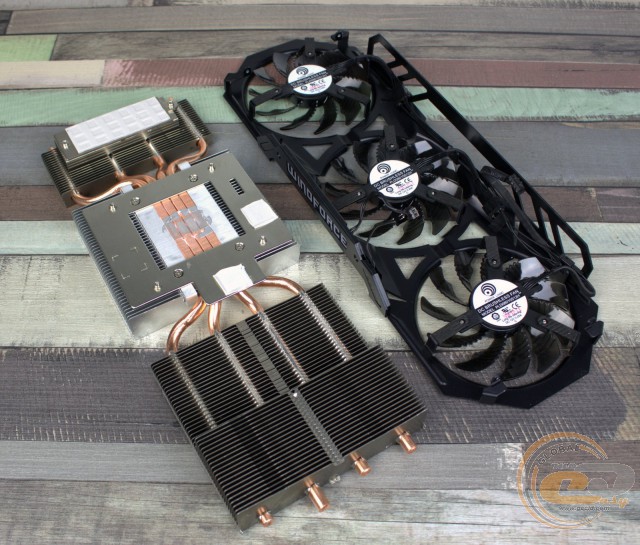 The cooler consists of a three-section radiator recruited from 20, 40 and 47 are aluminum plates, as well as of the three axial fans with blades 77 mm in diameter mounted on an aluminum casing which covers the entire structure.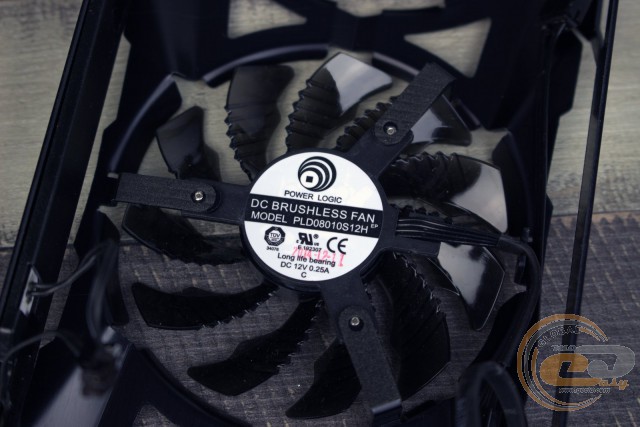 The fans are provided by models Power Logic PLD08010S12H with improved blade shape and extended life used plain bearings. As for the features, they have a nominal voltage of 12 V and a current of 0.25 A, which results in a power of 3 W.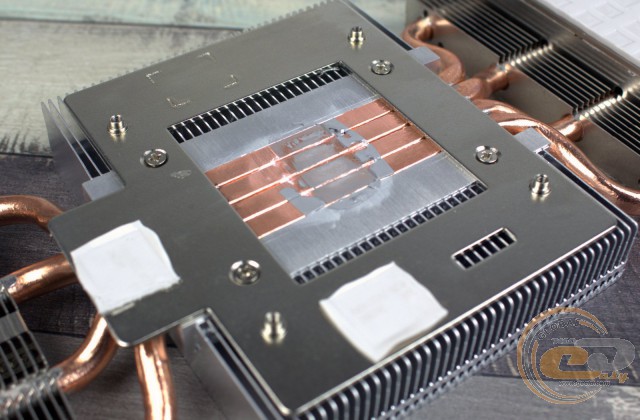 To improve the efficiency of heat exchange, four copper heat pipe diameter of 6 mm are applied. Unfortunately, they are not covered by a layer of nickel, which prevents oxidation processes of copper, which in the future could adversely affect the cooling efficiency. The contact of heat pipes with a copper base and heat sink fins is improved by solder.
Also in this picture you can see principle of the technology GIGABYTE Direct Heat Pipe Touch, where the heat pipes are in contact with the graphics core directly through a small layer of thermal paste.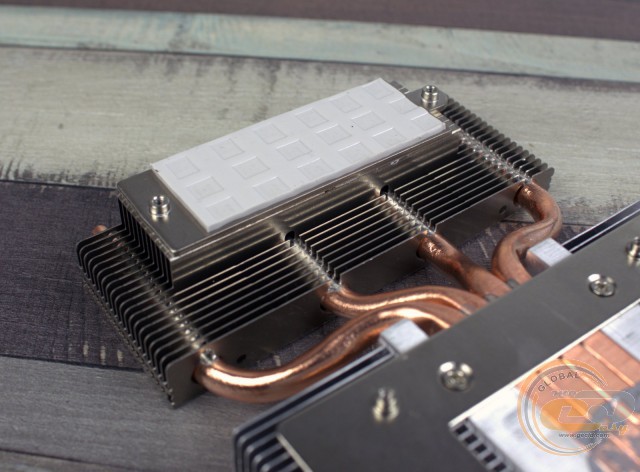 Two video memory chips are located on the front side of the PCB and power elements of the power subsystem GPU are cooled through direct contact with the heat sink using a thermal interface.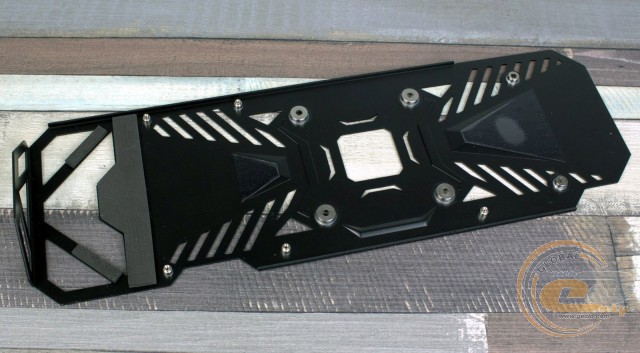 Unfortunately, the memory chips on the back side do not have any additional cooling, because the base plate is not in contact with them. Nevertheless, it is still participating in the withdrawal of excess heat. In operation the temperature rises considerably, so you should be careful when removing the video card immediately after stopping the computer.

Under the automatic speed control of the fan blades at maximum load the graphics core is heated to 70 degrees and cooler works on 47% of its maximum capacity. The noise level in this case was absolutely comfortable. Subjectively, it does not stand out against the other components.

Under the maximum fan speed the GPU temperature dropped to 58 degrees. This noise is produced when close to the average level and was quite uncomfortable.

In the absence of load the frequencies of the graphics core and memory are automatically reduced, resulting in less power consumption and heat. The cooler operated in passive mode because of proprietary technology 0dB semi-passive, and the temperature of the GPU did not exceed the mark of 35 degrees.
As a result, the performance and the level of acoustic comfort create an extremely pleasant impression of the cooling system GIGABYTE WINDFORCE 3X. Fortunately it copes well with its immediate objectives and does not bother you a high level of noise in everyday use.
Социальные комментарии Cackle