MSI R9 285 GAMING 2G graphics card: review and testing
Graphics cards and motherboards of MSI Gaming series are designed to build gaming devices capable to bear prolonged gaming sessions. This is achieved through the use of components corresponding brand concept Military Class 4. Another important component is the good overclocking capability and a set of related software.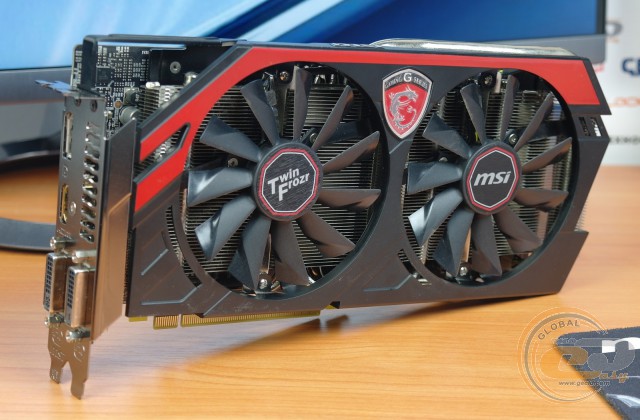 Graphics card MSI R9 285 GAMING 2G, which will be discussed in this review has enough performance to create a balanced gaming and multimedia midrange computer. In this case, it is based on reliable and high-quality components that will prove its high reliability.
The specs:
Model

MSI R9 285 GAMING 2G

Graphics core

AMD Radeon R9 285 (Tonga Pro)

Technology process, nm

28

Quantity of universal shader processors

1792

Technologies and API support

DirectX 12, DirectCompute 11, OpenGL 4.4, OpenCL 1.2, AMD Eyefinity, AMD CrossFireX, AMD HD3D, AMD PowerPlay, AMD PowerTune, AMD Eyespeed, AMD ZeroCore, AMD Mantle, AMD TrueAudio, AMD PowerTune, AMD FreeSync

Rated/dynamic frequency of graphics core, MHz

«OC»

973

«Gaming»

954

«Silent»

918

Memory capacity, GB

2

Memory type

GDDR5

Basic / effective memory frequency, MHz

1375 / 5500

Memory bus width, bit

256

Memory carrying capacity, GB/s

176

Inner interface

PCI Express 3.0 x16

Screening interfaces

1 х HDMI 1.4a

1 x DisplayPort 1.2

1 х DVI-I

1 х DVI-D

Minimal PSU capacity, W

500

Dimensions taken from official website (according measurements in own test lab) , mm

260 x 127 x 37 (270 x 130)

Drivers

Website
Package and content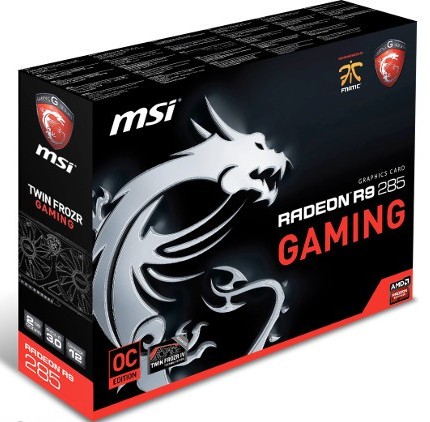 For testing we have a version of the graphics card MSI R9 285 GAMING 2G without decorative package and delivery set. According to the official photos, box is fully consistent with the design of other adapters of Taiwanese game series, for example MSI R9 280X GAMING 3G. That is the main color gamut is black and red, and a key element of the front side is a stylized dragon emblem. On the reverse side you can get acquainted with the main advantages of this model.
According to the information provided on the official website, it has the following features:
cooling system Twin Frozr IV Advanced, which includes two axial fans with a special curved blade shape Propeller Blade, productive nickel plated heatpipes with the design SuperPipes and radiator with design Airflow Control (to create air flow direction);
qualitative circuitry Military Class 4, which consists of solid capacitors Solid CAP, tantalum polymer capacitors Hi-C CAP SFC and coils with a ferrite core;
proprietary software MSI Gaming App for quick and easy switching of preset profiles;
complete utility MSI Predator with functions to capture game play, screenshots or videos record.
Supplied set of MSI R9 285 GAMING 2G includes a set of paper documentation, CD with drivers and proprietary software, as well as an adapter DVI↔D-Sub.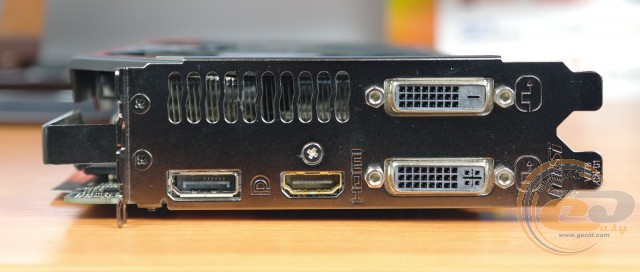 The interface panel contains the following connectors:
1 x HDMI 1.4a;
1 x DisplayPort 1.2;
1 x DVI-I;
1 x DVI-D.
Given the presence of adapter DVI↔D-Sub we can talk about all the most popular video outputs, allowing to connect almost any modern digital or analog display.
Design and circuitry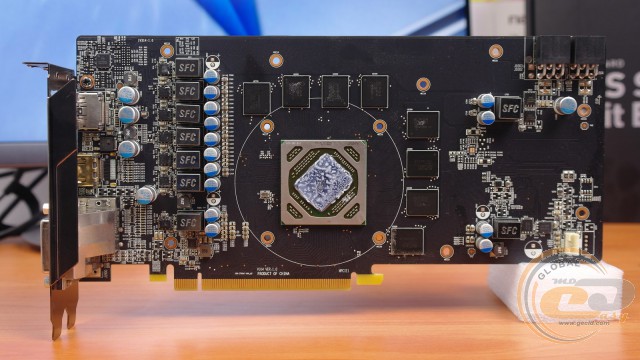 MSI R9 285 GAMING 2G is built on black PCB with height of 122 mm. Around the GPU there is a protective frame, which can prevent it from damage when installing or removing the cooling system.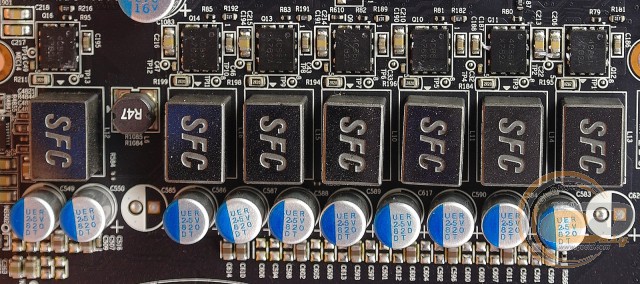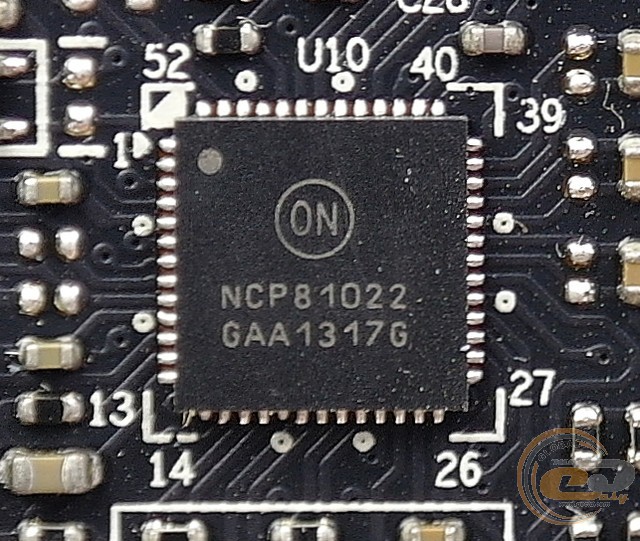 The GPU power subsystem is made by 7-phase scheme. The controller is a chip ON NCP81022 from the company ON Semiconductor.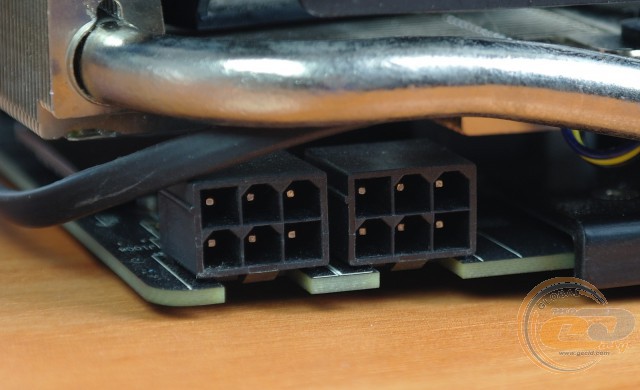 In addition to the features of slot PCI Express 3.0 x16, there are two additional 6-pin PCIe designed to provide power. Their connection and disconnection is free due to the arrangement of latches only on back side (the PCB has special slots).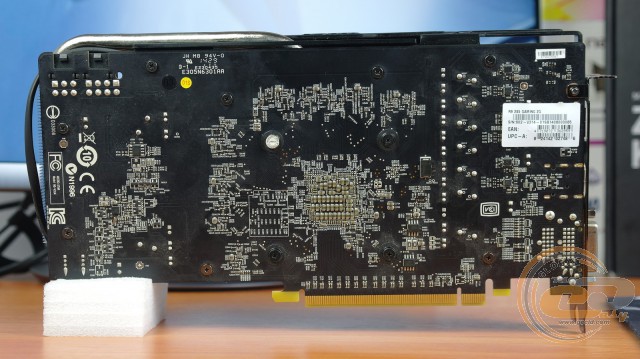 The reverse side of the printed circuit board contains a number of electrical components and the fastening screws of the cooling system. Also do note the graphics accelerator is not equipped with connectors for bridges AMD CrossFireX, as this functionality is implemented at the program level (two graphics cards for collaborative computing graphics is supported).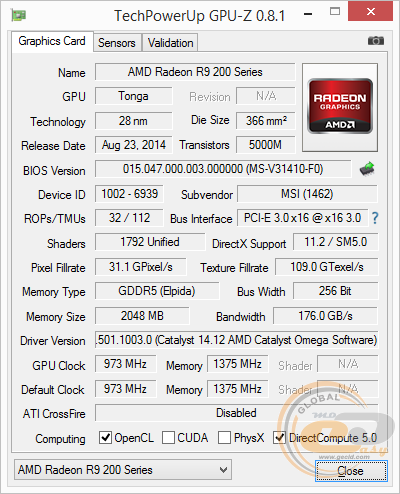 The basis of MSI R9 285 GAMING 2G is a graphics chip AMD Radeon R9 285 (AMD Tonga Pro). It is produced by a 28-nm process process and consists of 1792 unified shader processors, 112 texture units and 32 ROP units. The nominal clock frequency of the GPU determined by utility GPU-Z 0.8.1 is 973 MHz. That is the profile «OC» of software MSI Gaming App is applied.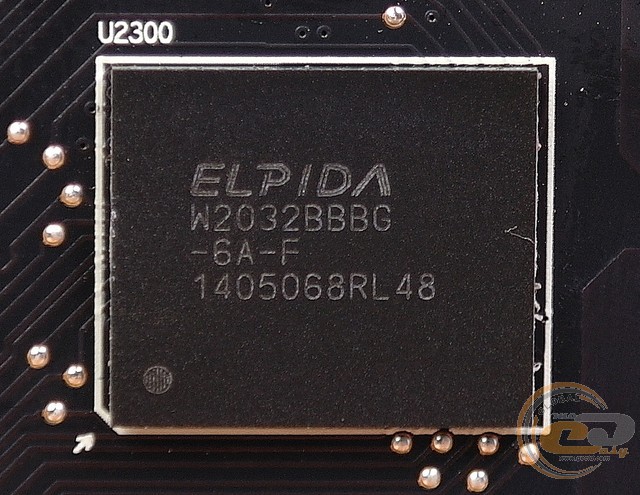 The graphics card is equipped with 2 GB of video memory, collected by using 8 chips ELPIDA W2032BBBG-6A-F with the effective frequency of 5500 MHz. Data exchange with the GPU is realized through a 256-bit bus with bandwidth of 176 GB/s.
Cooling system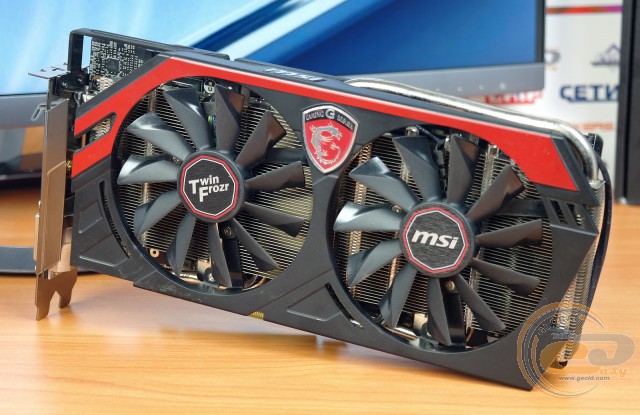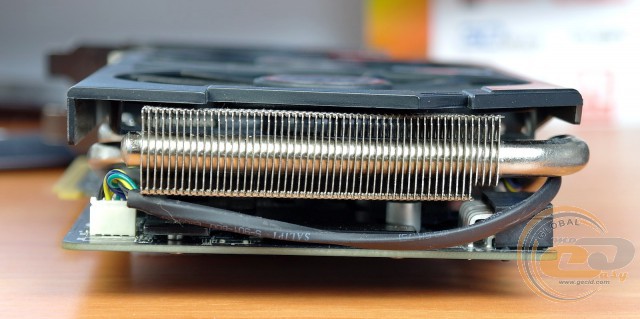 Graphics accelerator is equipped with a proprietary cooling system Twin Frozr IV Advanced and occupies two slots for expansion cards. The total length of the graphics card with installed cooling system is 270 mm, which ensures its compatibility with a large number of case of different form factors.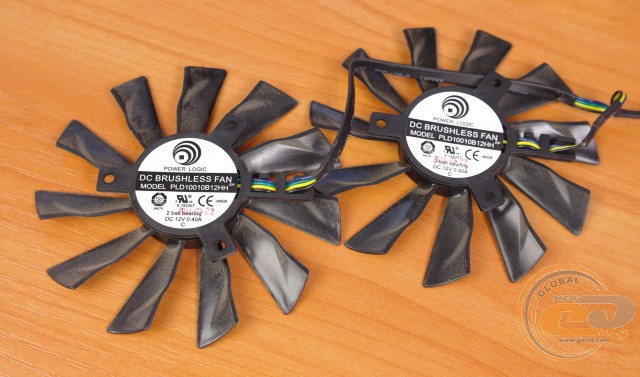 Blowing is realized by two fans Power Logic PLD10010B12HH (12 V; 0.4 A) with a diameter of 95 mm and the design of the blades Propeller Blade. This creates a good air flow and improved airflow of components. The fans are built by 2 ball bearing, which promises a higher lifetime.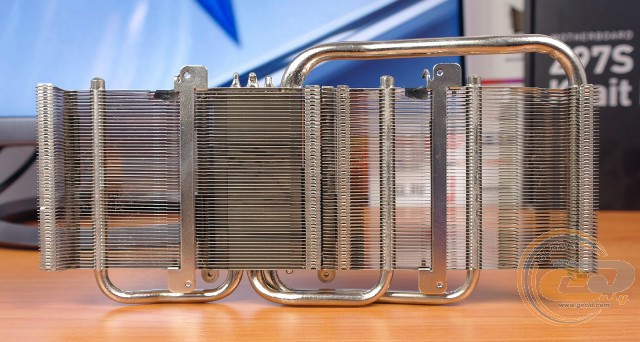 Radiator fins are covered with a layer of nickel for long service life with maximum performance and spectacular appearance. They are characterized by a special smooth design Airflow Control, which creates the directed air flow for better heat dissipation.
The heat exchange takes four copper heat pipes: three 6 mm and one 8 mm. They are coated with nickel for protection from oxidation during prolonged use.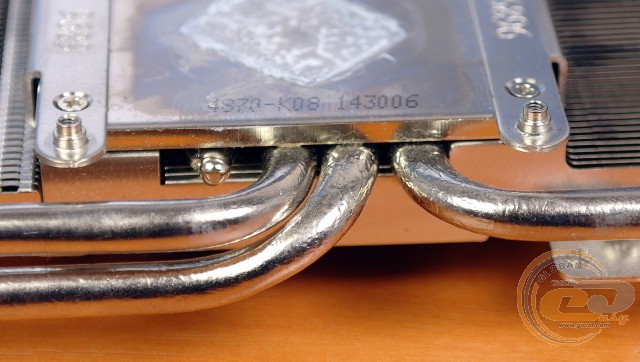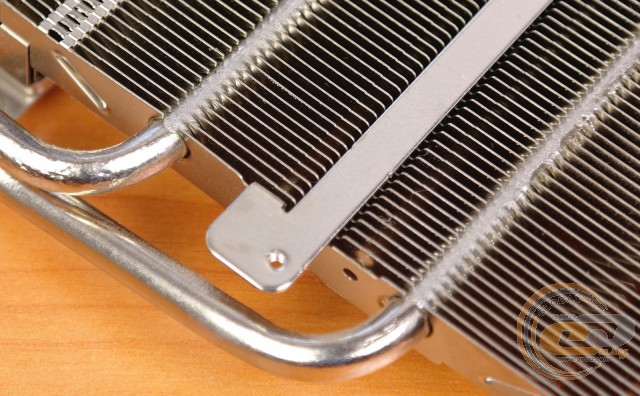 The heat pipes are soldered to the fins of the radiator and to its base. This greatly improves the heat transfer and increases the efficiency of the cooling system.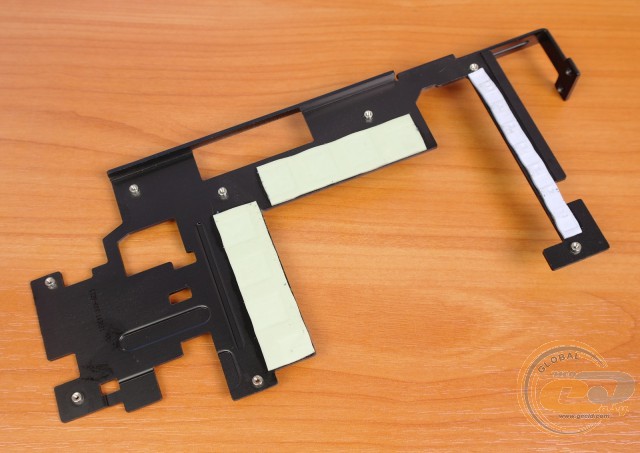 Another important component of the cooling system is a metal plate with a double functionality. It reinforces the printed circuit board to protect it from damage and deformation and at the same time removes heat from the memory chip and the power supply subsystem. To improve the contact using special thermal spacers.

In case of the automatic rotation of the fan blades (1505 rpm) the GPU temperature was 71°C. This value is not low, but there is a significant margin of safety till critical point. Noise was below average.

After fixing the fan speed at maximum value (2885 rpm) heating of the GPU during prolonged load was dropped to 60°C. Noise of cooling system rose to an average level, but still remained comfortable enough to work in the afternoon.

In idle mode the GPU temperature dropped to 37°C. In this mode the cooler worked quietly (1047 rpm) and almost did not stand out against other components.
Социальные комментарии Cackle