Digital video recorder Transcend DrivePro 100: review and testing
Recently the automotive electronics market has extended and begun to attract the attention of companies that seemingly are not dealing in this area. At least take into account brand Transcend. First of all it is known due to flash drives, solid state drives, memory modules or other components of this kind. Now, however, this brand can be heard in the circles of motorists, as Transcend has decided to enter the market of DVRs. However, is too early to talk about some kind of expansion, because its products in this niche are represented by only two models: Transcend DrivePro 100 and Transcend DrivePro 200. Nevertheless, the appearance of such notable player in the DVR is quite welcome. This should increase competition and may force some companies to take a fresh look at the quality and cost of manufactured devices.
We suggest to start the familiarity with DVRs Transcend with the low-end model Transcend DrivePro 100, which in some stores can also be found under the name «Transcend TS16GDP100M».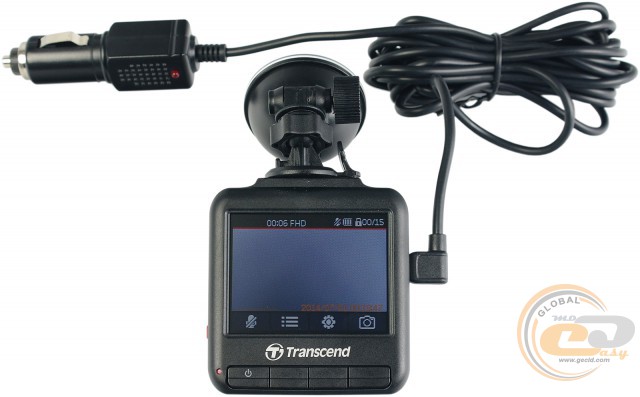 The specs:
Model

Transcend DrivePro 100

(Transcend TS16GDP100M)

Image sensor

CMOS

Effective quantity of pixels, MP

3

Video recorded modes

1920 х 1080 @ 30 fps

1280 х 720 @ 30 fps

Video recorded formats

.MP4 (codec H.264)

Viewing angle, °

130

Lens aperture ratio

f/1.8

Photography

Yes (max resolution - 1920 х 1080)

Noise recording

Yes

GPS module

No

Shock sensor

Yes

Motion sensor

No

Recording activation

Automatic, manual, according shock sensor

LCD-display size, in

2,4

Memory card

microSD

Memory card capacity, GB

32

Internal memory

No

Battery capacity, mA*h

470

External interfaces

1 x mini-USB

Additional capabilities

-

Operation relative humidity, %

-

Operation ambient temperature, °С

-20...+65

Dimensions, mm

68 x 61 x 34

Weight, g

73

Producer website

Product page
Packaging and content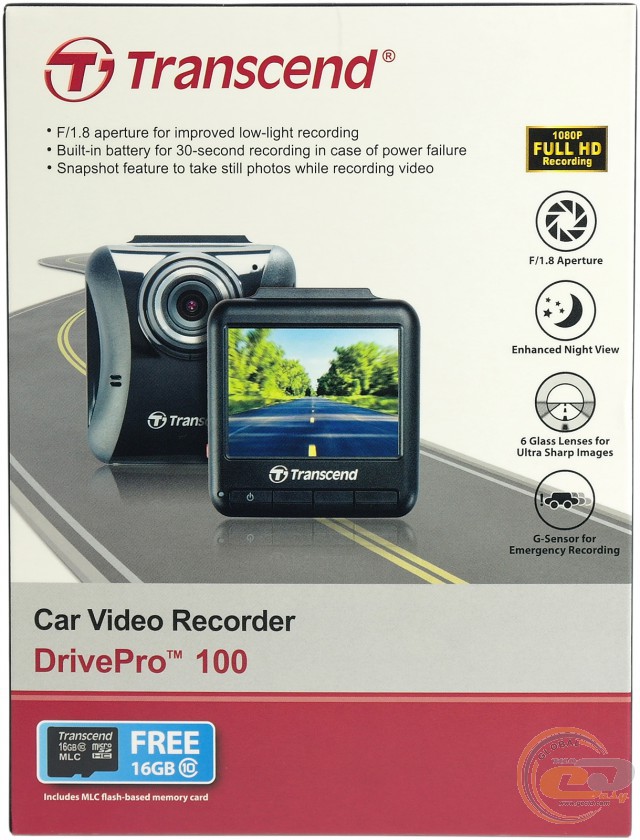 DVR Transcend DrivePro 100 comes in a colorful cardboard box which provides protection against shock and possible mechanical damages. Its front side contains a depiction of device, as well as a list of its key features:
1080P Full HD Recording - supports recording video in Full HD (1920 x 1080);
F/1.8 Aperture - using a lens with a large aperture (f/1.8);
Enhanced Night View - enhanced night recording mode;
6 Glass Lenses for Ultra Sharp Images - sensitive optics on the basis of 6 glass lenses, which enables the fixation of the image with good sharpness;
WDR technology - support for technology of wide dynamic range (WDR);
G-Sensor for Emergency Recording - automatic video recording during the operation of the sensor reloading (impact).
Separately we want to draw attention to the inscription «Free 16GB», which reports that supplied set includes the memory card of 16 GB.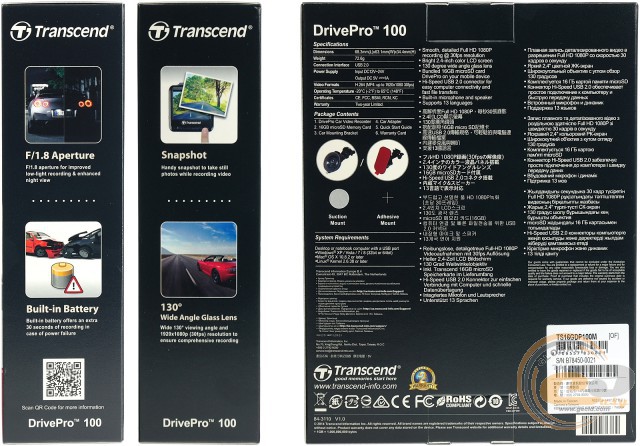 The rest of the package sides also were quite informative. Here there is a detailed description of the technical characteristics of the DVR, as well as the different images that demonstrate the advantage of a technology.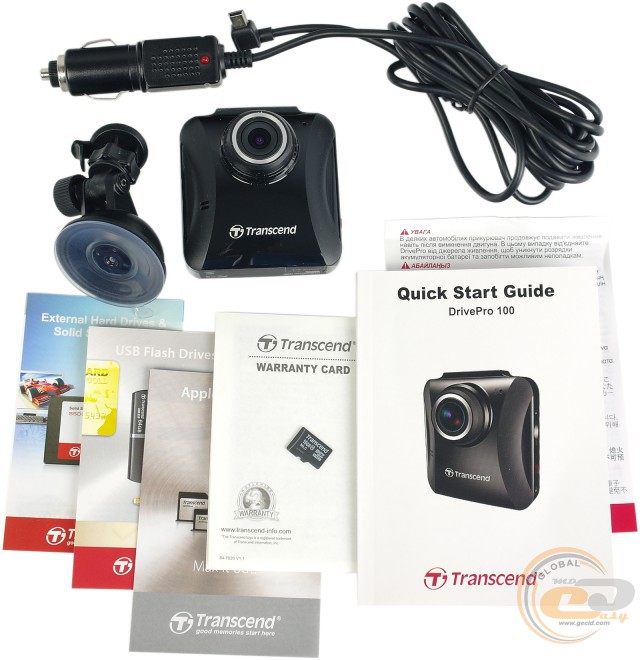 Package includes the following components:
bracket with suction cup to fix the device on the windshield;
car charger;
proprietary memory card microSD (Class 10) with capacity of 16GB;
warranty card;
User's Guide and other supporting documentation.
As can be seen from the photo, the manufacturer did not disappoint us in terms of the memory card. Inside the box we really found microSD flash drive. And this is not some kind of "cheapness" but a model with capacity of 16 GB, which belongs to a high performance class (Class 10). Such a gift is not often found in the package even of top DVRs. But at the same time we were a little disappointed due to the absence of USB-cable to connect the Transcend DrivePro 100 to a PC or laptop. It is quite cheap but competitive solutions include this item into a set of delivery.
To provide the power supplying the device uses a conventional motor plug and fairly long cable. The parameters of the input voltage are 12/24 V, output - 5 V and 1 A.
Design and operation conditions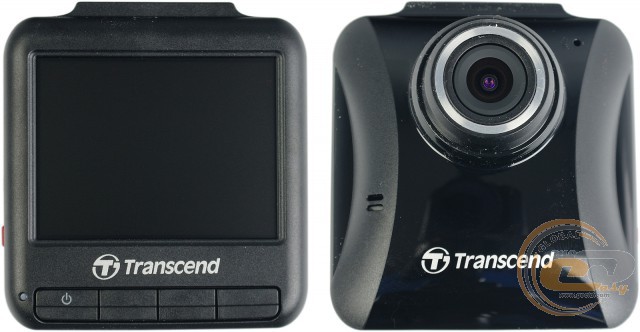 Model Transcend TS16GDP100M is implemented in a traditional case with pretty compact dimensions of 68 x 61 x 34 mm. Note that it does not influence the ergonomics and functionality of the device. Transcend DrivePro 100 is equipped with a 2.4-inch display and all the necessary controls which have easy access. We were pleased by build quality of the case: here is a thick plastic; panels are well processed; large gaps are absent. All this should ensure a long and trouble-free service of a DVR.
As you know it is quite difficult to evaluate the design, but in our opinion it is good. The combination of glossy and matte black panels looks fresh and modern, allowing Transcend DrivePro 100 perfectly fit into the interior of the car. However, in practice the use of high gloss surfaces in this case is not the best solution. They are constantly getting dirty, collecting dust and fingerprints.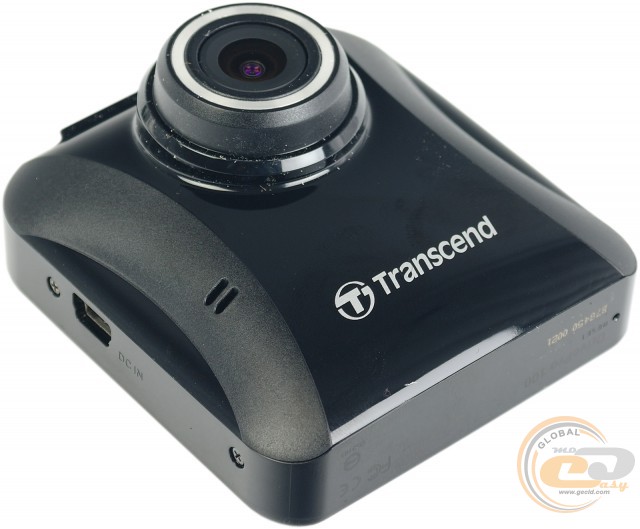 Transcend TS16GDP100M uses quality optics with wide viewing angle (130°) and a large aperture (f/1.8). Receiving portion is a 3-megapixel CMOS-sensor that can record video at a maximum resolution of 1920 x 1080 and a rate of 30 fps. There are six glass lenses, which should positively affect the quality of the image. Note that the case also contains a built-in microphone for voice recording and speaker. Looking ahead, we say that both cope perfectly well with direct tasks.
The basic process of capture and save video is cyclic. Although, if necessary, it can be run manually. Also the recording starts automatically when overload sensor (G-Sensor) is running, which tracks the acceleration of the car along the three axes. If there is a strong shift of value (for example, during the impact), the recorder starts the emergency recording. Recorded in this mode tapes are protected from automatic removal that ensures the safety information from the accident. Note that you can activate the emergency recording at any time and in manual mode. To do this, on the case of DVR is a special red button.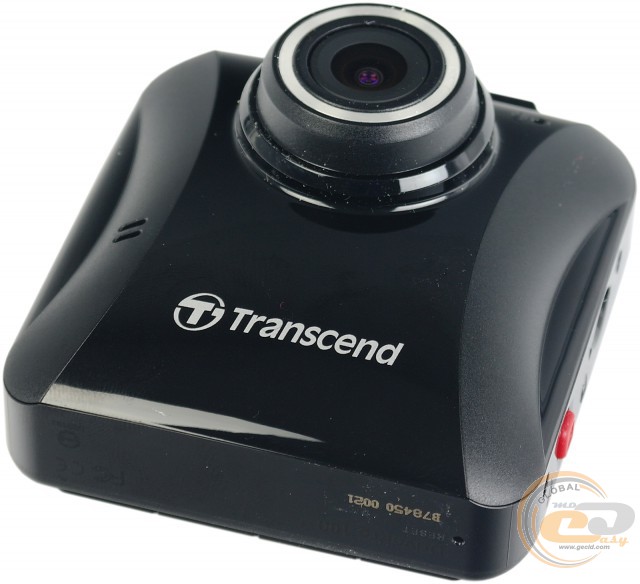 Other interesting features include presence of functions of the camera with the ability to take pictures in a resolution of 1920 x 1080. Moreover, this option is available not only to the interior of the car, but also can be used outside as a model Transcend DrivePro 100 is equipped with built-in battery with fairly large capacity (470 mA*h). This significantly expands the functionality of the DVR.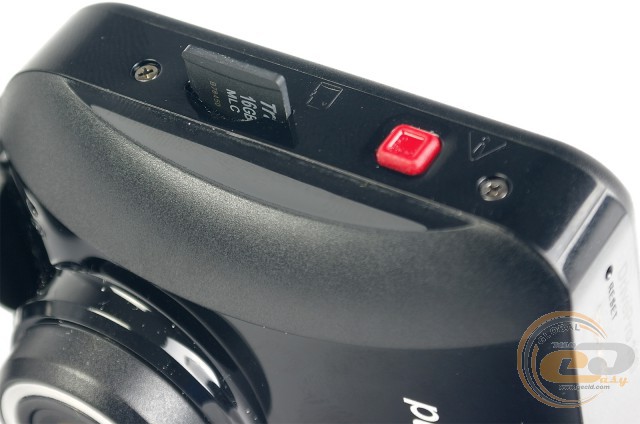 Internal memory of Transcend TS16GDP100M is not provided, and all the material is recorded on the external card of standard microSD. Its maximum volume can reach 32 GB. The manufacturer recommends the use the solutions of a class 6 or higher. In practice, the copy speed was about 12 MB/s, which is comparable to high-end devices from other manufacturers. Located next to the slot is the button to activate the process of emergency shooting.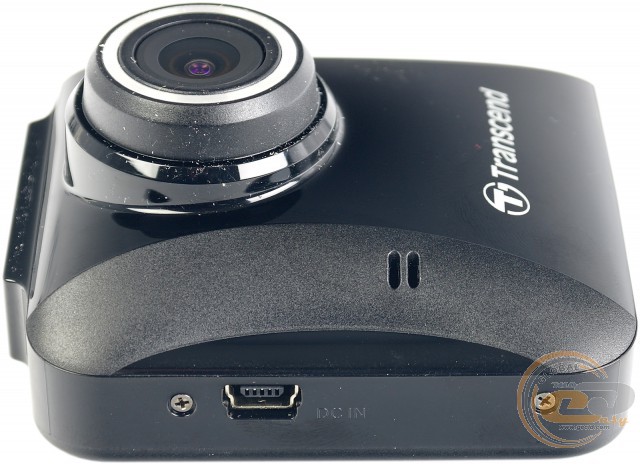 On the opposite side you can find a connector mini-USB, which is used to connect an external power supply or to transfer data to a PC. Note that the interface for direct image output from the DVR to a monitor or TV is not provided.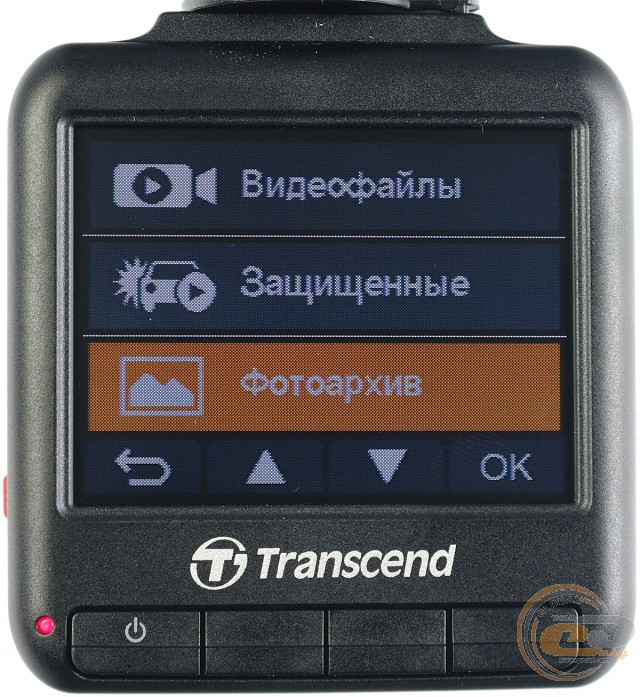 The main buttons used to menu navigate and select the mode of the device are centered below the screen. They are relatively large, easily find and accurately pressed. According to practice the use of them is quite comfortable even while driving. You may not pay attention to the absence of signs, because the screen constantly displays a little hint.
Also the display is quite good. Unfortunately, the manufacturer did not indicate its resolution, but visually it is much higher than that of competitive solutions. Reading of information, viewing of video or photos is realized without any difficulty.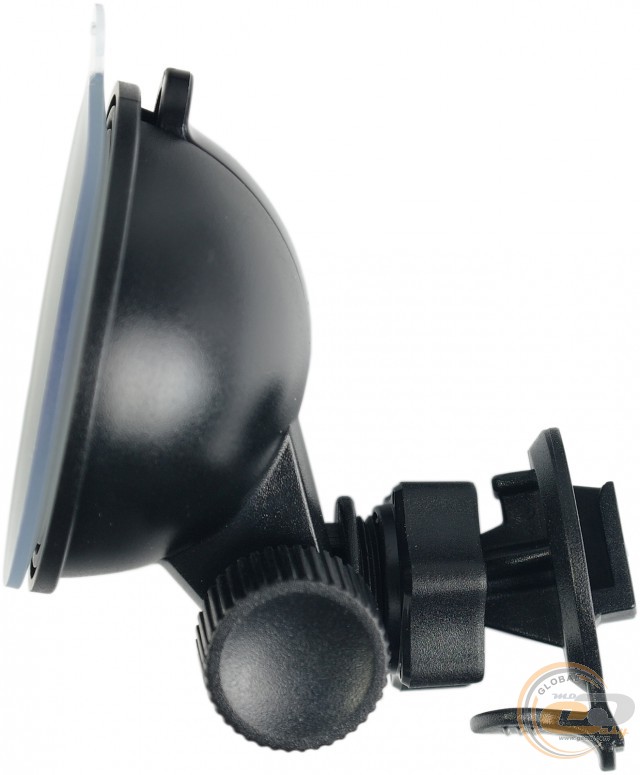 In order to install the tested model to the automotive glass there is a special bracket with a movable hinge at the end. Thanks to this ability Transcend DrivePro 100 can be easily configured in the most optimal space to the user, and in case of need it is possible in seconds to change position. DVR is located directly next to the rotary mechanism, so it should not have any spurious vibration and rocking while driving via a bad road.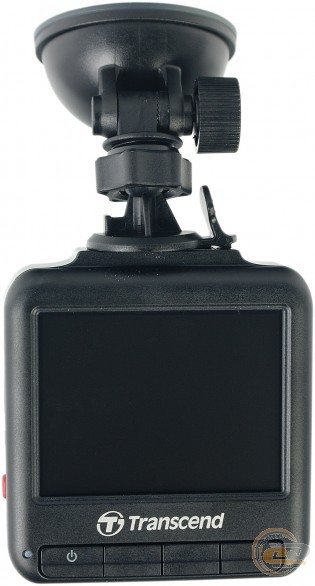 Due to a large suction cup the bracket is secured to the glass. This method is quite simple and at the same time reliable. In addition, it leaves no trace on the surface. As a result of the installation or removal process occurs rapidly and without any additional effort.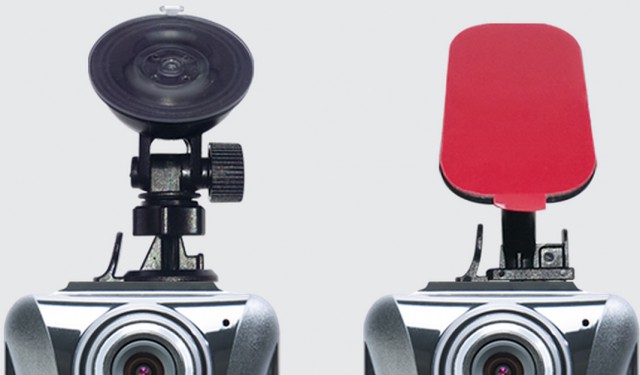 For those who do not like suction cup, the manufacturer has provided a different type of attachment. It is based on adhesive tape. According to its area, the reliability is also high. Information about the type of fastening is indicated on the back side of the packing.
Социальные комментарии Cackle