Case Fractal Design Define S Window: review and testing
The Swedish company Fractal Design is well known for cases that combine strict appearance and balanced organization of interior space. Not so long ago we have tested the model Fractal Design Define R4, which has received positive reviews due to its high quality.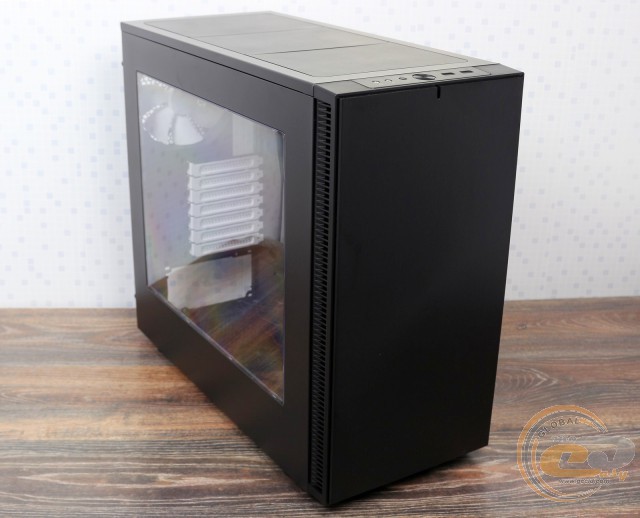 In this article the original case Fractal Design Define S Window will be considered. At first glance, it has no differences from most other models of format Middle Tower, except a large window on the side panel. But when look at its internal structure as it becomes clear that the manufacturer spent quite a lot of work in terms of increasing the convenience of assembly and operation.
The specs:
Producer and model

Fractal Design Define S Window

Case type

Middle Tower

Supported form-factors

ATX, microATX, Mini-ITX

Color

Black

Bays

3 х 3,5" / 2,5"

2 х 2,5"

Expansions card slot

7

Max length of video card

425 / 450 mm

Max height of CPU cooler

180 mm

External interfaces

2 x USB 3.0

2 х audio jacks

Preset fans

Front panel

1 х 140-mm

Back panel

1 х 140-mm

All spots for fans

Front panel

3 х 120 / 140-mm

Back panel

1 х 120 / 140-mm

Top panel

3 х 120 / 140-mm or 1 х 180-mm

Bottom panel

1 х 120 / 140-mm

Water cooling system support

Front panel

360 / 280 / 240 / 140 / 120 mm

Top panel

420 / 360 / 280 / 240 / 140 / 120 m

Bottom panel

120 mm

Back panel

120 / 140 mm

PSU

No

Material

Front panel

Plastic

Chassis

Steel

Case chassis thickness

0,8 mm

Sides thickness

0,83 mm

Case dimensions

233 х 451 х 520 mm

Net weight

9,1 kg

Producer website

Product page
Package and delivery set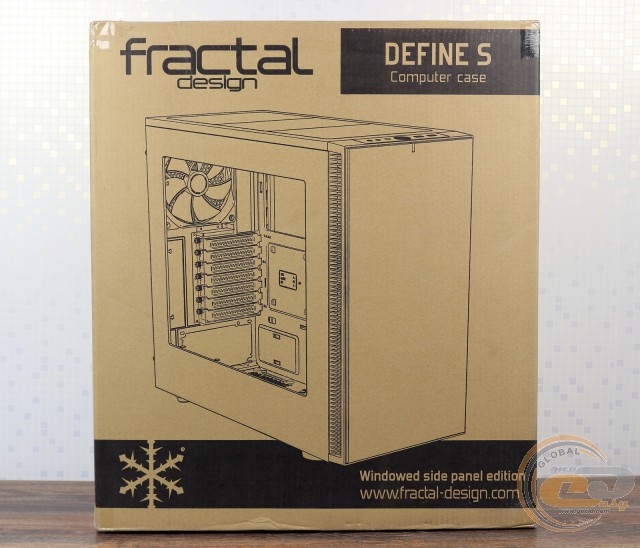 The case comes in a standard carton box. Its front side contains a schematic representation of model name. There is also stated that we have a modification with large window of clear plastic on the side panel.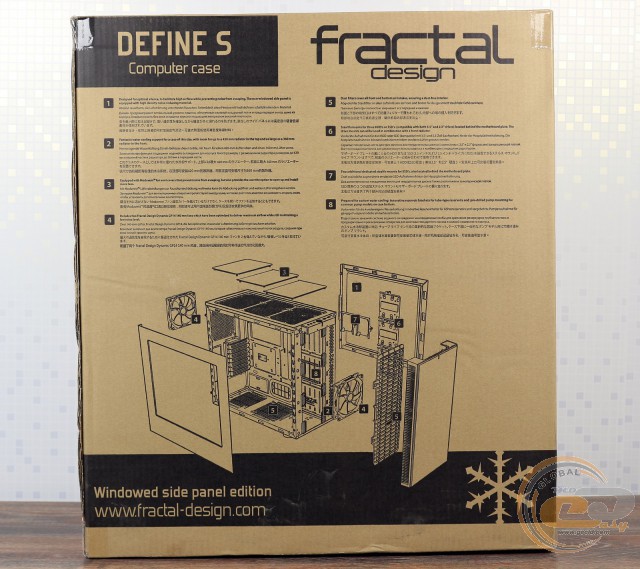 The reverse side of the box lists the main advantages of the new item:
design provides enhanced sound insulation and optimal air distribution;
support for water cooling systems with heatsink up to 420 mm;
use a proprietary sound insulating plug Moduvent for the vents on the upper part of the case;
presence of two fans Fractal Design Dynamic GP14 (140 mm);
presence of dust filters at the front and bottom panels;
hidden slots for five drives behind tray for the motherboard;
ability to install the tank and water cooling system pump.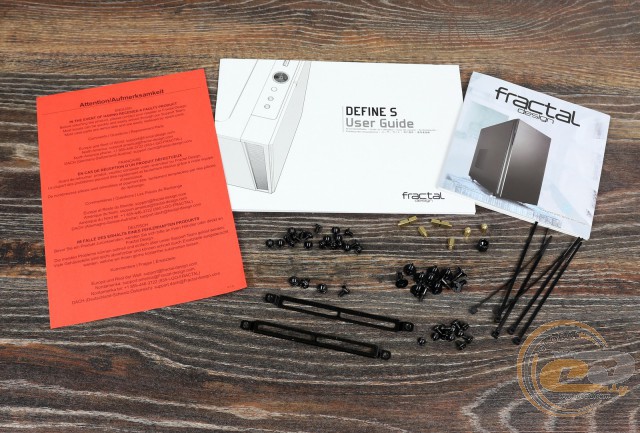 Supplied set of Fractal Design Define S Window includes the following components:
set of screws for mounting the motherboard, fans, drives and covers;
two fasteners for fixing the water cooling system tank;
cable ties;
user manual and quick guide.
Such a kit could meet the needs of almost any user, given the relatively simple structure of the body.
Design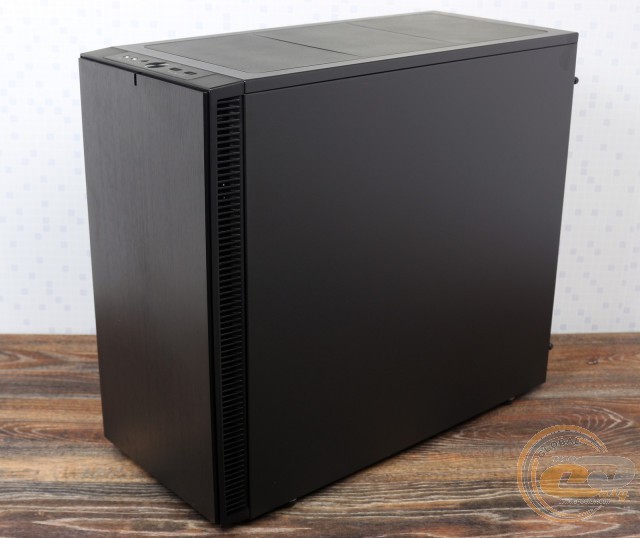 Model Fractal Design Define S Window has a strict and concise appearance. It is made of metal and painted in matt black, so fingerprints are hardly visible. The side faces of the front panel feature air vents for the free access of air inside.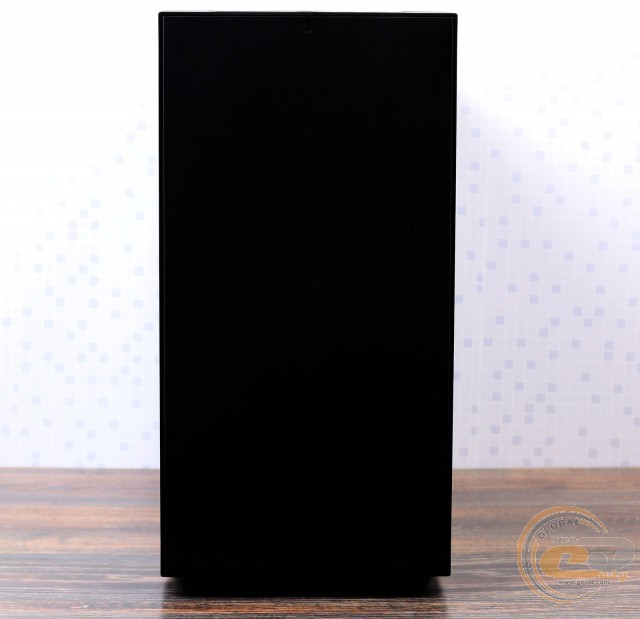 The front panel is completely solid and equipped with a door or bays for optical drives. The only functional element here is LED HDD activity indicator (it is located in the upper part) with moderate brightness.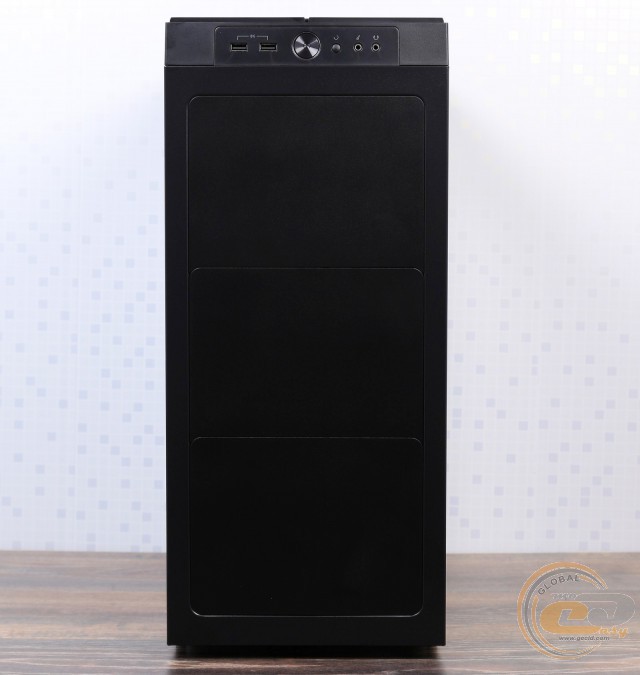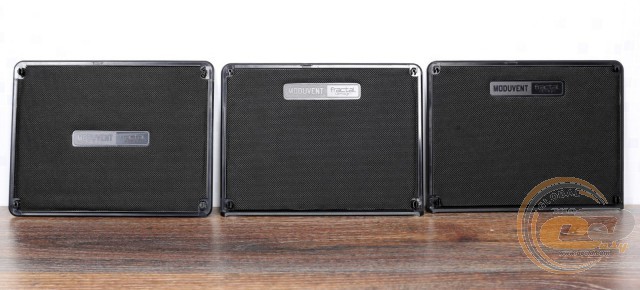 The upper wall of the case has three plastic plugs Moduvent. Their use improves sound insulation. If the priority is the improved cooling of the internal components, you can install the fan instead of one or more of them.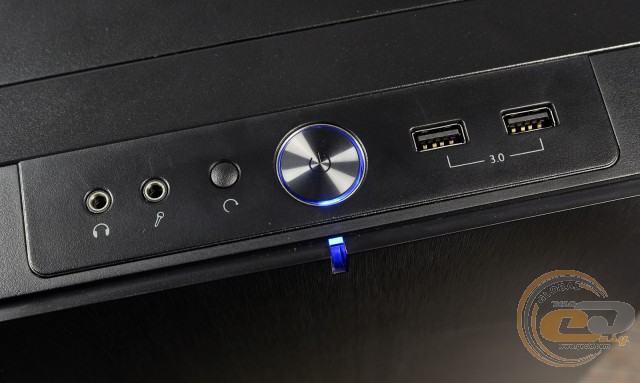 Near you can find a control panel that contains the following interfaces: two USB 3.0 ports, audio output for headphones and a microphone, as well as the power and reset buttons.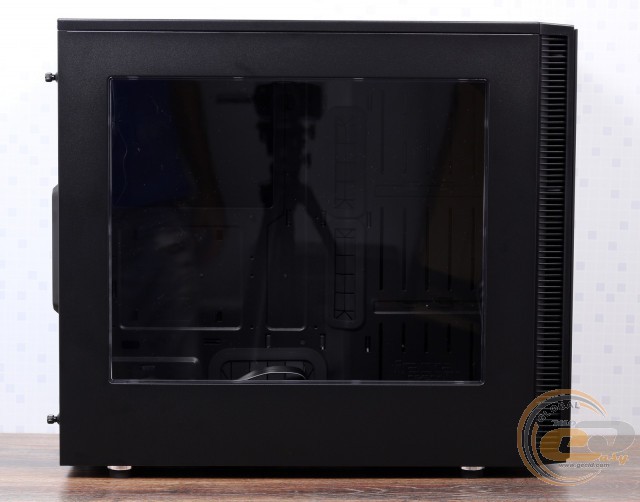 On the left sidebar there is a large transparent window, through which you can see the internal organization of the components in the system unit. In the presence of light-emitting diodes in such a solution would look quite impressive.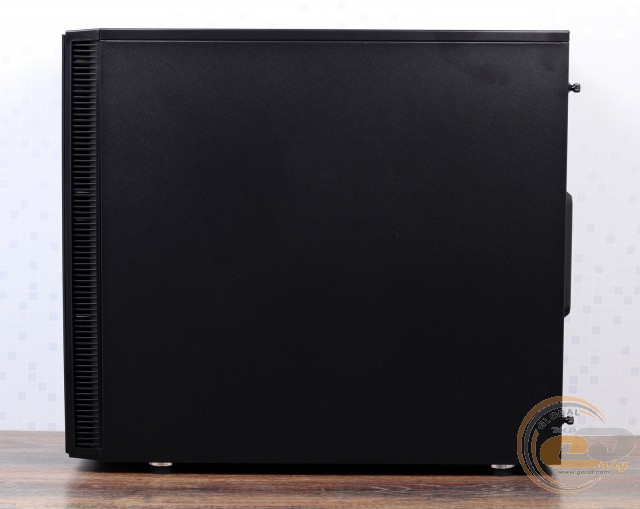 The right side wall is completely solid and secured with two non-removable screws, which can be unscrewed even without using a screwdriver.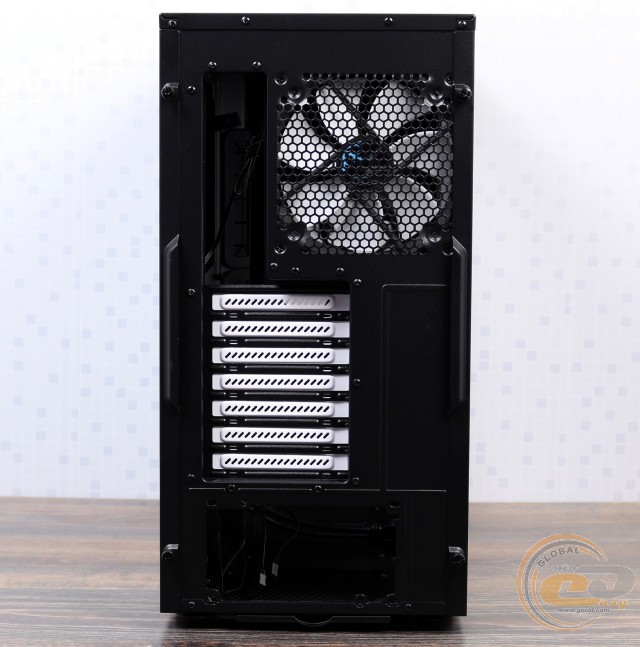 The lower part of the rear panel has a compartment for a power supply. Above there are reusable white plug for slots of expansion cards, which look quite original. At the top there is a place for the interface panel of the motherboard and to mount of the fan with diameter of 120 or 140 mm (includes spinner Fractal Design Dynamic GP14 diameter 140 mm).
The bottom of the case houses one seat for the fan diameter of 120 or 140 mm. Without its use the length of a compatible power supply increases from 170 mm to 300 mm. The bottom contains large dust filter (290 x 140 mm) for cleaning the airflow.
Four large rubber legs provide a stable body position on the surface and prevent damage. The height of the front and rear legs is 15 mm, but the diameter of rubber part is different: 25 mm at the front and 30 mm at the back.
Overall build quality is on the highest level. The gaps or unstable elements are absent.
Internal device
Fractal Design Define S Window allows to install ATX, microATX and Mini-ITX motherboard. The thickness of the metal chassis is 0.8 mm, and the side walls0.83 mm. The absence of the usual inside modules for storage allows you to install a video card an overall length of 425 mm (430 mm according to our measurements). If the front panel is used without fans or heat sinks of water cooling system, the available space is 450 mm (457 mm according to our measurements). Also, the case allows the use of a sufficiently large processor cooling system up to 180 mm (182 mm according to our measurements).
The right side wall is glued with sound-proof material, which is able to absorb the noise from your computer. Under the hood you can seats for up to five drives. In the upper right corner there is a large cutout that allows you to freely accommodate virtually any reinforcing plate on the back side of the motherboard. The hidden cable management is provided by a space width of 40 mm, as well as built-in tie to secure the wires.
The left side of a large niche contains seats for the 3.5 or 2.5-inch drives that are equipped with anti-vibration pads. The right side (under the motherboard) features two hidden bays for 2.5-inch SSD.
After removing the front panel, you can find three seats for fans with a diameter of 120 or 140 mm, covered with dust filter (190 x 130 mm) by a magnetic mount.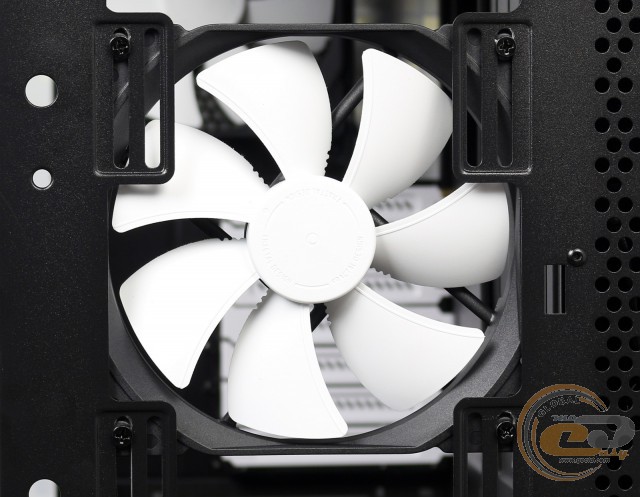 Fans are mounted in special skid. This allows you to adjust the position of their adjustment.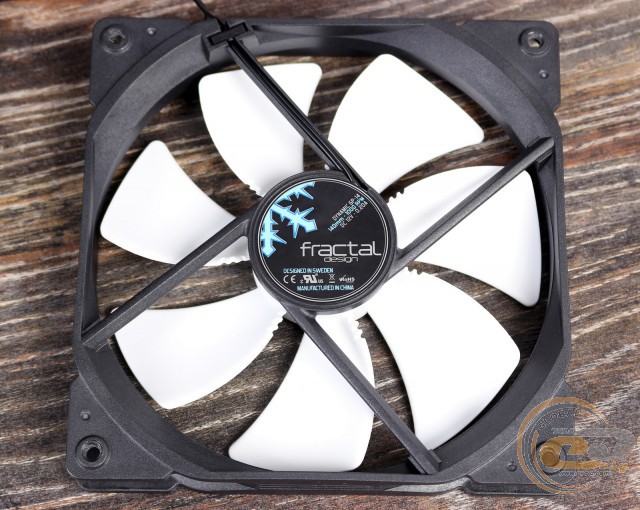 Primarily here is one fan Fractal Design Dynamic GP14 with diameter of 140 mm, similar to installed one on the back panel.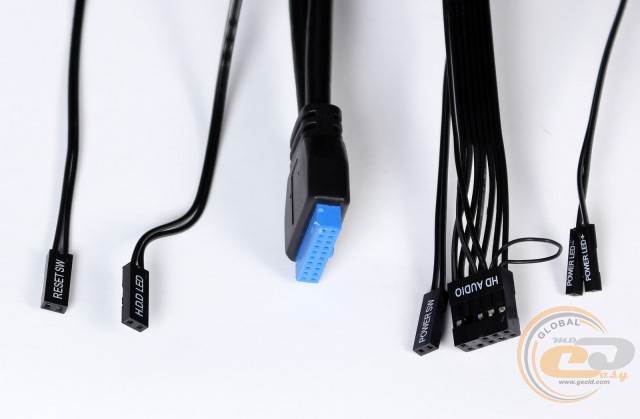 A set of cables to connect the front panel interface consists of:
connectors for connecting buttons Power/Reset and LED-indicators (length 800 mm);
port USB 3.0 (700 mm);
blocks for audio connectors (length 940 mm).
Additional adapters for fan with connectors MOLEX (PATA) are not included, so if you need to install more coolers, they can be purchased separately.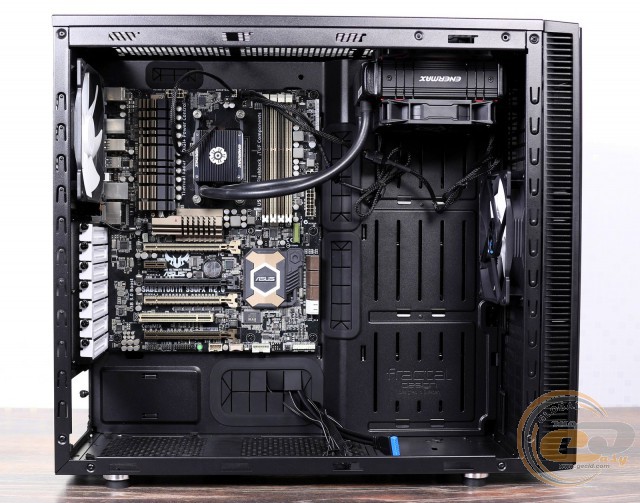 Assembling of a computer in the case Fractal Design Define S Window is very easy. This is mainly due to the absence of module for drives and optical drives. In our case, we have large ATX motherboard and water cooling system to cool the processor. Its radiator occupies one bay for 140-mm fan.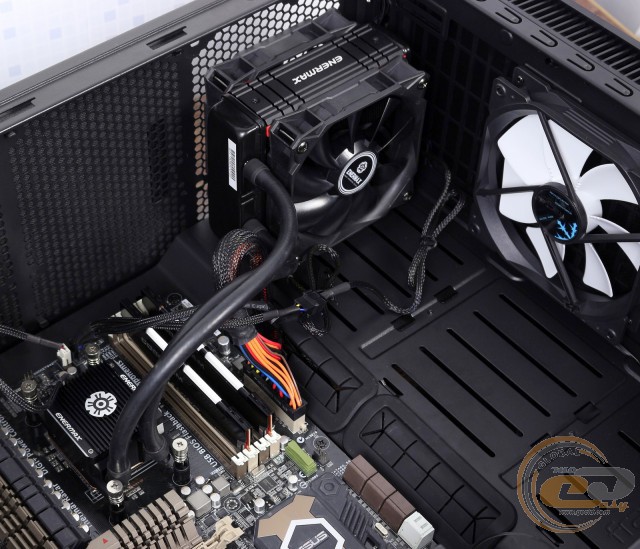 As you can see, inside there is a room for air circulation, and the installation of five additional fans. In general, here you can fit overall water cooling system consisting of a liquid reservoir, and the full length of the pump.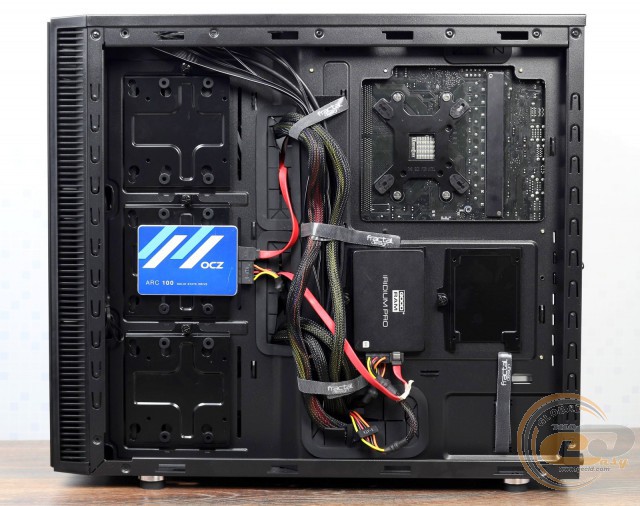 Социальные комментарии Cackle