CPU cooling system Noctua NH-D15S: review and testing
Two-fan cooler Noctua NH-D15 released last year is another masterpiece of the Austrians. It deserves the title of one of the most high-performance air coolers on the market. However, because its large dimensions it has a disadvantage traditional for top solutions in face of overlapping slots for memory modules. Because of this, the use of a cooler in the original configuration, together with overclocking memory modules is not possible.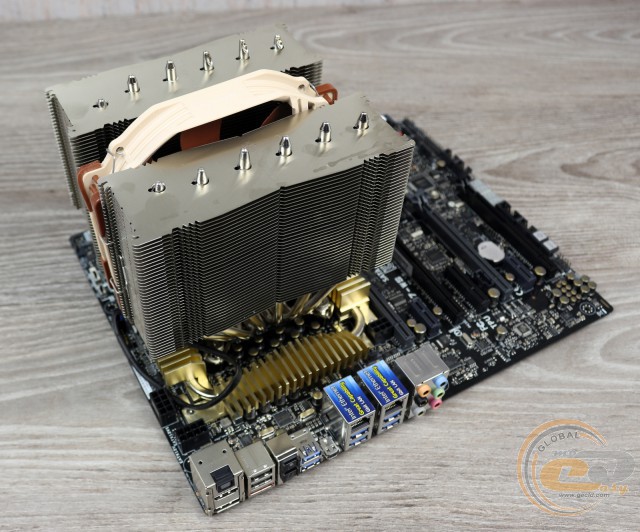 So a year later the Noctua range of cooling systems was expanded by two-tower similar solutions, but with one inner fan. Its title has a letter «S», indicating compatibility with a high standard RAM. And due to the fact that the basis for this solution is a model Noctua NH-D15, the name of the new product fully reflects this fact. So meet the cooler Noctua NH-D15S, who came in our test lab.
The specs:
Producer and model

Noctua NH-D15S

Support for CPU sockets

AMD Socket AM2 / AM2+ / AM3 / AM3+ / FM1 / FM2 / FM2+

Intel Socket LGA1156 / LGA1155 / LGA1150 / LGA1151 / LGA2011-0 / LGA2011-3

Max TDP of supported processors (without overclocking), W

AMD

220

Intel

140

Heat pipe

Material

Nickel-plated copper

Quantity

6

Diameter, mm

6

Radiator material

Aluminum

Thermal interface

Thermal compound Noctua NT-H1 in syringe

Fan model

Noctua NF-A15 PWM

Fan supply voltage, V

12

Feed current, А

0,13

Power consumption, W

1,56

Max fan rotation speed, rpm

excluding L.N.A.

1500

including L.N.A.

1200

Min fan rotation speed, rpm

300

Noise level, dB

excluding L.N.A.

24,6

including L.N.A.

19,2

Air flow, m3/h

excluding L.N.A.

140,2 (82,5)

including L.N.A.

115,5 (67,9)

Fan dimensions, mm

140 х 150 х 25

Bearing type

SSO2

Mean time before failure, h

150 000

Power socket

4-pin

Dimensions, mm

Excluding fan

160 х 150 х 135

Including fan

165 х 150 х 135

Weight, g

Excluding fan

980

Including fan

1150

Warranty, years

6

Producer website
Package and content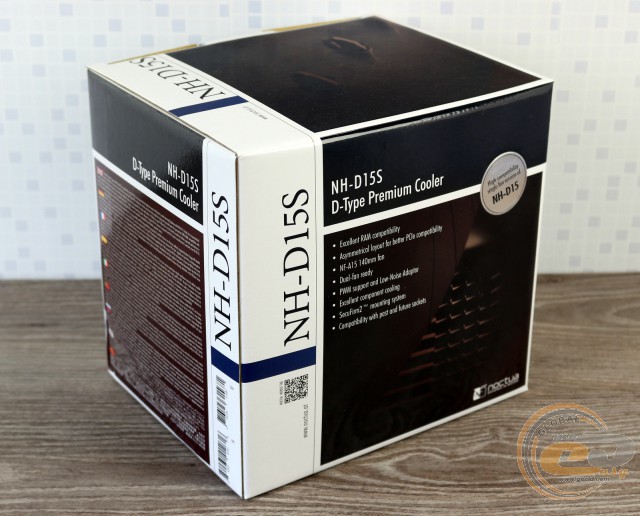 Package of Noctua NH-D15S is performed in terms specific to the manufacturer: familiar colors combined with excellent content that allows you to learn more about the device before opening the package.
Thus, the front side informs us about the most important advantages of new item:
Excellent RAM compatibility - excellent compatibility to memory modules up to 65 mm;
Asymmetrical layout for better PCIe compatibility - asymmetric design provides improved compatibility with the upper expansion slot PCIe;
NF-A15 140mm fan - a high-quality fan Noctua NF-A15 PWM, characterized by the use of technology to optimize the acoustic AAO (Advanced Acoustic Optimisation) is used for active cooling;
Dual-fan Ready - complete brackets and design features allow you to set a second 140 or 120-mm fan for more efficient cooling;
PWM-support and Low-Noise Adaptor – support for PWM control of fan speed, as well as the presence of LNA-adapter included to reduce noise (rotation speed decreases from 1500 to 1200 rpm);
Excellent component cooler - allows use of a large fan to cool components located around the processor socket (for example, radiators, processor power subsystem and RAM modules);
SecuFirm2 mounting system - a proprietary mounting system SecuFirm2 provides excellent compatibility with a variety of current and future processor sockets (the latter refers to Intel LGA1151 processors Intel Skylake);
Compatibility with past and future sockets - mounting Noctua NM-I3 (not included) allows you to apply updates to legacy platforms Intel LGA775/LGA1366.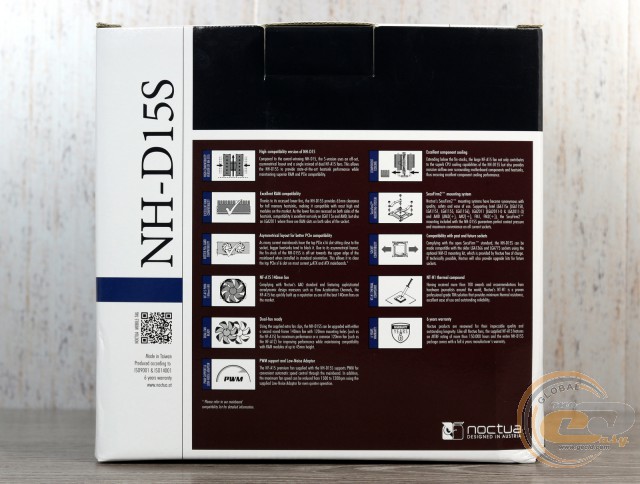 The reverse side has above features described in detail but only in English. In addition here are two important advantages, common to the entire range of CPU coolers Noctua. It is the presence of the bundled syringe with thermal compound Noctua NT-H1, which has excellent thermal conductivity properties as well as for the novelty of 6-year warranty.
The sides of the box provide a detailed specification of the cooler Noctua NH-D15S, supplied list, an indication of the size and general description of its features in nine languages. It also provides information on the difference from Noctua NH-D15.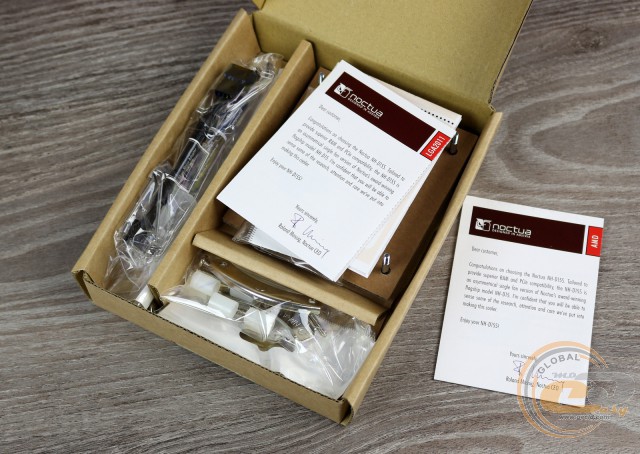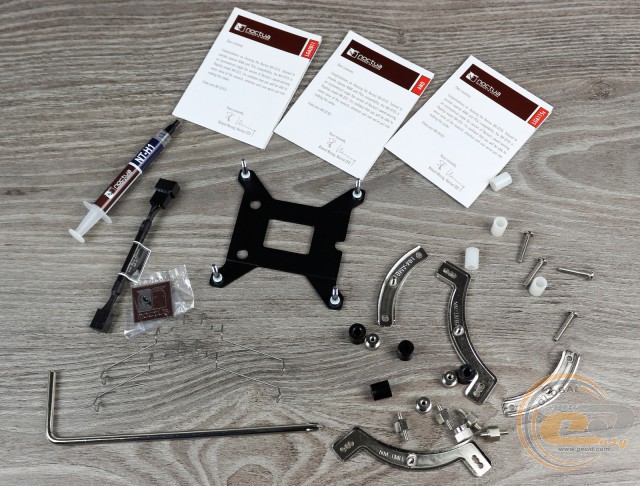 All components hidden inside cardboard boxes are divided into three compartments. In addition, they are carefully laid out in bags. It is also reflected in the complete set which includes all the necessary and a number of additional components:
reinforcement plate for the platform Intel;
metal fasteners for different platforms;
set of racks, screws and nuts;
two brackets for mounting an additional fan;
screwdriver;
thermal compound Noctua NT-H1 in the syringe;
aAdapter to reduce speed (LNA);
metal logo Noctua;
installation guide to different platforms (AMD, Intel LGA115x and LGA2011).
The list of components is a reference, as a potential buyer can immediately proceed to quick and easy installation of new item, organizing the preferred cooling method.
Design and structure

Radiator of cooler Noctua NH-D15S has a two-tower structure, typical of many high-end coolers. A distinctive feature is the heavy (980 grams) and considerable size (160 x 150 x 135 mm). Despite this, the manufacturer promises a good compatibility with nearby components.
There are six copper heatpipes with a diameter of 6 mm at the base of the radiator. Each side has aluminum plates of 0.5 mm thickness, which are located at a distance of 1.8 mm from each other. A total number of plates is 45: 38 wide and 7 more narrow. The use of the latest ensures compatibility with overclocking RAM modules up to 65 mm.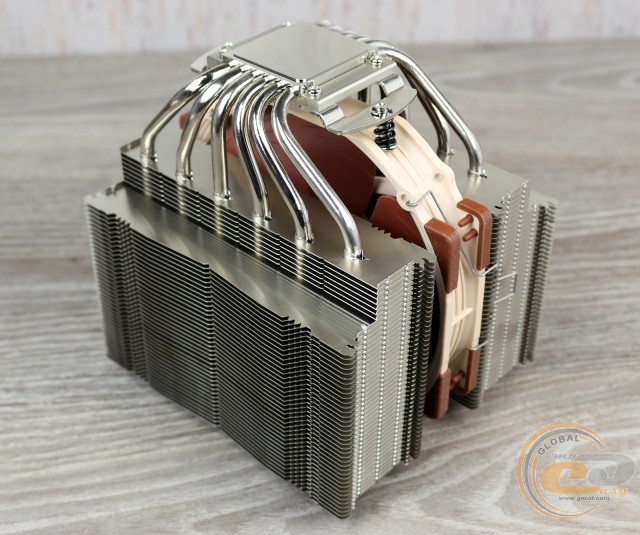 The fan is visibly out at the bottom of the radiator. This ensures air flow not only for the direct cooling plates and pipes, but also near the CPU components. A very practical solution, because during acceleration additional cooling of power subsystem elements will be very positive.
Used heat pipes are carefully covered with a layer of nickel to prevent oxidation. To improve the thermal conductivity the manufacturer also used a solder in places of contact with the base plate and heatsink, which should most positive impact on the cooling efficiency.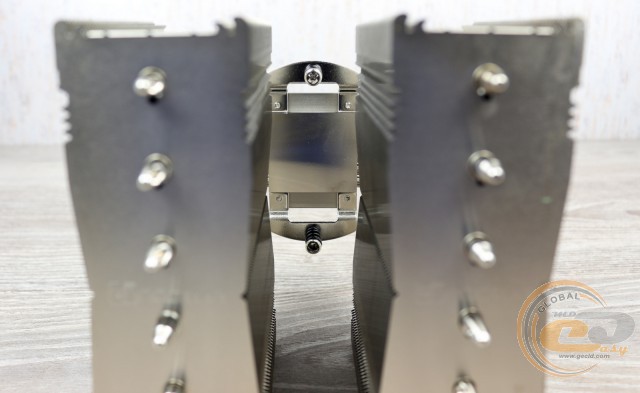 Metal staples are fastened to the base using the screws. They are used for fixing the radiator in the installation process. Access is more complicated due to dimensions of the cooler, but complete screwdriver should fully compensate this feature.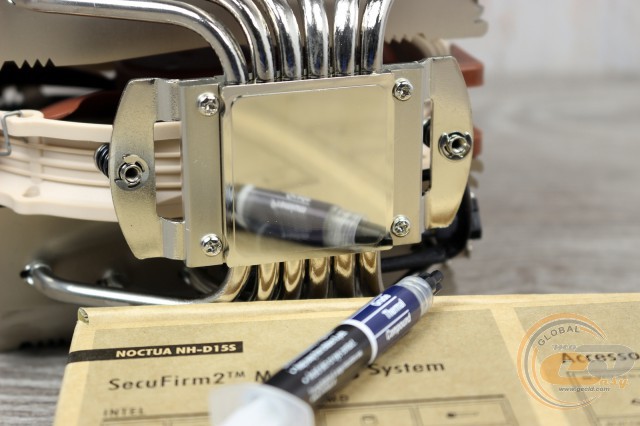 The copper base of the cooler has dimensions of 40 x 38 mm. It is covered with a layer of nickel, which has an excellent polishing for the best contact with the heat-spreading lid processor.
As we mentioned, the use of only one inner fan is not the only step of manufacturer for a better compatibility with the cooler surrounding components. Recall that the cooler Noctua NH-D15 overlaps the upper expansion slot. This fact is not critical for the majority of full-size ATX-boards where it is represented by connector PCIe x1 or absent at all. But for the owners of microATX-solutions, where the first slot is usually assigned e to install the video card, this fact is the reason for the search of a suitable coolant. Now it is a cooler Noctua NH-D15S.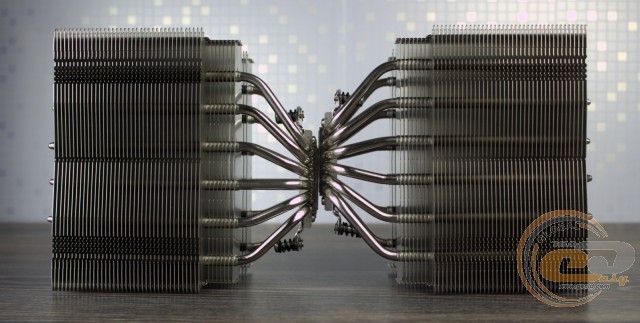 To the left radiator Noctua NH-D15S, to the right Noctua NH-D15
Its heat sink has a similar size, but the base has off-center design. Thus, the cooler board is approximately 15 mm above, freeing the access to the first expansion slot in the majority of platforms.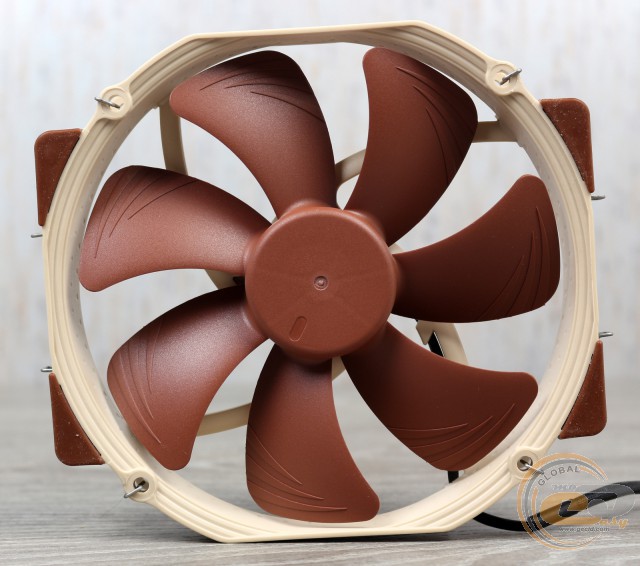 The active element in the composition of the test cooling system is a fan Noctua NF-A15 PWM. If you are familiar with the features of Noctua fans, then in this model you will find all features and proprietary developments. So, the base of turntable is self-stabilizing bearings of second-generation (SSO2), which helped to achieve excellent performance MTBF - 150000 hours. Also, here is a technology of acoustic optimization AAO (Advanced Acoustic Optimisation), designed to improve the noise performance and efficiency through a number of features: the use of anti-vibration pads at fan fixing spots, stepped inner framework and recesses on the inner surface of the case. Also note the technology Flow Acceleration Channels, presupposes the existence of special channels on the blades. More information can be obtained from the corresponding review.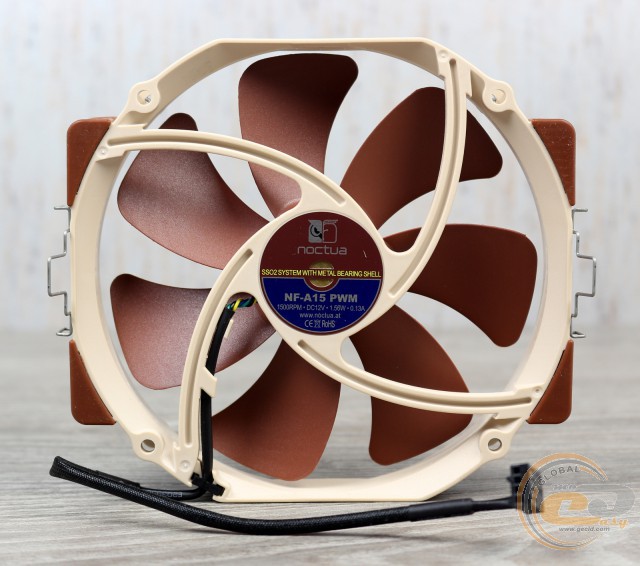 Fan Noctua NF-A15 PWM has a small capacity (1.56 W) and correspondingly low maximum speed (1500 rpm), which is designed to provide comfort noise parameters. For lovers of absolute silence the system unit contains bundled L.N.A.-adapter designed to reduce the speed to 1200 rpm. In addition, the flexible adjustment of the speed parameters is carried out with the support of PWM modulation, as evidenced by the use of 4-pin connection. The length of the appropriate cable is 20 cm.
Социальные комментарии Cackle