Philips 288P6: monitor review
Standard 4K Ultra HD continues to gradually conquer only gaming audience. According to practice, a large screen space can be claimed by different spheres of human activity: from the usual entertainment and finishing work in the professional applications. This is especially true for engineering, graphic and other specialized packages with a lot of different tabs and windows with tools. In short, the producers of monitors have all grounds to saturate the market with solutions supporting resolutions 4K Ultra HD.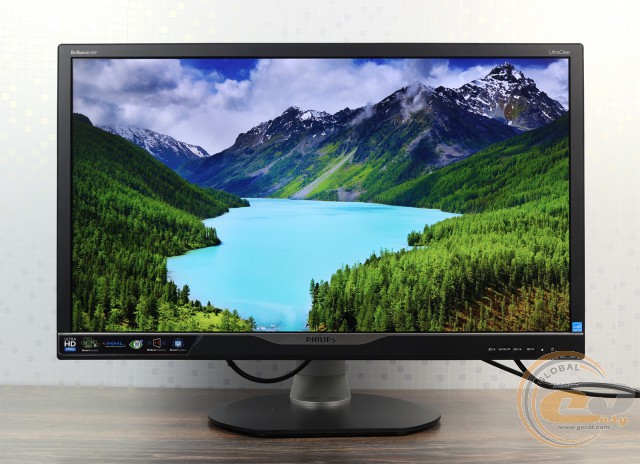 This time or testing we have a 28-inch Philips 288P6 with a retail price of about $ 560.
The specs:
Model

Philips 288P6

Matrix

TN+Film

Backlight

WLED

Screen surface

Matt

Panel size, in/cm

28 / 71,1

Aspect ratio

16:9

Maximum resolution

3840 х 2160

Optimal frequency at maximum resolution, Hz

60

Pixel size, mm

0,160

Brightness, cd/m2

300

Contrast range (static/dynamic)

1 000:1 / 50 000 000:1

Minimum matrix response time (GtG), ms

1

Frequency range of vertical sweep, Hz

56 – 76

Viewing angles (horizontal/vertical) up to contrast > 10:1,°

170 / 160

Video interfaces

1 x HDMI / MHL

1 x DisplayPort 1.2

1 x DVI Dual-Link

1 x D-Sub

Audio interfaces

2 х 3,5-mm audio

USB 2.0

2

USB 3.0

2

Built-in speakers capacity, W

6 (3 х 2)

Power consumption, W

50,5

Wall mount

Yes (VESA 100 x 100 mm)

Dimensions including stand, mm

659 х 423 – 573 х 273

Weigh including stand, kg

8

Producer website

Product page
Package & delivery set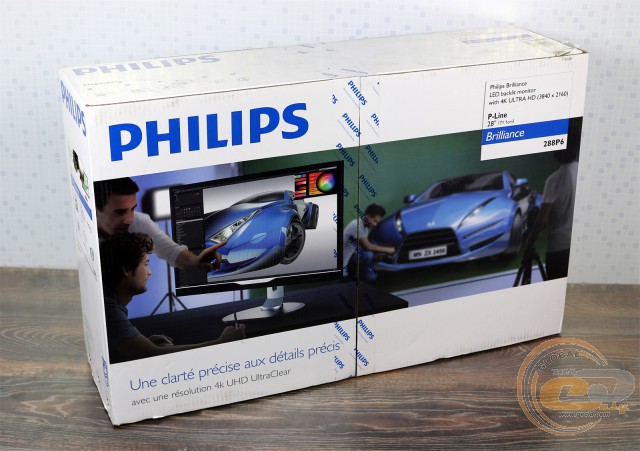 Monitor Philips 288P6 comes in a white cardboard box. This side walls contain an image of the device and its brief characteristics. Of course, the most important of them are the presence of a large screen with a diagonal of 28 inches and a support for resolution of 4K Ultra HD (3840 x 2160).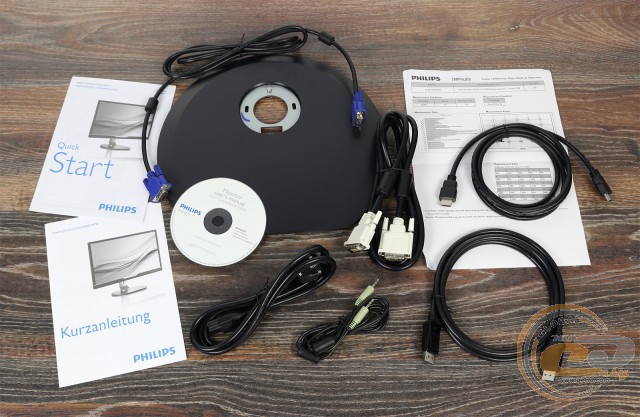 Inside the package we found the stand, cables with a variety of video interfaces (D-Sub, DVI, HDMI, DisplayPort), audio cable, power cord, CD with software and related documentation.
Design & features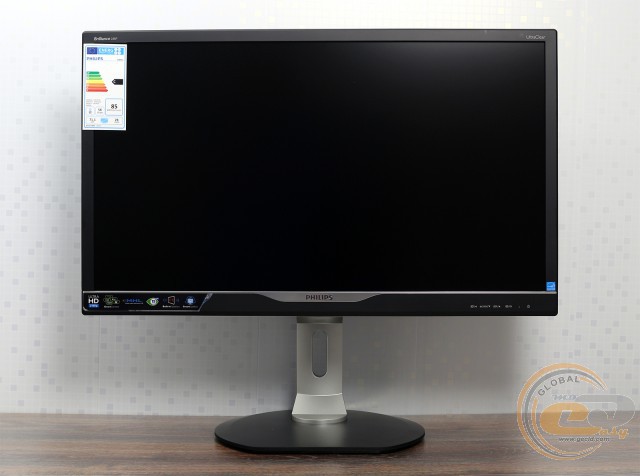 The main accent of model Philips 288P6 is usability and reliability. Nevertheless, its design isn't a dull; it is standard for this type of monitors. Despite the thick frames around the display the case is comparatively thin and light - just 49 mm and 5.24 kg, respectively, and the power supply is located inside. On top 28-inch matrix features anti-glare matte panel. The remaining components of Philips 288P6 also don't have glossy surfaces.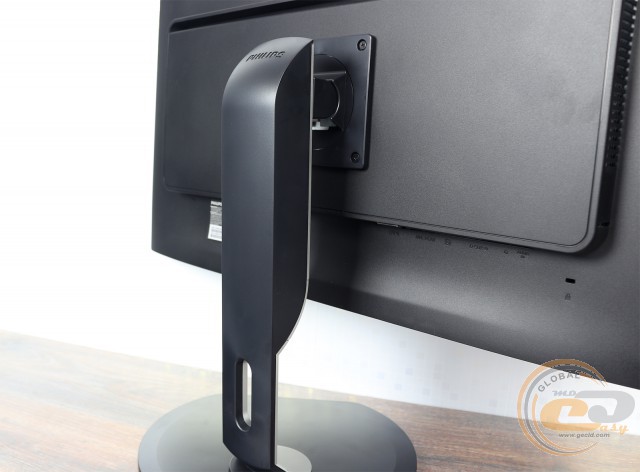 The screen is based on a fairly massive leg that due to the specialization of the monitor is made removable and has a lot of adjustments.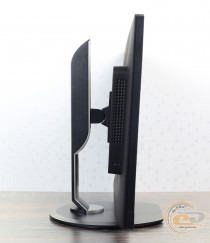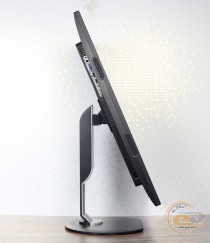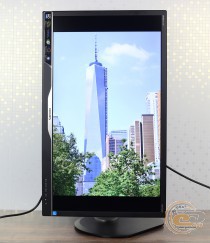 You can change the height of the screen (0 ... +150 mm), the angle of inclination (-5 ... +20 °) and orientation (portrait or landscape). The stand contains integrated hinge, allowing Philips 288P6 rotate around its axis at 65° to both sides. Also note that the leg is removable, and the type of fastening on the back of the monitor is compatible with VESA 100 x 100 mm. That is, the novelty can be placed not only on the table, but also to the wall.

Model Philips 288P6 is equipped with a fairly advanced system of interfaces. It features analog connector (D-Sub) and digital (DVI Dual-Link, DisplayPort and HDMI). The last one supports MHL standard, which means that the monitor can be connected directly to a compatible tablet or smartphone and use it as the source.
Multimedia features are extended by two built-in speakers with total capacity of 6 W and a headphone output. Sound transmission is realized through one of the digital ports or through a conventional audio jack (need to use the appropriate supplied cable). The sound quality of built-in speakers cannot be compared with full desktop speakers. Nevertheless, their capacity is quite enough for viewing movies from the Internet or videoconferencing. The volume is also quite sufficient for background music in the workplace.

The model Philips 288P6 contains integrated USB hub on four ports, two of which correspond to the specifications USB 3.0, and other two to USB 2.0. The yellow plug supports fast recharging of connected gadgets. Also recall that the USB-cable is not included into delivery set and you need to buy it separately.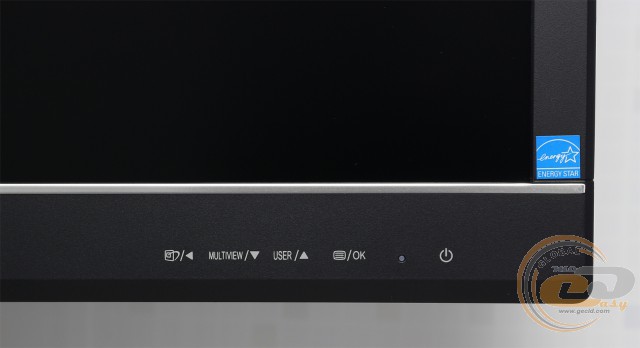 Manage and configuration of the monitor is realized by means of sensor elements made on the lower part of the body.
Screen menu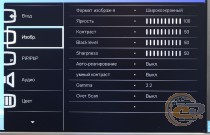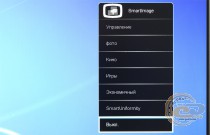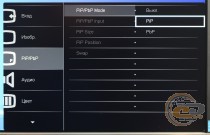 The OSD features a simple and convenient structure: tabs are to the left, and contents to the right. Selection of preset profiles is carried out not from the menu but due to the use a separate button on the monitor.
If you need to manually configure the monitor, the manufacturer has provided a lot of tools: in addition to the traditional settings for brightness, contrast, and basic colors intensity (R, G, B) here you can find options to select the sharpness, gamma, color temperature, black level.
Also note the support for functions of "Picture in Picture» (PIP) and "Picture by Pictures» (PBP). Using it you can simultaneously display two different sources, which is especially important for monitors, possessing such a large screen area.
Testing
For testing of model Philips 288P6 we have used a mini-computer ZOTAC ZBOX nano ID65 PLUS. Full description of the research methodology is available in the corresponding article.
For testing we have a sample "00", produced in November 2014. We want to note the possibility of other versions of this model. Therefore, we can not guarantee comparability of results from different versions of Philips 288P6.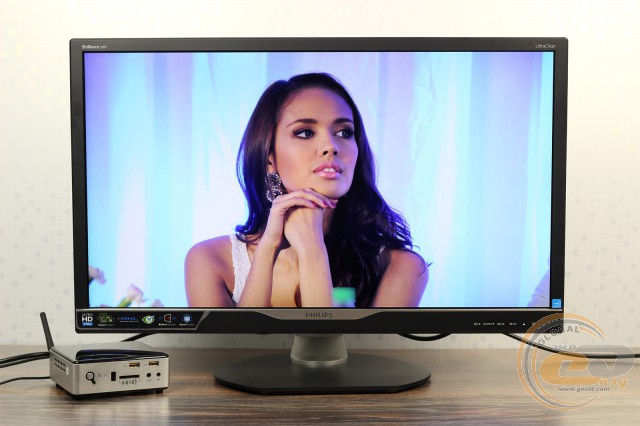 The model features seven modes: "Management", "Photo", "Movie", "Game", "Economy», «SmartUniformity» and "Off". Their characteristics are summarized in the following table:
| | | | | | | | |
| --- | --- | --- | --- | --- | --- | --- | --- |
| | «Management» | «Photo» | «Movie» | «Game» | «Economy» | «SmartUniformity» | «Off» |
| White area brightness, cd/m2 | 199,5 | 247,3 | 200,6 | 273,4 | 110,7 | 186,4 | 243,3 |
| Black area brightness, cd/m2 | 0,259 | 0,336 | 0,339 | 0,340 | 0,156 | 0,342 | 0,339 |
| Contrast coefficient, х:1 | 770 | 737 | 592 | 804 | 709 | 545 | 718 |
| Color temperature of white dot, К | 7006 | 7098 | 9260 | 6703 | 7111 | 6635 | 7221 |
| | | | | | | | |
Социальные комментарии Cackle