Motherboard ASUS H170M-E D3 based on Intel H170: review and testing
Less than a month after the announcement of a new family of processors Intel Skylake for platform Socket LGA1151 and flagship chipset Intel Z170, when Intel introduced another chipset Intel H170, intended for the midrange. The new product is the successor to last year's new Intel H97. It offers similar opportunities with high-end Intel Z170, which will enable manufacturers to produce well-equipped motherboard models at a more reasonable cost.
Unlike Intel Z170, the new chipset supports only 16 lines PCI Express 3.0, and one SATA Express and two USB 3.0 ports less. Additionally, there is no possibility of distribution lines between slots PCI Express 3.0 x16. According to the company Intel Overclocking features should be limited by the GPU overclocking.
As a result, comparison table of the two chipsets is as follows:
| | | |
| --- | --- | --- |
| | Intel Z170 | Intel H170 |
| Chipset lines PCI Express 3.0 | 20 | 16 |
| Distributions schemes of CPU lines PCI Express 3.0 | х16 / х8+х8 / х8+х4+х4 | х16 |
| Max quantity of SATA 6 Gb/s ports | 6 | 6 |
| Max quantity of SATA Express (x2) ports | 3 | 2 |
| Support for technology Intel RST intended for drives (M.2 x4 and SATA Express x2) | 3 | 2 |
| Maximum quantity of USB 3.0 ports | 10 | 8 |
| Overall number of USB (USB 2.0 + USB 3.0) ports | 14 | 14 |
Let us move on to a detailed description of the product ASUS H170M-E D3, which is a little more affordable version of the ASUS Z170M-E D3 and designed for the building of compact average models.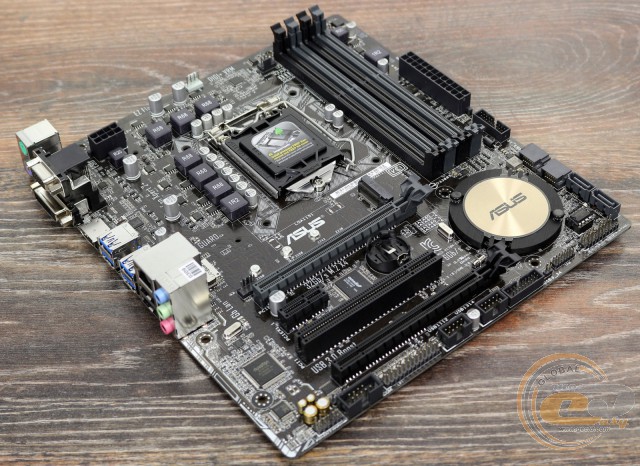 The specs:
Producer and model

ASUS H170M-E D3

Chipset

Intel H170

CPU socket

Socket LGA1151

Supported CPUs

Intel Core i7 / Core i5 / Core i3 / Pentium / Celeron 6th gen

Memory frequency

1866* / 1600 / 1333 MHz

(*OC)

Memory support

4 x DDR3 DIMM-slots with memory support up to 64 GB

Expansion slots

1 x PCI Express 3.0 x16

1 x PCI Express 3.0 x16 (mode х4)

1 x PCI Express 3.0 x1

1 x PCI

Disk subsystem

Intel H170 chipset supports:

1 x M.2 Socket 3 (M.2 2242, M.2 2260, M.2 2280)

4 x SATA 6 Gb/s

LAN

1 x Realtek RTL8111H (10/100/1000 Мb/s)

Sound subsystem

Codec Realtek ALC887

8-channel sound

Power

1 х 24-pin ATX connector

1 x 8-pin ATX12V connector

Fans

1 x CPU fan connector (4-pin)

2 x system fan connectors (4-pin)

Cooling

Aluminum heatsink on the chipset

Extenral I/O

2 x PS/2

1 x HDMI

1 x D-Sub

1 x DVI-D

1 x LAN (RJ45)

4 x USB 3.0

2 x USB 2.0

3 x audio jacks

Internal I/O

2 x USB 3.0, each with support of two USB 3.0

2 x USB 2.0, each with support of two USB 2.0

4 x SATA 6 Gb/s

1 х socket TPM

1 х COM

1 х LPT

1 x S/PDIF Out

1 x connector of audio output to front panel

1 x set of front panel connectors

1 х connector to connect temperature sensor

1 x CMOS reset

BIOS

128 Mb Flash ROM UEFI AMI BIOS

PnP, ACPI 5.0, SM BIOS 3.0, DMI 3.0, WfM 2.0

Packaging

User's manual

Warranty card

Disk with drivers and utilities

2 x SATA cables

1 х interface panel plug

Form-factor, dimensions

microATX

244 x 244 mm

Producer website

ASUS
Updated versions of BIOS and drives are available on support page
Package and content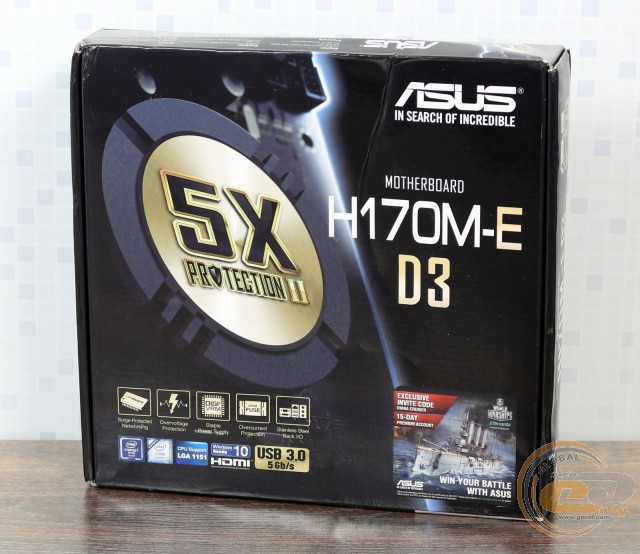 Motherboard ASUS H170M-E D3 comes in the familiar cardboard box decorated with the graphic printing in the corporate style. A key element of the design of the front panel, in addition to the names of the manufacturer and model of the device is image of round radiator on the chipset with logo of technology ASUS 5X Protection II. Additionally here you can pay attention to the support of Windows 10 and video output HDMI. Also pay attention to the presence of bundled gift for lovers of the game World of Warships: they will get bonus codes on 15 days of premium access and premium protected cruisers Diana.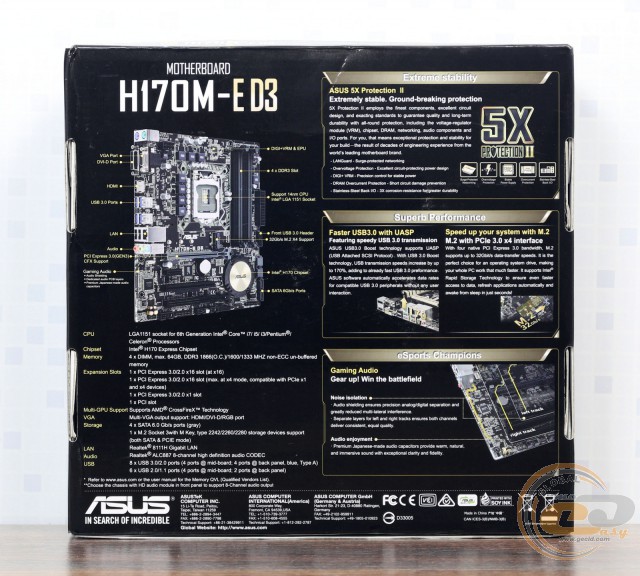 The reverse side of the package features the image of the product, its brief specifications as well as the key features and benefits:
ASUS 5X Protection II involves the use of digital power subsystem ASUS DIGI+ VRM, protection of memory modules from the short-circuit current, LAN-interface from surge and key components from excessive stress, as well as the presence of a steel interface panel with a high resistance to corrosion processes.
ASUS USB 3.0 Boost – support for protocol UASP is realized to speed interface USB 3.0.
M.2 with PCIe x4 - interface M.2 located on the surface of the motherboard has a capacity of 32 Gb/s.
Gaming Audio - preset audio codec Realtek ALC887 offers support for eight-channel sound. In order to avoid interference caused by electromagnetic interference, a special screening technology is applied. Nichicon audio capacitors are used to ensure maximum audio quality. In addition, the left and right audio channels are on different layers of the PCB that minimizes crosstalk.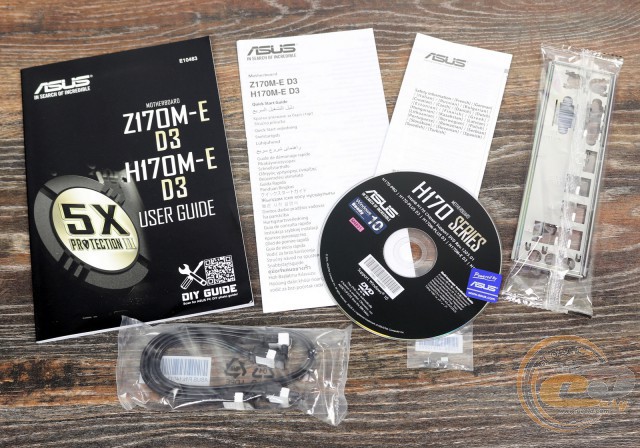 The box with the ASUS H170M-E D3 contains only the most necessary accessories: CD with drivers and utilities, user guide, two SATA cables and the interface panel plug.
Design and features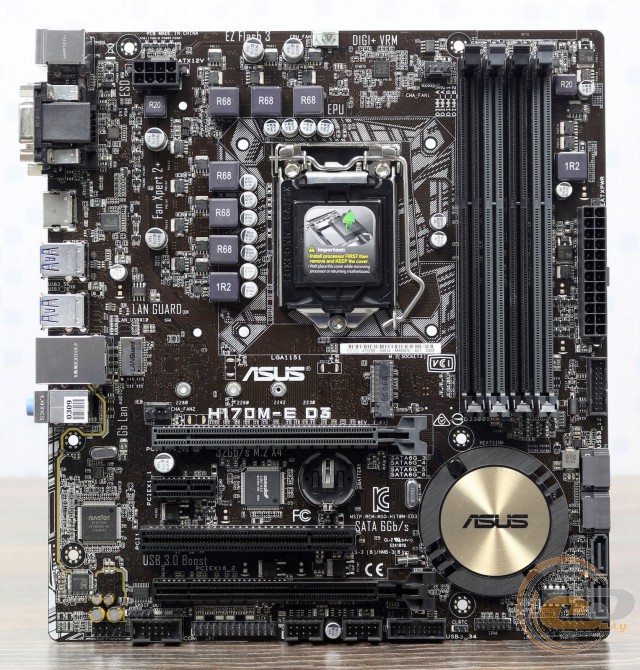 The product is realized on a compact dark brown circuit board made in microATX format (244 x 244 mm). It has a restrained design of the bronze round radiator that makes the appearance of the motherboard more interesting.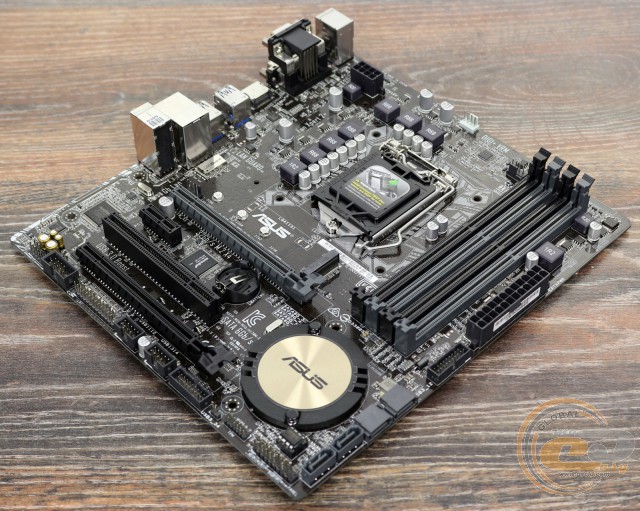 The arrangement of the on-board elements is implemented at a high level, so any problem with this aspect of usage won't arise, because all of the ports are located at the optimal positions, closer to the edges of the PCB.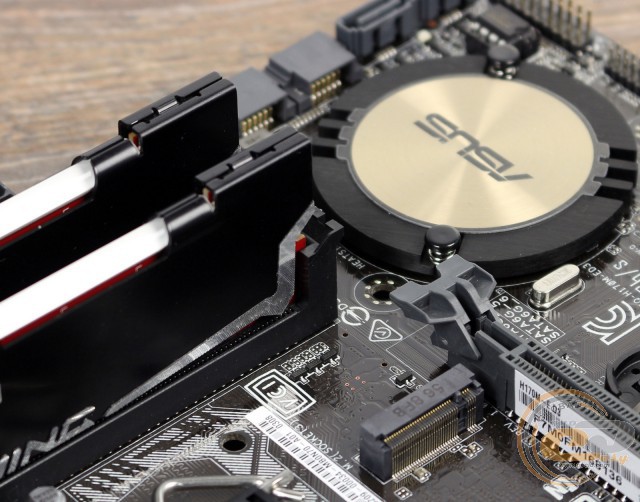 The manufacturer equipped the DIMM-slots by latches on only one side made to sure the replacement of memory modules.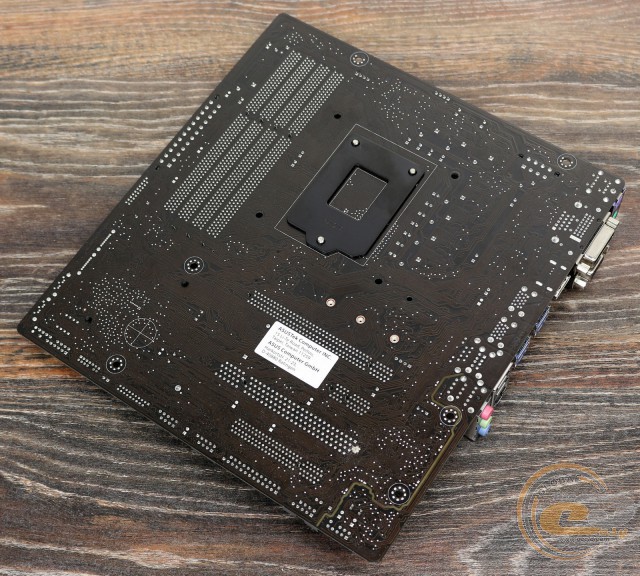 On the reverse side of the PCB, you can pay attention to the standard base plate of the socket, as well as the fact that the only chipset heatsink is attached with plastic clips.

The bottom of the printed circuit board ASUS H170M-E D3 has the following connectors: connecting bock of audio connectors on front panel, S/PIDIF Out, CMOS reset, ports COM, LPT and TPM, as well as the connecting block of the front panel. Additionally, we note two pads to activate the ports USB 2.0 and one USB 3.0. Total number of USB 2.0 ports is six: four internal and two on the interface panel. As for USB 3.0, there are only eight: four internal and four external. All of them operate through a set of system logic.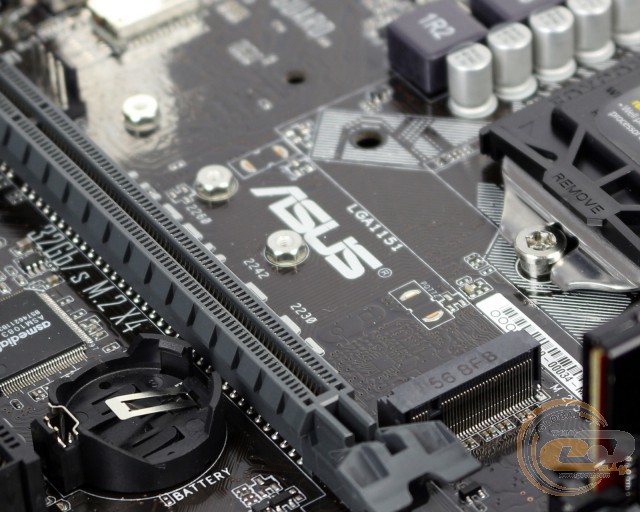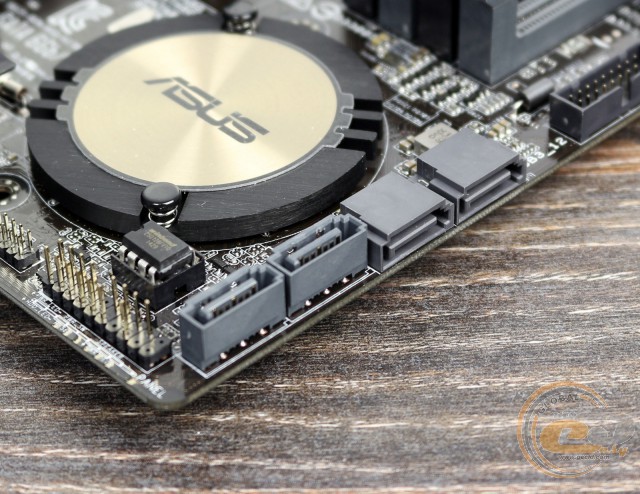 The possibility of organizing a disk subsystem is presented by connector M.2 x4 Socket 3 with carrying capacity 32 Gb/s (supported SSD-drives M.2 2242, M.2 2260, M.2 2280), four ports SATA 6Gb/s. There is support for arrays RAID 0 SATA, RAID 1, RAID 5, and RAID 10.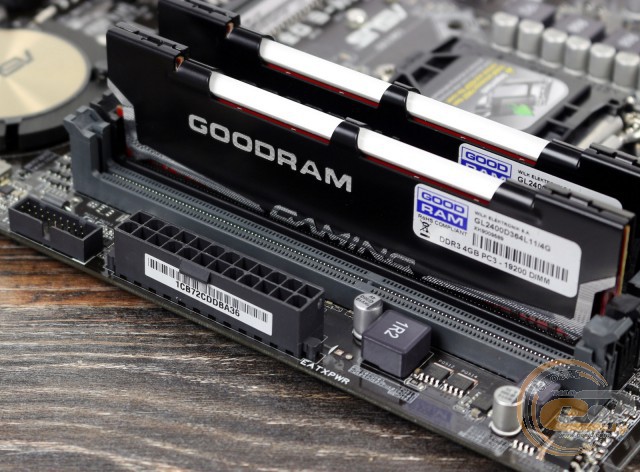 Mainboard ASUS H170M-E D3 is equipped with four DIMM-slots for modules RAM standard DDR3, which for convenience are equipped with latched on one side only. RAM can operate in dual channel mode. Its implementation is realized by installation either in the first and third or second and fourth slots (or takes all available ports). Modules operating at frequencies up to 1866 MHz in overclocking mode are supported. The maximum amount of memory can be up to 64 GB, which is enough for almost any tasks.
Additionally note the module for connecting remote panel with ports USB 3.0.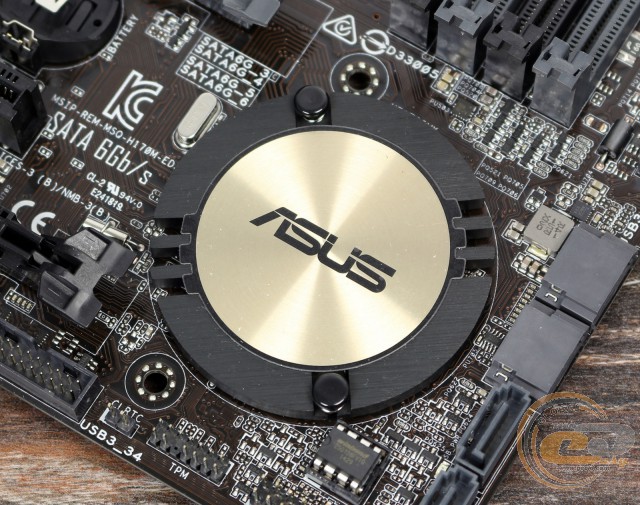 The cooling system of this motherboard has one aluminum radiator that carries out the removal of heat from the chipset Intel Z170. In the process of testing we've recorded the following temperature:
heat sink for cooling chipset – 32.7°C;
FETs of the processor power subsystem – 57.2°C;
chocks of the processor power subsystem – 48.6°C;
PWM-controller – 37.9°C.
These results clearly indicate the higher efficiency of the cooling system, indicating the proper selection of materials and design.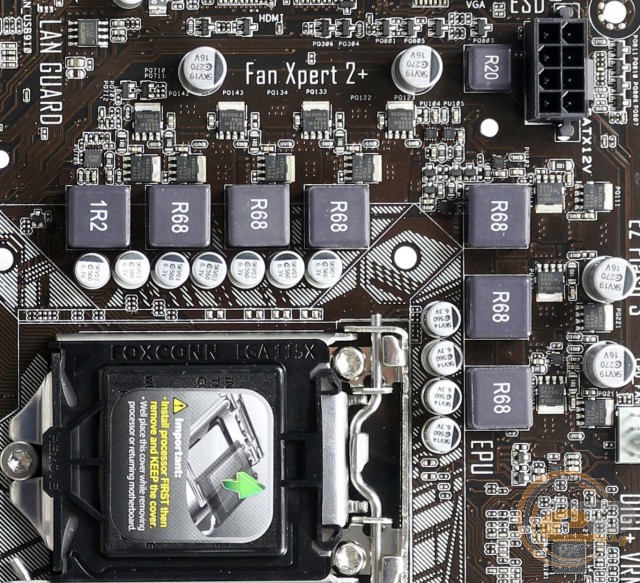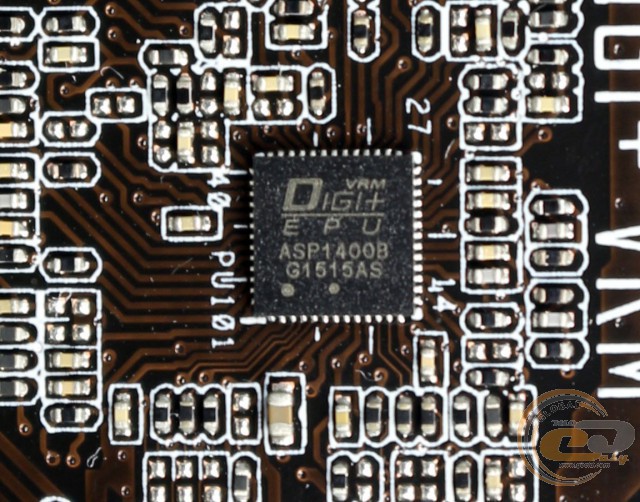 CPU power is carried out by 7-phase scheme for cores and additional nodes. Converter is based on a digital PWM controller ASP1400B with built power control subsystem Extreme Engine DIGI+. All components have a high degree of reliability: durable Japanese solid capacitors, effective MOSFETs and chokes NexFET MicroFine, providing stable operation even at high amperage. The main 24-pin and additional 8-pin connectors are used to provide supply voltage.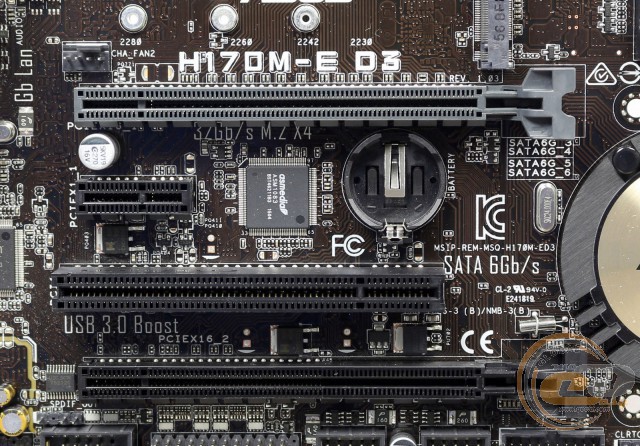 The possibility of expanding the functionality of the motherboard ASUS H170M-E D3 is presented by four slots:
PCI Express 3.0 x16;
PCI Express 3.0 x1;
PCI;
PCI Express 3.0 x16 (mode x4);
Since the chipset Intel H170 does not support the distribution lines between slots PCI Express 3.0 x16, the second is connected to the chipset and its capacity is limited to four lines. At the same time the user can install two video cards in the mode AMD CrossFireX, but the pattern of their work (x16 + x4) will not allow to fully unlock the potential of such bond.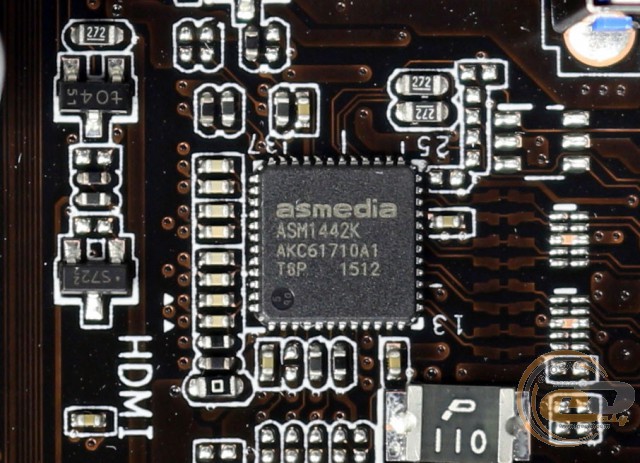 If you decided to take advantage of the graphics core integrated into the CPU, you have three video outputs: HDMI, DVI-D and D-Sub operated by the chip ASMedia ASM1442K.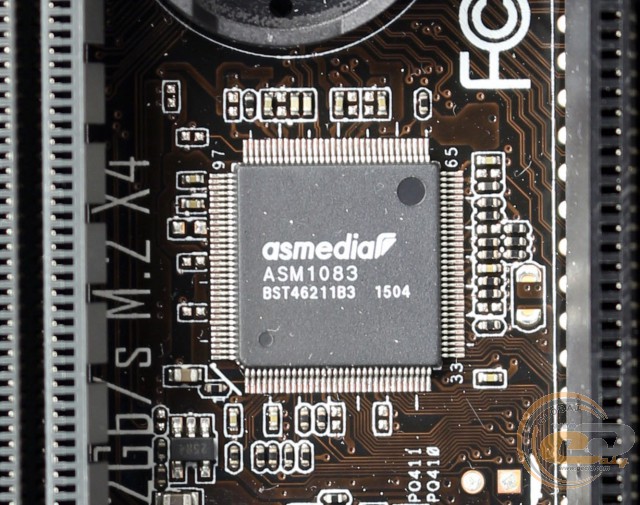 Since the chipset Intel H170, as well as its older version of Intel Z170, does not support the interface PCI, and operation of the relevant slot is implemented using a bridge ASMedia ASM1083.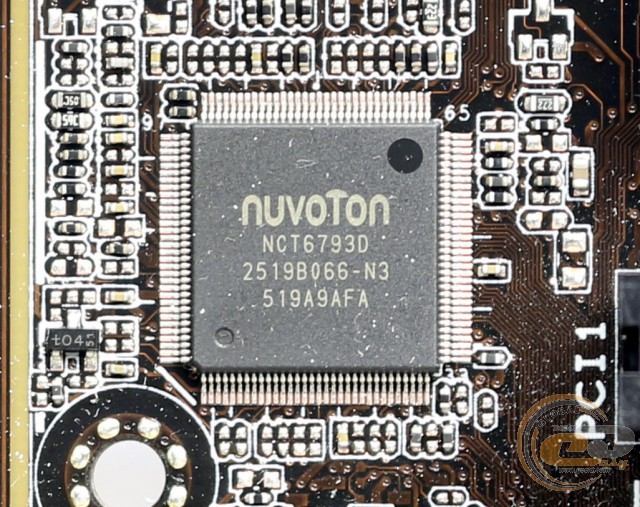 Multi I/O opportunities are based on chip NUVOTON NCT6793D, which controls the operation of the system fan, ports COM, LPT and PS/2, and provide monitoring.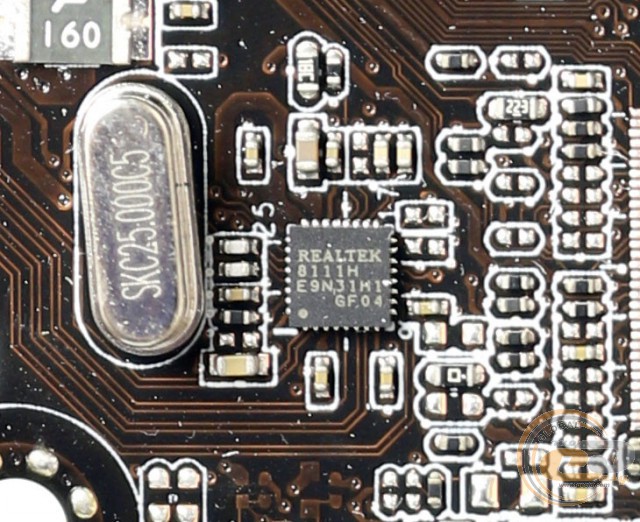 To support network connections there is a gigabit LAN-controller Realtek 8111H.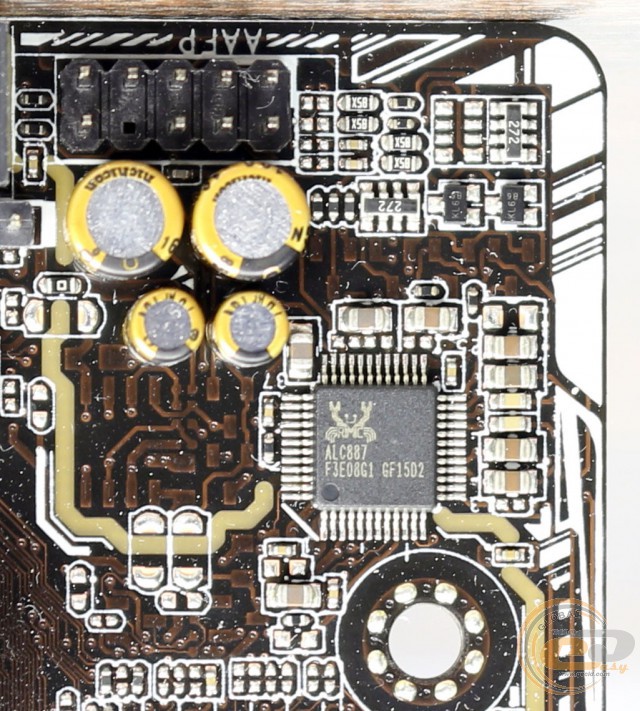 Sound subsystem of motherboard based on the 8-channel HDA-codec design Realtek ALC887, which supports the audio formats 2/4/5.1/7.1 and has a number of proprietary features. The design uses a proprietary concept Gaming Audio described at the beginning of the review.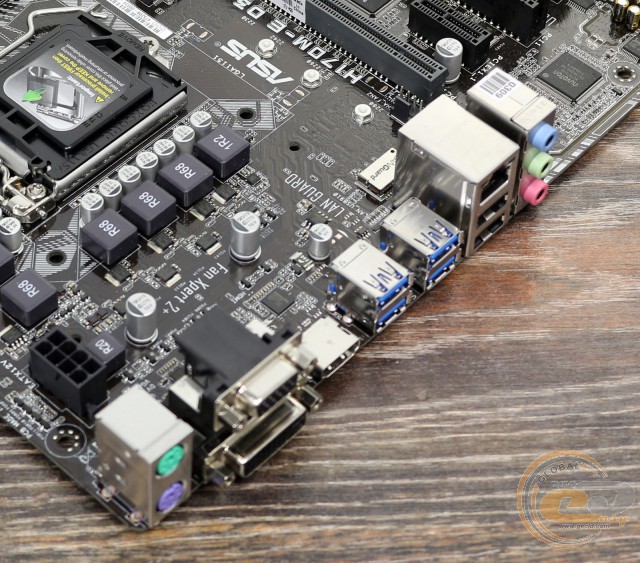 Interface Panel of model ASUS H170M-E D3 includes the following ports:
1 x DVI-D;
1 x HDMI;
1 x D-Sub;
2 x PS/2;
1 x LAN (RJ45);
4 x USB 3.0;
2 x USB 2.0;
3 x audio jacks.
A similar arrangement could be described as quite decent for an inexpensive motherboard, as it offers three video outputs, including a modern HDMI, and a sufficient number of USB ports. However, some users may be disappointed due to inconvenient connection of the multichannel speakers.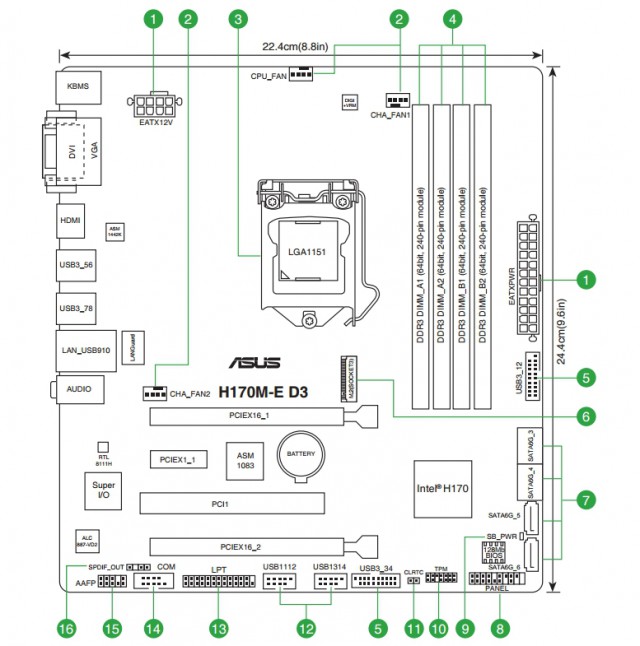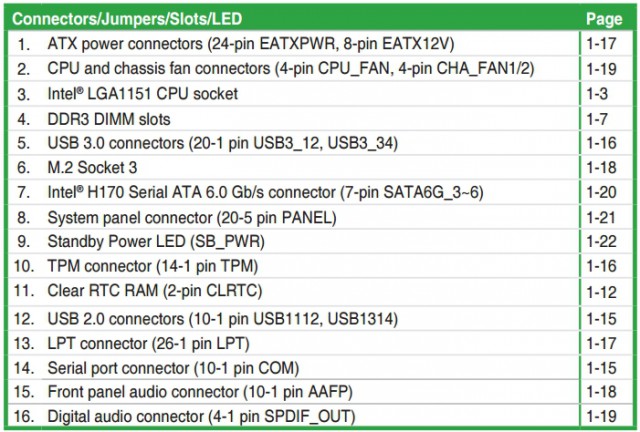 ASUS H170M-E D3 features reference opportunities for the organization of the cooling system inside the case. There are three 4-pin fan connectors, one of which is designed for cooling the CPU, while the other two are for system fans.
Социальные комментарии Cackle