Motherboard ECS Z170-CLAYMORE: review and testing
ECS products is quite a rare visitor in our test lab, however, we could not miss the opportunity to get acquainted with the top-end model based on flagship chipset Intel Z170 for the new family of processors Intel Skylake (Platform Socket LGA1151).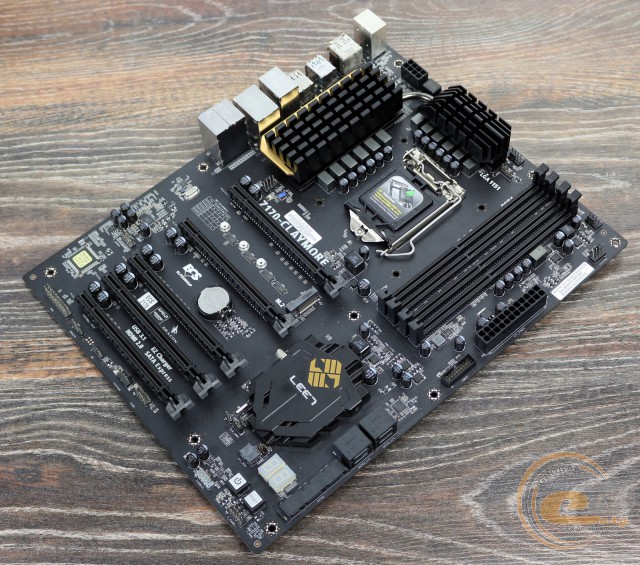 Motherboard ECS Z170-CLAYMORE is part of a series of ECS LEET Gaming, created specifically for gamers. Solutions of this lineup are characterized by high build quality, support for advanced technologies as well as excellent equipment, which includes a network controller and a reliable quality audio subsystem.
The specification:
Producer and model

ECS Z170-CLAYMORE

Chipset

Intel Z170

CPU socket

Socket LGA1151

Supported CPUs

Intel Core i7 / Core i5 / Core i3 / Pentium / Celeron 6th gen

Memory frequency

3200+(OC) / 2133 MHz

Memory support

4 x DDR4 DIMM- slots with memory support up to 64 GB

Expansion slots

3 x PCI Express 3.0 x16 (x16 / x8+x8 / x8+x4+x4)

2 x PCI Express 3.0 x16 (х4+х4)

Disk subsystem

Intel Z170 chipset supports:

1 x M.2 (M.2 2242, M.2 2260, M.2 2280)

4 x SATA 6 Gb/s

1 x SATA Express (compatible with 2 х SATA 6 Gb/s)

RAID 0, RAID 1, RAID 5, RAID 10

LAN

1 x Realtek DRAGON 8118AS (10/100/1000 Mb/s)

Sound subsystem

Codec Realtek ALC1150

8-channel sound

Power

1 х 24-pin ATX connector

1 x 8-pin ATX12V connector

Fans

2 x CPU fan connectors (4-pin)

3 x system fan connectors (4-pin)

Cooling

Aluminum heatsink on the chipset

Aluminium radiators on power system elements connected with a heat pipe

Extenral I/O

2 x PS/2

1 x HDMI 2.0

1 x DisplayPort

1 x LAN (RJ45)

4 x USB 3.0

2 х USB 3.1

4 x USB 2.0

6 x audio jacks

Internal I/O

1 x USB 3.0 each with support of two USB 3.0

2 x USB 2.0 each with support of two USB 2.0

4 x SATA 6 Gb/s

1 x SATA Express

1 х socket TPM

1 х S/PDIF out

1 x button «Power»

1 х button «Reboot»

1 х diagnostic LED-indicator

1 x connector of audio output to front panel

1 x set of front panel connectors

1 x CMOS

BIOS

64 Mb Flash ROM UEFI AMI BIOS

PnP, ACPI 5.0, SM BIOS 3.0, DMI 3.0, WfM 2.0

Packaging

User's manual

Warranty card

Disk with drivers and utilities

4 x SATA cables

1 х interface panel plug

Form-factor, dimensions

ATX

305 x 244 mm

Producer website

Updated versions of BIOS and drives are available on support page
Package and content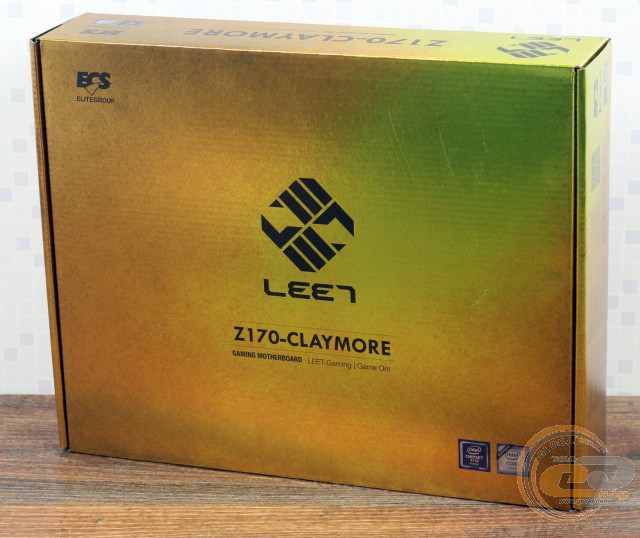 The product comes in a cardboard box. Printing features colors of series ECS LEET Gaming - golden and black. Most of the front side is reserved for the logo of the series, as well as under the name of the model.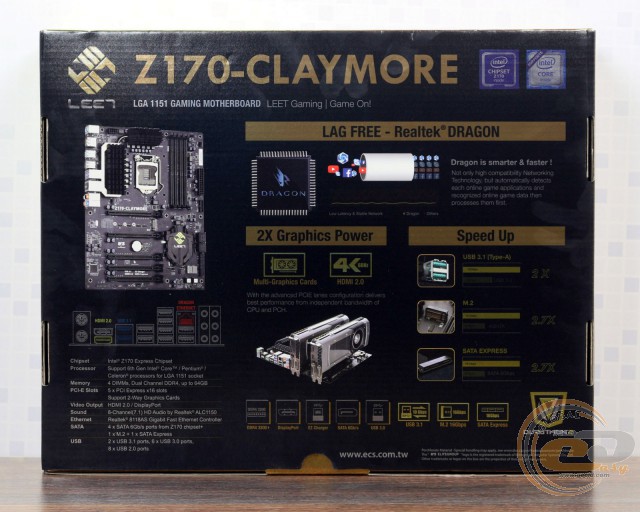 On the reverse side of the box, in addition to the image of the motherboard, its interface panel, and the short list of specifications, we found the main advantages of ECS Z170-CLAYMORE:
USB 3.1 - ports USB 3.1 Type-A with a capacity of 10 Gb/s located on the interface panel.
Realtek DRAGON - the motherboard features a new Gigabit Ethernet controller from Realtek, which has the ability to automatically allocate gaming traffic and raise its priority in relation to the low-level system traffic, providing low latency in online games.
M.2 & SATA Express - used interfaces M.2 and SATA Express have a capacity of 16 Gb/s.
EZ Charger - this technology allows you to charge your portable devices even when the PC is off.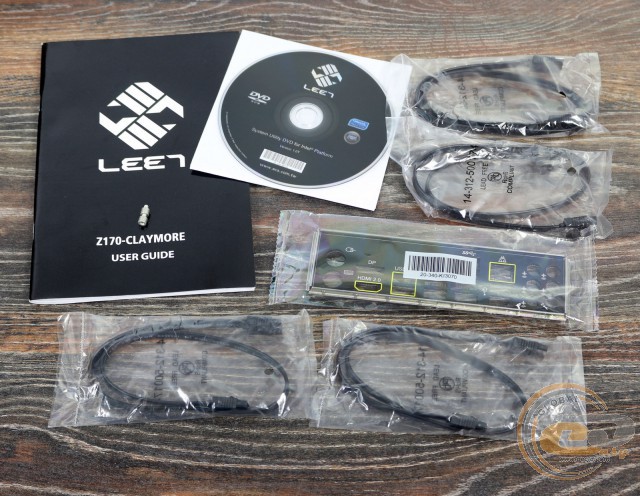 In the box with the ECS Z170-CLAYMORE we find the following set of accessories:
CD with drivers and utilities;
user manual;
four SATA cables;
interface panel plug.
Design and features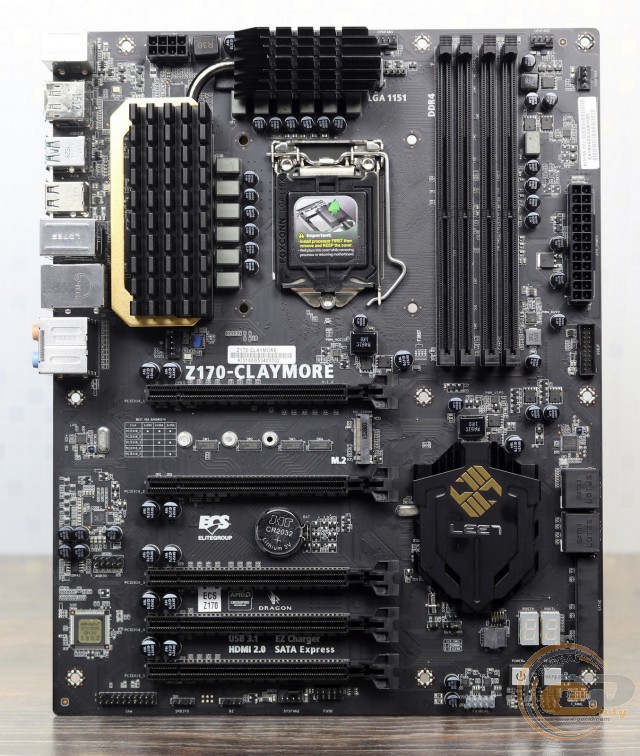 The new product is made in ATX format on black PCB with a matte finish. It has a quite stylish and discreet design in black tones that are slightly added with golden patches on the radiators.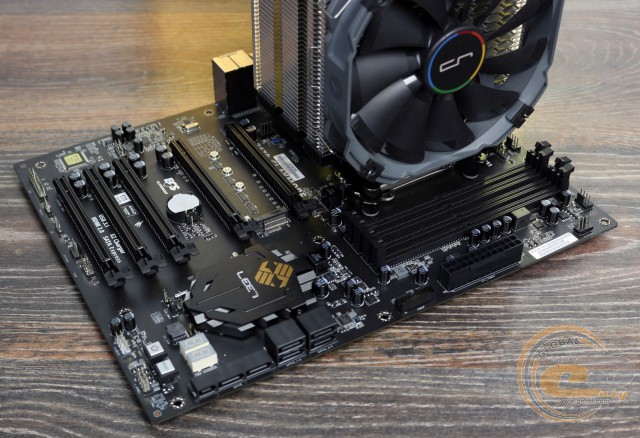 Despite a number of other on-board components, the manufacturer was able to house all of the components almost perfectly, so you will not have any problems with the assembly of the system based on the tested model.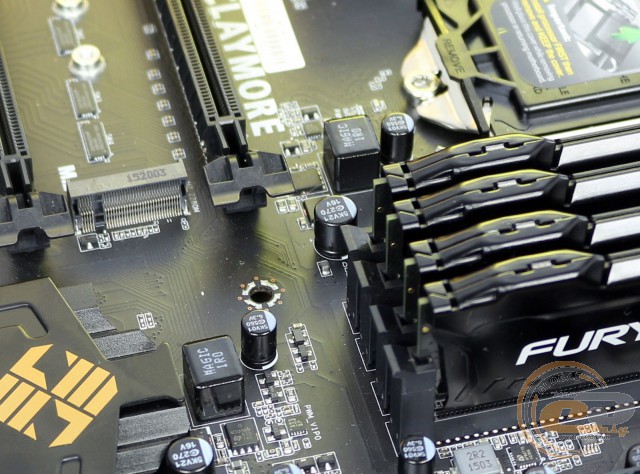 Manufacturer took care that the installed graphics card does not interfere with install and remove of memory modules, equipping DIMM-slots with latches on only one side.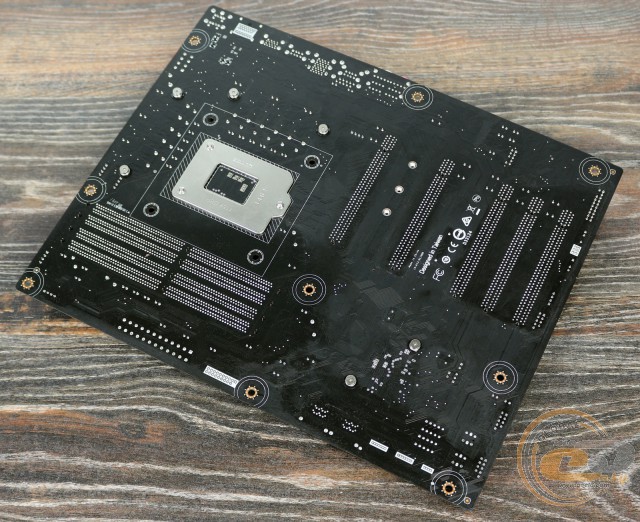 Looking at the back of the ECS Z170-CLAYMORE note the standard base plate of the socket, as well as the fact that all three of the radiators of cooling system are fixed with screws.

The bottom of the printed circuit board has the following connectors: S/PIDIF Out, socket TPM, one 4-pin socket for connection of case fan, buttons "Power" and "Reboot", LED-indicator, as well as the connecting block of the front panel. Additionally, we note two pads to activate the ports USB 2.0. Total number of USB 2.0 ports is eight: four internal and four on the interface panel.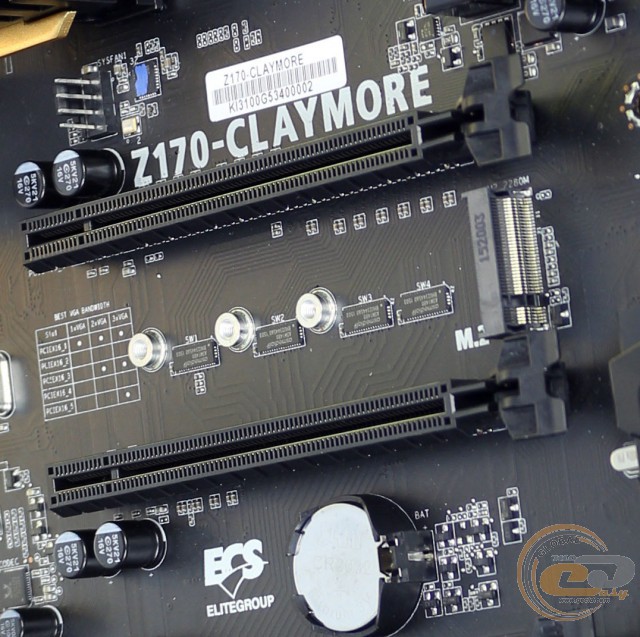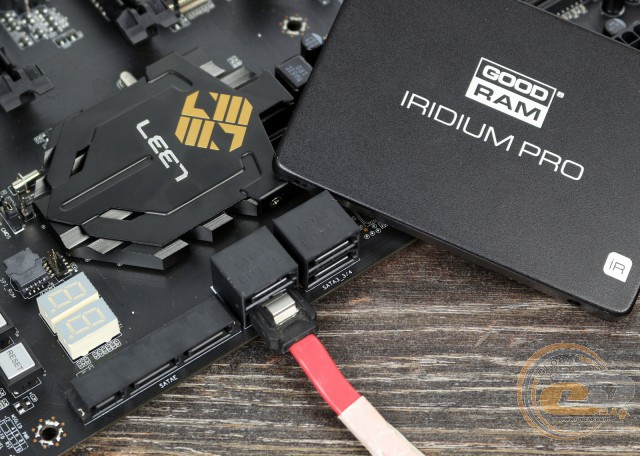 The possibility of organizing a disk subsystem is presented by connector M.2 with carrying capacity 16 Gb/s (supported SSD-drives M.2 2242, M.2 2260, M.2 2280), four ports SATA 6Gb/s and one SATA Express with carrying capacity 16 Gb/s that is compatible with two SATA 6 Gb/s. There is support for arrays SATA RAID 0, RAID 1, RAID 5 and RAID 10.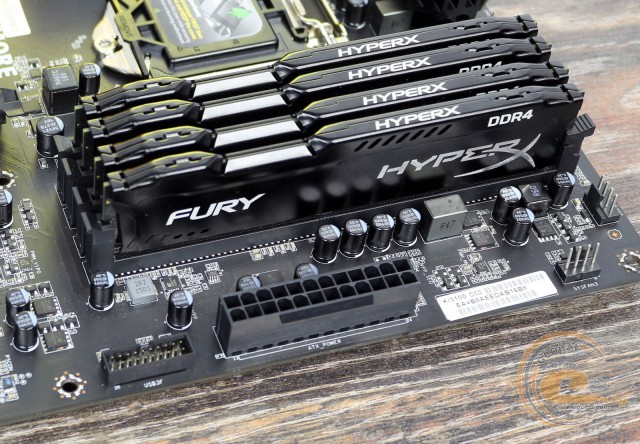 Mainboard ECS Z170-CLAYMORE is equipped with four DIMM-slots for modules RAM standard DDR4, which for convenience are equipped with latched on one side only. RAM can operate in dual channel mode. Its implementation is realized by installation either in the first and third or second and fourth slots (or takes all available ports). Modules operating at frequencies up to 3200 MHz in overclocking mode are supported. The maximum amount of memory can be up to 64 GB, which is enough for almost any tasks.
Additionally note the module for connecting remote panel with ports USB 3.0. Total number of USB 3.0 is six: two internal and four external.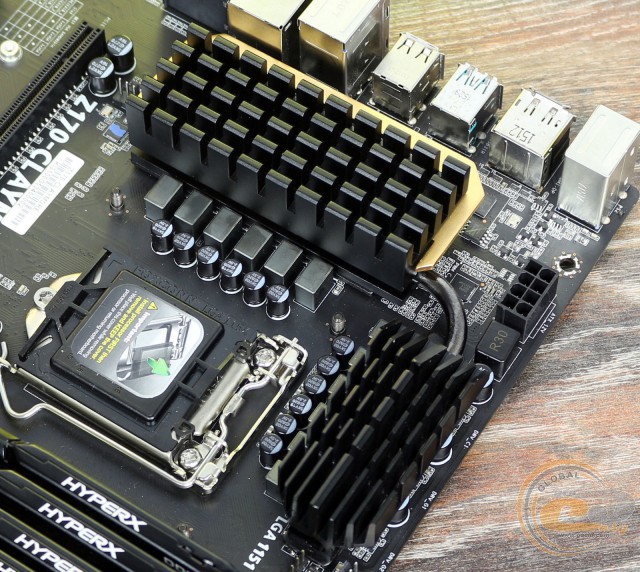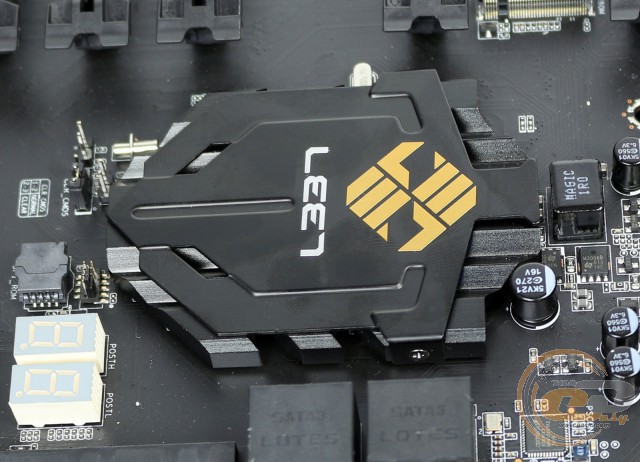 The cooling system of this motherboard has three aluminum radiators: one carries out the removal of heat from the chipset Intel Z170, while other two that are connected by heat pipe cover the elements of CPU power subsystem.
In the process of testing we've recorded the following temperature:
heat sink for cooling chipset – 35.1°C;
top radiator of cooling elements of the processor power subsystem – 36.3°C;
bottom radiator of cooling elements of the processor power subsystem – 35.1°C.
These results clearly indicate the higher efficiency of the cooling system, indicating the proper selection of materials and design.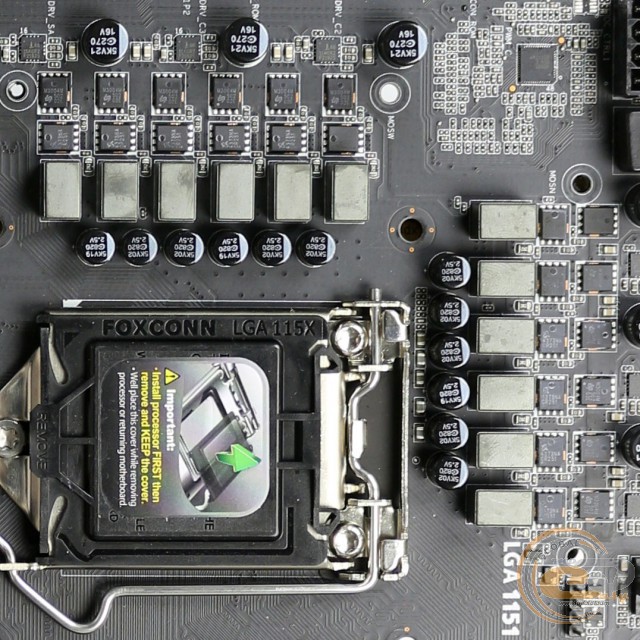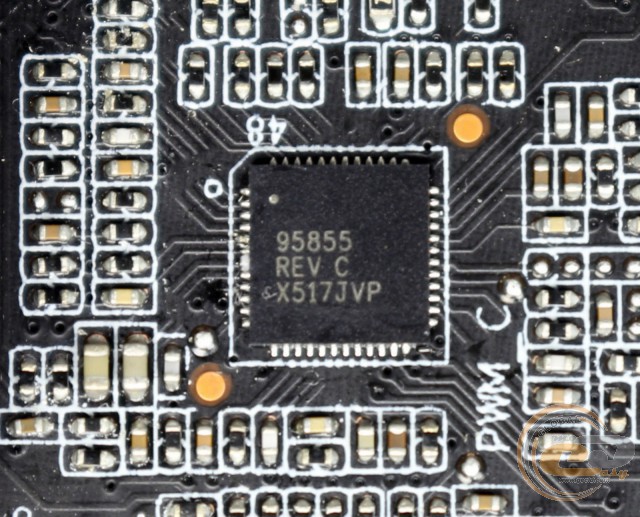 CPU power is carried out by 12-phase scheme for cores and additional nodes. Converter is based on a digital PWM controller 95855. All components have a high degree of reliability: durable solid capacitors with ferrite chokes. The main 24-pin and additional 8-pin connectors are used to provide supply voltage.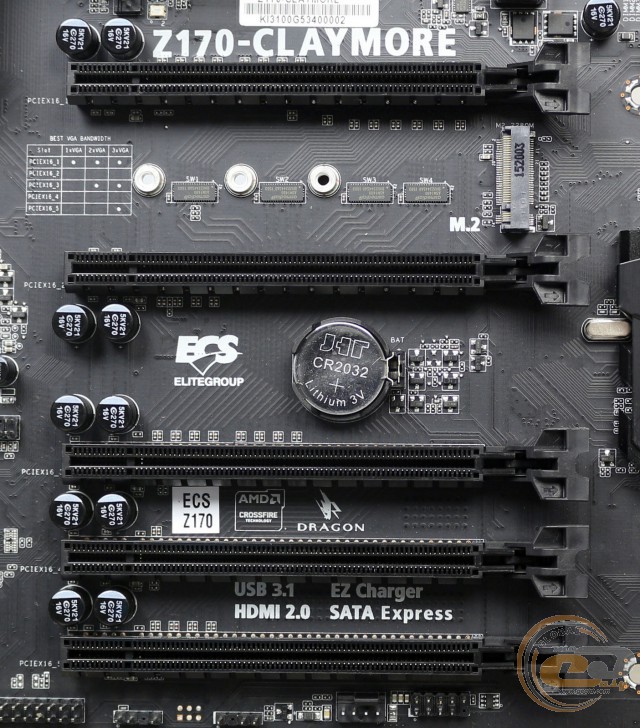 The possibility of expanding the functionality of the motherboard ECS Z170-CLAYMORE is presented by five slots:
PCI Express 3.0 x16 (mode х16 or х8);
PCI Express 3.0 x16 (mode х4);
PCI Express 3.0 x16 (mode х8 or х4);
PCI Express 3.0 x16 (mode х4);
PCI Express 3.0 x16 (mode х4).
This configuration offers the user to organize the graphics subsystem of the two or three video cards. Do note that the location of the slots will allow easily connect two video cards with three slot cooling system, however, while access to other slots will be blocked.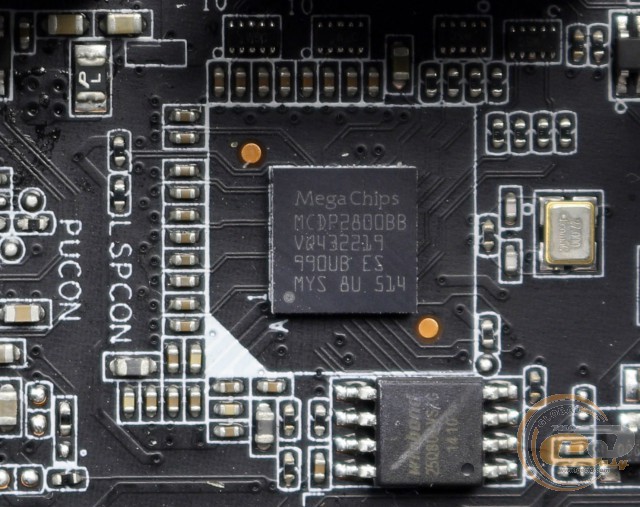 If you decided to take advantage of the graphics core integrated into the CPU, you have two video outputs: HDMI 2.0 and DisplayPort operated by the chip MegaChips MCDP2800BB.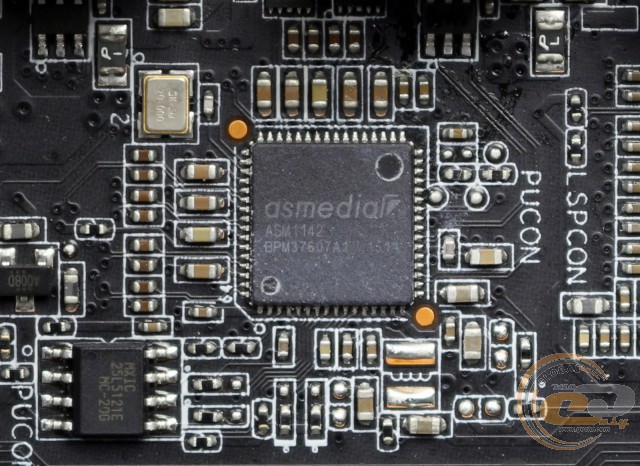 Correct operation of two USB 3.1 ports on the interface panel is provided by the chip ASMedia ASM1142.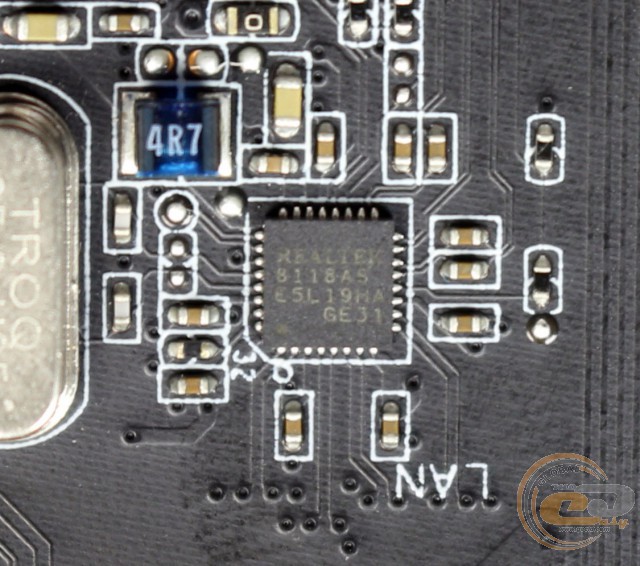 To support network connections there is a gigabit LAN-controller Realtek DRAGON 8118AS. It is able to automatically detect the data online games and increase their priority, reducing game lag. And utility LEET Manager allows to control the distribution of network resources.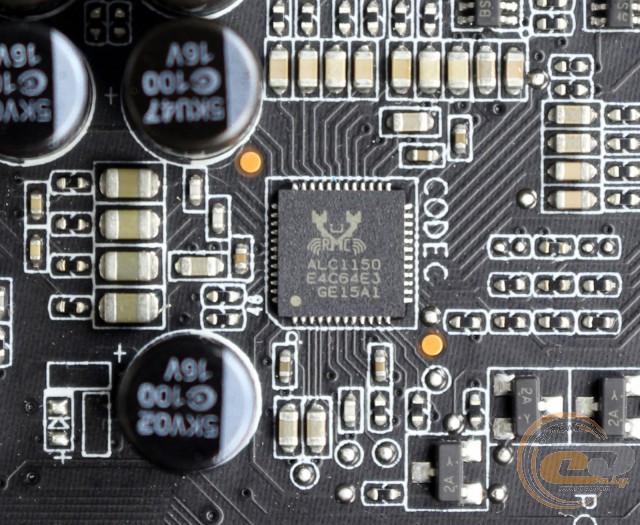 Sound subsystem of motherboard based on the 8-channel HDA-codec design Realtek ALC1150, which supports the audio formats 2/4/5.1/7.1.

Interface Panel of model ECS Z170-CLAYMORE includes the following ports:
2 x PS/2;
1 x LAN (RJ45);
4 x USB 3.0;
4 x USB 2.0;
2 х USB 3.1;
1 x HDMI 2.0;
1 x DisplayPort;
6 x audio jacks.
This configuration can be safely described as excellent, due to the presence has everything you need: two modern video outputs, a large number of USB ports (including two high-speed USB 3.1), as well as easy connection of multi-channel speakers and support the periphery of the PS/2. Do note that the two USB ports of gray color support technology of charging the portable devices in case of PC is off (EZ Charger).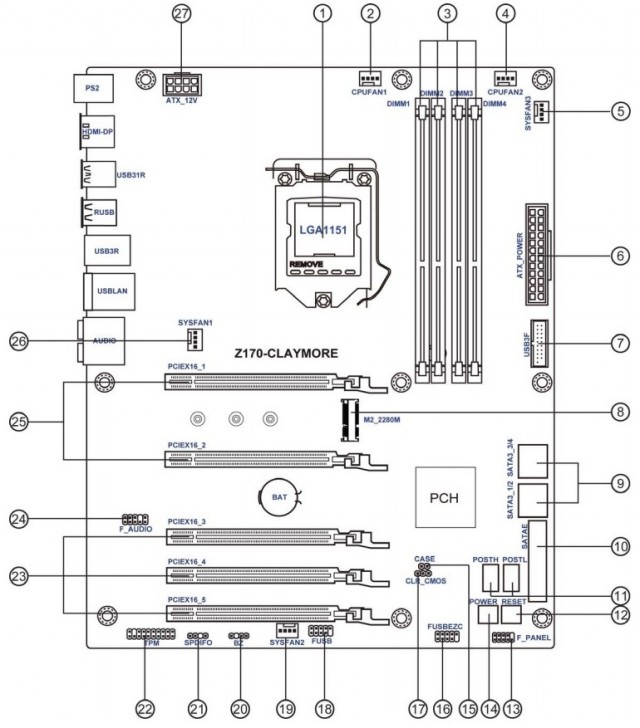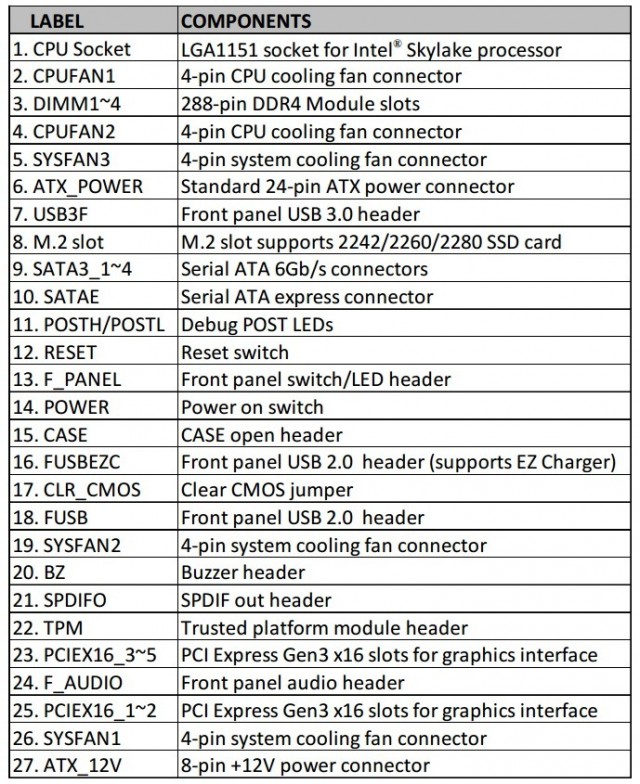 ECS Z170-CLAYMORE features enough opportunities for the organization of the cooling system inside the body. There are five 4-pin fan connectors, two of which are for cooling the CPU, and the other three are for system fans.
Социальные комментарии Cackle