Three-band stereo speaker Edifier Studio R2730DB: review and testing
When meeting with photos and characteristics of the models Edifier Studio R2730DB there is a strong sense of deja vu. After all, it is like as two peas to Edifier Studio 7 (R2700), who stayed with us last fall. There are the same diameter and size of the case. And the index clearly says about the changes that will be described.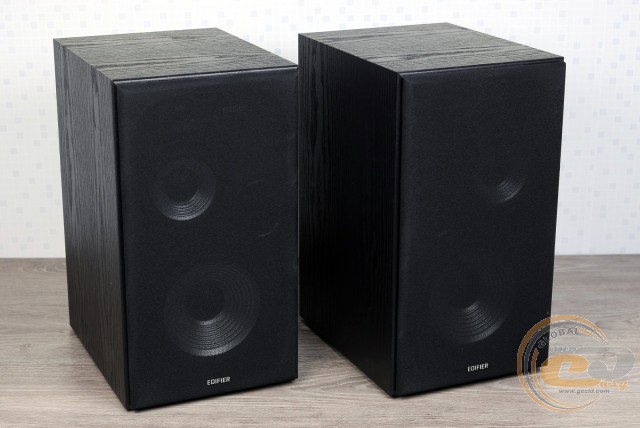 The first change is reflected directly in the index of the model. Edifier Studio R2730DB has got built-in receiver Bluetooth, which allows listening to music using the smartphone and tablet without spending time searching for connecting cables. Another significant improvement is the increased power of amplified sections: now each woofer can be bear 40 W (previously 32 W), and supplied to the midrange and tweeter output is reduced by 2 W to 14 W. Also here is a connector for connecting a subwoofer. The remaining advantages remained unchanged.
The specs:
Model

Edifier R2730DB

Type

3-band 2.0 speaker with holes of phase inverter on the front panel

Frequency range, Hz

45 – 20 000

Output capacity, W

HF

2 х 14

MF

2 х 14

LF

2 х 40

Signal/noise ratio, dBa

> 85

Amplifier

Digital, class D

Speaker diameter, in/mm

HF

0,75 / 19

MF

4 / 102

LF

6,5 / 165

Interfaces

1 х optical S/PDIF
1 x coaxial S/PDIF
2 x stereo-RCA

1 x IR- receiver for remote controller
1 x subwoofer output
1 x receiver Bluetooth

Input capacity, mV

Line input 1

700 ± 50

Line input 2

500 ± 50

Dimensions, mm

Active speaker

218 х 393 х 298

Passive speaker

218 х 393 х 294

Set total mass, kg

18,6

Product page
Package and content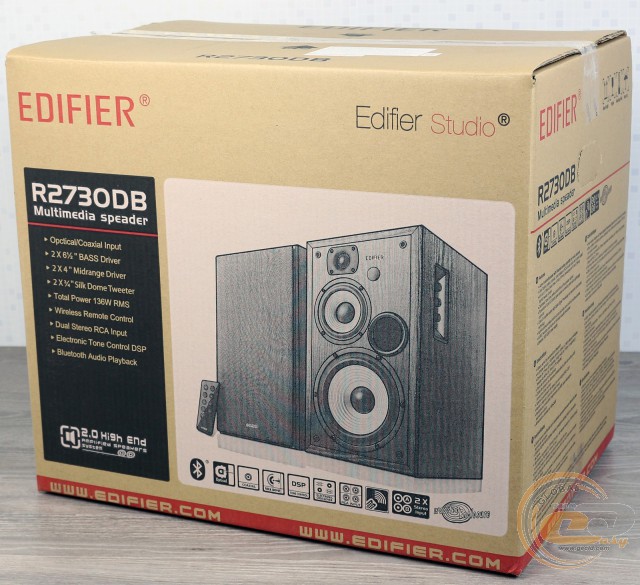 In terms of size the package cannot be less than content and speakers Edifier Studio R2730DB have significant dimensions. On the sides you can find handles for easy transportation. The box is made of cardboard and does not a glossy color printing, which will facilitate its utilization.
The information content of the package is excellent. Using the icons and text explaining the manufacturer reports the key advantages of new item: materials, speaker sizes, large total power (136 W), optical and coaxial inputs, as well as the ability to connect via Bluetooth.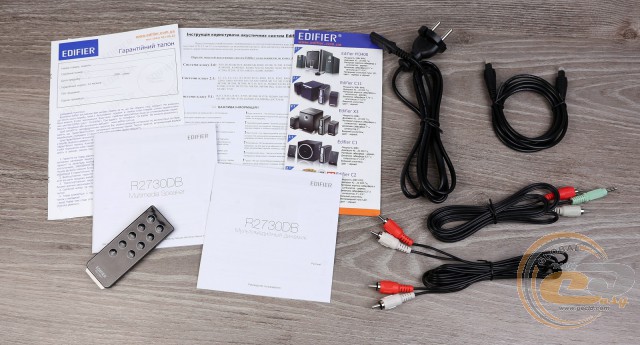 Edifier Studio R2730DB got a good kitting from its predecessor. It includes a set of paper documents, optical S/PDIF-cable, one cable 2 RCA ↔ 2 RCA, one 3.5 mm jack ↔ 2 RCA and detachable power cord with a remote control.
Design and structure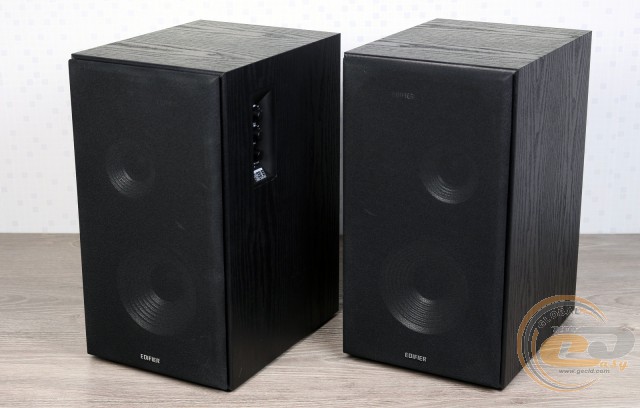 In terms of size, body materials and finishing the device Edifier Studio R2730DB reminds a model Edifier Studio R2700. Black vinyl film covers the fiberboard panels with thickness up to 18 mm. Appearance is familiar and respectable. The case s qualitative, so there is no sense of fragility. Reliable and resonant structure is a necessary condition for qualitative sound acoustics.
Middle and high frequency speakers are made of cellulose or polymer material. Their light silver color good harmonizes with the black body. Silk dome tweeter with diameter of 3/4 inch is adjacent to the infrared receiver for the remote control (in the active column). Phase inverter is on the front panel, so the speakers can be placed close to the wall (but not too close).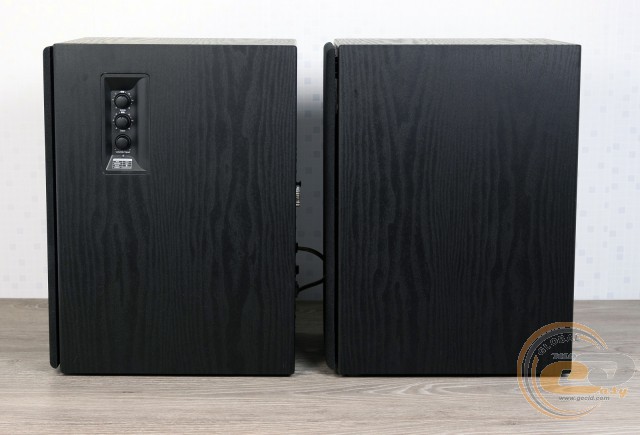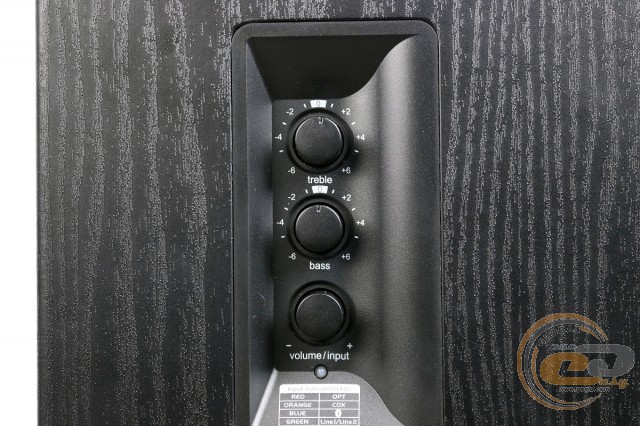 On the right side of the active speaker you can find level controls of high and low frequencies and input selector with LED, informing about the change of color of the currently active input, and a sign to decipher. The control circuit has not changed since Edifier Studio 7 (R2700), except that the added blue LED that lights up when you Bluetooth is connected.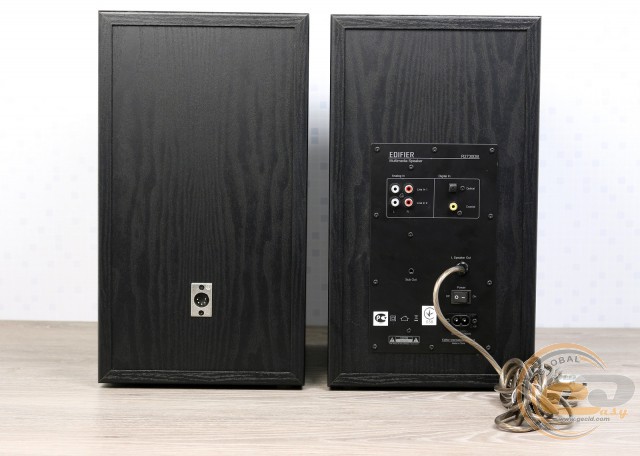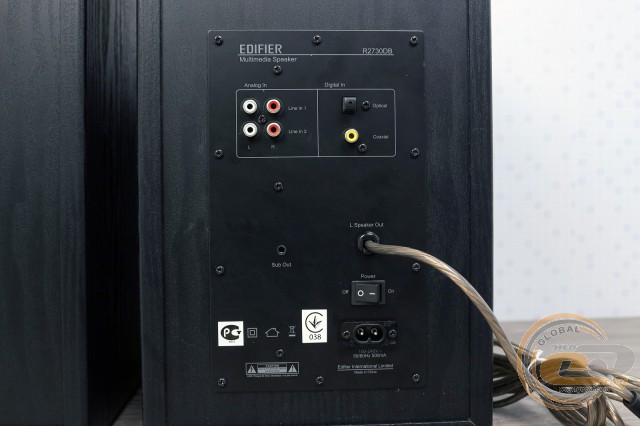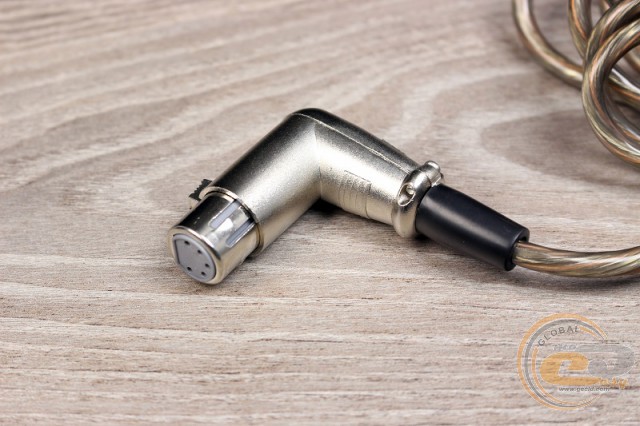 At the rear part of the active speaker contains all interface connectors. There are two inputs of stereo-RCA, optical and coaxial inputs S/PDIF, and subwoofer output. Here is a connector for the power cord, switch and removable cable to connect passive speakers with angular DIN connector with metal case.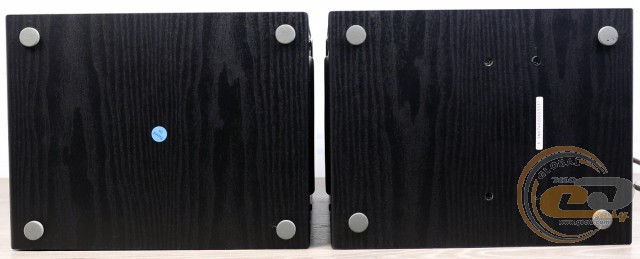 The base has legs of soft porous rubberized material. They will not allow slide and scratch the surface.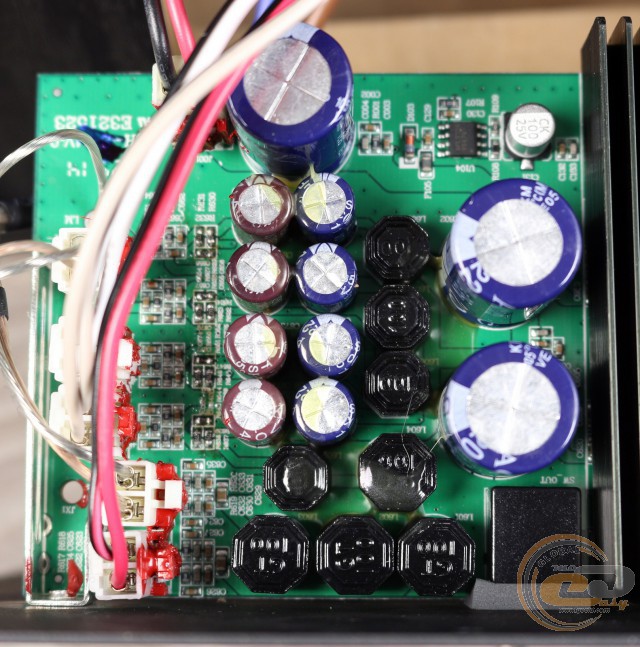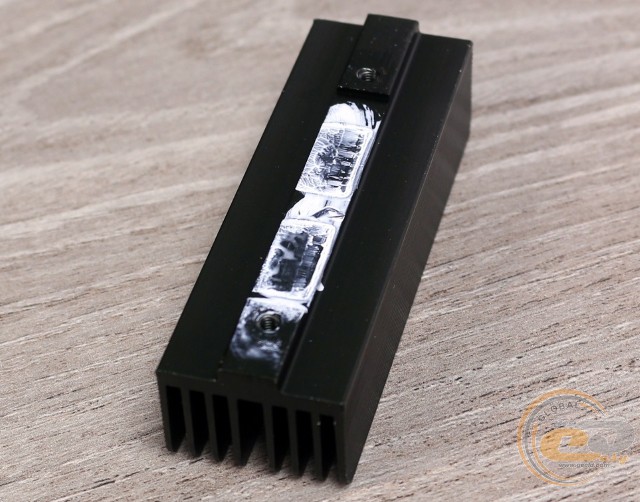 The amplification part includes two stereo amplifiers TI TAS5342LA, operating in class D, and covered with a large heatsink with thermal grease. Also there is eight-channel DSP TAS5508C and receiver S/PDIF PCM9211. The capacitors on the are electrolytic.
Flanges of all speakers have rubberized adhesive film that prevents parasitic movement of air in the gaps between the housing and speaker. Neodymium magnet system of tweeter has a radiator. Modules of midrange and woofers are stamped and magnet systems are shielded. The base of dome is fabric. Midrange is placed in a separate sealed compartment made of fiberboard. The manufacturer provided foam filling, slightly reducing the effect of "standing waves" in rectangular blocks.
The remote controller completely replaces all the controls on the speakers. It is made of easy solid black plastic, and includes a battery.
Социальные комментарии Cackle