HyperX Cloud Core gaming headset: review and testing


Only one year was required for HyperX that is a department of Kingston, for advertizing and popularization the product lineup with the title «HyperX Cloud». Excellent build quality, combined with a good sound and these are the main features that characterize the product lineup HyperX Cloud.
We have already introduced you to two models: HyperX Cloud and HyperX Cloud II. The second of them features the support for 7.1-channel surround sound and is equipped with a separate sound card controls.
In this review we will talk about a new model produced in 2015 HyperX Cloud Core, which uses the same design as its predecessor, but at the same time has a minimum package that can help reduce the final cost. And for the comparison, we will use more equipped version HyperX Cloud that is represented in white color.
Producer and model

HyperX Cloud Core

HyperX Cloud

Headphones

Impedance, Оhm

60

60

Sensitivity, dB

98±3

98±3

Interface

1 × mini-jack 3,5 mm

2 × mini-jack 3,5 mm

Frequency range, Hz

15 − 25 000

15 − 25 000

Speaker dome (diameter), mm

53

53

Maximum capacity, mW

150

150

Noise suppression, dB

≈ 20

≈ 20

Non-linearity distortion ratio, %

<2

<2

Headband pressure, N

5

5

Type

Closed headphones

Closed headphones

Cable length (including extension), m

1 (3)

1 (3) + 0,1 (iPhone cable)

Features

Extension adapter 2 × mini-jack 3,5 mm

Replaceable ear pads; remote control; adapter for airplane; carrying case; isolating headset cable; extension cable.

Weight, g

320 (including microphone and cable)

350 (including microphone and cable)

Microphone

Microphone type

Removable

Removable

Sensor type

Electret condenser (reverse type)

Electret condenser (reverse type)

Operation mode

Pressure gradient

Pressure gradient

Radiation pattern

Cardiod

Cardiod

Power source

Power AB

Power AB

Voltage, V

2

2

Maximum current consumption, mA

0,5

0,5

Impedance, kОhm

≤2,2

≤2,2

Voltage of idling (at f=1 kHz), mV/Pa

20

20

Frequency response, Hz

100 − 12000

100 − 12000

Non-linearity distortion ratio (at f=1 kHz), %

2

2

Maximum sound pressure level (distortion coefficient ≤ 1,0% at 1 kHz), dB

105

105

Microphone sensitivity, dB

-39 ± 3

-39 ± 3

Length of microphone mounting, mm

150

150

Membrane diameter, mm

6

6

Connection point

Single stereo mini plug (3.5 mm)

Mini plug (3,5 mm)

Warranty period, months

24

24

Producer website
Package & content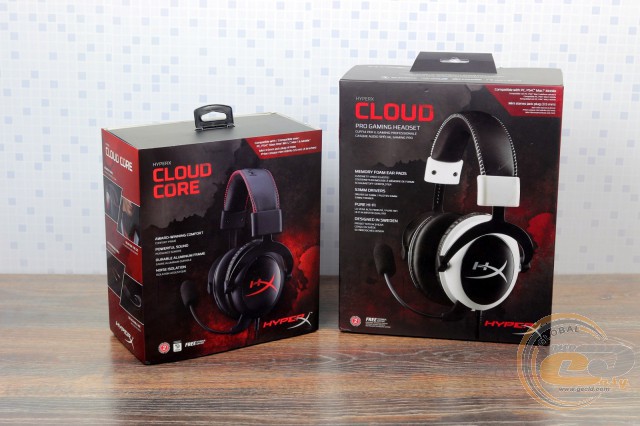 Proprietary package is almost identical with the predecessors, but this time the box is much smaller. The front panel features a large image of headphones with a brief designation of the key features.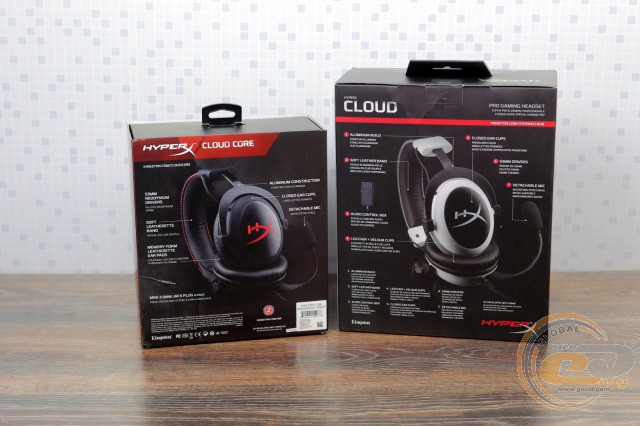 The back side of the two boxes provides more detailed information, but a full technical description is absent. The official website contains a detailed description of the product.
The sides are decorated with additional photos and advertising content.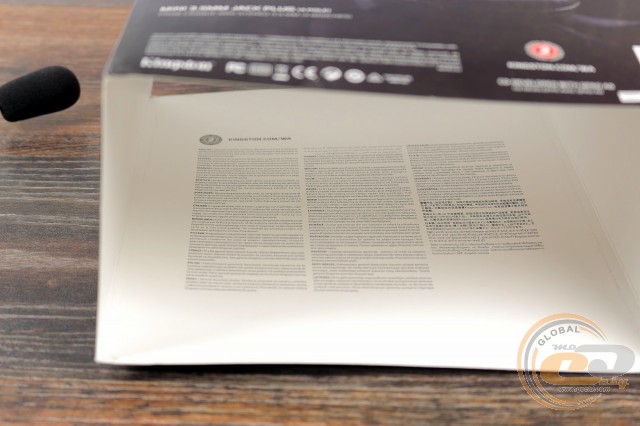 The product features interesting solution in a form of hidden warranty information on the inside of the cardboard cover.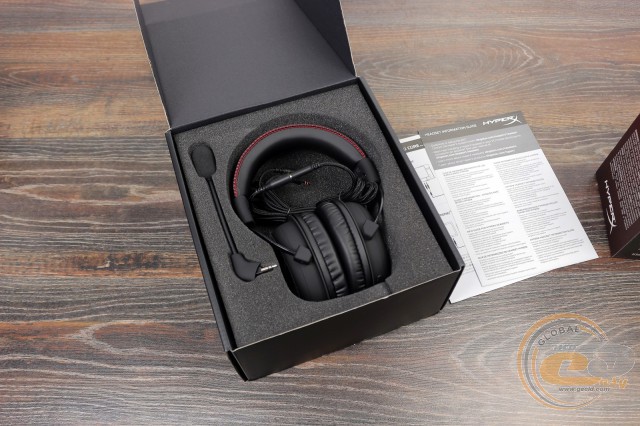 Headset HyperX Cloud Core is packed very carefully and reliably. At first glance it seems an expensive and high-end stuff.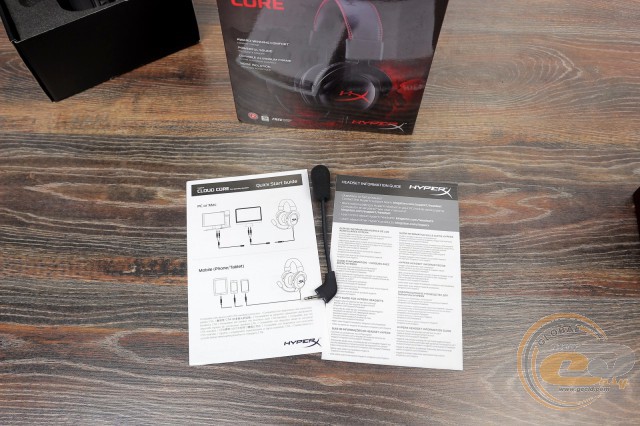 It includes a removable microphone, quick atart guide and an extension cord to connect to a PC that is put to the headset by default.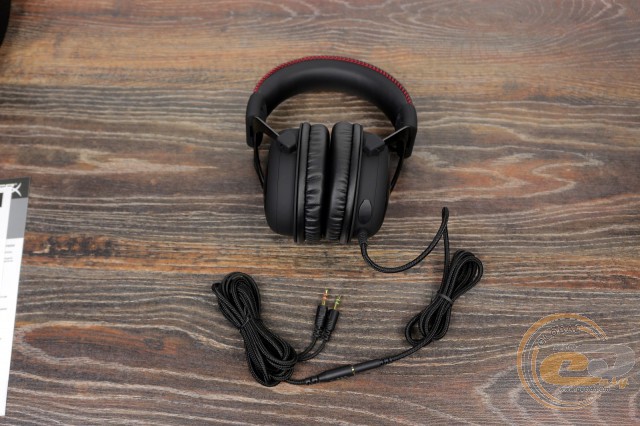 As we can see the scope of supply includes only the necessary components.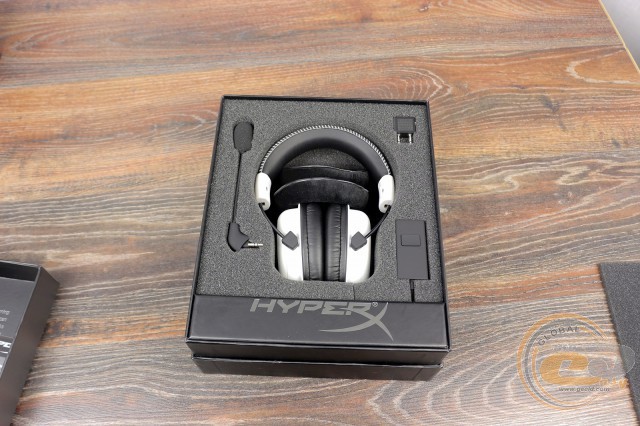 HyperX Cloud is carefully and accurately packed. Soft filler is ideal fitted to all the extensive components.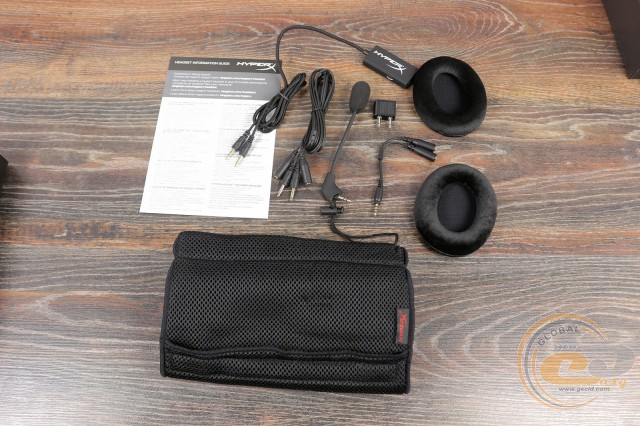 Package includes a removable velor ear pads, removable microphone, combo audio adapter, the two extensions (one of them with remote control), airplane adapter and a mesh of carrying case. This is the one of the richest sets we met in testing of gaming headsets.
Социальные комментарии Cackle