Review and testing of gamin mouse Mionix NAOS 7000 and pad Mionix Sargas 900
This sample of computer peripheral doesn't need colored advertising or other not legitimate methods to influence the user. The most important are highest scores on specialized sites and forums, as well as numerous positive reviews of huge gaming community that had tested all the virtues of this very interesting manipulator.
Fortunately, thanks to the company Syntex, Mionix's official distributor in Ukraine, we had an opportunity to get acquainted with gaming mouse Mionix NAOS 7000 and make sure the highest functional properties. So let's proceed to the consideration of the technical characteristics of the examined model.
The specs:
| | |
| --- | --- |
| Producer and model | Mionix NAOS 7000 |
| Connection | Wire (USB) |
| Sensor | Optical (Avago ADNS 3310 including LED backlight and support for function S.Q.A.T.) |
| Max resolution, dpi | 7000 |
| Sample rate, Гц | 1000 |
| Max speed, in/s (m/s) | 215 (5,45) |
| Start height, mm | Adjustable |
| Internal memory capacity, KB | 128 |
| Number of buttons / programmed actions | 6 + 1 (button-wheel) / 7 |
| Sole type | Plastic / Teflon |
| Cable length, m | 2 |
| Clock frequency of ARM-processor, MHz | 32 |
| Additional capabilities | LED backlight with a choice of color schemes; cable with braided fabric, ferrite ring and a gold-plated USB-plug; software and hardware modes (5 profiles) |
| Color | Black |
| Dimensions, mm | 130,8 х 84,7 х 38,7 |
| Weight, g | 103 (147 including cable) |
| Software | + |
| OS | Windows ХP / Vista / 7 / 8 / 8.1 |
| Warranty, months | 24 |
| Producer website | |
Package and content
Gaming Mouse Mionix NAOS 7000 comes in a small and quite attractive box which is made of high-quality high-density cardboard. It has a convenient slide-out design and boasts of a stylish dark matte printing with good information content.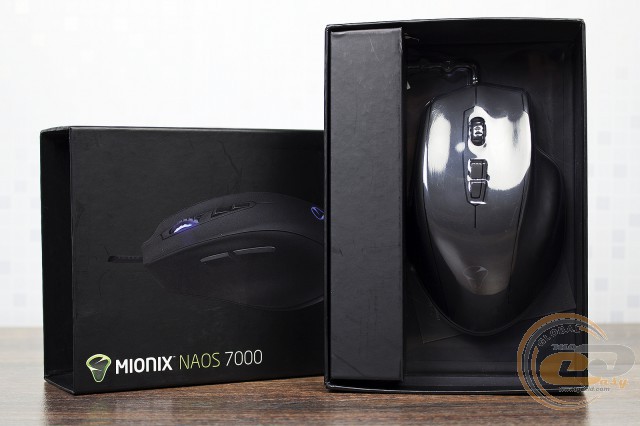 Inside it contains small rectangular compartment, closed with transparent plastic with a manipulator. This structure not only helps carefully transport the device, but also allows you to visually evaluate its appearance and ergonomic features.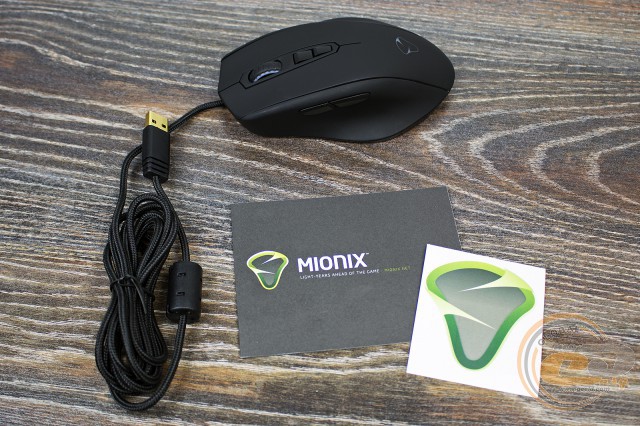 Supplied set of Mionix NAOS 7000 includes a brief user manual, sticker, whereas the usual set of drivers and software can be downloaded from the official site by clicking the support section.
Design, elements arrangement and impression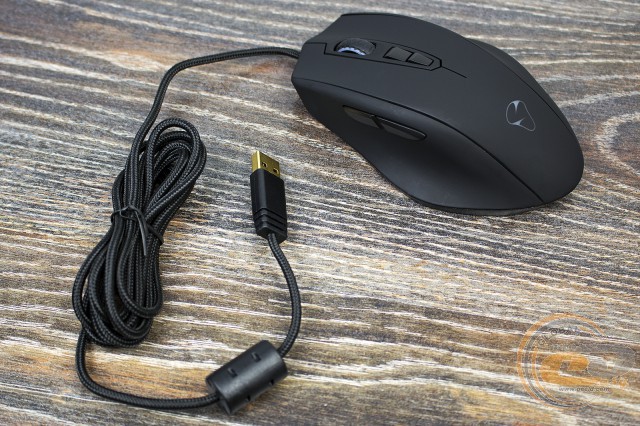 It looks unassuming, and in many ways a typical design of the manipulator Mionix NAOS 7000 is fraught with many interesting aspects and highly creative solutions that are revealed only by direct contact with the device. Under rounded edges and shapes, the traditional location of the functional elements and the characteristic curve of the circuit you can notice a hard work of engineers and perhaps one of the best ergonomics in its class.
So the mouse boasts of a good weight distribution (weight 103 g successfully distributed to the body) and proportional dimensions (130.8 x 84.7 x 38.7 mm). It is perfect for any size of the hand. The smooth elongated recess on the right side wall are very convenient fall fingers, oblong convex back allows comfortable enough to place the wrist for secure and confident grip. Here "claw" and "palm" are available. All depends on the style and individual preferences of the user. The only limitation is a right-sided geometry of the housing designed only for right-handers.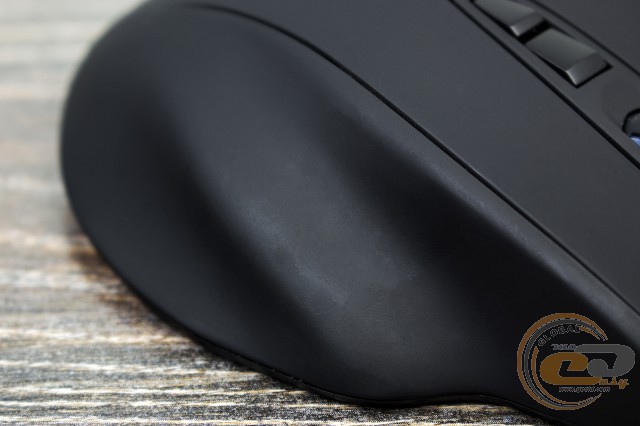 The base of the manipulator is made of matte black plastic with a soft four-layer soft-touch coating. It provides tight, but nevertheless very pleasant contact with the skin. The hand is not sweating and tired, and the mouse is not covered by annoying fingerprints.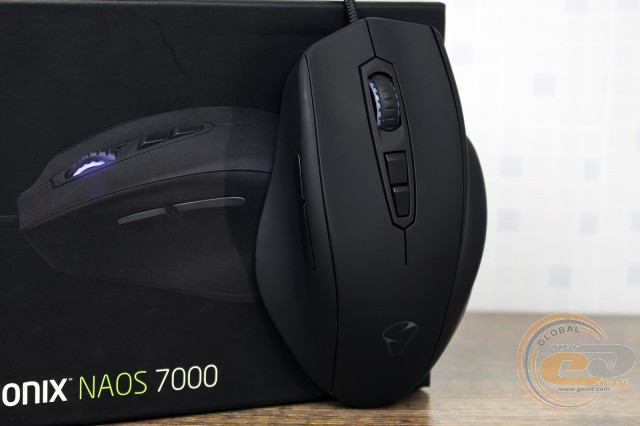 The upper side of Mionix NAOS 7000 is presented in the form of a solid, slightly curved plate which smoothly flows into the base of the two central buttons. The buttons have a slightly concave shape that makes it comfortable to place the index and middle finger for more precise and predict use. The key travel is clear and pleasant, with a characteristic by clatter of average volume.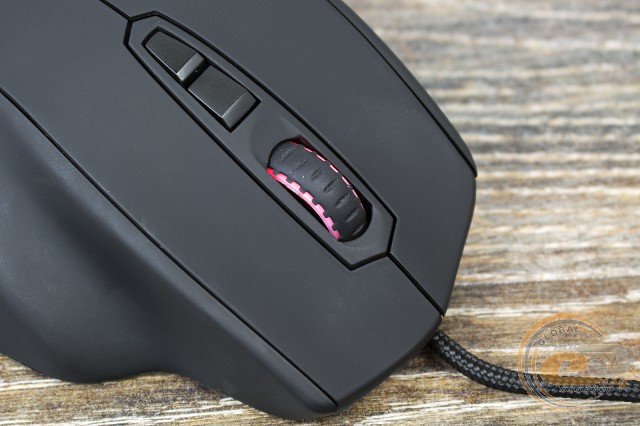 The small island is between the central buttons. It contains two buttons to quickly switch sensor resolution and very convenient scroll wheel. It is covered with dense rubber pad, which provides reliable contact and confident control over the travel and degree of rotation.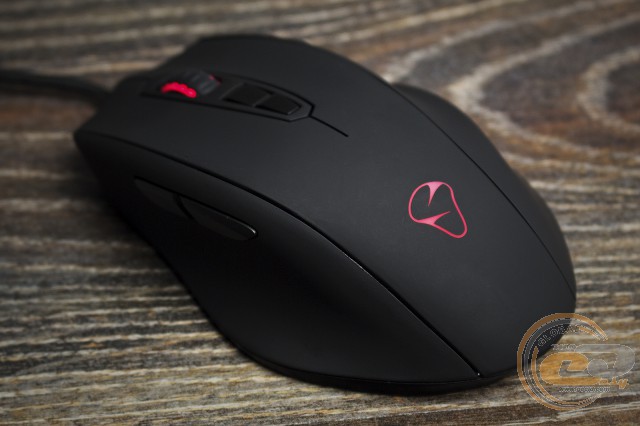 One of the interesting features of the decorative top side of the device is corporate logo of the manufacturer. As the scroll wheel, it has a uniform illumination, which contains a huge selection of different colors and shades, and four independent modes. So it is able to provide enough bright illumination and attractive glow. Using proprietary software you can easily customize the backlight.
Sides of Mionix NAOS 7000 create a smooth ergonomic contour that provides a highly reliable hand contact with the product. As a result, we have a high level of control over the game situation.
The left side of the mouse contains two soft keys («Forward» and «Back»), while on the right you can find dual longitudinal recess, which is very comfortable for ring and little fingers.
The back side of the manipulator does not contain any significant functional elements, while the front side contains attached USB-cable length of 2 m. It is wrapped in a solid sheath which prevents kinking and equipped with a small ferrite ring, reducing adverse effects of electromagnetic waves. At the end you can find USB-plated connector that provides a secure connection to an external port of the connected device.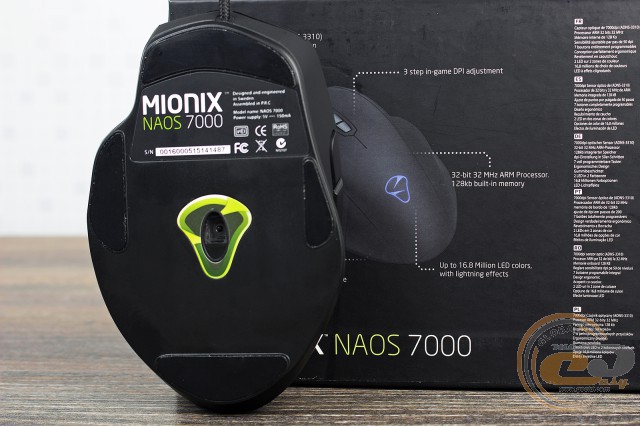 The lower part of Mionix NAOS 7000 is made of thick matte plastic with a characteristic rough texture, which has a good durability. Four large Teflon feet are attached along the surface contour of the sole to ensure fast and accurate sliding of the manipulator.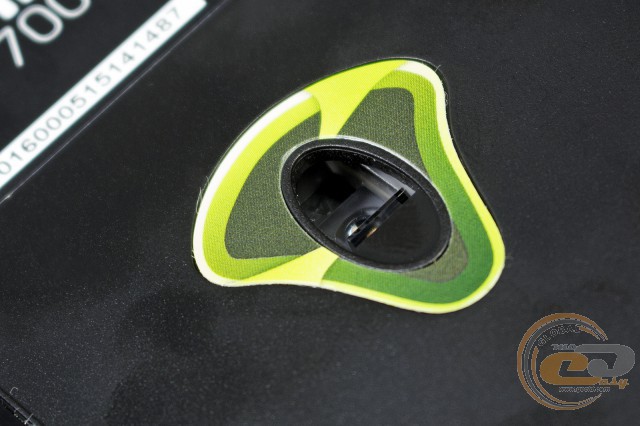 In the center of the bottom side you can notice the logo of the manufacturer with a small oval hole of the sensor. This model uses high-precision optical sensor Avago ADNS 3310 with infrared illumination and support for functions S.Q.A.T. (Surface Quality Analyzer Tool) used to detect the quality of the surface. It has excellent speed performance and can run on almost all available surfaces, including glass and lacquered tabletops. The maximum resolution of the sensor is 7000 dpi, which is more than enough for solving even the most time-consuming tasks. The processing of the signal is provided by a built-in 32-bit ARM- processor with a working clock speed of 32 MHz.
As for the build quality Mionix NAOS 7000, it deserves only positive reviews. All the elements of the case are connected very tight (backlash or gaps are absent), and the design is solid monolith. The total hardness of the manipulator is also at high level, because even under intense pressure, no creaks or flex were observed, and reliability of the device does not cause any doubts.
Социальные комментарии Cackle