Gaming keyboard SPEEDLINK PARTHICA: review and testing
In this article we continue to acquaint you with game accessories from German brand SPEEDLINK.

The next is a new tested sample keyboard SPEEDLINK PARTHICA, which admittedly will support a high level of quality specified by the manufacturer in the previous device, and can please us with own technical capabilities. But for now let's start with traditional detailed consideration of technical characteristics.
The specs:
Producer

SPEEDLINK

Model

PARTHICA (SL-6482-BK)

Interface

USB

Connection

Wire

Switch

Membrane

Key number

108

Sampling rate, Hz

Up to 1000 (adjustable)

Response time, ms

Up to 2

Quantity of simultaneously pressed keys (Key Rollover)

Up to 6 (6KRO)

Capacity of internal memory, KB

128

Button highlighting

LED, three-color, 3 levels, 2 modes

Features

5 programmable keys with the ability to record up to 5 profiles;
two separate blocks of 5 buttons to control media and the basic functions of the operating system;
lock of the button [Windows];
function GOD (Game on Detection) − automatic activation of a preset profile when the game starts;
quick access to the settings of the lights on the button [Fn];
cable with braided fabric, a ferrite ring and a gold-plated USB-plug;

Cable length, m

1,8

Color

Dark gray

Dimensions, mm

541 х 236 х 61

Weight, g

998

Software

+

OS

Windows XP / Vista / 7 / 8

Warranty

12 months

Producer website
Package and content
SPEEDLINK PARTHICA keyboard comes in a relatively large and very attractive box of thick glossy cardboard. Traditionally for modern gaming peripherals it has bright, rich and quite informative printing, so it can tell a lot of useful information about all the capabilities and the virtues of the device.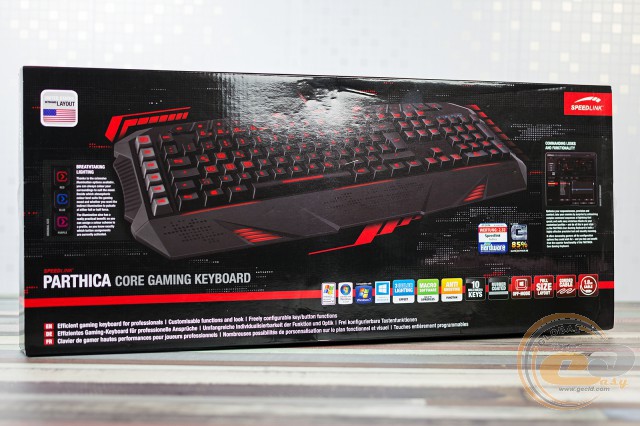 On the front of the package you can find a colorful image of the keyboard, which demonstrates a very stylish and outstanding design of the model. Under it there are several awards and a series of colorful icons with information about supported operating systems and key features.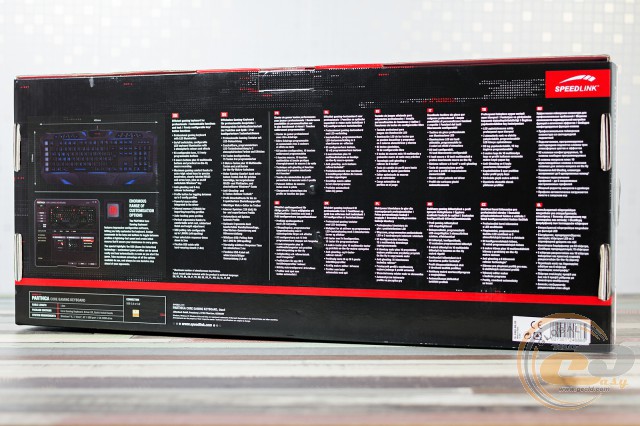 At the same time the back side of the box contains a small table with a list of the minimum system requirements for problem-free connection of the device, as well as very useful information about the technical capabilities of the keyboard.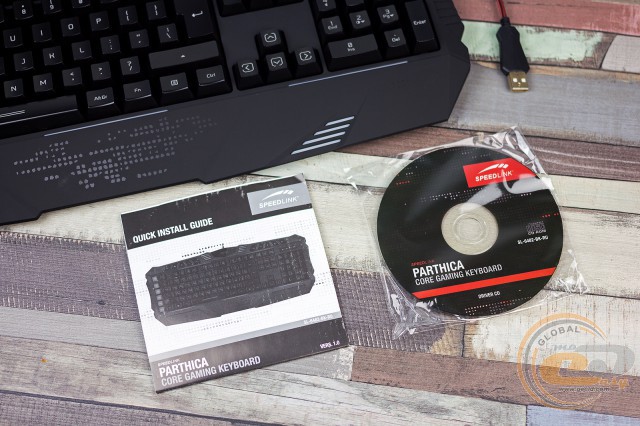 Package of SPEEDLINK PARTHICA consists of a disc with software and drivers, and brief user guide for fast and comfortable start.
Design and elements layout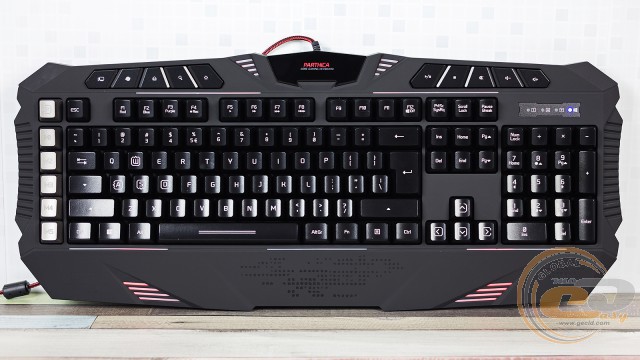 Keyboard SPEEDLINK PARTHICA has quite an attractive appearance. Due to interesting shape of the body (cut verge on the side and slightly raised center console), the abundance of stylish perforated inserts and convenient integrated under palm area, it has a strong gaming focus, which stand out against a background of traditional office counterparts.
Another feature is the size (541 x 236 x 61 mm) and fairly significant weight (998 g). Like other single-minded focus gaming peripheral, the keyboard is designed primarily for stationary use. It place is desktop or a special stand near the monitor. However, if desired, it is still possible to use it for a variety of activities or Lan-parties. However, the overall characteristics of SPEEDLINK PARTHICA are attributed to its benefits because they allow to fix it on most surfaces more reliable and comfortable, without fear of shift during active gaming battles.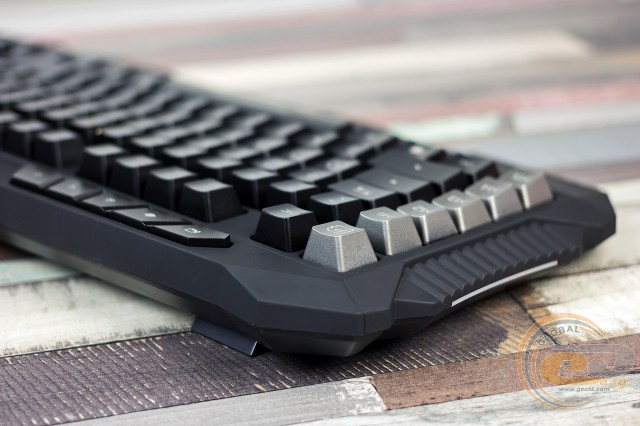 Keyboard case is made of matte dark-gray plastic with a soft-touch coating. It has not only pleasant tactile sensations, but also gives the rigidity. Unfortunately, like any other soft-touch base, the aforementioned plastic quickly collect fingerprints, which slightly spoils the appearance. Fortunately, it is very easy to clean with the help of available tools that allows you to maintain a model without any noticeable physical effort and time.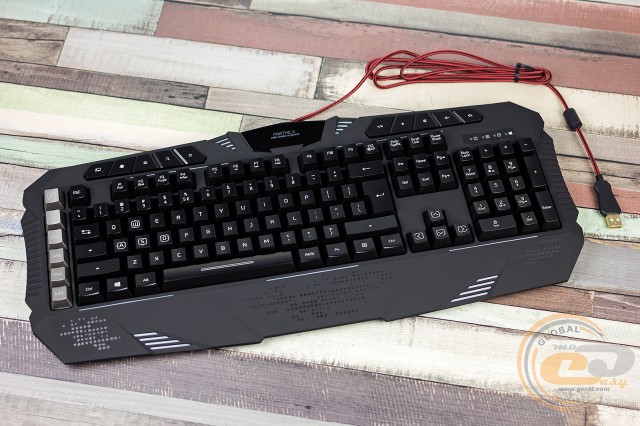 The notable design features of the front side include a small trapezoidal center console with a glossy finish with the company logo and a nice uniform illumination.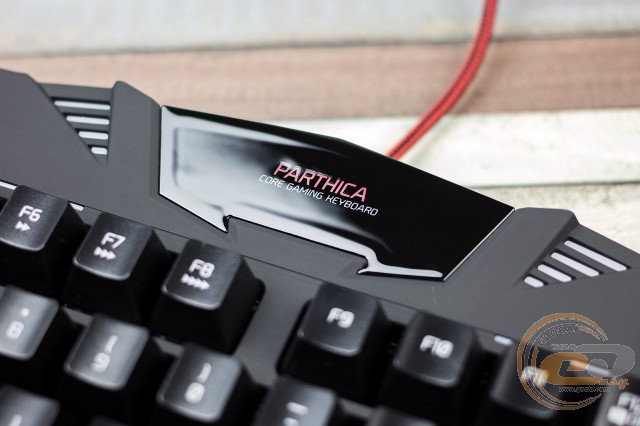 It can be changed depending on the profile of the game, which is very convenient as it allows you to visually determine profile is activated. However, due to the glossy base center the console quickly collects dust and fingerprints.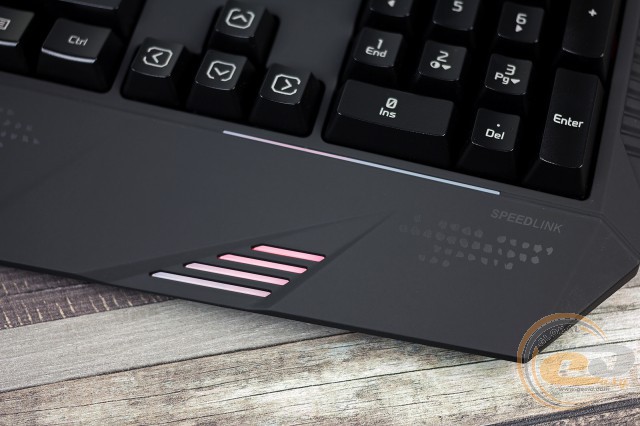 The keyboard has a built-in under palm pad for more comfortable placement of hands during the active game session or labor-intensive work. It is made of a slightly rough matte plastic, and is small in size. The inset has some decorative perforations and two areas of illumination, which looks very stylish and attractive.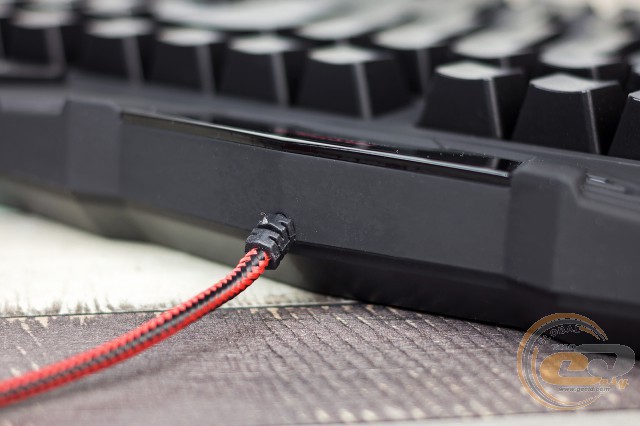 In the center of the upper face there is USB-cable with length of 1.8 m. It has a solid fabric braid and a small ferrite ring, reducing the negative impact of electromagnetic waves.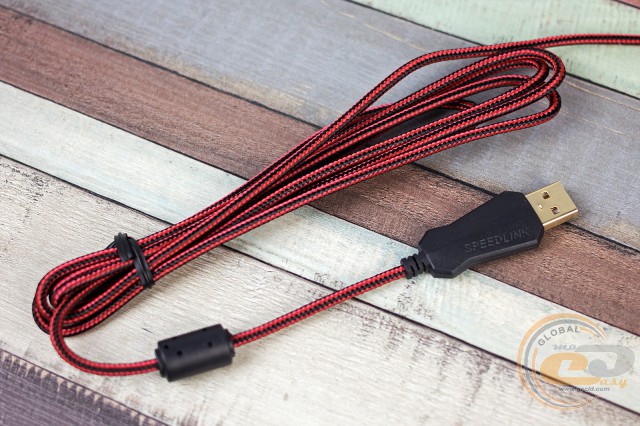 At the end of the cable there is to a gold-plated USB-connector, which provides reliable contact and trouble-free data transfer.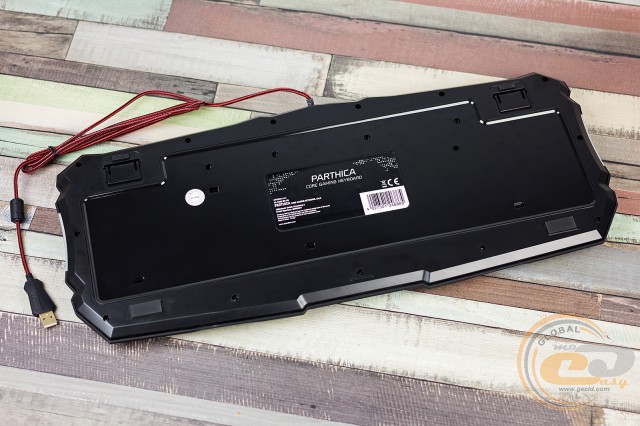 In contrast to the front side, the rear side of the keyboard can not boast such a large number of functional elements. In addition to the four small rubberized legs and a small rectangular sticker with a standard technical information, there are two folding supports and a series of holes (perhaps intended to drain spilled liquids).
Folding support allow you to change the angle of inclination for a more convenient location and comfortable hand interaction with the device. Unfortunately, in case of the completely open position, the rubber lags can not create a sufficient level of adhesion that can lead to undesirable slip of device, especially on smooth surfaces.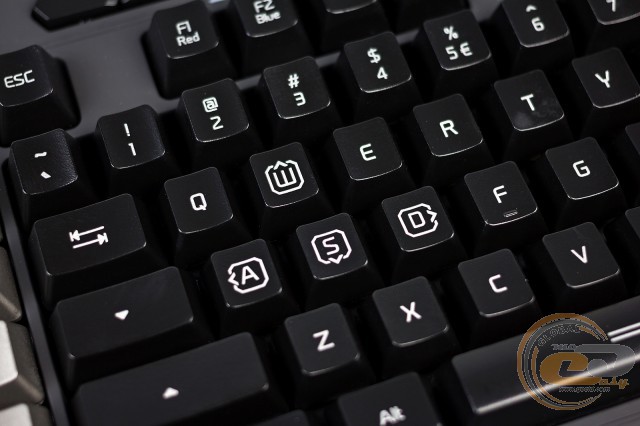 The keypad SPEEDLINK PARTHICA is made of standard full-sized keys of a trapezoidal shape. Caps have a slightly concave cylindrical profile, which allows a more comfortable place for your fingers and confident contact. Covering of key is semigloss. It has a lovely texture, but rather actively collects fingerprints. Unfortunately, this is not the soft touch that may be a slight disadvantage. However, in general, the coating does not cause any discomfort and allows interact with the device for a long time.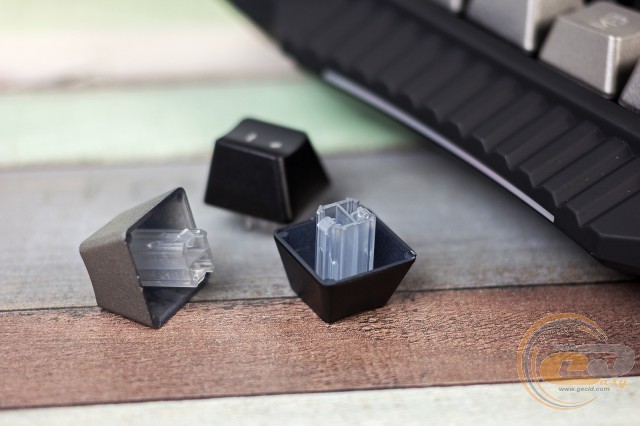 All caps have small heights (10 mm) and quite standard size. Their dimensions near the base are 18 x 18 mm, and pressed area 15 x 14 mm. At the top of the buttons under the caps there are small but quite bright LEDs.
The heart of SPEEDLINK PARTHICA is standard membrane switches with light, quiet and moderately elastic travel. This decision is very controversial, as the device belongs to the category of gaming peripherals and must meet certain technical criteria. However, it allows you to use the keyboard not only in the game, but also to use its capabilities in daily office activity, which significantly expands the available scope.
The model has a US layout US ANSI and is characterized by a two-level [Enter] button and elongate [Left Shift] + [Backspace]. It also includes the presence of an additional key [Fn], which is located on the site of right button [Windows]. Using this function, and a series of buttons, you can adjust the lighting on the move keys, setting mode and the brightness of the LEDs.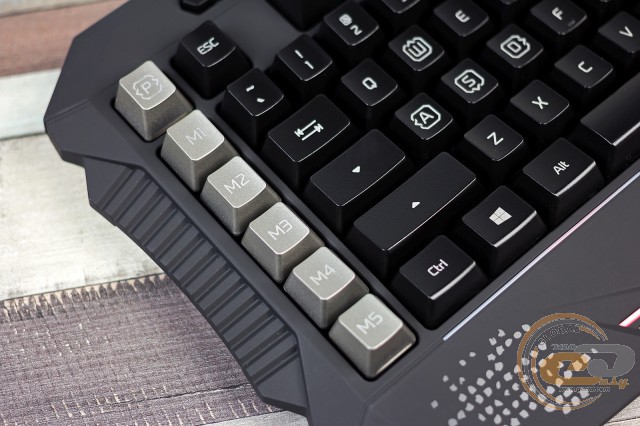 However, the main feature of SPEEDLINK PARTHICA is the presence of a single row of programmable keys [M1] - [M5], with the ability to record up to five business profiles, and button [P] to quickly select a profile. They are placed in the left part of the device near the triangle [W], [A], [S], [D], which makes it easy to use key data even during active game action.
Also don't forget about the two separate blocks of auxiliary buttons which are designed for quick and easy management of multimedia and call requested features of the operating system (search, browser, mail, etc.). Their presence increases the comfortable use of the device and reduces the performance of everyday tasks.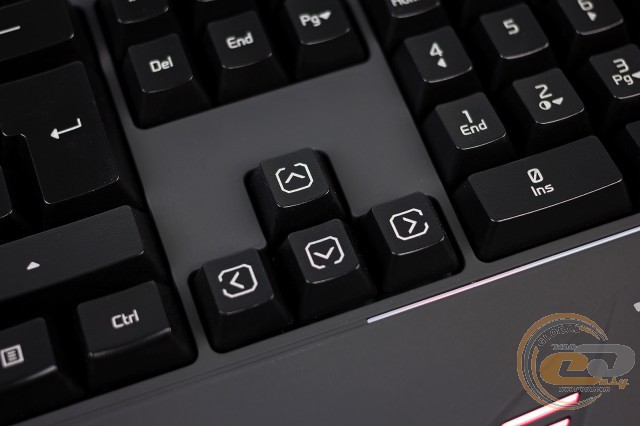 Symbol printing is carried out by very durable and reliable method of laser engraving. Graphic elements have large dimensions and well read in all lighting conditions thanks to a good location of LED lights. Block of keys [W], [A], [S], [D] and arrows has the additional symbol in the form of rectangular frames.
The build quality of SPEEDLINK PARTHICA is quite good. All the body parts are tightly fit: here you won't find visible backlash or gaps. In addition, the keyboard has a high level of rigidity. Its central part may be bent only during strongest impact. But in case of active use no problem in this regard were observed.
Социальные комментарии Cackle