Xerox Phaser 3020 printer: review and testing
More recently, we have developed a new technique for testing printers and MFPs, so in the future we will try to actively extend section dedicated to office equipment and other peripherals. The first product subjected to "severe tests" was a laser monochrome printer released under the brand Xerox. It is unlikely that this company needs a special advertising. With 75 years of history, the 140,000 of staff and offices in more than 180 countries, it is one of the leading manufacturers of office equipment worldwide.
Product range is consistent with its ambitions. Under the brand Xerox you can many devices, ranging from conventional printers and scanners for personal use and to professional solutions for industrial printing. Let's hope that someday these "monsters" will appear in our test lab. Now let's examine a more affordable printer Xerox Phaser 3020.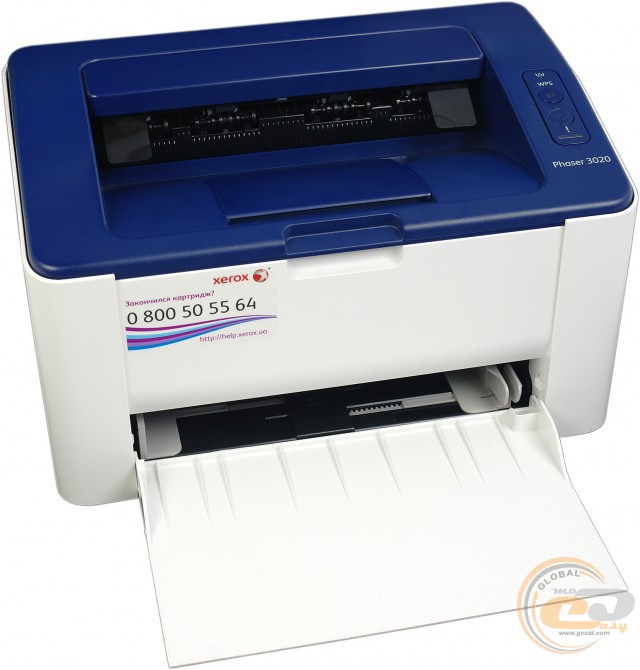 It belongs to a class of compact and inexpensive laser devices which are primarily focused on the use in the home or small office. In other words, the new product will be required where monthly load does not exceed 10,000 - 15,000 prints.
Xerox Phaser 3020 has replaced the popular model Xerox Phaser 3010, in comparison with which it got more hardware performance: increased processor speed and increased memory up to 128 MB of. In addition, the novelty has a built-in Wi-Fi. This means that you can now send documents to print directly from smartphones and tablets. Previously, this feature was available only for more expensive solutions.
The specs:
Model

Xerox Phaser 3020

Type

Monochrome laser printer

Memory capacity, MB

128

CPU frequency, MHz

600

Printer language

GDI

Interfaces

USB 2.0, Wireless LAN (IEEE 802.11 b/g/n)

Print resolution, dpi

600 х 600, 1200 х 1200 (software emulation)

Warm-up time, s

Up to 30

Print time of the first page (A4)

warmed printer

Up to 8,5

after power-saving mode

Up to 19

Print speed (A4), p/s

20

Recto-verso printing

No

Toner- cartridge resource, p

standard

1500

from supplied set

700

Max month load for printer, p

15000

Max printing area, mm

216 х 356

Printing paper

dimensions (length/width), mm

127 − 356 / 76 − 216

format

А4, A5, Letter, Legal, Folio, Oficio, Executive, ISO B5, JIS B5, Envelope (Monarch, Com 10, DL, C5), Custom

Paper thickness, g/m2

60 − 163

Capacity of input tray (paper density 80 g/m2), p

150

Capacity of output tray (paper density 80 g/m2), p

100

OS

MS Windows XP / Vista / 7 / 8 / Server 2003 / Server 2008, Server 2008 R2

Linux OS

Mac OS X 10.5 − 10.9

Dimensions, mm

331 х 215 х 188

Wright, kg

3,37

Producer website

Product page
Package and content
Printer Xerox Phaser 3020 comes in medium size a box, which protects its contents during transportation. The package has a rather good quality printing and informative aspect.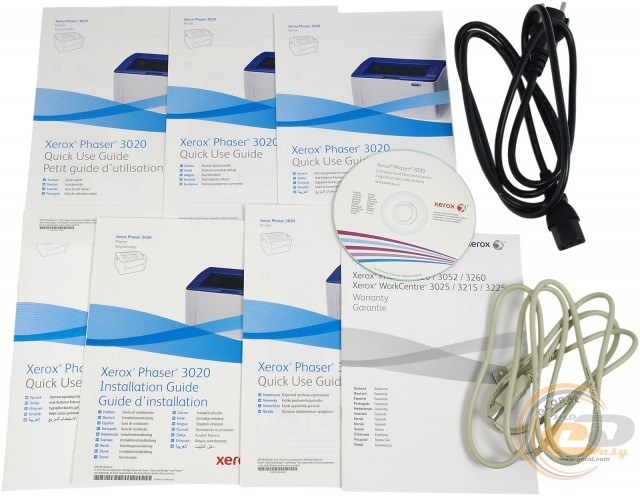 Supplied set is quite standard for this type of printer and includes all necessary that the user may be required during the connection Xerox Phaser 3020 and its further exploitation:
power cord;
USB-cable (standard 2.0);
instructions in several languages;
CD with software and documentation;
Toner-cartridge.
Design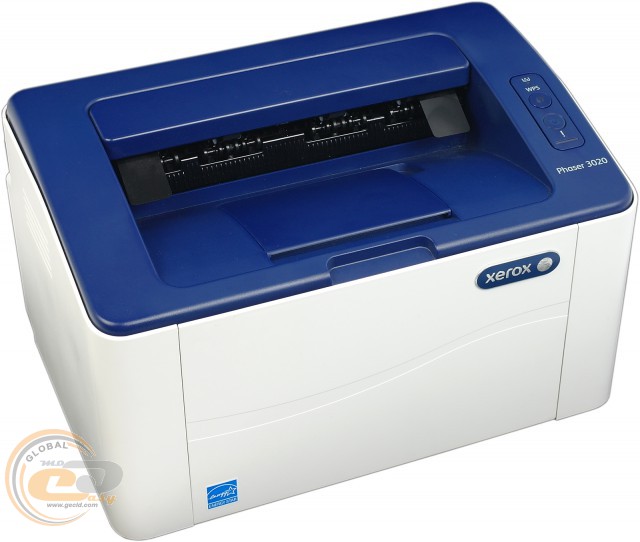 Model Xerox Phaser 3020 has a relatively small size (331 x 215 x 188 mm) due to the use of folding trays, so it easily fits on your desktop near the monitor or on a small table. The printer weighs only 3.37 kg. Body panels are made of thick matte plastic, which are much more practical then glossy surfaces. The build quality is also pleased: nothing creaks, and the trays are opened without any effort.
Xerox Phaser 3020 does not claim the title of a design solution. Areas of use of this model is the home and small office, so the prime rate is made on parameters such as practicality, ease of maintenance, acceptable print quality and, of course, reasonable price.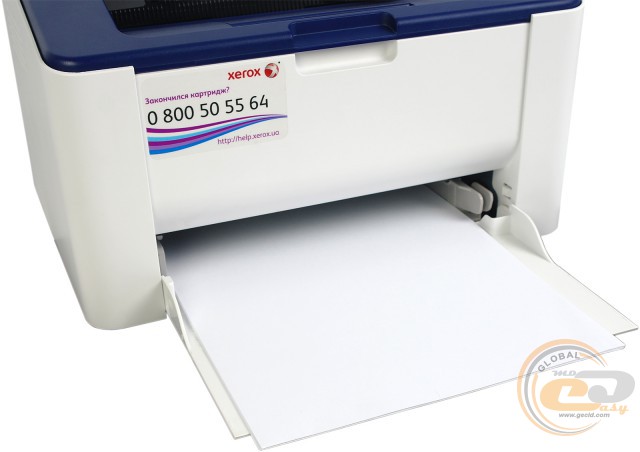 The layout of the case is a standard for low-cost laser printers: the paper is inserted into the lower folding tray, and the printed pages come out of the slots on the top cover. Only one-side printing method is supported.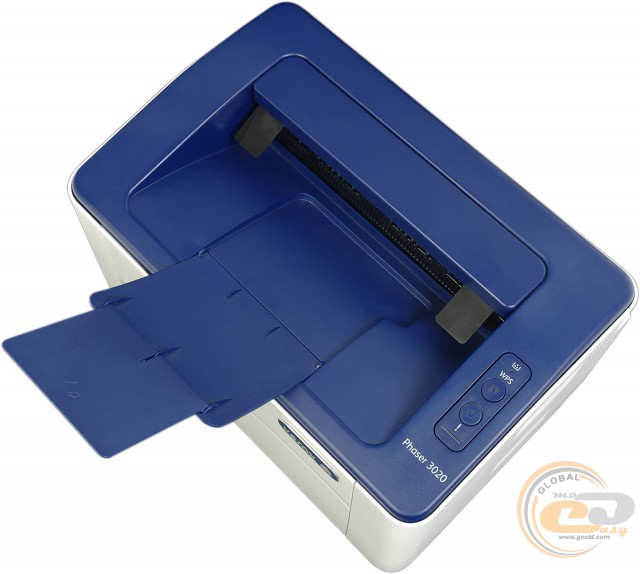 If necessary, the upper tray can be expanded. According to the specification, it can contain up to 100 pages.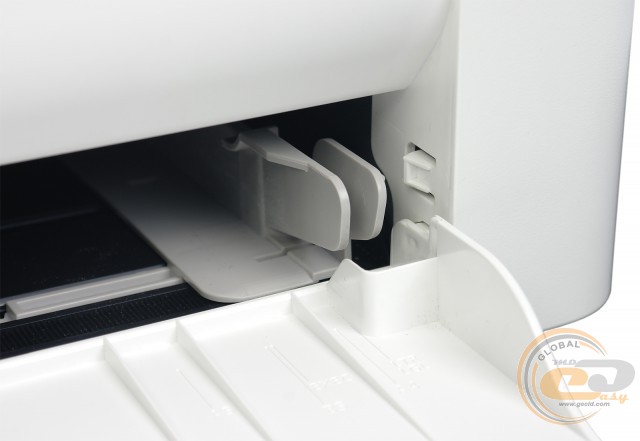 Paper feeder is designed for 150 papers. It is made in the form of one section with a movable sled, which fixes the page in the tray. Model Xerox Phaser 3020 can print on paper with the size of 127 - 356 mm in length and 76 - 216 mm in width. For the most popular formats (A4, A5, B5, Letter, Executive) on the inside of the lid of the input tray are special notches that help quickly set the slides into position.
Printer correctly handle paper of different density (60 to 163 g/m2), so it can be used not only for office documents, but also the various cards, envelopes, labels, greeting letters, film slides, etc. The stated speed is 20 pages per minute. Note that the capture of paper is smooth, without distortions. By the way, the Xerox Phaser 3020 has the ability to single-piece sheets flow, which is sometimes lacking in its predecessor, the Xerox Phaser 3010.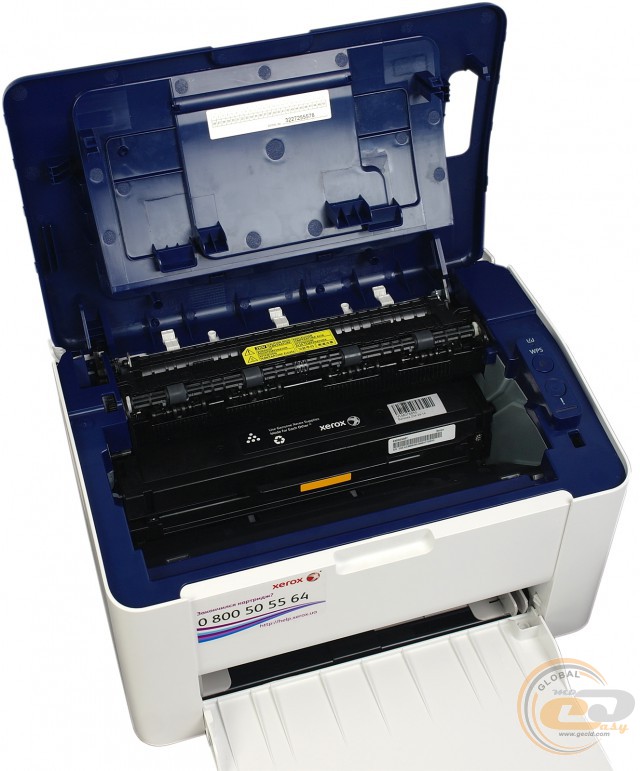 Access to the tray with the cartridge is carried out by opening the top cover. The element slides on special grooves. Thus, the procedure or replace the cartridge takes seconds and can be performed by the user with any level of training. And this is a great advantage of printers such as Xerox Phaser 3020 on professional solutions: their service doesn't require any special knowledge or skills.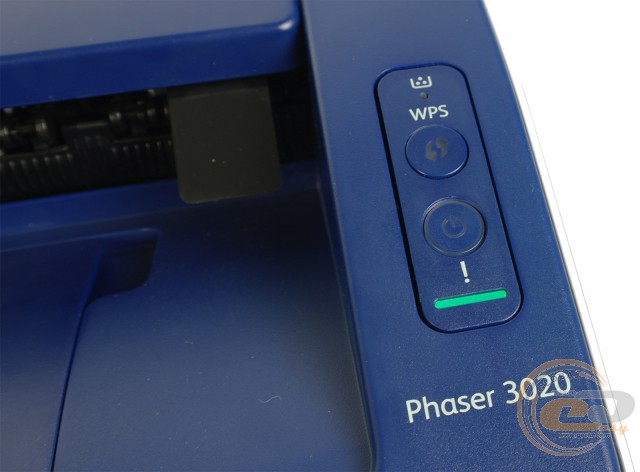 Setting of Xerox Phaser 3020 is realized through the driver and accompanying software. Separate menu screen and full navigation is not provided. On the other hand, the device aimed at the mass market does not require such items. Indeed, in most cases, home printer configuration is done on a "set it and forget."
In this context of the controls on the body contain only two buttons: the bottom is responsible for turning the printer and the "awakening" from sleep mode, and the upper («WPS») allows you to automatically connect to an existing wireless network. That's a nice surprise for users of the company Xerox. The model Xerox Phaser 3020 has built module Wi-Fi (standard IEEE 802.11 b/g/n), so sending a print can be done wirelessly and that nowadays is a very popular option.
Also next to the buttons you can find two indicators. Upper flashes when toner levels are running low and lights when the cartridge is completely empty. The lower lights in case of any system error or a technical fault.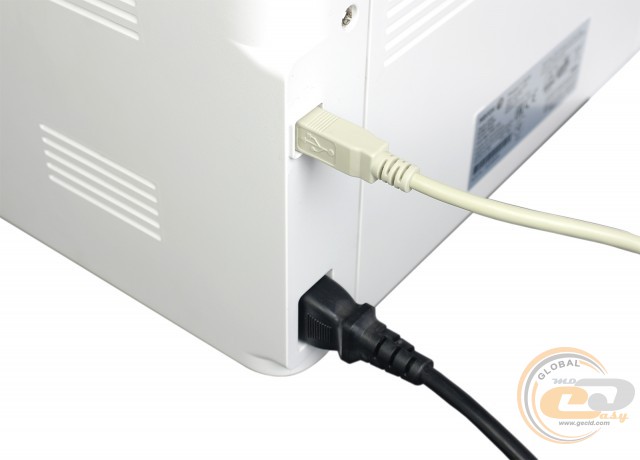 Xerox Phaser 3020 is connected to PC with a conventional USB-cable of standard 2.0. The connector is onto the back wall. There is also a power outlet. This placement of interfaces, in our opinion, is fairly good: nothing prevents the cable disconnection, even if the device is located near the wall.
Expendable materials

Since the novelty belongs to a monochrome laser printer type, there is only one black toner-cartridge. Note that the complete cartridge (Xerox 650N05407) is designed for 700 prints, while standard is enough for 1500 pages.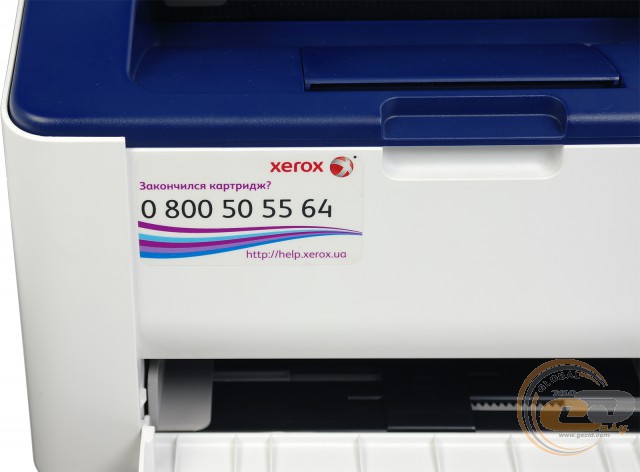 Xerox provides the users very developed service. One of its points is a delivery service of refilled cartridge at home. For example, if toner in the printer is empty, you need to call the phone number listed on the tray, and the courier will bring a new cartridge to replace the old one. All it will cost you about $ 15.
Software
Model Xerox Phaser 3020 is supported by all popular operating systems, and both modern and outdated versions:
MS Windows - XP/Vista/78/Server 2003/Server 2008, Server 2008 R2;
Linux OS - all versions;
Mac OS X - version 10.5 - 10.9.
When you first connect the printer to the computer we recommend using a special setting adviser. It will automatically installs all necessary software, initialize the device, and you can specify the wireless network.
Driver of print settings looks pretty simple. Nevertheless, here are all the necessary options that may be needed during normal user operation, namely the choice of page size, number of copies and print quality.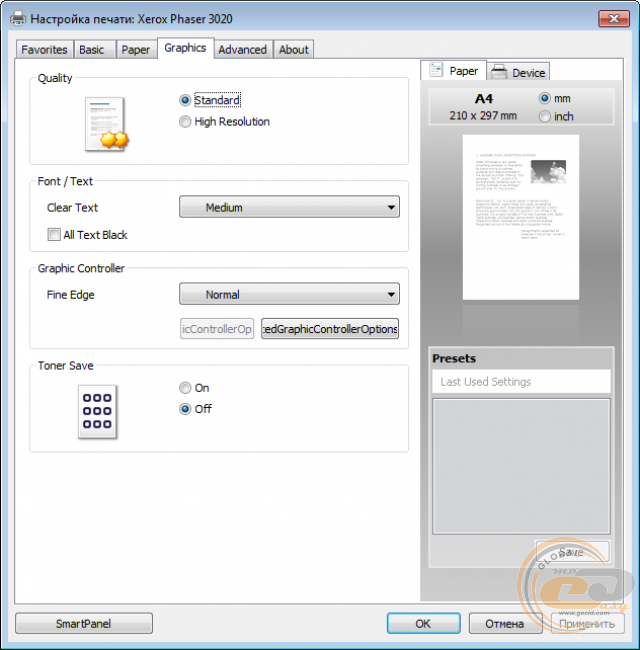 There is also support for toner save mode, and the ability to fine-tune the black level. The remaining amount of toner is displayed on the "Printer Status". By the way it is a very useful feature.
If the Xerox Phaser 3020 is expected to operate in a small office as a network printer, we recommend use a proprietary utility Easy Printer Manager, which makes it easier to administer. Also interesting options include the possibility to automatically send e-mail alerts in case of any problems, or need to replace the toner.
Социальные комментарии Cackle