PSU CHIEFTEC APS-1000CB: review and testing
After testing of top kilowatt power supplies, it's time to recall the cheaper counterparts. One of them is the flagship of series CHIEFTEC A-135, a model CHIEFTEC APS-1000CB. Its average cost ranges from $ 110 - 120, which is about 1.5 - 2 times less than the "gold" or "platinum" solutions with comparable power (1000 W). And this is a pretty powerful argument in favor of CHIEFTEC APS-1000CB, especially in cases that require a high power without much regard to other characteristics. The most vivid example is the configuration for generating of cryptocurrency, where the ratio of price and features of components is the determining factor. Due to this factor the predecessor of the hero of this review, CHIEFTEC APS-1000C, has such popularity and has established to be an inexpensive and robust workhorse. Despite the fact that it is still used in systems of some users, it is already obsolete. And the company produced a model CHIEFTEC CHIEFTEC APS-1000CB. And it will be described in today's review.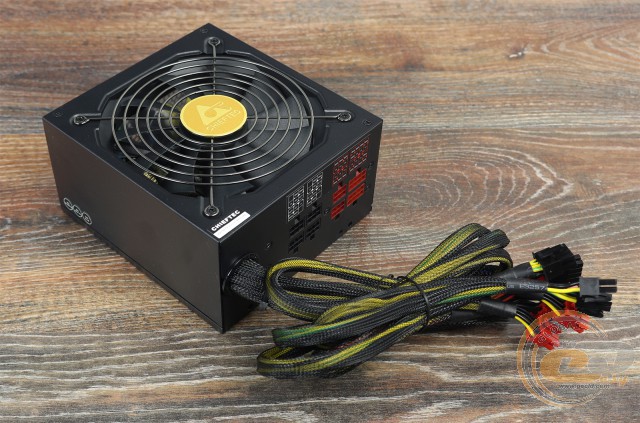 The specs:
Model

CHIEFTEC APS-1000CB

Type

ATX12V v2.3

Rated capacity, W

1000

Rail 12V capacity, W

996

Rails +3,3V and +5V capacity, W

140

Quantity of rails +12V

2

Outputs, А

+3,3V

23

+5V

23

+12V1, +12V2

42

-12V

0,5

+5Vsb (stand-by power line)

3

Input supply voltage, V

100 − 240

Frequency, Hz

50 − 60

Input curreny, А

15

Efficiency, %

> 85

Certified 80 PLUS

Bronze

Power factor (PF), %

90

Method of Power Factor balancing

Active

Configuration of system output cables

Partially modular

PCIe-sockets

6 (6+2-pin)

Fan dimensions, mm

135 х 135 х 25

Fan speed controller

Yes

Noise level, dB

Up to 33,9

Support for energy saving states C6 / C7(Intel Haswell Ready)

No

Correspondence to environmental standards, electromagnetic safety and compatibility (EMI/EMC)

CB, TUV, cTUVus, CE, FC, RoHS, ErP Lot 6 2013

Protections

OVP, UVP, OPP, SCP, OCP, OTP

Dimension, mm

160 х 150 х 87

Warranty, years

5

Operating time between failures, hours

-

Producer website

Product page
Package and content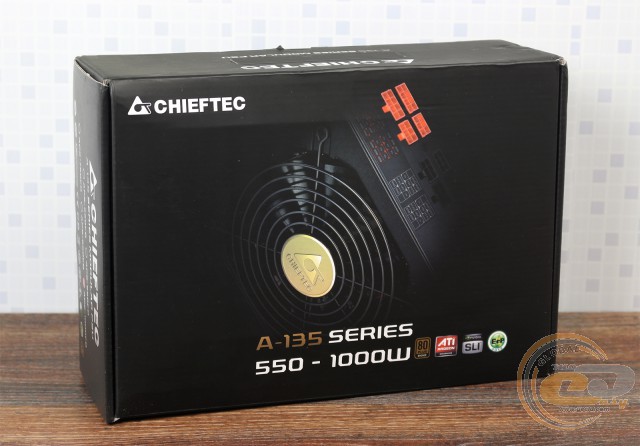 The power supply comes in a cardboard box of medium size. It is a universal for all solutions of a series CHIEFTEC A-135, so contains overall plan information: compliance with energy efficiency 80 PLUS Bronze and environmental standards ErP 2013, support for Multi-GPU-technology AMD CrossFireX and NVIDIA SLI.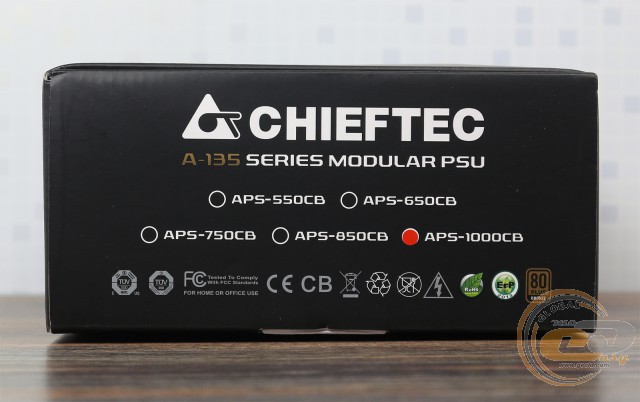 A special mark on the face of the box tells about the model inside the box. In our case it is CHIEFTEC APS-1000CB.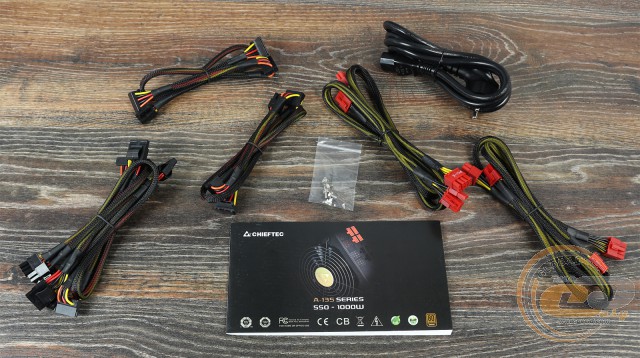 Package includes only the necessary components you may need for operation, namely, the power cord, installation screws, instructions and a set of detachable cables.
Design
Despite the high performance and availability of modular connectors, CHIEFTEC APS-1000CB is comparatively compact solution. Its length is not more than 160 mm, while the most competitive devices it equals 190 mm. This ensures that the hero of the review fits in any modern housing in formats Mini Tower, ATX or Full Tower, and thus will not block the space for the fan on its bottom.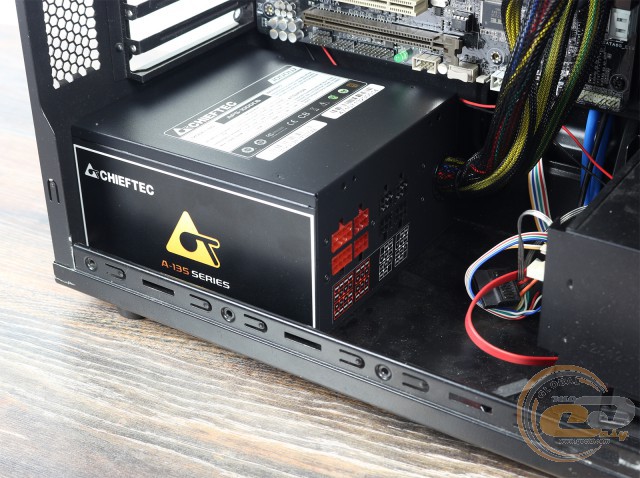 In the model CHIEFTEC APS-1000CB system of output cables is partially modular. That is the main cables that are always involved in the PC (to supply the motherboard, CPU, video card) are put directly from the case, and the rest are made detachable. This configuration is the most compromise: avoids unnecessary clutter of cables inside the computer.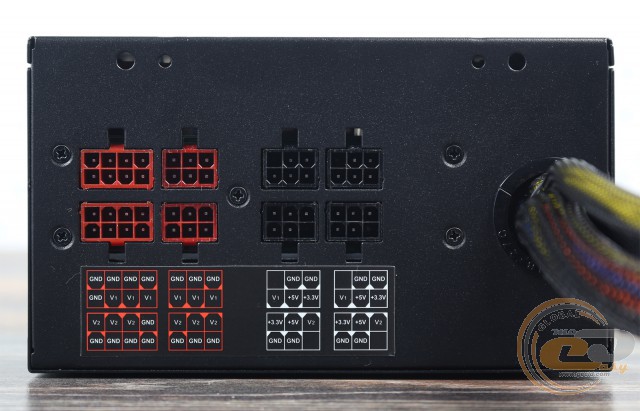 The rear panel contains eight connectors, which have the following purposes:
two 6 and two 8-pin (red) - for an additional video card power;
four 6-pin (black) - to supply periphery.
Note that each of the connectors for the power of graphics cards is simultaneously connected to two 12-volt lines, which will allow distribute the load between them.
All cables are made in the form of a wire, strapped and shrinking. In our opinion it is not the most convenient option. To connect the video card the manufacturer has provided six 6+2-pin PCIe-connectors and for processor there are two 8-pin ATX12V. Thus, CHIEFTEC APS-1000CB can be used without problems as a part of high-performance gaming systems and workstations. However, it would be nice to have another two connectors PCIe. Without them during the organization of mode 4-Way NVIDIA SLI/AMD CrossFireX you have to use additional adapters.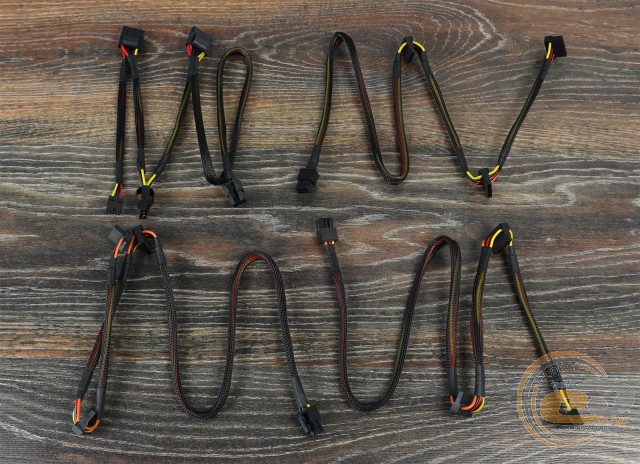 As for connectors for peripherals, the available quantity (nine SATA and three PATA) in most cases will be enough. However, some disadvantages can provide their placement on the cables. In particular, we are talking about a single cable with connectors PATA.
All available types of connectors and cable length are given in the table below:
Sockets

Quantity

Cable length to socket (connectors), cm

Cables from PSU

20+4-pin ATX connector

1

50

4+4-pin ATX12V connector

1

55

8-pin ATX12V connector

1

55

6+2-pin PCIe connector

2

50

Modular (detachable) cables

6+2-pin PCIe connector

4

55

three SATA

3

45-60-70

three PATA + FDD

1

45-60-75-90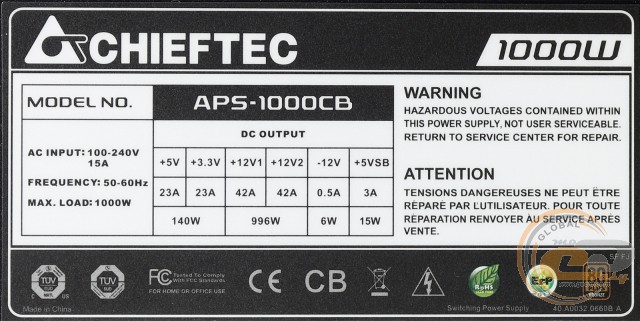 Before moving to the analysis of the hardware platform, we offer to look at the characteristics of electrical power supply specified on the label. Its nominal capacity is 1000 W, with almost the same value for channel +12V (996 W). It is made in the form of two 42-ampere lines, so installation and further overclocking of CPU and graphics card won't cause any problems. Total power of lines + 3.3V and +5V is equal to 140 W, which will also be more than enough to take stock of power to peripheral devices.
CHIEFTEC APS-1000CB is capable of operating over a wide input voltage range (100 – 240 V). That is in an unstable power supply you don't need to use external voltage regulators.
Internal device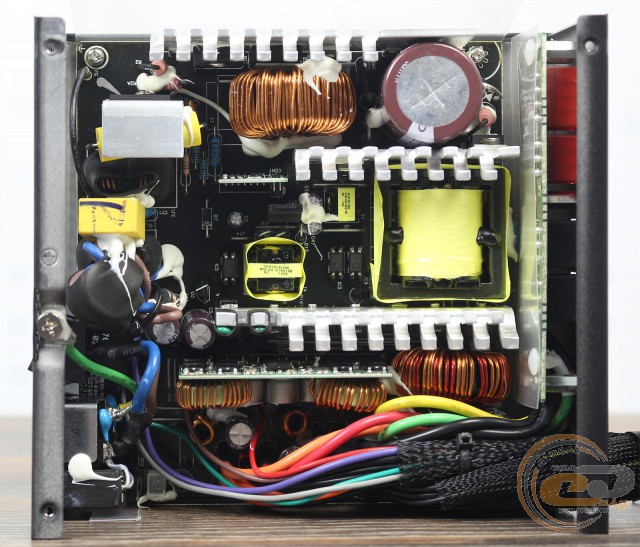 The platform notes about the development of company SIRFA Electronics (SIRTEC High Power). This is also evidenced by the characteristic markings: "NO-768, REV-02." Although the UL-code (E327405) tells us that company Hung Hing Electronics also made some innovations into the development of PSU. Apparently, it is a manufacturer of printed circuit board. As to the circuit design, here is forward converter with DC/DC-converters in the low-voltage side. Again, quite a balanced solution: inexpensive, easy to implement and capable of providing acceptable performance at the output.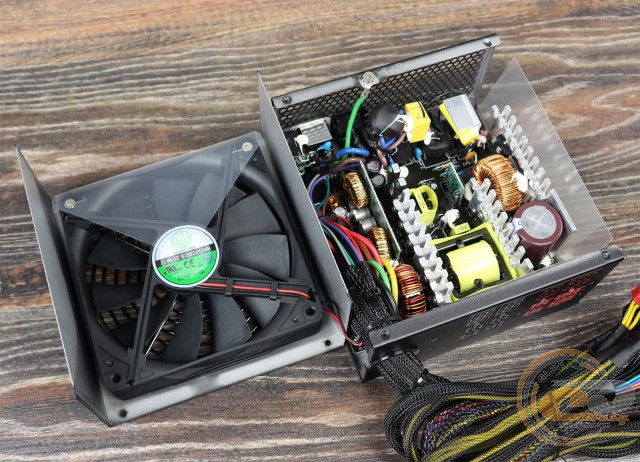 The cooling system of the power unit is represented by four aluminum radiators that are blown by 135-mm fan GLOBE FAN RL4Z S1352512HH. It has a relatively high capacity (5.4 W; 129,76 CFM), however, it is based on a conventional plain bearing.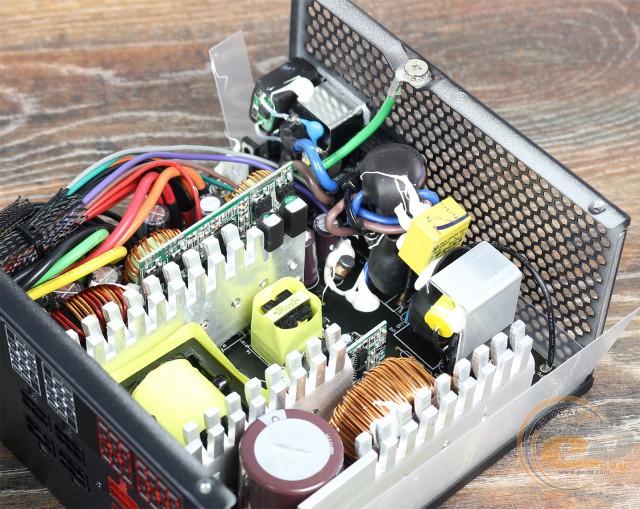 EMI filter is installed in the input of the power supply, including the complete list of required elements: four Y and two X capacitor, two chockes and varistor. Also here we found a chip «CMD02X», which, depending on the state CHIEFTEC APS-1000CB limits the current through the resistor filter or discharges the input X-capacitor. The diode bridge consists of two 10-ampere units GBU1005. Also here you can find module active Power Factor Correction (APFC) and a storage capacitor.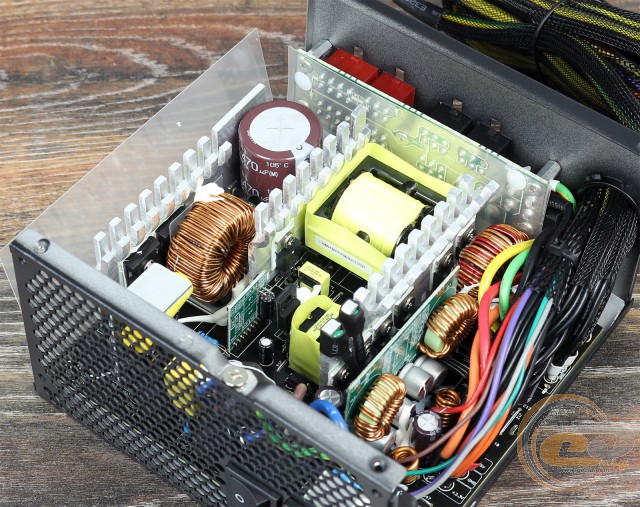 The manufacturer of the latter (470 x 400 uF) is a famous Japanese company Nippon Chemi-Con, which guarantees its quality. And the ability to withstand temperatures up to 105°C is also important. Central place on the board, as expected, is reserved for the main converter, with power transistors ICE60N130.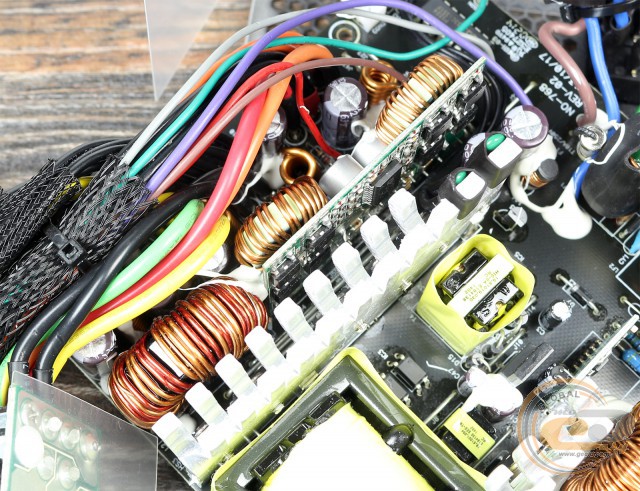 Low-voltage part is a synchronous rectifier with a DC/DC-converters. Unfortunately, we could not learn the marking force elements to +12V line, so let's get right to the analysis stage with voltage +3.3V and +5V. It is made in a separate printed circuit board with 8 transistors Infineon 060N03L and controlled by PWM controller APW7159, and on the other - the components of LC-filters. It is worth noting that CHIEFTEC APS-1000CB uses the principle of separate voltage stabilization.
Filtering of ripple at the output is realized by using both solid-state capacitors and components with liquid electrolyte. In the latter case their manufacturer is the company Su'Scon. Not a bad choice for an inexpensive solution, because the quality of its products can be described as average.
The CHIEFTEC APS-1000CB offers a complete list of necessary protection:
overvoltage protection (OVP);
undervoltage protection (UVP);
short-circuit protection (SCP);
overload power (OPP);
over-current protection of each channel (OCP);
overtemperature protection (OTP).
The corresponding node is running due to chip SITI PS224. Note that this platform provides two separate temperature sensors, one of them is used protect from overheating, and the second carried out by a second variable provides speed regulation of fan.
Testing
Cross-load characteristics
According to the norms of the standard ATX12V, the permissible range of voltage deviations for all supply lines is ± 5% of their value.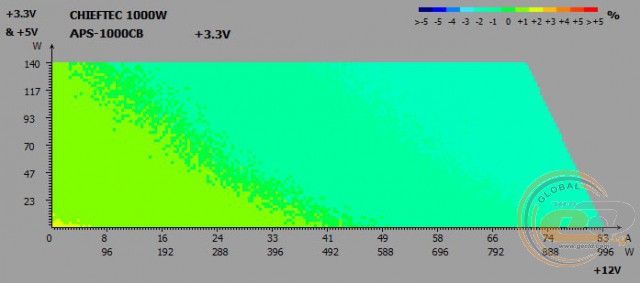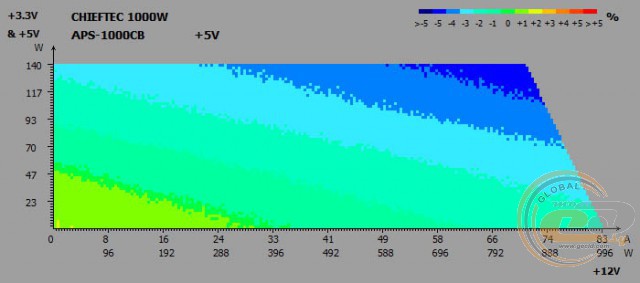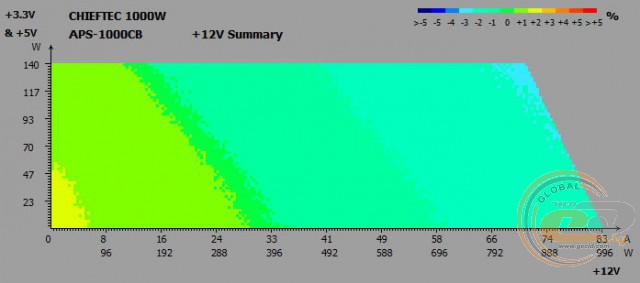 Following the voltage deviations were fixed during cross-load tests on the main supply lines:
rail +3.3V from -2% to +1%;
rail +5V from -5% to +1%;
rail +12V from -3% to +2%.
Node of voltage stabilization coped well with the task: voltage fluctuated in a much narrower range than required by the standard ATX12V. However, on the +5V line it dropped to the minimum acceptable level of 5%. However we note that to achieve such a result we had to load all the channels almost to the maximum. In actual use this situation is not possible.
Социальные комментарии Cackle