PSU Seasonic M12II-750 Bronze Evo Edition: review and testing
According to testing of power supplies Seasonic Seasonic M12II-520 Bronze Evo Edition and Seasonic M12II-850 Bronze Evo Edition, the representatives of lineup Seasonic M12II Bronze Evo Edition are very balanced solutions, and on the set of technical characteristics and consumer features in the middle price range they are the best. Of course, one could argue that at the same time they are more expensive than their competitors. But on the other hand, this overpayment is justified. After spending a few extra bucks, you get a fully modular cable configuration, low-speed fan, high quality hardware platform, and in case of high-performance models - also separate power supply stabilization system, a dedicated channel +12V and all types of protection. Now think about, what other "bronze" power supply has such capabilities?
That is why representatives of the series Seasonic M12II Bronze Evo Edition are often recommended for the desktops, both for conventional systems and solutions for gaming with two or three graphics cards. In the first case, it will be possible to use the power supply of 500 - 600 W, but in the second you would have had to look in the direction of more efficient models. Bus such models are available in lineup Seasonic M12II Bronze Evo Edition: Seasonic M12II-750 Bronze Evo Edition and Seasonic M12II-850 Bronze Evo Edition.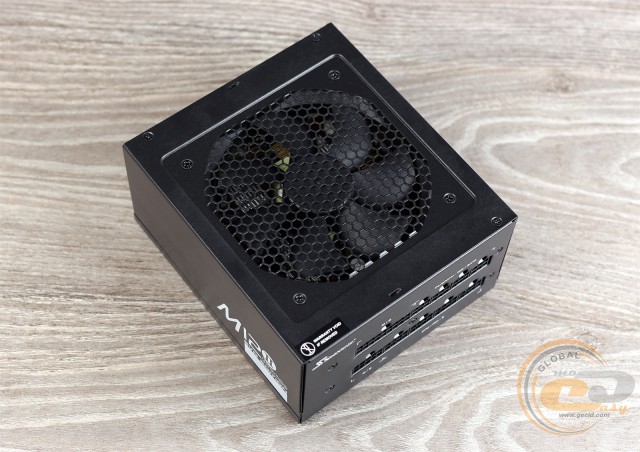 We have already described the 850 W version, so it was decided to review the device with capacity of 750 W, namely Seasonic M12II-750 Bronze Evo Edition (Seasonic SS-750AM2).
The specs:
Model

Seasonic M12II-750 Bronze Evo Edition

(Seasonic SS-750AM2)

Type

ATX12V

Rated capacity, W

750

12V channel capacity, W

744

+3,3V and +5V channel capacity, W

150

Q-ty of +12V lines

1

Outputs, А

+3,3V

25

+5V

25

+12V

62

-12V

0,5

+5VSB (stand-by power line)

3

PCIe-sockets

6 (6+2-pin)

Modular

Yes

Efficiency, %

> 81

Certified 80 PLUS

Bronze

Power factor, %

99

Method of Power Factor balancing

Active

Input voltage, V

100 − 240

Frequency, Hz

50 − 60

Input current, А

5 − 10

Fan dimensions, mm

120 х 120 х 25

Fan speed controller

Есть (S2FC)

Noise level, dB

−

Support for energy saving states C6 / C7(Intel Haswell Ready)

Yes

Correspondence to environmental standards, electromagnetic safety and compatibility (EMI/EMC)

CB, CUL, SEMKO, TUV, GOST-R, BSMI, CE, FCC, RCM, RoHS, WEEE, ErP Lot 6 2013

Protections

OVP, UVP, OPP, SCP, OCP, OTP

Dimension, mm

170 х 150 х 86

Packaging

Power cord, fastening screws, modular cables and bag, manual, sticker with company logo

Warranty, years

5

Producer website
Package and content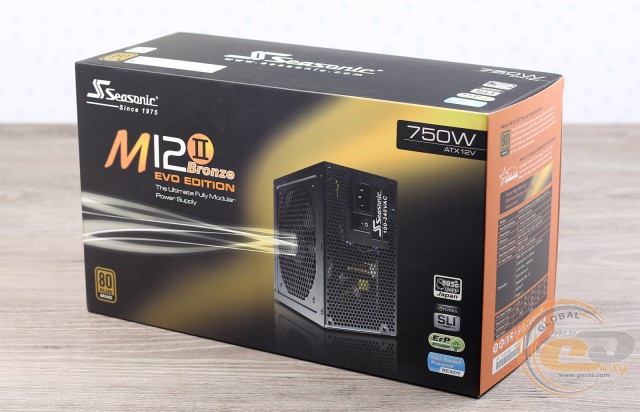 Seasonic M12II-750 Bronze Evo Edition comes in a sturdy cardboard box of medium size, which protects the device from damage during transportation. As always, it has a high-quality printing and excellent informative aspect.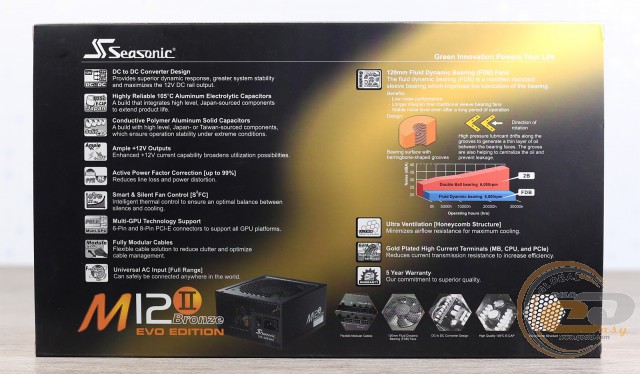 In addition to description of the characteristics and configuration of the electrical output cables, here you can also find a pretty impressive list of features and used technologies. Let's learn the most interesting and important points:
DC to DC Converter Design - advanced circuitry with a strong line +12V, from that forms remaining ratings based on the DC voltage;
Highly Reliable 105°C Aluminum Electrolytic Capacitors, Conductive Polymer Aluminum Solid Capacitors - all nodes have high-quality Japanese capacitors belonging to the high-temperature series;
Ample +12V Outputs - channel +12V is designed as a single lineup and has a larger load capacity, which will allow to connect current efficient accessories to the power supply;
Smart & Silent Fan Control [S2FC] – there is an intelligent cooling system, the operation of which depends on the heating of internal components;
Multi-GPU Technology Support - the 6+2-pin PCIe connector for additional power connection to graphics cards at any level;
Fully Modular Cables - a fully modular cabling;
Universal AC Input [Full Range] - ability to work in a wide range of input voltages (100 – 240 V);
120mm Fluid Dynamic Bearing (FDB) Fans - the presence of a low-speed fan based on hydrodynamic bearings;
5 Years Warranty - 5-year warranty.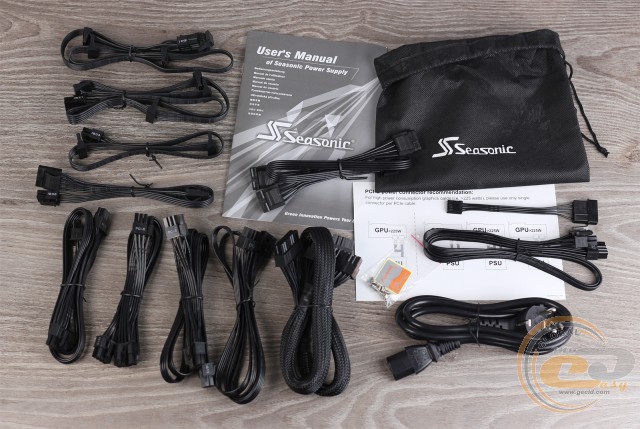 Package of model Seasonic M12II-750 Bronze Evo Edition includes all the necessary components, you may need during the operation of the device, namely:
AC power cord;
screws to secure;
modular cables;
bag for detachable cables;
sticker with the company logo;
manual.
Design
Case of power supply is made of thick steel and painted in matt black. The quality of its assembly is at the highest level: all the panels are well treated and fit tightly to each other. Placement of vents is standard: perforated grating can be detected only on the cover and the front wall of the case. Through the first cover the air flows into the power supply, and through the second is removed outside. They have a honeycomb structure, which theoretically should reduce the resistance to air flow and positively affect the acoustic properties of the power supply.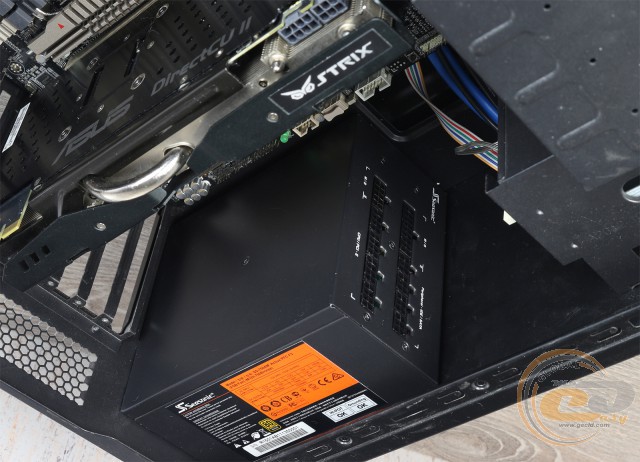 Model Seasonic M12II-750 Bronze Evo Edition has slightly enlarged dimensions: 170 x 150 x 86 mm. But let's not forget that it uses a fully modular cabling. In addition, extra 10 mm in length won't impact on the convenience of its location in the modern computer case.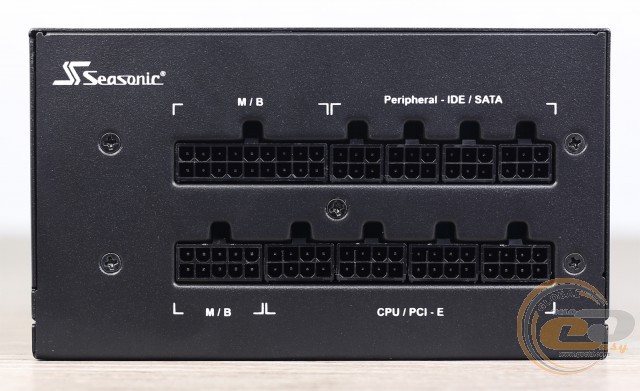 As mentioned above, all the wires to the power set are detachable. Such technical performance greatly simplifies the assembly process of laying and hidden wires, especially when it comes to efficient configurations. And a model Seasonic M12II-750 Bronze Evo Edition is designed for them.
The rear panel contains 10 connectors, which are signed and have a different structure. Below is the purpose of each of them:
18-pin and 10-pin («M/B») - to power the motherboard;
four 6-pin («Peripheral IDE/SATA») - to supply the periphery;
four 8-pin («CPU/PCI-E») - for additional power of processor and graphics card.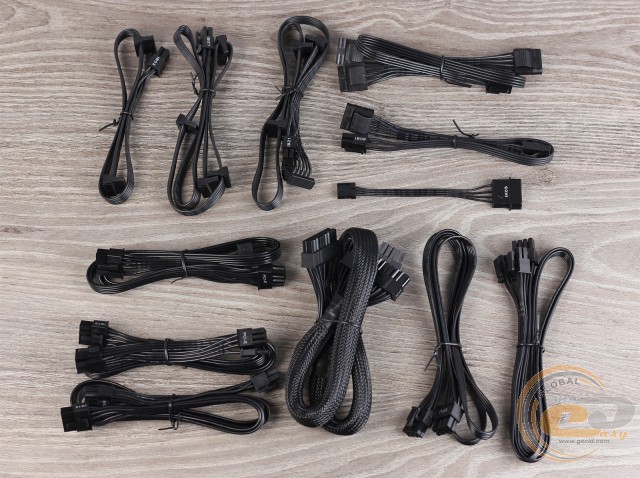 All lines except for the power used for the motherboard, have the form of strips, which makes them more flexible than the traditional with the braid. Main power connectors are collapsible 20+4-pin ATX and two 8-pin ATX12V (one is also collapsible). But the most interesting company Sea Sonic Electronics has prepared for gamers and owners of powerful workstations - six 6+2-pin PCIe connectors. Thus, Seasonic M12II-750 Bronze Evo Edition will power the three high-end video cards without using additional adapters.
Cable configuration for power peripherals also deserves only the most flattering words. There are many available connectors. And they are placed on wires in order to use the minimum number of them.
Available types of connectors and cable lengths are given in the table below:
Socket type

Quantity

Cable length to socket (connectors), cm

Modular (detachable) cables

20+4-pin power socket ATX

1

60

4+4-pin power socket ATX12V

1

65

8-pin power socket ATX12V

1

65

two 6+2-pin power socket PCIe

3

55-65

three sockets PATA

1

40-50-65

two sockets PATA

1

30-40

four sockets SATA

2

40-50-65-75

two sockets SATA

1

30-40

adapter PATA-FDD

1

10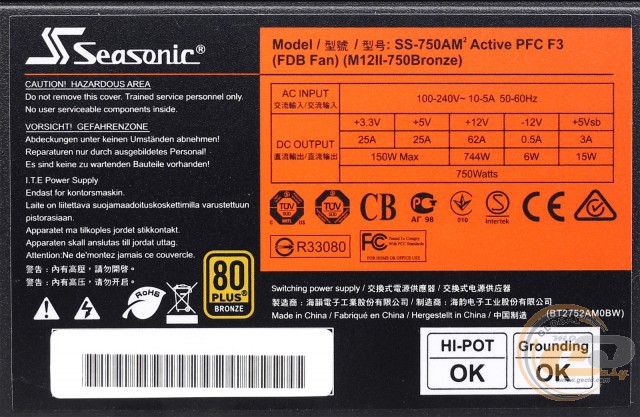 Now let's take a closer look at the technical characteristics of the model Seasonic SS-750AM2. Its nominal power is 750 W, while +12V channel is configured as a single line and designed to the same load of 744 W. In general, everything is done to ensure that the user has no problems with the connection of the productive components and their subsequent overclocking. Lines +3.3V and +5V have a maximum total power of 125 W, each of them is able to withstand current up to 25 A.
Seasonic M12II-750 Bronze Evo Edition conforms to 80 PLUS Bronze. According to its requirements, the efficiency of the power supply for loads of 20%, 50% and 100% of the nominal power must not fall below 81%, 85% and 81%, respectively (for supply voltage 230 V).
Also note a wide input voltage range (100 – 240 V), which eliminates the external voltage regulators in an unstable power supply.
Internal device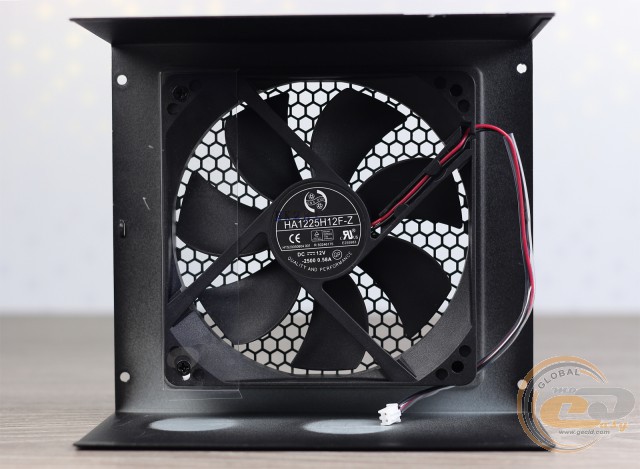 To cool the internal components there is a 120mm 7-blade fan Hong Hua HA1225H12F-Z with pretty high capacity of - nearly 7 W. It is based on the hydrodynamic bearing (FDB), which compared with a conventional sleeve one is more reliable and quiet embodiment.
| | |
| --- | --- |
| Fan | Hong Hua HA1225H12F-Z |
| Bearing | hydrodynamic (FDB) |
| Voltage supply, V | 12 |
| Current, А | 0,58 |
| Capacity, W | 6,96 |
| Max rotation speed, rpm | 2500 |
| Air flow, CFM | − |
| Noise level, dB | − |
| Dimensions, mm | 120 х 120 х 25 |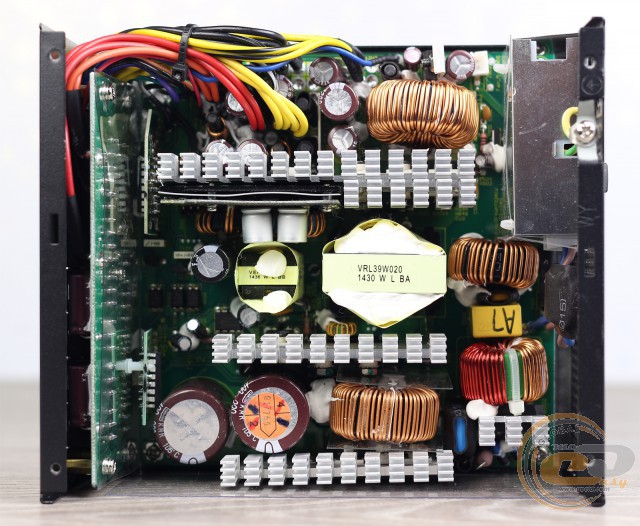 In contrast to another models in the series Seasonic M12II Bronze Evo Edition, here is used more progressive platform Seasonic AM2 based on the synchronous rectifier and a separate stabilization system power. All this should provide good indicators of output, especially under high loads.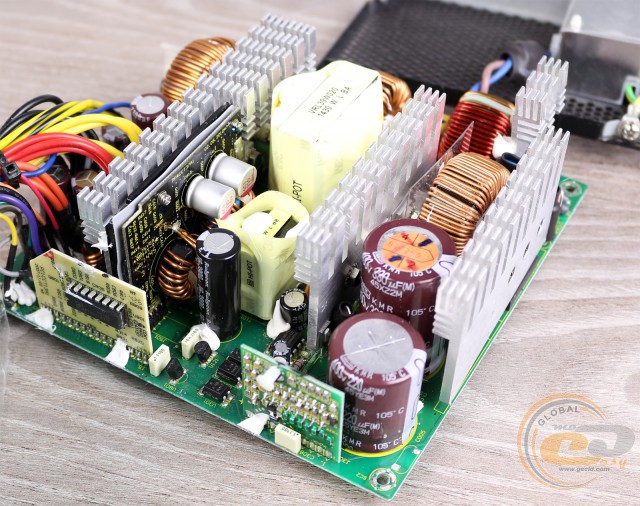 As can be seen from the photos, all the groups of power elements are equipped with separate aluminum radiators. Even in the low-voltage side relatively "cold" transistors on the lines +3.3V and +5V are closed by thick metal plate.
The organization of the rest of the power supply units is also at high level. Despite the fact that this model is aimed for mainstream users, there is not the slightest hint of the economy: all the components are in place and matched with a large margin of safety; capacitors only in Japan. Moreover, some technical solutions and even entire structural units of the device are borrowed from the "golden" series Seasonic G. To see this, we propose to consider the design of Seasonic M12II-750 Bronze Evo Edition in more details.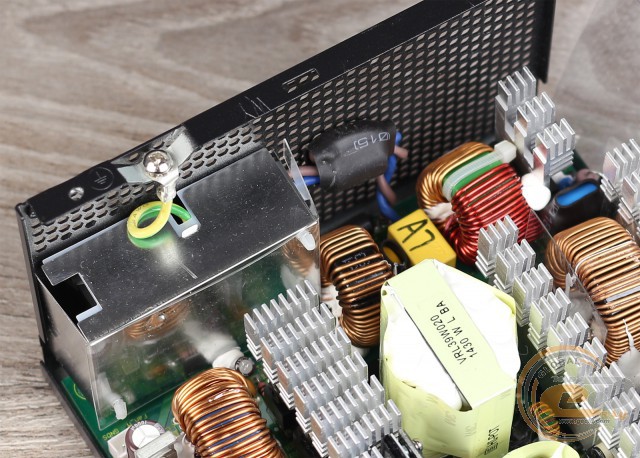 At the input you can find an installed EMI-filter, which is responsible for smoothing high-frequency noise emitted by the power supply. It also bears the function of lightning protection. Traditionally, it is divided into two parts. One group of elements which includes the coil, one X and Y-four capacitors, is located near the socket and is closed by a special casing. The second (two large chocks, varistors, one two X and Y-capacitors) is located directly on the main circuit board.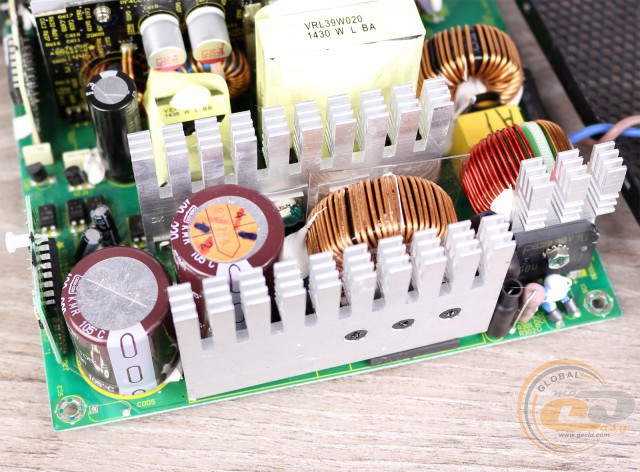 Straitening of the input electrical current is carried out by means of two 8-voltage diode assemblies GBU 8J. Behind them we foud the module Active Power Factor Correction (APFC) and two high-voltage capacitors with the characteristics of 330 uF x 400 V and 220 uF x 400 V. As a result, their total capacity is 550 uF, which is an excellent indicator for the 750 W devices. Both elements belong to a high-temperature series (105°C) and released by the Japanese company Nippon Chemi-Con, which is a quality product at a very high level.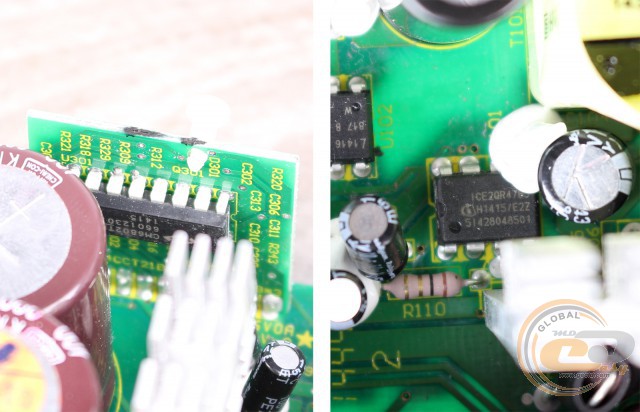 The operation of the main drive and the controller controls the APFC Champion CM6802TX. The correct functioning of the power supply (+ 5Vsb) responds chip Infineon ICE2QR4765. Unfortunately we could not identify the labeling of the power components of data nodes.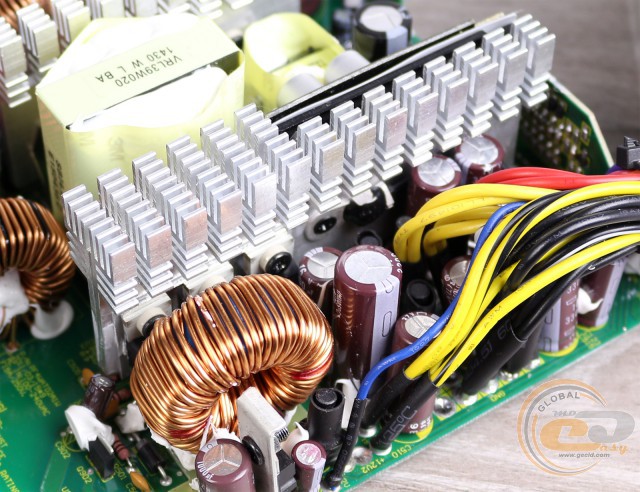 Low-voltage model of the Seasonic SS-750AM2 built on modern principles on the basis of the synchronous rectifier: in output there is a line +12V that forms further voltage +3.3V and +5V. This topology is the most relevant to the productive power supplies, because it allows you to get the maximum capacity of the channel + 12V. In addition, it involves the use of separate stabilization supply voltages system that has a positive impact on their condition under heavy load.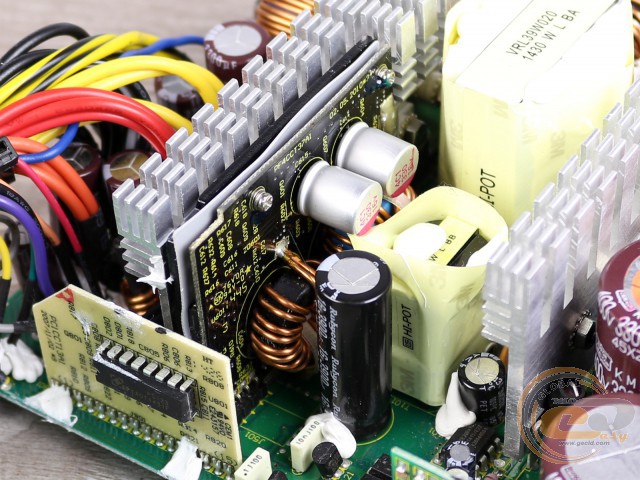 The node with the DC-DC-converter is made in a separate printed circuit board. On one side you can find a power section, and on the other the components LC filters. The voltage of +12V is provided by 5 diode arrays SBR30A50CT, whereas lines +3.3V and +5V are used for more effective transistors.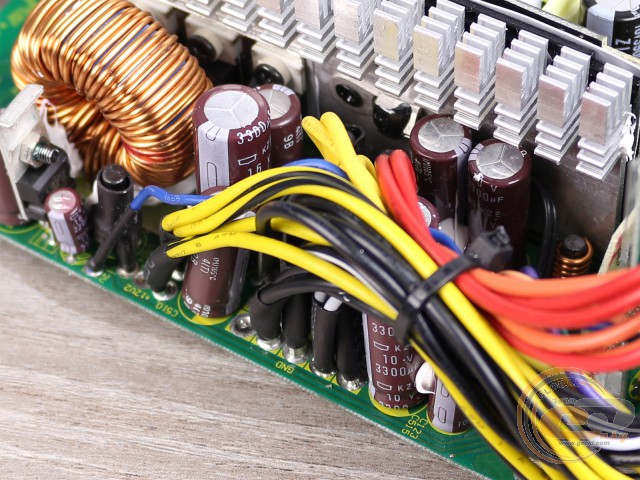 Noise filtering on the power supply outputs is provided by capacitors with liquid electrolyte (two solid elements are found only on the board with DC-DC-converters). Again, their quality is provided by Japanese company Nippon Chemi-Con. The capacitors are designed to work in an environment with high temperature (105°C), i.e. have a longer lifetime than their 85-degree analogs. Incidentally, the warranty on the power supply is 5 years.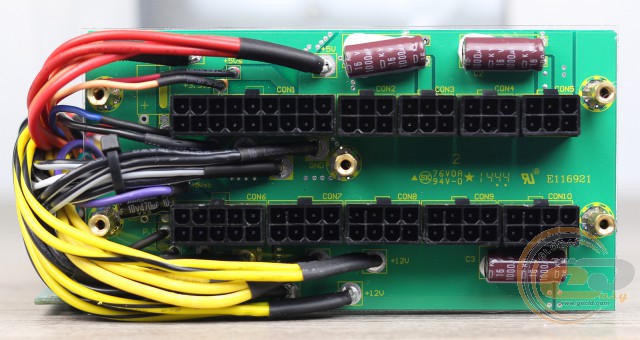 Several additional smoothing elements (1000 uF x 16 V and 470 uF x 10 V) are located directly near the modular connectors.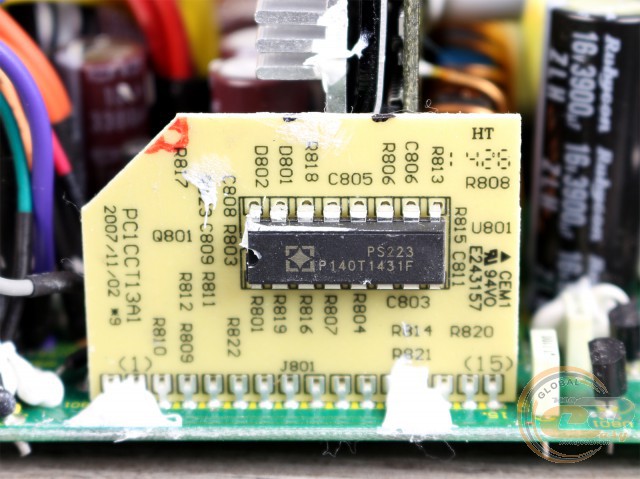 According to the technical specifications, model Seasonic M12II-750 Bronze Evo Edition has all the necessary protection (OVP, UVP, OPP, SCP, OCP, and OTP), including protection against overload and overheating. The node is based on a 4-channel controller SITI PS223 and implemented on a separate printed circuit board.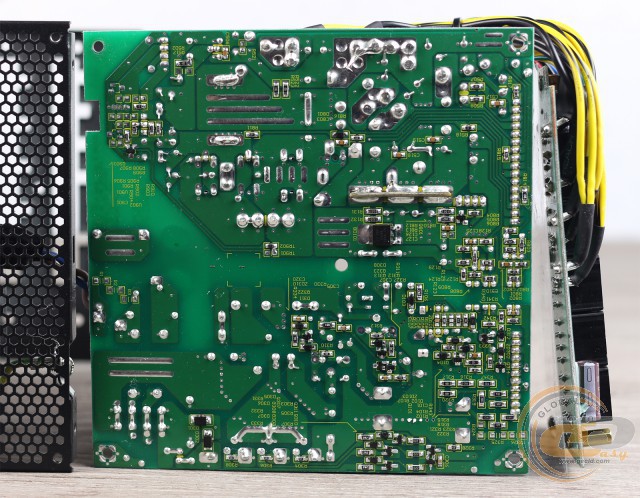 The quality of the soldering and assembly of components is at the highest level. In this regard, the Sea Sonic Electronics products can be regarded as a reference.
Социальные комментарии Cackle