Seasonic S12II-350 Bronze power supply unit - Review and Testing
When assembling a prospective PC configuration, the users are often considering power supply units of 500 watts and higher. Although, during our regular tests of video cards and processors we always carry out energy consumption measurements and their results show that in most cases you can get along with much less productive solutions. This is especially relevant to systems of elementary and intermediate levels. For example, a PC based on conjunction of AMD FX-6350 + AMD Radeon R7 370 would have a consumption of 300 W maximum. We have been deliberately choosing less energy consuming components to show the real dependence of their level on the load to the power supply unit. In other words, it makes no sense to strive for the maximum wattage. It is better to purchase a less productive solution, but more qualitative, or to invest the saved money to other PC components.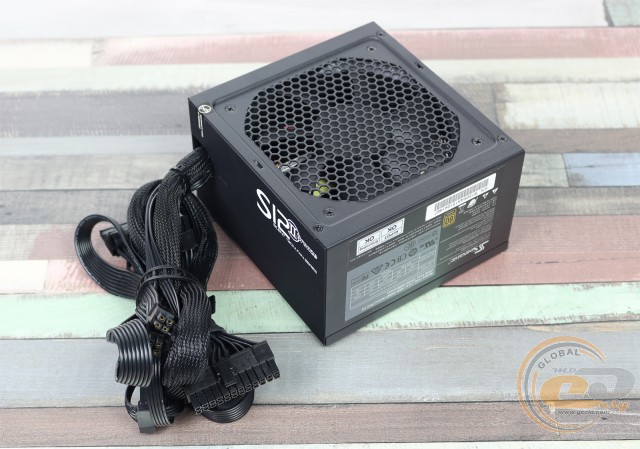 Although a major part of power supply unit manufacturers are on a string of marketers, curtailing production of low power models. Regarding the segment ranging from 250 to 400 W the lion's share of the available products there would belong to companies with a dubious reputation, and you see not so many solutions from famous brands. Nevertheless, you can find them. For example, Seasonic S12II-350 Bronze of 350 W and the price about $45.
Specifications
Model

Seasonic S12II-350 Bronze

(Seasonic SSR-350ST)

Type

ATX12V

Nominal wattage, W

350

Wattage by 12V channel, W

324

Wattage of +3,3V and +5V lines, W

82

Quantity of +12V lines

1

Outputs, А

+3,3В

12

+5В

16

+12В

27

-12В

0,3

+5Vsb (emergency power supply line)

2

Input power supply, V

100 − 240

Frequency, Гц

50 – 60

Input current, A

3 – 6

Efficiency, %

85

Certification 80 PLUS

Bronze

Power ratio compensation method

Active

Output cable system

Direct outlet from the power supply unit case

Quantity of PCIe connectors

1 (6+2-pin)

Cooling system

Seasonic S2FC on the basis of 120-мм fan

Protection type

OVP, UVP, OPP, SCP

Dimensions, mm

140 х 150 х 86

Warranty, years

3

Manufacturer site

Product page
Packaging and supply set
The power supply unit Seasonic S12II-350 Bronze comes in a carton box with the standard color design of Seasonic S12II Bronze series. As usual, the box has qualitative printing and complete information.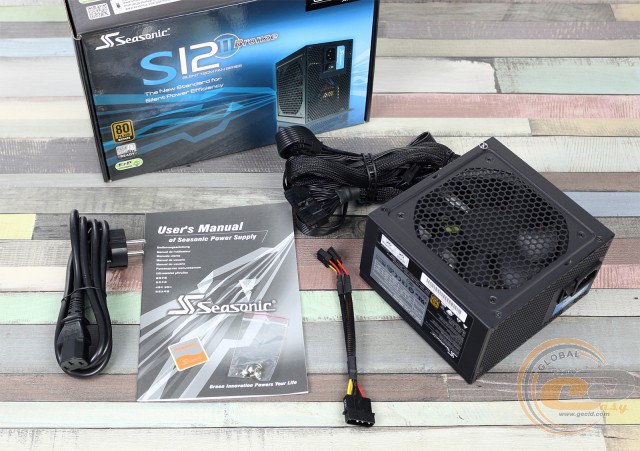 We have found inside a standard set of any power supply unit (a power cord, a user's manual and a screws set), as well as a couple of bonuses such as PATA to FDD adapter and a sticker with the company's logo.
Appearance
Seasonic S12II-350 Bronze has the standard ATX case design: ventilation slots are located on top and front panels, the others are made blank. The same way like other low-cost solutions have, the cables outcome directly from the power supply unit, but still they are made flat. This option is more convenient while assembling the system, especially when it is possible to hide the wires behind the computer case tray.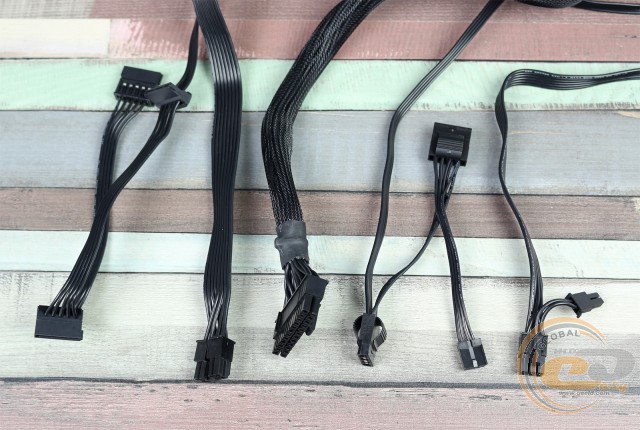 In our opinion, quantity of the available slots is sufficient for assembling a PC of elementary or medium level. We shall also note availability of 6+2-pin PCIe connector, which you find not often by solutions of 350 watts.
Complete output cable layout is in the table below:
| | | |
| --- | --- | --- |
| Connector types | Quantity | Cable length to connector (connectors), cm |
| 20+4-pin ATX power connector | 1 | 55 |
| 4+4-pin ATX12V power connector | 1 | 55 |
| 6+2-pin PCIe connector | 1 | 55 |
| two PATA connectors | 1 | 55-65 |
| three SATA connectors | 1 | 25-40-55 |
| PATA – two FDD connectors | 1 | 10 |
Inner layout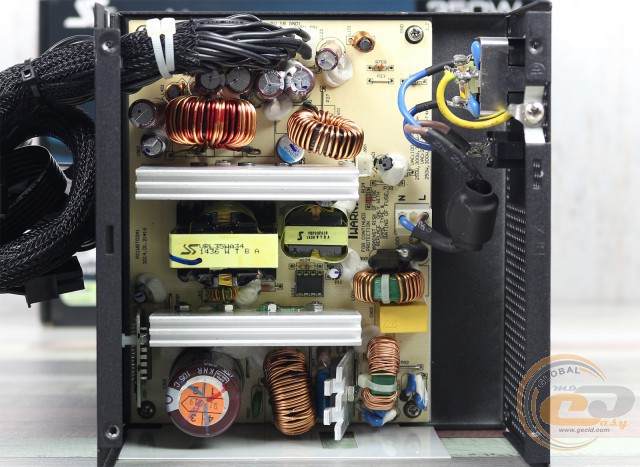 Seasonic SSR-350ST is based on a new budget platform Seasonic ST, whereas other representatives of Seasonic S12II Bronze series are implementing the Seasonic GB circuit design. Looking ahead, we would say that basically they differ not so much from each other: in both cases, a single-cycle forward converter is used as a main convertor and voltage rectification is carried out by means of diode assemblies. Slight changes have been only found in the input filter design and in low-voltage components. At least, this is the very first thing that has caught my eye at once.
Although the tested model is designed for a wide range of users, it has not a single sign of such a pervasive retrenchment, which is typical for the majority of its competitors. In particular, there is a full-featured EMI filter at the entry; the rectifier bridge has a separate radiator and the circuit scheme includes an active power factor correction module (APFC).
Moreover, all of the capacitors installed in the power supply unit are exclusively of Japanese production (one of the manufacturers is the competent Nippon Chemi-Con company) and belong to high-temperature series (up to 105°С). Accordingly, there is no any doubt about their quality.
The passive part of the cooling system consists of the diode bridge coolant mentioned above and of two massive aluminum radiators. Keys of the main inverter and of APFC unit are fixed on the first one, the diode assemblies are located on the latter, and they generate the basic voltage ratings. For cooling it is used here 120-mm fan Hong Hua HA1225M12F-Z with rated power of 5.4 W and which is based on a hydrodynamic bearing (FDB).
The major changes in the low-voltage part have affected the +12V line. The Seasonic GB platform design divides it into two virtual ones, whereas here is used one powerful channel. This option is more preferable while the main load goes to the +12V line in modern computers. Voltage regulation is implemented on sectional base. Available protection types include the following classes:
increased output voltage protection (OVP)
reduced output voltage protection (UVP)
short-circuit protection (SCP)
power overload protection (OPP)
Социальные комментарии Cackle