PSU Seasonic S12II-520 Bronze: review and testing
In the current economic situation not everyone can buy expensive power supply, compliant with standard 80 PLUS Gold or 80 PLUS Platinum. In this regard we are trying to pay more attention to the solutions of a low price tag and a relatively small capacity. Such devices previously had high popularity, but now their relevance has increased significantly.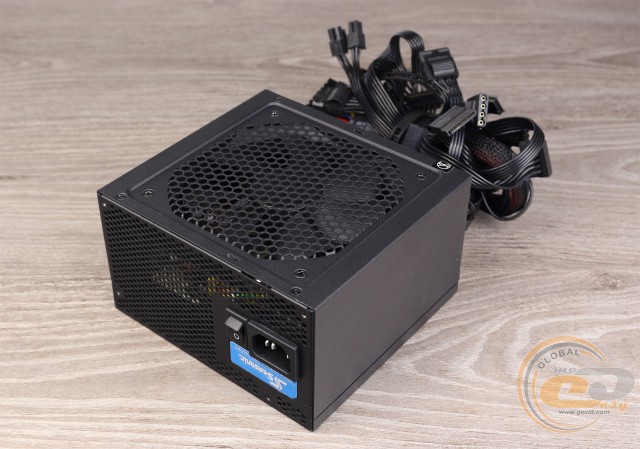 Talking about the Sea Sonic Electronics products, one of the most affordable series of power supplies is Seasonic S12II Bronze, which was updated. Its flagship with capacity of 620 W was tested in our lab. Now we are going to test less efficient representatives. In particular, in this review we will focus on the 520 W models Seasonic S12II-520 Bronze, also found under the name «Seasonic SS-520GB».
The specs:
Model

Seasonic S12II-520 Bronze

(Seasonic SS-520GB)

Type

ATX12V

Rated capacity, W

520

Rail 12V capacity, W

480

Rails +3,3V and +5V capacity, W

130

Quantity of rails +12V

2

Outputs, А

+3,3V

24

+5V

24

+12V1, +12V2

20

-12V

0,8

+5VSB (stand-by power line)

2,5

PCIe-sockets

2 (6+2-pin)

Modular

No

Efficiency, %

> 81

Certifies 80 PLUS

Bronze

Power factor (PF), %

99

Method of Power Factor balancing

Active

Input voltage, V

100 − 240

Frequency, Hz

50 − 60

Input current, А

4,5 − 9

Fan dimensions, mm

120 х 120 х 25

Fan speed controller

Yes (S2FC)

Noise level, dB

−

Support for energy saving states C6 / C7(Intel Haswell Ready)

No

Correspondence to environmental standards, electromagnetic safety and compatibility (EMI/EMC)

CB, CUL, UL, CCC, DEMKO, FIMKO, NEMKO, SEMKO, TUV, GOST-R, BSMI, CE, FCC, RCM, RoHS, ErP Lot 6 2013

Protections

OVP, UVP, OPP, SCP

Dimension, mm

140 х 150 х 86

Packaging

Power cord, installation screws, modular cables, cable holders, straps with adhesive tape, manual, logo with sticker

Warranty, years

3

Producer website
Package and content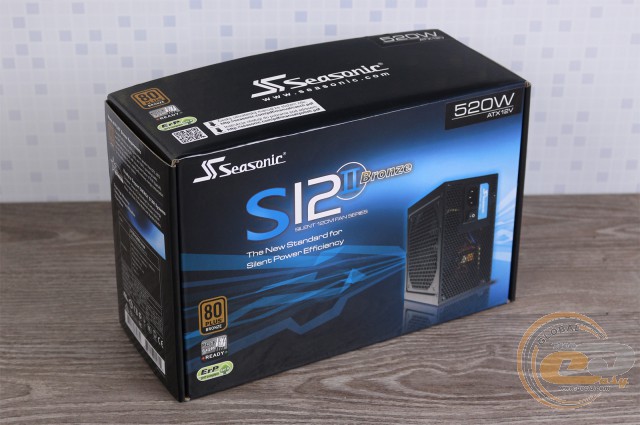 PSU Seasonic S12II-520 Bronze comes in a colorful medium carton box, decorated in traditional colors of the series Seasonic S12II Bronze. There is a detailed description of the capabilities of the device and its electrical characteristics and configuration of the output cables system. In a word, everything that might interest a potential buyer.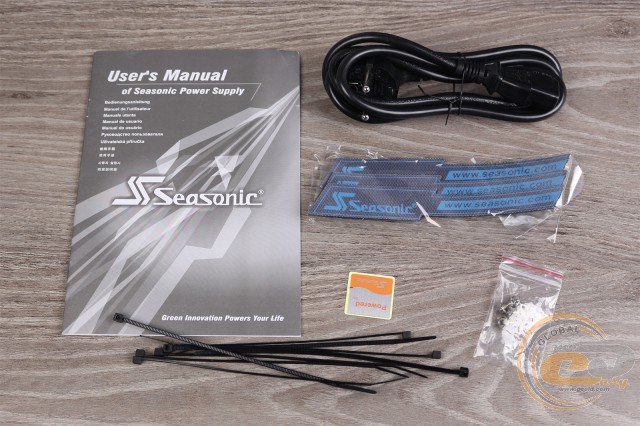 Delivery set of model Seasonic S12II-520 Bronze is as follows:
power cord;
installation screws;
holders and straps with adhesive tape fix the cables;
sticker with the company logo;
manual.
Design
Since the production of power units uses standardized components including case, the hero of the review looks very similar to other comparable solutions sold under the brand Seasonic. We would like to note that for testing we have a new revision of model Seasonic SS-520GB. It differs by stamped fan mesh on the case cover (previously "grill") and output cables in the form of strips (in a previous options they were in the form of the harness braided by fabric). Note that the name of the power supply and the index are not changed. So before you buy this model, please specify its revision.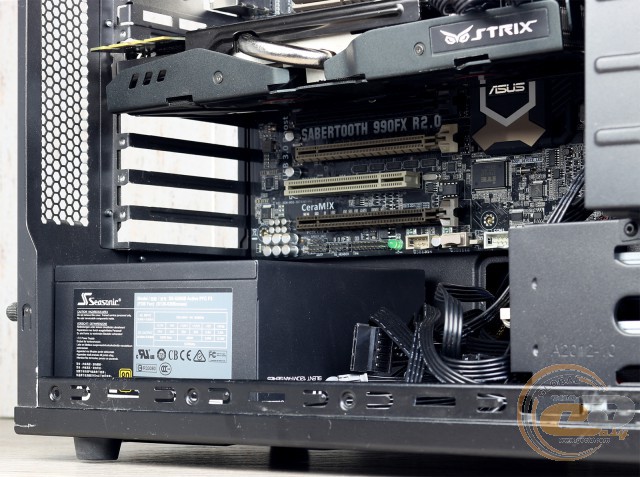 The all cables in Seasonic S12II-520 Bronze are directly put from the case. This solution enabled to simplify hardware platform of the power supply, which positively reflected on its price tag. And this is a very powerful argument. Although, you won't face with problems associated with lack of modular connectors. After all wires are made in the form of long flat strips. So hidden laying of cables and wiring the accessories should not take a long time.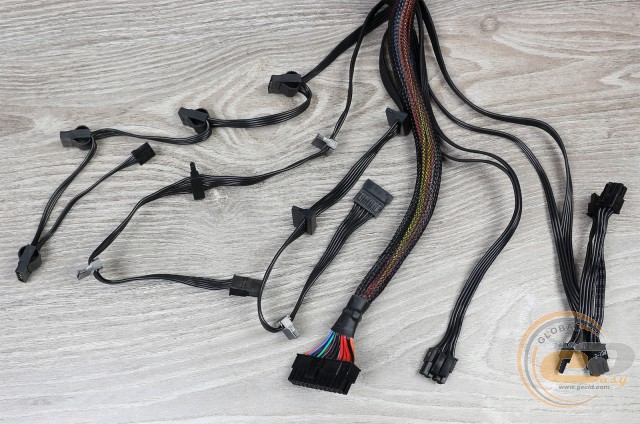 There are standard sockets ATX (20+4-pin) and ATX12V (4+4 pin) to power motherboard. Both have a folding design. Connecting of a video is realized by a pair of 6+2-pin PCIe, located on a common cable. Thus, in the configuration of the PC will include top-end graphics card, without using third-party adapters. To power the peripherals there are eight SATA connectors and four PATA. In our opinion this is enough for the home system even if it a file repository.
All available types of connectors and length are given in the table below:
Socket

Quantity

Cable length to socket (connectors), cm

Length from PSU

20+4-pin ATX connector

1

55

4+4-pin ATX12V connector

1

55

two 6+2-pin PCIe connectors

1

55-65

four PATA and one FDD

1

40-50-60-70-80

four SATA

2

40-50-60-70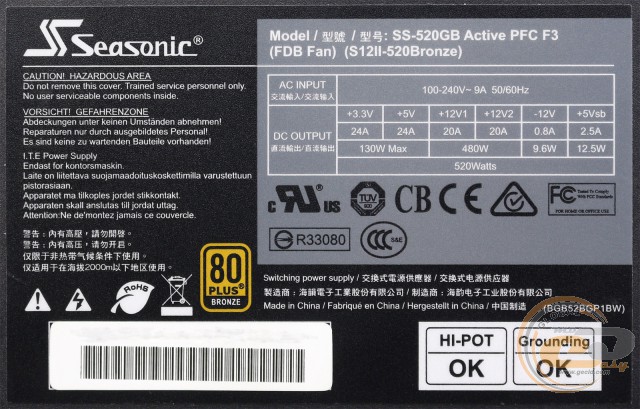 Now let's take a closer look at the technical characteristics of the model Seasonic SS-520GB. Its rated power is 520 W. Thus +12V rail is designed for relatively large load (480 W, which corresponds to approximately 92% of the total power) and is made in the form of two 20-ampere lines. For low-cost power supplies such separation is standard practice. The manufacturer is limited to two 12V lines, not three or four as some competitive solutions of comparable power. As for the rails +3.3V and +5V, each can withstand the current strength of 24 A, but the total power consumption of them must not exceed 130 W. Although this value is quite enough for drives, and other peripherals.
Model Seasonic S12II-520 Bronze conforms to standard 80 PLUS Bronze. According to its requirements, the efficiency of the power supply for loads of 20%, 50% and 100% of the nominal power must not fall below 81%, 85% and 81% respectively (for supply voltage 230 V). Also note a wide input voltage range (100 – 240 V), which eliminates the external voltage regulators in an unstable power supply.
Internal device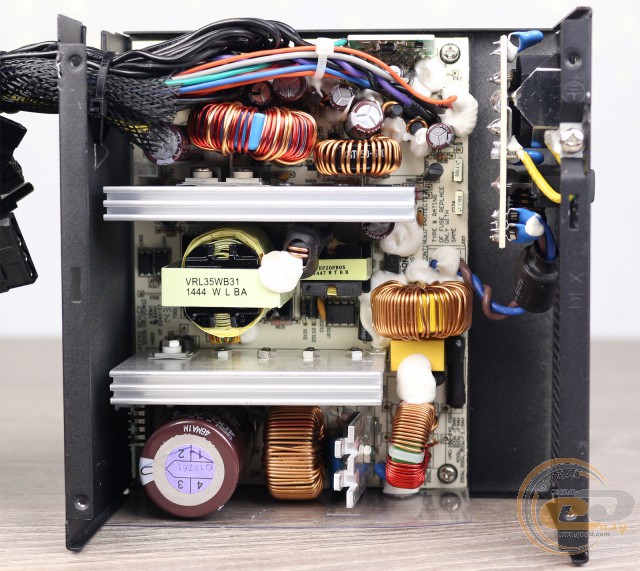 PSU Seasonic S12II-520 Bronze is based on the platform Seasonic GB, which is also used in the flagship 620 W model of the same series. In principle it is a standard single-cycle forward converter with group of diode arrays that are used to receiving all necessary voltage ratings.
The cooling system consists of three aluminum radiators that are blown by a 120-mm fan Hong Hua HA1225M12F-Z power of 5.4 W. It is based on a hydrodynamic bearing (FDB) and according to noise, performance, reliability is one of the best fan we met in the power supply. Its specification is in the table below:
| | |
| --- | --- |
| Fan | Hong Hua HA1225M12F-Z |
| Bearing | FDB |
| Supply voltage, V | 12 |
| Current, А | 0,45 |
| Capacity, W | 5,4 |
| Max rotation speed, rpm | 2050 |
| Air flow, CFM | − |
| Noise level, dB | − |
| Dimensions, mm | 120 х 120 х 25 |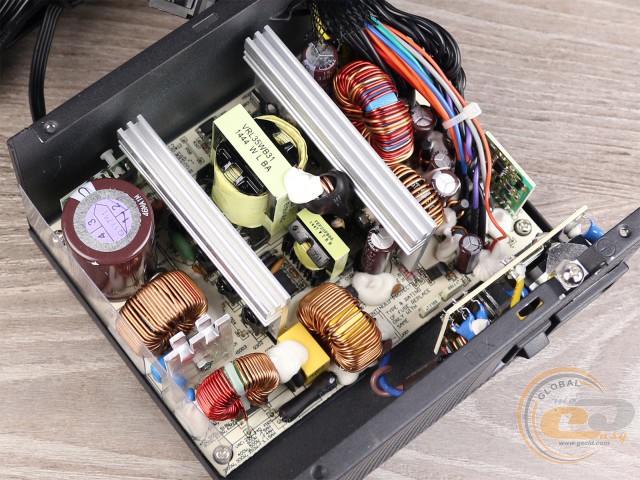 Despite the fact that we are dealing with an affordable solution oriented for mass audience, the manufacturer did not save on the basis of component or separate nodes. In particular, we have a full-fledged noise smoothing filter (two X- and six Y-capacitors, three chokes and varistor); the scheme includes a module of Active Power Factor Correction (APFC), a diode bridge (8 ampere assembly GBU8J) is equipped with its own separate radiator.

The high voltage capacitor (470 uF x 400 V) capacitor in the standby power supply (3300 uF x 10 V) and capacitors involved in filtering the output voltage (1000 uF 10 V x 2700 uF x 16 V and 3300 uF x 16 V) , produced by the Japanese company Nippon Chemi-Con. Moreover, all these elements belong to the high-temperature series which guarantees a long life.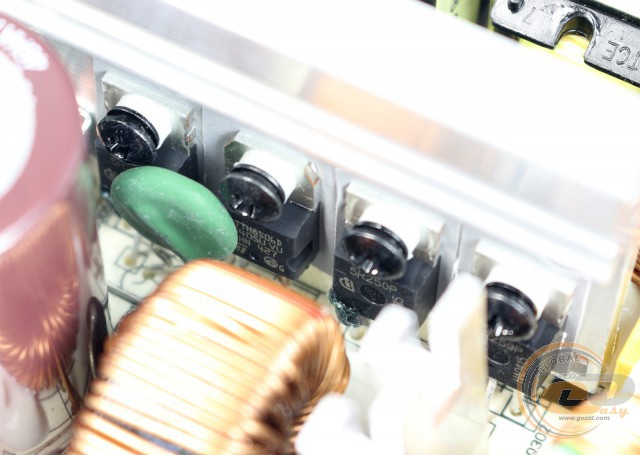 The power of the APFC module consists of powerful diode STTH8S06D and two transistors Infineon 5R250P. A pair of keys of the main converter has exactly the same markings. Both nodes are controlled by a single PWM controller Infineon ICE1CS02. The correct functioning of the standby power supply (line +5Vsb) is provided by chip Fairchild FSQ0165R.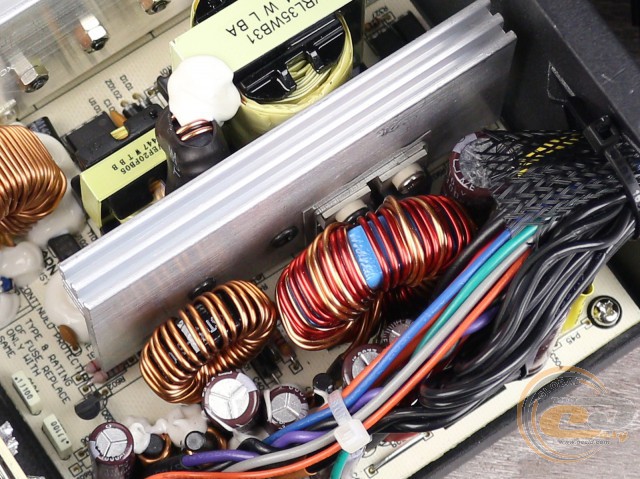 To rectify the output voltages there are diode assemblies 30A50CT and 30L30CT. The effectiveness of these elements is lower than that of the same transistor, but that did not stop the engineers Sea Sonic Electronics to achieve model Seasonic S12II-520 Bronze compliance with standard 80 PLUS Bronze. Voltage stabilization is organized on the group principle and this is another necessary step in the design of low-cost power supplies.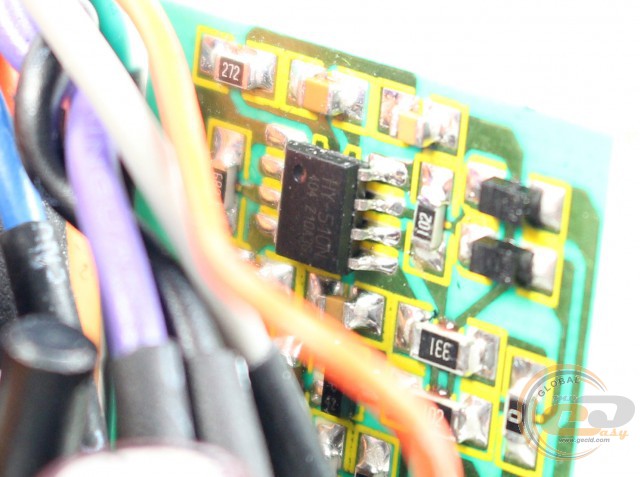 Protection system is based on a chip HY510N and includes:
overvoltage protection (OVP);
undervoltage protection (UVP);
protection against short-circuit (SCP);
overload protection (OPP).
Testing
Cross loading characteristics
According to the norms of the standard ATX12V, the allowable range of voltage deviations for all supply lines is ± 5% of the nominal line.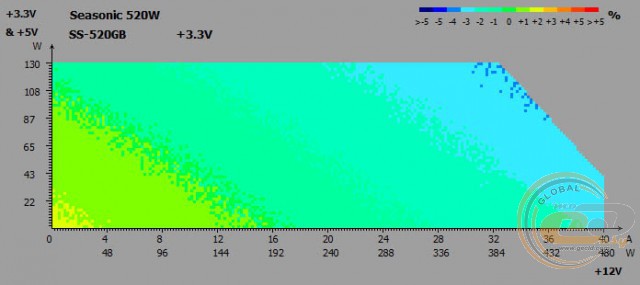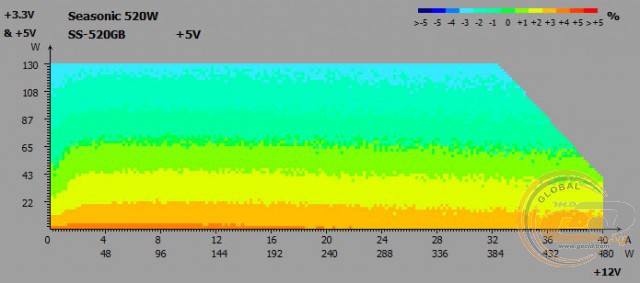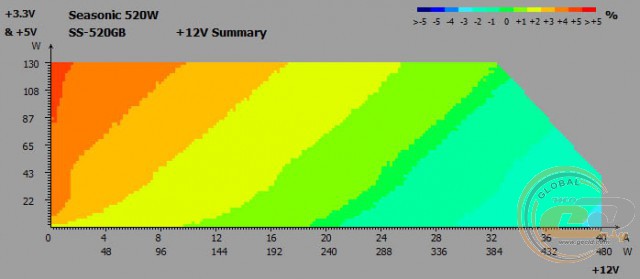 A cross loading testing showed the presence of voltage fluctuations within the following limits:
rail + 3.3V: from -3% to +2%;
rail + 5V: from -3% to +3%;
rail + 12V: from -3% to +5%.
In all three cases the voltage deviation does not exceed voiced above normal. Separately we want to note the good condition of the rail +12V. Even under the maximum voltage the power consumption did not drop below -2%. However, it deviated up to +5%in the other direction. However, it is clarified that such value was recorded in a very specific circumstances that are unlikely to achieve in the real configuration (total load on the line +3.3V and +5V is over 100 W, while the channel +12V consumed only a few watts).
Социальные комментарии Cackle