PSU Seasonic S12II-620 Bronze: review and testing
Having tested quite a lot of power supplies in the updated lineups of Seasonic M12II Bronze Evo Edition, Seasonic G, Seasonic X and Seasonic Platinum we decided to learn how the transition to a new revision of affected to a budget class of devices. It includes the entire range of the series Seasonic S12II Bronze. It is noteworthy that even in this case the representatives of this lineup correspond to the directive 80 PLUS, or rather its bronze standard 80 PLUS Bronze. That is, if the manufacturer tried to save money, then certainly it does not refer to the specifications or quality deterioration of the used components.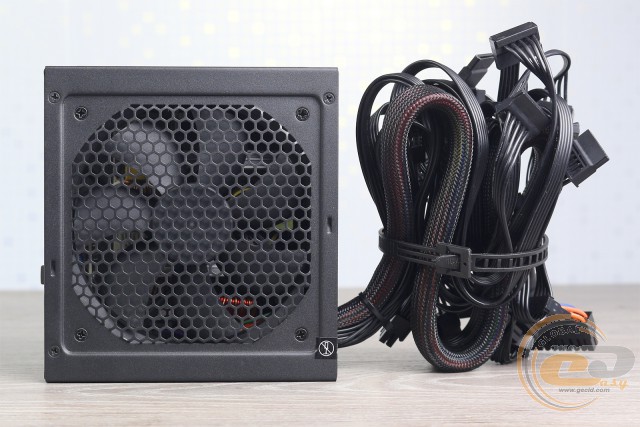 Since the series Seasonic S12II Bronze is primarily designed for ordinary users, owners of single graphics card configurations, the power of its flagship model, Seasonic S12II-620 Bronze (Seasonic SS-620GB), is limited by value of 620 W. This model will be discussed in today's review.
The specs:
Model

Seasonic S12II-620 Bronze

(Seasonic SS-620GB)

Type

ATX12V

Rated capacity, W

620

Rail 12V capacity, W

576

Rails +3,3V and +5V capacity, W

130

Quantity of rails +12V

2

Outputs, А

+3,3V

24

+5V

24

+12V1, +12V2

24

-12V

0,8

+5VSB (stand-by power line)

2,5

PCIe-sockets

2 (6+2-pin)

Modular

No

Efficiency, %

> 81

Certifies 80 PLUS

Bronze

Power factor (PF), %

99

Method of Power Factor balancing

Active

Input voltage, V

100 − 240

Frequency, Hz

50 − 60

Input current, А

4,5 − 9

Fan dimensions, mm

120 х 120 х 25

Fan speed controller

Yes (S2FC)

Noise level, dB

−

Support for energy saving states C6 / C7(Intel Haswell Ready)

No

Correspondence to environmental standards, electromagnetic safety and compatibility (EMI/EMC)

CB, CUL, UL, CCC, DEMKO, FIMKO, NEMKO, SEMKO, TUV, GOST-R, BSMI, CE, FCC, RCM, RoHS, ErP Lot 6 2013

Protections

OVP, UVP, OPP, SCP

Dimension, mm

140 х 150 х 86

Packaging

Power cord, straps with adhesive tape, cable holders, installation screws, manual, logo with sticker

Warranty, years

3

Producer website
Package and content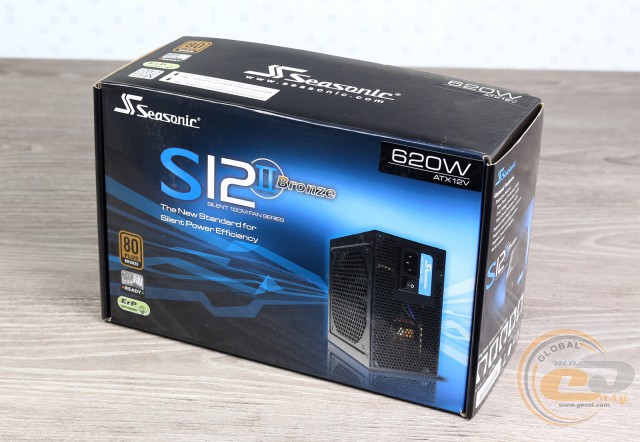 PSU Seasonic S12II-620 Bronze comes in a colorful box, decorated in black and blue colors that are main features of a series of devices targeted to mainstream users. In this case we are talking about the lineup Seasonic S12II Bronze. Note that the Sea Sonic Electronics has another series of affordable and equally interesting PSUs Seasonic S12G. But we'll talk about them another time, and now want to focus all attention to the hero of this review.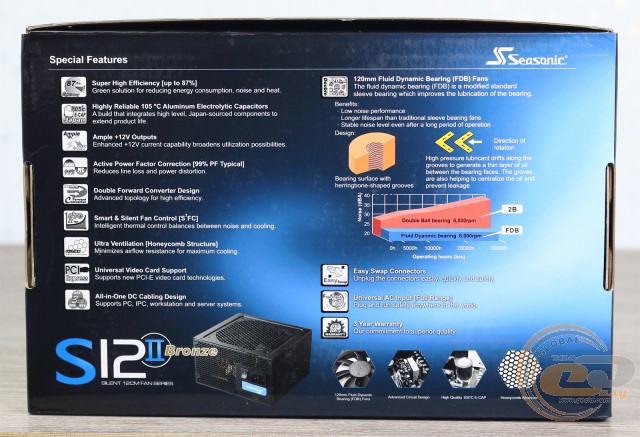 It has an impressive list of features on the back of the packaging. Let's specify the most important:
Super High Efficiency [up to 87%] - a relatively high level of energy efficiency (up to 87%) for low-cost power supplies;
Highly Reliable 105°C Aluminum Electrolytic Capacitors - high-quality components such as Japanese capacitors from high series;
Ample +12V Outputs - rail +12V has an increased load capacity, which will allow to connect current efficient kit to the power supply;
Smart & Silent Fan Control [S2FC] – here is a "smart" cooling system, the operation of which depends on the heating of the internal components;
Universal Video Card Support - the presence of 6+2-pin PCIe connectors for additional power connection to video cards at any level;
Universal AC Input [Full Range] - ability to work in a wide range of input voltages (100 – 240 V);
120mm Fluid Dynamic Bearing (FDB) Fans - the presence of a low-speed fan based on hydrodynamic bearing.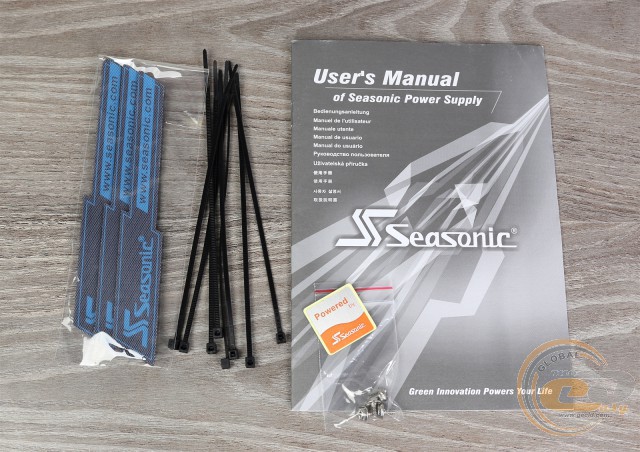 Package of model Seasonic S12II-620 Bronze is as follows:
power cord;
installation screws;
holders and reusable straps with adhesive tape fix the cables;
sticker with the company logo;
manual.
Design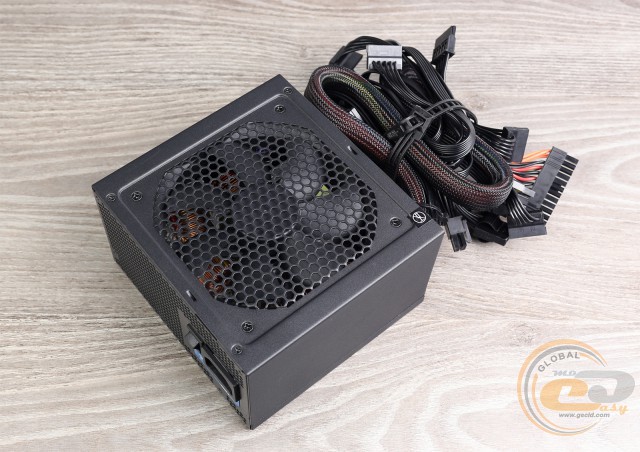 Despite the fact that the hero of the review belongs to the low-cost power supplies, we did not notice any savings on the materials. The case of model Seasonic S12II-620 Bronze is made of thick steel and coated with an extra layer of black paint. The quality of its building also does not cause any complaints. Arrangement of the ventilation holes is standard: they can be found on the front wall and the lid of power supply. In both cases there are honeycomb mesh holes, which in theory should have less resistance to air flow.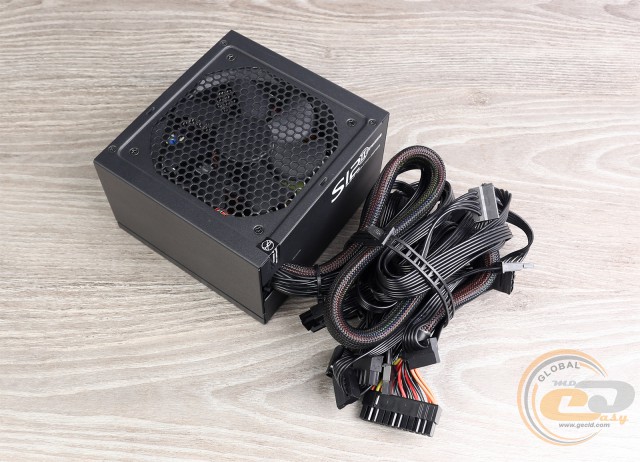 All cables are led out directly from the body, thereby reducing the final cost of the model Seasonic SS-620GB compared to comparable peers with the same power. The producers tried to minimize the discomfort associated with the technical solution. As you can see from the pictures, all the wires, except for the power cable of the motherboard are made in the form of strips. That is, their flexibility is significantly higher than that of the cables with fabric braid, and it is much easier to stack within the system case.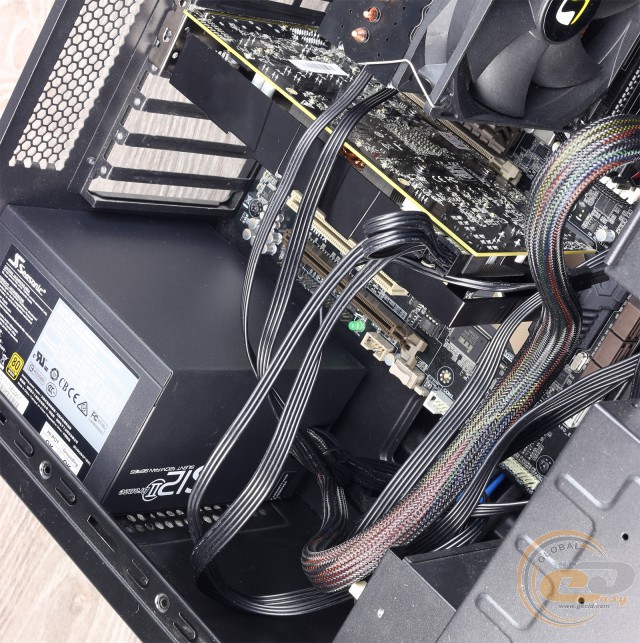 In addition, the lack of modular connectors has reduced the length of the Seasonic S12II-620 Bronze from the usual 160 to 140 mm. Thus, it will fit in most modern cases, and thus will not be overlap bottom vent.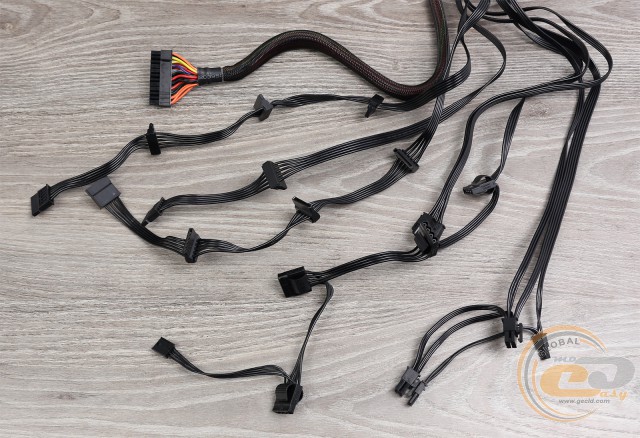 The main power connectors have collapsible 20+4-pin ATX and 4+4-pin ATX12V. There are two 6+2-pin PCIe to connect the video card. So, when you install some voracious video card you should not use third-party adapters.
Configuration of cable to power peripherals is also at high level. Despite the average level of device there are a lot of available connectors SATA and PATA. So, if necessary you can organize the storage of files or torrent client based on Seasonic S12II-620 Bronze. The features include relatively short length of cable with a connector ATX12V for additional power supply of processor, which is equal to only 50 cm. Hidden cabling in the case of ATX format can be problematic.
All types of connectors and cable length are given in the table below:
Socket

Quantity

Cable length to socket (connectors), cm

Length from PSU

20+4-pin ATX connector

1

55

4+4-pin ATX12V connector

1

50

two 6+2-pin ATX12V connectors

1

50-60

four PATA and one FDD

1

40-50-60-70-80

four SATA

2

40-50-60-70

two SATA

1

50-60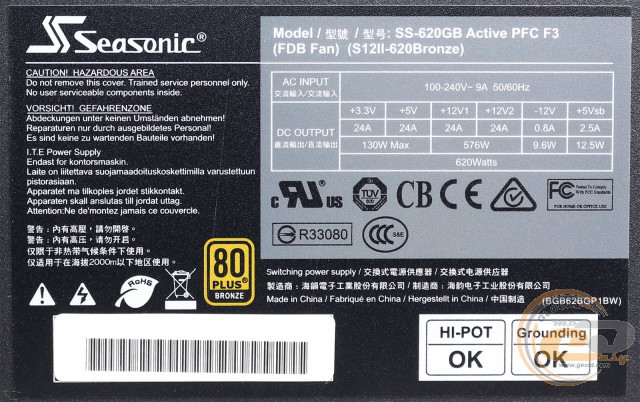 Now let's take a closer look to the technical characteristics of the model Seasonic SS-620GB. Its rated output is 620 Q. Thus + 12V rail is designed for relatively large load (576 W, which corresponds to approximately 93% of the total power) and is made in the form of two 24 A lines. Each of the rails +3.3V and +5V is able to withstand the exact same amperage, but the total power consumption of them already should not exceed 130 W. Although this value is quite enough for powering of drives and other peripherals.
Model Seasonic S12II-620 Bronze conforms to standard 80 PLUS Bronze. According to its requirements, the efficiency of the power supply under loads of 20%, 50% and 100% of the nominal power must not fall below 81%, 85% and 81% respectively (for supply voltage of 230 V). And we will check such value during testing.
Also note a wide input voltage range (100 – 240 V), which eliminates the external voltage regulators in case of unstable power supply.
Internal device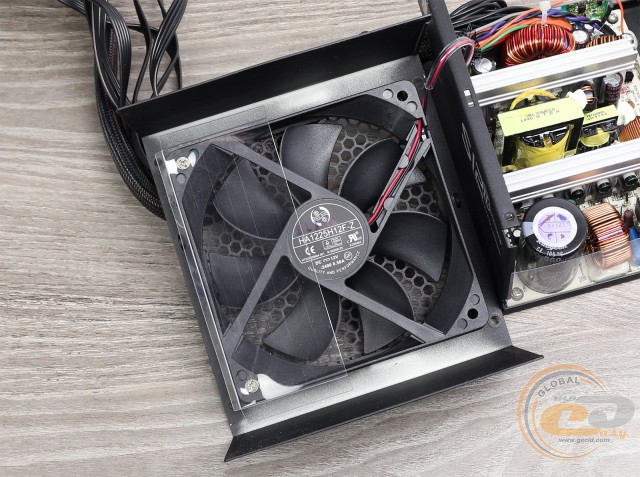 It is remarkable that such power supply uses a high-quality fan Hong Hua HA1225H12F-Z, based on the fluid dynamic bearing (FDB). In case of competitive solutions the manufacturer saves on this component, setting less reliable and noisier fan on a sleeve.
| | |
| --- | --- |
| Fan | Hong Hua HA1225H12F-Z |
| Bearing | FDB |
| Supply voltage, V | 12 |
| Current, А | 0,58 |
| Capacity, W | 6,96 |
| Max rotation speed, rpm | 2400 |
| Air flow, CFM | − |
| Noise level, dB | − |
| Dimensions, mm | 120 х 120 х 25 |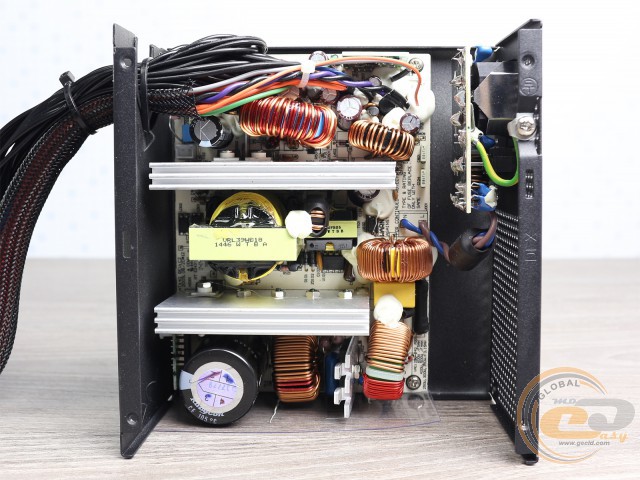 Seasonic S12II-620 Bronze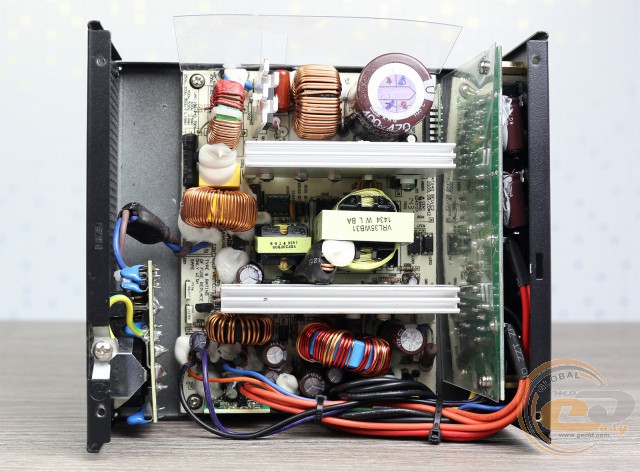 Seasonic M12II-520 Bronze Evo Edition
PSU Seasonic S12II-620 Bronze is built on a platform of its own design which is called «Seasonic GB». It resembles circuitry Seasonic GM2, which we have leant during testing of another "bronze" model (Seasonic M12II-520 Bronze Evo Edition). The main difference between them lies in the features of low-voltage parts implementation. However, to be sure let's consider the interior in more detail.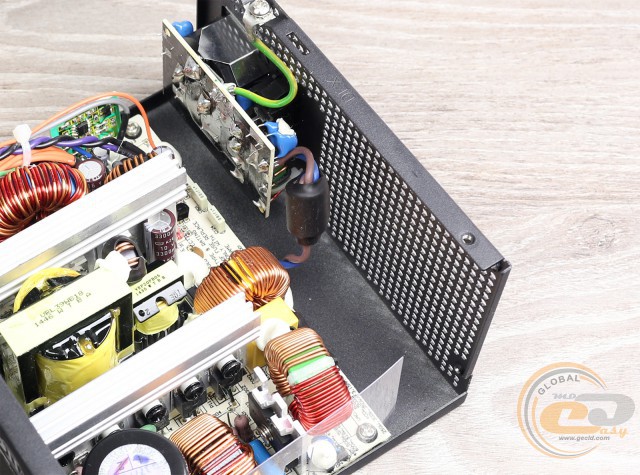 EMI-filter is installed in the input (two X- and six Y-capacitors, three chocks and varistor). It is responsible for smoothing high-frequency noise emitted by power supply into network. Here, all the elements in place, which ensures the correct operation of the filter in all situations.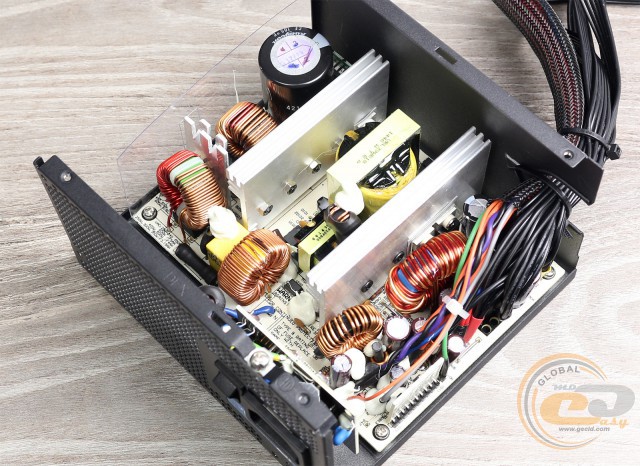 There is 10-voltage diode assembly GBU1006 used to rectify input voltage. It is equipped with own aluminum radiator. As you can see from the pictures, manufacturer also paid great attention to the problem of cooling the rest of the power components.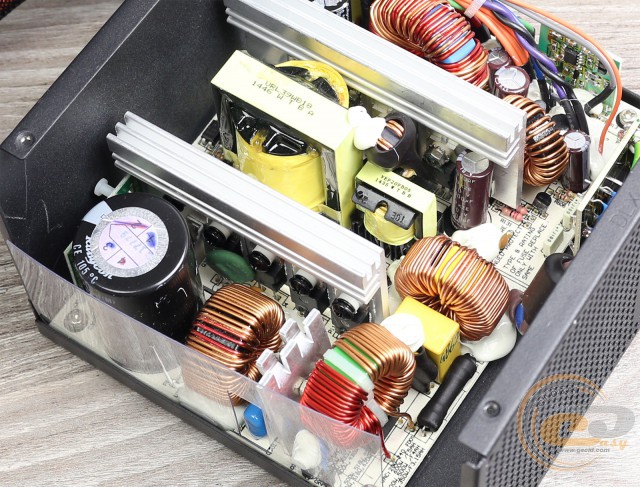 PSU Seasonic S12II-620 Bronze, as well as all modern solutionse is equipped with an active power factor correction (APFC). The main transmitter is a single-cycle forward converter with two keys Infineon 20N60C3.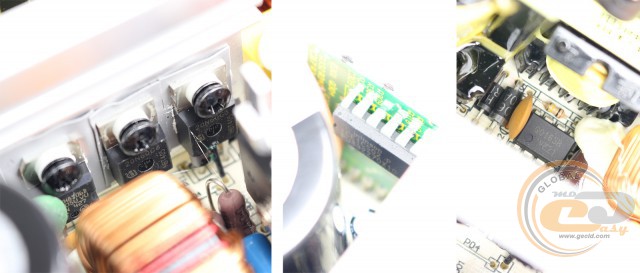 The power part of the APFC includes a pair of transistors Infineon 20N60C3 and a diode STTH8S06D. PWM controller Infineon ICE1CS02 controls two nodes. The correct functioning of the power supply standby (+5VSB output) is provided by chip Fairchild FSQ0165R.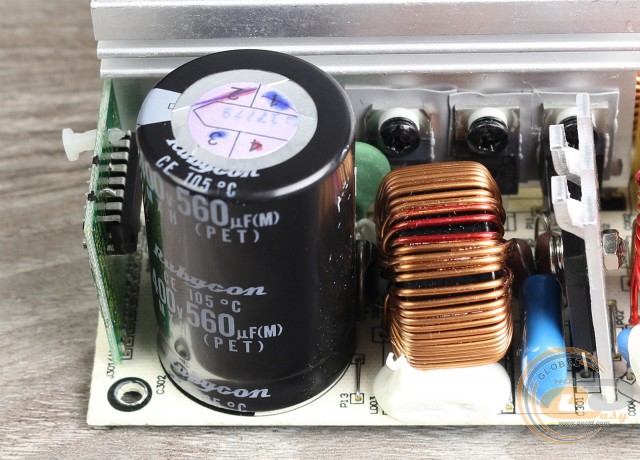 The condenser of high-voltage circuit (560 uF x 400 V) is produced by well-known Japanese company Rubycon and belongs to the high-temperature series (105°C). Having such features its quality does not arise any complaints. By the way, in all other nodes including standby power source there are Japanese capacitors.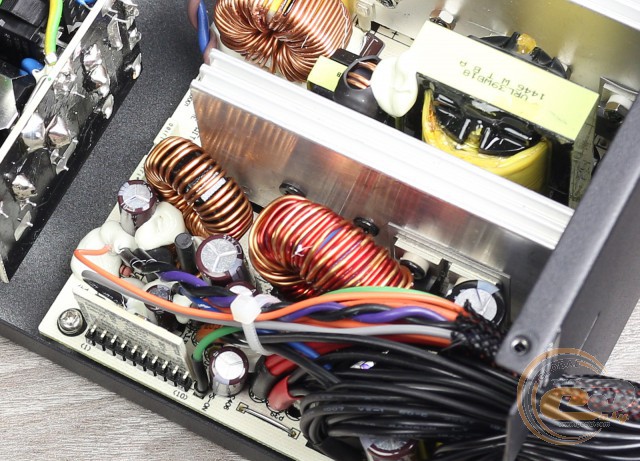 To rectify output voltage diode there are two nodes 30A50CT and 30L30CT. The efficiency of these elements is lower than of the same transistor, but their use allowed to reduce the final cost of the device. It is a necessary step in the production of low-cost power supplies. In any case the manufacturer was able to "squeeze" the maximum capacity and achieve compliance with model Seasonic SS-620GB with certificate 80 PLUS Bronze. That is, its efficiency remains relatively high, above 81%.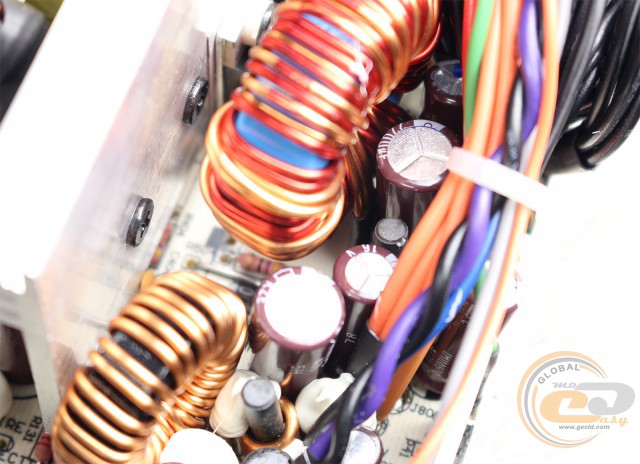 Voltage stabilization is organized by the group principle. Japanese electrolytic capacitors are used for smoothing ripple (Nippon Chemi-Con and Rubycon), and also from a high-temperature series (105°C). This should ensure a long service life, as well as a positive effect on the magnitude of the noise at the output supply lines.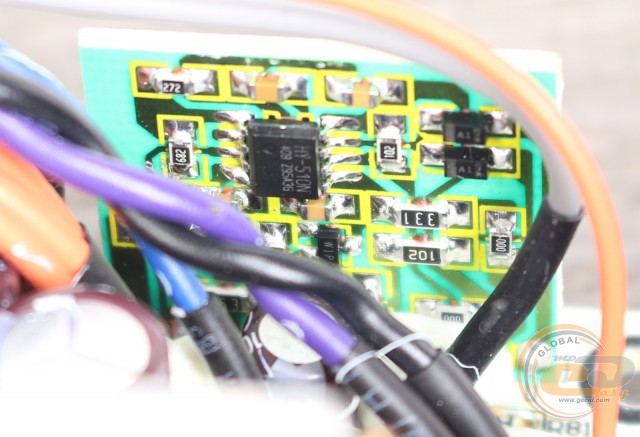 According to the specifications, Seasonic S12II-620 Bronze has following series of protection: OVP, UVP, OPP and SCP. The node is based on the chip HY-510N, which is soldered on a separate circuit board. As you can see, here the manufacturer has used modular approach in constructing the power supply.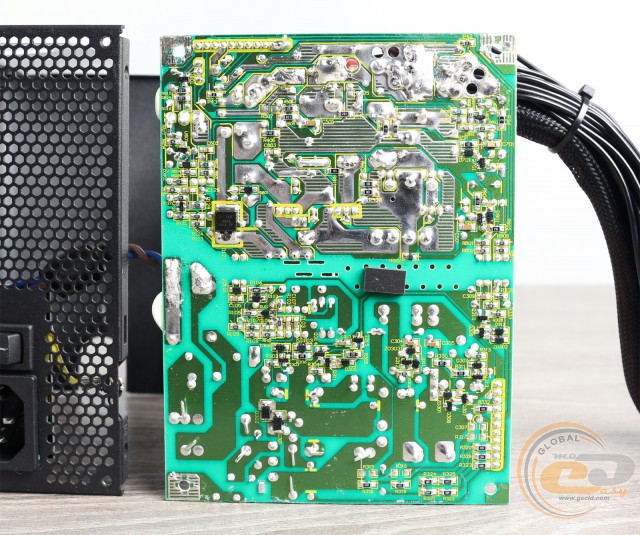 The quality of the soldering and assembly of components is at very high level. In this regard, Sea Sonic Electronics products can be regarded as a reference, even if it is a low-cost solution.
Социальные комментарии Cackle