PSU Seasonic X-850: review and testing
In the introduction of the updated line of power supply units Seasonic X, we would like to give a special attention to high-performance solutions. This class includes the model Seasonic X-850 (Seasonic SS-850KM3). Due to a rated power of 850 W it will primarily be of interest to owners of gaming systems with several graphics cards, overclockers components and other computer hardware enthusiasts. And here the advantages of "gold" solutions are taken into account: a high level of efficiency, good condition for output voltages, the presence of a dedicated +12V line, efficient cooling system and many others.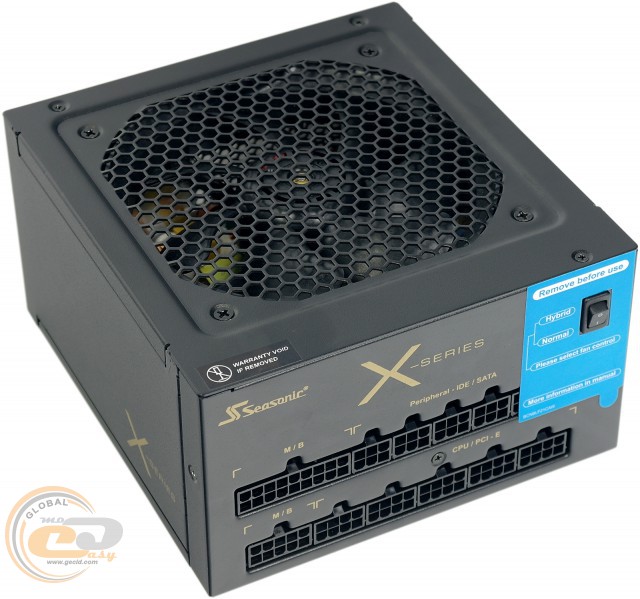 The specs:
Model

Seasonic X-850

(Seasonic SS-850KM3)

Type

ATX12V / EPS12V

Rated capacity, W

850

12V channel capacity, W

840

+3,3V and +5V channel capacity, W

125

Q-ty of +12V lines

1

Outputs, А

+3,3V

25

+5V

25

+12V

70

-12V

0,5

+5VSB (stand-by power line)

3

PCIe-sockets

6 (6+2-pin)

Support for technologies NVIDIA SLI / AMD CrossFireX

Yes

Modular

Yes

Efficiency, %

>88

Certified 80 PLUS

Gold

Power factor, %

99

Method of Power Factor balancing

Active

Input voltage, V

100 - 240

Frequency, Hz

50 - 60

Input current, А

5,5 - 11

Fan dimensions, mm

120 х 120 х 25

Fan speed controller

Yes (hybrid cooling system)

Noise level, dB

Up to 30,0

Support for energy saving states C6 / C7(Intel Haswell Ready)

Yes

Correspondence to environmental standards, electromagnetic safety and compatibility (EMI/EMC)

CB, CCC, TUV, cTUVus, GOST-R, BSMI, CE, FCC, C-tick, RoHS, WEEE, ErP Lot 6 2013

Protections

OVP, UVP, OPP, OTP, OCP, SCP

Dimension, mm

160 х 150 х 86

Packaging

Power cord, fastening screws, modular cables, cable holders, straps with adhesive tape, manual, logo sticker

Warranty, years

7

Producer website

Product page
Package and content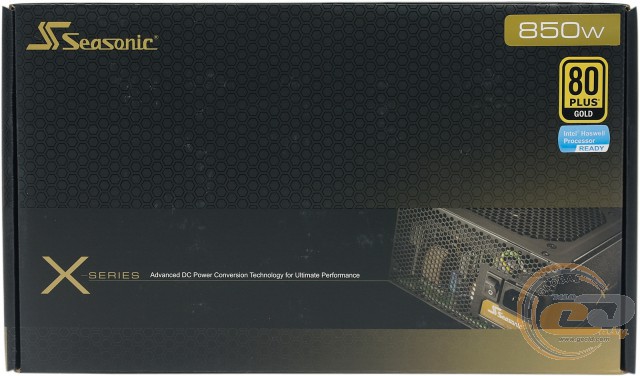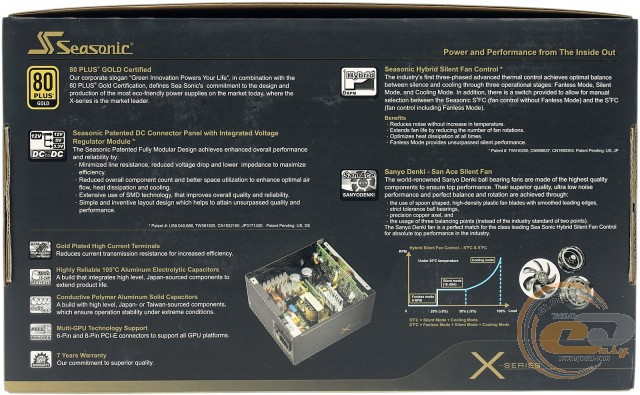 Power supply Seasonic X-850 comes in a box of cardboard, which provides protection from bumps and possible mechanical damage. It is traditional for the Seasonic X Series design, and has excellent informative. In particular, in addition to technical specifications, can be found here a description of features of the device, as well as it used technology. As always, for them we describe in more detail already in the course of the review.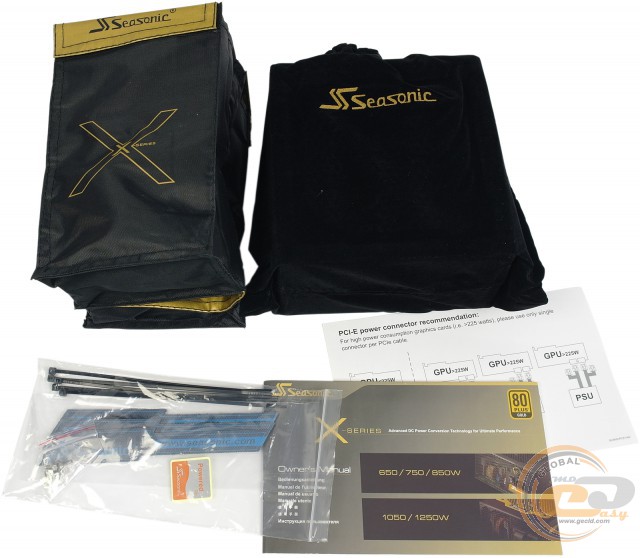 Supplied set of model Seasonic X-850 is the following:
AC power cord;
secure screws;
modular cables, which are in a special bag;
clamps to secure the wires;
reusable ties;
sticker with the logo of the company;
manual.
In addition to the traditional components in the box were also found additional holders and ties with adhesive tape, which will be useful for accurate cabling. Here is a two-piece bag to store the cables themselves.
Design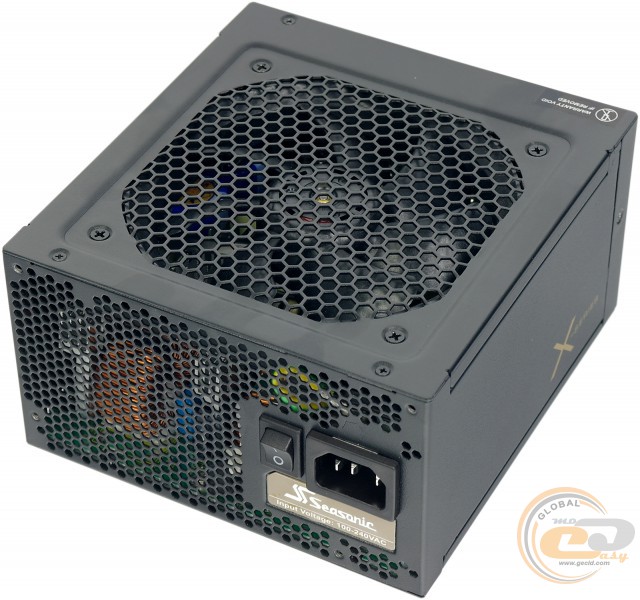 Externally the power supply Seasonic X-850 is the same as other members of the lineup Seasonic X, who have already visited our lab (Seasonic X-650 and Seasonic X-750). It has the same high quality body of thick steel, with the same arrangement of the vents. It is noteworthy that despite the relatively high performance and availability of modular connectors, the size of the power supply is also not changed, 160 x 150 x 86 mm. Thus, if you install Seasonic X-850 at the bottom of the computer case, it will not cover the hole for an additional fan located in the same place. This point is quite important for high-performance builds.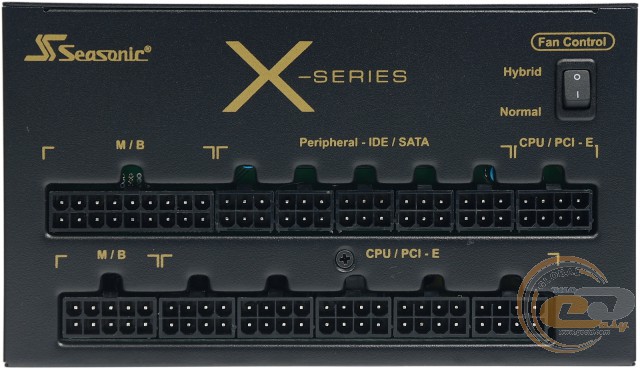 Output cables system in this model is completely modular configuration, which unites it with the top solutions of the platinum series. This technical performance allows to perform the process of components connection and routing of cables as simple and convenient. Connectors are signed and have different design, so even inexperienced users can easily deal with a detachable cable connection. But we would like to specify the purpose of each of them:
18-pin and 10-pin («M / B») - to power the motherboard;
Five 6-pin («Peripheral IDE / SATA») - to supply periphery
Six 8-pin («CPU / PCI-E») - for additional power of processor and graphics card.
In the upper right corner you can also find a switch «Fan Control».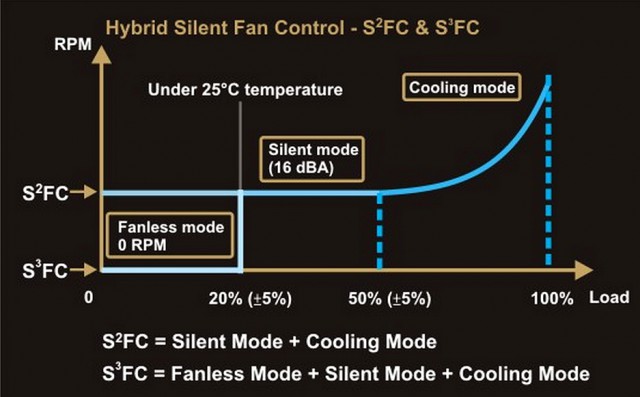 In position «Hybrid» cooling system will be set to the hybrid mode, the principle of which demonstrates the scheme above. At light loads the heating of internal components is so small that the natural convection is enough to remove the warm air out of the case the power supply. Obviously, in this case, it makes no sense to use the fan. According to the graph, silent operation of power supply will be observed at loads lying in the range 0 - 20% (± 5%) of the nominal power. However, tests on other devices Sea Sonic Electronics, which also applies to the hybrid cooling system have demostrated that it is quite adaptive to environmental conditions. In other words, in case of proper air circulation inside the computer case fan start threshold is shifted significantly in a big way and sometimes can reach the level of 50% or even 60% of the rated power supply.
If the Seasonic X-850 is planned to operate in an environment of high temperature, the hybrid cooling system would be appropriate to transfer to normal operation (position «Normal»). Such conditions may occur, for example, in a poorly blown body Mini Tower or on the overclocker bench.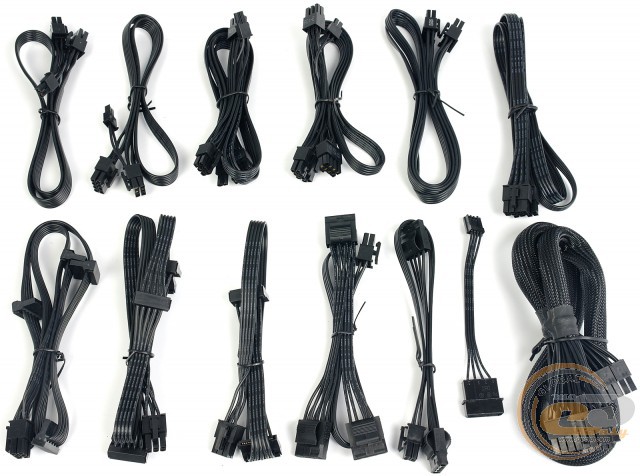 All cables except used to supply the motherboard, have the form of strips. This makes them more flexible than traditional ones using braiding, which considerably facilitates the laying in modern computer cases.
Main power connectors have the following configuration: collapsible 20+4-pin ATX and two 8-pin ATX12V (one of which is also collapsible). That is the model Seasonic X-850 is suitable for dual-processor systems and for overclocking experiments using extreme cooling systems such as liquid nitrogen. And the rated power makes it suitable for such purposes. In order to connect the graphics card there are six connectors PCIe in the 6+2-pin version. There is an ability to connect three efficient graphics cards, without the aid of additional adapters. In our view, to build a gaming system such opportunities are more than enough.
We were pleased by configuration of cables for power supply of the periphery. Connectors are enough to connect all kinds of storage devices, drives, fans, and other devices that require SATA and PATA connectors. To arrange the small file server comprising four drives only one cable can be used.
Socket type

Quantity

Cable length to socket (connectors), cm

Modular (detachable) cables

20+4-pin power socket ATX

1

60

4+4- pin power socket ATX12V

1

65

8- pin power socket ATX12V

1

65

6+2- pin power socket PCIe

2

60

two 6+2- pin power socket PCIe

2

55-65

Three sockets PATA

1

40-50-60

Two sockets PATA

1

30-40

Four sockets SATA

2

40-50-65-75

Two sockets SATA

1

30-40

adapter PATA-FDD

1

10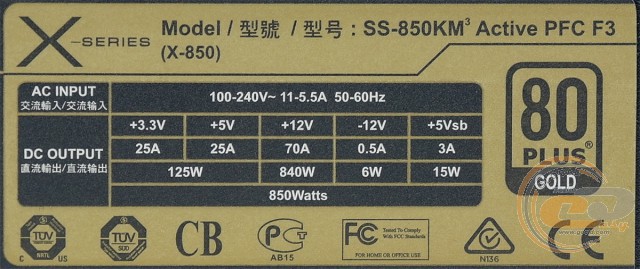 Now let's take a closer look at the technical characteristics of the power supply Seasonic SS-850KM3. Its nominal power is 850 W. Channel +12V is formed as a single line with a loading capacity of up to 70 A. In other words, if necessary, it is possible to "lift" the almost 99% of the total power. Lines +3.3V and +5V have a maximum total power of 125 W and are designed for a load of 25 A each. These characteristics will provide minimum restrictions when choosing PC configuration and further acceleration of its components.
Model Seasonic X-850 corresponds to energy class efficiency 80 PLUS Gold, which has fairly stringent requirements on the level of efficiency of the power supply. Thus, for voltage up to 230 V at a load of 20%, 50% and 100% of the nominal power, this figure should not fall below 88%, 92% and 88% respectively.
Also worth noting is a wide input voltage range (100 – 240 V), which eliminates the external voltage regulators in an unstable power supply.
Internal device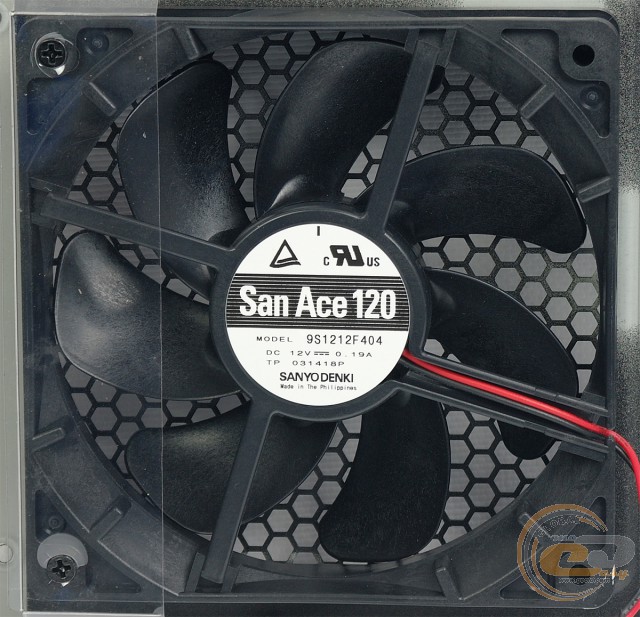 In order to cool internal components 120mm 7-blade fan SANYO DENKI 9S1212F404 is applied. It is based on the rolling bearing. In addition to reliability, this fan can also boast of and good performance at a relatively low level of noise. All this makes it one of the best in its class. There is a 2-pin socket to provide connection to fan
| | |
| --- | --- |
| Fan | SANYO DENKI 9S1212F404 |
| Bearing type | Ball |
| Supply voltage, V | 12 |
| Current, A | 0,19 |
| Capacity, W | 2,28 |
| Maximum rotation speed, rpm | 2200 |
| Air flow, CFM | 70,6 |
| Noise level, dB | Up to 30,0 |
| Dimensions, mm | 120 х 120 х 25 |
In order to optimize air flow within the housing here is small transparent plastic plate.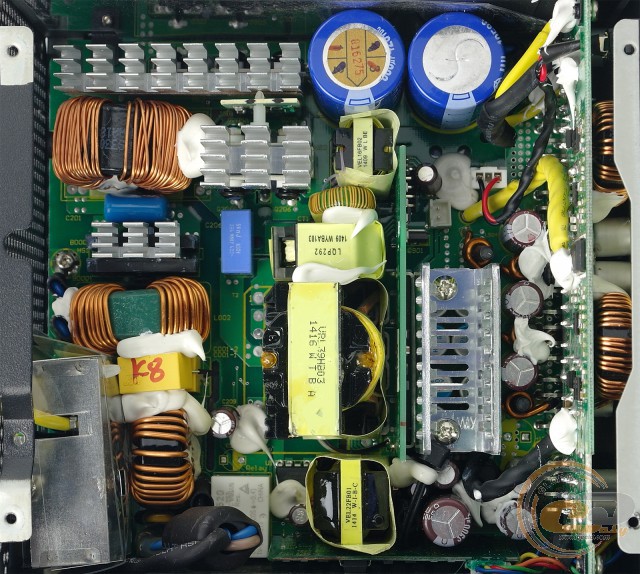 The heart of the new revision PSU Seasonic SS-850KM3 is the platform Seasonic KM3, which showed high level in the previously considered models of series Seasonic X and Seasonic Platinum. Our regular readers are probably familiar with its structure, so in this case, the main attention will be paid to the base component and other details by which the manufacturer managed to achieve such high levels of performance.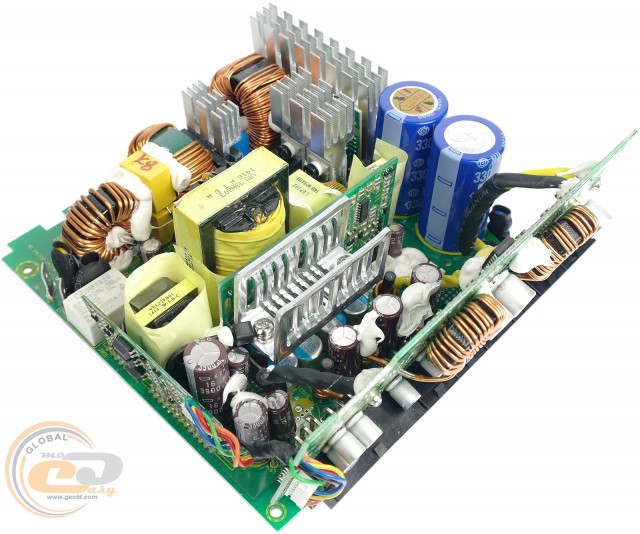 We propose to start analysis of the internal power supply unit with a passive cooling system. Don't forget that until a certain load the Seasonic X-850 can operate with inactive fan so fast heat dissipation is one of the most important tasks.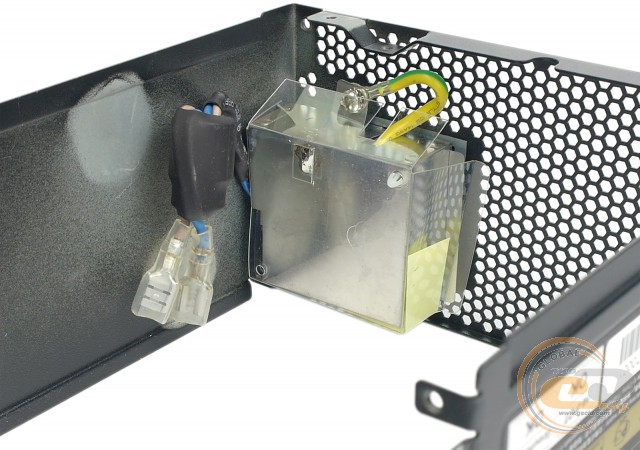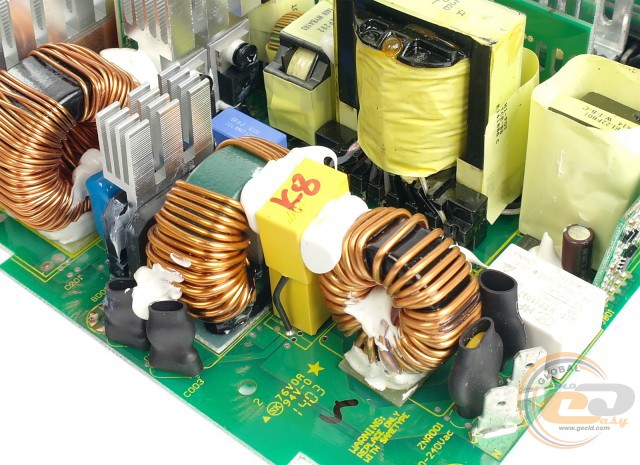 In order not to waste the space on the main PCB, some elements of the EMI-filter are soldered directly at the wall outlet. Recall that the purpose of this site is to smooth high frequency noise emitted in the network. Also it bears the function of lightning protection. Implementation of the input filter is at the highest level, as evidenced by the presence of all necessary components (three X- and four Y-capacitors, three chokes, varistor), as well as the manufacturer's careful approach to their isolation and shielding.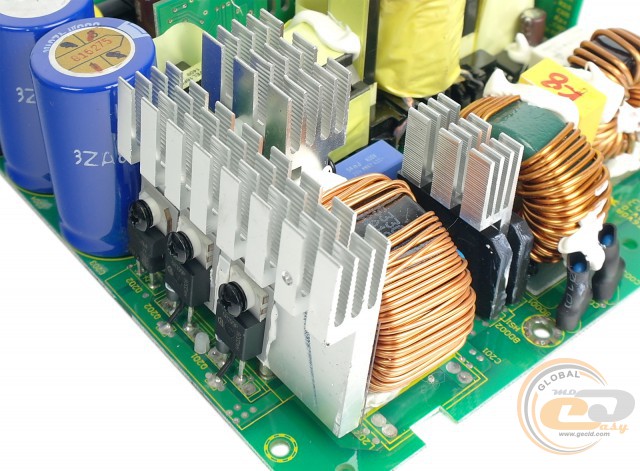 Rectification of the input electrical current is carried by two diode arrays, the nominal value of which was established. However, there is no doubt that they are selected with a fairly large margin. Behind them is the active unit power factor correction (APFC) to the power unit in the form of two field-effect transistors Infineon 6R199P and Schottky diode STPSC606D.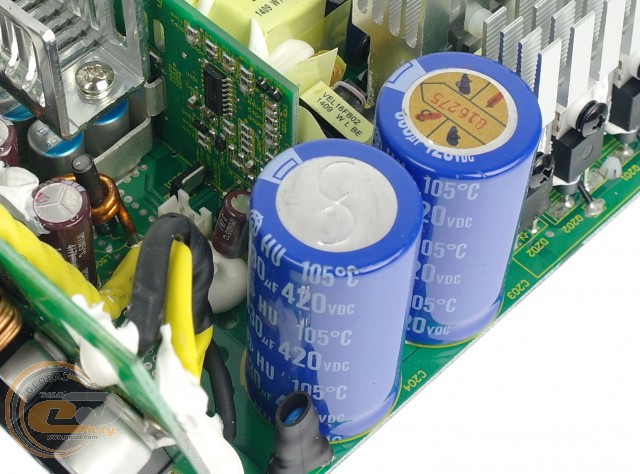 High-voltage capacitors are represented by two models with parameters 330 uF x 420 V. Since they are connected in parallel, we obtain the total capacity of the node at the level of 660 uF - an excellent result for the 850-watt device. The manufacturer is the Japanese company Hitachi, as the elements belong to the high-temperature series (up to 105°C). All of this suggests the highest quality of capacitors and you can hope on their long service life.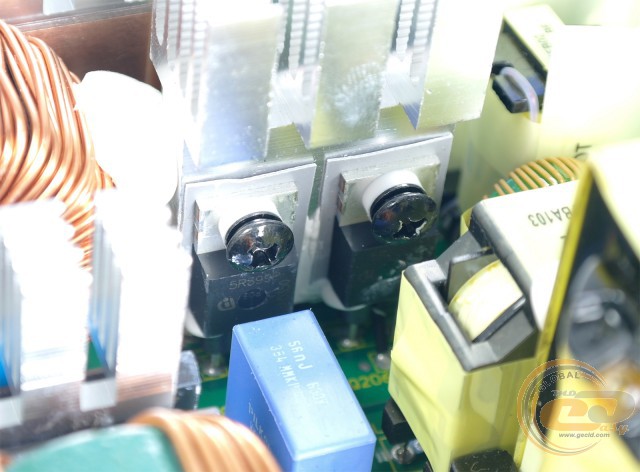 The inverter is built on a resonant circuit with a full bridge. Its keys are the four transistors Infineon 5R399P operating in pairs under the control of the PWM controller CM6901. The correct functioning of duty power supply (line + 5VSB) is provided by chip ICE2QR4765.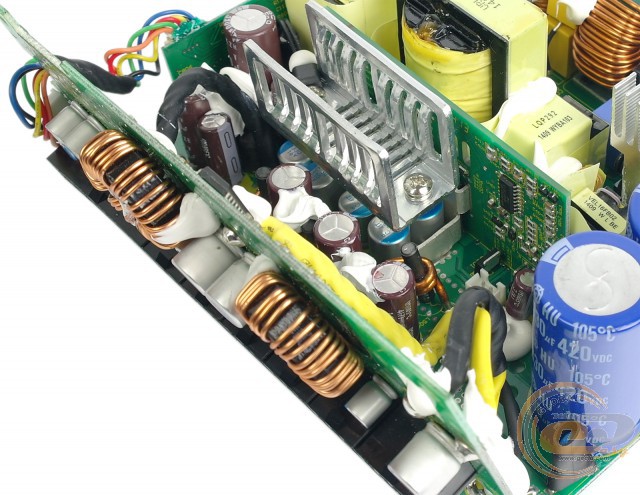 Low voltage model Seasonic X-850 is a synchronous rectifier: another powerful line +12V which provide voltage + 3.3V and + 5V. In order to to "remove" the maximum load on channel +12V, such a scheme has another important feature: as a rule, it involves the use of separate stabilization system.
Unfortunately, the value of elements involved in the formation of the line +12V was not specified. They are completely closed nu a large U-shaped heatsink. At the edge there is a sensor, which realizes the overheating protection (OTP).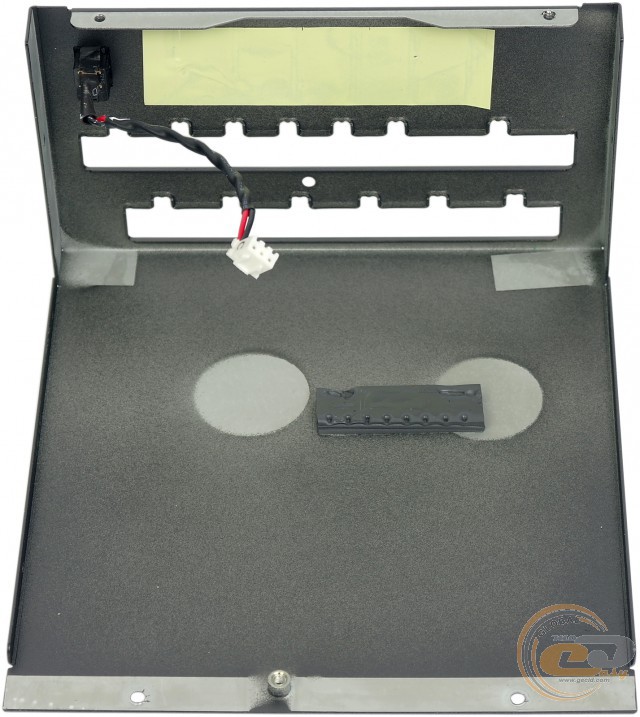 The heat emitted by the transistors is transmitted to the power supply case, thereby turning it into a kind of big heatsink. And this is a pretty good technical solution, which can be found in almost all high-end devices from the Sea Sonic Electronics.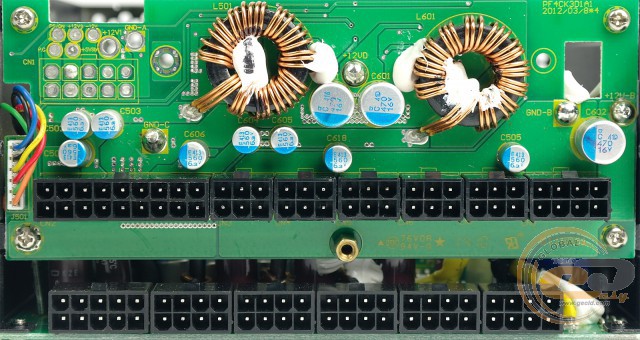 Unit of voltages + 3.3V and + 5V is on a separate board. Here is the part of modular connectors that minimize energy losses and noise on the outputs Seasonic SS-850KM3. For the same reason, most connectors for applying additional power to the video card and processor were soldered to the main PCB.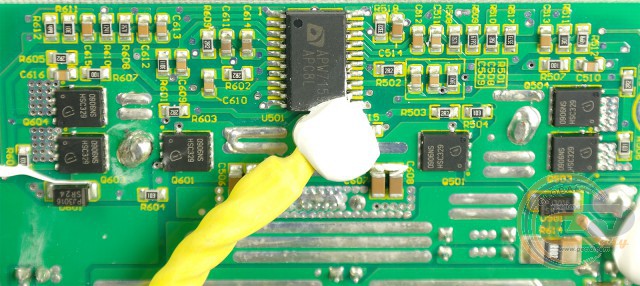 For voltages + 3.3V and + 5V there six transistors Infineon BSC0906NS (three for each channel), running by PWM controller APW7159. These force elements have a very high efficiency, so in case of external active cooling it is quite possible to do without additional radiator.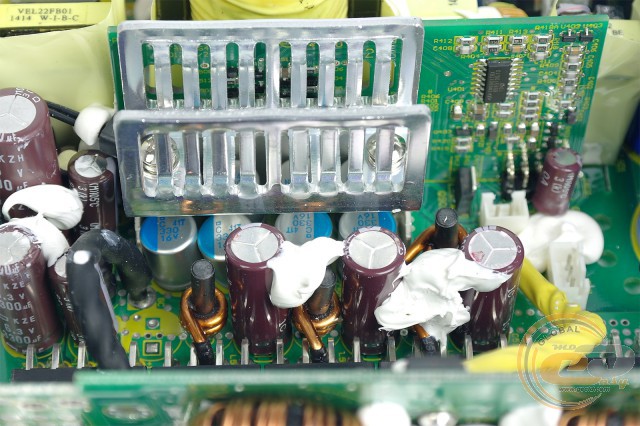 During the smoothing of ripple solid capacitors are involved, although the line + 12V can have several elements with a liquid electrolyte. Their quality is at the highest level, because their manufacturer is Japanese company Nippon Chemi-Con.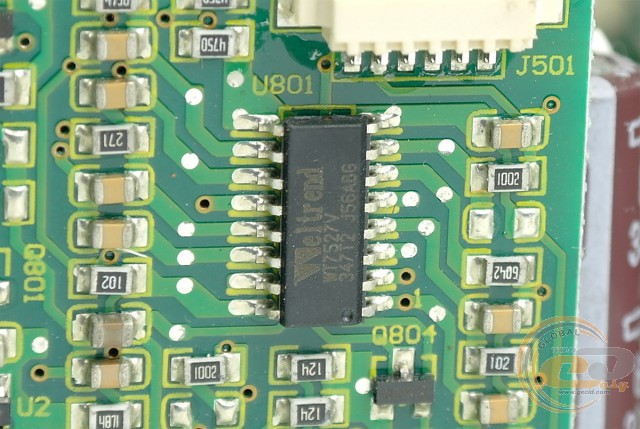 According to the technical specifications, model Seasonic X-850 has a full range of protection (OVP / UVP / OPP / SCP / OCP / OTP), including protection against overload and overheating. Last is quite important in the power supply, which until a certain load can work with inactive fan,. The node is based on chip-supervisor Weltrend WT7527V.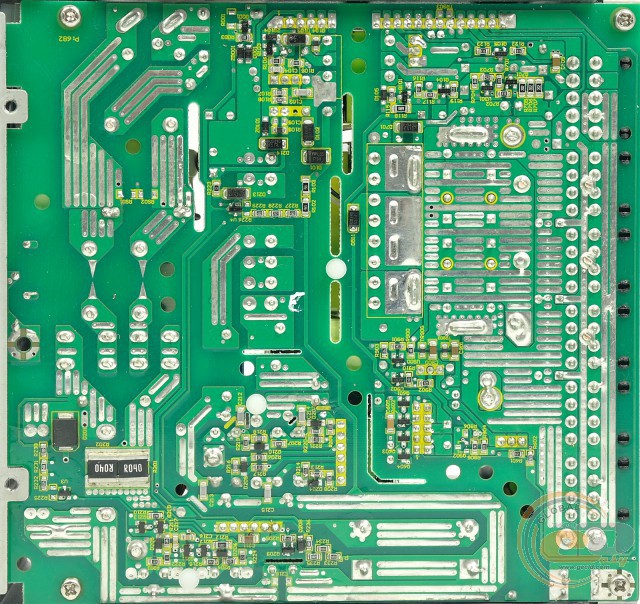 Turning the board, you can see the exemplary quality of components soldering and wiring tracks. Once again we see that not in vain the company's products Sea Sonic Electronics call reference in the field of computer electronics.
Социальные комментарии Cackle