Power supply Thermaltake TR2 700W GOLD: review and testing
The company Thermaltake, as you can see on the Internet, was founded in 1999. The concept of its work is "Do It Yourself", which means that the main focus is made to the customer who can deal with the intricacies of the selection and installation of the components available on the market. It is logical to assume that there is a potentially interesting and informative excursion into the environment of power supplies for desktop systems. In this review we take a closer look to the power supply Thermaltake TR2 700W GOLD. Also we will try to understand how it is in reality.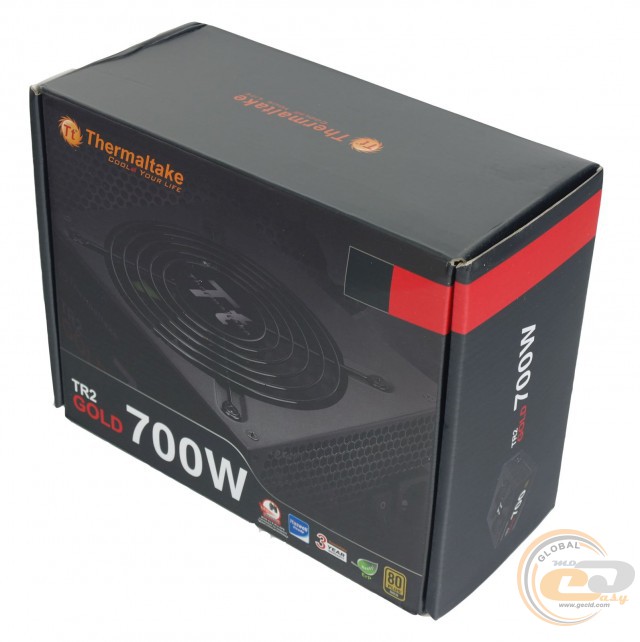 This model belongs to the lineup of power supply units Thermaltake TR2, which is not the flagship for the producer, however it attracts attention which is reflected in the quality of the product. Generally, Thermaltake arsenal has a number of lineups designed for specific countries. For example, in Russia the flagship is the series "Russian gold" in the USA «Toughpower», in the EU «European Gold» PSU with names like "London", "Paris" or "Berlin".
Level of efficiency of our model is as follows:
Testing type

115 V

230 V

Load

20%

50%

100%

20%

50%

100%

80 PLUS Gold

87%

90%

87%

88%

92%

88%
On the packaging this is illustrated by load efficiency dependence. Here we are interested in the red line responsible for the voltage of 230 V.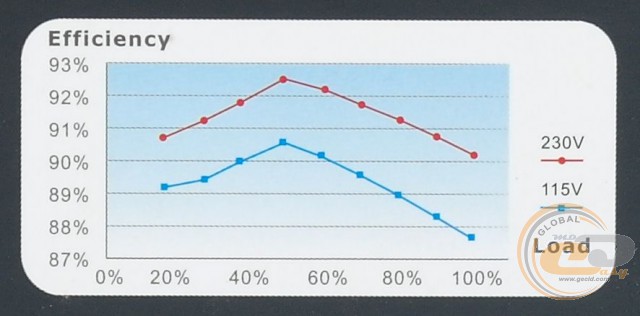 In our study we will deal with the quality of building of version Thermaltake TR2 700W GOLD, as well as to the conformity of its actual performance to declared standards.
Specification of Power Supply Thermaltake TR2 700W GOLD:
Model

Thermaltake TR2 700W GOLD

Type

Intel ATX 12V v2.3 и EPS 12V v2.92

Rated capacity, W

700

12V channel capacity, W

700

+3,3V and +5V channel capacity, W

120

Q-ty of +12V lines

1

Outputs, А

+3,3V

22

+5V

22

+12V

58,4

-12V

0,3

+5VSB (stand-by power line)

3

PCIe-sockets

4 (6+2-pin)

NVIDIA SLI Ready / AMD CrossFire Certified

No

Modular

No

Efficiency, %

87 − 92

Certified 80 PLUS

Gold

Power factor, %

−

Method of Power Factor balancing

Active

Input voltage, V

100 − 240

Frequency, Hz

50 − 60

Input current, А

10

Fan dimensions, mm

120 х 120 х 25

Fan speed controller

Yes

Noise level, dB

Up to 21

Mean time before failure (MTBF), h

100 000

Correspondence to environmental standards, electromagnetic safety and compatibility (EMI/EMC)

CE / UL / CUL / FCC / TUV / GOST

Protections

OVP, UVP, OPP, OCP, SCP

Dimension, mm

140 х 150 х 86

Packaging

Warranty, years
Package, supply set and content
Power supply Thermaltake TR2 700W GOLD was shipped in a very practical and stylish box with printed a sufficient amount of useful information.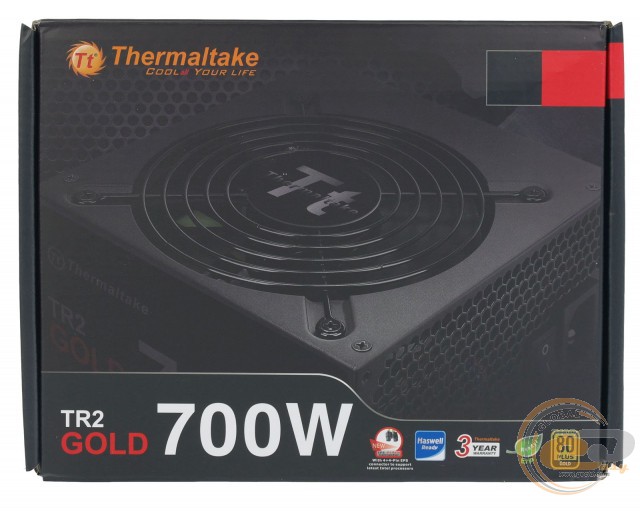 The top cover indicates that the model conforms to standard 80 PLUS Gold; suitable for processors Intel Haswell; has a 4+4-pin EPS; support three-year warranty and comes under the standard EU ErP. At the same time, of course, there is an image of the power supply and its stated capacity.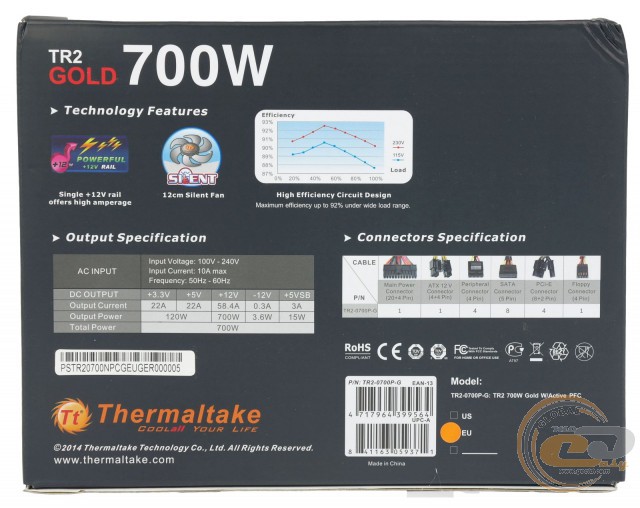 The reverse side of the box contains specifications of Thermaltake TR2 700W GOLD, as well as the types of supplied cables. Furthermore here are the distinctive features of the model and a graph of the load efficiency. On the whole package is quite informative. It allows you to make a very deep view of the device, its features and benefits.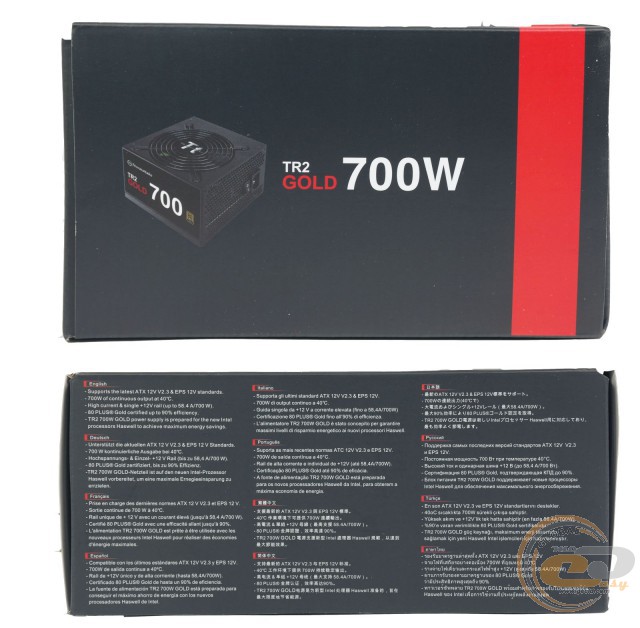 Thermaltake is famous due to multilingual instructions and descriptions that can be seen as an example of this instance.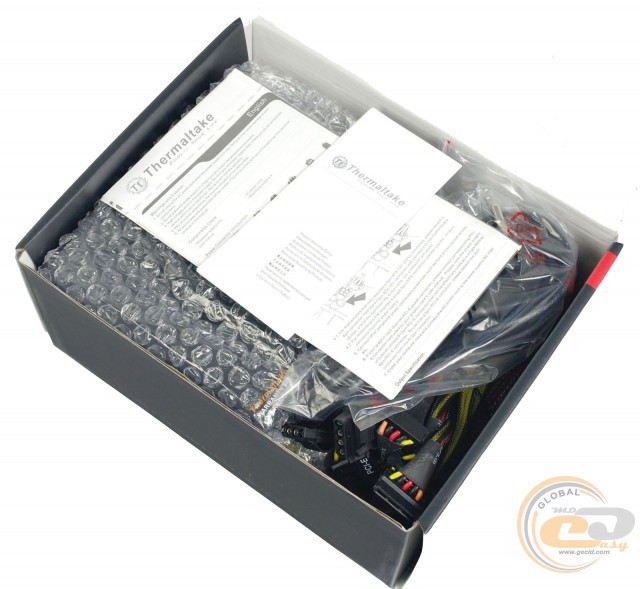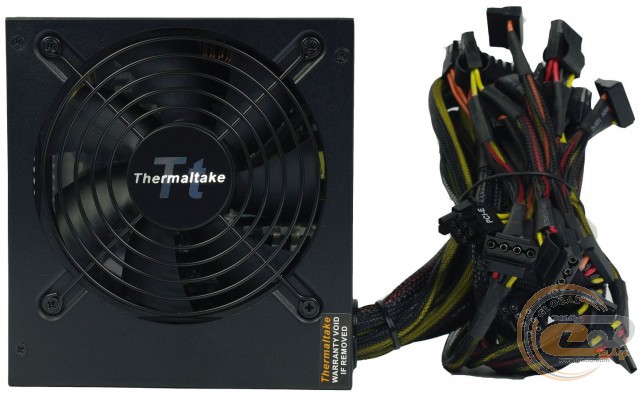 Component of Thermaltake TR2 700W GOLD is standard: a set of documentation and warranty card, power cord and fasteners. The power supply unit is not modular, i.e. all the cables are soldered to the circuit board inside and are ejected through a special round hole.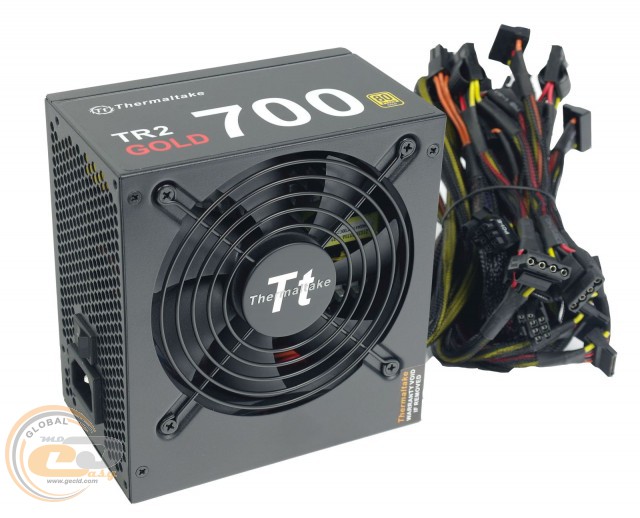 The tested model is designed to format ATX size (140 x 150 x 86 mm). Case is steel. It is painted in matt black. It is noticeable that Thermaltake makes a considerable emphasis on the design and positioning of the model.
Component and design of Thermaltake TR2 700W GOLD correspond to its class: on the upper side there is a recessed grill that allows you to mount the power supply in the housing with its lower position. The back side carries the power outlet, the power button and vents. On the opposite side there is a cable outlet. The remaining panels are made continuous.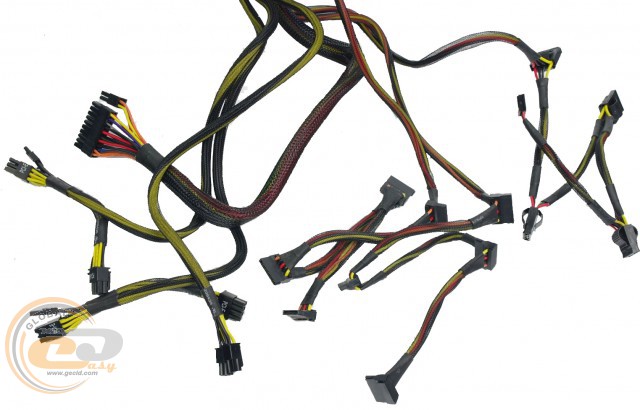 Thermaltake TR2 700W Gold uses a classic design that is all internal cables are mounted rigidly, that has its own advantages and disadvantages. Cables are enclosed in a nylon braid and in several places are tightened by thermocontracting.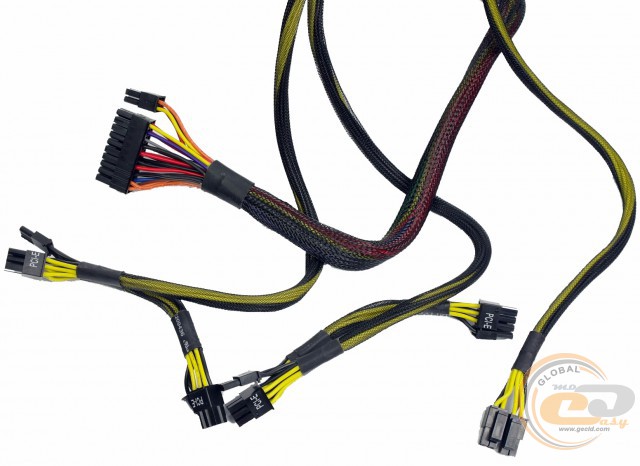 Despite the lack of declared support for technologies NVIDIA SLI and AMD CrossFireX, power to the graphics card can be supplied in four 6+2-pin connector that allows you to mount four graphics cards. Other connectors are also quite enough for a modern workstation. All available types of connectors and length of their cables are given in the table below:
| | | |
| --- | --- | --- |
| Socket type | Quantity | Cable length to socket (connectors), cm |
| 20+4-pin power socket | 1 | 50 |
| 4+4-pin power socket | 1 | 50 |
| two 6+2-pin power sockets PCIe | 2 | 50-60 |
| four sockets for peripheral deviced PATA and one FDD | 1 | 40-50-65-75-85 |
| four sockets SATA | 2 | 40-55-75-85 |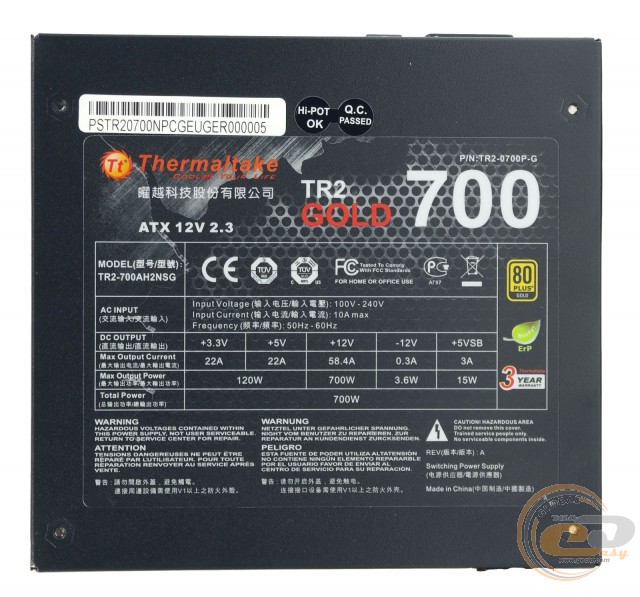 The bottom side contains data relating to the maximum loads for the input and output lines.
Internal device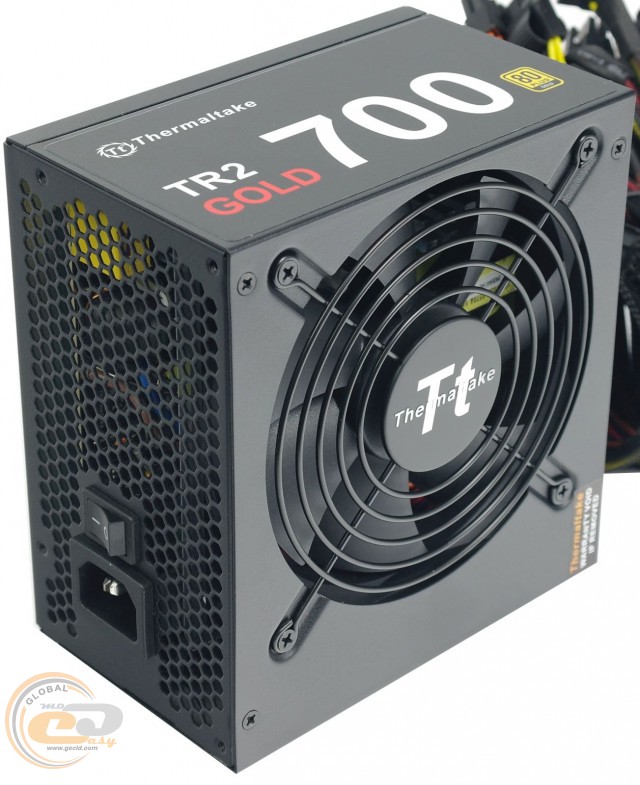 A key element of the active cooling system is a seven-bladed 120mm fan Thermaltake TT-1225, which has grill closing. To optimize the air flow inside the case there is a small transparent plastic plate attached to the fan.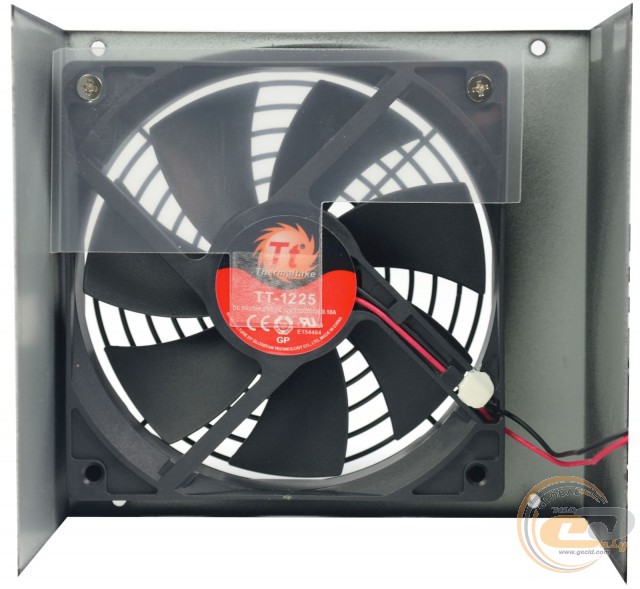 When you disassemble the device you can get a more detailed specification of the used fan:
| | |
| --- | --- |
| Model | Thermaltake TT-1225 |
| Bearing type | slider bearing |
| Airflow, CFM | 41,6 |
| Max rotation speed, rpm | 1400 |
| Noise level, dB | 21 |
| Capacity, W | 2,16 |
| Dimensions, mm | 120 x 120 x 25 |
Do note that an independent opening of power supply leads a loss of warranty.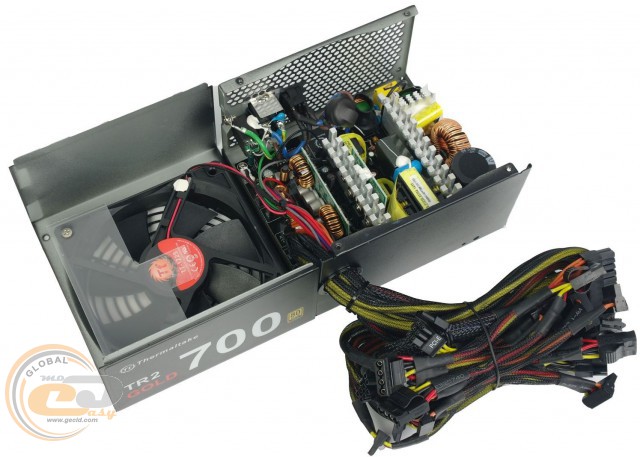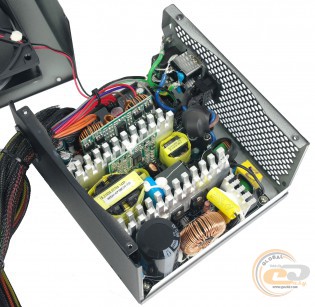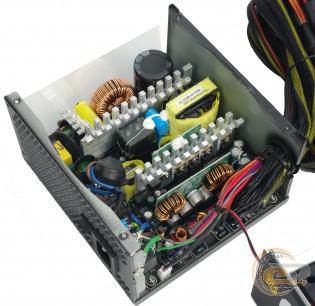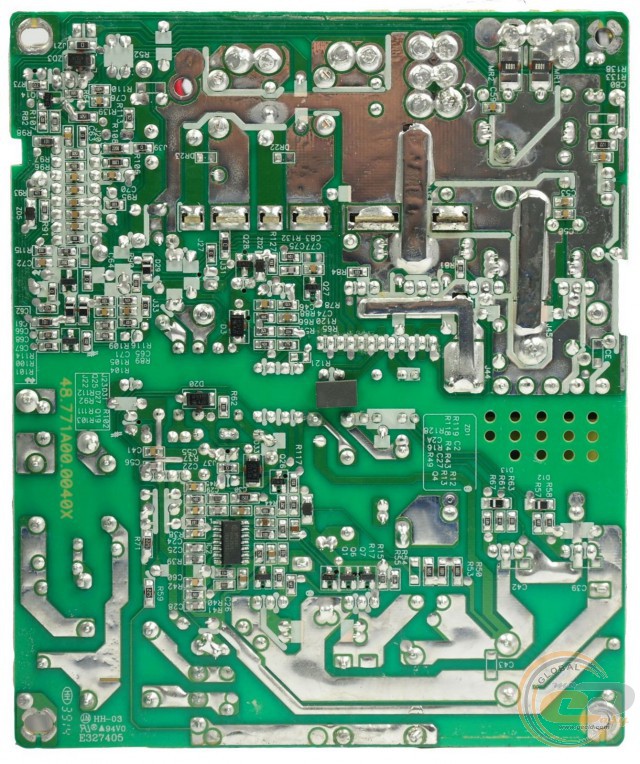 Turning to the circuitry of Thermaltake TR2 700W GOLD, it should be noted that the production capacity to create a power is not provided, so they are custom-made. Nevertheless, the overall impression of the quality of the build is positive. You won't find external defects, even cable kinks. The Thermaltake TR2 700W GOLD used a scheme based on resonant LLC-converter that is suitable for high-level solutions.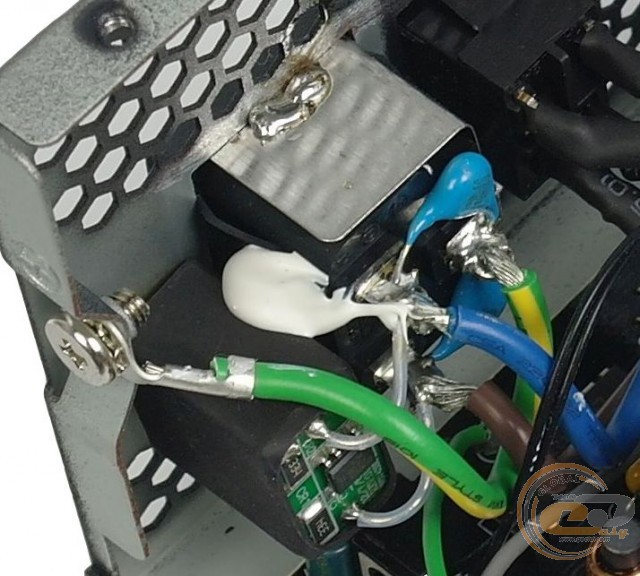 Here is EMI-filter for smoothing the high-frequency noise. Traditionally, it is divided into two parts: one is located near to the terminal and the power outlet is shielded by a metal foil, and the second is on the main circuit board. At the entrance there is a pair of Y-capacitors and one X capacitor. The board has a set of smoothing capacitors and coils.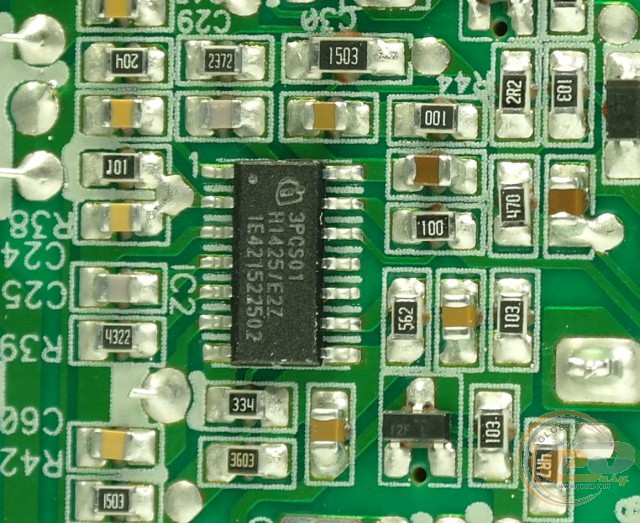 The density of the execution did not allow us to make qualitative image of further components. Therefore do note that behind EMI-filter there is a rectifier on a diode assembly, which uses a separate fan for cooling.
Controller 3PCS01 is responsible for rectifying the AC voltage correction. In order to cool of the power part (the pair of transistors and Schottky diode) here is a larger radiator.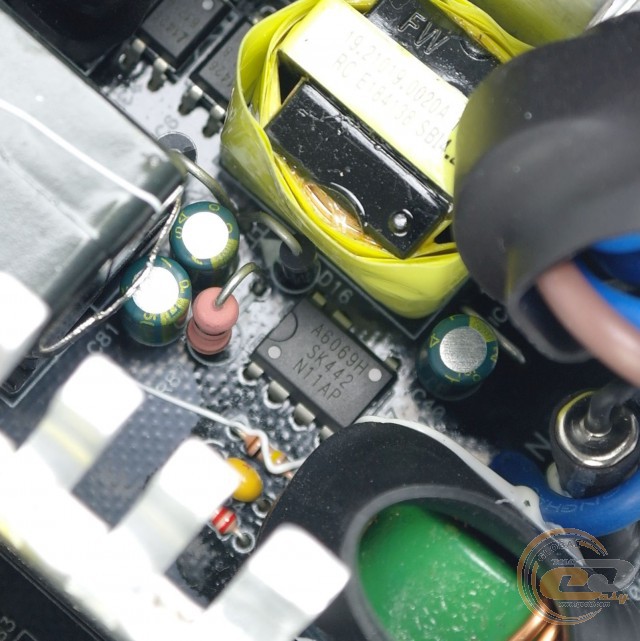 Further circuitry is common in today's powerful power supply units: the main voltage is +12V. The power part consists of four transistors (two per channel), which is controlled by the PWM controller A6069N.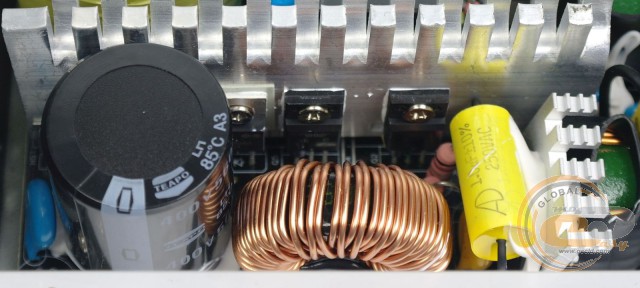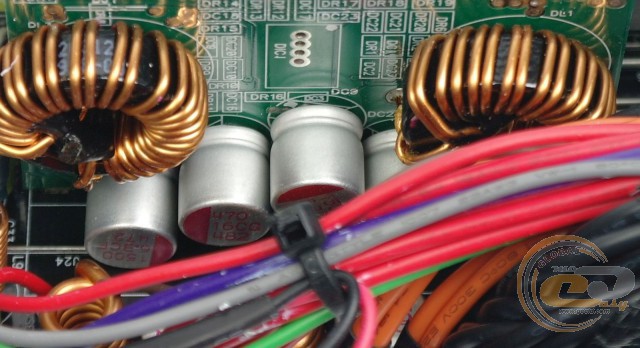 The output lines +12V contain good polymer capacitors. It should be noted, the majority of all components belong to the high-temperature series (up to 105°C), which allows to count on their long service life. Nevertheless, the main condenser is designed for a temperature of 85°C. Apparently, the manufacturer considers that there is no single reason for the overheating of the construction, which should inspire users to cautious optimism.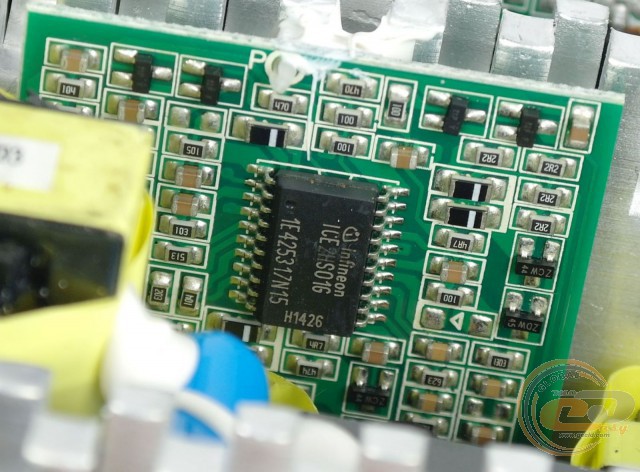 PWM controller that controls the operation of the main converter (ICE2HS01G) is soldered on the daughter board.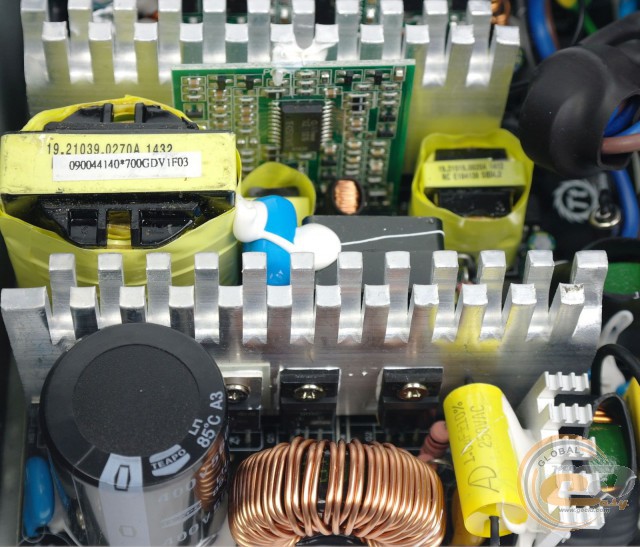 The overall build quality of board with elements is high and any deficiencies were not noted.
Социальные комментарии Cackle