RAM kit G.Skill Sniper F3-17000CL11D-8GBSR: review and testing
This review will be devotes to memory modules of standard DDR3, which is still relevant, given the huge number of platforms with its support. Kit G.Skill Sniper F3-17000CL11D-8GBSR refers to a series G.Skill Sniper, presented in early 2011 as a solution with a stylish design for gamers. It includes kits with capacity from 4 to 32 GB with frequencies from 1333 to 2400 MHz. In this case, the operating voltage for different kits ranging from 1.25 to 1.65 V. In our case, the kit consists of two modules, totaling 8 GB at nominal frequency of 2133 MHz and voltage 1.6 V. Let's take a look to its specification.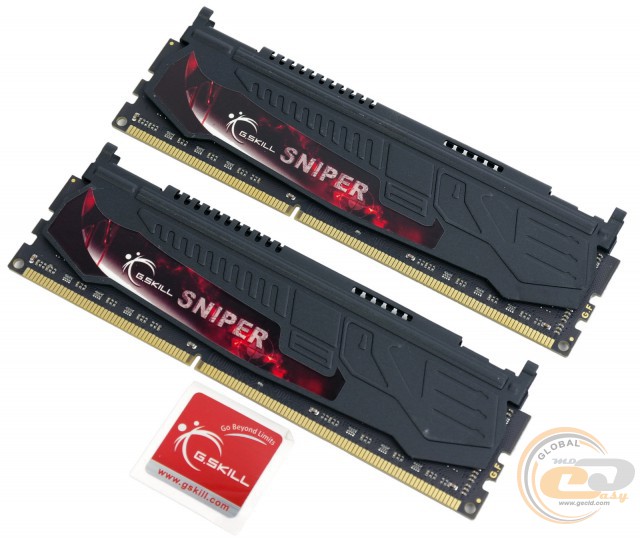 The specs:
Producer and model

G.Skill Sniper DDR3-2133

Model marking

F3-17000CL11D-8GBSR

Memory type

DDR3

Guaranteed effective mode of operation (real frequency, MHz)

DDR3-2133 (1066)

Form-factor

240-pin U-DIMM

Quantity of modules

2

Module memory capacity, GB

4

Recommended mode of operation

DDR3-2133 11-11-11-30

Operating supply voltage, V

1,50

Standard modes of operation

DDR3-1600 11-11-11-28

DDR3-1333 10-9-9-24

DDR3-1333 9-9-9-24

DDR3-1066 8-7-7-19

DDR3-1066 7-7-7-19

DDR3-800 6-6-6-14

Extended XMP profiles

DDR3-2133 11-11-11-30 1,6 В

DDR3-2133 11-11-11-30 1,6 В

Extended EPP profiles

No

Height of each module, mm

42

Producer website
Package and modules design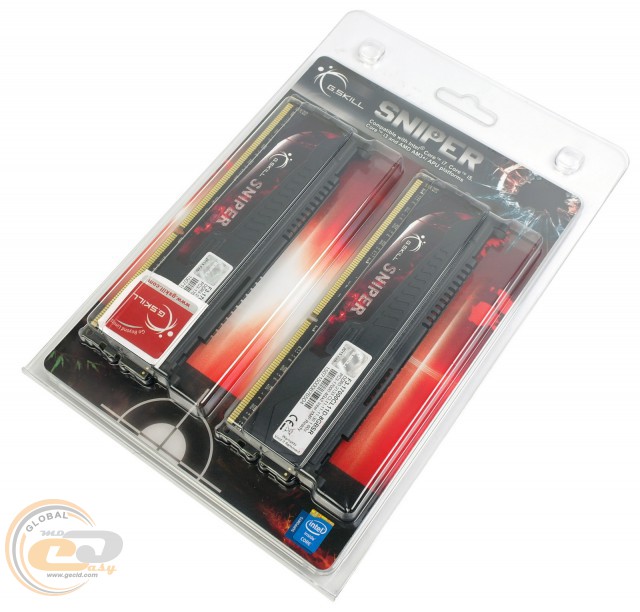 Memory G.Skill Sniper F3-17000CL11D-8GBSR comes in a blister disposable pack, which allows to evaluate the appearance of the product before buying, as well as providing a secure fitting of modules and prevents damage during transportation.
Inside the blister there is a traditional bright cardboard backing with stylized emblem of the series G.Skill Sniper. At the top, in addition to the logo of the manufacturer, you can notice the compatibility with platforms Intel and AMD. Pay attention to the small nice bonus in the form of original sticker.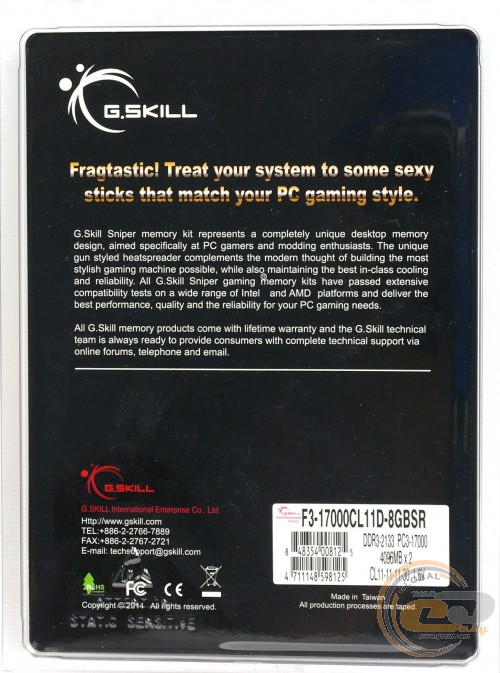 The reverse side of the package contains a small description of the product, the mention of a lifetime warranty, and a sticker with the characteristics of the RAM modules.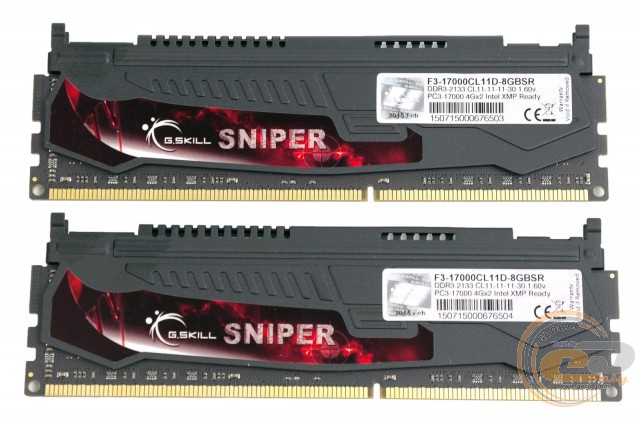 Since the test kit refers to the game series G.Skill Sniper, it is not surprising that the modules have quite an interesting design, which at the same time is very moderate because of the dark color of aluminum radiators. Do note the stylish punching, resembling a rifle that perfectly echoes the name of the series. Fans of strict design will appreciate the absence of the usual aggressive ridges, which in this case are very small and resemble the Picatinny rail is used to set the sights, or additional modules for small arms.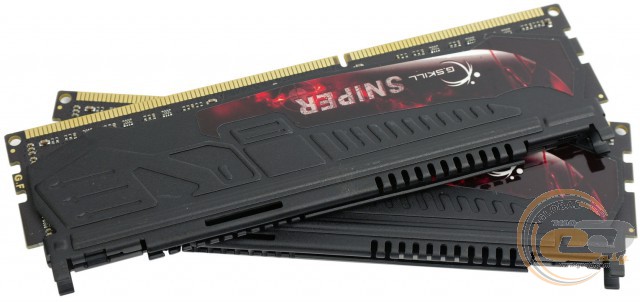 Despite the absence of pronounced ridges the radiators are quite high. The height of the modules together with the radiator is 42 mm, which can make it difficult to install them along with overall tower CPU cooler. Don't forget that the standard height of the printed circuit board of DDR3 memory module is only 30 mm.

The cooling system works perfectly well coping with the task. Under continuous maximum load the module temperatures rose to 42°C, which is a very good result.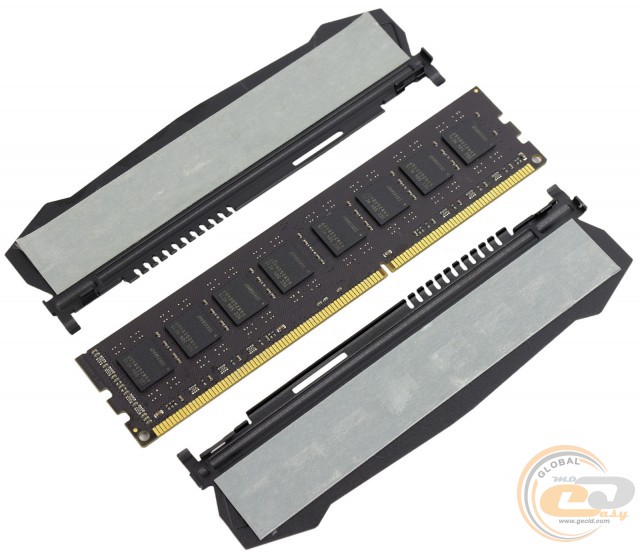 Structurally the cooling system of each module consists of two aluminum plates combined together by latches. The direct contact of memory chips with radiators is provided by special thermal interface applied on both halves of the inside.

Modules are made on a dark PCB with double-sided circuit layout. Each side has 8 chips with capacity of 256 MB each. Total amount of each memory module is 4 GB.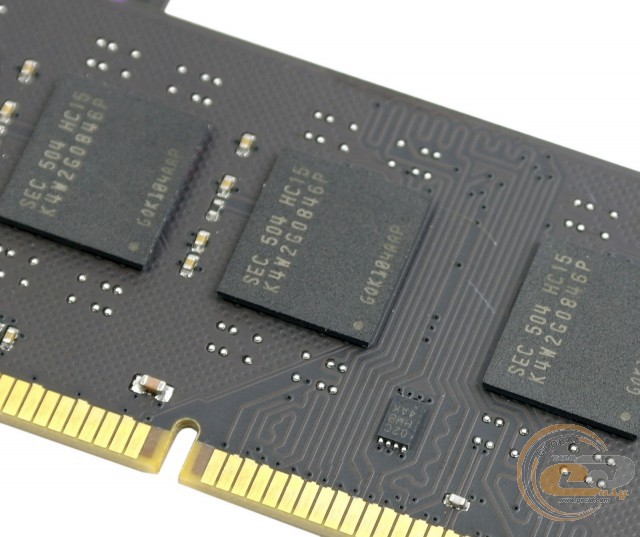 Chip manufacturer is company Samsung, and they are marked as «K4W2G0846P-HC15». Unfortunately we could not find any documentation for these chips, therefore, we did not indicate their accurate specifications.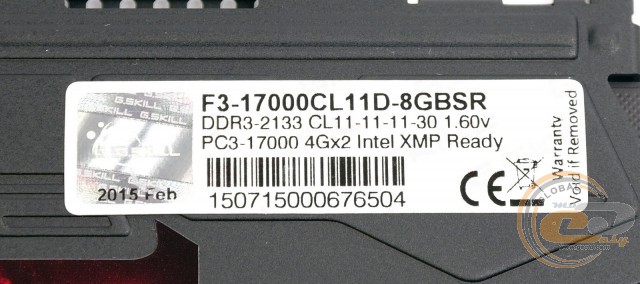 The label applied to the radiators of memory modules has all the necessary technical information: the type of memory (DDR3), the optimal clock frequency (2133 MHz), labeling (F3-17000CL11D-8GBSR), the capacity of a single module (4 GB), the peak data rate (17000 MB/s), a set of timings (11-11-11-30) and operating voltage (1.6 V).
Technical features and modes of operation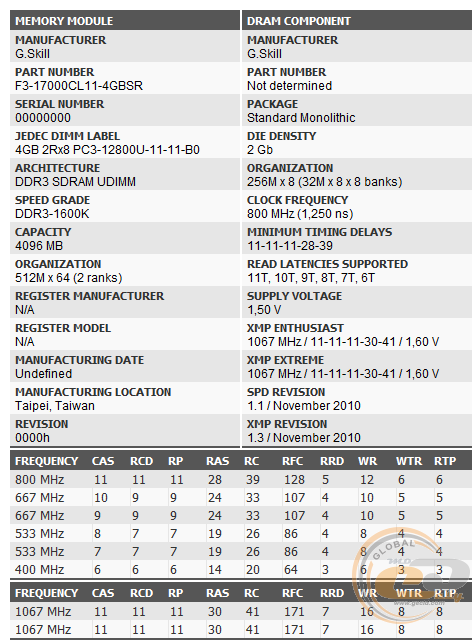 In order to analyze the parameters of the memory modules we used software Thaiphoon Burner, designed specifically for RAM testing. Above you can find a brief and detailed report of Thaiphoon Burner about specifications of G.Skill Sniper F3-17000CL11D-8GBSR.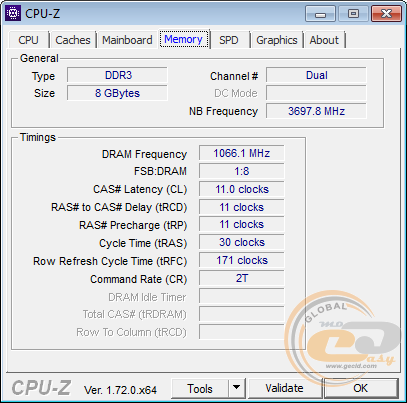 As you may have to pay attention to the specifications in the table, these modules have two XMP profiles that are identical to each other and have the following characteristics: DDR3-2133 MHz at a voltage of 1.6 V and timings 11-11-11-30.
Testing
The following test bench was used for testing the RAM kit G.Skill Sniper F3-17000CL11D-8GBSR:
CPU

Intel Core i7-4770K (Socket LGA1150, 3,5 GHz, L3 8 МB)
Turbo Boost: enable
C1E: enable

Motherboard

ASRock Fatal1ty Z97X Killer

Cooler

Scythe Kama Angle Rev.B

Graphics card

ZOTAC GeForce GTX 480 AMP! (NVIDIA GeForce GTX 480, 1,5 GB GDDR5, PCIe 2.0)

Hard disk

Hitachi Deskstar HDS721616PLA380 (160 GB, 16 МB, SATA-300)

Optical drive

ASUS DRW-1814BLT SATA

PSU

Seasonic SS-660KM (X-660), 660 W, Active PFC, 80 PLUS Gold, 120 mm fan
The opponent in the testing was a kit of memory DDR3-2133 GOODRAM GL2133D364L10A/16GDC with capacity of 16GB. Kits were tested in the following modes:
Model

Operation speed, MHz

Latency set

DDR3-2133 G.Skill Sniper F3-17000CL11D-8GBSR

1333

9-9-9-24

1600

11-11-11-28

2133

11-11-11-30

DDR3-2133 GOODRAM GL2133D364L10A/16GDC

1333

9-9-9-24

1600

11-11-11-28

2133

10-11-11-30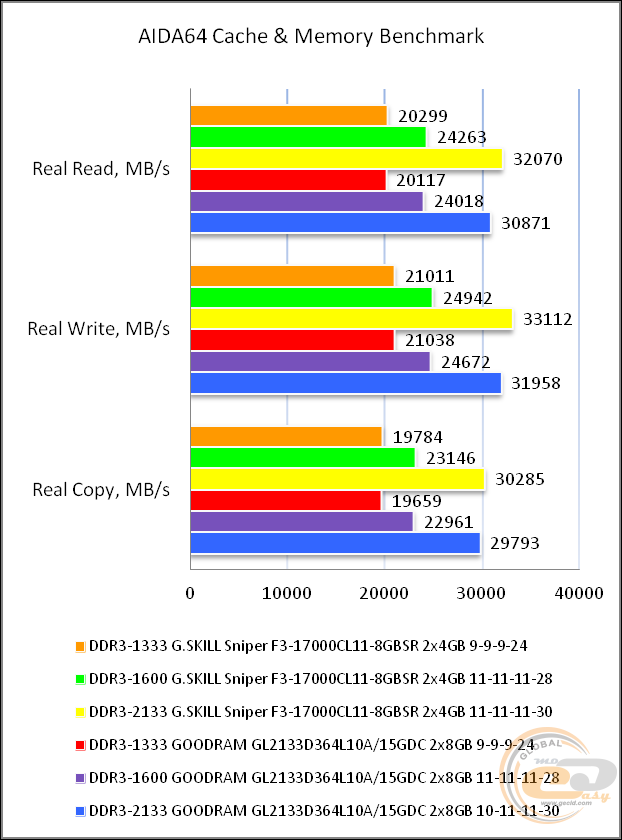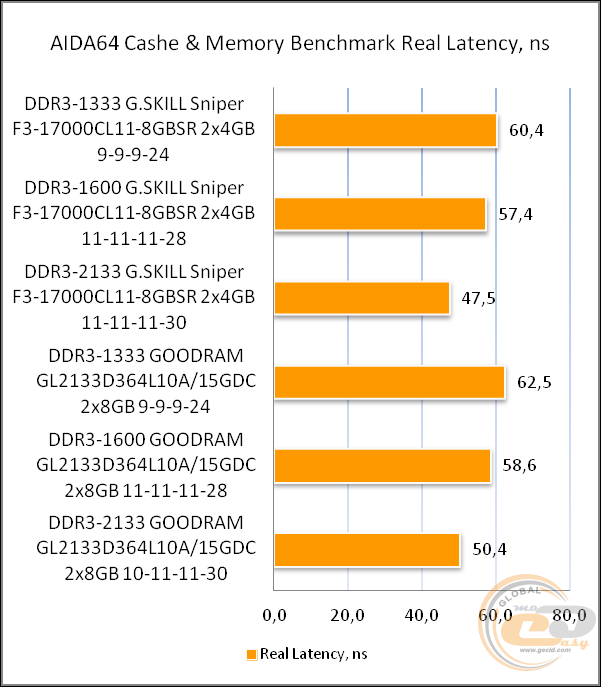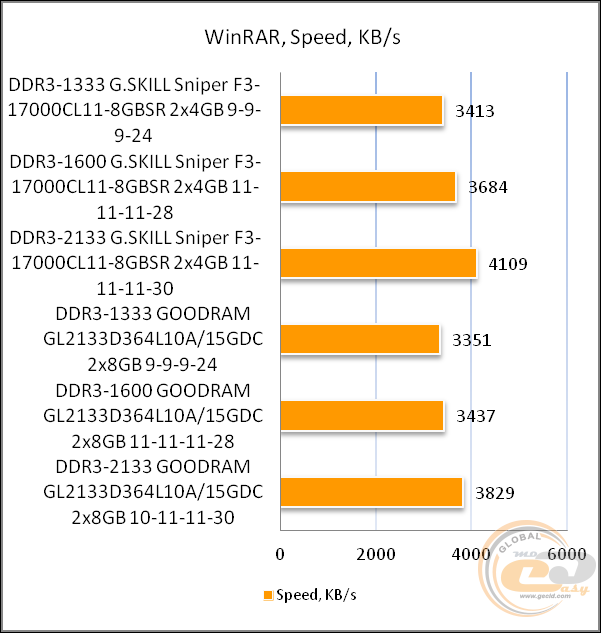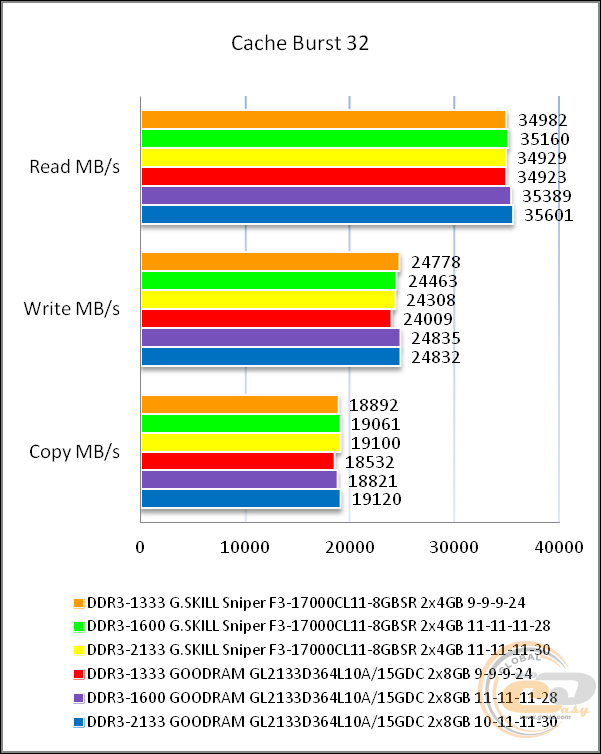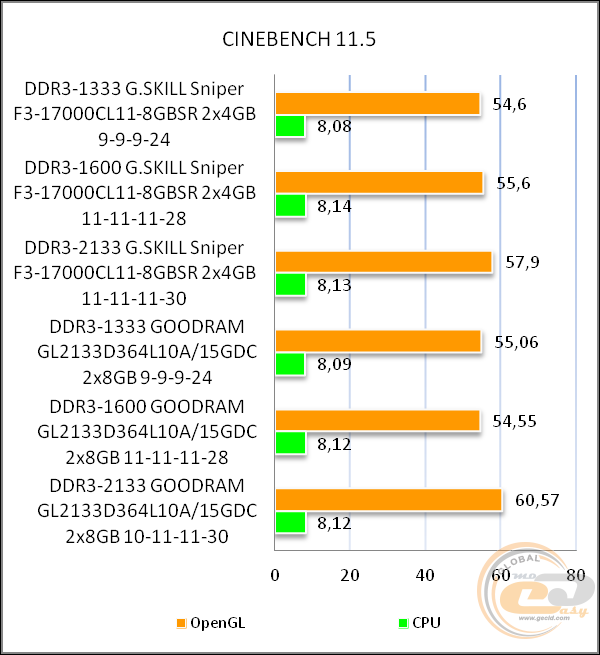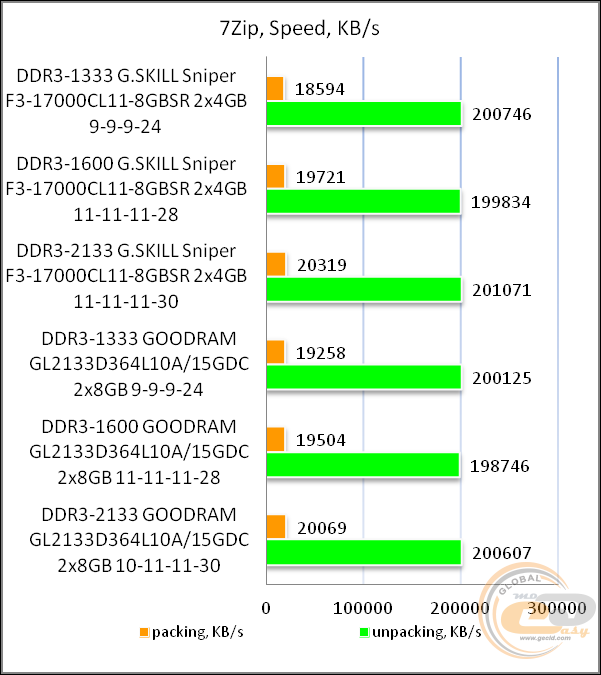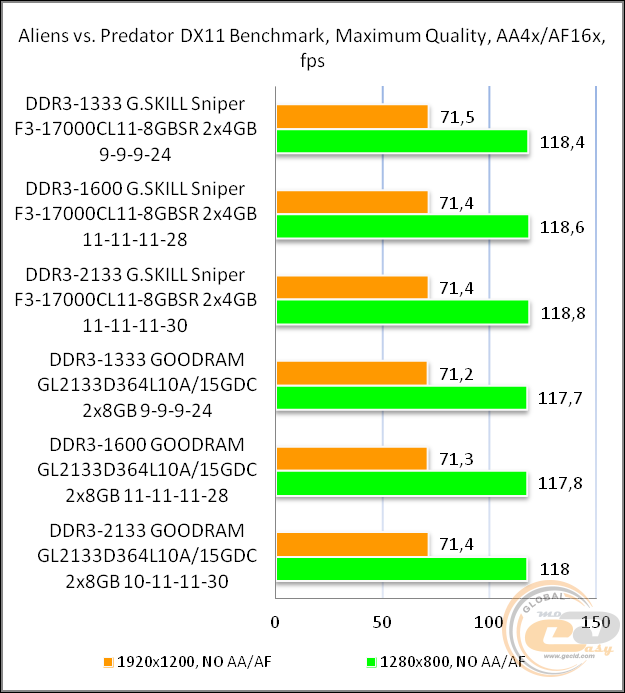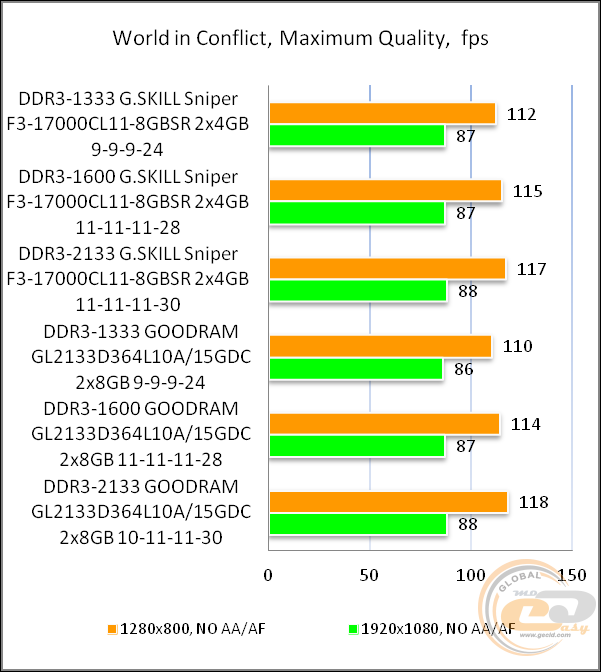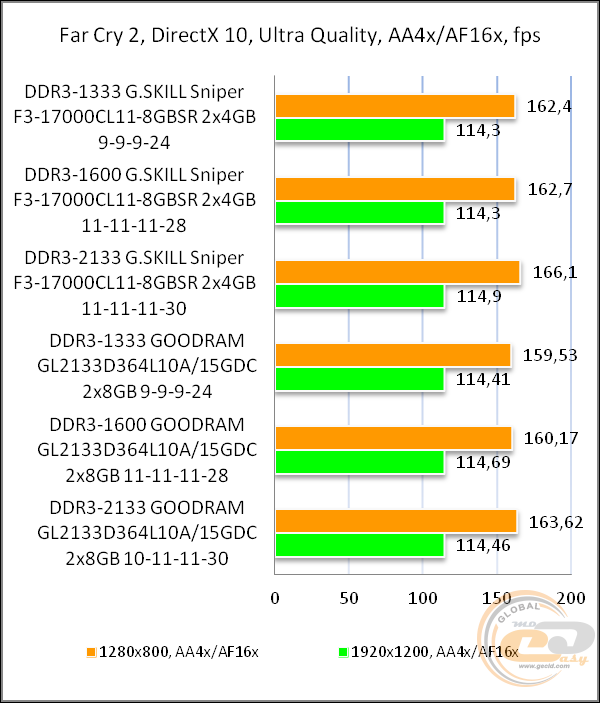 The obtained results clearly demonstrate the fact that the increase of RAM parameters affects the system performance. Of course, the resulting increase will not always be as significant as might be desired, but it still relevant. For example, at higher frequencies from 1333 to 2133 MHz gaming performance has increased by an average of 4 - 5%, which actually is a few extra FPS.
On the other hand, to increase the memory frequency influences to other programs, such as WinRAR, where a similar value has increased the archive speed by 20%.
Even more impressive growth was observed in synthetic benchmarks, for example, AIDA64, which the increase of the modules effective frequency from 1333 MHz to 2133 resulted in approximately 50% - 60% increase in the speed of copying, writing and reading from the memory.
As for the comparison of the kit G.Skill Sniper F3-17000CL11D-8GBSR with its opponent, they showed almost identical results with a slight advantage in most tests on the side of the product under review.
Социальные комментарии Cackle