Review of iOS applications. Release 1
Despite the relatively various solutions, the market of gadgets continues its rapid development. Therefore, trying to keep up with the trends in the IT-industry, we have decided to offer you a series of articles dedicated to software for devices running on iOS, which should successfully compete with OS Android in the premium segment.
This material will be useful for both the current owners of Apple gadgets, as well as for those who are still get acquainted the purchase Apple solutions. We will start, perhaps, with a number of applications of already familiar platforms, diluting them with some less known programs. We sincerely hope that the current review will encourage you to obtain a new and enjoyable experience in the use of a number of interesting and useful software.
Web
Google Chrome 40.0.2214.69
Despite the fact that Google is actively developing its own operating system Android, it also does not hesitate to promote their products in other software environments, including iOS. Therefore, the presence of the popular browser Google Chrome at the company store is not surprising. The mobile version of this application offers functionality similar to Android release. Besides its main purpose as web browsing, it also has a number of additional features:
Instant Search - Search can be performed in the address bar of a web resource, and frequently input combinations and addresses of the most visited sites will appear as you type, saving you time on the set.
Auto filling allows you to create a template to fill forms on Web sites. Thus, after filling it you don't need to enter the relevant data for each visit.
Enter the Chrome – the use of a single account to log in to the Web browser on computers and gadgets allows you instantly access the open tabs, notes, browsing history, and recent searches by any used devices. Thus, when working with any equipment the browser will display the most relevant information.
Voice Search is a useful feature for entering search queries by voice, which is very useful when using a headset.
Ability to save mobile traffic is a function aimed to compress the data and control bandwidth that will reduce mobile traffic by 50%, simultaneously reducing the page load time and save you money.
Privacy – the mode "incognito" will allow you not to leave "tracks" when visiting Web sites.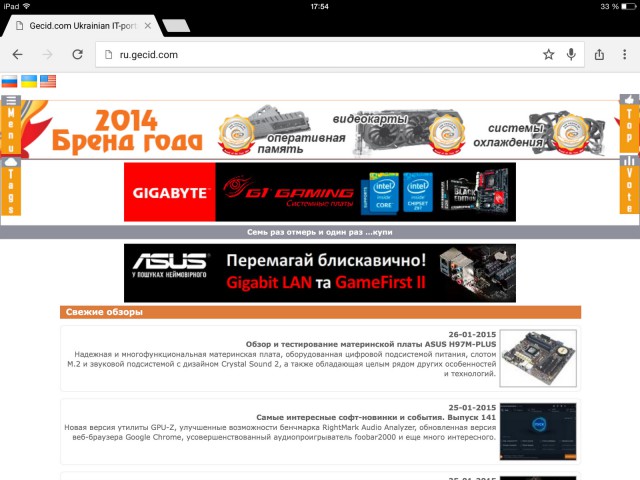 The version of Google Chrome 40.0.2214.69 has following modifications:
new design of Material Design;
optimizationfor iOS in 8 and support for smartphones with big screen;
data transfer from the Chrome browser by the default OS X using the function Handoff;
correction of errors and increase the stability of the application.
Developer: Google
Size: 58 MB
Compatibility: iOS 7.0 or next
Distribution mode: free
Download: Google Chrome 40.0.2214.69
Dropbox 3.6.3
The use of cloud services for owners of gadgets is a great way to store data. Firstly, they are available for download from any device, so you can always work with the most current version of the document. Second, mobile devices from Apple do not have slots for expansion cards, so a few gigabytes of free memory for storing data will never be superfluous.
Known cloud service Dropbox cared about iOS users, creating for them the same named mobile application. It is characterized by the following features:
all your photos, videos, documents and other files are available from any device anywhere in the world;
the user has 2 GB of hard disk space;
to easily share large files you need to share the link to the desired content;
tab "Favorite" allows you to store files that will be available also in stand-alone mode.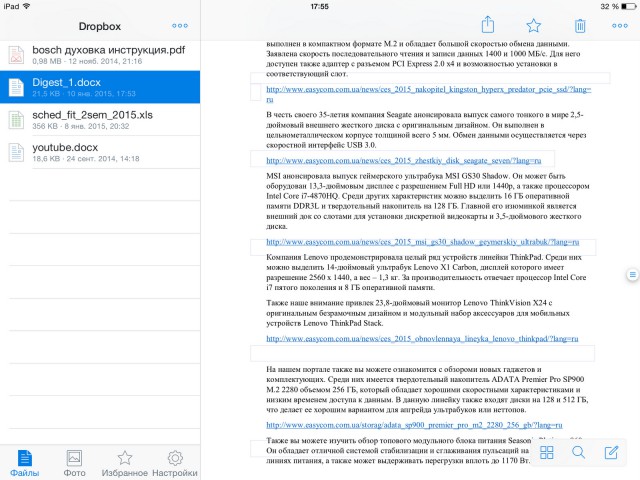 The version of Dropbox 3.6.3 has fixed error caused a failure occurred when viewing certain PDF-files.
Developer: Dropbox
Size: 55.1 MB
Compatibility: iOS 7.0 or next
Distribution mode: free
Download: Dropbox 3.6.3
Messenger 19.1
Over the past decade social networks have come a long way: from specialized sites for a limited number of users to the public and blockbuster entertainment portals. Many of their users wish to remain permanently in the network, keeping in touch with friends and family. Especially the flexibility of modern tariff plans from mobile operators allows you to spend a minimum of money.
Therefore, for all Facebook users there is application that allows to use a number of advantages in the most simple and convenient way. In addition to communication with other users, the program Messenger also provides a number of additional features. We will mention only the most important ones:
sending messages to subscribers of your phone book;
creation of group chats for a wider circle of friends, sharing photos, etc .;
faster loading to create a photo or video that allows to share with your friends the most vivid impressions and emotions;
free calls over Wi-Fi between the users of the application;
record of voice messages;
information about reading of your messages;
send messages and files to people not involved in the correspondence;
information about your friends online or have a running messenger;
the ability to disable notifications for new messages if you are busy or want to relax.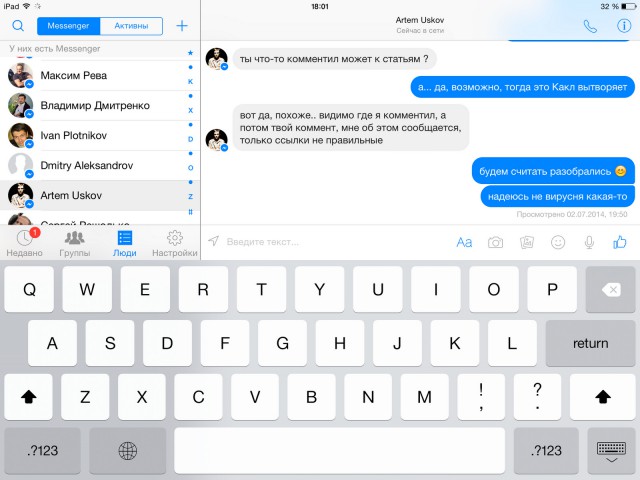 The version of Messenger 19.1 has fixed the problem with the display of active users in social networks.
Developer: Facebook
Size: 45.2 MB
Compatibility: iOS 7.0 or next
Distribution mode: free
Download: Messenger 19.1
Google Maps 4.2.0
Different map services are widespread, allowing Internet users to make virtual trip around the globe. At the same time, Apple also has service Apple Maps, which was subjected to considerable criticism from users. So a large number of users prefer an alternative service Google Maps, which is now available for iOS-devices.
It includes accurate and detailed maps of 220 countries and regions in the world, allowing not only to make a virtual tour to any point of our planet, but also to receive a number of additional features:
find the desired location on the map;
create routes;
view photos attractions and interesting interiors of buildings;
use voice GPS-navigation for driving a car, bicycle or walking;
information about traffic jams and accidents in real time, allowing you to choose the most suitable and quickest route;
studying the detailed description of more than 100 million. places;
view streets, interiors and different places.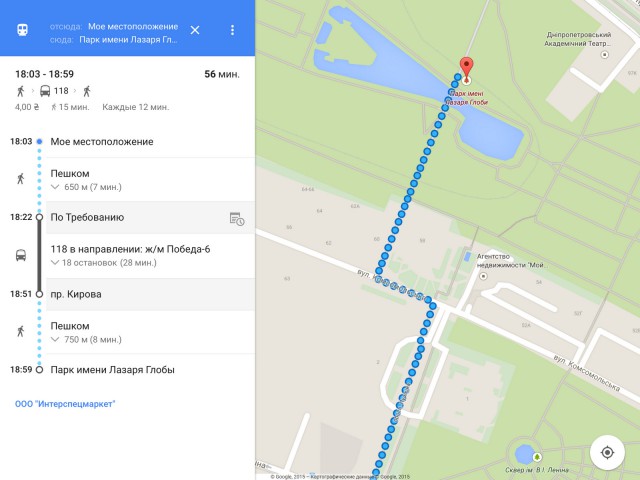 Version of the application Google Maps 4.2.0 has introduced the following changes:
filtering of restaurants according type of cuisine;
information about the weather conditions around the world;
quick selection on the map the start and end point of the route by setting the markers.
Developer: Google
Size: 25.5 MB
Compatibility: iOS 6.0 or next
Distribution mode: free
Download: Google Maps 4.2.0
Puffin Web Browser Free 4.1.1
The fans online videos from various sites will please a web browser Puffin Web Browser Free thanks to the support of function of the cloud Adobe Flash-Player. This feature makes it an indispensable tool where the standard Safari browser and other popular solutions can not always cope with the task.
In addition, the application has the support of a number of other features:
high speed through the use of a number of cloud services, allowing them to pass the necessary load to display the pages;
high security by encryption the traffic from the application to the server Puffin - you won't worry even when using a public access point of Wi-Fi;
constant updating of cloud version of Flash-player, so every time you will use the latest and the most fast, secure and functional version;
use of the patented compression algorithm that allows you to keep traffic and significantly increase the speed of web browsing;
the ability to upload files up to 20 MB to a cloud service;
virtual touchpad (mouse simulation);
virtual joystick;
addition functions (Pocket, Evernote, Facebook, translator, etc.);
fast JavaScript;
full-time job with the pages thanks to two types of display: standard and mobile;
the ability to use tabs "incognito" and others.
Note that support for cloud Flash-player in the browser Puffin Web Browser Free is available from 6 am to 6 pm. To remove this restriction, there is a possibility of semi-annual subscription for $ 0.99. The same sum is a monthly subscription for those who want to keep files up to 1 GB.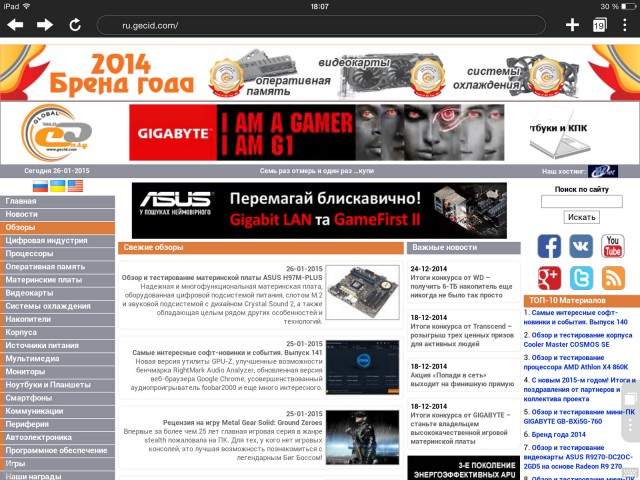 Puffin Web Browser Free 4.1.1 brings update of a cloud Flash-player to the 16th version, as well as a series of error correction.
Developer: CloudMosa
Size: 25.1 MB
Compatibility: iOS 6.0 or next
Distribution mode: free
Download: Puffin Web Browser Free 4.1.1
Education
Wikipedia Mobile 4.0.6
The world known online encyclopedia "Wikipedia" is the source of information used by most of us to obtain extensive information about any issues. And in order to make user interaction with this body of knowledge as convenient as possible, the developers of the Wikimedia Foundation provided the appropriate application called «Wikipedia Mobile».
It has an intuitive interface an, which is optimized for a variety of iOS-devices, whether it is iPad, iPod or iPhone. Internal search makes it easy to find the proper material and the ability to save the most interesting pages simplifies repeated access to them. Also there a history of the user last visited pages.
The main advantages of this application are:
the ability to search among 32 million. Articles in280 languages;
high speed;
saving pages for offline reading;
the ability to share articles with other users.
The program has completely open source written in Objective-C.
The version of Wikipedia Mobile 4.0.6 has fixed a bug that sometimes occurred when reading the extensive articles on older versions of iOS-devices.
Developer: Wikimedia Foundation
Size: 5.1 MB
Compatibility: iOS 6.0 or next
Distribution mode: free
Download: Wikipedia Mobile 4.0.6
В уме 2.3
Famous painting of Nikolay Bogdanov-Belsky was remembered by interesting mathematical tasks written on the blackboard. The production is called "Counting in their heads. In national school of S.Raczynski" and has a direct bearing on the application created after 120 years after the artist's work.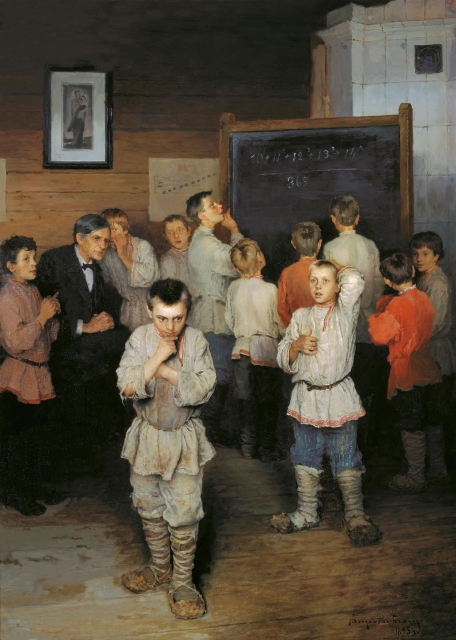 Now every owner of iOS-device may feel like the boy who tries to find the right solution. The appendix "В уме/ Counting in their heads" provides the user with the electronic versions of books of S. Raczynski "1001 problem for mental accounts". Consequently, it allows you to train your brain with a variety of tasks, and their number will not let you get bored even during the longest trips. The benefit from such a pastime is difficult to overestimate, because the human brain as well as muscle, requires regular loads.
New version of "В уме 2.3/ Counting in their heads" has a number of small improvements, as well as the availability of information about other applications in the section "Математические этюды/ Mathematical Etudes".
Developer: Roman Koksharov
Size: 22.6 MB
Compatibility: iOS 4.3 or next
Distribution mode: free
Download: В уме 2.3
Социальные комментарии Cackle