SSD drive Neutron XT (240 GB): review and testing
In middle November 2014 the company Corsair has updated its SSD lineup using three models in the family Corsair Neutron XT, which is less efficient than a series of Corsair Neutron GTX. The basis of all the new products is a flash memory of the second generation of Toshiba, made on 19-nm manufacturing technology, as well as the new controller Phison PS3110-S10, designed specifically for use in storage of the middle class, where there is no need to have the highest speed. On this basis, it is not surprising that new items are significantly cheaper than their older counterparts from the family Corsair Neutron GTX. For example, the model Corsair Neutron XT (CSSD-N240GBXT) with capacity of 240 GB, has declared cost about $ 180, which is $ 70 cheaper than similar models in terms of capacity of a series Corsair Neutron GTX. Separately, we note that the actual retail price of new item on the USA market is even lower, namely $ 140, which makes it even more attractive if the claimed performance results correspond to reality.
Let's take a look at capabilities of a new product.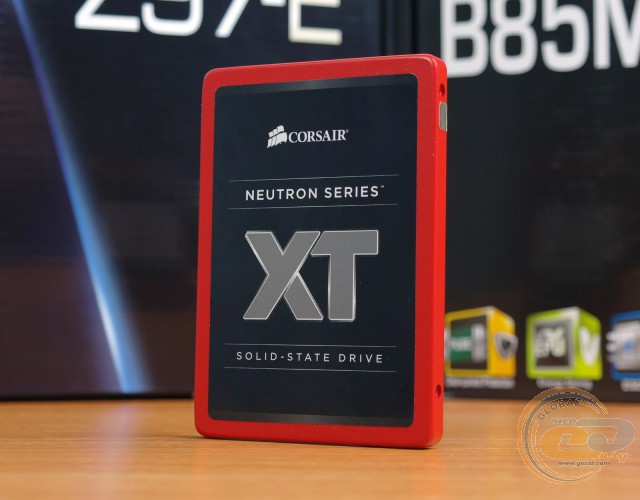 The specs:
Producer and model

Corsair Neutron XT

(240 Gb option)

Form-factor, in

2,5

Interface

SATA 6 Gb/s (backward compatible with SATA 3 Gb/s)

Memory type

19-nm Toshiba A19 MLC (multi-level cell), synchronous

Capacity, GB

240 (CSSD-N240GBXT)

480 (CSSD-N480GBXT)

960 (CSSD-N960GBXT)

Controller

Phison PS3110-S10

Color options

Black-red

Operating temperature range, °C

0…+70

Data storage temperature range, °C

-45…+85

Impact load, G

Up to 500

Max speed of consistent read (ATTO Disk Benchmark), MB/s

560

Max speed of consistent write (ATTO Disk Benchmark), MB/s

540

Max speed of consistent read (CrystalDiskMark), МB/s

540

Max speed of consistent write (CrystalDiskMark), МB/s

525

Speed of random read of data with capacity of 4 KB, IOPS

100 000

Speed of random write of data with capacity of 4 KB, IOPS

90 000

Data encoding

256-bit AES-algorithm

Weight, g

55

Case thickness, mm

7

Producer warranty, years

5

Technologies

TRIM, S.M.A.R.T., ECC, Garbage Collection

OS compatibility

Windows 8 / 7 / Vista / XP
Mac OS Х
Linux

Producer website
Drive Corsair Neutron XT is available in three different versions of capacity, ranging from 240 GB to 960 GB version. Also note the 7-mm height of its body, which will allow to install a novelty even in the most compact laptop. As we know, such a thickness meets the requirements of Intel Ultrabooks.
Package and content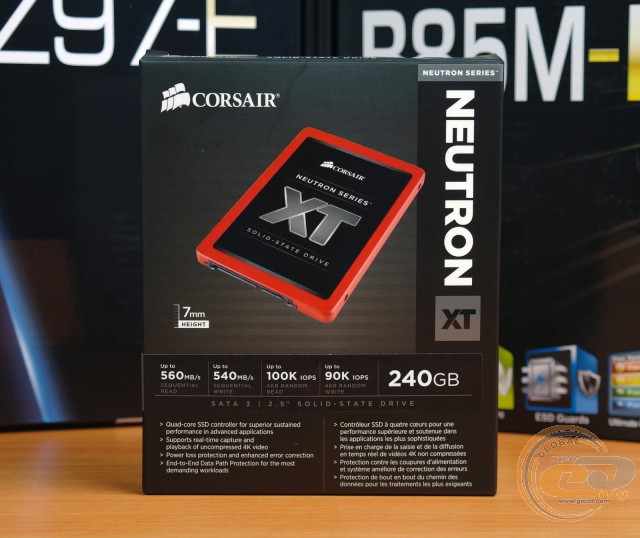 The novelty comes in a compact cardboard box, decorated in a restrained style with dark gray shades. In addition to the imaging device and its name the front of the pack contains a mark on its size, read and write speed, as well as the use of quad-core controller.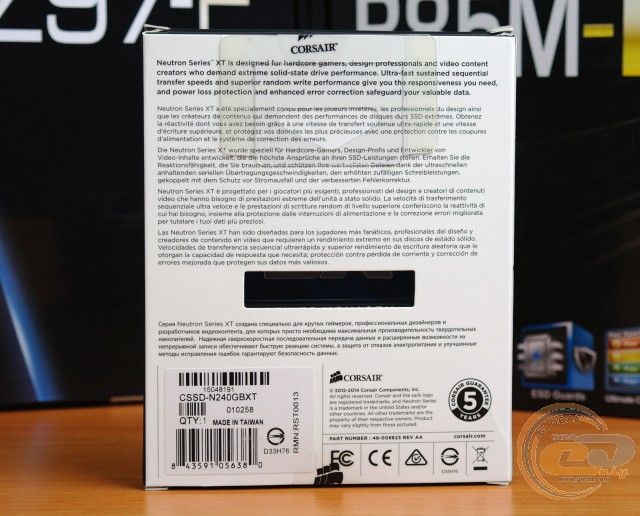 The reverse side of the package contains a small advertising product description in six languages and a small sticker with technical information and source of devices.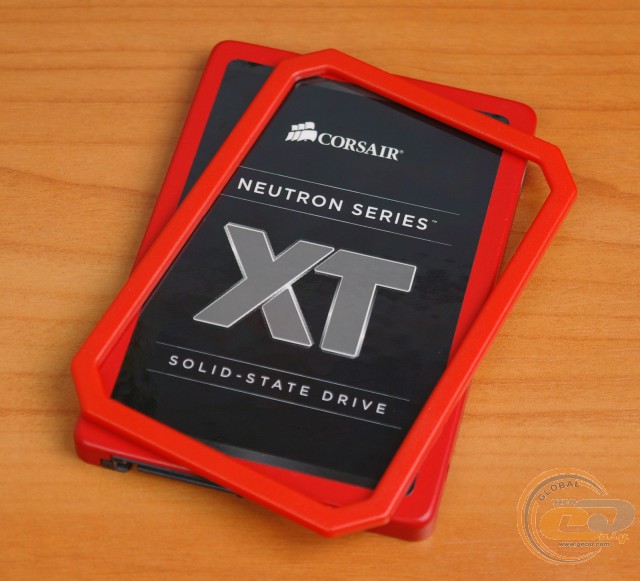 The package includes an adapter to install SSD-drive into 2.5-inch drive bay with thickness of 9.5 mm.
Design and features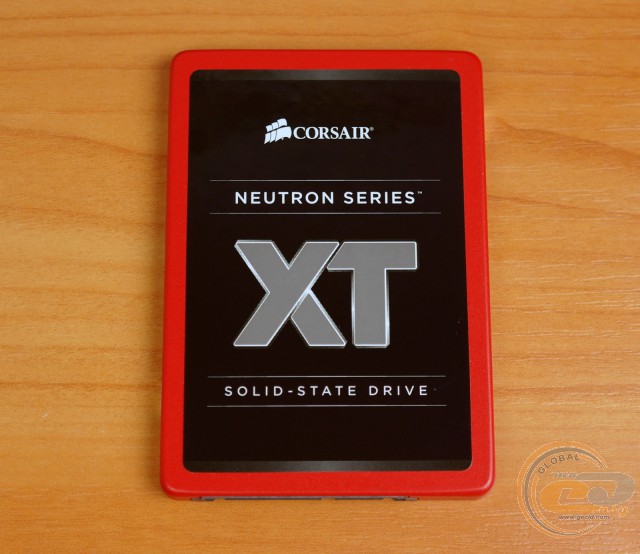 The main body material is aluminum painted in red color. Also the front side contains a fairly large black sticker with the name of the device and the logo of the manufacturer.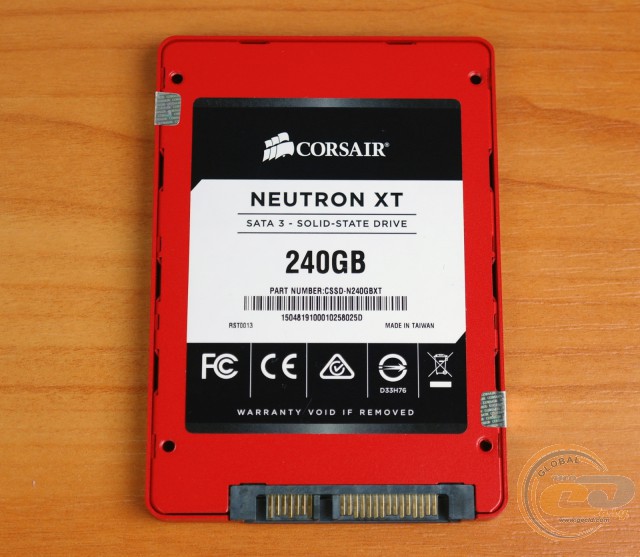 Looking at the backside of the case, it is possible to find another label containing all the necessary technical information about the device, namely the serial number, security code, warning about the correct handling, as well as logos, confirming the passage of various certifications. Along the edges there are four mounting holes for mounting the drive in a 3.5-inch adapter and two warranty stickers.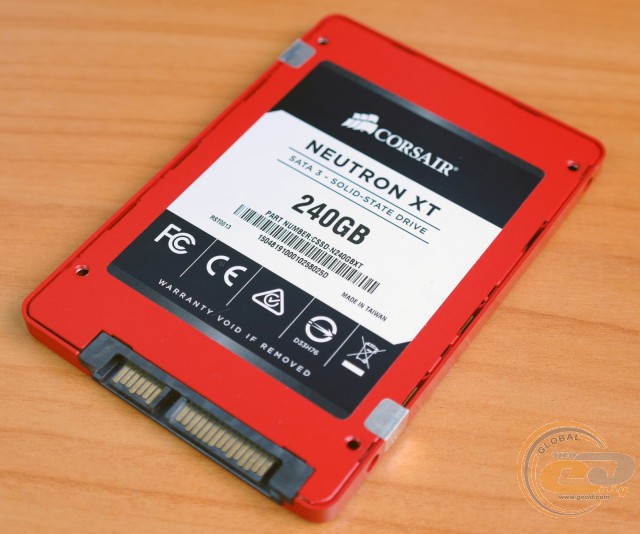 The heart of Corsair Neutron XT (CSSD-N240GBXT) is a quad-core 32-bit controller Phison PS3110-S10. This chip provides support for high-speed interface SATA 6 Gb/s and the following technologies:
NCQ (native command queuing) - Command Queuing, which allows you to optimize the performance of drive operation;
S.M.A.R.T. (Self-monitoring, analysis and reporting technology) - a monitoring system that monitors the status of the drive, so you can predict the time of its failure;
TRIM - allows you to directly delete stored data in the flash memory and immediately release the unactuated position (free blocks), to be used for data recording;
Garbage Collection - a feature that automatically detects the memory cells occupied by unnecessary information and transfers or deletes it.
As for memory chips, they are placed on both sides of the PCB. In total, the drive uses 8 chips Toshiba TH58TEG8DDKBA8C, made according to 19-nm manufacturing technology with multi-level-cell (MLC). The capacity of each of them is 32 GB, for a total of 256 GB. And 240 GB are allocated for the needs of the user, while the remaining 16 GB are reserved for storing high performance and correct operation of the disc during operation.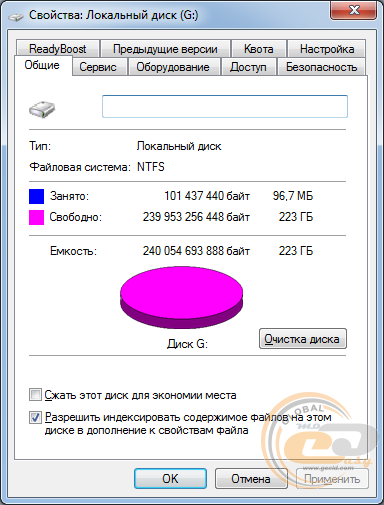 SSD-drive comes formatted for NTFS. As is the case with the other storage devices, a user has a smaller free space (223 GB) instead of declared 240 GB of claimed capacity.
Социальные комментарии Cackle