Memory card Kingston microSDHC class 10 UHS-I (32 GB): review and testing
In this review we will focus on the compact microSD memory card Kingston microSDHC class 10 UHS-I (SDC10/32GB). It complies with the UHS-I Speed Class 1 (U1) with minimum recording speed of 10 MB/s. Other features of this model include the protection against moisture, shock and vibration, as well as protection against exposure of X-ray devices, installed, for example at airports and other objects.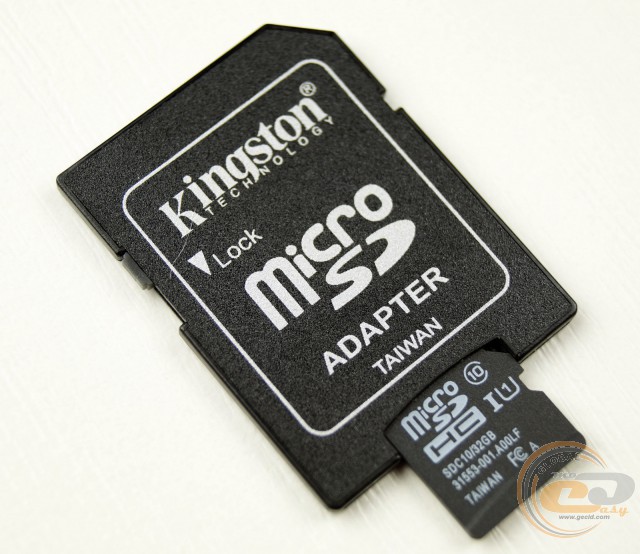 The specs:
| | |
| --- | --- |
| Producer and model | Kingston microSDHC class 10 UHS-I (SDC10/32GB) |
| Form-factor | microSDHC |
| Speed class | UHS-I Speed Class 1 (U1) |
| Min data transfer rate, MB/s | 10 |
| Capacity, GB | 4 / 8 / 16 / 32 / 64 / 128 |
| Operation temperature range, °C | -25…+85 |
| Storage temperature range, °C | -40…+85 |
| Producer warranty | Lifetime |
| Producer website | |
The tested model is available in six different capacity modifications, two of which are in format microSDXC for 64 and 128 GB. Also note that the manufacturer claims only the minimum data transfer rate rather than read and write speeds.
Design and package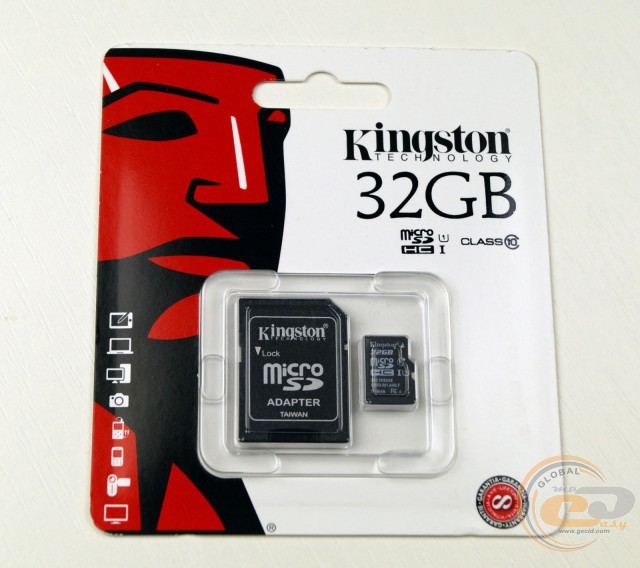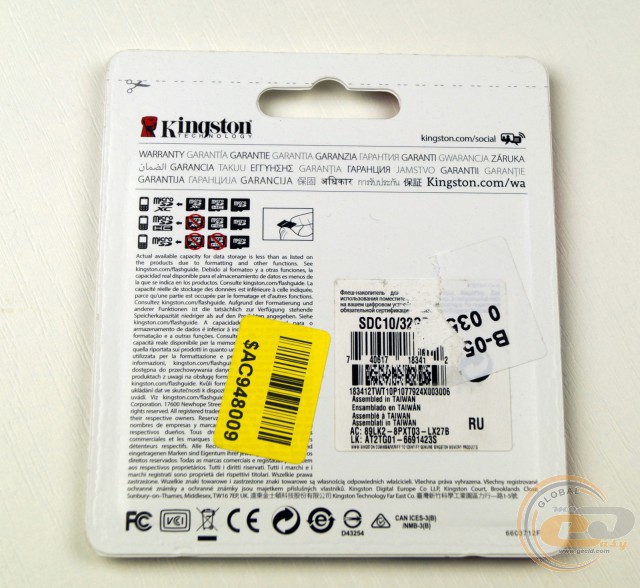 The memory card is supplied in the familiar disposable package such as blister, which allows to evaluate the design of the product before buying it. The front side of the package contains the name of the manufacturer, model and memory capacity. Additionally note the compliance with UHS-I Speed Class 1 (U1). Marking "class 10" informs that if the device does not support the specification UHS-I, the card will operate according to the tenth class of speed ability.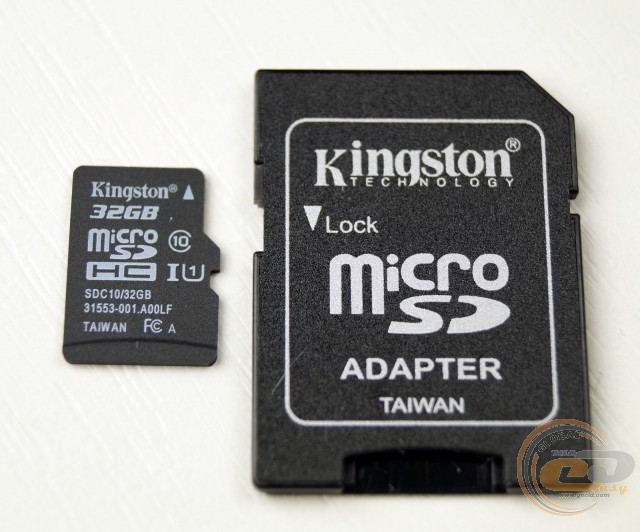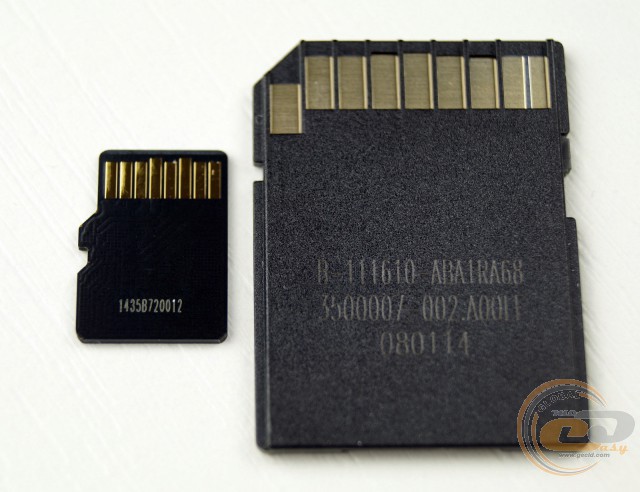 Model Kingston SDC10/32GB is made of black plastic in the format microSD (15 x 11 x 1 mm). The delivery set contains SD-adapter, because this form factor is still widespread in the photographic and video equipment. The front side of the device includes device name, its scope, as well as compliance with standard UHS-I Speed Class 1 (U1). The reverse side contains eight pads and labeling.
File system
By default, the memory card is formatted in FAT32 system, which is characterized by restrictions on the maximum size of the file (4GB).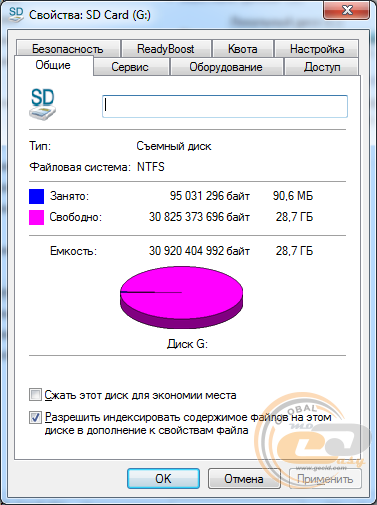 After formatting into the file system NTFS, you have 95 MB reserved for card needs and the available space is slightly smaller. However, in connection with the restriction in the file system FAT32, the capacity of 32 GB is more logical to use NTFS or exFAT, which are devoid of such shortcomings.
Testing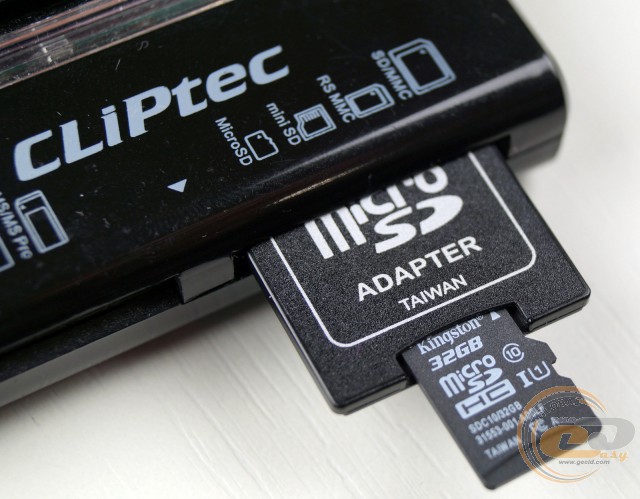 We used the following equipment to test Kingston SDC10/32GB:
| | |
| --- | --- |
| Motherboard | ASUS P9X79 PRO (Intel X79, Socket LGA2011, DDR3, ATX) |
| CPU | Intel Core i7-3930K (Socket LGA2011, 3,2 GHz, 12 МB L3) |
| CPU cooler | ZALMAN CNPS12X |
| RAM | 2 x DDR3-1333 1024 MB Kingston PC3-10600 |
| Video card | AMD Radeon HD 6970 (2 GB GDDR5) |
| Hard disk | Seagate Barracuda 7200.12 ST3500418AS (500 GB, SATA 3 Gb/s, NCQ) |
| Optic drive | ASUS DRW-1814BLT SATA |
| PSU | Seasonic X-660 Gold (SS-660KM Active PF), 650 W, 120 mm Fan |
| OS | Microsoft Windows 7 64-bit |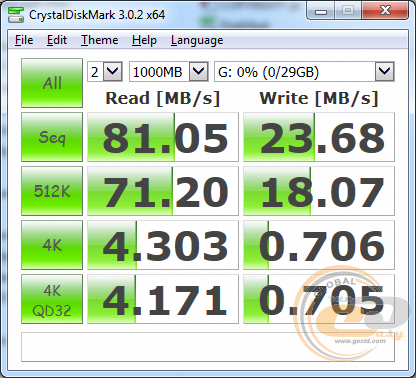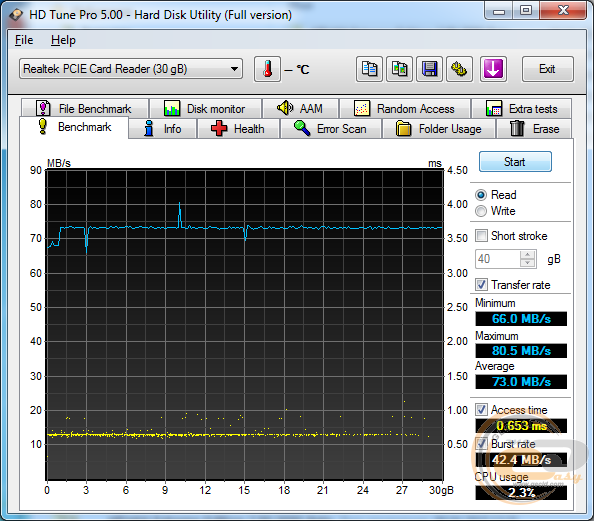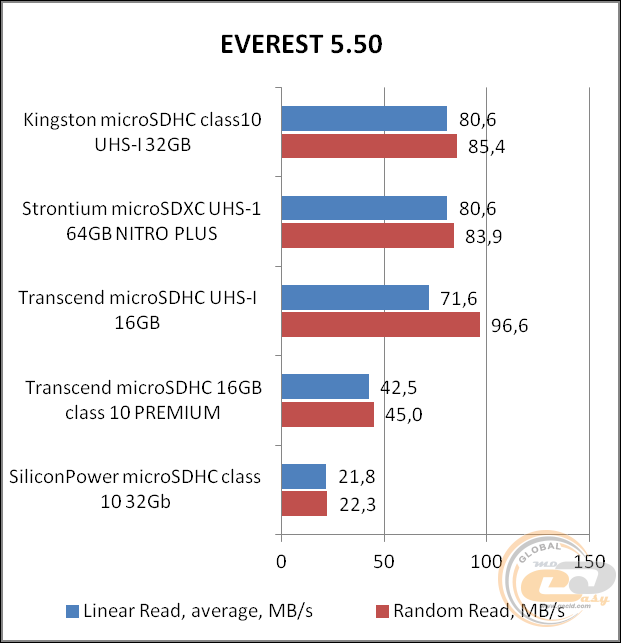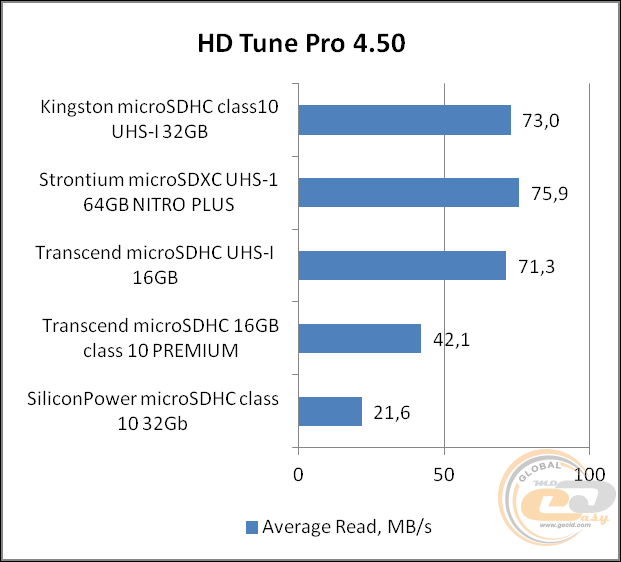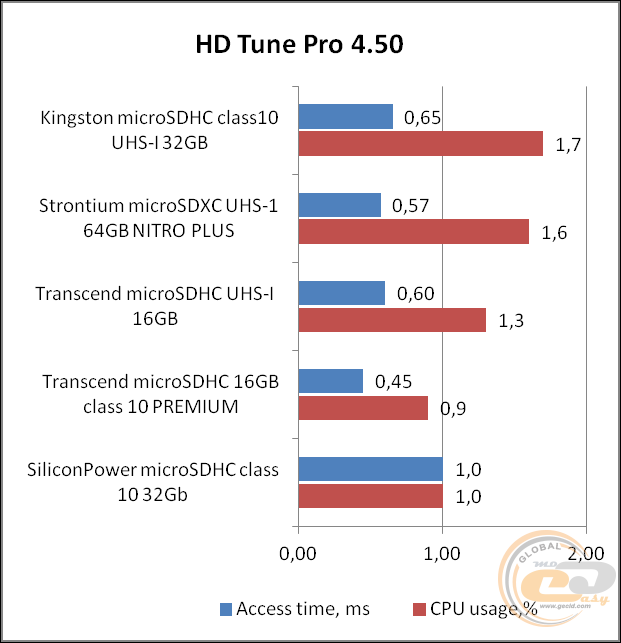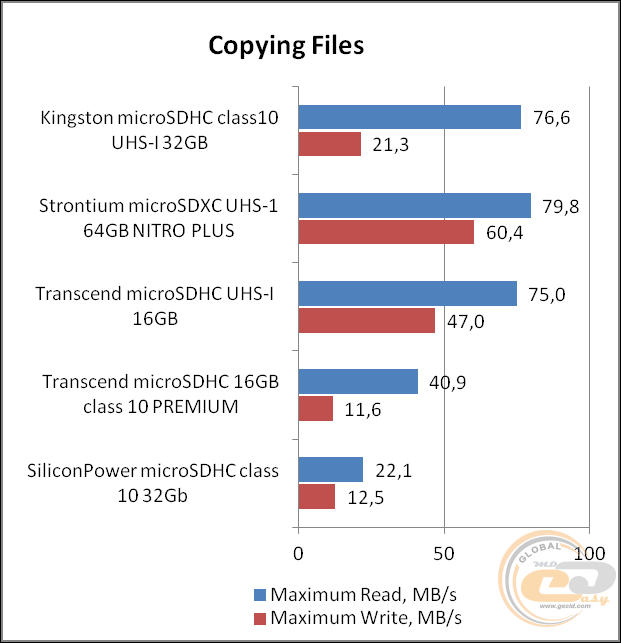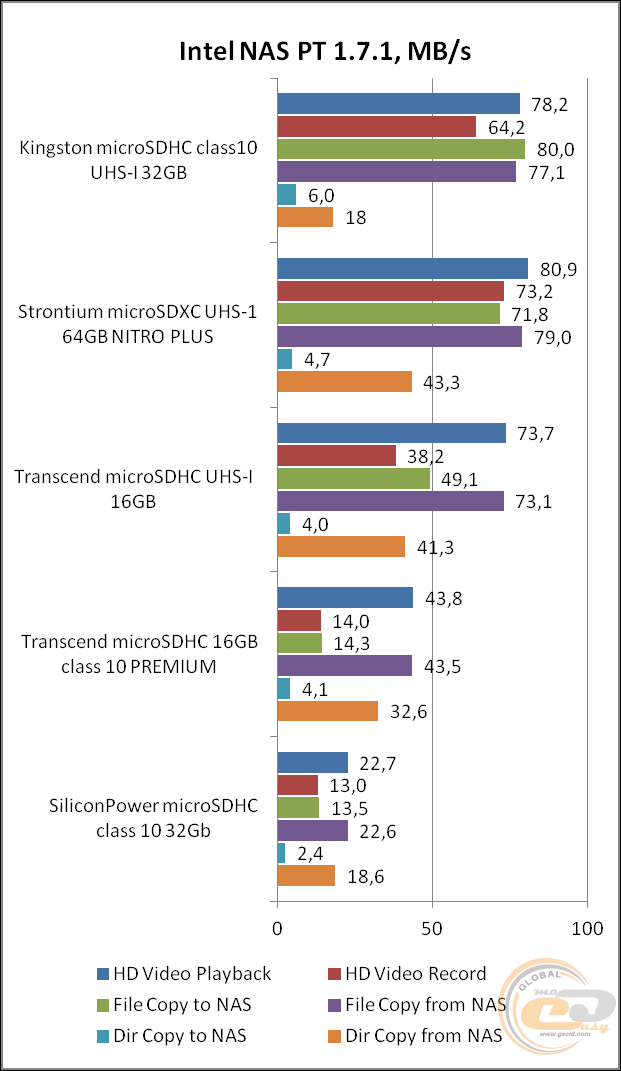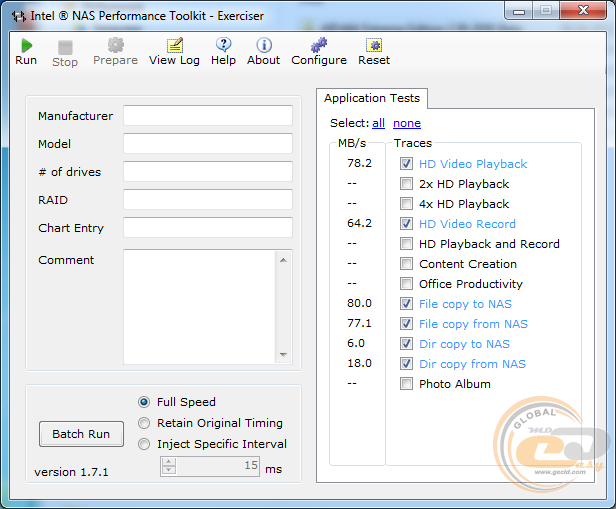 During the testing the drive has demonstrated very good performance level: read speed in many tests exceeded 80 MB/s and write speed reached 23 MB/s.
As for the comparison with competitors, the novelty showed similar read speed with Strontium microSDXC Nitro Plus UHS-1 U3, essentially losing in terms of write speed, which is not surprising, since the model Stronium is compliant with Ultra High Speed Class 3 (UHS- 1 (U3)).
In general, the hero of our review shows a very high speed, so it is perfect for recording and playback high-quality content with a resolution of Full HD.
Социальные комментарии Cackle