Flash drive Silicon Power Blaze B50 (128 GB): review and testing
Every year the multimedia content is constantly getting better, expanding in capacity. This concerns not only the images, audio and video files, but games, programs, interactive applications, etc. Copying of such content when using common flash drives with USB 2.0 interface can take hours, which causes some inconvenience. The use of standard USB 3.0 increased performance, but the use of this interface does not always guarantee a significant increase in speed up information, especially when it comes about writing rate.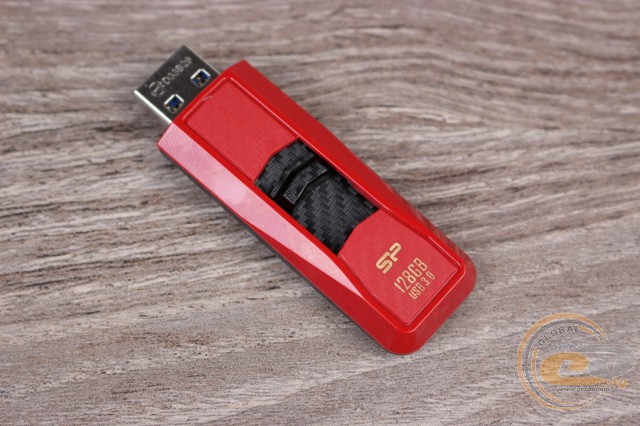 Flash drives Silicon Power Blaze B50 with capacity of 128 GB is equipped with an interface USB 3.0, as the manufacturer promises a fairly high speed read (up to 200 MB/s) and write (up to 80 MB/s). And today we are going to test this drive and learn the features.
The specs:
Producer and model

Silicon Power Blaze B50
(under testing SP128GBUF3B50V1R with capacity 128 GB)

Interface

USB 3.0 (backward compatible with USB 2.0 and USB 1.1)

Capacity, GB

256 (SP256GBUF3B50V1K / SP256GBUF3B50V1R)
128 (SP128GBUF3B50V1K / SP128GBUF3B50V1R)

64 (SP064GBUF3B50V1K / SP064GBUF3B50V1R)
32 (SP032GBUF3B50V1K / SP032GBUF3B50V1R)
16 (SP016GBUF3B50V1K / SP016GBUF3B50V1R)
8 (SP008GBUF3B50V1K / SP008GBUF3B50V1R)

Color

Black / red

Case material

Plastic

Operating temperature, °C

0…+70

OS compatibility

Windows 8 / 7 / XP

Mac OS 10.3.X and next

Linux Kernel 2.6.X and next

Overall dimensions, mm

51,4 x 20,0 x 12,0

Weight, g

8,3

Warranty

Life assurance

Certificates

CE / FCC / BSMI / Green dot / WEEE / RoHS / KC

Producer website
USB flash drive Silicon Power Blaze B50 is available in six variants (256, 128, 64, 32, 16, and 8 GB) and two color versions (black and red). Its speed characteristics differ depending on the selected memory capacity.
| | | |
| --- | --- | --- |
| Capacity, GB | Max read speed, MB/s | Max write speed, MB/s |
| 256 | 240 | 140 |
| 128 | 200 | 80 |
| 64 | 120 | 50 |
| 32 | 90 | 40 |
For testing we have a red flash drive of 128 GB, which is slightly slower than top version, but its speed performance should be enough for comfortable movement of volume extensional.
Package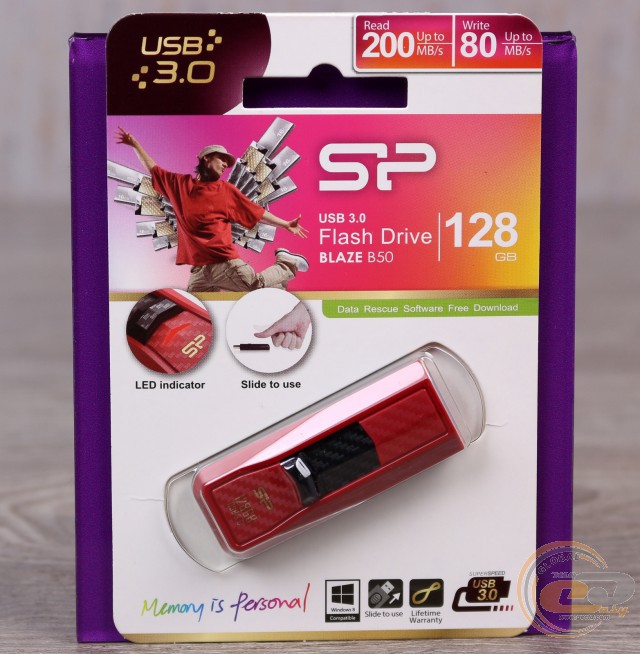 The front side of the package tells us not only basic information about the device, but also allows to evaluate its appearance because of the blister. Here you can find the name of the drive (Silicon Power Blaze B50), an indication of its capacity (128 GB) and used interface (USB 3.0), the mark for a lifetime guarantee, compatibility with the operating system Windows 8 and use the sliding connector. It is also indicated the presence of LED-activity indicator of drive operation and the presence of corporate free software to recover deleted data from your drive. But for many users the main argument is its high speed performance, marked at the top of the front side.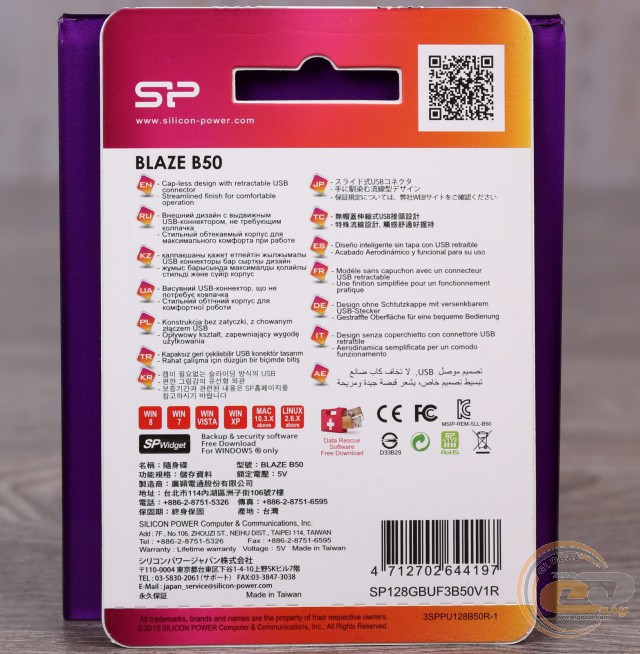 The reverse side of the package describes the main advantages of the design that are available retractable USB-connector that does not require a cap and stylish streamlined body. In addition, here is the ability to download supporting software, applied icons of certificates and indicate the place of production (Taiwan).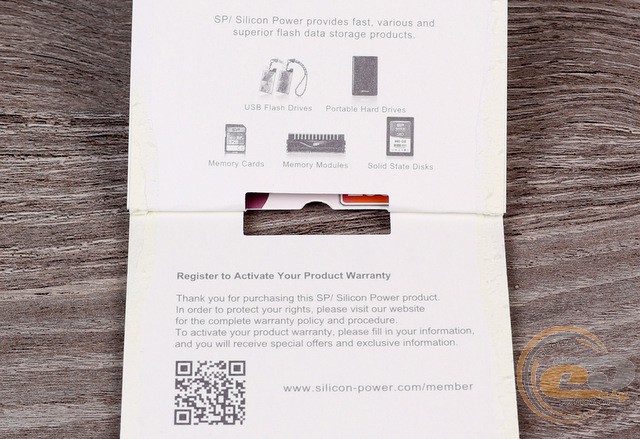 The inside component of the package reminds us that the product range includes not only flash drives, but external hard drives, memory cards, memory modules and SSD-drives. Also it is proposed to register the drive on manufacturer's website. Note that this procedure can be performed using an application that is initially placed on the drive.
Design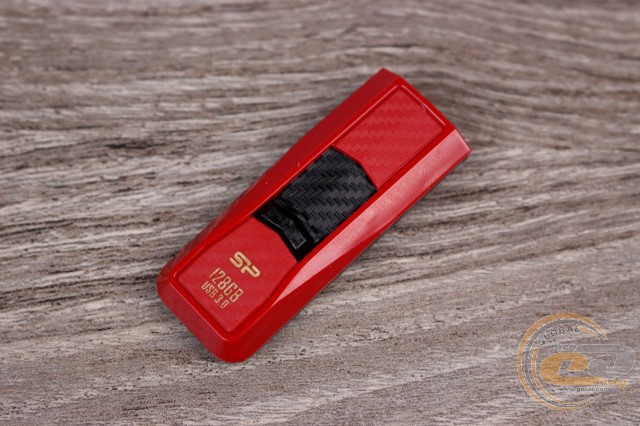 For many users the appearance of flash drive plays a primary role, while others pay more attention to the technical characteristics. Both categories should please the model Silicon Power Blaze B50. It features a modern appearance with the glossy side walls that coexist with patterned opaque elements. Red color dilutes golden symbols of abbreviations (128 GB), and the type of interface (USB 3.0). Also a plastic slider is attractive.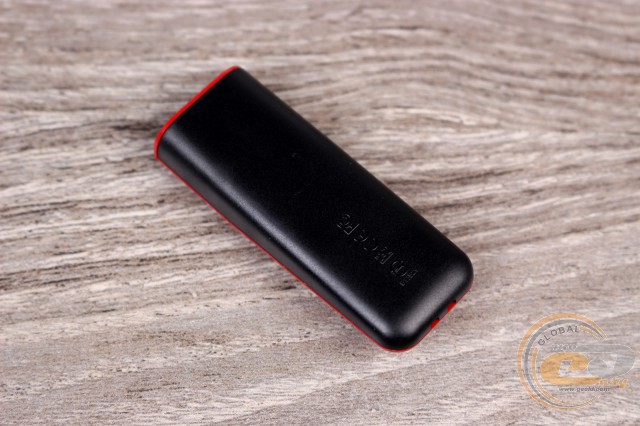 The same harmony can be noticed on the back of the drive, however with the absolute predominance of black. The back panel is made of a practical matt plastic with information about certificate. Also the case has the eye, allowing to carry the flash drive around the neck or as a keyring.


Capless design has a very important advantage - you won't lose the protective cap of the device.
To remove the connector from the case, press and move the black slider. A similar effect but in the opposite direction should be implemented to return the sliding connector inside. Fixation of the connector in the open state is quite reliable.
Interface of drive contains the most current version USB 3.0, so you will have of such high-speed performance. At the same time slot maintains compatibility with its predecessor, but the data transfer rate when connected to a USB 2.0 or 1.0 will be limited to bandwidth.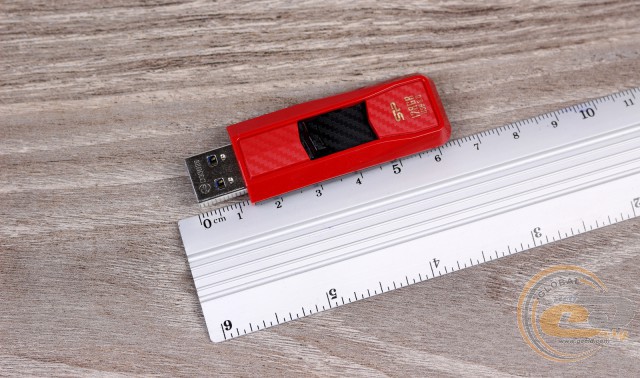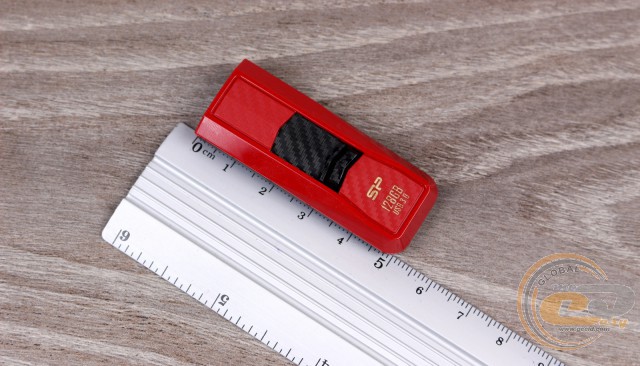 In case of hidden connector the dimensions of flash drive Silicon Power Blaze B50 are 51,4 x 20,0 x 12,0 mm. In case of opened interface the drive length is increased to 63 mm. New product weighs only 8.3 grams.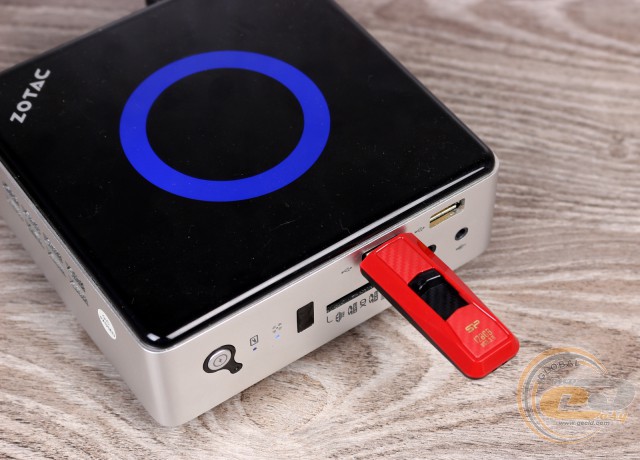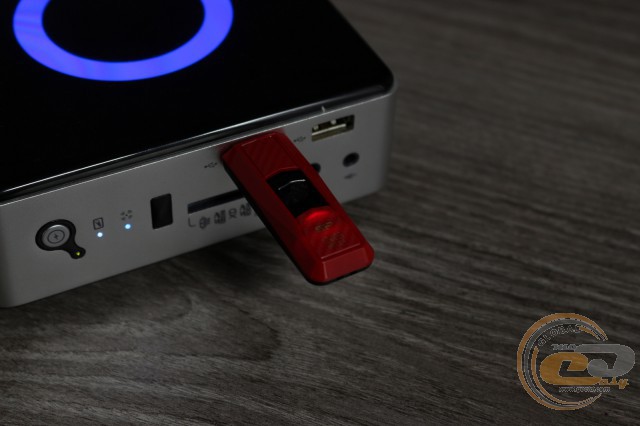 Under the body we found a red LED-activity indicator. In idle mode it doesn't glow, but during data transfer is actively flashing. The brightness of the LED is small, so comfortable to use it in the dark.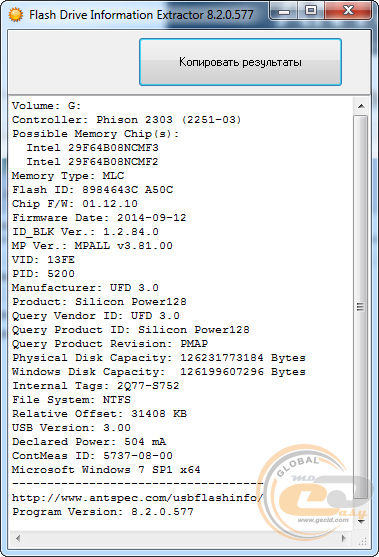 The test flash is based on the controller Phison PS2303, and in order to data storage there is MLC-memory manufactured by Intel.
File system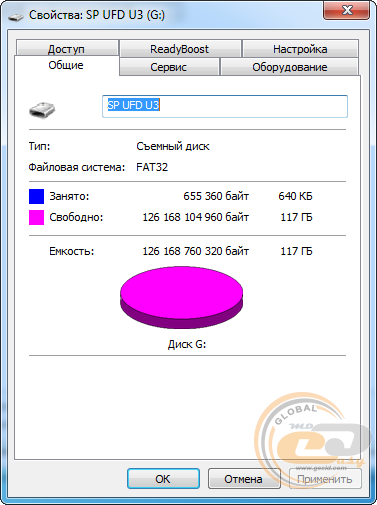 Initially the new product is formatted as a single partition FAT32, which ensures its compatibility with different types of operating systems. However, this file system has a major drawback, which is the ability to work only with files up to than 4 GB. Therefore, for high-capacity media including the tested solution, it is better to choose a more suitable file system (exFAT or NTFS).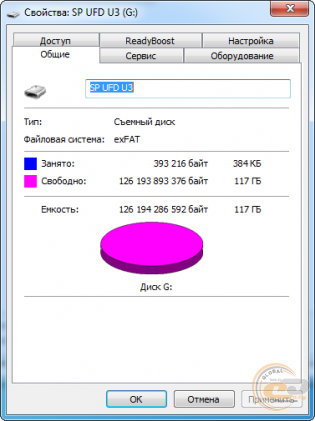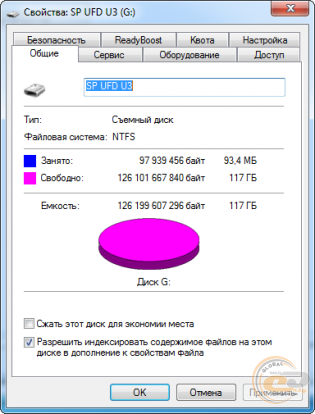 Regardless of the file system, the available volume according to the value of the OS will be 117 GB or 126 GB.
Социальные комментарии Cackle