Graphics card Inno3D iChill GeForce GTX 980 4GB Ultra: review and testing
This material will be devoted to an unusual version of the graphics card NVIDIA GeForce GTX 980. Modification of the company Inno3D called «Inno3D iChill GeForce GTX 980 4GB Ultra» has a very original proprietary cooling system. A special attention is paid not only blowing of the GPU and memory chips, but also there is a separate unit for cooling elements of the power subsystem.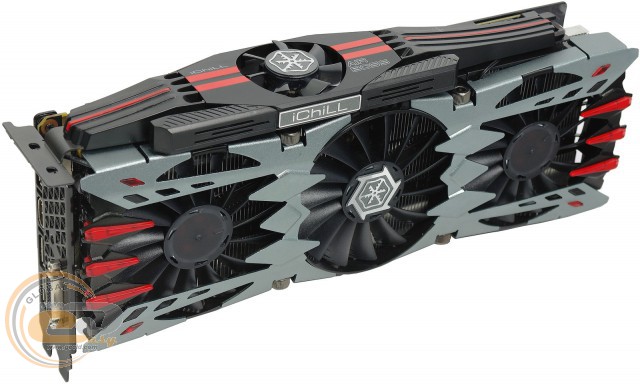 In addition, thanks to its original design and the presence of lighting the product will look spectacular even after installation on the computer case. There is a protective plate on the back of the PCB, which not only dissipates the excess heat, but also protects the contacts from dust and damage as a result of a short circuit.
The specs:
Model

Inno3D iChill GeForce GTX 980 4GB Ultra

Graphics core

NVIDIA GM204-400-A1 (Maxwell)

Manufacturing process, mm

28

Q-ty of universal shader processors (CUDA-cores)

2048

Support of technologies and API

DirectX 12 (Shader Model 5.0), OpenGL 4.4, NVIDIA 3D Vision Surround, NVIDIA PhysX, NVIDIA TXAA, NVIDIA FXAA, NVIDIA MFAA, NVIDIA 3D Vision, NVIDIA Adaptive Vertical Sync, NVIDIA SLI, NVIDIA CUDA, NVIDIA GPU Boost 2.0, NVIDIA GameWorks, NVIDIA GameStream

Rated/dynamic graphics core frequency, MHz

1266 / 1367

Memory capacity, GB

4

Memory type

GDDR5

Rated/effective video memory frequency, MHz

1800 / 7200

Memory bus size, bit

256

Memory carrying capacity, GB/s

230,4

Internal interface

PCI Express 3.0 x16

Screening interfaces

1 х HDMI 2.0

3 x DisplayPort 1.2

1 х DVI-I

Minimal PSU capacity, W

500

Dimensions taken from official website (according measurements in own test lab) , mm

300 x 115 (315 x 130)

Drivers

Producer website
According to the information provided above, the novelty has a significant GPU overclocking: 140 MHz at rated speed and 151 MHz in the dynamic mode. In addition, effective frequency of video memory was increased by 200 MHz (from 7000 to 7200 MHz), which also resulted in an increase memory bandwidth from 224 to 230.4 GB/s.
Packaging and content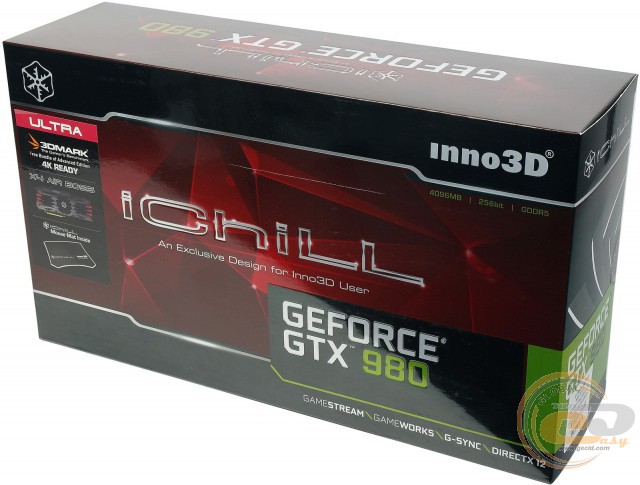 Graphics card Inno3D iChill GeForce GTX 980 4GB Ultra is sold in a large cardboard box. Its front side contains support for technologies NVIDIA GameStream, NVIDIA GameWorks, NVIDIA G-SYNC and DirectX 12. Separately is indicated the presence of a complete full version benchmark 3DMark Advanced Edition and gaming pad, as well as the use of a unique cooling system HerculeZ X4 Air Boss. The inscription «Ultra» in the upper left corner reports about the presence of factory overclocking.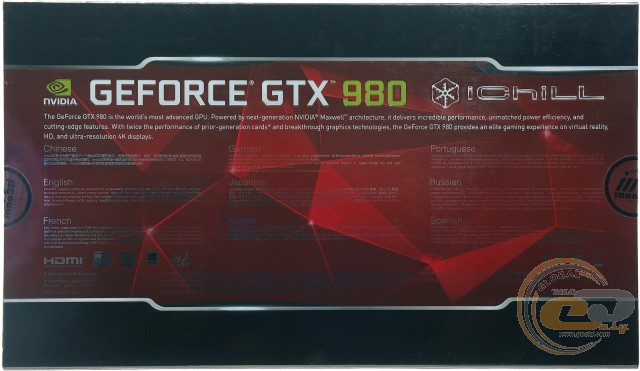 On the reverse side of the package there is a brief description of the graphics card in different languages.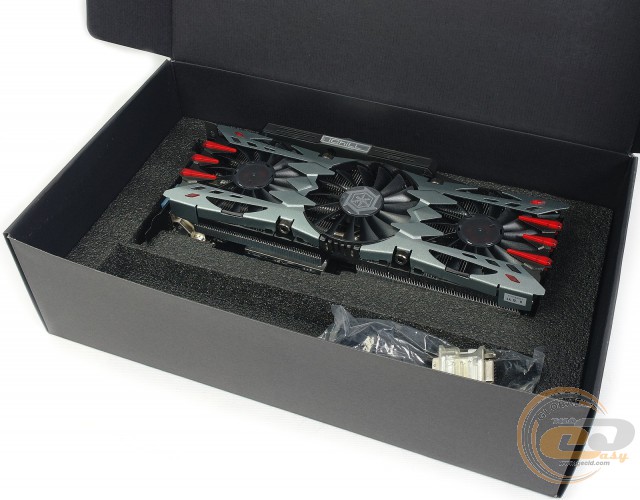 Inside the box the graphics accelerator is secured using foam shapes. Here there are two sections: the first is the graphics card, and the second is a set of accessories. This helps to protect against shock and damage during transportation.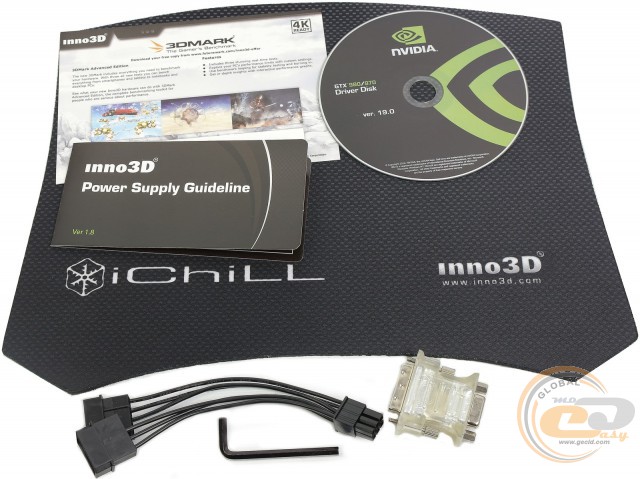 Supplied set of Inno3D iChill GeForce GTX 980 4GB Ultra includes:
adapter for additional power connection;
adapter DVI to D-Sub;
gaming mouse pad;
key for the dismantling of the cooling system;
CD with software and drivers;
a code for a free download of full version benchmark 3DMark Advanced Edition;
table with recommendations for the power supply.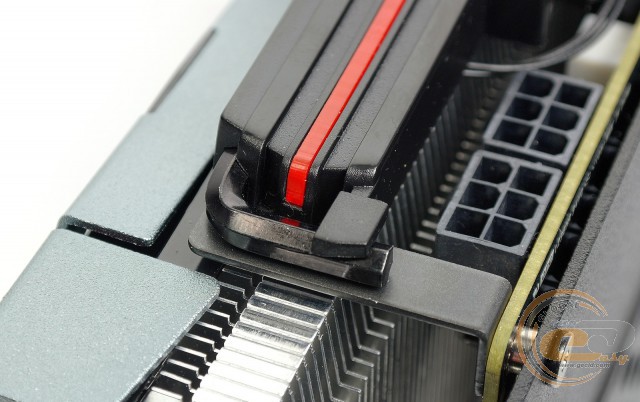 It is quite interesting that the graphics card's case has a special slot for storing the hex key. This ensures its safety and allows to use it at any time.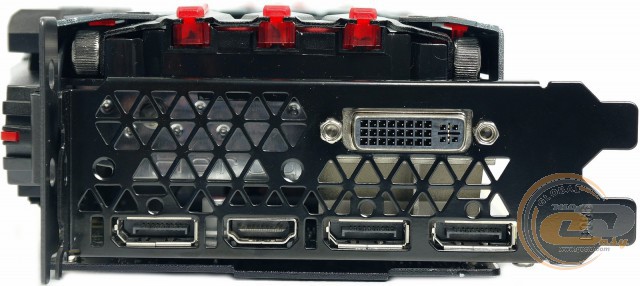 The interface panel has a reference set of connectors to output video:
1 x DVI-I;
1 x HDMI 2.0;
3 x DisplayPort 1.2.
This configuration makes it possible to connect almost any modern monitor or TV and for old displays the kit contains an adapter DVI to D-Sub.
Design and circuitry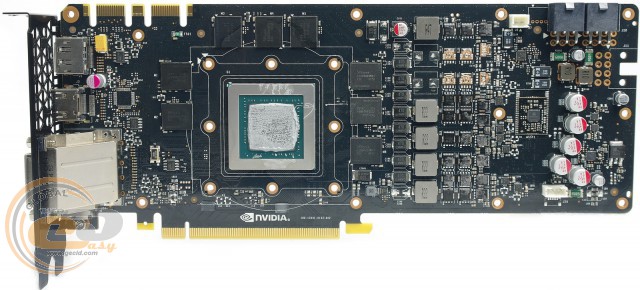 The graphics card is made on a black board. The height of the printed circuit board is 112 mm. The graphics processor is equipped with a metal frame, which is designed to protect the chip against chipping and damage during removal and installation of the cooling system.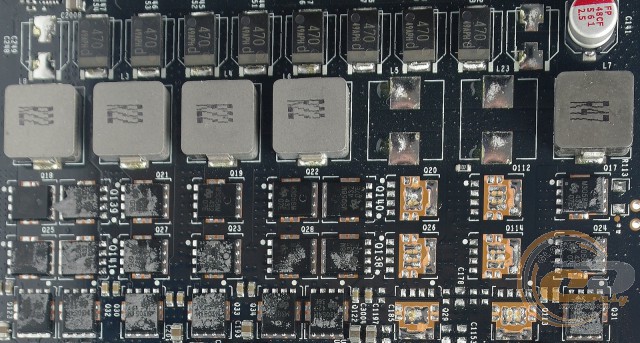 The power subsystem of Inno3D iChill GeForce GTX 980 4GB Ultra is performed by five-phase scheme: four are for the GPU and one is designed for the memory chip. Each of them uses two MOSFET M3058M and separate driver M3054M. Pay attention to the use of qualitative tantalum polymer capacitors (POSCAP).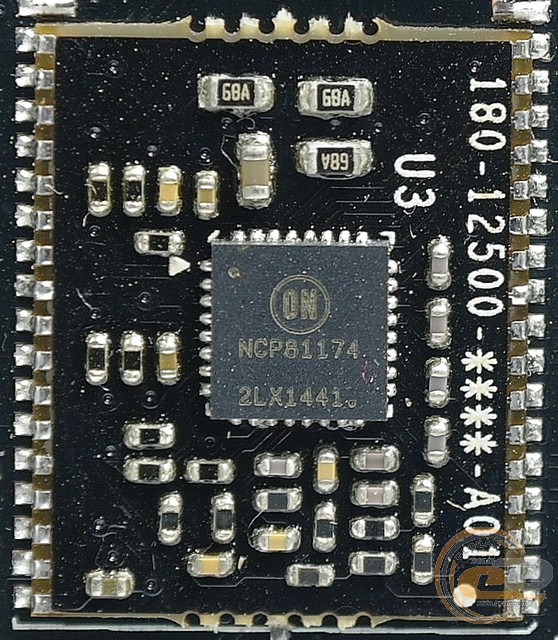 The power subsystem is based on the controller produced by a reputable manufacturer ON Semiconductor NCP81174. It is wired to a separate board and is able to support the work of up to four phases.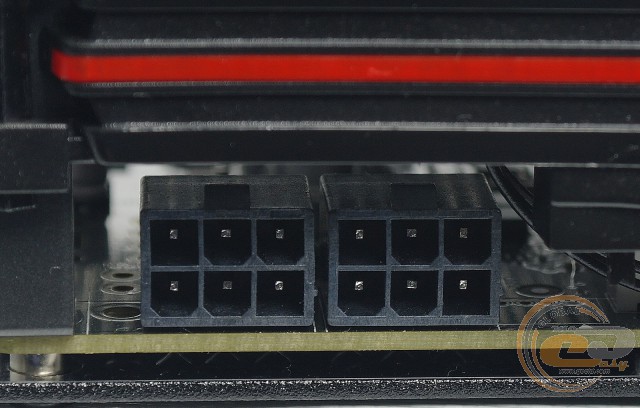 To power supplying of the video card is provided by the opportunity of the slot PCI Express 3.0 x16 and two additional 6-pin PCIe. Close proximity of cooling system to the radiator difficults to connect and disconnect data connectors.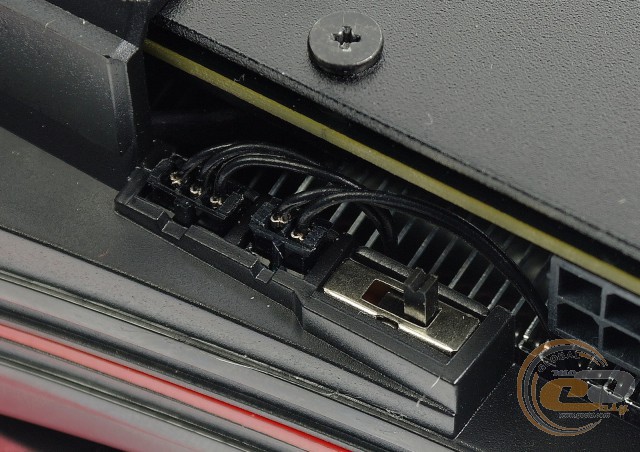 Near is a switch that controls the lights of the cooling system. It can be active, gently flicker or completely deactivated.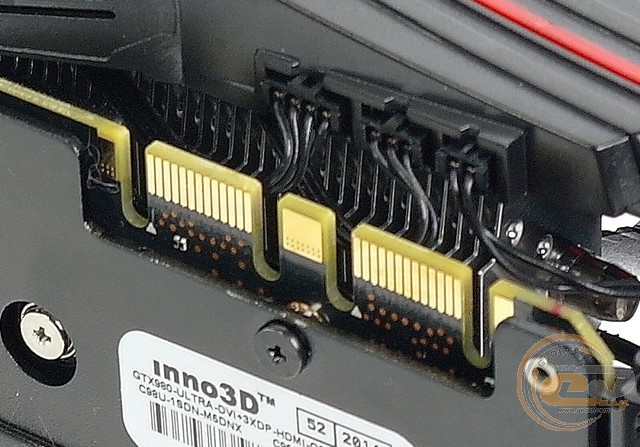 Support for technology NVIDIA SLI offers two corresponding connector. Using bridges you can form from two to four adapters for common graphics processing.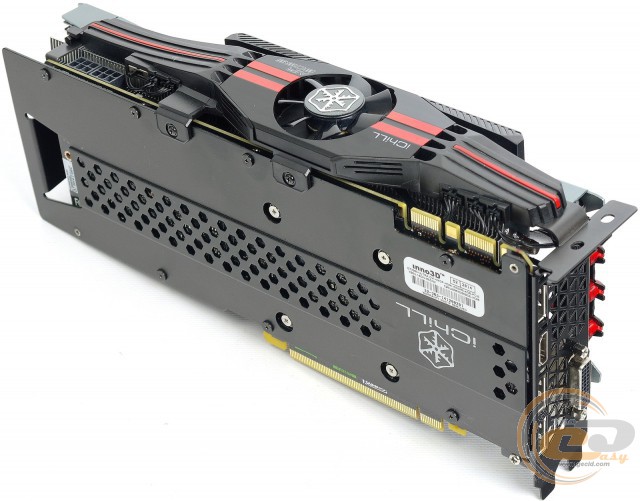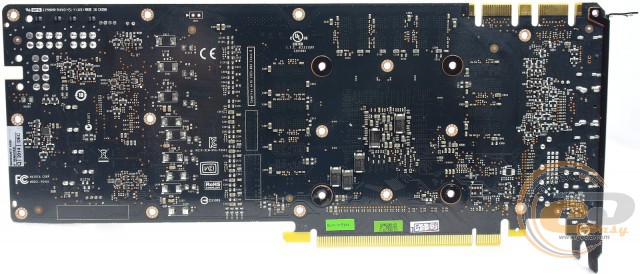 The reverse side of the PCB has a protective metal plate, which additionally serves for heat dissipation. The board includes a small number of components of the power subsystem.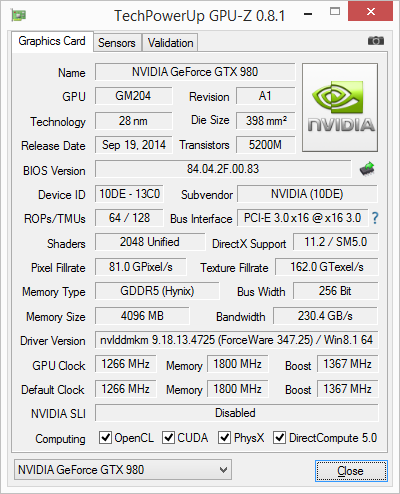 The heart of Inno3D iChill GeForce GTX 980 4GB Ultra is GPU NVIDIA GM204-400-A1, made according to 28-nm process. This chip has 2048 cores CUDA, 128 texture units and 64 ROP units. GPU is clocked at 1266 MHz in the nominal mode and accelerates up to 1367 MHz with the activation of dynamic overclocking.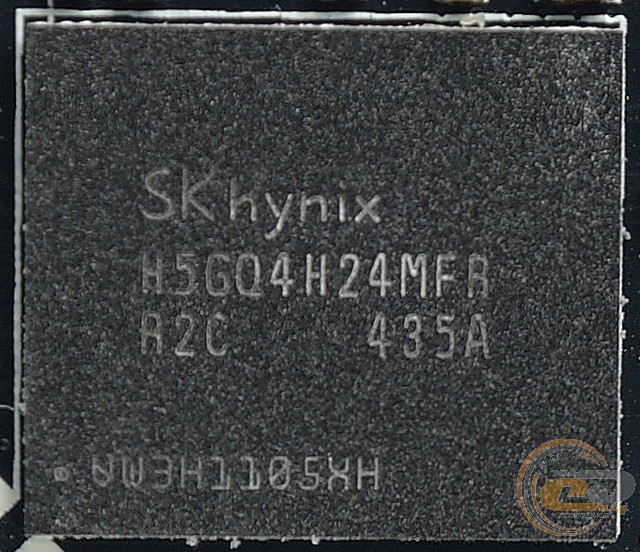 Memory is collected by 8 chips SK Hynix H5GQ4H24MFR-R2C with capacity of 512 MB each. Data exchange with the GPU is realized through a 256-bit bus, the capacity of which is 230.4 GB/s.
Cooling system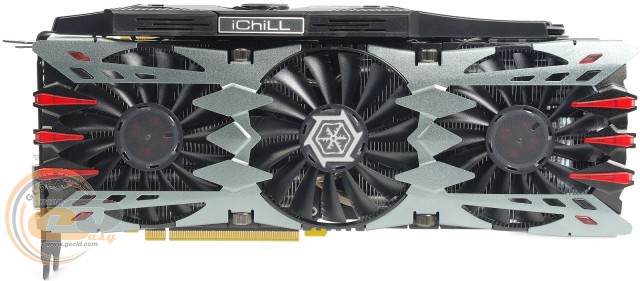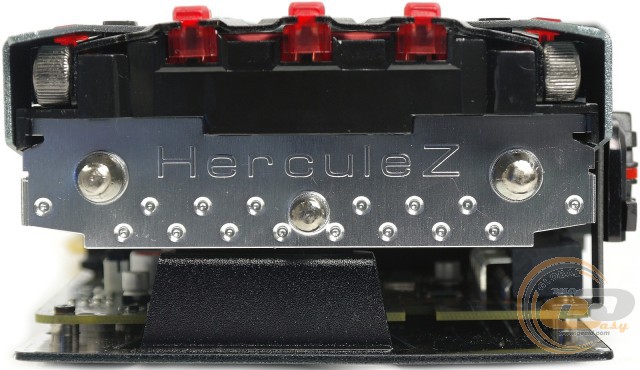 Model Inno3D iChill GeForce GTX 980 4GB Ultra is equipped with proprietary three-slot overall cooling system HerculeZ X4 Air Boss. On top its plastic case is covered by aluminum inlays, and the total height of the graphics accelerator with installed cooling system is 130 mm. It is long enough, which is limited to 315 mm, so you should check whether this card is fully compatible with your case.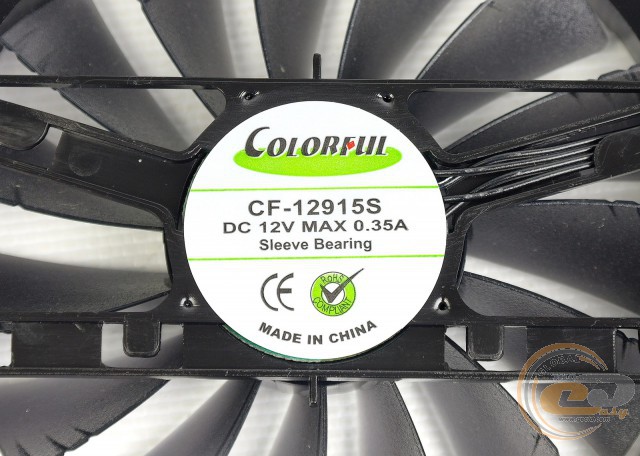 The main blowing is performed by three fans Colorful CF-12915S (12 V, 0.35 A), which are mounted on a plastic frame. They have the original shape of the blades, thereby creating a good air flow. The heart of fans is a sleeve bearing.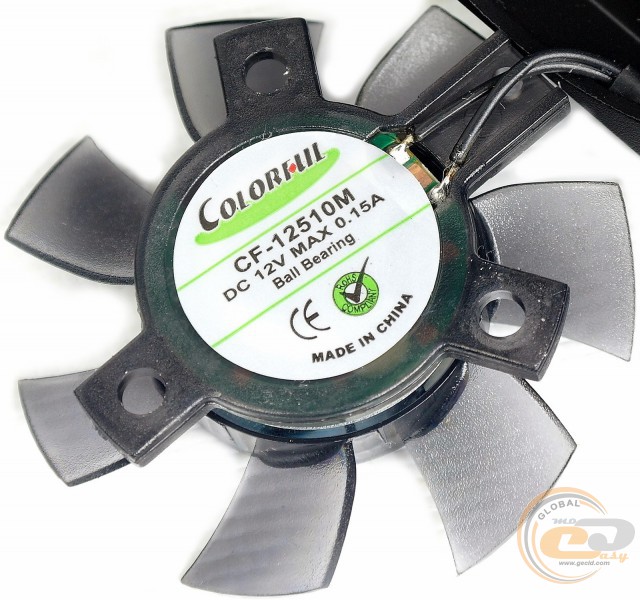 The side has a separate small cooler Colorful CF-12510M (12 V, 0.15 A) on the basis of a ball bearing, which cools the radiator of the power subsystem. It rotates at a constant speed of about 2800 rpm, which is not dependent on the GPU temperature and can not be changed.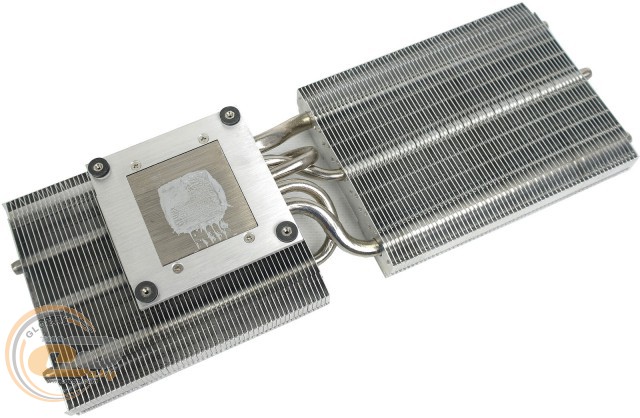 The main heat sink contacts with the graphics core through a small metal plate and a thin layer of thermal paste. The cooling system includes five copper heat pipes: two with a diameter of 8 mm and three are 6-mm. They are covered with a layer of nickel, which enables them to keep longer performance during operation.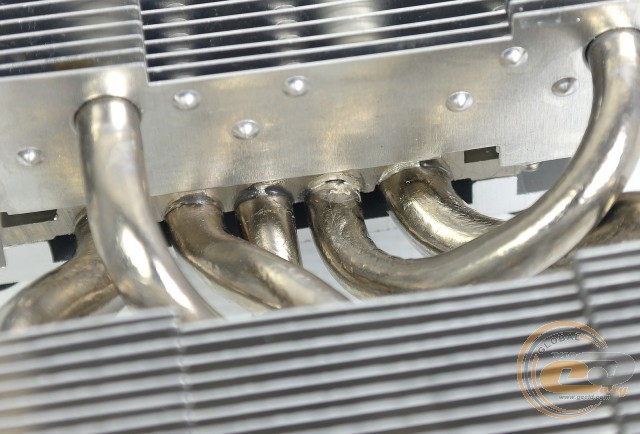 Heat pipes are soldered firmly to the edges of the radiator as well as to its base, which further improves the heat transfer.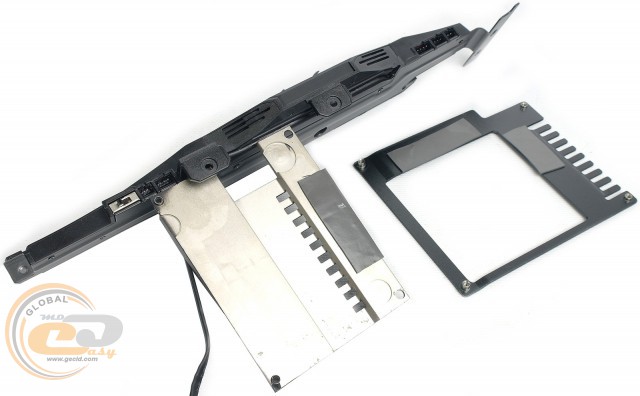 As mentioned earlier, the individual radiators are responsible for cooling elements of the power subsystem and memory chips. They contact through special thermo pads.

The reverse side has a metal plate, which is also involved in the dissipation of heat, although not directly contacted with textolite.

In case of automatic rotation of the fan blades (1542 rpm), the GPU temperature at maximum load did not exceed 64°C. Fans rotated at 43% of maximum speed and worked quietly. The noise was enough for a comfortable level.

After installing the fan to the maximum speed (2735 rpm), the core temperature is dropped to 54°C. Noise of the cooling system has risen above average and became too comfortable for long-term work in front of the computer.

In idle mode, by reducing the frequency of the graphics processor, the temperature decreased to 33°C. In this mode the card hardly stood out from the other components of the system that is perfectly suited for working with documents or watching videos.
In general, the cooling system HerculeZ X4 Air Boss of model Inno3D iChill GeForce GTX 980 4GB Ultra coped with the responsibilities as everyday use, and at high load.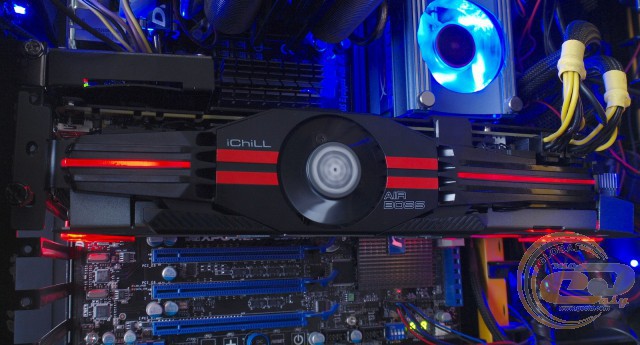 Социальные комментарии Cackle