Review of video card MSI GeForce GTX 960 GAMING 4G
Over the time NVIDIA GeForce GTX 960 is one of the best solutions in terms of price and performance for building of midrange gaming system. Its main features are available in the review Inno3D GeForce GTX 960 iChill Ultra, as well as in article dedicated to microarchitecture NVIDIA Maxwell. We are going to review version MSI GeForce GTX 960 GAMING 4G, which is characterized not only by the presence of factory overclocking, qualitative element base and a proprietary cooling system, but also an increased video memory up to 4 GB.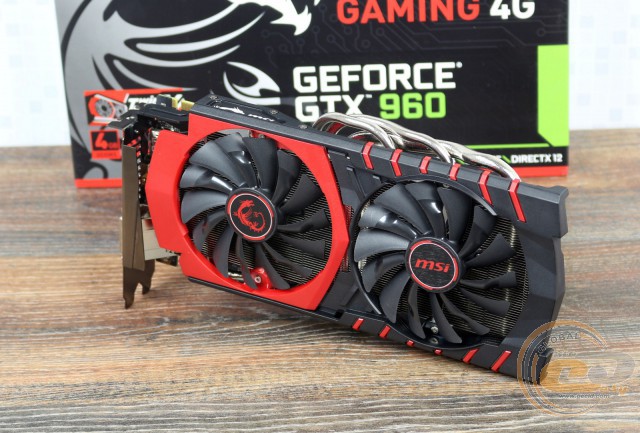 The specs:
Model

MSI GeForce GTX 960 GAMING 4G

Graphics core

NVIDIA GM206 (Maxwell)

Quantity of CUDA-cores

1024

Supported API and technologies

DirectX 12, OpenGL 4.4, NVIDIA GPU Boost 2.0, NVIDIA TXAA, NVIDIA FXAA, NVIDIA MFAA, NVIDIA Adaptive Vertical Sync, NVIDIA Surround, NVIDIA PhysX, NVIDIA 3D Vision, NVIDIA SLI, NVIDIA CUDA, NVIDIA GameWorks, NVIDIA GameStream

Basic / dynamic graphics core frequency, MHz

Mode «Silent»

1127 / 1178

Mode «Gaming»

1190 / 1253

Mode «OC»

1241 / 1304

Memory frequency (effective), MHz

1753 (7010)

Memory capacity, GB

4

Memory type

GDDR5

Memory bus, bit

128

Memory carrying capacity, GB/s

115,4

Bus

PCI Express 3.0 x16

Max resolution

Digital up to 4096 x 2160

Analog up to 2048 x 1536

Screening interfaces

1 х DVI-I

1 х HDMI

3 х DisplayPort

HDCP support and HD-video decoding

Yes

Minimal PSU capacity, W

400

Additional power sockets PCIe

1 x 8-pin

Dimensions from the official site (measured in our lab), mm

267 х 139 х 40 (279 х 140)

Drivers

Producer website
MSI has paid much attention to the improvement of standard video card, because, in fact, new product obtained the reference graphics core and video memory subsystem. Its structure contains: the original circuit board, brand cooler and quite interesting ability to switch between three operating modes, allowing you to flexibly control the performance and power consumption depending on the current task.
Package & content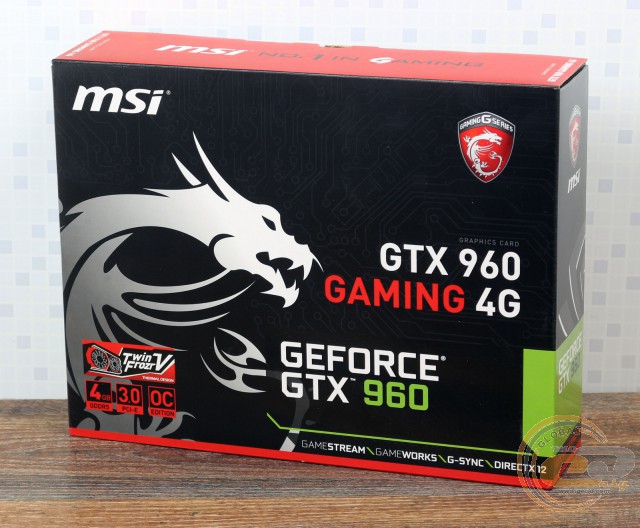 The printing of package MSI GeForce GTX 960 GAMING 4G is made in the typical series MSI GAMING: red and black colors, and presence of a series logo (a stylized dragon). In addition to title of the video card and the manufacturer it is worth noting the presence of the logo «OC Edition», indicating that about factory overclocking key parameters.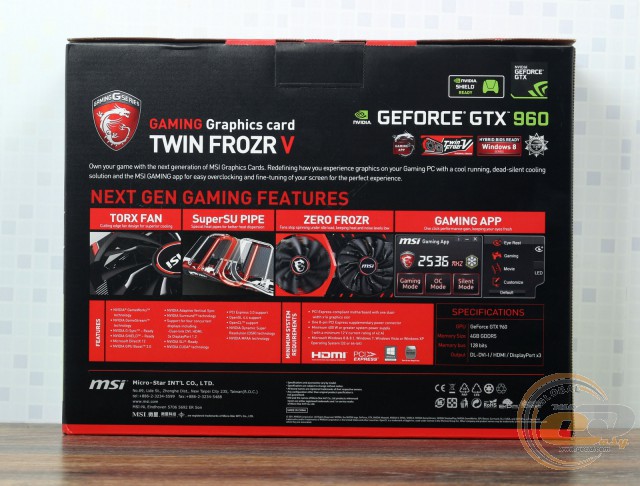 All important information is located on the back of the box. Most of the space takes the description of the key advantages of video card, such as:
Gaming App - bundled proprietary software that provides a function to quickly switch between three different operating modes: «Silent», «Gaming» and «OC». Each of them will be relevant, depending on the user's current task.
Torx Fan - a new fan design, which replaced the Propeller Blade. It provides 19% higher airflow, a higher strength and lower noise level. The design uses two rows of blades with different designs.
SuperSU Pipe - the use of three copper heat pipes with a balanced arrangement contributes to increased efficiency of heat dissipation.
Zero Frozr - cooling system fans stop spinning when GPU temperature is below 60°C, eliminating the occurrence of even a minimum level of noise during idle or at low loads, and significantly extend the life of fans.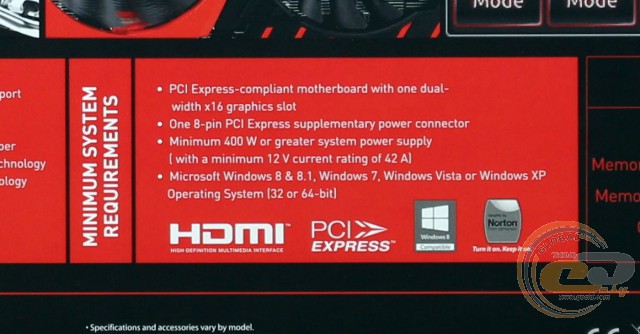 A list of system requirements is located on the back of the packaging. Based on these recommendations, the power supply should have a capacity at least 400 W, as well as to support the 8-pin power cable PCIe.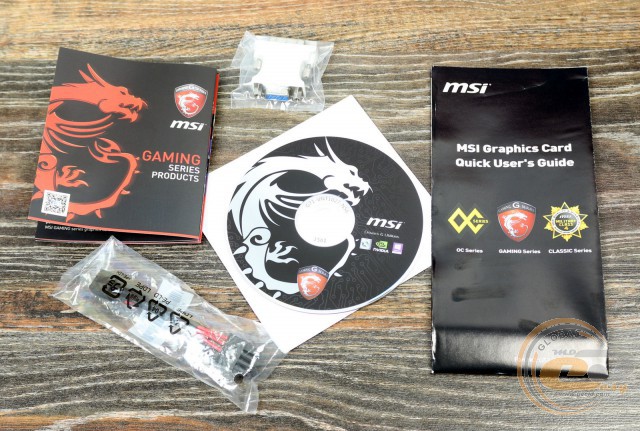 In the box with the video card we've found not only the usual instructions and a CD with software, but also for the power adapter for connecting an analog monitor.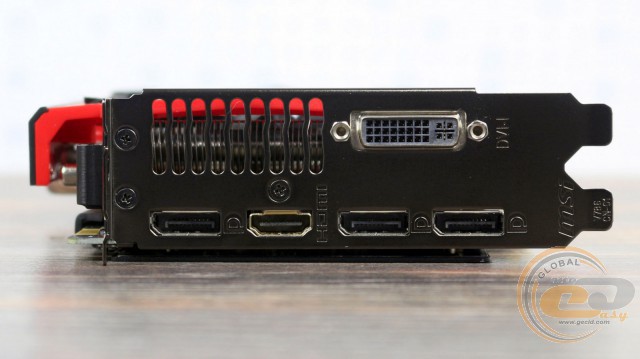 To display the image the next set of interfaces is provided:
1 x DVI-I;
1 x HDMI;
3 x DisplayPort.
The following resolutions are supported:
Digital up to 4096 x 2160;
Dial up to 2048 x 1536.
Appearance & cooling system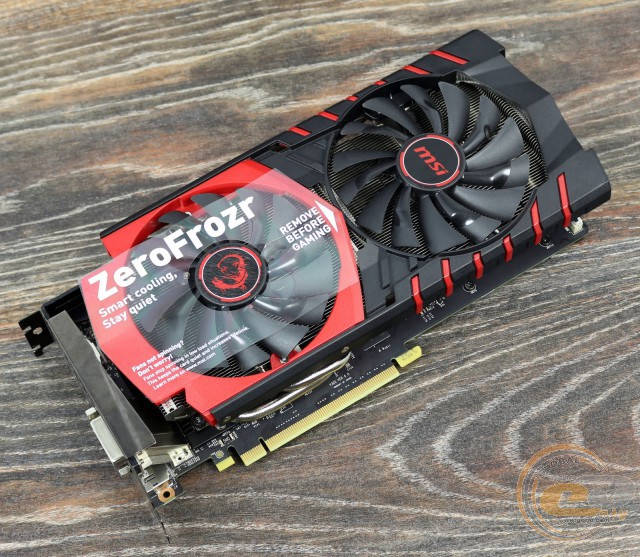 New product is made in the traditional style of the series MSI GAMING, with a predominance of black and red colors in the design.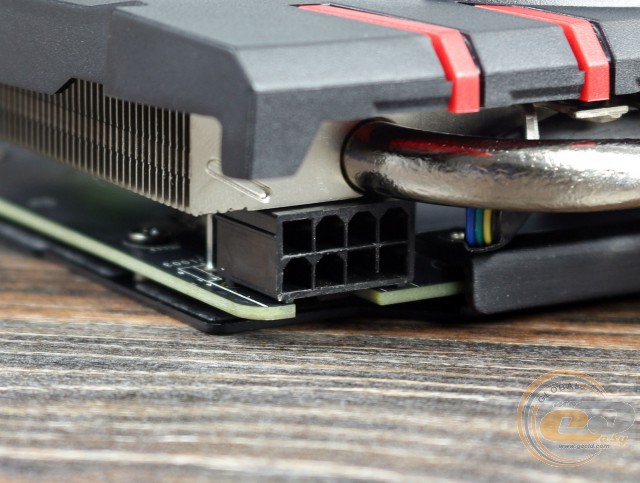 In addition to the PCI Express x16 slots, its power is provided via the optional 8-pin connector. Note that the cooler doesn't make difficulties to disconnect the power cord.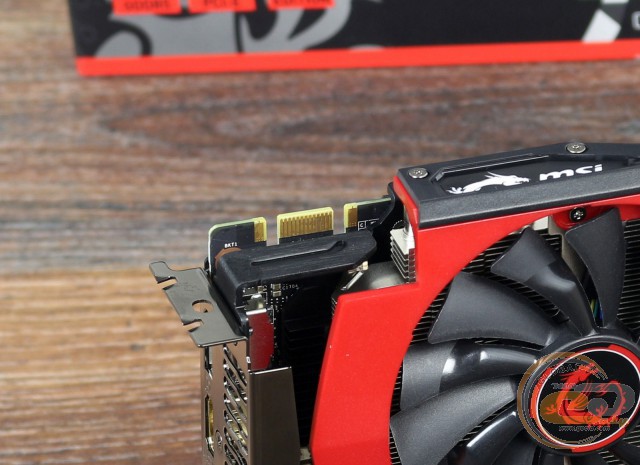 In order to provide technology NVIDIA SLI for 960 MSI GeForce GTX GAMING 4G the manufacturer has provided one connector for the appropriate bridge. It allows you to combine a pair of graphics cards for the joint calculation of graphical effects. Recall that you can see the results of testing NVIDIA GeForce GTX 960 in mode 2-Way NVIDIA SLI in review of GIGABYTE GeForce GTX 960 WINDFORCE OC.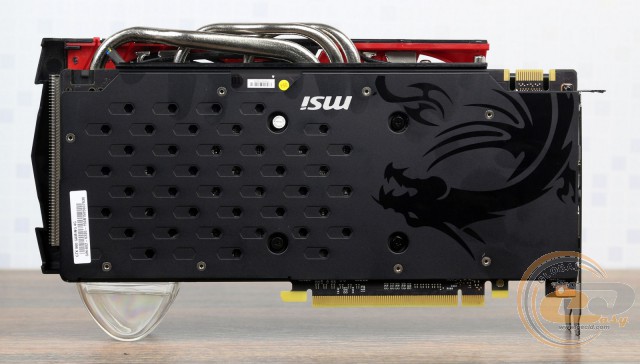 The reverse side of the graphic adapter is covered by a massive metal support plate, which significantly improves the reliability of the structure and prevents damage of the printed circuit board under the weight of the cooling system.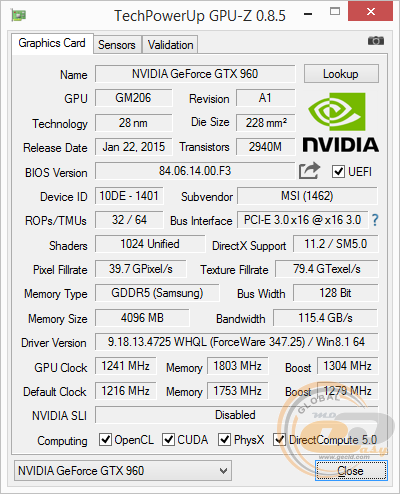 The tested model is based on the graphics chip NVIDIA GM206-300-A1 (Maxwell), produced according to 28-nm manufacturing process. It includes 1024 CUDA-cores, 32 blocks of rasterization and 64 texture units. As we have said, the video card features factory overclocking of graphics core, the maximum operating frequency of which is 1241 and 1304 MHz.
Also, the novelty has an increased video memory up to 4 GB using the microchips of company Samsung, which operate at effectively frequency of 7012 MHz. Communication between the graphics processor and memory is realized through a 128-bit bus, which is capable of carrying 115.4 GB of information per second.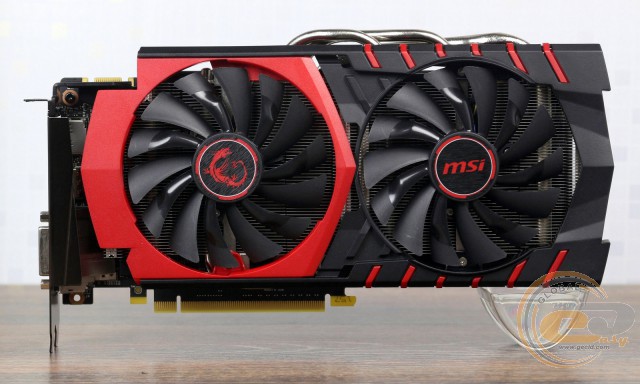 The cooling system has not very large dimensions. The video card including installed cooling system occupies two expansion slots and has a total length of 267 mm according to the official website of MSI (279 mm as measured in our lab).
The cooler features a radiator, three copper heat pipes coated with a layer of nickel, as well as two axial fans with 95 mm blades, mounted on the plastic case.

In case of automatic speed control of fan blades at maximum load, the graphics core is heated to 64°C, and cooler works virtually silent for 40% of its maximum capacity.

Under the maximum speed of fan blades rotation the GPU temperature dropped to 52°C. This noise exceeded the average level, but in a closed PC case it did not stand out too much compared to other components.

In case of load absence the frequencies of the GPU and memory are automatically reduced, allowing you to reduce power consumption and heat dissipation. In this mode, the GPU temperature did not exceed 45°C because the fans stopped to rotate and cooling system transferred into a fully passive mode. Here technology MSI Zero Frozr is activated, which provides a silent operation mode at low loads.
Социальные комментарии Cackle