Video card SAPPHIRE NITRO R9 380 4G D5: review and testing
We continue to introduce new graphics cards based on the GPU AMD Radeon R9 380. This time we will get acquainted with the novelty produced by the company SAPPHIRE. It is a model SAPPHIRE NITRO R9 380 4G D5. Graphics cards of this manufacturer are often allocated due to an affordable cost, efficient cooling subsystem and balanced characteristics.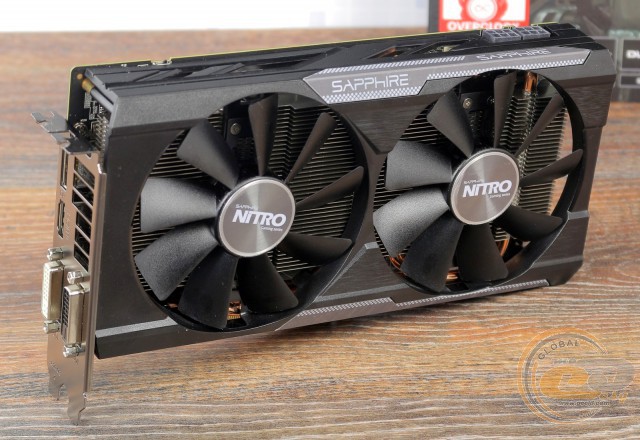 Also the product is characterized by the qualitative element base with solid-state capacitors and effective Black Diamond chokes, as well as the cooling system SAPPHIRE DUAL-X, using axial fans with double ball bearings and system Intelligent Fan Control (IFC-II), which guarantees quiet operation at low loads.
The specs:
Model

SAPPHIRE NITRO R9 380 4G D5 (11242-07)

Graphics core

AMD Radeon R9 380 (Antigua PRO)

Manufacturing process, nm

28

Quantity of shader processors

1792

Support for technologies and API

DirectX 12, OpenGL 4.5, AMD Mantle, AMD Eyefinity, AMD App Acceleration, AMD HD3D, AMD CrossFireX, AMD PowerPlay, AMD PowerTune, AMD ZeroCore, AMD TrueAudio, AMD Virtual Super Resolution, AMD Frame Rate Target Control, Vulcan, AMD FreeSync, OpenCL 2.0, AMD LiquidVR

Nominal frequency of graphics core, MHz

985

Memory capacity, GB

4

Memory type

GDDR5

Nominal/effective frequency of video memory, MHz

1450 / 5800

Memory bus width, bit

256

Memory carrying capacity, GB/s

185,6

Internal interface type

PCI Express 3.0 x16

Screening interfaces

1 х HDMI

1 x DisplayPort

1 х DVI-I

1 х DVI-D

Minimal capacity of PSU, W

500

Dimensions (according measuring in our test lab), mm

237,35 x 126,15 x 37 (249 x 127)

Drivers

Producer's website
Package and content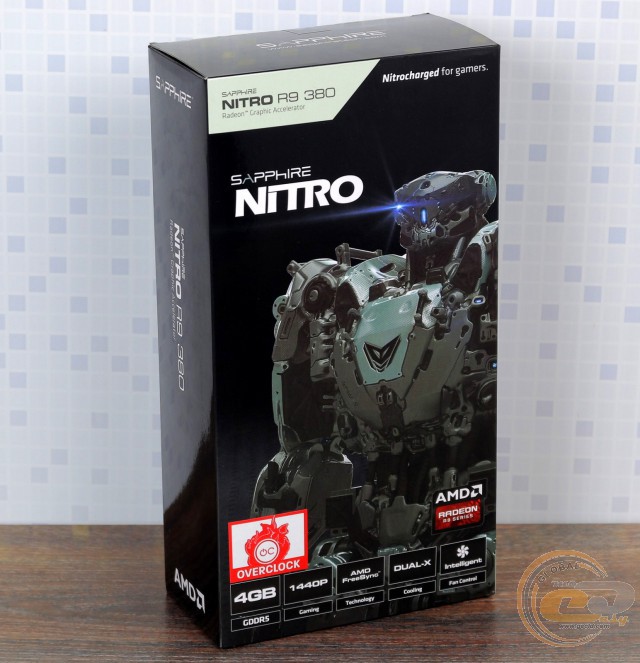 Graphics accelerator is shipped in a vertical cardboard package, which is almost completely painted black. Its front side contains a logo of the series SAPPHIRE NITRO and sufficiently large image of the robot. At the bottom the main advantages of the new item are listed:
factory overclocking;
4 GB of memory;
optimal operation of modern games at a resolution of 1440p;
two-fan cooling system SAPPHIRE DUAL-X;
intelligent control system of mode (Intelligent Fan Control II).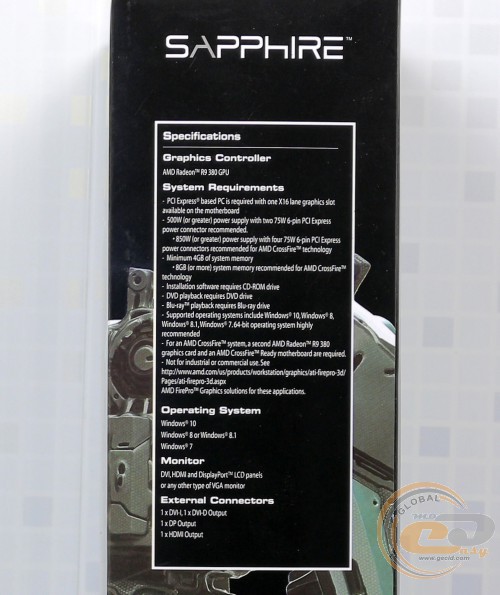 The side of the box lists the minimum system requirements for optimal performance. Thus, the capacity of power supply unit must not be less than 500 W when installing a graphics accelerator. If you use the combination of two video cards in the mode AMD CrossFireX, this requirement increases to 850 W.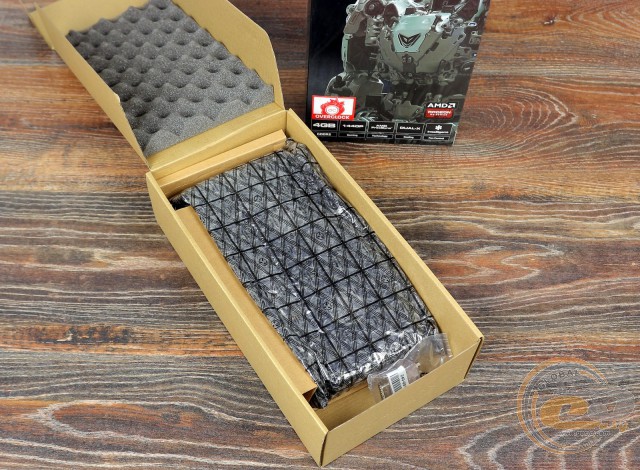 Inside the package the graphics card is securely fastened using cardboard, foam and anti-static bag. This provides a high safety of the device during transportation.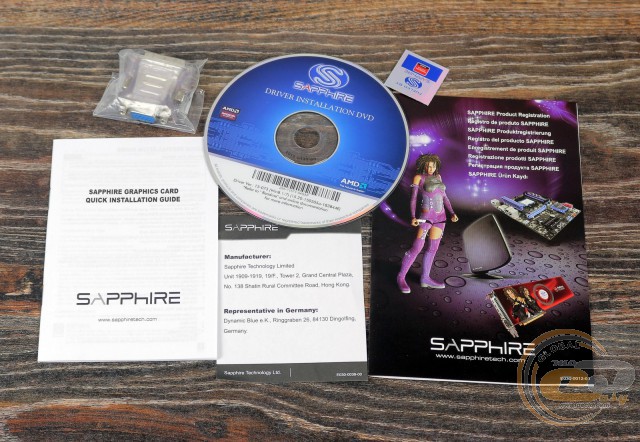 Supplied set of SAPPHIRE NITRO R9 380 4G D5 includes:
adapter DVI↔D-Sub;
sticker on the computer;
set of instructions.
This kit contains basic components for installing the video card and connection a digital or analog monitor. In some cases, you may need a 6-pin PCIe-adapters for connecting additional power supply, but most modern power units must be equipped with them initially.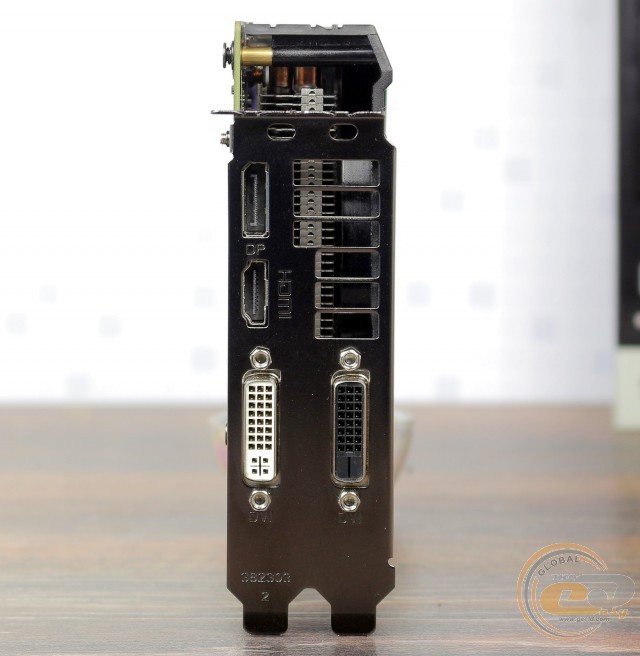 To display an image the following set of interfaces is provided:
1 x DisplayPort;
1 x HDMI;
1 x DVI-D;
1 x DVI-I.
Taking into account the complete adapter for analog connector D-Sub, this set of connectors is optimal. It will allow to connect virtually any monitor or TV with a resolution of 4K Ultra HD.
Appearance and circuitry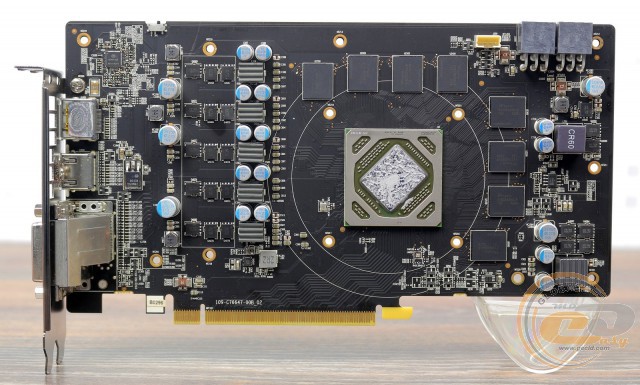 Video accelerator SAPPHIRE NITRO R9 380 4G D5 is realized on the black circuit board with height of 127 mm, and length of 249 mm (as measured in our lab). In the center you can find the graphics processor which is equipped with a metal frame to protect against chipping and damage during building.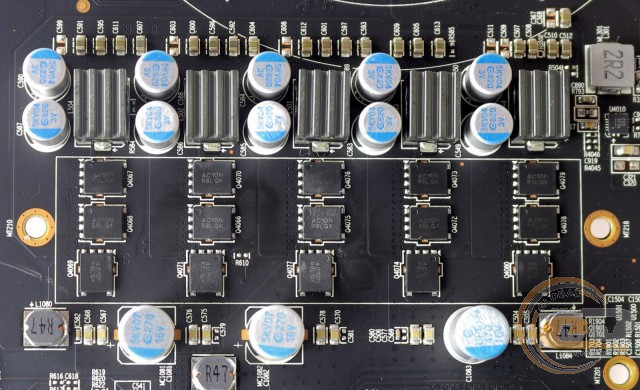 GPU power subsystem is made according to 5-phase scheme. It uses proprietary chokes Black Diamond, which remain at the maximum load by 10% cooler and 25% more efficient of standard counterparts. This ensures a high reliability and energy efficiency of the graphics card. There is also installed a reliable solid-state capacitors with an increased service life.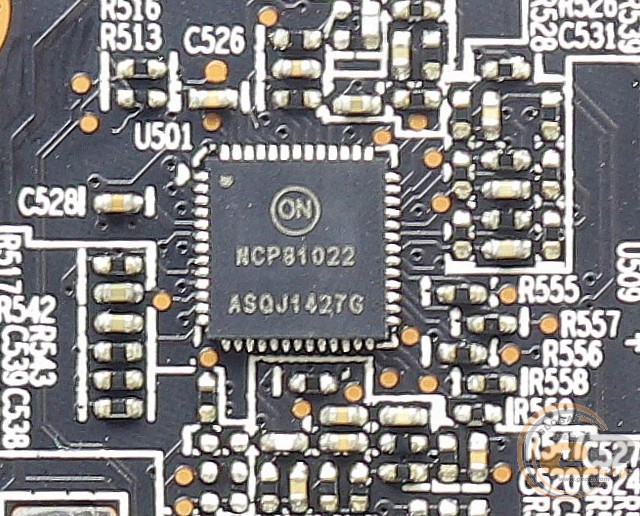 The controller is realized ON Semiconductor NCP81022.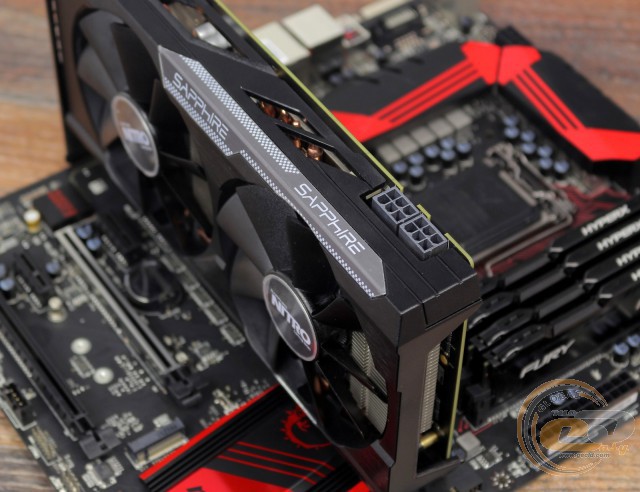 In addition to PCI Express x16 slot two additional 6-pin PCIe SAPPHIRE NITRO R9 380 4G D5 are used for power. Nothing prevents connection or disconnection because the latch of connectors are located on the back side of the PCB.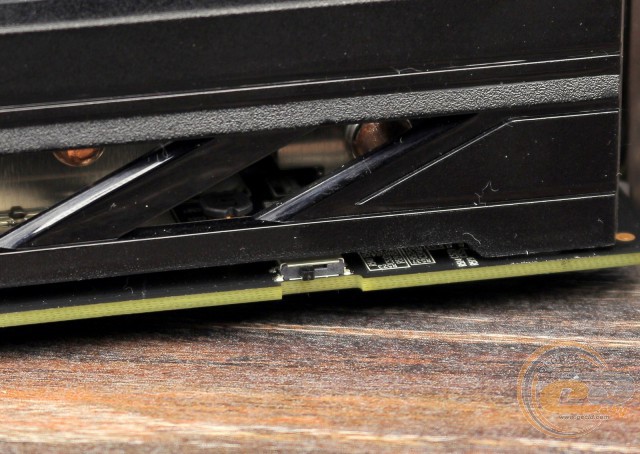 A small switch is closer to the interface connector. It is designed to switch between the two chips BIOS, one of which implements UEFI-mode for faster download of new versions of the OS.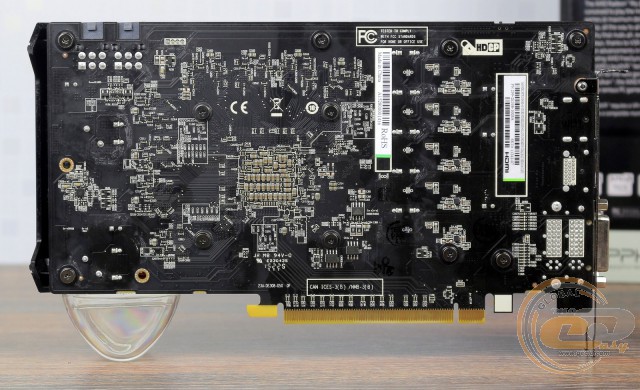 The reverse side of the printed circuit board contains several elements of the power subsystem. Also, you can see that the PCB contains connectors for bridges AMD CrossFireX, as this technology is implemented on the software level.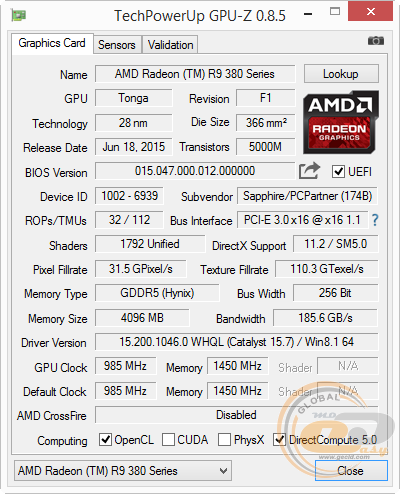 SAPPHIRE NITRO R9 380 4G D5 works on the basis of the chip AMD Radeon R9 380 (Antigua PRO), which is determined by the utility GPU-Z 0.8.5 as the AMD Tonga. It is produced by 28-nm process technology and includes 1792 stream processors, 32 rasterization units and 112 texture units. The nominal frequency of the graphics processor is increased from 970 MHz to 985 MHz.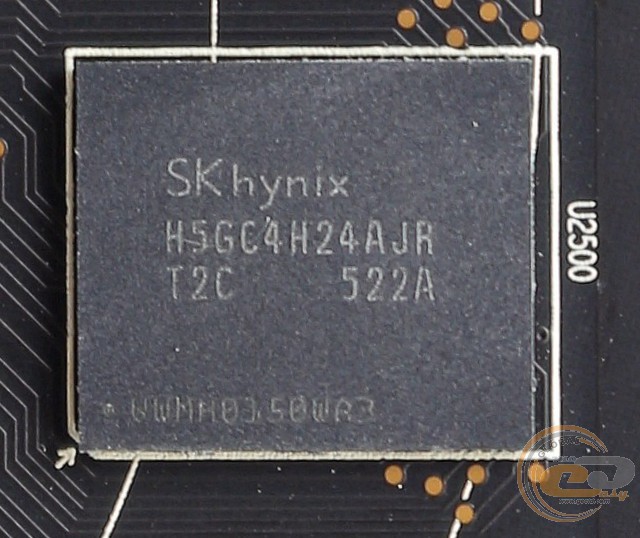 The card is equipped with 4 GB of memory, realized with the help of 8 chips SK Hynix H5GC4H24AJR-T2C with capacity of 4 GB each. They operate on the effectively frequency of 5800 MHz, although the reference rate for AMD Radeon R9 380 is 5700 MHz. Exchange of data between memory and the graphics chip is carried out through a 256-bit bus with a capacity of 185.6 GB/s.
Cooling system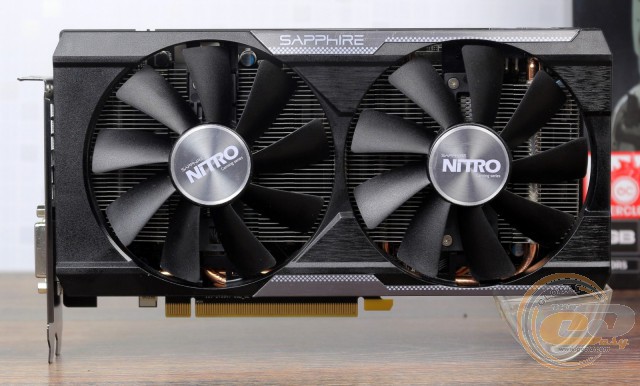 Used Cooling System SAPPHIRE DUAL-X occupies two slots for expansion cards. Its front part is covered with a plastic lid. It features fixed 100 mm axial fans.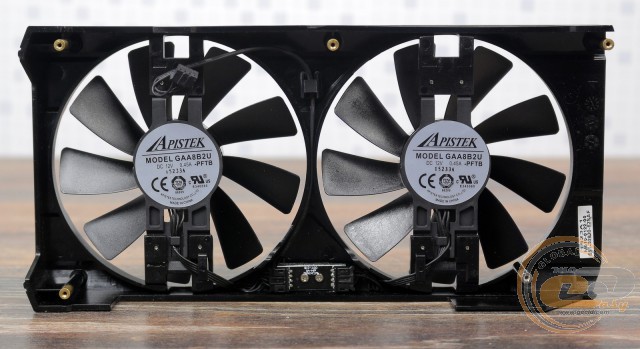 The fans Apistek GAA8B2U operate at a voltage of 12 V and a current of 0.45 A, that provides the final output of 5.4 W. They are equipped with double ball bearing including protection against the ingress of dust. This design can significantly increase the life cycle of the fans.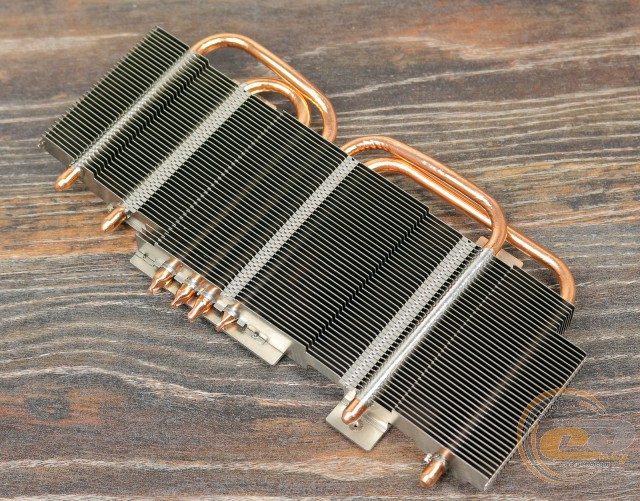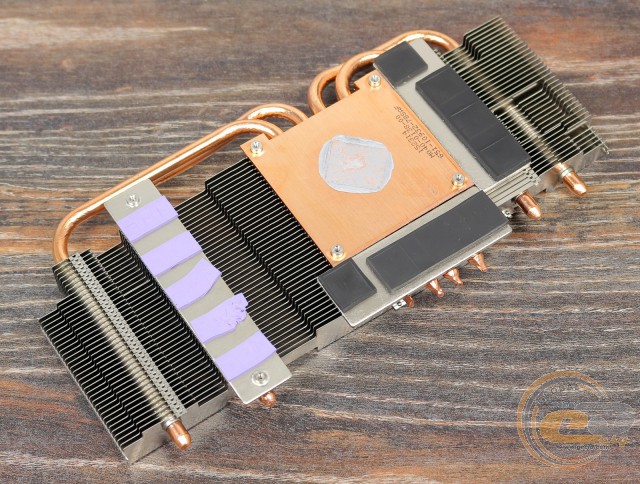 The second part of the cooling system includes four 6-mm copper heat pipes and radiator of longitudinally spaced plated plates. Large copper plate contacts with the GPU through a thin layer of thermal paste. Heat is removed from the memory chips and the power subsystem elements. Special thermo between them and the bottom of the radiator are applied.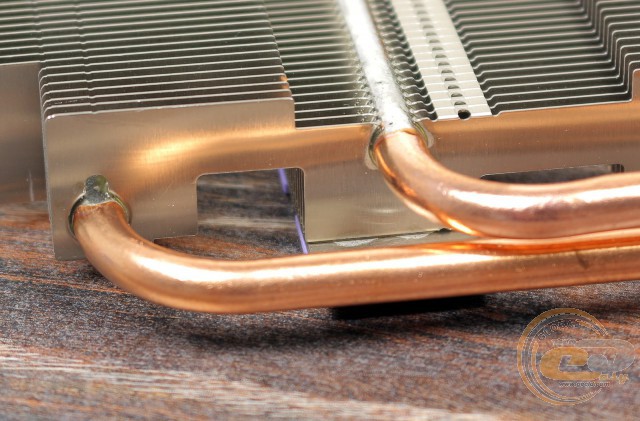 Heat pipes are soldered to both edges of an aluminum radiator, and to a copper substrate. This improves heat distribution and improves the efficiency of the cooling system. However, they are coated with nickel.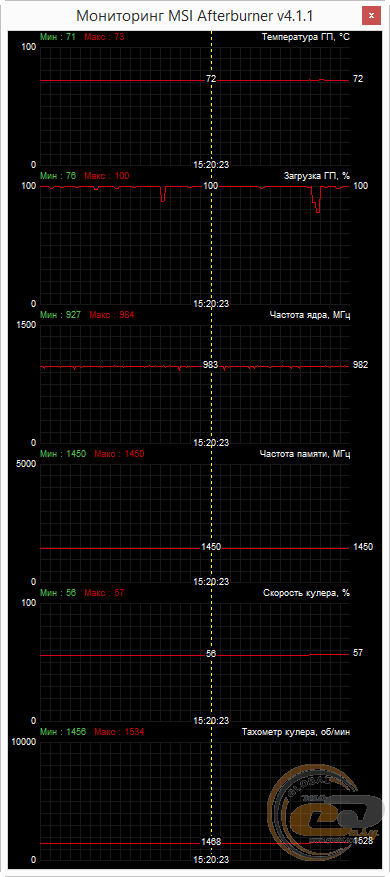 In case automatic control of fan speed under maximum load, the GPU heated up to 72°C. fans worked at 57% (1528 rpm) of its maximum speed, creating a subtle noise that allowed completely comfortable.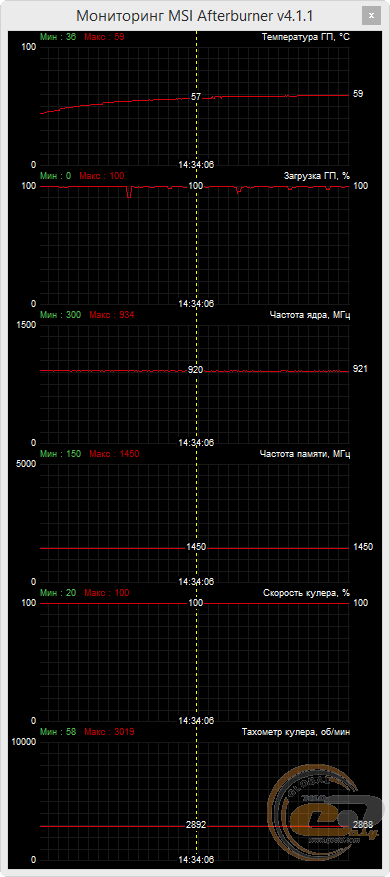 After setting the rotation speed of the fan blades to the maximum value (2868 rpm), the noise rose above average, but still remained affordable even for prolonged use.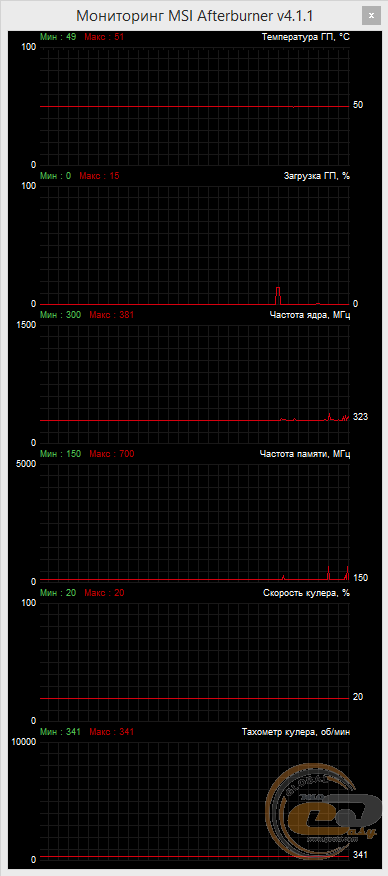 In idle mode the frequency of the graphics core and memory was reduced, and the cooling system switched to the passive mode (due to the technology Intelligent Fan Control II). In this state, the GPU temperature did not exceed 50°C. Any noise is absent.
Социальные комментарии Cackle