Fan Deepcool GAMER STORM GF120: review and testing
Our regular readers know about extensive range of Deepcool. So, recently, we have already introduced not only with one and two-fan high-performance processor cooler, but also the "gold" 750-watt power supply, produced under this trademark. The next step is acquaintance with another solution in the lineup of Deepcool, representing two lineups: case fans and devices of series GAMER STORM. If the first category is clear, we still say a few words about the second. As you probably already guessed, the word «GAMER» in its name refers to a category of users to use such device. But «STORM» most likely alludes to the air flow that is generated during retraction of the heated air from the cooling element, as this line includes exceptional processor and cooler cases, which boast a combination of positive qualities necessary for effective and quiet operation.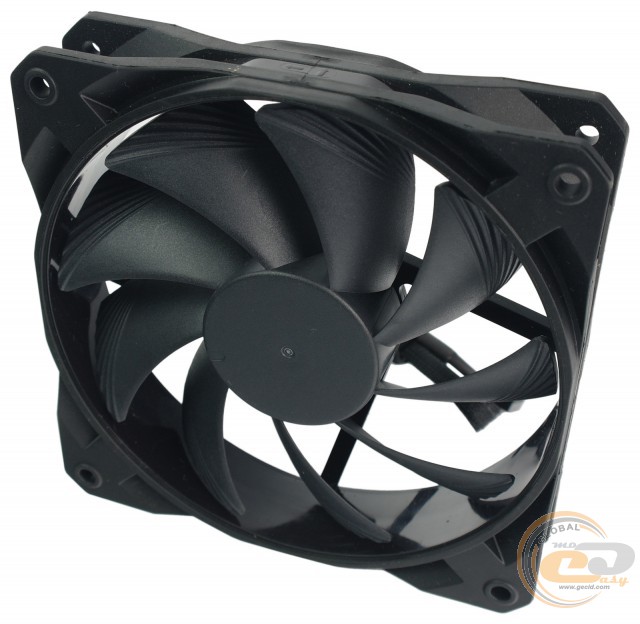 In theory it looks very tempting. But what we have in reality? Let's find it on the example of 120-mm fan Deepcool GAMER STORM GF120.
The specs:
Producer and model

Deepcool GAMER STORM GF120

Dimensions, mm

120 х 120 х 26

Fan rotation speed, rpm

500±200 – 1800±10%

Noise level, dB

17,6 – 32,5

Air flow, m3/h (CFM)

135,7 (79,81)

Capacity, W

1,68

Nominal current, A

0,14±10%

Fan supply voltage, V

Starting

7

Operating

10,8 – 13,2

Bearings

Fluid Dynamic Bearing (hydro dynamic)

Power socket

4-pin

Mean time between failures, h

100 000

Weight, g

170

Warranty, years

5

Producer website
Package and content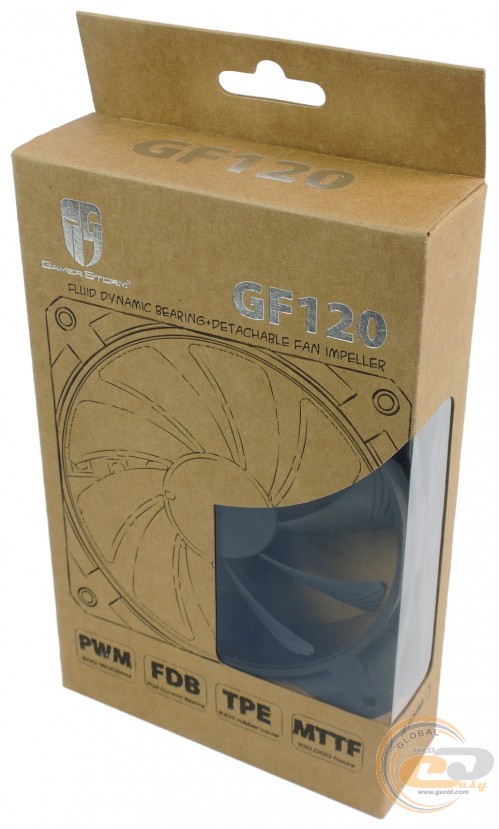 Package of Deepcool GAMER STORM GF120 is made of ordinary cardboard. It only partially opens view of the fan. The rest is a work of designers to finish the box. Its upper has a printed name of the lineup of the fan (GAMER STORM), and the model (GF120). More usual four abbreviations, which indicate the most notable features of the propeller are given in the bottom:
PWM - the rotation speed of the blades of the fan is regulated by the PWM method (Pulse-Width Modulation) in the range of 500 to 1800 rpm;
FDB - new item uses Japanese hydrodynamic bearings (Fluid Dynamic Bearing), which has a positive effect on the level of noise and increases the reliability of the device;
TPE - fan frame is covered with a dense rubber that provides good anti-vibration properties;
MTTF - Mean Time to Failure is 100,000 hours, which is more than 11 years of continuous operation.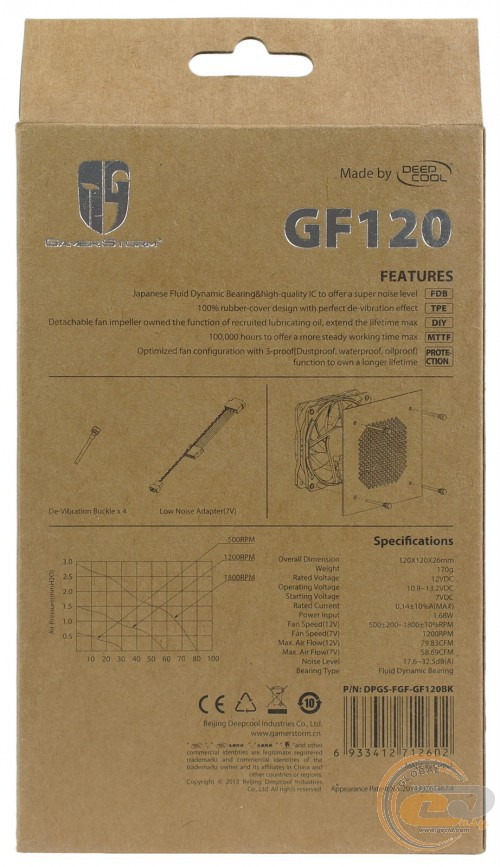 The reverse side adds the above complements list by another feature, a three-level protection. Thus, the fan is protected against ingress of dust or water as well as the leakage of lubricant. Additionally here you can find described accessories set, applied detailed specification and a graph of the index of the static pressure of the air flow rate at different rotation speed of the blades. According to the given line the fan is made in China.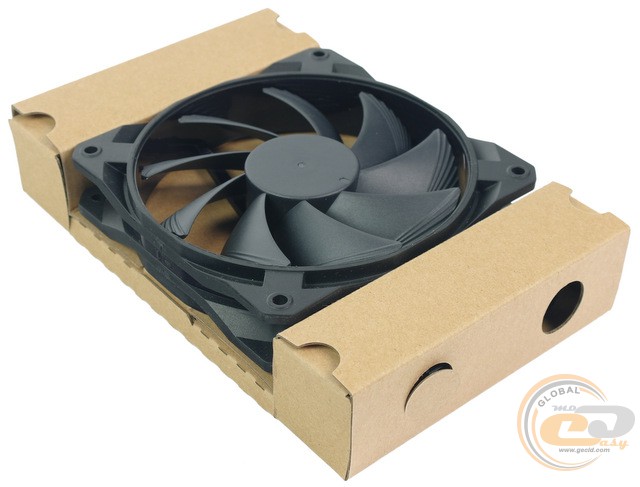 Inside the box the fan is placed in a cardboard damper that protects it during transportation. Components are placed in the compartments in the upper and lower parts of the package.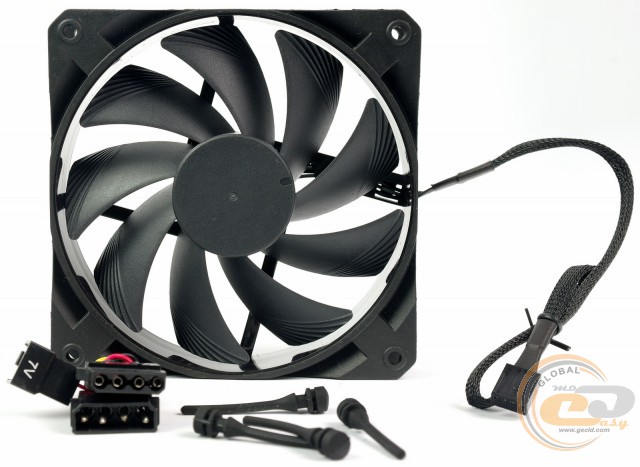 Fan Deepcool GAMER STORM GF120 has a pleasant appearance. Despite popular nowadays color version, it is markedly different from a number of uniform solutions on the market. Many of its structural differences have already been given above, and some we have yet to explore.
Complete set contain four anti-vibration mounts and adapter that allows you to power the fan by 4-pin peripheral connectors (Molex (PATA)). The first is an excellent alternative to the classic screws. If you have previously dealt exclusively with them, the complete devices are not worse and allow to minimize the vibration transmitted to the body.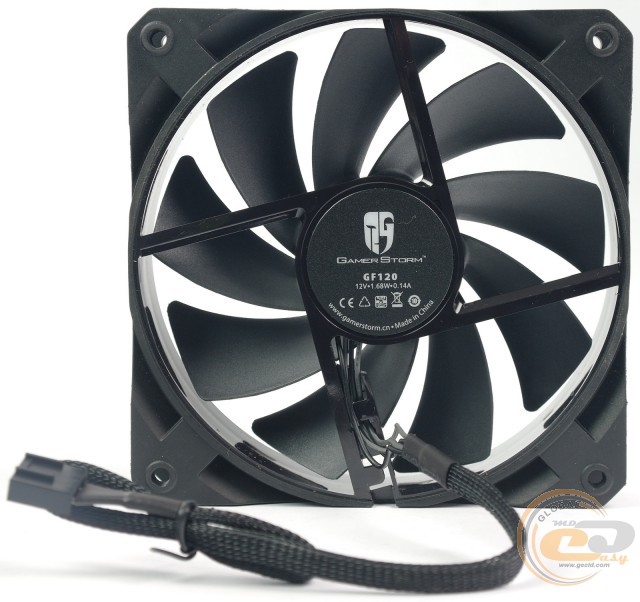 Back side of the fan enables us to know not only the name of the series and models, but also its characteristics related to power: current consumption (0.14 A), rated voltage (12 V) and power (1.68 W).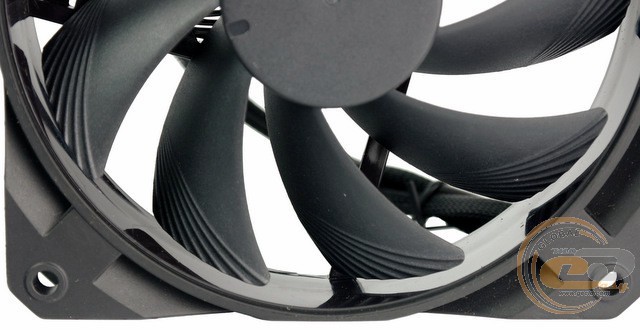 The special features of Deepcool GAMER STORM GF120 include a special design of blades, which means the presence of aerodynamic channels on outer side. According to the manufacturer, this improvement allows to achieve high static pressure and focus of air flow for increased efficiency when paired with radiators of cooling systems.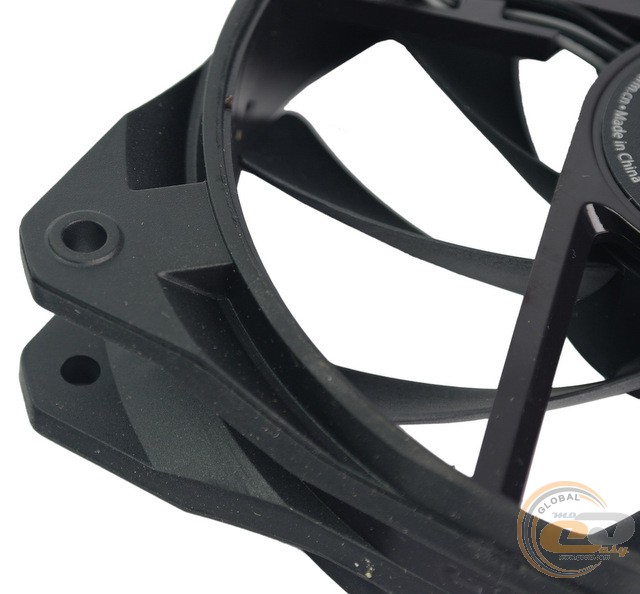 As noted above, the manufacturer has applied two ways to deal with created vibration: complete anti-vibration mounting and rubber frame of the housing. By the way, the rubber is used not for all case, but only for its external elements. Its inner surface portion facing toward the blade have a gloss plastic surface. In general, such a concern for the absorption of excessive vibration deserves the highest praise.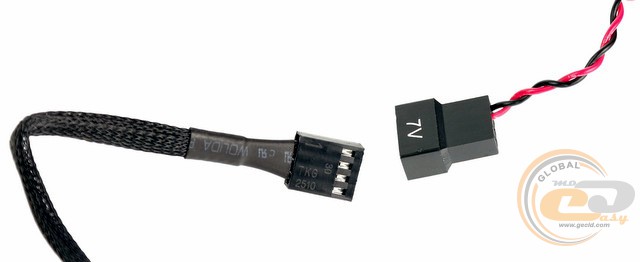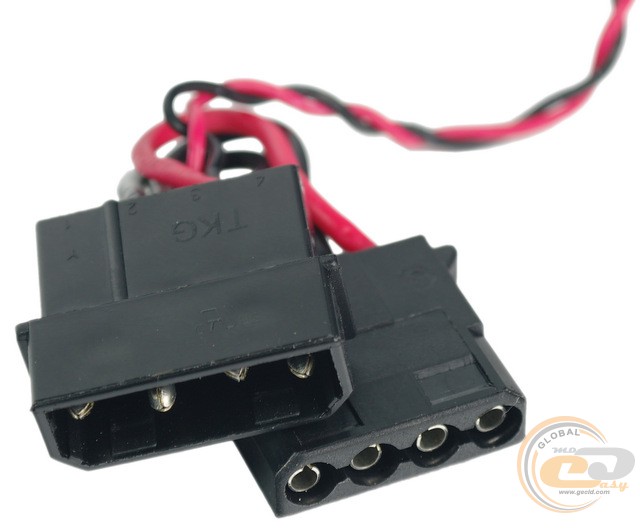 Power is supplied with a standard 4-pin fan socket. Wire length is 30 cm and it is placed in a fabric braid with fixed heat shrinkage. If necessary, you can connect the fan to the 4-pin peripheral connector using supplied adapter. It is designed in such a way that the Molex connector is duplicated, and it can be used by another device - a very nice and useful thing. Also it has another interesting feature, acting as an adapter for noise reduction. As supplied voltage is equal 7 V that corresponds to rotation speed of about 1250 rpm.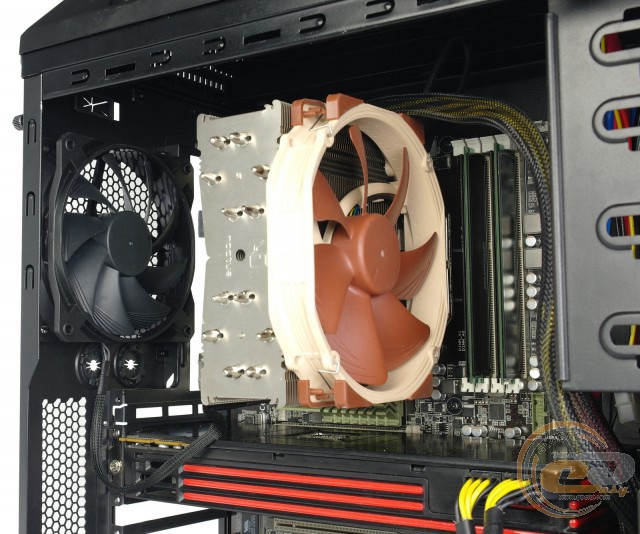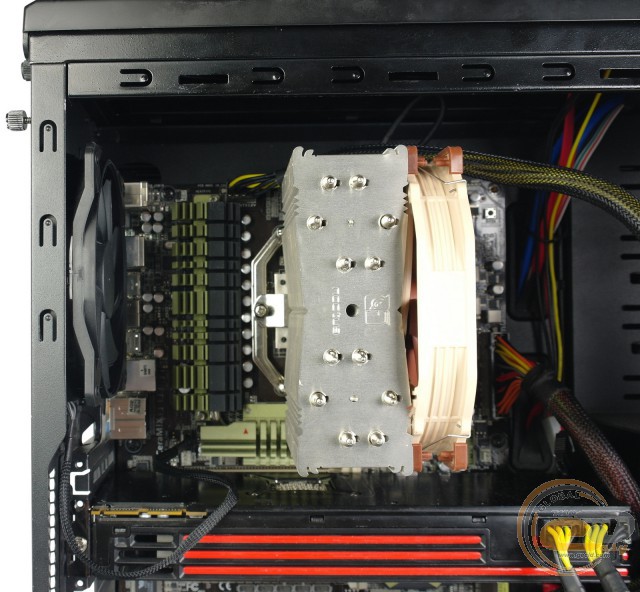 Fan Deepcool GAMER STORM GF120 looks great in our bench case, though a bit lost on the black body. In any case, even a cursory look at the back wall it is clear that this is not cheap solution from an unknown manufacturer.
The theoretical acquaintance with the novelty has come to the end and it's time to learn it in practical tests.
Социальные комментарии Cackle