CPU cooling system Noctua NH-D9L: review and testing
Recently our readers had the opportunity to get acquainted with the compact cooler Noctua NH-U9S with height of 125 mm, which has demonstrated good efficiency in case of cooling the overclocked processors. At the same time the arsenal of the famous Austrian manufacturer also includes a model Noctua NH-D9L, designed for installation in an even more compact PC. Its height is only 110 mm, making the new product compatible with a large number of Mini-ITX-cases, enabling efficient heat removal from the CPU. Despite the small size of the cooler, the manufacturer says about the possibility of cooling even processors with TDP at the level of 140 W.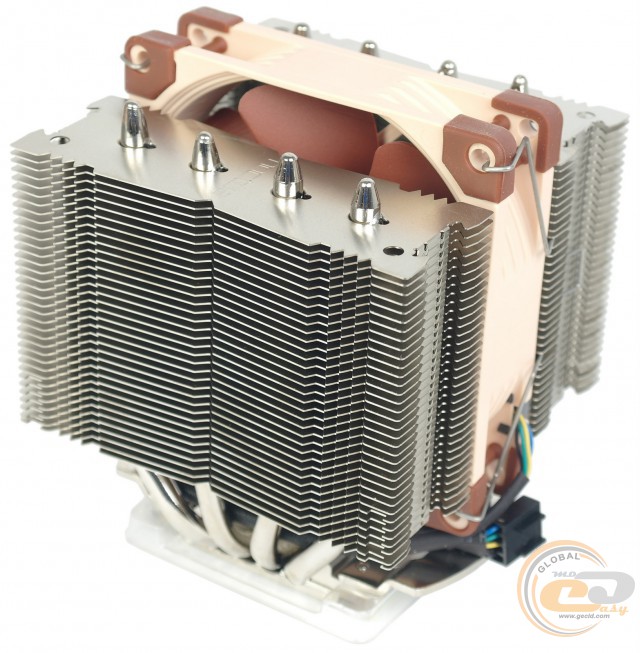 In this review you'll learn how really effective is the CPU cooler Noctua NH-D9L and will it properly deal with the takst that are commonly faced by a high-dimensional solutions.
The specs:
Heat pipes

Noctua NH-D9L

AMD Socket AM2 / AM2+ / AM3 / AM3+ / FM1 / FM2 / FM2+

Intel Socket LGA1156 / LGA1155 / LGA1150 / LGA1151 / LGA2011 / LGA2011-3

Maximum TDP of supported processors (without overclocking), W

AMD

125

Intel

140

Heat pipes

Material

Nickel-plated copper

Quantity

4

Diameter, mm

6

Radiator material

Aluminum

Thermal interface

Thremal grease Noctua NT-H1 in syringe

Fan

Noctua NF-A9 PWM

Fan supply voltage, V

12

Feed current, А

0,1

Power consumption, W

1,2

Max fan rotation speed, rpm

Without L.N.A.

2000

L.N.A.

1550

Min fan rotation speed, rpm

400

Noise level, dB

Without L.N.A.

22,8

L.N.A.

16,3

Power socket

4-pin

Air flow, m3/h (CFM)

Без L.N.A.

78,9 (46,4)

L.N.A.

62,6 (36,8)

Static pressure, mm of water column

1,53 – 2,28

Fan dimensions, mm

92 х 92 х 25

Bearing

SSO2

Time between breakdowns, h

150 000

Dimensions, mm

110 х 95 х 95

Weight, g

Without fans

428

With fans

531

Warranty period, years

6

Producer website
Packaging and content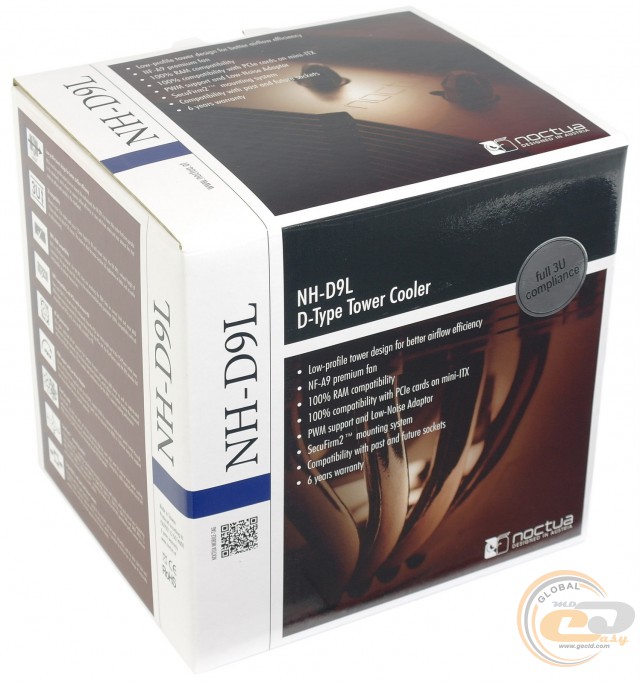 The novelty is shipped in a cardboard box decorated in corporate style. In addition to the specific color combination, here is great content that provides complete information about the device. Thus, the front and upper sides inform us of the following features of the cooler Noctua NH-D9L:
D-Type Tower Cooler - cooler has a dual-section construction of tower type;
Low-profile tower design for better efficiency - low-profile design provides increase of its effectiveness;
NF-A9 premium fan - a high-quality fan Noctua NF-A9 is applied for active cooling;
100% RAM-compatibility - full compatibility with memory modules of any height;
100% compatibility with PCIe cards on Mini-ITX - the manufacturer guarantees that the new product will not block the slots for expansion cards in a compact Mini-ITX-systems;
PWM-support and Low-Noise Adaptor – support for function of PWM-control, as well as the presence of LNA-adapter to reduce noise;
SecuFirm2 mounting system - a proprietary mounting system SecuFirm2 ensures broad compatibility with a variety of motherboards, allowing you to install a novelty without difficulty;
Compatibility with past and future sockets - the aforementioned fastening system ensures compatibility with a number of obsolete, current and even future processor sockets (the latter refers to Intel LGA1151 for CPUs Intel Skylake);
6 years warranty – being confident in the quality of products, the company Noctua provides for a novelty as much as 6-year warranty.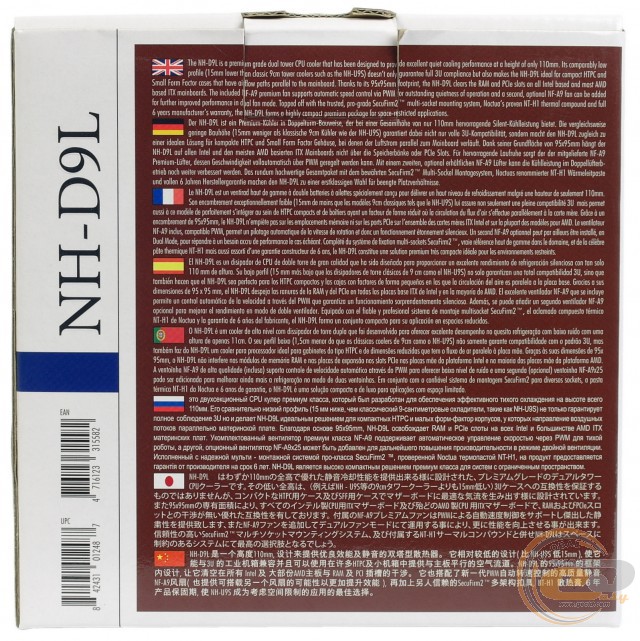 The reverse side of the box has a description of the cooler. Taking into account a height of 110 mm the new product is 15 mm lower than the classic 92 mm cooler, which makes it an excellent solution for compact cases, including standard 3U devices and models designed to create a HTPC. Square profile of 95 x 95 mm provides a cooler full compatibility with adjacent expansion slots and memory modules with high heat sinks. For active cooling Noctua NH-D9L uses 92-mm fan with PWM speed control. Additionally, you may set to another similar form factor spinner. Also here is thermal compound Noctua NT-H1, which provides excellent thermal conductivity properties.
Sidewall in more detail inform potential customers about the benefits of this model, and provide detailed technical specs, including information about its size and configuration.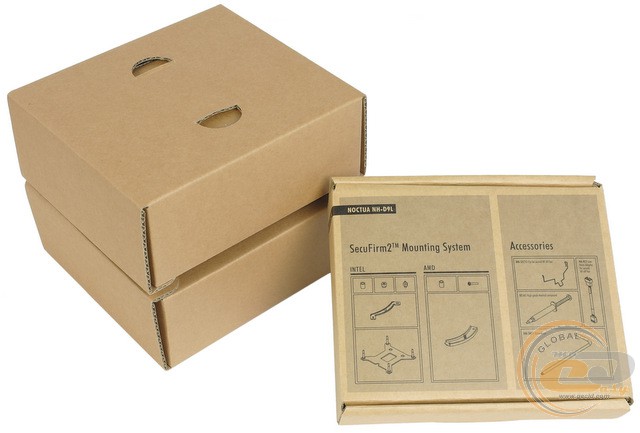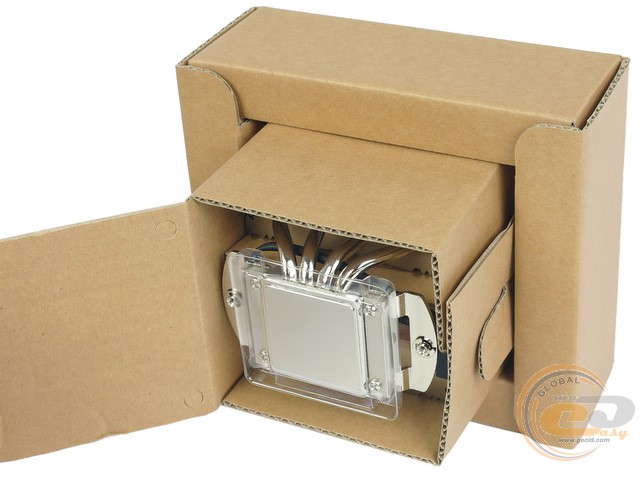 Inside the package, all the components are arranged with the appropriate symbols. Cooler itself is securely protected by cardboard damper consisting of two parts.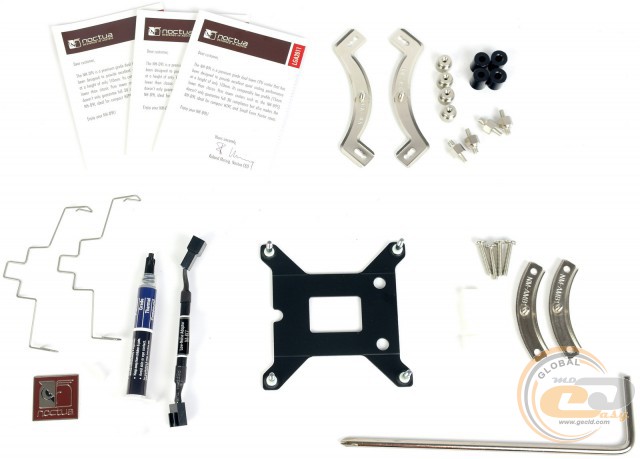 Cooler kitting includes a number of both necessary and useful additional components:
reinforcement plate for the platform Intel;
metal fittings for different platforms;
a set of racks, nuts and bolts;
anti-vibration pads;
two brackets for additional fan;
screwdriver;
thermal compound Noctua NT-H1 in the syringe;
adapter to reduce the speed of rotation (LNA);
metal logo Noctua;
the installation guide on different platforms (AMD, Intel LGA115x and LGA2011).
As you can see, this equipment is very extensive and will help not only quickly and easily install a novelty, but also to adapt its work according to the preferences of the owner.
Design and structure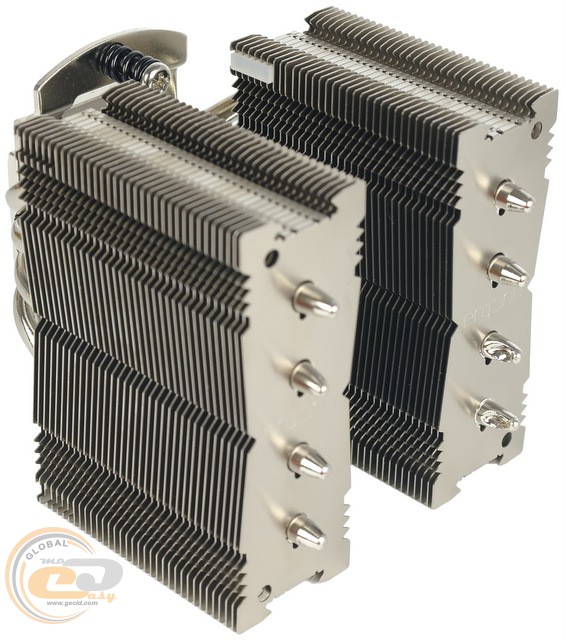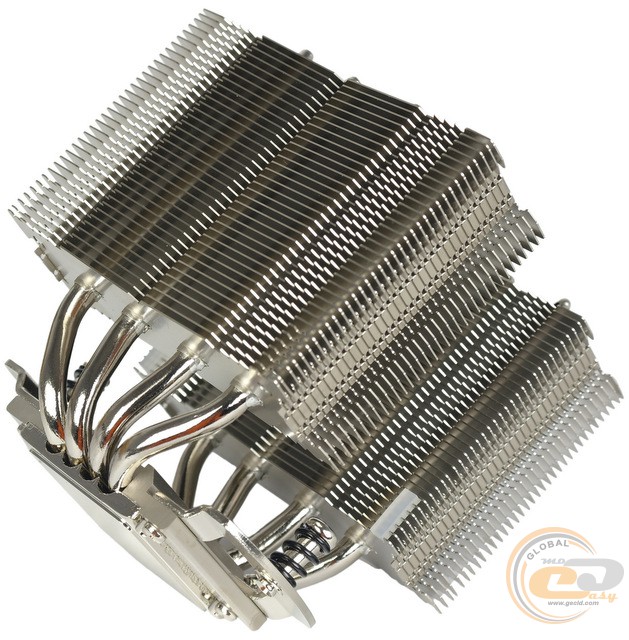 Dual-sectional design of the radiator in most cases is typical for a bulky cooler from the upper price segment. Nevertheless, the design of new product was chosen for this approach. It is based on four U-shaped copper nickel-plated heatpipes of 6 mm in diameter. Each side has 35 aluminum plates, which have a thickness of 0.45 mm, and are spaced at 1.7 mm apart.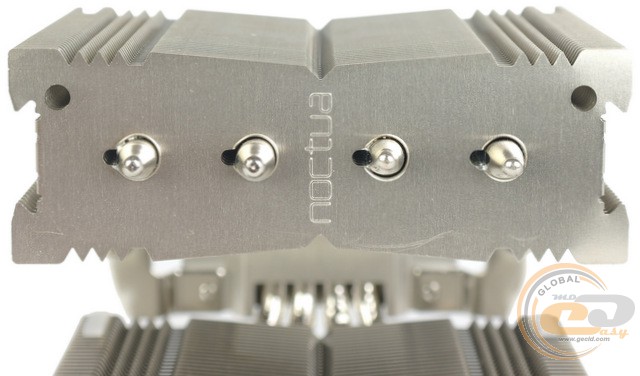 The pipes are arranged in a row, which is quite natura, considering the small width of the plate. Note the use of solder at fixing points of pipes with the plates, which should provide the best effect to the efficiency of heat transfer.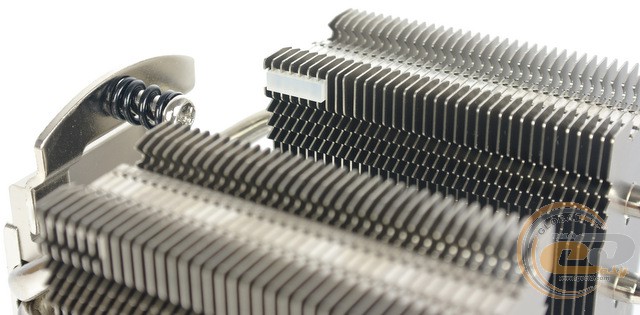 The radiator has installed white antivibration rubber pads under the fan. Also here is a similar element for use in case of installation the second fan on the cooler. In this case, a complete gasket should be independently cut into two parts.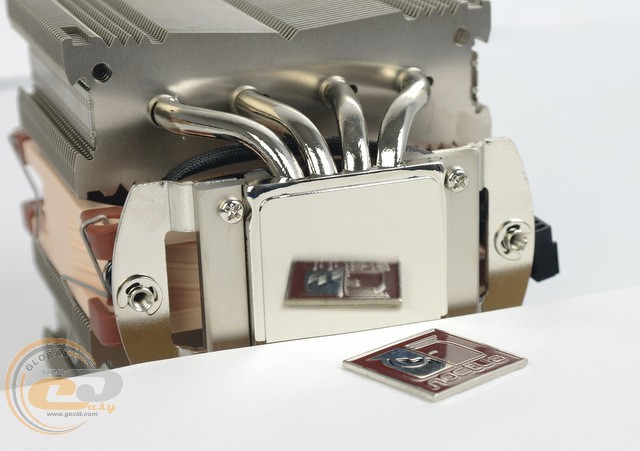 Radiator heat pipes are soldered to the base that definitely will contribute to improving the efficiency of heat dissipation. As you can see, the part of the fastening screws with spring is originally mounted on the cooler.
Copper base of the cooler has dimensions of 40 x 38 mm. It has a nickel coating, which not only gives a more holistic view of the radiator, but also allows over time to avoid oxidation of copper. Polishing is good: you won't notice defects of grinding.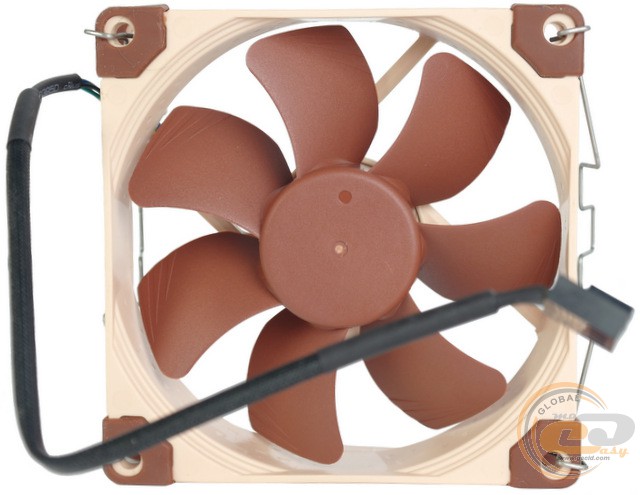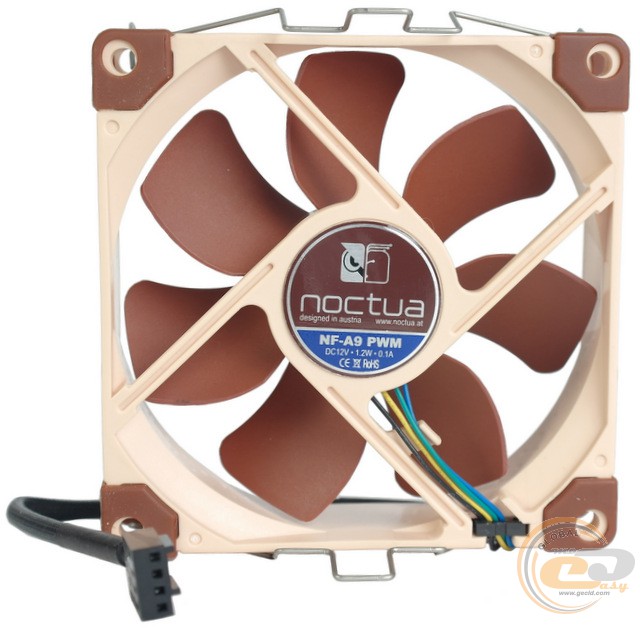 Active movement of air flow is provided by a 92-mm fan Noctua NF-A9 PWM. The name indicates the fact that the turntable is equipped with a 4-pin power connector, allowing to adjust the speed of rotation of the blades by the PWM method in the interval from 400 to 2000 rpm (1550 rpm when using adapter L.N.A.). The cooler does not bother the owner by excessive noise, as even at the maximum speed it will be relatively low - 22.8 dB.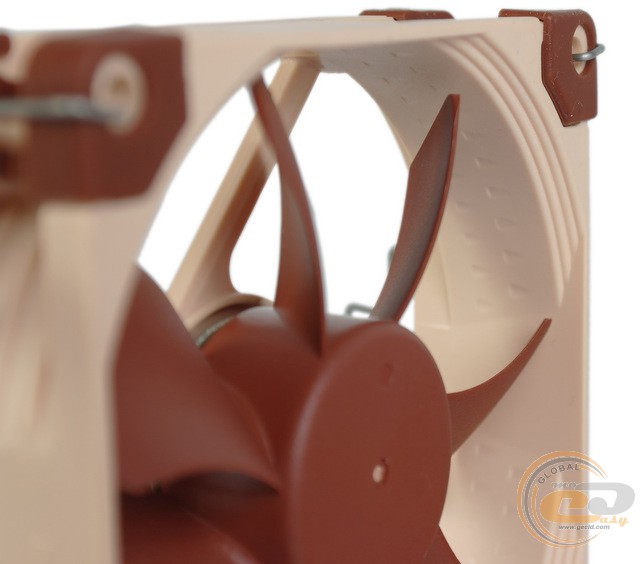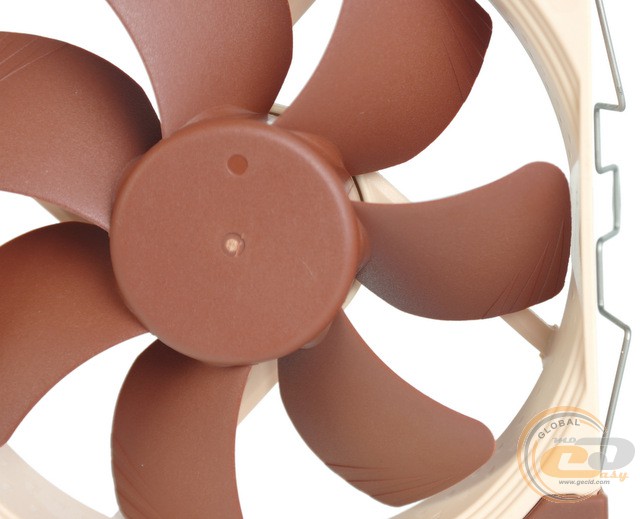 The Noctua fans have a number of proprietary technologies, which are used in the model. Thus, the acoustic optimization technology AAO (Advanced Acoustic Optimisation) includes three components that positively affect the level of fan noise. They include angular antivibration pads, stepped design and recesses on the inner side of the frame. Another feature of this solution is the technology Flow Acceleration Channels, which means in the presence of special channels on the blades. They allow to reduce the noise of the vortex air flow and improve the efficiency of the fan. Well, let's not forget about using self-bearings of second generation (SSO2-Bearing), that allow us to speak about a really impressive service time at a level of 150,000 hours. For those who want to explore the benefits of Noctua we suggest to read with the corresponding review.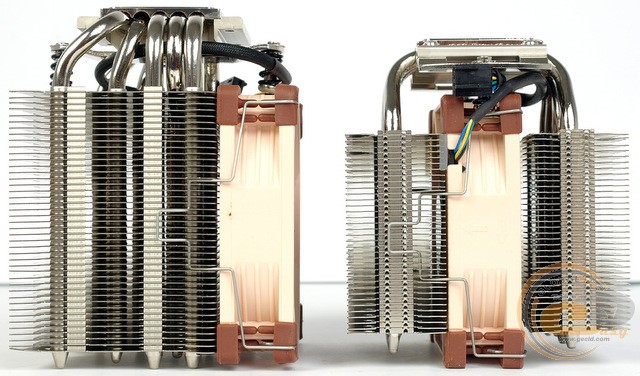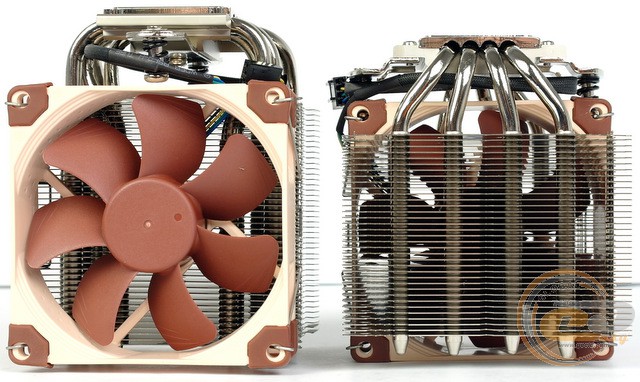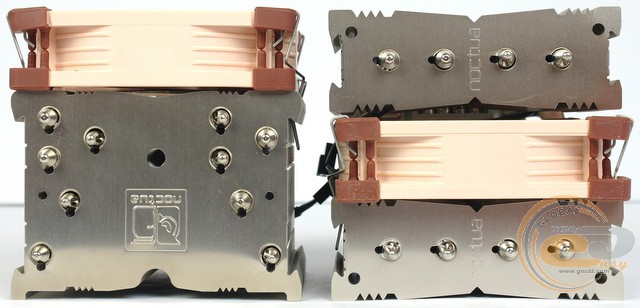 Assembled cooler has a nice appearance. Even when compared its dimensions of 92 mm with a brother in the face of Noctua NH-U9S, the testable novelty looks much more compact. Accordingly, it has also lost in weight (about 100 g), which, no doubt, affects its efficiency. Alas, it is a necessary sacrifice to get devoid of extra millimeters.
we used the following equipment to test the processor cooling system noctua nh-d9l:
summarizing the intermediate total, we note that compact dimensions of new product, of course, affect its capabilities, but in general the effectiveness of the solutions can be evaluated as good.