APU AMD A8-7600: review and testing
Not so long ago we introduced you to the dual-core APU AMD A6-7400K, which was quite a good budget option to build a low-cost system unit. For an affordable cost it can provide a decent level of performance for the office or a multimedia computer.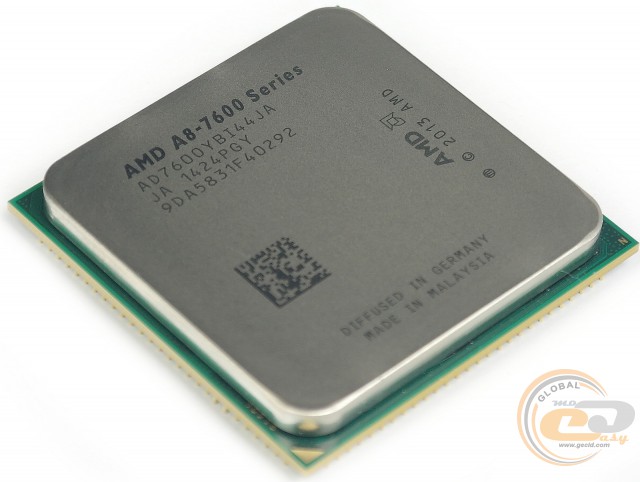 Now let's look at more efficient model AMD A8-7600. This processor has four cores and more productive graphics card AMD Radeon R7 Graphics. This makes it possible to play many modern games at low resolution, allowing undemanding users save on the purchase of a discrete graphics card.
The specs:
Model

AMD A8-7600

Marking

AD7600YBI44JA

CPU socket

Socket FM2+

Basic clock frequency, MHz

3100

Max clock frequency with AMD Turbo Core 3.0, MHz

3800

Multiplier (nominal / in turbo mode)

31 / 38

System bus basic frequency, MHz

100

L1 cache capacity, KB

4 х 16 (data memory)

2 x 96 (instruction memory)

L2 cache capacity, KB

2 x 2048

L3 cache capacity, KB

No

Microacrhitecture

AMD Steamroller + AMD GCN

Code name

AMD Kaveri

Quantity of cores / threads

4/4

Instruction support

MMX(+), SSE, SSE2, SSE3, SSSE3, SSE4A, SSE4.1, SSE4.2, x86-64, AMD-V, AES, AVX, XOP, FMA3, FMA4

Max designed capacity, W

65

Max working temperature, °C

71,3

Manufacturing process, nm

28

Technology support

AMD 64-bit, AMD Virtualization, EVP (Enhanced Virus Protection), AMD PowerNow!, AMD Turbo Core 3.0

Built-in memory controller

Max memory capacity, GB

-

Memory type

DDR3

Max frequency, MHz

2133

Memory channel quantity

2

Built-in graphics core AMD Radeon R7 Graphics

Data flow processor

384

Texture blocks

24

ROP blocks

8

GPU clock frequency, MHz

720

Instruction support

DirectX 11.2, OpenGL 4.3, DirectCompute 5.0, OpenCL 1.2, Shader Model 5.0

Producer website
Package, supplied set and design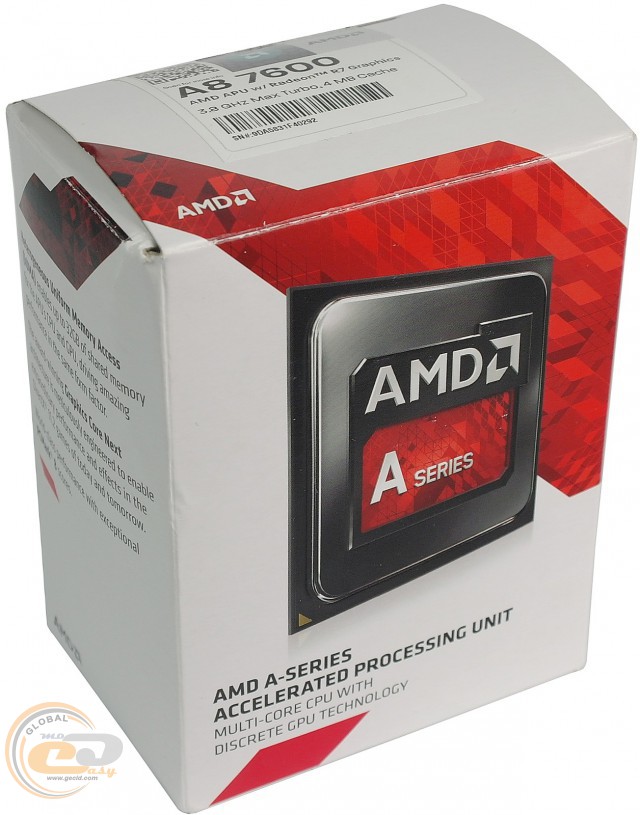 The new APU comes in the familiar white box with a red pattern, which is typical for devices with locked multiplier. The front side contains a stylized image of processor.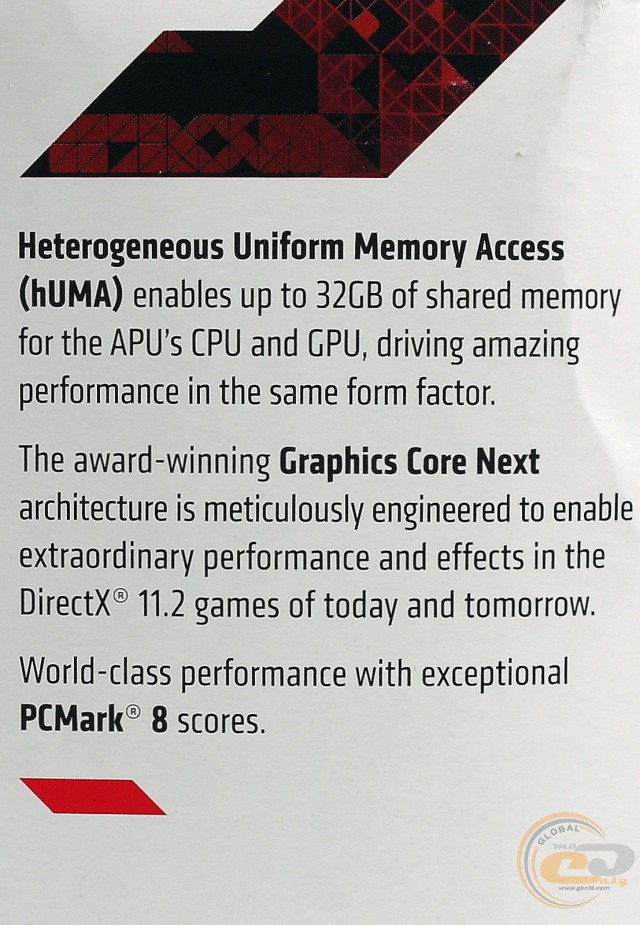 The side of the package shows the main advantages of the AMD A8-7600:
heterogeneous uniform memory access (hUMA) allows processor and graphics cores to use a single space of RAM with maximum capacity of 32 GB;
branded microarchitecture AMD GCN allows significantly improve the performance of compatible games with support for Microsoft DirectX 11.2 and next;
good performance, as evidenced by high scores in the benchmark PCMark 8.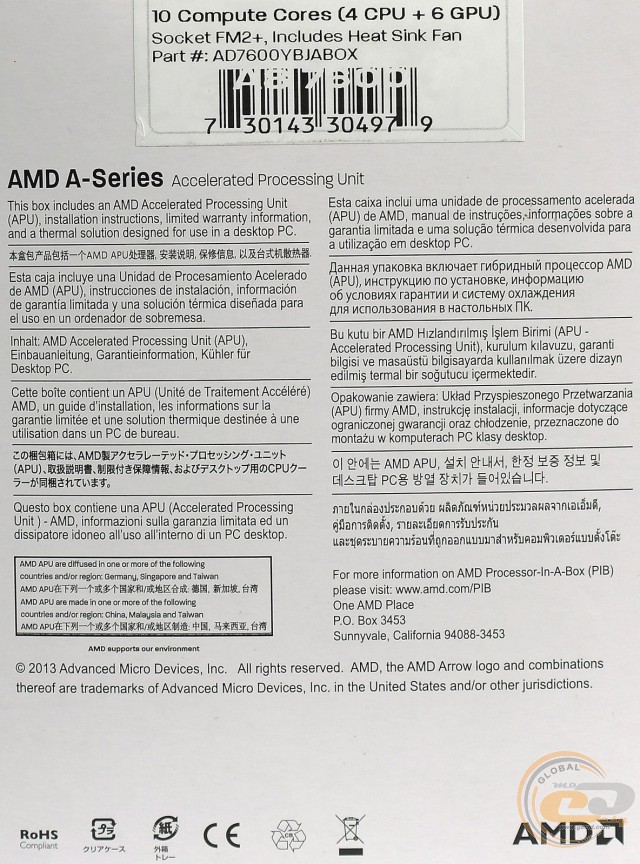 The reverse side of the box lists a package set in different languages. There is a sticker with the serial number and processor bar code.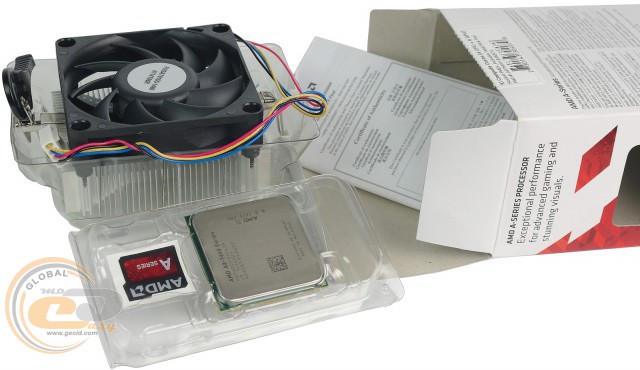 The package of APU AMD A8-7600 includes:
cooling system;
sticker on the computer case;
Quick Installation Guide CPU and cooling system.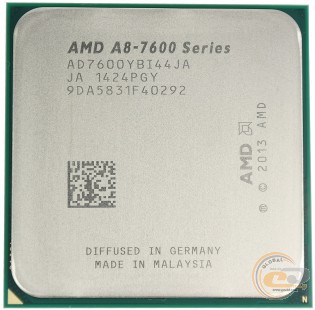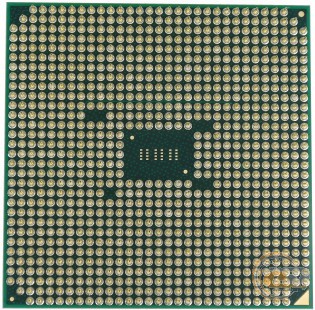 The heat-spreading lid contains marking and the model name. The following are the country where the chip is produced (Germany), and the final assembly (Malaysia). The reverse side is equipped with a set of contacts that are compatible with the CPU socket Socket FM2+.
Cooling system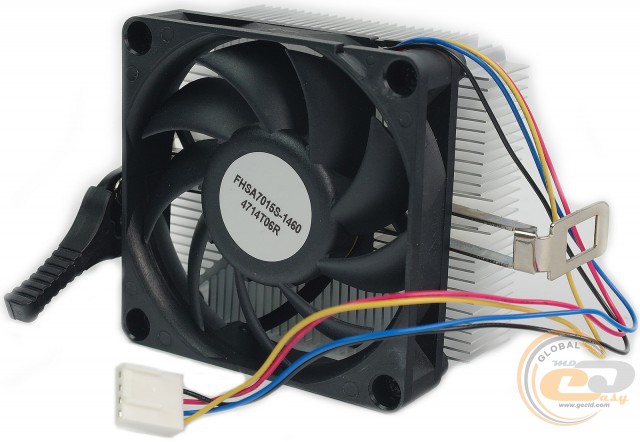 The complete cooling system is rather simple design: a small aluminum radiator and fixed 70 mm fan labeled as «FHSA7015S». It is based on hydro bearing and has a maximum speed 2800 rpm. According to the characteristics, its maximum noise level should not exceed 20 dB. Thanks to the standard four-connector there is a support for the blade speed control by PWM method.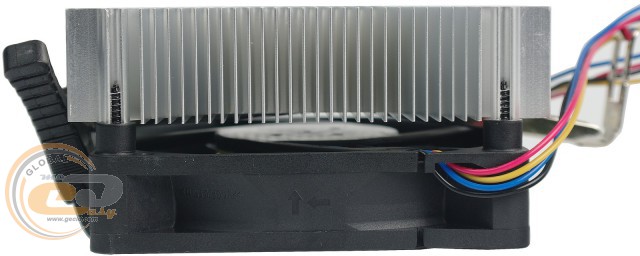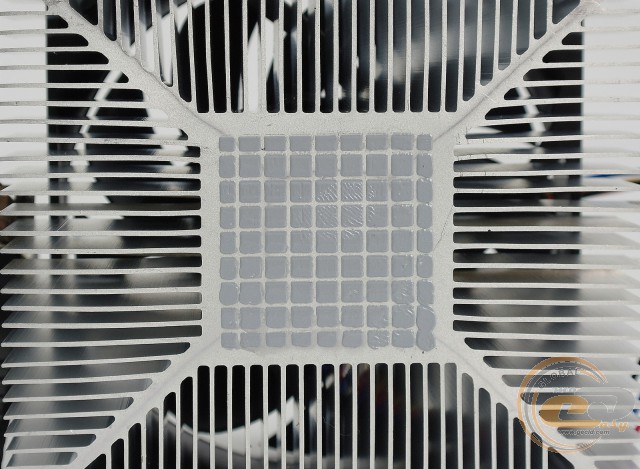 The radiator is in contact with the processor through a thin layer of thermal paste, which is pre-applied by the manufacturer. To fix the cooling system there is a standard metal mount with plastic latch. This method worked well, so it is widely used in other CPU of company AMD.
The analysis of technical parameters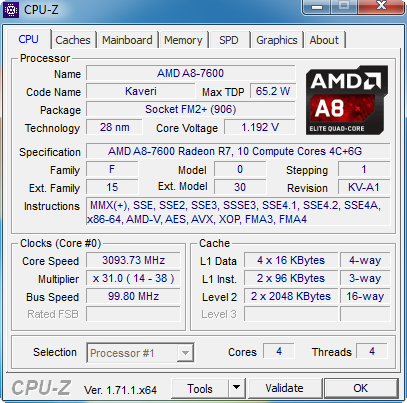 APU AMD A8-7600 is equipped with four processor cores that operate in four-thread mode. Rated frequency with disconnected technology AMD Turbo Core 3.0 was 3094 MHz with multiplier "x31" and a reference frequency of 100 MHz at the time of reading. The core voltage is at around 1,192 V.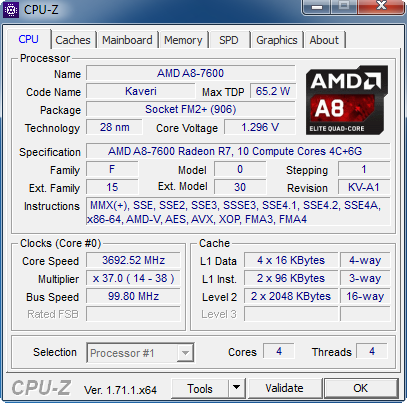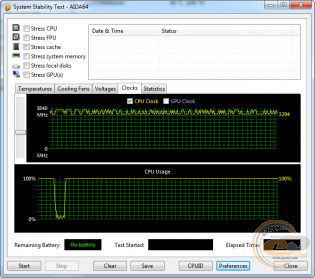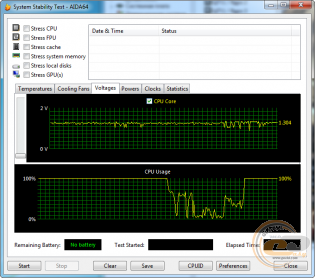 Activation of technology AMD Turbo Core 3.0 has increased the multiplier to "x37". The frequency is equal to 3693 MHz at a voltage of 1,296 V.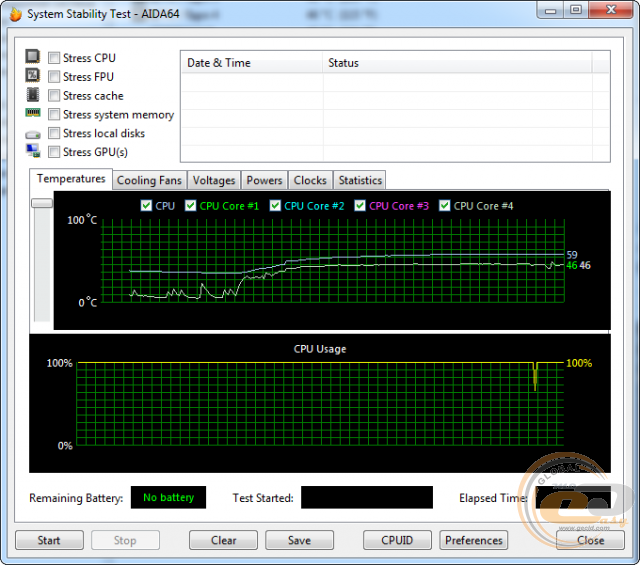 In case of using the bench cooling system core temperature was within normal limits and did not exceed 59°C during prolonged maximum load of the benchmark LinX 0.6.5.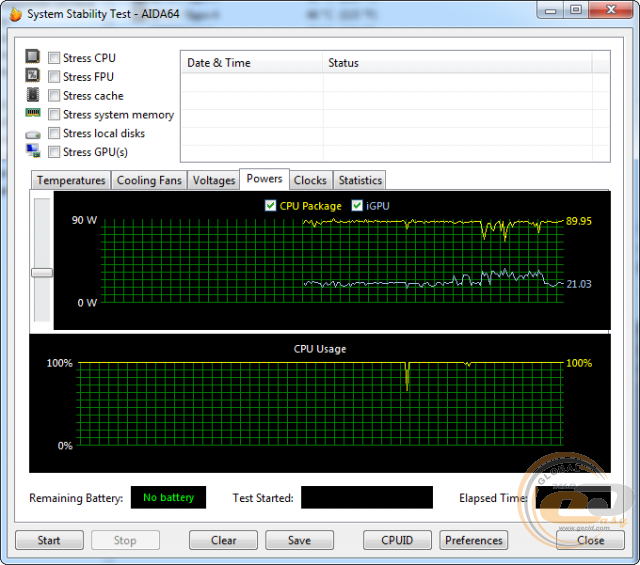 Power consumption of APU AMD A8-7600 in the nominal mode corresponds to the following indicators: 90 W for processor cores and 21 W for the graphics cores.
In idle mode the core frequency decreased to 1397 MHz with a multiplier value of "x14". The voltage at the same time was 0.760 V.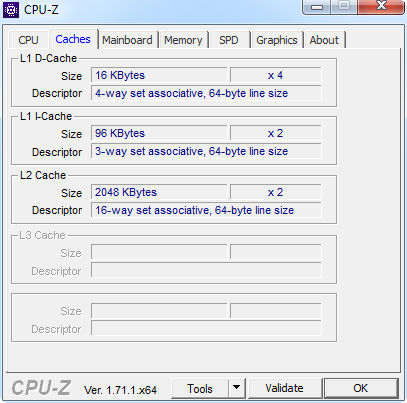 Cache memory of the hero of this review is divided as follows. 16 KB of L1 cache per core with 4 channels of associativity allocated for caching data. For instructions there is up to 96 KB of L1 cache with 3 channels of associativity for each dual-core module. Also there is 2048 KB of L2 cache with 16 channels of associativity for each dual-core module. L3 cache memory is absent in a given processor.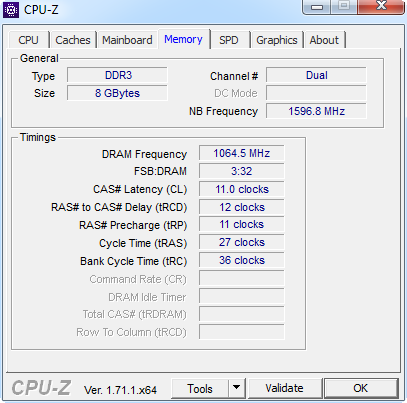 APU has an integrated memory controller that supports dual-channel mode for DDR3 modules with the effective frequency to 2133 MHz.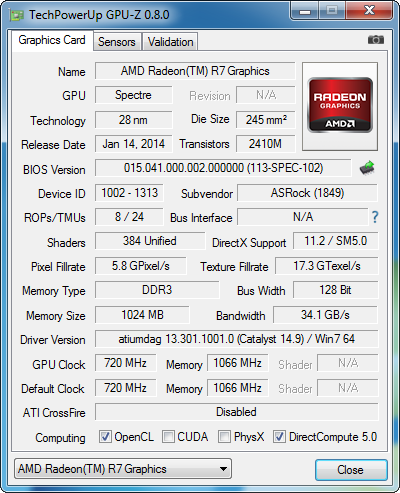 Социальные комментарии Cackle