APU AMD A8-7650K: review and testing
AMD has a lineup of APU, which combines the different components in a single case: CPU and graphics core and memory controller. The advantages of this design include:
more plain cooling, which reduces noise and heat computer;
cost of APU will always be lower than the same processor and graphics card;
you can build the entire system in a compact package.
As you can see, these devices have a number of advantages over traditional processors and graphics cards. If you need to build more productive gaming computer, you can always buy another digital and video accelerator.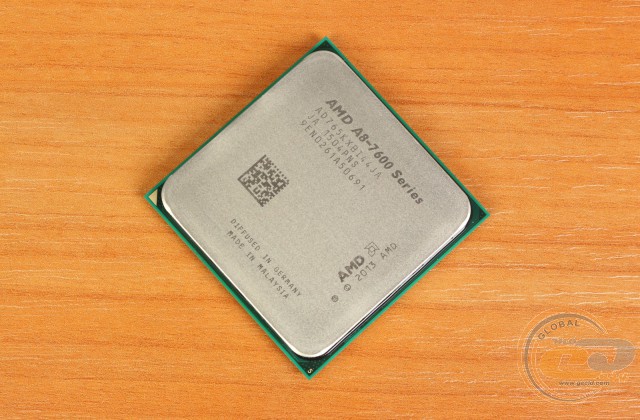 This material will be devoted to one of the new APU model AMD A8-7650K. It is equipped with four processor cores and a graphics subsystem AMD Radeon R7 Graphics. At first glance, this configuration looks very attractive, but the final verdict will be done only after all the tests and comparisons with competitors.
The specs:
Model

AMD A8-7650K

Marking

AD765KXBI44JA

APU socket

Socket FM2+

Basic clock frequency, MHz

3300

Max clock frequency with AMD Turbo Core 3.0, MHz

3800

Multiplier (nominal / in turbo mode)

33 / 38

Basic system bus frequency, MHz

100

L1 cache memory, KB

4 х 16 (data memory)

2 x 96 (instruction memory)

L2 cache memory, KB

2 x 2048

L3 cache memory, KB

No

Microarchitecture

AMD Steamroller + AMD GCN

Code name

AMD Kaveri

Quantity of cores/threads

4/4

Instruction support

MMX(+), SSE, SSE2, SSE3, SSSE3, SSE4A, SSE4.1, SSE4.2, x86-64, AMD-V, AES, AVX, XOP, FMA3, FMA4

Max calculated power (TDP), W

95

Max operating temperature, °C

-

Manufacturing process, nm

28

Technology support

AMD 64-bit, AMD Virtualization, EVP (Enhanced Virus Protection), AMD PowerNow!, AMD Turbo Core 3.0

Build-in memory controller

Memory type

DDR3

Max frequency, MHz

2133

Memory channels quantity

2

Built-in graphics core AMD Radeon R7 Graphics

Thread processors

384

Tetxture blocks

24

Rasterization blocks

8

GPU clock frequency, MHz

720

Instruction support

DirectX 11.2, OpenGL 4.3, DirectCompute 5.0, OpenCL 1.2, Shader Model 5.0

Producer website
Package and content
For testing we got OEM-version of the APU (marking AD765KXBI44JA). Basically it is designed for OEMs, so it comes without packaging, cooling systems and related documentation. In general, the contents of boxed processor (marking AD765KXBJABOX) should not differ greatly from the previously tested APU AMD A10-7700K with the TDP level of 95 W.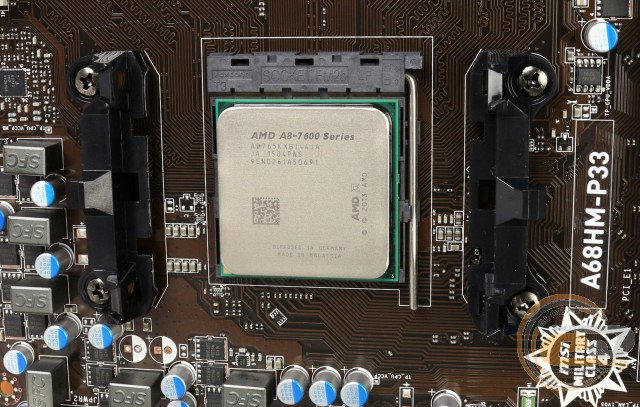 On the heat-spreading lid you can see the model name, marking, the manufacturer's logo and QR-Code. In the lower part there is a mark that the chip is produced in Germany, and the final assembly of the device is realized in Malaysia.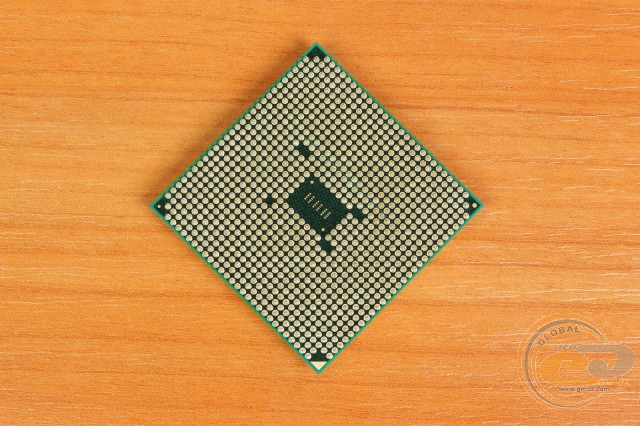 The reverse side of APU contains a set of contacts for the CPU socket Socket FM2+. They are made of copper and are fairly long and fragile, so the installation of the connector should be done very carefully.
Analysis of technical features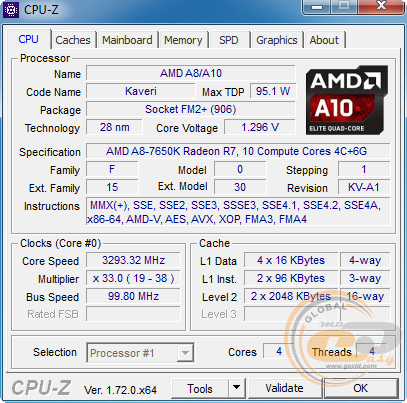 Model AMD A8-7650K has four cores that support the operation in four-thread mode. In case of inactive technology AMD Turbo Core 3.0, the nominal frequency of CPU was 3293 MHz with multiplier "x33". The reference rate was 100 MHz, and voltage at the level of 1,296 V.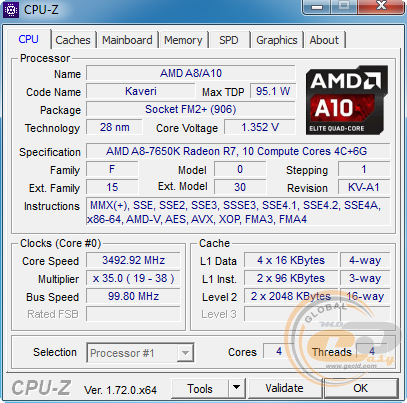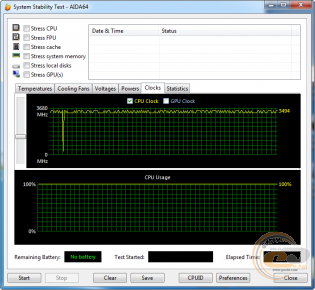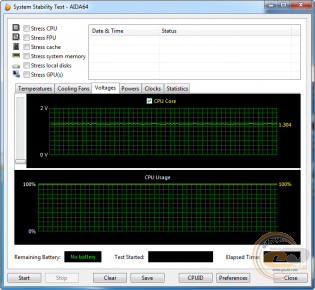 After activation of technology AMD Turbo Core 3.0, the frequency of processor cores has increased, and during all tests of the program LinX 0.6.5 it is in the range 3300 - 3500 MHz (depending on load). Voltage varies from 1,312 to 1,328 V.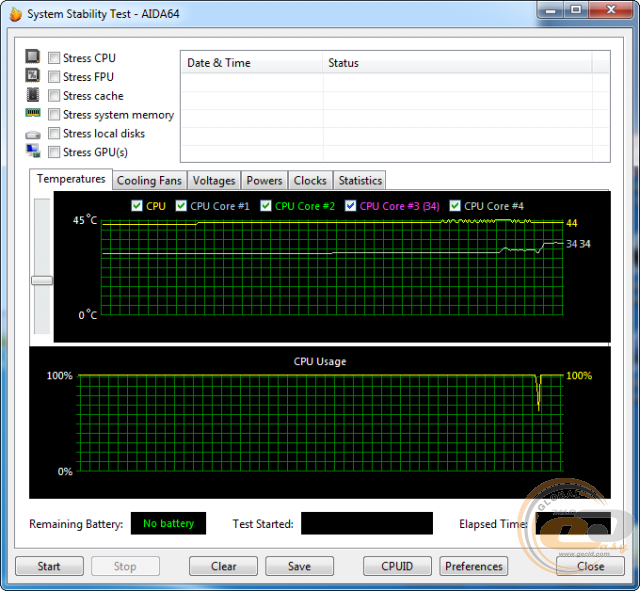 All tests were performed in a bench cooling system, and the maximum temperature of APU did not exceed 44°C.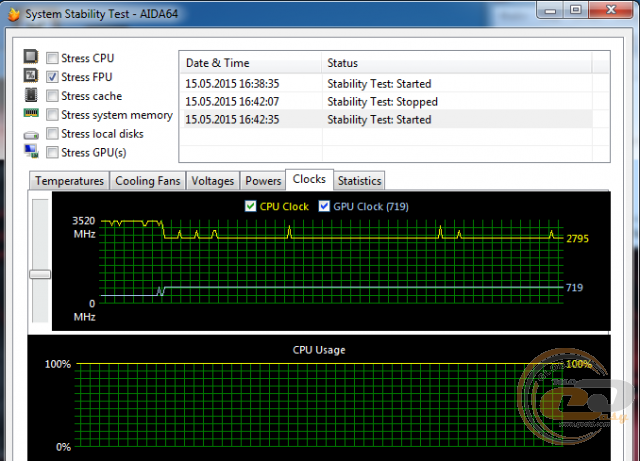 In case of simultaneous launch of tests AIDA64 and MSI Kombustor (load of processor and graphics cores) CPU frequency dropped to 2800 MHz. After disabling MSI Kombustor processor cores began to work at the maximum - 3500 MHz.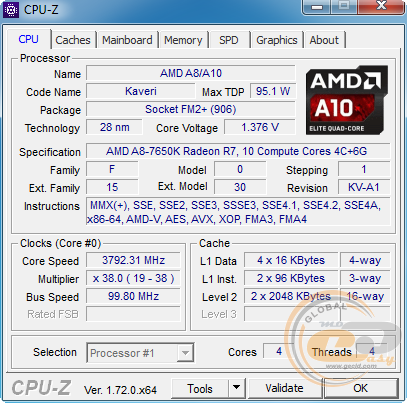 The maximum clock speed was recorded at the time of launch applications and was 3792 MHz at a voltage of 1,376 V.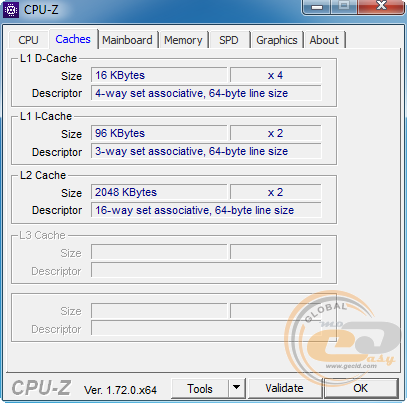 Cache memory of the hero of this review is divided as follows. 16 KB of L1 cache per core with 4 associative channels reserved for data caching. For instructions you will have 96 KB of L1 cache with 3 associativity channels for each dual module. Also it has 2048 KB of L2 cache with 16 associativity channels for each dual-core module. L3 cache memory is absent.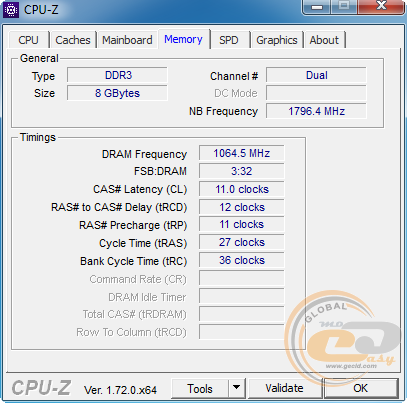 Integrated memory controller supports dual-channel mode and DDR3 modules with an effective rate of up to 2133 MHz.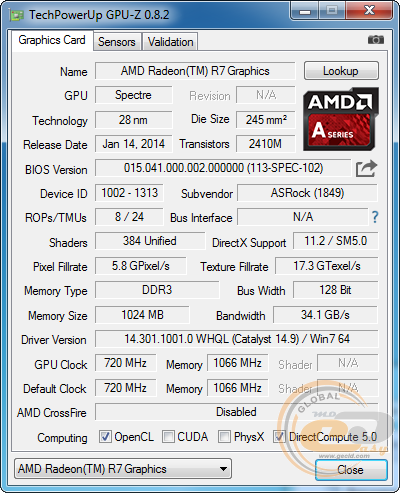 Социальные комментарии Cackle