Processor Intel Core i5-4460: review and testing
Nowadays during the building of a balanced gaming system one of the best candidates are processors of series Intel Core i5. They have a good balance between price and performance, and are also equipped with a good integrated graphics core. The latter can be useful when building a productive working computer.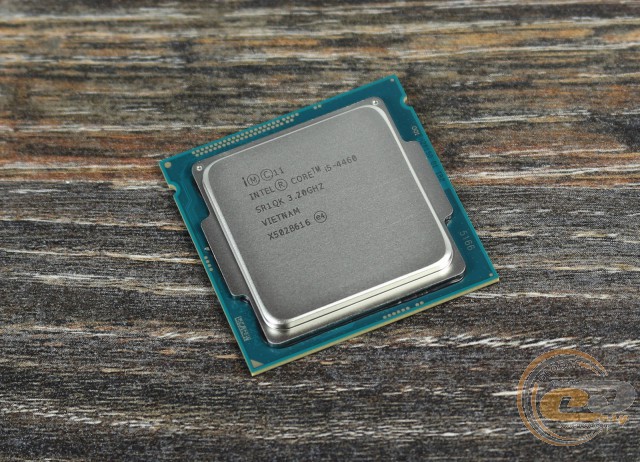 This review we will learn the model of Intel Core i5-4460. It has much in common with the previously tested Intel Core i5-4690. For example, both devices have a locked multiplier, and the main difference is a lower maximum clock frequency.
The specs:
Model

Intel Core i5-4460

Marking

SR1QK

CPU socket

Socket LGA1150

Basic clock frequency, MHz

3200

Max clock frequency from Intel Turbo Boost 2.0, MHz

3400

Multiplier (nominal/in turbo mode)

32 / 34

Basic frequency of system bus, MHz

100

L1 cache, KB

4 х 32 (data memory)

4 х 32 (instruction memory)

L2 cache, KB

4 х 256

L3 cache, KB

6144

Microarchitecture

Intel Haswell

Code name

Intel Haswell

Quantity of cores/threads

4/4

Instruction support

MMX, SSE, SSE2, SSE3, SSSE3, SSE4.1, SSE4.2, EM64T, VT-x, AES, AVX, AVX2, FMA3

Max calculated capacity (TDP), W

84

Max temperature (TCASE), °C

72,7

Manufacturing process, nm

22

Support for instructions and technologies

Intel Turbo Boost 2.0, Intel vPro, Intel VT-x, Intel VT-d, Intel 64, Intel My WiFi, Intel SpeedStep, Intel Data Protection, Intel Platform Protection, Intel Identity Protection, Intel Idle States, Intel Thermal Monitoring

Built-in memory controller

Max memory capacity, GB

32

Memory type

DDR3

Max frequency, MHz

1600

Quantity of memory channel

2

Built-in graphics core Intel HD Graphics 4600

GPU nominal clock frequency, MHz

350

GPU dynamic clock frequency, MHz

1100

Max capacity of video memory of graphics subsystem, GB

1,7

Quantity of supported displays

3

Support for instructions and technologies

Intel Quick Sync Video, Intel InTru 3D, Intel Insider, Intel Wireless Display, Intel FDI, Intel Clear Video HD

Producer website

Product page
Package, delivery set and design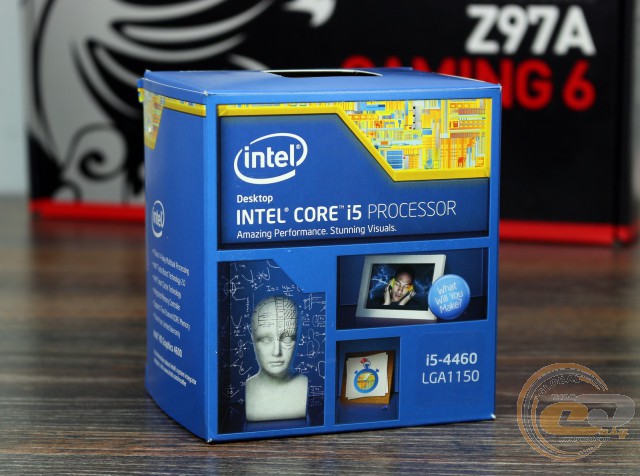 The processor is shipped in the classic blue package. On its front side you can find the familiar illustrations and stickers with the name of the model.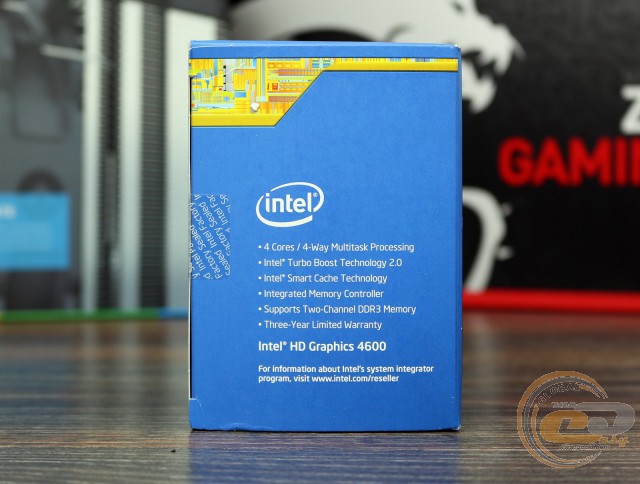 The side faces of the box contain a list of the main advantages of Intel Core i5-4460:
support for four cores working in 4-thread mode;
use of dynamic overclocking Intel Turbo Boost 2.0;
supports for technology Intel Smart Cache;
presence of an integrated memory controller with support for dual-channel mode and memory modules DDR3;
use of built-in graphics core series Intel HD Graphics 4600;
limited three-year warranty.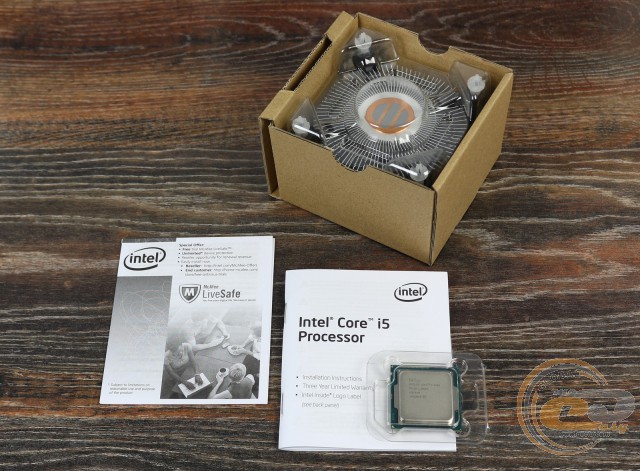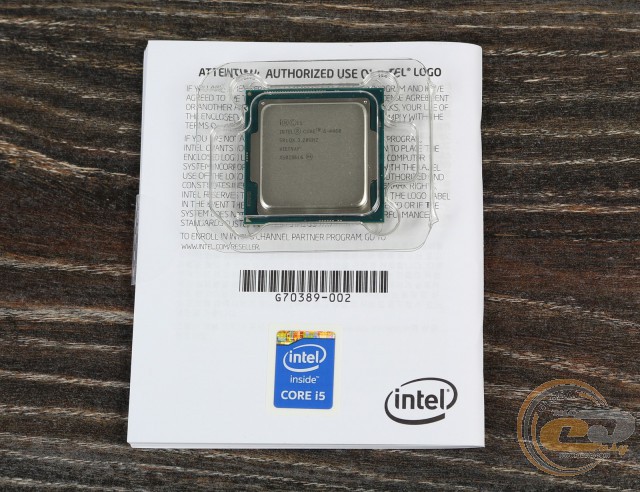 Package of Intel Core i5-4460 processor includes:
cooling system;
stickers on the computer;
quick installation instructions;
leaflets with a list of links where you can download a trial version of software for data protection (McAfee LiveSafe).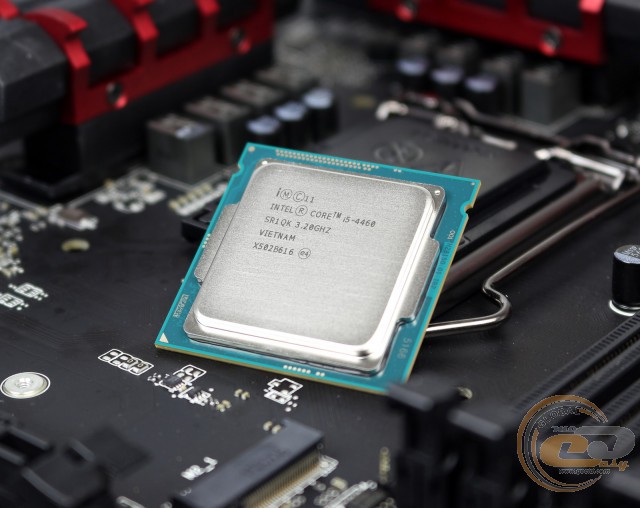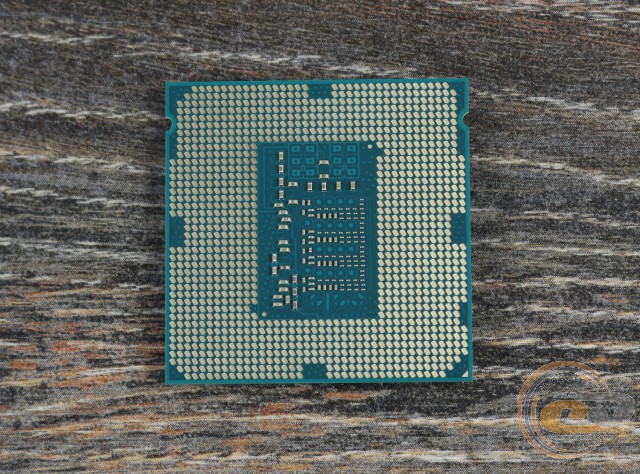 The model name, labeling and other technical information is applied to the heat-spreading lid. According to it, the assembly was made in Vietnam. The reverse side contains set of contacts, compatible with the CPU socket Socket LGA1150.
A distinctive feature of the models in this series is an extra set of capacitors (they are in the center of the pad) for smoothing the ripple voltage.
Cooling system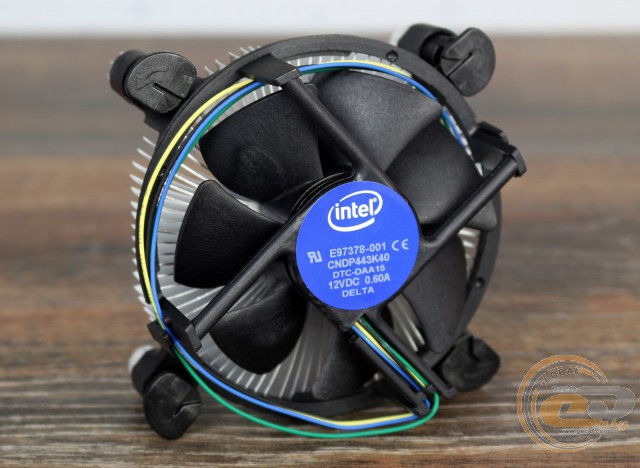 A standard cooler Intel E97378-001 that consists of a small aluminum radiator and axial fan is applied for cooling. It is produced by company Deltaand has a relatively high power 7.2 W (12 V at 0.60 A).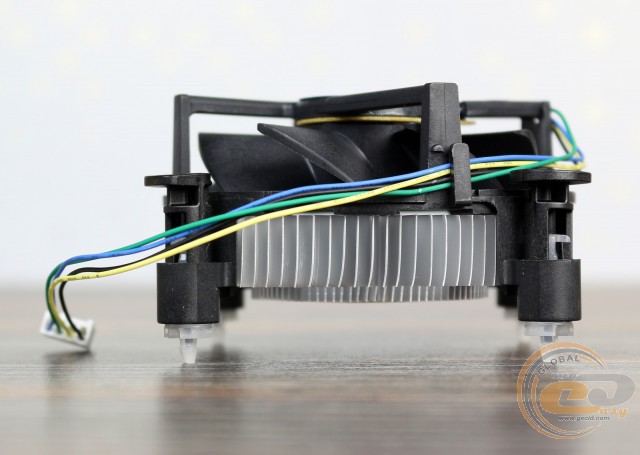 Fan is connected with standard four-contact connector that allows you to control its speed by PWM method.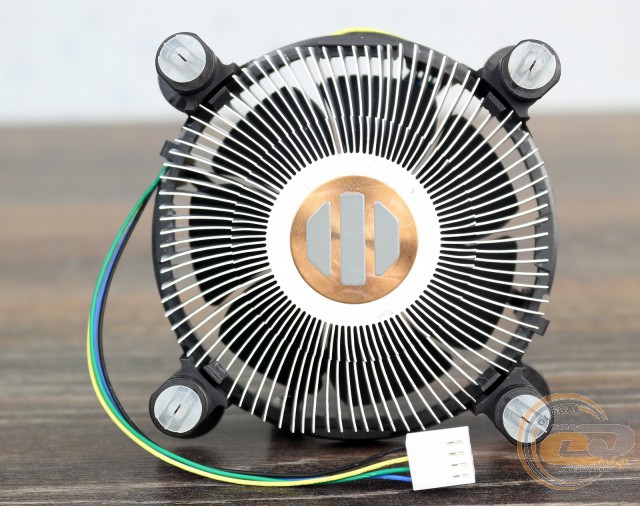 The removal and heat dissipation is realized throughout the round radiator with original form of the ribs. It is contacted to the processor through the copper pad, which improves the heat transfer.
Performance analysis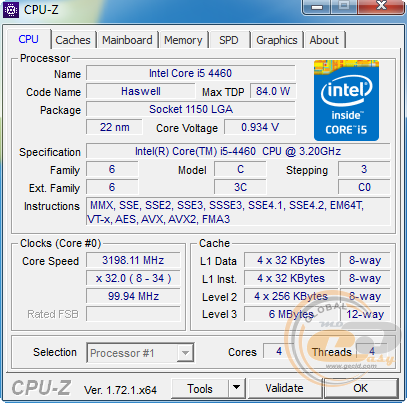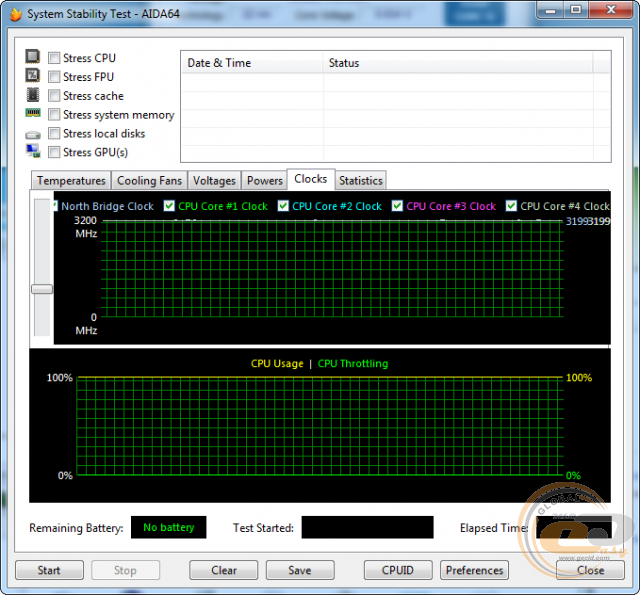 Processor Intel Core i5-4460 has four cores that work in 4-thread mode. In case of activated technology Intel Turbo Boost 2.0 CPU clock speed most of the time was at 3,200 MHz with multiplier "x32" and the reference frequency of 100 MHz.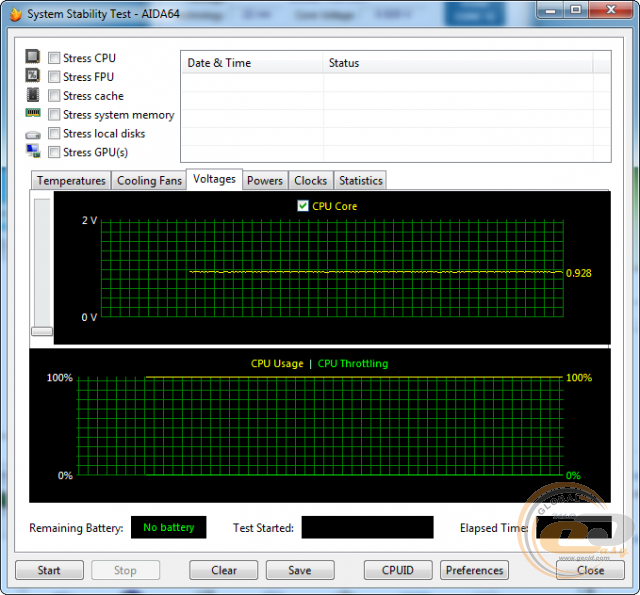 Under continuous load core voltage varied in the range of 0.922 - 0.938 V.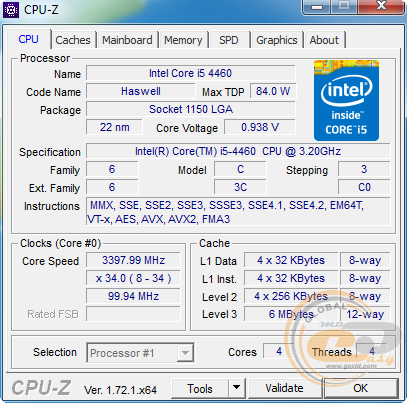 Sometimes under light load, the CPU frequency rose to 3400 MHz. The voltage was 0.938 V.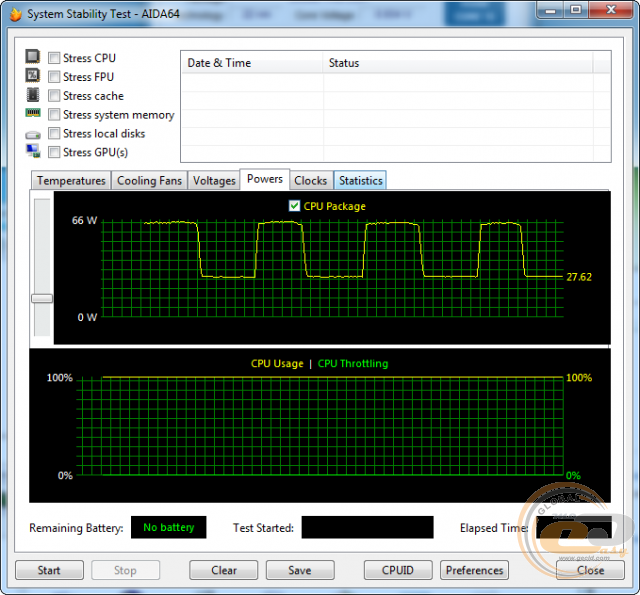 In stress test CPU power consumption varied from 27.62 to 66 W.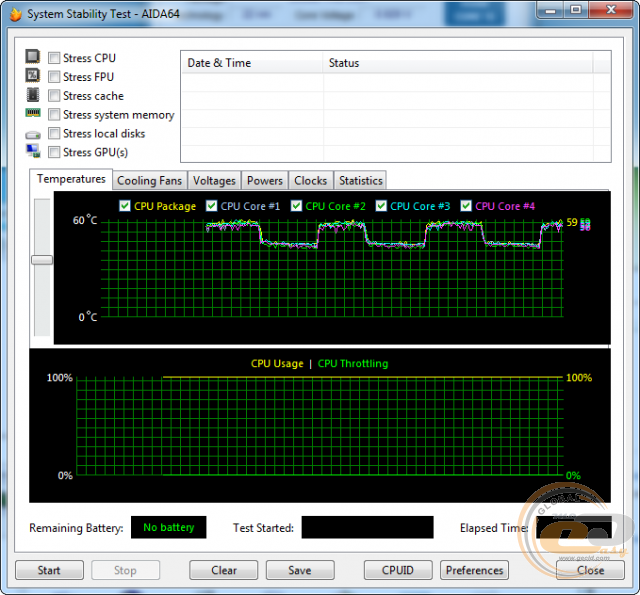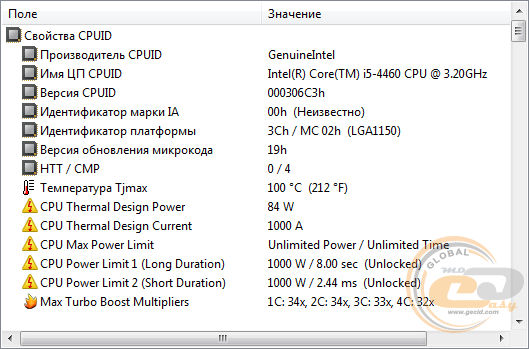 When using metal cooling system processor temperature did not exceed 59°C, which is comfortable value. According to the indications of the program AIDA64, the maximum allowable temperature of Intel Core i5-4460 is 100°C.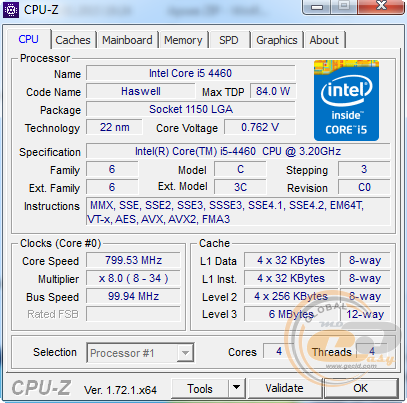 In idle mode CPU clock speed dropped to 800 MHz with multiplier "x8" and voltage 0.762 V.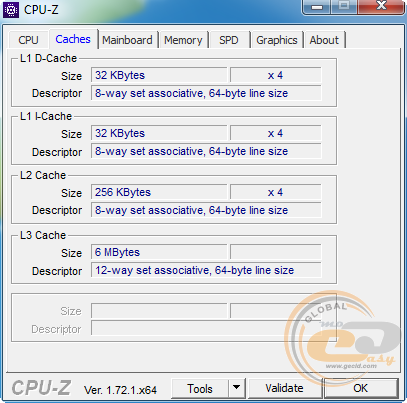 Cache Intel Core i5-4460 is distributed according the following scheme:
32 KB of L1 cache per core with 8 channels associative is reserved for data cache, and the same is used for caching instructions;
256 KB of L2 cache per core with 8 channels of associativity;
6 MB of shared cache level L3 with 12 channels of associativity.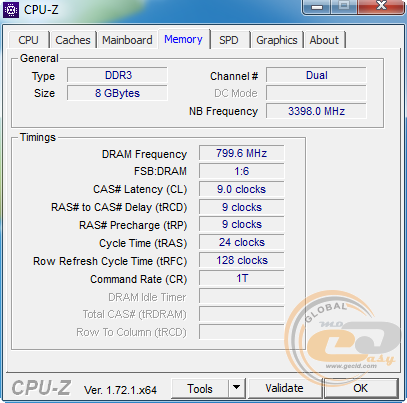 The integrated controller allows the use of modules of DDR3 memory with effective frequency 1600 MHz in dual channel mode. The maximum memory is declared at 32 GB.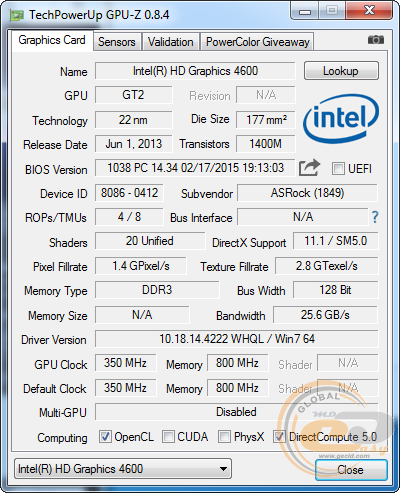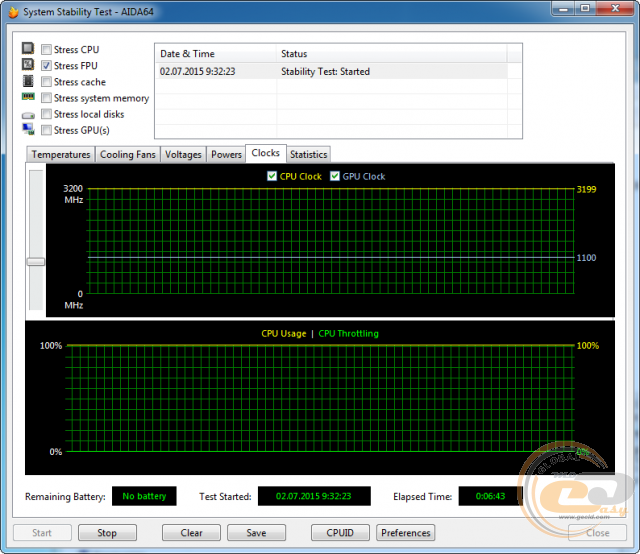 Integrated graphics core Intel HD Graphics 4600 is composed of 20 unified shader pipelines and 8 texture units and 4 ROP units. In nominal operation, it is clocked at 350 MHz. In case of simultaneous launch of tests AIDA64 and MSI Kombustor clock speed was increased to 1100 MHz.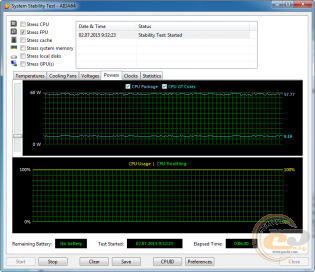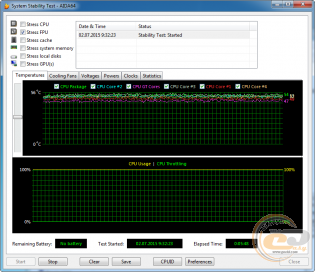 Under load, using the same test maximum GPU power was about 9.19 W. According to utility AIDA64, the maximum temperature of the GPU did not exceed 47°C.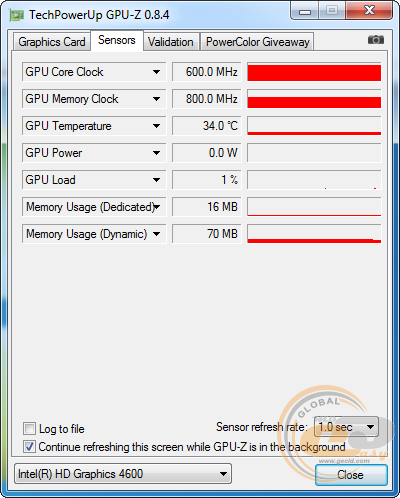 Социальные комментарии Cackle