Motherboard ASUS Z97-E: review and testing
ASUS is constantly expanding its product range by using the new motherboards, so almost every user can choose a model based on personal preferences and the required functionality. This review we will be focused on versions ASUS Z97-E, which has become a novelty in the price range up to $200. It came in the same category with solutions such as ASUS Z97-P, ASUS Z97-A and others. Let's compare it with the neighbors on the equipment product lineup:
ASUS Z97-E

USB 3.0

external/internal

4/2

USB 2.0

external/internal

2/6

RAM

4 x DIMM up to 32 GB

PCIe 3.0 x16

1

1

1

2

2

2

PCIe 2.0 x16

1

1

1

No


1

1

Line distribution schemes

х16

х16+х2

х16

х16+х4

х16

х16+х4

х16

х8+х8

х16

х8+х8

х8+х8+х2

х16

х8+х8

х8+х8+х2

PCIe x1

2

2

2

3

2

2

PCI

2

2

3

2

2

2

Video outputs

HDMI

DVI-D

D-Sub

HDMI

DVI-D

D-Sub

HDMI

DVI-D

D-Sub

HDMI

DVI-D

D-Sub

HDMI

DVI-D

D-Sub DisplayPort

HDMI

DisplayPort

Audio outputs

3

3

6

6

5
Optical S/PDIF-out

5
Optical S/PDIF-out

SATA 6 Gb/s

4

6

4

4

4

4

SATA Express

No

No

1

1

1

1

eSATA

No

M.2

1

Thunderbolt

No

LAN

1

Audio

Realtek ALC891

Realtek ALC887

Realtek ALC892

Realtek ALC892

Realtek ALC892

Realtek ALC892

Wi-Fi

No

Bluetooth

No

Power phases

4

4

6

6

8

8

Format

ATX

Price

$140

$160

$170

$170

$190

$190
As you can see, the capabilities of the new product are very similar with ASUS Z97-C and more expensive ASUS Z97-A. In this case, ASUS Z97-E is the most affordable solution that offers the ability to install two graphics cards with distribution lines PCI Express 3.0 according to the scheme x8+x8, which is its undoubted advantage. And compared to the more budget models, it has received support for SSDs in format M.2 2242 and bridge 2-Way NVIDIA SLI. But let us examine in more detail the capabilities of this device and find out all advantages and disadvantages.
The specs:
Producer

ASUS

Model

Z97-E (rev 1.0)

Chipset

Intel Z97

CPU socket

Socket LGA1150

CPUs supported

Intel Core i7 / Core i5 / Core i3 / Pentium / Celeron of 4th and 5th gen: Intel Haswell, Intel Haswell Refresh, Intel Devil`s Canyon, Intel Broadwell

Memory frequency

3200* / 3100* / 3000* / 2933* / 2800* / 2666* / 2600* / 2400* / 2250* / 2200* / 2133* / 2000* / 1866* / 1600 / 1333 MHz

(*OC)

Memory support

4 x DDR3 DIMM-slots with support of memory up to 32 GB

Expansion slots

2 x PCI Express 3.0 x16

x16

x8+х8

3 x PCI Express 2.0 x1

2 x PCI

Disk subsystem

Intel Z97 chipset supports:

1 x M.2 (M.2 2242, M.2 2260, M.2 2280)

4 x SATA 6 Gb/s

1 x SATA Express (compatible with 2 х SATA 6 Gb/s)

RAID 0, RAID 1, RAID 5, RAID 10

LAN

1 x Intel I218V (10/100/1000 Mb/s)

Sound subsystem

Codec Realtek ALC892

8-channel sound

S/PDIF Out

Power connectors

24-pin power socket ATX

8-pin power socket ATX12V

Fans

2 x CPU fan connector (4-pin)

3 x system fan connectors (4-pin)

Cooling

Aluminum radiators on chipset

Aluminum radiator on power subsystem elements

External I/O

1 x HDMI

1 x D-Sub

1 x DVI-D

1 x LAN (RJ45)

4 x USB 3.0

2 x USB 2.0

6 x audio jacks

1 х PS/2 (for mouse or keyboard connection)

Internal I/O

1 x USB 3.0 with support of two USB 3.0 (19-pin)

3 x USB 2.0 each with support of two USB 2.0

1 х socket TPM

1 x socket COM

1 x S/PDIF out

1 х CMOS

1 x connector of audio output to front panel

1 x set of front panel connectors

BIOS

64 Mb Flash ROM UEFI AMI BIOS

PnP, ACPI 5.0, SM BIOS 2.8, DMI 2.7, WfM 2.0

Form-factor

user manual

warranty card

disk with drives and documents

1 x bridge 2-Way NVIDIA SLI

2 x SATA cables

1 х interface panel plug

Form-factor, dimensions

ATX

305 х 218 mm

Producer website

ASUS
Updated versions of BIOS and drives are available at support page
Package and content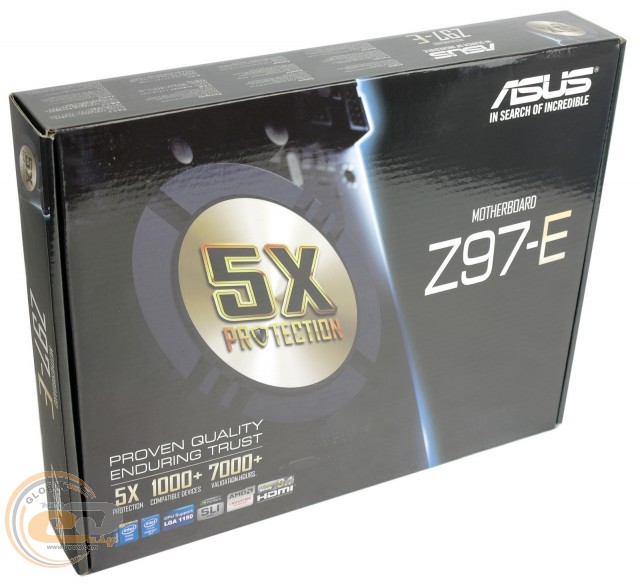 The novelty comes in the traditional thick cardboard box, decorated with the graphic printing in the corporate style, where a large part is reserved for the image of the radiator. In addition to the names of the manufacturer and model of the device the front line contains branded concept 5X Protection, which includes:
Digital PWM controllers to control power subsystem CPU and RAM, which are used in accordance with the company's concept DIGI+ VRM.
Special fuses for added protection against overcurrent and short-circuit current.
Electrostatic discharge protection.
Japanese solid capacitors with increased 2.5 times life (up to 5000 hours at 105°C).
Reinforced interface board, which is made of high quality stainless steel coated with chromium oxide. It has a high resistance to oxidation, making it three times more susceptible to breakage.
Do note that motherboards from ASUS are tested for compatibility with more than 1000 different components, such as processors, memory modules, graphics cards, and others. And a figure 7000+ indicates the total number of testing hours before it hits the market.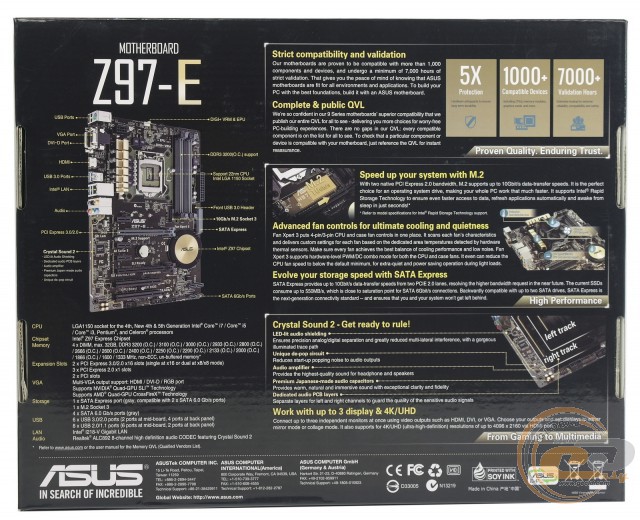 The reverse side of the package contains the image of the tested new product, its brief specifications, as well as key features and benefits:
Fan Xpert 3 - intelligent fan control, allowing to achieve efficient cooling of the computer at an optimal level of noise.
SATA Express & M.2 – the product is equipped with support for interfaces SATA Express and M.2, which have a capacity of up to 10 Gb/s.
Crystal Sound 2 - pre-installed audio codec Realtek ALC892, which uses to trim of a special amplifier TI R4580I, offers support for eight-channel sound. In order to avoid interference caused by electromagnetic interference, a special screening technology Audio Shielding is applied. To maximize the sound quality there are Japanese audio capacitors of the company Nichicon. In addition, the left and right audio channels are performed on different layers of the PCB that accompanies minimize crosstalk.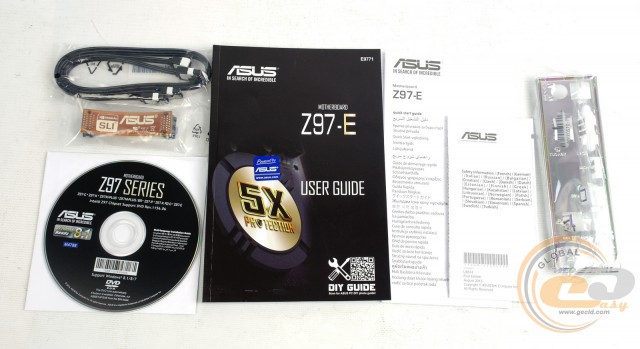 The box with the ASUS Z97-E contains the following set of accessories:
CD with drivers and utilities;
User Guide;
two SATA cables;
bridge 2-Way NVIDIA SLI;
the interface panel plug.
Design and features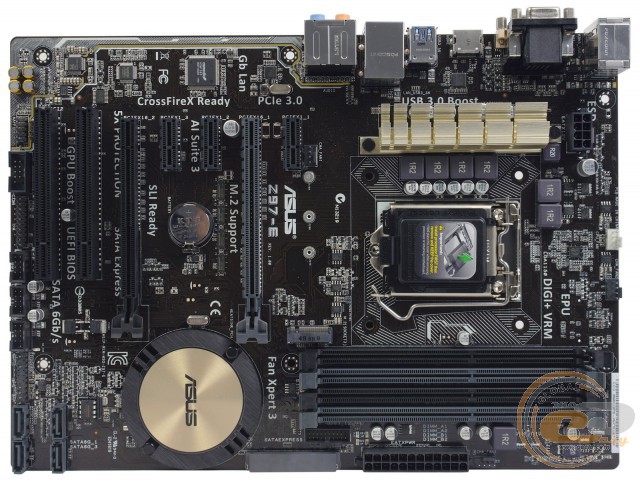 ASUS has used the dark brown PCB, which is made in ATX format with a non-standard width (218 mm). Therefore, the right edge of new item doesn't have mounting holes that together with the perpendicular arrangement of the SATA ports requires the increased caution when connecting the drives, as well as the main power cable. As for the rest, you won't have problems with the build system based on ASUS Z97-E, as all ports and connectors are located on the best places closer to the edges of the PCB.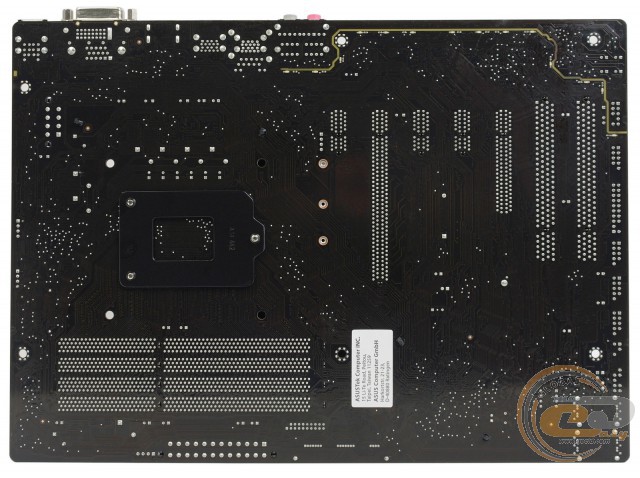 The reverse side of the PCB contains the standard base plate of the socket, as well as the fact that both the radiator are secured with plastic clips.

At the bottom of the board there are the following connectors: front panel audio leading-in socket, S/PDIF out, COM and TPM ports, CMOS and front panel connection module. Also here are three modules for additional ports USB 2.0. Total number of USB 2.0 sockets is eight: six internal and two on the interface panel.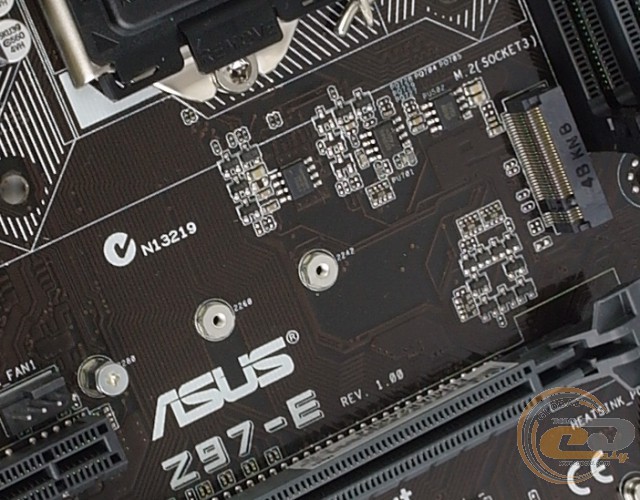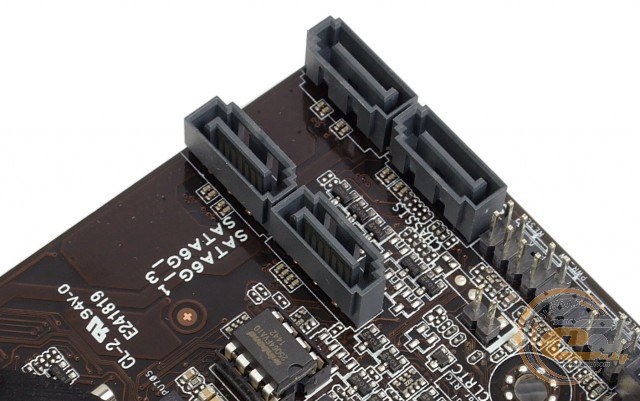 The possibility of organizing a disk subsystem is presented by socket M.2 (supports SSD-drives M.2 2242, M.2 2260 and M.2 2280), four ports SATA 6 Gb/s as well as one SATA Express that is compatible with two SATA 6 Gb/s. There is a support for arrays SATA RAID 0, RAID 1, RAID 5 and RAID 10. All interfaces are realized due to chip Intel Z97. However, due to the lack of free chipset line interface M.2 (NGFF) shares bandwidth with SATA Express, so you can not use them simultaneously.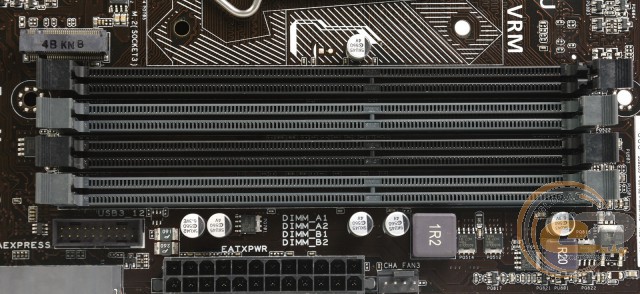 Main board ASUS Z97-E is equipped with four DIMM-slots for memory modules DDR3. RAM can operate in dual channel mode. To implement it the modules must be installed either in the first and third or second and fourth slots. Modules operating at frequencies from 1333 to 1600 MHz in nominal mode and up to 3200 MHz in overclocked mode are supported. Maximum memory capacity may be up to 32 GB which is enough for almost any tasks.
Additionally do note the module for connecting remote panel with ports USB 3.0. It is arranged on the right side of the board. The total number of USB 3.0 is six: four external and two internal. All of them operate due to the chipset.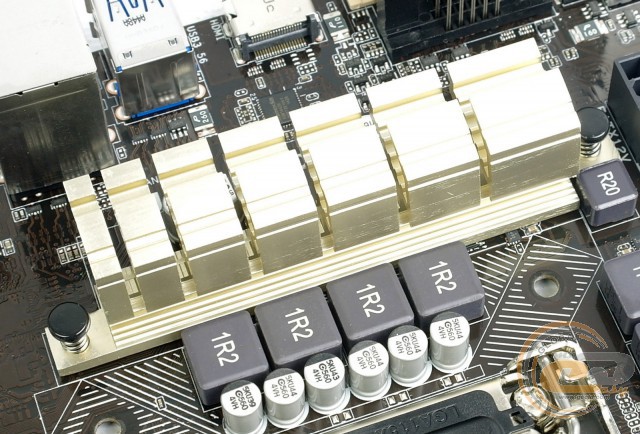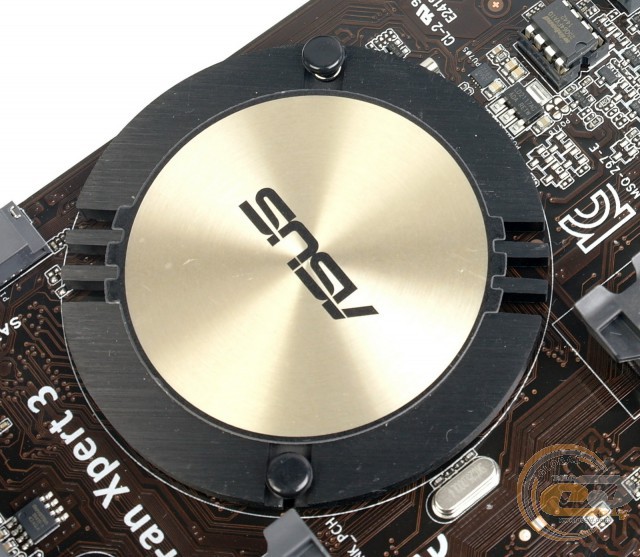 Cooling system of the product contains two aluminum radiators: one is used for heat removal from chipset Intel Z97, while the other covers power elements of the CPU.
In the process of testing the following temperature indices were fixed:
radiator for chipset cooling – 42.3°C;
radiator for power elements of the CPU cooling – 37.3°C;
power subsystem chokes – 40.2°C.
The obtained results can be described as good, as to there is a large margin till the critical values.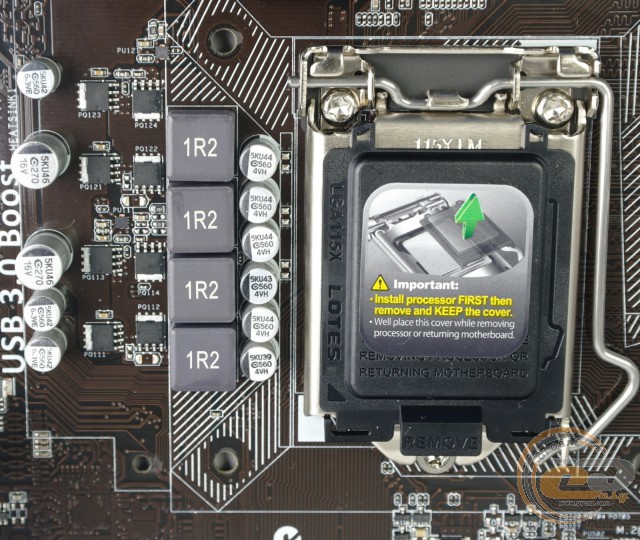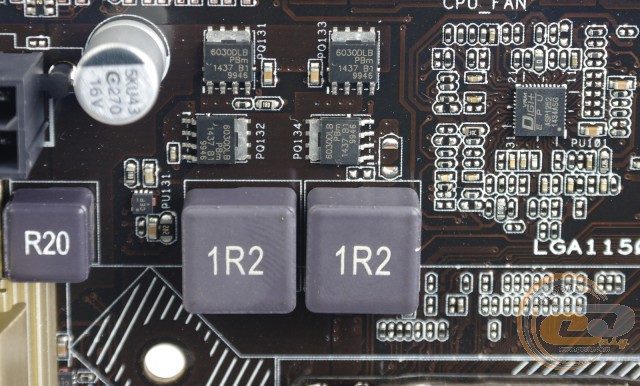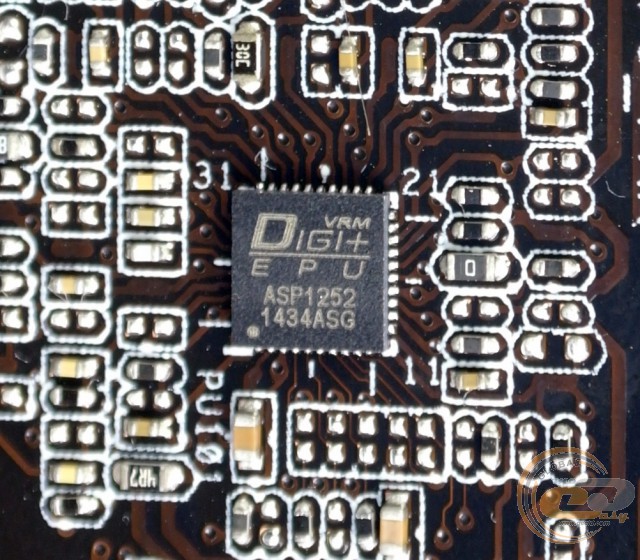 Processor power supply is performed via 6-phase scheme for computational cores and additional joints. Converter is based on a digital PWM controller ASP1252 with integrated power consumption control subsystem DIGI+ VRM. All power components of CPU have high reliability level: solid capacitors with increased 2.5 lifetimes, as well as chokes with ferrite core. Basic 24-pin and additional 8-pin connectors are use for power feeding.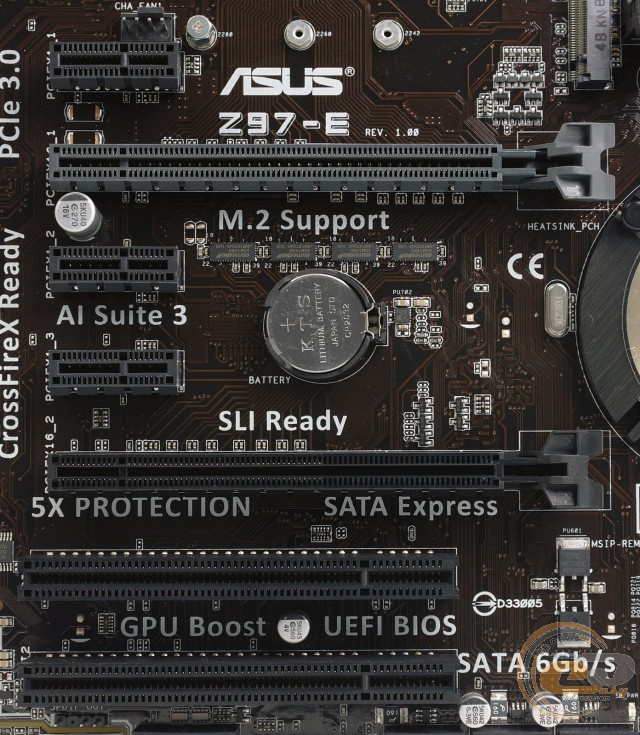 To extend the functionality the motherboard ASUS Z97-E has seven slots:
PCI Express 2.0 x1;
PCI Express 3.0 x16 (mode х16 or х8);
PCI Express 2.0 x1;
PCI Express 2.0 x1;
PCI Express 3.0 x16 (mode х8);
PCI;
PCI.
As you can see, two slots PCI Express x16 are connected to the processor, so they share all available 16 lines of standard PCI Express 3.0. Also note that you can easily install two graphics cards with three slot cooling system. At the same time you will have one slot PCI Express 2.0 x1.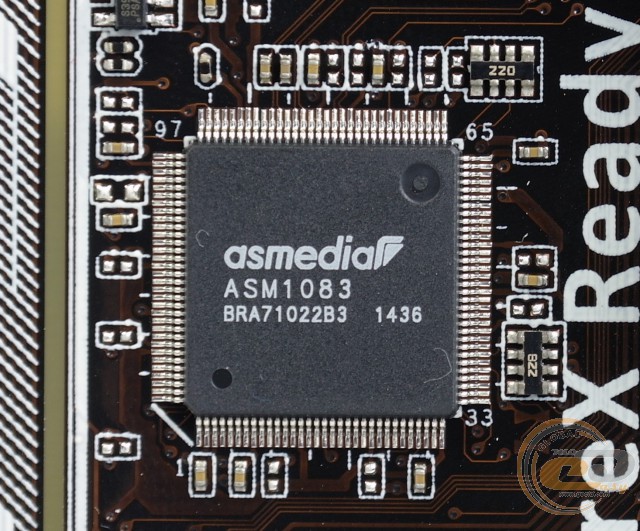 Since the chipset Intel Z97 doesn't support bus PCI, the functioning of the three respective slots is implemented by the bridge PCIE-PCI, based on the controller ASMedia ASM1083.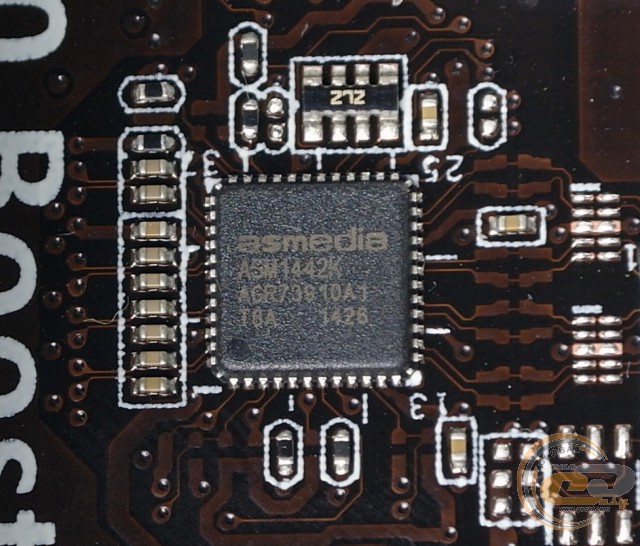 If you decided to take advantage of the integrated graphics core, then you have three video outputs: HDMI, DVI-D and D-Sub, navigated by the chip ASMedia ASM1442K.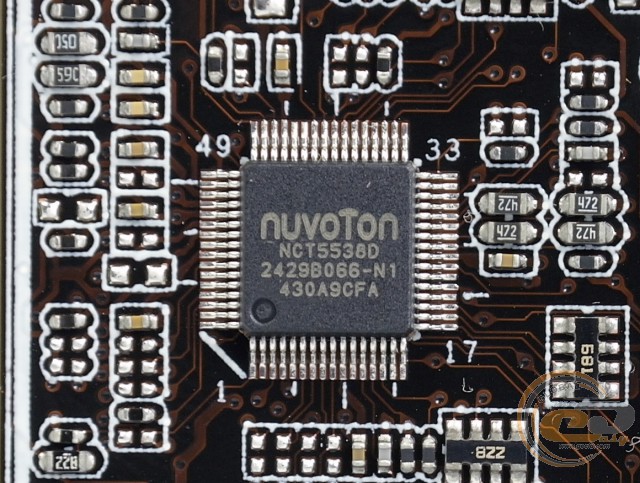 Multi I/O capabilities are based on chip NUVOTON NCT5538D which controls the operation of system fans, ports COM and PS/2 and provides the monitoring.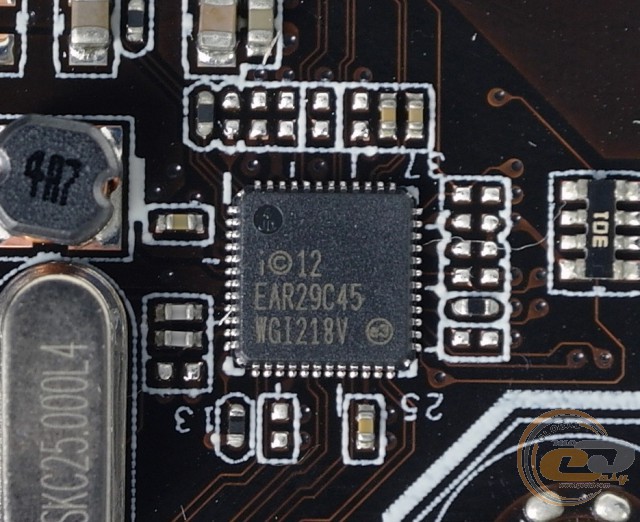 To support network connection there is gigabit LAN-controller Intel WGI218V.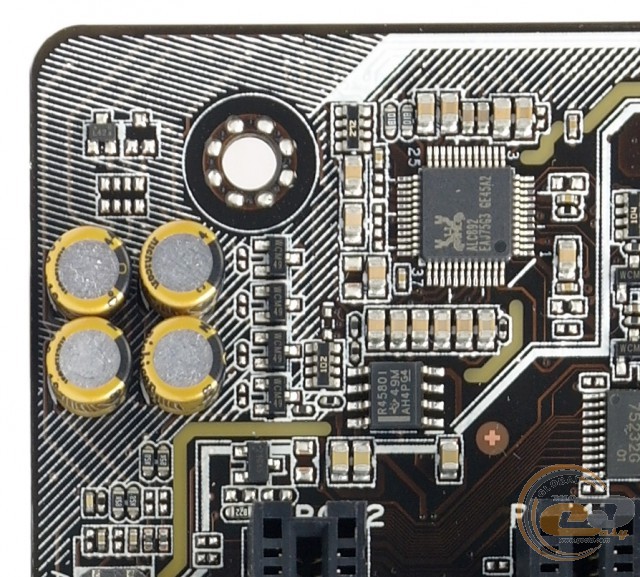 Sound subsystem is based on HAD codec of 8-channel sound Realtek ALC892 that supports 2/4/5.1/7.1 sound systems. It includes a special audio amplifier TI R4580I, as well as the technology of shielding the audio subsystem by a protective strip. Do note that the left and right audio channels are placed on separate layers of the PCB to reduce the negative effects of their mutual penetration.

Interface panel of ASUS Z97-E model contains the following ports:
1 x HDMI;
1 x DVI-D;
1 x D-Sub;
1 x PS/2 for mouse or keyboard connection;
1 x LAN (RJ45);
4 x USB 3.0;
2 x USB 2.0;
6 x audio jacks.
This layout of the interface is quite good, as it includes three video outputs, a sufficient number of ports USB, support for peripherals with interface PS/2, as well as convenient connection of multi-channel speakers and the opportunity to bring port COM to the back of the PC using the internal connector.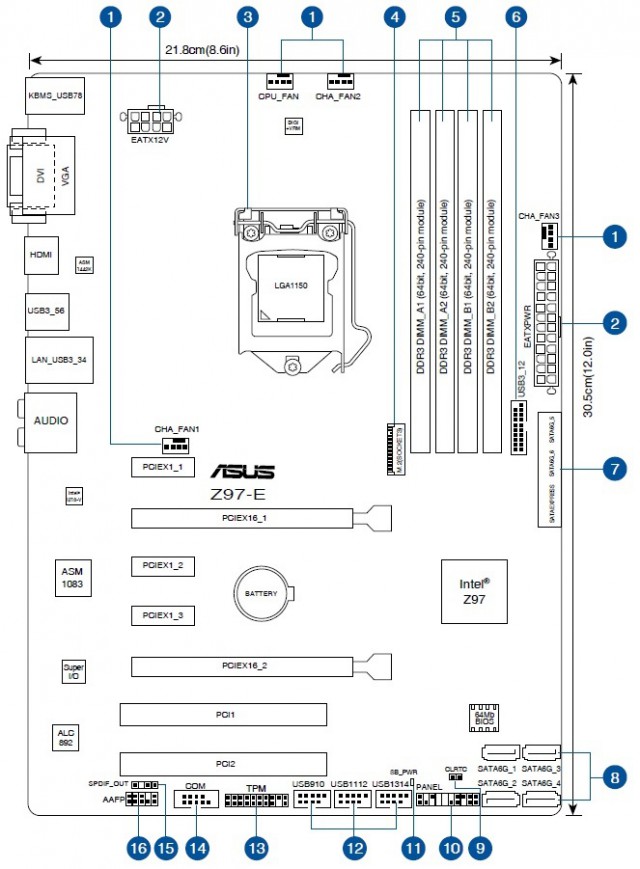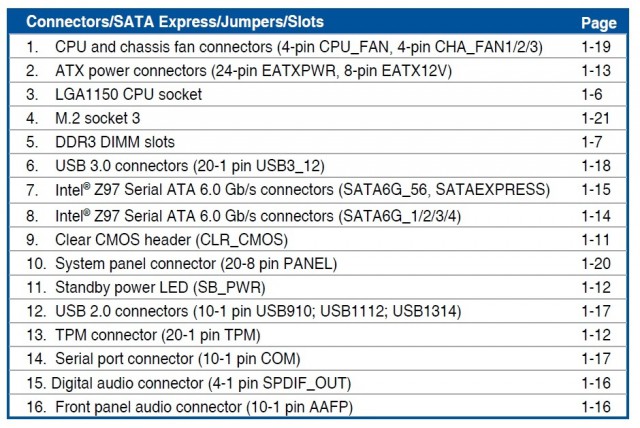 ASUS Z97-E has quite good features for organizing cooling system inside the case. There are six 4-pin fan connectors, two of which serve to cool the CPU, while the other four are designed for system fans.
Социальные комментарии Cackle